About Skinceuticals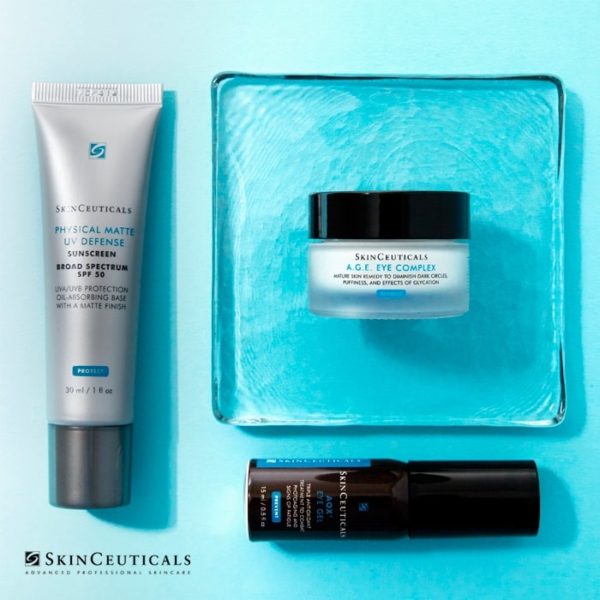 Skinceuticals works to add a bit of science to your self-care routine. Best known for their line of clinical-grade formulas, this cosmetic brand offers products suited for dry, oily, to combination skin.
With a following of over 1M on Instagram, Skinceuticals seems to be a major contender within the industry. They're also featured in the press, including Refinery29, New York Magazine, Allure, and Glamour.
Are you ready to revolutionize your skincare regimen? Stay tuned, as this Skinceuticals review will take an in-depth look at the brand, their products, customer ratings, promotions, and more to help you decide if they're worth checking out.
Overview of Skinceuticals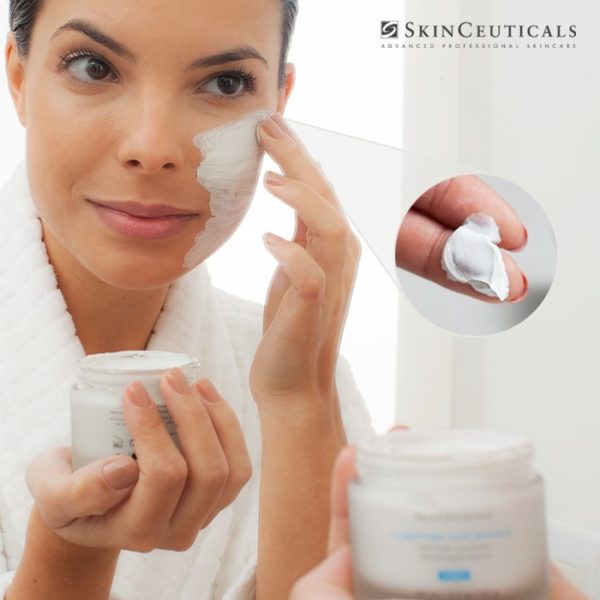 It all began with a simple science experiment. Founder Sheldon Pinell was knee-deep in his profession as he worked on studies concerning dermatology.
In 1992, his area of focus lay on topical antioxidants, leading to the first-ever Vitamin C patent of its time. Making use of Pinell's discovery, Skinceuticals was established in 1997 with Serums 10 and 15 as their debut formulas.
Throughout the years, this cosmetic company has branched out to include more products within their collection.
Abiding by pharmaceutical standards, they ensure that each formula is tested for safety, quality, and efficacy. With their headquarters in Texas, Skinceuticals continues to be a front-runner in the cosmetic industry.
Before we truly get into this Skinceuticals review and take a look at some of their amazing products, let's go over some of the brand's pros and cons:
Pros
A wide variety of skincare formulas to choose from
Customers can choose products depending on their skin concern
Offers professional services such as the Skinlab and Dermablend Professional
Provides a product finder for customers to use
Offers a subscription plan for their products
Positive customer reviews
Cons
Pricier than other retailers
Does not offer international shipping
You've got 99 problems, but skincare doesn't have to be one. We get it, the cosmetic world is often a crapshoot, as most products come as empty promises. Wrinkles won't fade, and acne spots lie dormant and unmoving.
If you're especially frustrated with the lack of effective formulas, it may be worth giving Skinceuticals a try. Known for their line of professional-grade antidotes, customers can rest assured knowing that each cleanser and antioxidant is made with care.
From anti-aging creams to facial toners, this Skinceuticals review will highlight a few of their best-selling formulas for skincare fanatics to try out. And who knows? Maybe you'll be one step closer to achieving a clearer complexion.
Skinceuticals Review
This cosmetic brand is anything but limited when it comes to skincare formulas. From oil-free serums to facial exfoliators, there's at least one product suited to your complexion type.
Moving forward, we'll spotlight a couple of the brand's hottest picks for readers to compare.
Skinceuticals Hyaluronic Acid Intensifier Review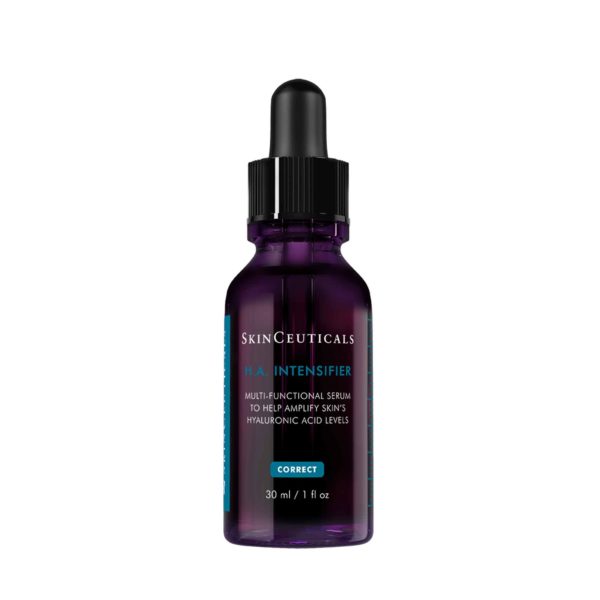 Dreaming about the glory days? The Hyaluronic Acid Intensifier can help you get back to those youth-driven years.
Infused with a blend of purple rice, licorice root, and hyaluronic acid, this proprietary serum works wonders in rejuvenating the complexion. Say goodbye to fine lines, wrinkles, and sagging spots, and say hello to a 'brighter' future.
Coming in a gel-like texture, this paraben-free formula is best used after dermal fillers, a process that must be recommended by a dermatologist or physician.
Best followed with the Skinceuticals C E Ferulic serum for a boost of Vitamin C, the Hyaluronic Acid Intensifier costs a hefty $102.
Skinceuticals Phloretin CF with Ferulic Acid Review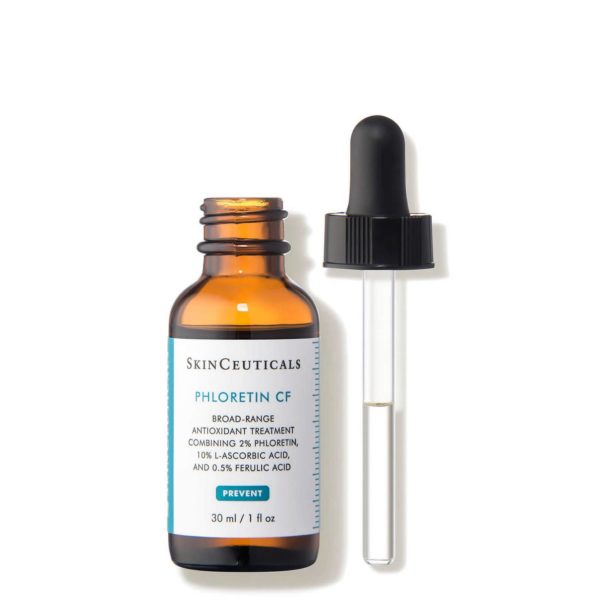 If you're fraught with spots, plot your skincare regimen carefully with the Phloretin CF with Ferulic Acid serum.
Designed to target acne, discoloration, and signs of aging, this powerful formula enforces a protective barrier throughout your complexion. This is all thanks to its blend of superhero ingredients, including phloretin, 10% pure Vitamin C, and ferulic acid.
Together, these additives prevent free radicals and environmental stressors from harming the skin. Made to be effective in under 72 hours, the Phloretin CF with Ferulic Acid is priced at $166 per bottle.
We recommend adding the Skinceuticals Sunscreen for even more protection.
Skinceuticals Discoloration Defense Review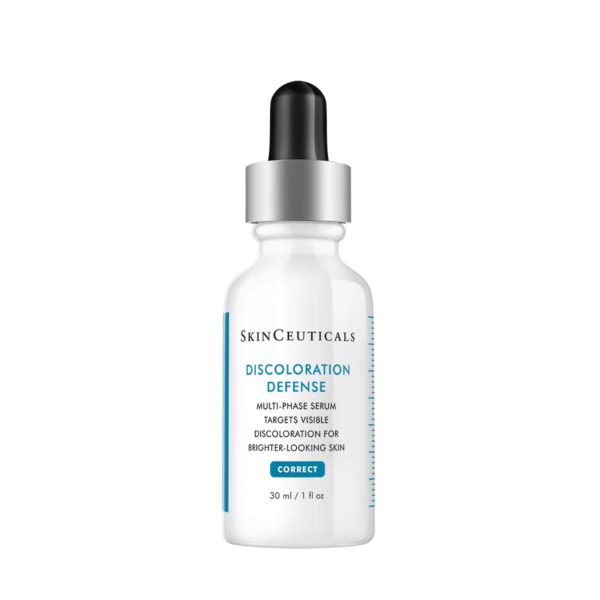 Unless you're blessed with Barbie perfection, the Discoloration Defense corrector helps to dispel dark spots and imperfections. Designed for all skin tones, this real-life blur tool erases acne scars and brown patches.
In as early as two weeks, users will see a noticeable improvement in their complexion, as this product works to brighten and rejuvenate sullen textures.
Enhanced with tranexamic acid, HEPES, niacinamide, and kojic acid, the Skinceuticals discoloration defense serum has won the upvote of several customers.
According to a study conducted by the brand, 60% of participants reported a brighter and clearer complexion after using this formula.
For an item that can revolutionize your self-care regimen, the Discoloration Defense corrector costs $98 in total.
Skinceuticals C E Ferulic with 15% L-Ascorbic Acid Review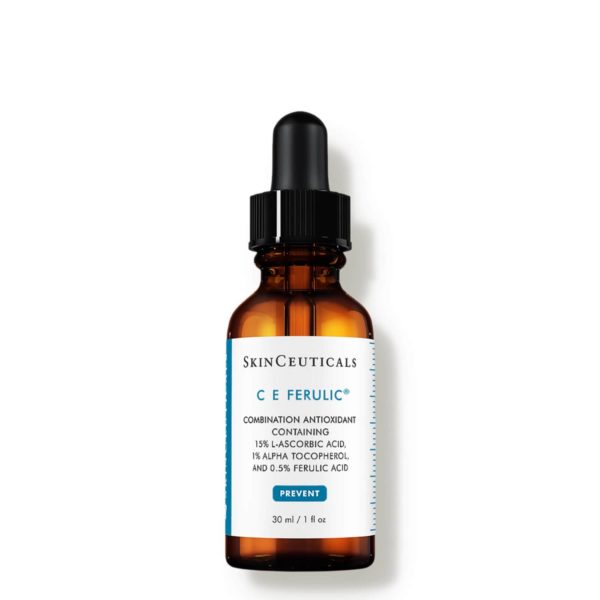 Aging gracefully is one thing; ignoring your skincare routine is another. For those pushing the 40-year mark, the CE Ferulic with 15% L-Ascorbic Acid can help scale that number 4 or 5 birthdays back.
Optimized for all skin types, this formula works to eliminate discoloration, wrinkles, and fine lines in one application.
It is enhanced with a blend of antioxidant-rich ingredients, such as 15% pure Vitamin C, 1% vitamin E, and ferulic acid. Together, these elements work to prevent environmental stress like ozone pollution and UVA/UVB rays.
While on the topic, the Skinceuticals Phloretin CF can help add that extra layer of armor if you have sensitive skin.
Recommended by physicians and dermatologists alike, the C E Ferulic with 15% L-Ascorbic Acid is priced at $166.
Skinceuticals Retinol 0.5 Review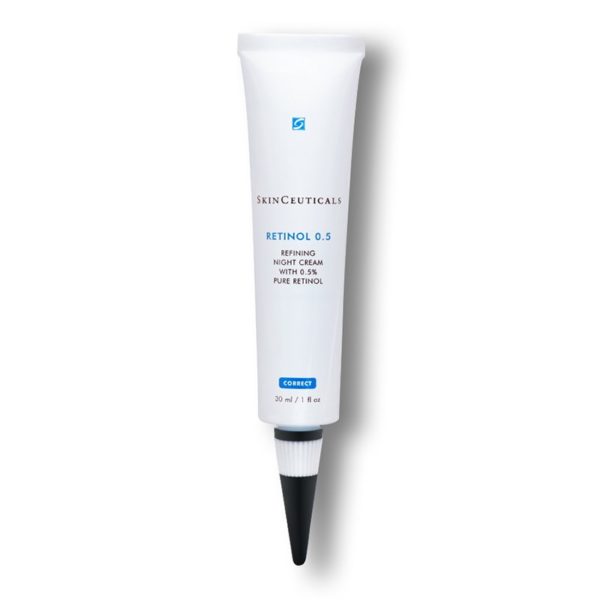 The morning alarm goes off. Swinging your legs out of bed, you head to the bathroom to initiate the daily self-care routine. To your horror, a large volcanic-like zit rests peacefully on the forehead.
And to add more insult to injury, a fine line has graced the inner corners of your mouth. Instead of panicking, the Retinol 0.5 cream can act as a preventive measure in case more fiends pop up during the night.
Designed to work as you sleep, this formula reduces signs of imperfections, ranging from fine lines to discoloration. It's made out of pure retinol, doing wonders in minimizing breakouts.
For those cursed with blemish-ridden skin, we recommend upgrading to the Skinceuticals Retinol 1.0 for a more potent antidote. Offered in a squeeze tube for convenience, the Retinol 0.5 night cream costs $76.
Skinceuticals Phyto Corrective Gel Review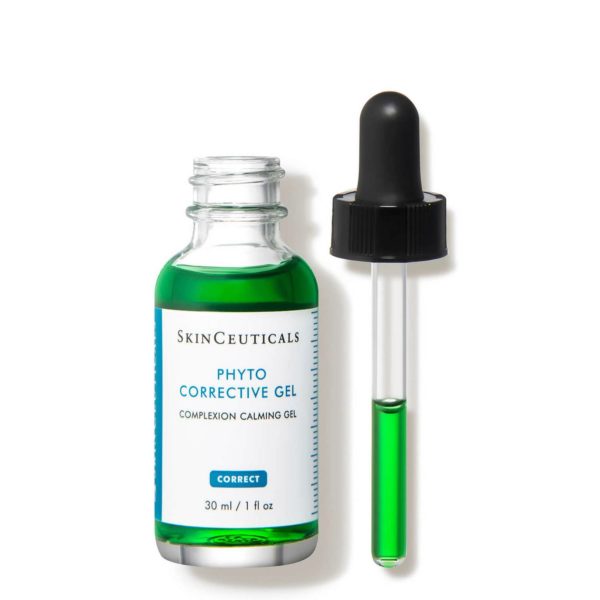 We don't mean to be blunt, but that fourth layer of foundation won't do much to cover those blemishes and acne spots. To help buff out those bumpy textures, the Phyto Corrective Gel promises a 'smoother' canvas for makeup application.
Infused with cucumber, thyme, eucalyptus leaf, olive, and hyaluronic acid, this formula is designed to correct dry, blotchy, and uneven skin.
Ideally paired with the Skinceuticals Vitamin C Serum for a boost of nutrition, the Phyto Corrective Gel costs $67 in total.
Skinceuticals Sunscreen Review
The typical beach bag consists of a hat, a swimsuit set, a towel, and, of course – sunscreen. Unless you love the look of red burns, this cosmetic brand offers a great collection of sun protectants for customers to choose from.
Can't decide on a product? We'll feature one of their most popular formulas within this Skinceuticals review.
Skinceuticals Physical Fusion UV Defense SPF 50 Review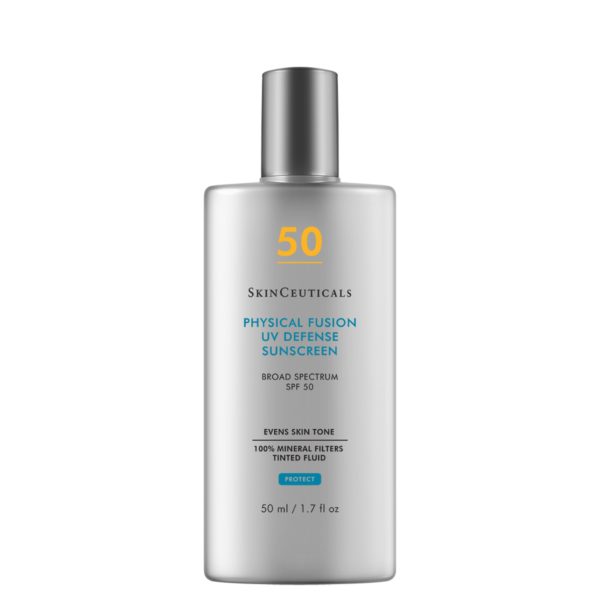 There's nothing worse than a sunburn. Red and flakey in texture, this beach bum mistake can make your skin super sensitive to water, stretching, or even the lightest of touches.
For those who'd rather get tan lines than a sizzling scorch, the Physical Fusion UV Defense SPF 50 offers broad-spectrum UVA/UVB protection for the hottest of summer days.
Blended with zinc oxide, artemia salina, and plankton extract, this protectant defends the skin against environmental stressors.
As a bonus, it can also boost your complexion's radiance to really achieve that sun-kissed look. Designed to be water-resistant, the Physical Fusion UV Defense SPF 50 is available in two sizes:
1.7 fl oz: $35
4.2 fl oz: $66
Who Is Skinceuticals For?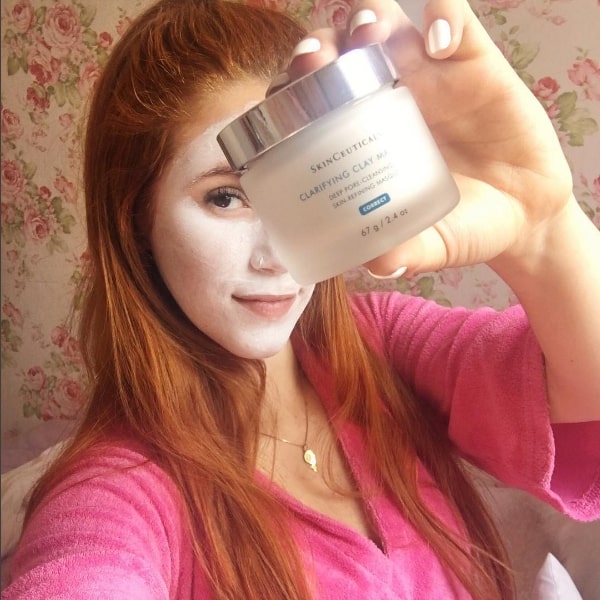 Skinceutical products are for people who have skin. We know it's self-explanatory, but hear us out. Most people aren't blessed with Instagram perfection.
From fine lines to acne spots, a majority of us are troubled with at least one primary skin concern. This is where Skinceuticals fits in.
Since they usually target those who have wrinkles and aging spots, it's safe to assume that Skinceuticals is catered to an older demographic.
With that being said, that shouldn't stop younger customers from applying their products. But before you make any significant changes or lifelong commitments, we suggest consulting with a professional first to see if their formulas are right for you.
Comparison: Skinceuticals vs. Paula's Choice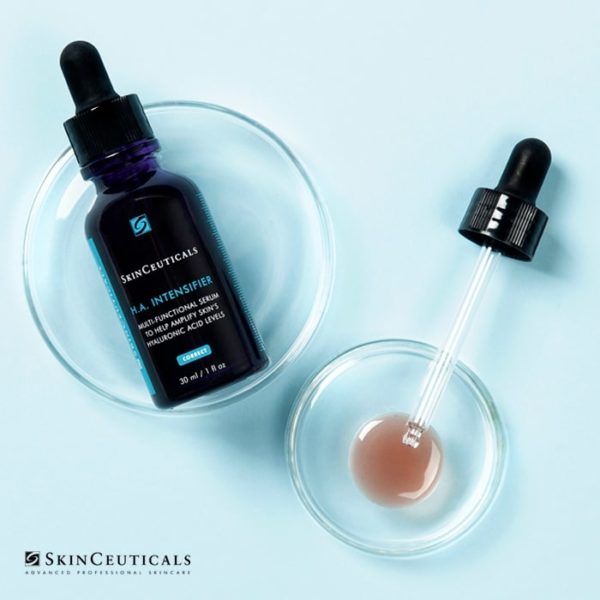 Cosmetic brands should emphasize transparency and efficacy as their two key values. Unfortunately, there's a lot of 'hocus pocus' surrounding the skincare industry, as most companies only focus on one element or nothing at all.
With this in mind, can readers trust Skinceuticals products? To help reach a solid conclusion, we're comparing this label with Paula's Choice to see which company comes out on top.
Skinceuticals:
Offers an extensive collection of skincare products
Provides professional services such as the SkinLab
Has educational resources dedicated to other skin treatments such as chemical peels and cryotherapy
Pricier than other retailers
Offers some clean formulas on its website
Paula's Choice:
Also offers a wide variety of skincare products
Provides educational resources that customers can access (i.e. skincare quiz and ingredient glossary)
Reasonable prices
Offers vegan and cruelty-free formulas
Better luck next time, Skinceuticals. In our opinion, Paula's Choice takes the cake due to their transparent marketing and reasonable prices. Unfortunately, Skinceutical products aren't vegan or cruelty-free, which is offered by the competitor.
On top of that, their formulas are quite expensive, as most of their items range from $50 to $100. As a result, Paula's Choice seems to be a more cost-effective and credible alternative when it comes to skincare.
Check out our Paula's Choice Review for more details on the brand.
Skinceuticals Reviews: What Do Customers Think?
Cosmetic brands will do their best to outrun the competition. From medical claims to celebrity endorsements, it may be difficult to separate hype from credibility due to positive press.
Fortunately, this Skinceuticals review is here to provide a non-biased report on this brand to help readers reach a more informed decision. To start things off, let's take a look at how some of their top-selling products are rated:
CE Ferulic with 15% L-Ascorbic Acid: 4.5/5 stars out of 1,821 ratings
Skinceuticals Triple Liquid Restore 2:4:2: 4.7/5 stars out of 1,148 ratings
Hyaluronic Acid Intensifier: 4.6/5 stars out of 654 ratings
Phloretin CF® with Ferulic Acid: 4.5/5 stars out of 272 ratings
Discoloration Defence: 3.7/5 stars out of 236 ratings
Phyto Corrective Gel: 4.4/5 stars out of 244 ratings
Skinceutical products definitely look promising, as we found a large number of success stories attributed to their best-selling formulas. From serums to cleansers, customers are reporting a smoother, clearer, and brighter complexion after repeated use.
"I have noticed improvement around my eyes where crows feet hang out. It truly has tightened those wrinkles; which means they are still there but my foundation is going on much smoother now. I am 72," one customer wrote for the Hyaluronic Acid Intensifier.
On the other hand, the CE Ferulic with 15% L-Ascorbic Acid won the upvote of one particular user: "This product is the biggest game changer in my vanity. It helps even skin tone and makes my skin look bright and fresh. It also helps ease redness."
The positive vibes for Skinceuticals don't stop there, as other websites offer a promising amount of encouraging reviews. This includes sources like:
Dermstore for the Skinceuticals CE Ferulic with 15% L-Ascorbic Acid: 3,699 reviews with 4.8/5 stars
Makeup Alley: 2,290 reviews with 3.8/5 stars
According to hundreds of online customers, Skinceuticals proved effective in achieving a youthful complexion. While some complained about their hefty price, a majority of users noted that it was ultimately worth it.
"This is well worth the money. Why spend on something that is so-so. When it comes to good skin, this brand is the best, and if you've used vitamin C serums before, you can tell when one has a high amount of C. This does," one Dermstore customer wrote for the CE Ferulic Acid.
Independent blogs, such as Posh in Progress, also wrote a favorable Skinceuticals review. The author was quick to recommend the Triple Lipid Restore cream and the Phloretin CF serum, as they both seemed to do their job in rejuvenating the skin.
"I swear my skin actually looks better today. One of my California friends tells me that every time they see me, I actually look younger. I'm going to take that as a sign that my skincare routine is working," via a statement made by Posh in Progress.
Despite the hype, this Skinceuticals review uncovered a few less-than-positive reports while doing our research. Some customers on Makeup Alley and Dermstore reported no noticeable improvements after using some of their products.
On worse occasions, others noted side effects – such as dry skin and breakouts – when applying their serums and creams. In addition, we found some customers complaining about the scent of the CE Ferulic Acid, as it reportedly smelled like 'pennies.'
Aside from the negative testimonials, we're inclined to give a positive rating towards Skinceutical products. This is partially due to the sheer number of success stories online and the reported efficacy of the brand's products.
Is Skinceuticals Worth It?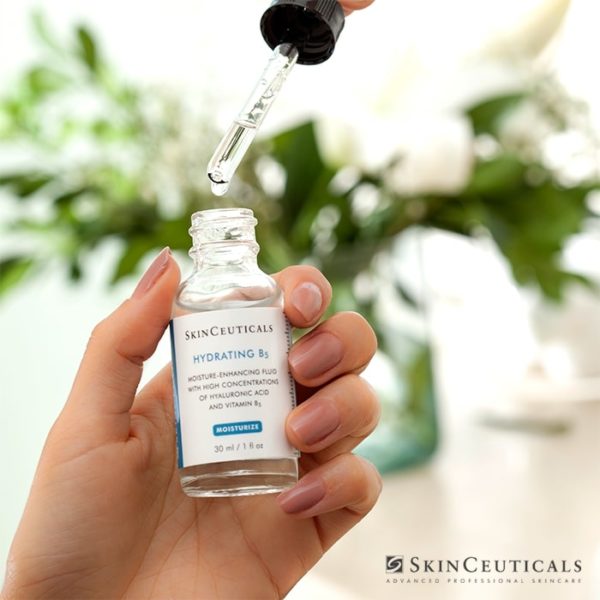 Thankfully, Skinceuticals seems to live up to the internet hype. Due to the amount of encouraging success stories, their products are far from false advertising. From oily sheens to dry textures, there are a number of ways to attain that coveted clear complexion.
Aside from the brand's expansive inventory, Skinceuticals does their best to help customers understand the world of dermatology, as shown through their line of professional services and ingredient glossary.
With that being said, customers should be prepared to pay a hefty amount for their formulas. Unfortunately, Skinceuticals is not an affordable brand, as some products can cost as much as $100.
But if you're willing to make the commitment to better-looking skin, this Skinceuticals review recommends the brand.
Skinceuticals Promotions & Discounts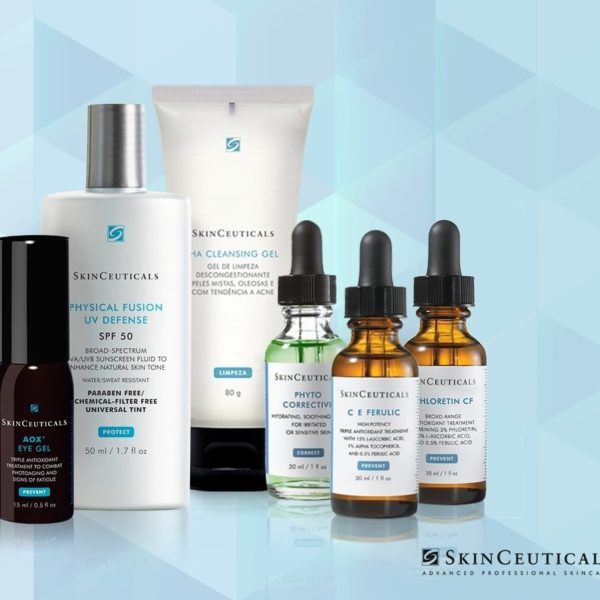 We uncovered a few ways to help readers save some money. For instance, customers can receive a deluxe sample of the Physical Fusion UV Defense SPF 50 if they use promo code: PHYSICAL at checkout.
They also have a rewards program where members can accumulate points to gain access to exclusive deals and perks.
Where to Buy Skinceuticals
Customers can find their products by visiting skinceuticals.com. You can also find them at select retailers:
Dermstore
Gee Beauty
Walmart
Beautysense
Amazon
FAQ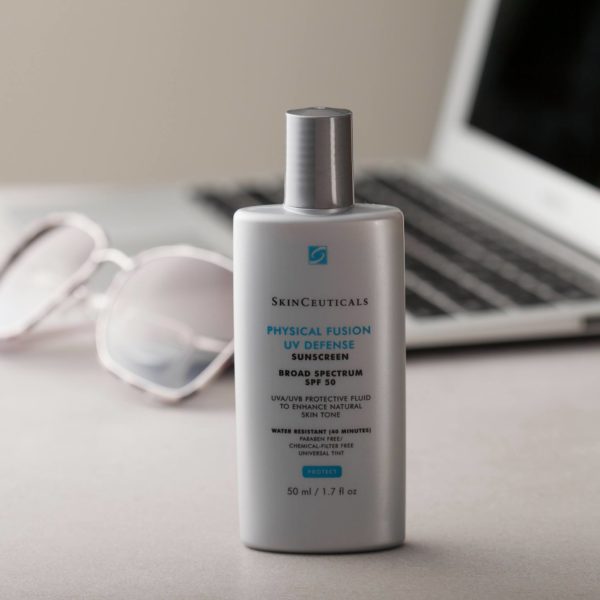 Where is Skinceuticals made?
This Skinceuticals review found that according to their webpage, the brand's products are made in the USA.
Is Skinceuticals vegan and cruelty-free?
In an official statement released by the brand, Skinceuticals does not test on animals. They do not offer any vegan formulas on their website.
What is Skinceuticals' Shipping Policy?
Depending on how much you spend, shipping costs will differ for every order. For instance, purchases that range within a $1 to $100 spending amount will result in a $6 delivery fee.
To help monitor the status of your package, the brand will issue a tracking number alongside a confirmation email. Sadly, Skinceuticals only ships to those residing in the United States.
What is Skinceuticals' Return Policy?
Skinceuticals offers a 30-day window for customers to send back their orders. It's worth noting that this only applies to products purchased directly on their website. To initiate this process, buyers must log in to their accounts and access the return portal.