About West Elm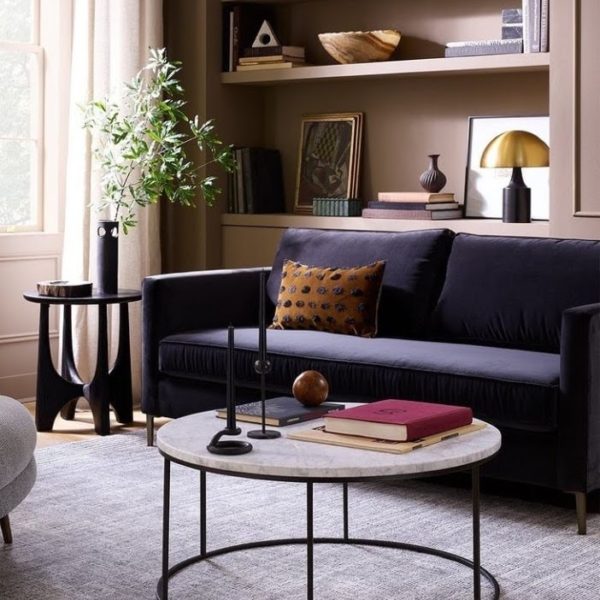 West Elm is a high-end furniture and home decor company known for its trendy and modern designs. Their collection ranges from West Elm rugs, West Elm chairs, to West Elm modern wall art. With a huge following of over 2.4 million on Instagram, they have been featured in numerous publications including PopSugar, the New York Magazine, the Huffington Post, and Refinery29.
If you're in the market for modern pieces for your home, this company might be for you. This West Elm furniture review will take an in-depth look at the brand, its products, customer ratings, promotions, and more, to help you decide if their collection is right for your pad.
Overview of West Elm
West Elm was launched with its first ever catalog in 2002 under its parent company of Williams-Sonoma and Pottery Barn. More specifically, Williams-Sonoma is one of the oldest and largest e-commerce retailers that sells kitchen-wares and house furnishings, starting all the way back in the 1940s.
West Elm produces a variety of contemporary and mid-century home decor, furniture, and wares, for the modern consumer. Their headquarters are now based in New York City.
West Elm also focuses on lessening its ecological footprint, with 60% of their products supporting at least one sustainability initiative. A portion of their inventory is Fair Trade certified, handcrafted, organic, or sustainably sourced. Additionally, 35% of their wood furniture is FSC certified, meaning they help support forests and ecosystems worldwide.
"You shouldn't have to choose from getting value and shopping for your values. Or between looking good and feeling good. From natural materials to nontoxic finishes, we're making it easy for you to create a healthier home."
Before we get into this West Elm furniture review, let's go over some initial pros and cons:
Pros
Thousands of contemporary home decor, furnishings, wares, and furniture to choose from
Sustainable and environmentally friendly business practices
West Elm credit card for customers to earn rewards every time they shop
3D room planner allows customers to see how their products fit into their room
Free design services including virtual consultations and phone calls
Installment payment options through Affirm
Cons
Pricier compared to other furniture retailers
Varied customer reviews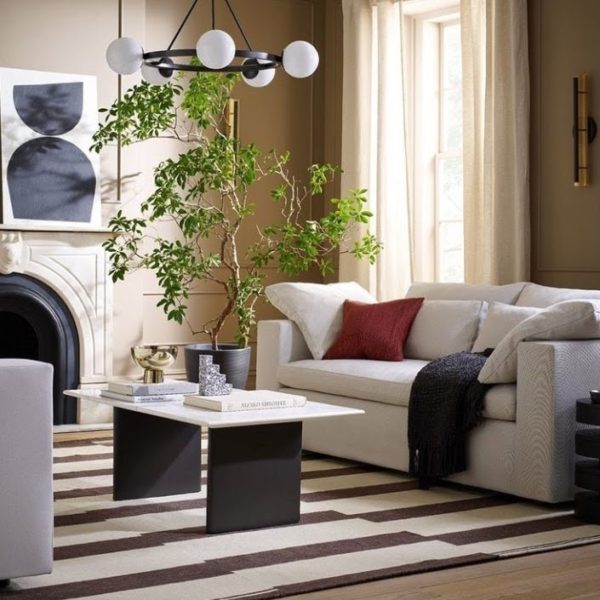 So, what's your aesthetic when it comes to home decor? There are a variety of options available, including minimalism, vintage, rustic, transitional, French country, and more.
Whatever your taste is, there's a large inventory of home-related paraphernalia that can complement many interior design styles, like opulent West Elm chandeliers and West Elm beds with modern flair.
West Elm Furniture Bestsellers
From sculptural, overarching West Elm lamps that embody an artistic quirk, to contemporary West Elm bedding, you'll have plenty of options to choose from.
Before you start perusing their catalog, take a look at this West Elm furniture review, as we highlight a selection of bestsellers that might pique your interest.
West Elm Modular Sectional Review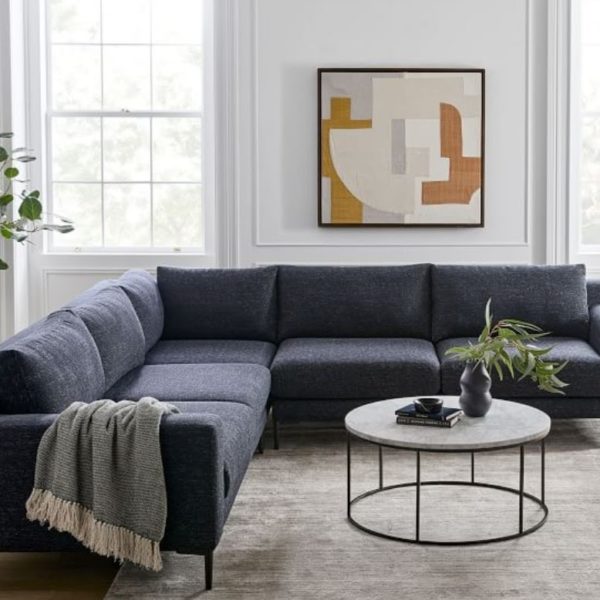 The sofa is one of the most integral pieces of furniture to have in the living room. Not only does it fill empty space, it's an area where family and friends can gather. However, don't settle for just any type of couch. The Modular Sectional, hailing from their Harper collection, delivers a sense of contemporary class and elegance that is sure to elevate your living space.
This modern and Scandinavian West Elm sofa features a low profile with thick shapely arms and a slim seat deck. It also features wide, tailored cushions that are made for sitting down or stretching out. Some key features of the Modular Sectional include a kiln-dried frame, metal legs finished in antique bronze, and webbed seat support.
There are nine ways to assemble this stylish sectional, depending on the layout of your room. This includes left-arm chaise, right arm two-seater sofa, and corner. Customers can also choose the fabric and color that would work the best in their living space. These customizable options mean the sectional varies in price from $899–$1999.
West Elm Mid-Century Leather Show Wood Chair Review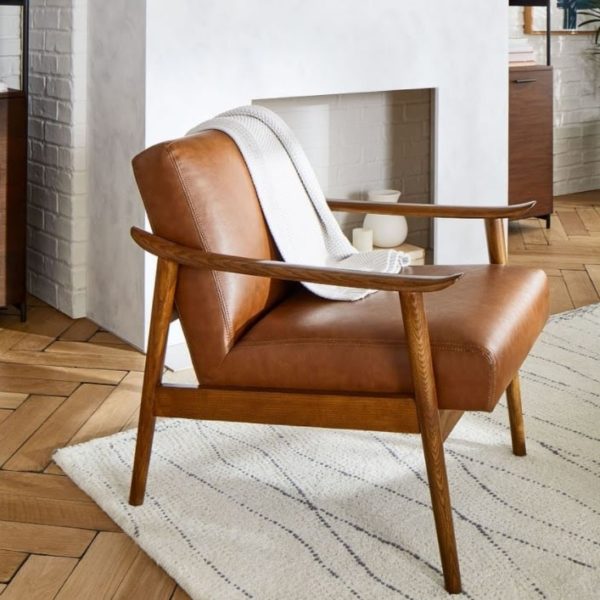 If you're looking for a fashionable and reliable chair, look no further than the Mid-Century Leather Show Wood Chair. This understated beauty features a sleek silhouette that's perfect for the minimalist or rustic home decor vibe. It showcases solid ash wood arms and legs covered in a pecan or espresso-stained finish.
Upon the legs holds your choice of genuine top-grain leather or vegan leather. This West Elm chair is contract grade– meaning it's very durable. Consider buying two with a West Elm coffee table, so you can create the ultimate breakfast space to sip your morning brew and read the newspaper (tablet or print).
The Mid-Century Leather Show Wood Chair varies in fabric, color, and leg style which all differ in price. This ranges from $799–$2148, which is a limited-time offer.
West Elm Volume Side Table Review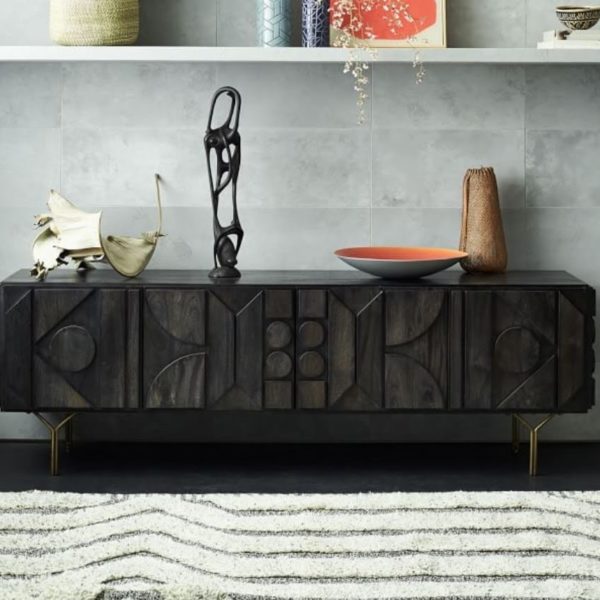 Traditional side tables can oftentimes be quite plain. However, the Volume Side Table features a unique cylindrical design, which is almost akin to a tree trunk. With its rounded base and beautiful wood grain, this West Elm Side table is simplistic enough to go in any modern household.
Polished with a water-based finish, this table has wood wrapped with a cool walnut finish or winter wood veneer. Additionally, all wood is kiln-dried for added durability. It is also high enough to accompany most West Elm couches.
As a cool little addition, place a wireless charging pad and a simple white lamb for a modern, high-tech touch. The Volume Side Table costs $249, $23/month with Affirm.
West Elm Media Console Review
First impressions are always important. When guests enter your house, you want your home to look as neat and orderly as possible. To impress your guests, go for the tribal Media Console for your foyer or living room.
Perched on Y-shaped metal legs in an antique brass finish, it holds kiln-dried mango wood with three compartments containing adjustable shelves. It is worth noting that the mango wood is sustainably sourced from trees that no longer produce fruit.
This Media Console accommodates a flat-screen TV up to 80" with four cutout openings at the back for cord management. If you'd like this in your foyer space, try placing some in-season flowers in an elegant vase for a more traditional look.
As a finishing touch, there's a beautifully carved, geometric pattern on the front for added visual interest. Measured at 19" in depth and 27" high, the West Elm Media Console comes in three different colors that vary in price:
Flax: $1499 (or $136/month with Affirm)
White or black: $1699 (or $154/month with Affirm)
West Elm Mid-Century Smart Desk Review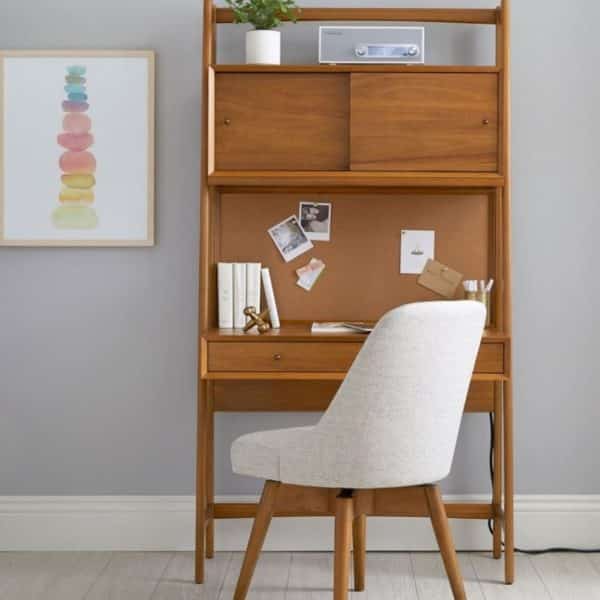 Desks can be considered the hub of hard work. Whether you're busily writing your next article, or holding an important Zoom meeting, it's quite important to get a desk that's durable, and can hold many things.
This mid-century desk is made out of Fair Trade certified eucalyptus wood that's sustainably sourced, kiln-dried for strength, and completed with water-based finishes.
Created in collaboration with Pottery Barn Teen, this GreenGuard certified West Elm desk also features a USB power strip, integrated LED lighting, and a handy corkboard for your reminders and post-it notes.
The Mid-Century Smart Desk comes in either acorn or white. Make this an integral part of your bedroom for just $799 or $73/month with Affirm.
West Elm Quinn Lacquer 6-Drawer Dresser Review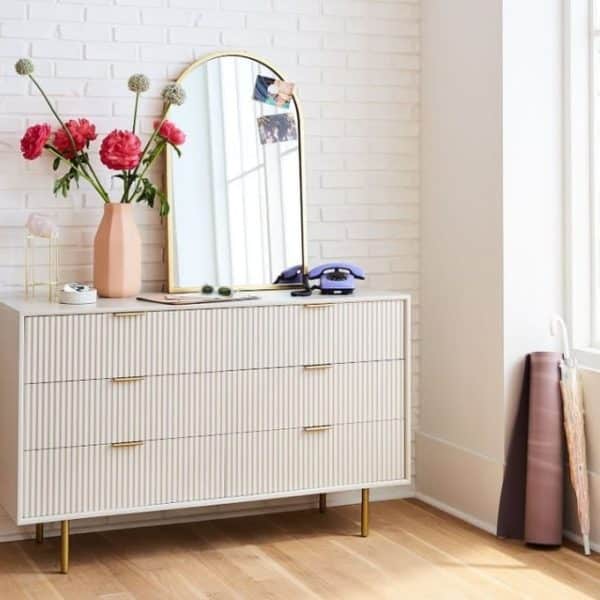 There's nothing like a bedroom dresser to organize your clothes and hold your vanity mirror. The Quinn Lacquer 6-Drawer Dresser features a glamorous and vibrant silhouette, as it showcases textured drawer fronts and lofty metal legs.
All parts of this West Elm dresser are made out of extra strong kiln-dried mahogany wood and covered in a haze lacquer finish. What's especially cool about this dresser is that its legs have built-in levelers that can adapt to varying floor levels.
It also has six drawers that open on metal gliders, which makes it super easy to pick out your outfit for the day. The Quinn Lacquer 6-Drawer Dresser is priced at $1399, or $127/month with Affirm.
West Elm Cotton Duvet & Standard Sham Review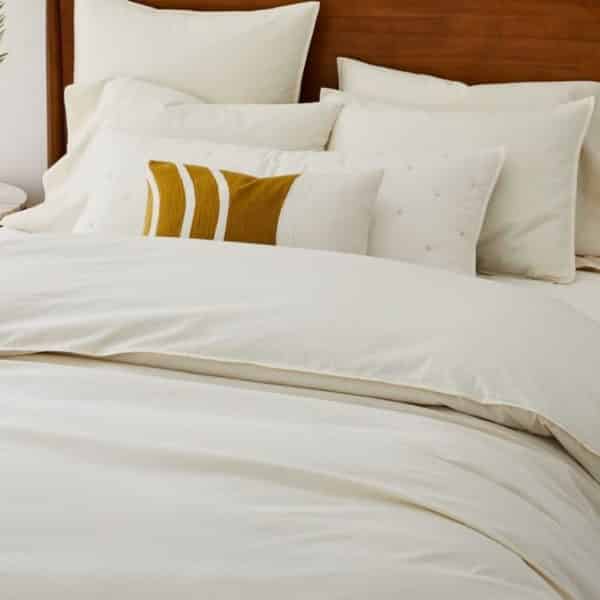 It's time to ditch those itchy granny quilts and thin bedding blankets. The Cotton Duvet & Standard Sham is as cozy as your favorite t-shirt. Woven from cool-to-touch organic cotton percale, it makes garment washing extra cuddle worthy.
Its luxurious and relaxed look will surely elevate any traditional bed to a more contemporary and modern design. You don't just have to buy just the sham, you can also purchase a duvet cover, duvet cover and sham, or set of two shams.
Customers can also select the size of their sham depending on the dimensions of their bed. The Cotton Duvet & Standard Sham comes in multiple neutral colors. Complete this bedding set by adding other West Elm pillows, matching West Elm pillow covers, and West Elm duvet covers.
The price for the Cotton Duvet & Standard Sham varies in price, depending on the sham or set:
Duvet Cover and Sham Set for King/Californian: $209 (or $19/month with Affirm)
Individual sham for Euro Sham in asphalt: $40
Set of two shams for standard sham in stone white: $59
West Elm Linen & Luster Velvet Curtain Review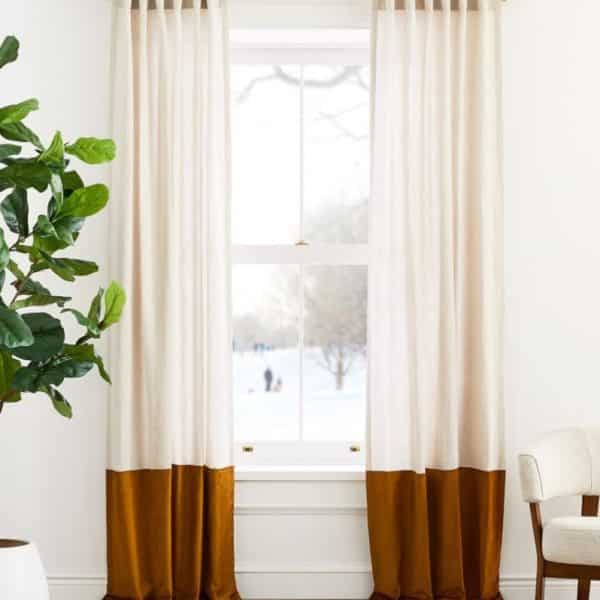 If you have a feeling that your living room is missing something, chances are that you overlooked an essential touch of warmth–curtains. The curtain can easily make or break a room, as its color or design can impact the overall aesthetic or vibe.
The Linen & Luster Velvet Curtain showcases a lightly colored European linen with a luxurious golden oak velvet at the bottom for a modern color-blocking effect. Not only do these West Elm curtains brighten up the room, but they also block out any glaring sunlight and help insulate the windows.
Available in various lengths, pair this curtain with a golden or brass curtain rod for a more glamorous look, the Linen & Luster Velvet Curtain comes in three sizes:
108": $179
84": $149
96": $164
West Elm Hand-Knotted Fragment Rug Review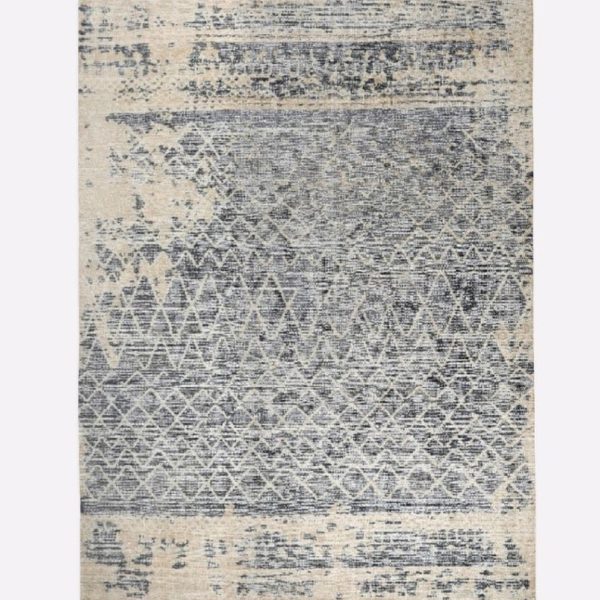 Rugs not only provide a more homey look to your bedroom or living space, they also offer some protection to your floors. The Hand-Knotted Fragment Rug is the perfect floor mat to add some jazz to your space.
This rug is handcrafted by highly skilled artisans in India, which is made out of a combination of wool and viscose. Featuring a subtle fragmented, abstract design, it's colored with muted beiges, greys, and hints of navy blue.
Pair this beauty in your living room next to a set of matching leather chairs and a West Elm dining table. The Hand-Knotted Fragment Rug will be sure to bring some extra spice for $281.
West Elm Reviews: What Do Customers Think?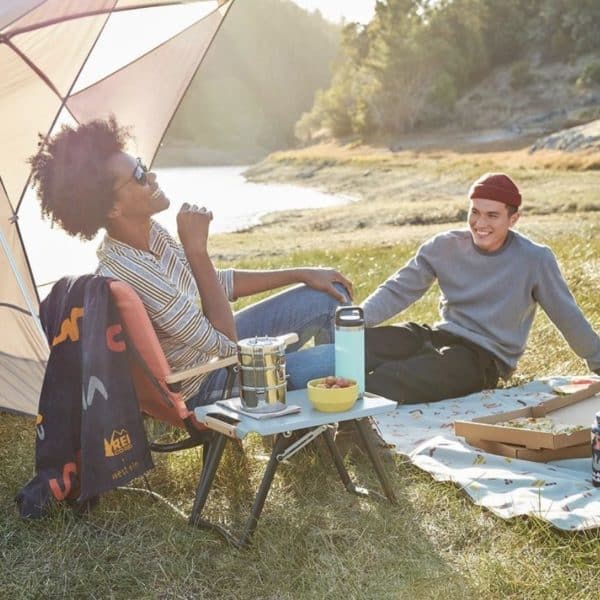 This West Elm furniture review found a varied customer response based on its research. On Trustpilot, they have a ranking of 1.3/5 stars with over 280 reviews.
Customers noted that there were issues with their delivery times, having reported delays or not receiving their orders. There are also reported issues with customer service, with buyers claiming the team was unhelpful in remedying problems or were unresponsive.
"I placed an order for a couch in early November. I am accepting of Covid delays, what I am not accepting of is the lack of customer service, lack of transparency, mixed messages and zero resolution when trying to figure out where the $2,500 couch I ordered is," one Trustpilot reviewer wrote.
There are also continued negative customer reviews on a few of their Yelp pages. For instance, in their Californian location, they have 2/5 stars from 430 reviews on Yelp, and 3/5 stars on Consumer Affairs from 558 ratings.
While there are more reports of bad customer service and delivery issues, other buyers reported problems with the quality of their furniture. This complaint echoes a 2018 Vox article that described shedding sofas and cushions that didn't hold their shape.
"They started leaking feathers all over the place, the cushions didn't hold their shape. … 3 and half months later, I sat on one of the couches and the front beam snapped in half," The author wrote, adding that "West Elm won over millennials. But now it's really pissing them off."
Not all customers are dissatisfied with their West Elm pieces. Slumber Search rates the company 7.7/10 stars out of 129 votes, and Influenster provides a 3.6/5-star rating from 166 reviews. Fans of the brand love the modern designs and were impressed by the quality. There were also limited reviews that reported positive customer service experiences.
Is West Elm Furniture Worth It?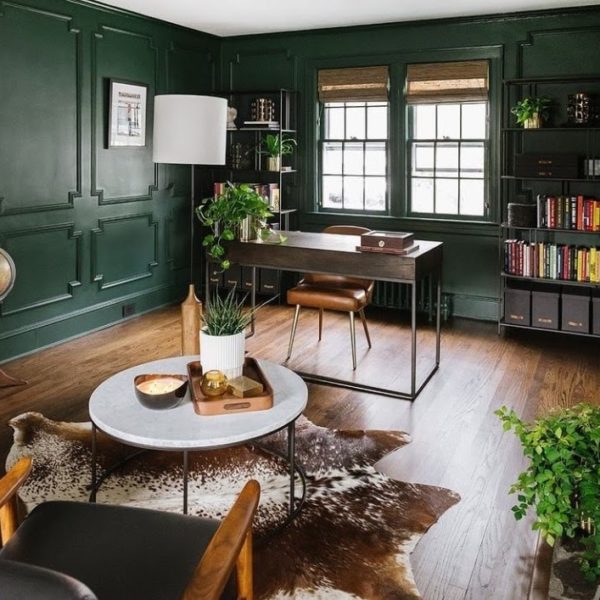 This West Elm furniture review is wary to recommend this brand due to the number of negative customer experiences. But, let's go over the positives first.
West Elm has a wide array of furniture, home decor, wares, and furnishings that are all beautiful to look at. All of their products have a modern and contemporary feel that is very much on-trend.
Customers can shop through their sustainable furniture collection. It's nice to know that a sizable majority of their items are environmentally friendly and ethically made. Another advantage is their room planner feature, which makes it easy to see how the furniture would look in the room it's intended for.
However, it is hard to overlook the positives when there are several negative reviews. There are poor ratings across many credible websites such as Trustpilot and Yelp, which detail horrible customer service experiences and delivery issues.
The amount of negative reviews has reached the point where it becomes newsworthy, with poor ratings conveyed in several media outlets.
There's still no harm in pursuing their furniture collection, but be on your guard. Based on this West Elm furniture review, a positive experience is hit or miss.
West Elm Promotions & Discounts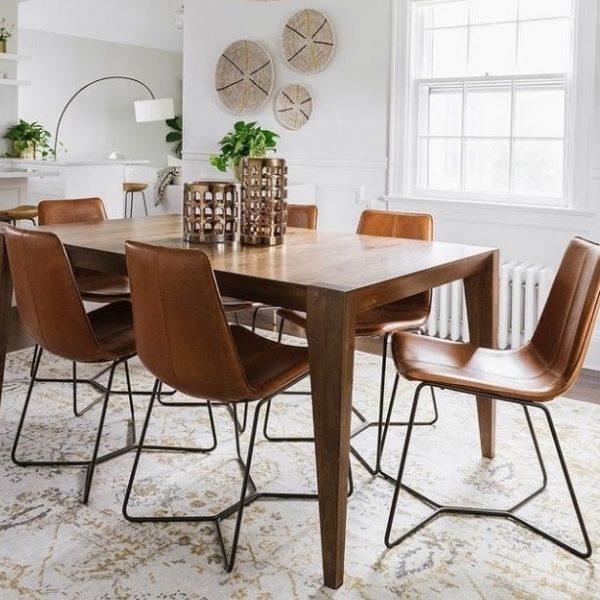 You can shop the West Elm outlet sale and get select products for a discounted price. They also have a rewards program, where customers can get a credit card or sign up for 'The Key' to be given special rewards and exclusive access to deals.
They also offer a student discount and send a West Elm promo code worth 15% off upon signing up on their website. West Elm also has a military discount of 15% off.
Where to Buy West Elm Furniture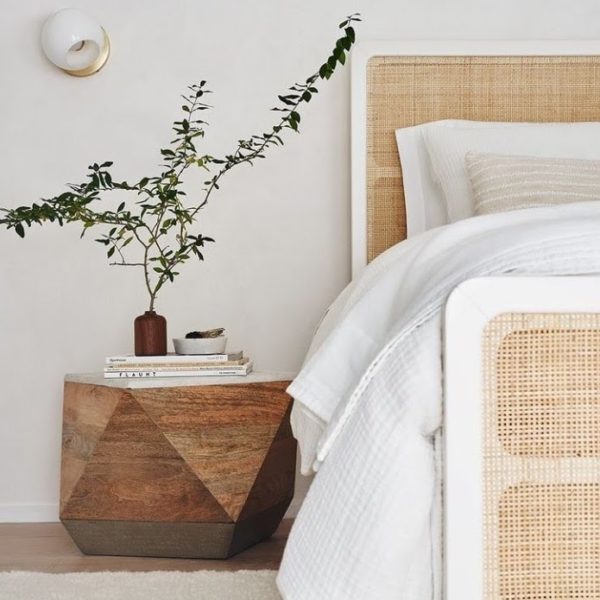 You can access their furniture collection through WestElm.com. If you prefer to shop in-store, there are West Elm locations in Canada and the United States. Customers can search 'West Elm near me' by visiting the store locator on their website.
FAQ
Is West Elm owned by Pottery Barn?
Yes, West Elm is operated under its parent company of Williams Sonoma and Pottery Barn.
Does West Elm offer free shipping?
Only a few items are eligible for West Elm free shipping, such as their Chenille Rib Throw and Cotton Knit Throw.
What is West Elm's flat rate delivery fee?
West Elm ships throughout Canada, the United States, Mexico, Australia, and the United Kingdom. For international destinations, customers must order on their desktop, laptop, or anything other than a mobile device.
Shipping options include front door parcel delivery, local pickup from a UPS Access Point, truck delivery, or store pickup. For West Elm ship-to-store delivery, customers can pick their orders up from a local store that are not in stock.
The customer is charged a competitive flat-rate shipping fee for most eligible orders. There are various fees for each shipment type, which customers can find in detail by visiting their website.
Customers can track their orders by inputting their West Elm shipping code by visiting their website.
How much does West Elm shipping cost?
This West Elm furniture review found out that shipping rates vary based on the order total. For instance, an order of $200 can be charged around $21 for shipping.
The price of truck delivery is measured from distance, with the longest being the most expensive.
What is West Elm's Return Policy?
Most items are eligible for return within 30 days of purchase. Ineligible items such as final sale, monogrammed items, and gift cards cannot be returned. Customers can either initiate their return process by phone, my mail, in person, or online.
Online returns and in-store returns are only available for items that were shipped to the United States. For international returns, customers must receive a return authorization from their customer care center.