Webroot Review: Quick Expert Summary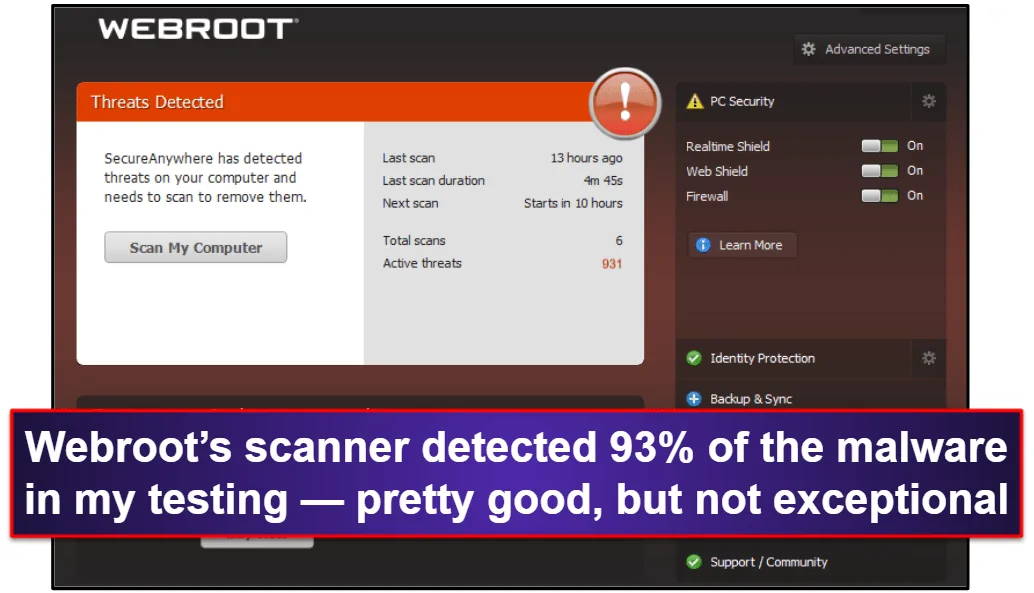 Webroot is a lightweight cloud-based antivirus program with a good malware scanner, excellent password manager, and some other decent extra features. In my testing, the antivirus scanner caught 93.1% of the malware samples I hid on my device — while this is a good result, competitors like Norton, Bitdefender, and McAfee all scored 100% malware detection rates in our malware testing.
Webroot also includes the following additional features:
Web & phishing protection.
Password manager (LastPass).
Identity protection.
System optimizer.
25 GB of cloud storage.
The LastPass password manager that comes bundled with Webroot is one of the best password managers on the market, and the cloud storage is a helpful addition. But the web protection, identity protection, and system optimizer aren't as good as similar protections from the best antiviruses on the market, like Norton and Bitdefender. Webroot also lacks useful features like a VPN, parental controls, dark web monitoring, or Wi-Fi protection.
Overall, while Webroot lacks many of the additional features I'd like to see in an antivirus program in 2022, it's still a decent antivirus with a minimal impact on system performance. Webroot offers several payment plans that cover either 1, 3, or 5 Windows, Mac, Android, and iOS devices — and all of Webroot's plans have a 70-day money-back guarantee, which is more generous than any other brand on the market.
Webroot Full Review
Webroot is an affordable, lightweight antivirus scanner with a good password manager and a couple of other extras — including web protection, a system optimizer, and 25 GB cloud storage.
Webroot's password manager is powered by LastPass, one of the top password managers around, and the cloud storage is a useful addition, but Webroot's web protection is unreliable and the system optimizer may be too basic for most users.
Webroot offers several packages that work on Windows, Mac, Android, and iOS users (although the iOS app is pretty bad) — and all the plans come with a generous 70-day money-back guarantee.
Webroot Security Features
Webroot uses a cloud-based malware directory as well as heuristic analysis to detect threats on your machine. Since it's cloud-based, Webroot doesn't use a lot of CPU and disk space while performing a scan. Another benefit of having a cloud-based scanner is that you don't have to worry about updating Webroot's malware database.
With Webroot, you can schedule a Deep Scan (full system scan) or Quick Scan (only scanning high-risk areas of a device) either daily or weekly. You can also manually run a full scan or a scan of individual folders/files.
To test Webroot's malware scanner, I downloaded and hid 1,000 test files all over my device, including trojans, spyware, keylogging malware, and rootkits.
Webroot detected 93.1% of my test files and either removed the files completely from my system or placed them into quarantine. This is a pretty decent result, but it's not as good as Norton or Bitdefender, which both detected 100% of the malware samples under similar testing conditions.
I also ran a ransomware simulator to see how Webroot would handle ransomware attempting to encrypt files on my device.
The results from the ransomware simulator weren't great — Webroot only blocked 5 out of 21 "threats". Had the attack been real, 553 of my files could have been infected! I'd definitely like to see Webroot improve its ransomware detection, especially considering that competitors like McAfee detected 100% of the ransomware files in our testing.
That said, Webroot's scans are substantially faster than the competitors — Webroot averaged about 5 minutes per scan over the course of 15 scans, which is very fast, even when compared to industry leaders like Norton. However, my internet connection significantly slowed down while Webroot was running its virus scans.
Overall, Webroot has a good antivirus scanner — it's quick, it doesn't use a lot of CPU, and it detected 93.1% of my malware samples during testing. My only complaints are that the scanner underperformed in my ransomware simulations and that a full system scan may create some lag while browsing.
Webroot also includes a subscription to LastPass — one of SafetyDetectives's top-ranked password managers in 2022. LastPass is a hugely popular password manager that protects user data with unbreakable 256-bit AES encryption and zero-knowledge architecture, meaning your passwords are 100% safe and you're the only one who can access the data in your password vault (not even LastPass has access to users' vaults).
LastPass is feature-rich and very easy to use. It offers an intuitive online dashboard that hosts your password vault along with a variety of vault auditing tools and other extras. In addition to the online dashboard, which you can access from any device or browser, LastPass also has a browser extension for Google Chrome, Firefox, Microsoft Edge, Opera, and Internet Explorer. The extension makes it easy to generate and save new passwords, auto-fill saved logins, and manage saved credentials.
LastPass Premium includes the following features:
Two-factor authentication (2FA) options.
Secure password sharing.
Password security auditing.
Account recovery options.
Emergency access.
Dark web monitoring.
I really like LastPass's 2FA features, which allow users to enhance their master password with temporary one-time password (TOTP) tools like Google Authenticator and even USB tokens like YubiKey. LastPass even includes its own TOTP generator that can auto-generate one-time passwords for compatible logins in your password vault. For example, I set up LastPass to generate a one-time password for my PayPal login. Every time I log into PayPal, LastPass auto-fills my main password as well as a 6-digit TOTP.
LastPass also offers several secure account recovery options, which is really helpful for users that are worried about losing their master password and getting locked out of their password vault. LastPass offers biometric scanning, it can restore your previous master password, or it can even text you a password reset code to help you get back into your password vault.
LastPass is an excellent standalone password manager (although we like Dashlane more), and it's definitely Webroot's best additional feature. LastPass offers secure and convenient password auto-filling, password vault protections, convenient 2FA options, and a variety of helpful account recovery methods. LastPass is also significantly cheaper as part of Webroot's internet security bundle, which makes Webroot's plans a good choice for anybody looking for a good antivirus + password manager combo.
Web Shield, Phishing Shield, and Identity Shield
Webroot has a series of 'shields' to protect users online, including a Web Shield, a Phishing Shield, and an Identity Shield.
Web Shield detects and blocks common web exploits — I tested it against a series of common web-based exploits and Web Shield was able to identify and block all exploits, including exploits for Internet Explorer, Chrome, Java, Adobe Flash, and more.
While Web Shield was very effective in my tests, I had problems with its browser extensions — my Chrome and Firefox browsers both repeatedly crashed. Even after restarting my PC, both browsers kept freezing and crashing, and it wasn't until I turned off Web Shield that I was able to use either browser again. Really frustrating!
Webroot's Phishing Shield detects and blocks phishing sites — during my tests, it blocked 8 out of 10 phishing websites I attempted to access. A phishing detection rate of 80% isn't bad, but competitors like Avira and Norton both detected 100% of the phishing sites in SafetyDetectives's phishing tests.
Identity Shield monitors sites for keylogging, screenlogging, webcam theft, or other data-stealing tools that can steal your details online. During my tests, Identity Shield was able to detect websites that were using my webcam, but it failed to block some keylogging and browser-based data mining tools.
Overall, the Web Shield, Phishing Shield, and Identity Shield are neither great nor terrible. Norton's Safe Web and Avira's Browser Safety extension are far more effective at blocking suspicious websites, trackers, phishing sites, and intrusive browser snooping tools — plus they won't crash your browser like Webroot's Web Shield does. But if you're only looking for a good antivirus scanner with decent phishing protection, Webroot is an ok option.
Webroot's system optimization tool removes saved browser cookies and deletes junk files taking up space on a device — which can protect your online privacy and improve your CPU performance.
Unfortunately, this tool is very basic and doesn't offer much information to users. After I scanned my system, Webroot told me it had identified 1,238 MB of junk files, but it didn't tell me what those files were. I'm still not sure if the identified junk files were files on my local hard drive, files in my computer registry, or browsing data, which made it hard for me to determine which files to delete.
The best antiviruses in 2022 have much better system speedup and cleanup tools — for example, TotalAV has a startup manager, an application uninstaller, and a duplicate file finder, while Avira can also scan your system for out-of-date software.
Overall, Webroot's system optimization tool is ok, but there are much more sophisticated computer optimization applications on the market that give way more control to users.
Is Webroot a Safe Antivirus in 2022?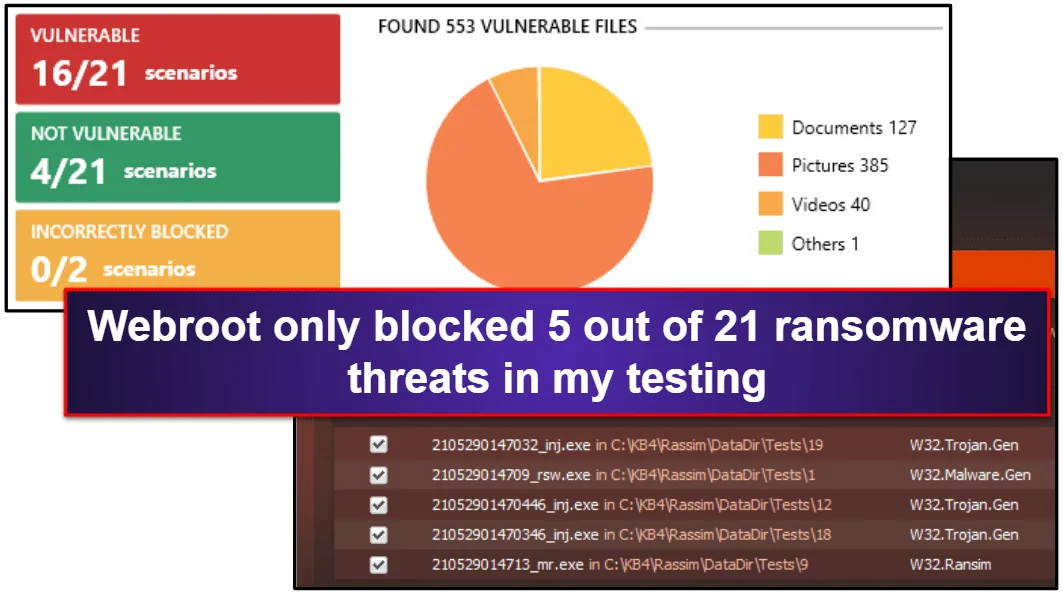 Webroot's scanner is very fast and lightweight, but it's not as good as competing antivirus products. Webroot's antivirus scanner detected 93.1% of my malware samples during testing, and all scans took approximately 5 minutes to complete — but I did notice some lag during the scans while I was browsing. Bitdefender and Norton have somewhat slower anti-malware scanners, but they both detected 100% of malware in all of our tests.
Webroot also failed to catch the majority of the ransomware samples attempting to encrypt files on my PC during a ransomware simulation, and the anti-exploit Web Shield kept crashing my browser (although the Identity Shield and Phishing Shield were both ok).
In terms of extra features, Webroot doesn't include a VPN, parental controls, or an ad blocker, but it does have a password manager and a system optimizer. The password manager is powered by LastPass, which is an excellent password manager with advanced 2FA functionality, convenient auto-filling, password sharing, and much more. But the system optimizer didn't impress me at all — TotalAV and Avira both offer a much better variety of system tune-up tools.
Webroot's mobile app includes an antivirus and a phone locator for Android, but the iOS app is pretty useless — it only has file backup. Webroot is very easy to use, even though its interface is pretty archaic-looking.
Overall, Webroot is a decent low-cost option for users that just want a solid antivirus scanner on a budget. Plus, all of Webroot's plans are backed by a 70-day money-back guarantee, so there's no risk in trying it out.
Webroot — Frequently Asked Questions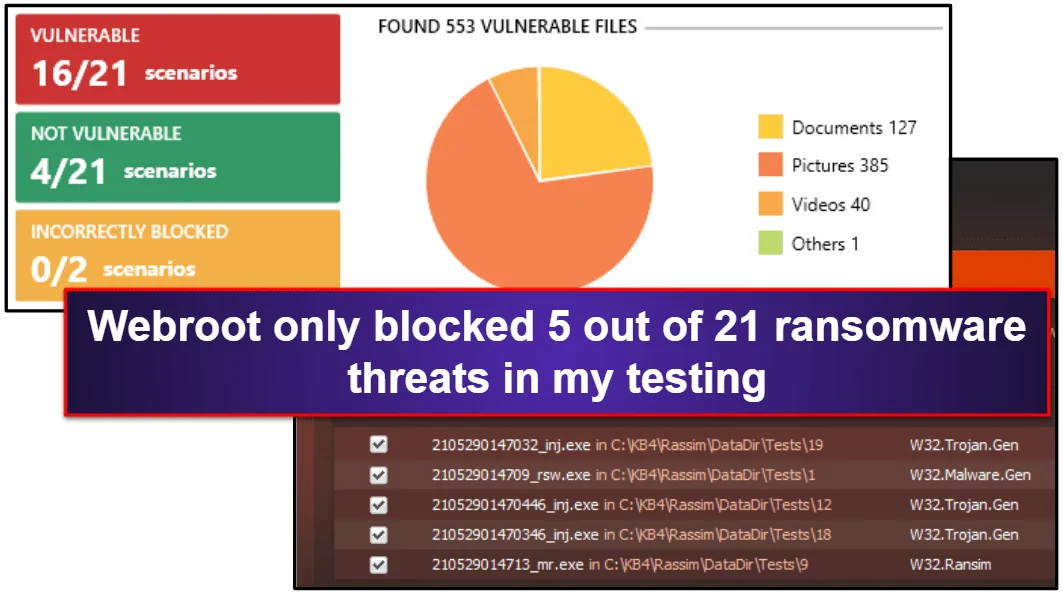 Is there a free version of Webroot?
There is no free version of Webroot. But all Webroot purchases are backed with a generous 70-day money-back guarantee, which gives you plenty of time to test the product.
I'm not a big fan of free antiviruses — they almost always lack additional features, and they put their most useful security protections behind a paywall. You can get any of the best antiviruses on the market for less than a Netflix subscription, and I personally think keeping your entire digital life secure is more valuable than the latest season of The Great British Bake-Off.
However, if you're only looking for a free Windows antivirus, you should check out our list of the top free antiviruses in 2022. (Spoiler alert, Avira is at the top of the list).
Does Webroot have a mobile app?
Yes! Webroot offers an app for Android and iOS users with the Internet Security Plus and Internet Security Complete plans.
The mobile app includes an antivirus scanner (for Android only), backup storage, and a secure browser (separate app) to protect users from malicious sites. However, Webroot's mobile app can't compete with the best Android and iOS antiviruses on the market. Webroot doesn't have the anti-theft, parental control, or app store scanning tools that make McAfee and Norton such helpful mobile security apps.
Is Webroot compatible with my system?
Webroot is available for Windows, Mac, Android, and iOS — although the iOS app is very limited.
Webroot's products are compatible with Windows 7 and higher, macOS 10.13 (High Sierra) and higher, and Chrome OS.
For the mobile app, Webroot is compatible with Android version 8 and higher, and iOS 13 and higher.
Is Webroot good for families?
Unfortunately, I can't recommend Webroot for families. Webroot doesn't include any parental controls, and its LastPass Premium plan doesn't include any of LastPass Families's helpful vault-sharing tools.
There are much better options to protect your family's devices, including Norton and McAfee. However, for a more tech-savvy family, Webroot's premium 5-device plan could be a good, affordable antivirus option.