Reviewed by Louise Totton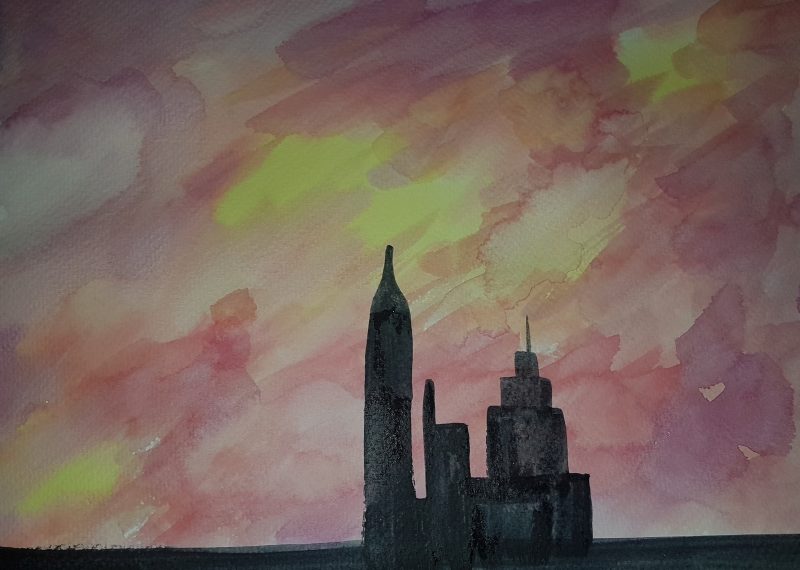 I have always wished I could paint. Some people make drawing and painting look so very easy and effortless, whereas I would describe myself as 'artistically challenged'. A year or so ago, I was trying to work out how to change the timer on my combi boiler (bear with me in this – honestly, it is relevant!), and I could not follow the instructions at all. So, I turned to Google, who in turn pointed me to a YouTube instructional guide for operating my boiler. Within twenty minutes, my timers were reset, and I have found a brand-new source of help for pretty much anything I was struggling with. Since then, I have used YouTube to teach myself to crochet, do some basic maintenance on my car and to get ideas for some face-painting ideas for my children. I find it so much easier to 'watch' instructions rather than read them, especially for visual things like crochet and face-painting.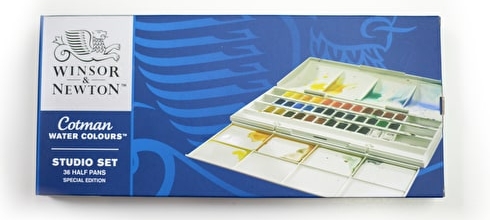 So, with this in mind, I thought that instructional videos would be a great way to begin to learn watercolour painting techniques. Other than lack of ability / inspiration, the other thing that has been holding me back is the overwhelming range of products available and the expense of kitting my self out. Cass Art seemed a great place to start though. The site is simple to use, and is nicely split into categories so I could get straight to the watercolour section. Being a compete novice, and not really understanding the difference between the standard paints, artists' quality paints, tubes of watercolour and concentrated pigments, I was relieved to see there is an Aspiring Watercolour Starter Set, which contains everything that I should need to at least begin to start to learn to paint. The set contains:
Winsor & Newton Cotman Watercolour Half Pan Set of 36 (including 2 Artists' Quality)
Cass Art Watercolour Gummed Pad 300gsm 12 Sheets A4
Daler Rowney Simply Gold Taklon Brush Set of 6
of these to add to the palette. The palette itself has spare spaces for adding any additional colours, which is really handy. I am actually quite proud of my efforts – for someone who has no artistic talent whatsoever, I have managed to produce some paintings that actually look like what they were supposed to look like!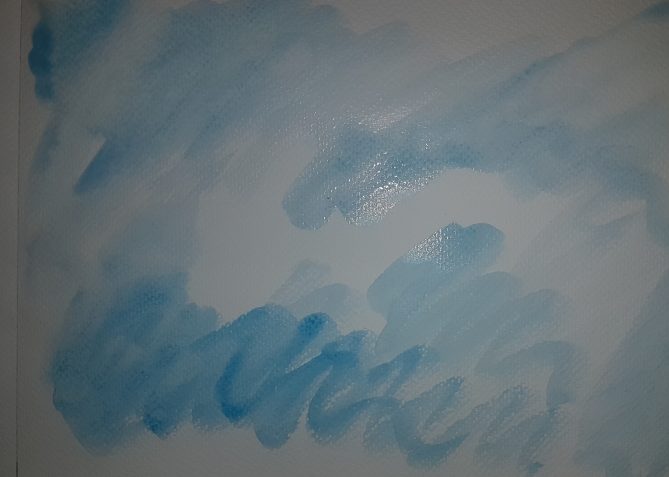 The two tutorials I followed then gave me the confidence and basic skills to have a go at my own skyscape, without following any instructions, which just goes to show how quickly you can pick up new skills if you have the right tools to do it.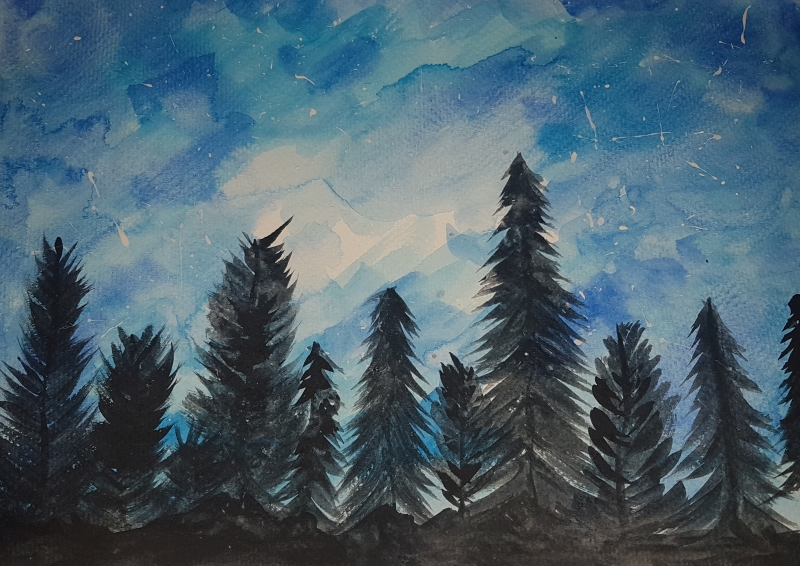 I would have to give this set a rating of 5/5, and I can't wait to get stuck in to doing some more painting. My nine-year-old has asked if we can do some painting together over the holidays, and with it being so simple to create these pictures, I know she'll be able to do it, and to produce something that she can be really proud of.
CASS ART ARTISTS' WATERCOLOUR TUBES 10ML
Cass Art Artists' Watercolours are an extra fine, professional grade watercolour. Produced using a unique natural formula which results in an incomparable brilliance and smoothness.
Made from the highest quality pigments this range maintains an un-paralleled colour strength and brilliance throughout.
Each colour also offers the highest possible lightfastness and permanence ratings.
Available in a rich, broad range of 28 colours in 10ml tubes, 18 of which are produced from single-pure pigments.
Cass Art Artists' Watercolour Metal Tin 10ml Set of 12
Cass Art Artists' Watercolour 10ml Set of 5
CASS ART ARTISTS' OIL COLOUR
Cass Art Artists' Oil Colours are an extra fine professional grade Oil colour produced with the highest possible level of pigmentation.
Ideal for blending and triple-milled to give their rich, buttery consistency also achieved through the use of a unique and natural formula.
Each colour within this range offers excellent results with maximum lightfastness and permanence ratings.
Compared with most Artists' Oil ranges the colours offer a slightly shorter drying time which is more consistent across all of the colours.
Available in a range of 23 colours in 37ml tubes, 19 of which are produced from single-pure pigments.
Titanium White also available as a large 200ml tube priced at £12.95
Click on a colour to add the item to your basket.
Learn more about paint series prices & A guide to acrylic painting surfaces
Stocked in all our stores.
Also available is our Cass Art Artists' Oil 10 x 37ml set, which provides the perfect introduction to this unparalleled range and offers fantastic value.
CASS ART ACRYLIC PAINT
Our own Cass Art Acrylic Paint offers great quality at an affordable price.
Available in a specially selected range of 20 colours in 120ml tubes and 12 key colours in larger 500ml pots.
These medium body acrylic colours are water-based, quick drying and ideal for all techniques.
These colours can be used on a wide range of surfaces including canvas, paper, card, board, wood and fabric;
making them equally perfect for use in all manner of craft and design projects.
They are lightfast with a high covering power and water-resistant when dry.
Click on a colour below to add the item to your basket.
Also available is the Cass Art Acrylic Paint 75ml Set of 8, which provides the perfect introduction to the range and offers great value.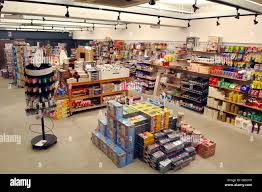 Stocked in all our stores.
CASS ART ARTISTS' WATERCOLOUR METAL TIN 10ML SET OF 12
Cass Art Artists' Watercolours are an extra fine, professional grade watercolour with a unique formula, produced from the purest of pigments. The colours come in larger tubes, 10ml as opposed to the traditional 5ml, giving you incredible value. This set also includes a series 4 Cerulean Blue, a popular colour for watercolour artists.
The colours have un-paralleled colour strength, with the highest lightfastness and permanence ratings.
Our Artists' Watercolours are also available to buy individually in a rich, broad range of 28 colours in 10ml tubes, 18 of which are produced from single-pure pigments.
This watercolour set from Cass Art contains 18 pans of artist grade watercolours in a handy case that is no bigger than a smart phone – ideal for when you are out and about.
Cass Art's professional watercolours are produced from the finest modern and traditional pigments; they are precisely formulated to offer unparalleled performance and permanence.
This set offers range of brilliant colours, designed to create perfect washes of pure transparent colour without hard edges.
Manufactured in UK
CASS ART MARKER SET OF 6 – PORTRAIT TONES
Cass Art Alcohol Markers are blendable, quick drying and fade resistant.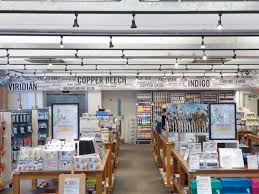 Featuring a bullet and chisel tip with an ergonomic barrel design, the vibrant range of colours can be used across a wide range of surfaces including glass, plastics and metals.
Designed for use in all areas of graphic design and illustration at a professional and student level.
Available in 5 packs including a Black & Blender Set, Grey Tones Set, Assorted Coloured 24 Set and a Assorted Coloured 12 Set
CASS ART PROFESSIONAL WATERCOLOUR QUARTER PAN & BRUSH IN TRAVEL POUCH