About UrbanStems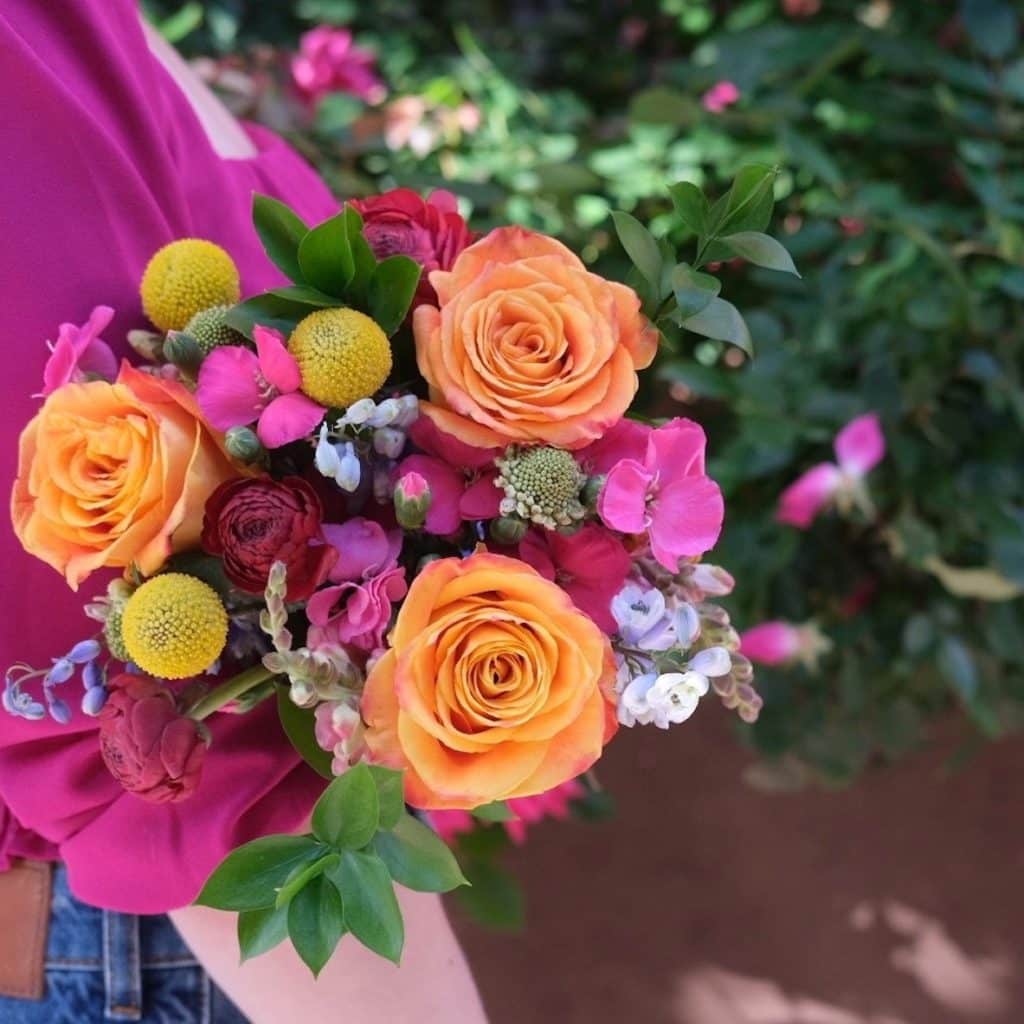 UrbanStems is a contemporary flower delivery company that brightens the lives of Americans with trendy arrangements.
Sourcing its plants and buds from Rainforest Alliance Certified farms, and the brand offers a range of chic, spirited, and simple bouquets for any occasion.
The brand has caught the attention of some of the biggest names in media like USA Today, Good Housekeeping, Brides, Vogue, CNN, People, Forbes, and Allure.
Their Instagram page has a matching 183K followers, which isn't surprising considering the bounty of beautiful posts.
This UrbanStems review will take a close look at the brand and its bestsellers, fill you in on what customers have to say about them, provide information on deals, FAQs, and more, to help you decide if they're worth the buy.
Overview of UrbanStems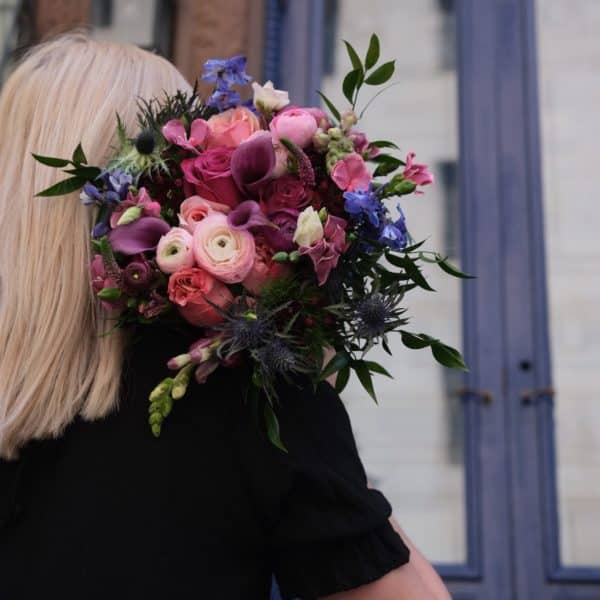 Ajay Kori and Jeff Sheely were on a mission to make flower delivery more affordable and streamlined for everyone.
With the two modern florists trying to stay "on-trend" for nearly 8 years, UrbanStems has been making milestones more meaningful, and difficult moments a little easier.
Based in downtown Washington, the brand offers free shipping across the nation, and promises 2 hours to next day delivery options.
Referred to as "the Uber of flower delivery" by The Washington Post, UrbanStems has reinvented the way floral arrangements are sent to your loved one's doorstep.
Wondering what makes the brand so special? This UrbanStems review will give you a quick overview of some pros and cons.
Pros
Wide selection of fresh-cut or dried flowers, potted plants, and gifts
Unique add-ons available
Sources flowers from Rainforest Alliance Certified farms
Buyers can subscribe to save on each order
Fast 2–4 hour delivery available for NYC and DC areas
Next-day shipping possible for other states
Excellent customer service
Cons
UrbanStems Flower Delivery Review
This UrbanStems review will now feature the brand's best-selling arrangements for delivery, including fresh and dried varieties. Your flowers may be in bud form when they arrive—that's a good thing, as it means they'll last longer and bloom steadily over time.
UrbanStems The Peony Review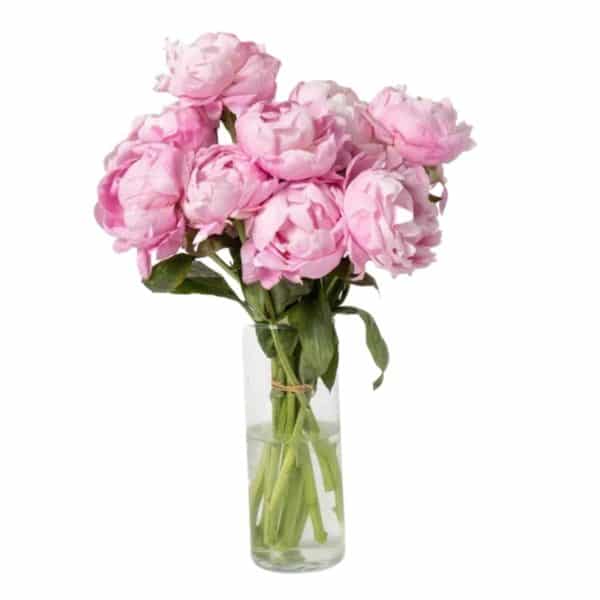 Full of delicate whimsy, The Peony bouquet doesn't overcomplicate things. Peonies themselves are enough to take your breath away, and this set of soft beauties brings a soft touch to any room.
Place them down next to one of the candles UrbanStems offers, or surround yourself with their natural scent.
This bouquet contains stems only, no other greenery. This UrbanStems review suggests keeping them all in one vase for a dramatic effect, or splitting them throughout your house for a pop of pink in every room.
Enjoy the glory of the UrbanStems peony bouquet for $90–$160 (10–20 stems).
UrbanStems The Purple Iris Review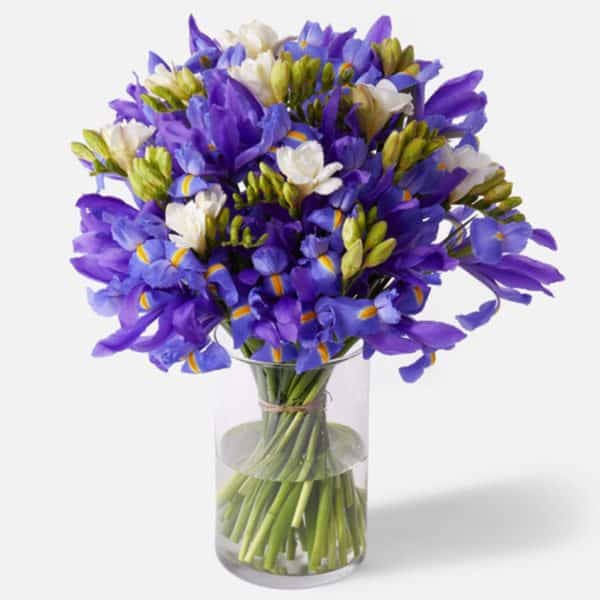 Flowers are a gift from nature; a reminder to walk a little slower, linger a little longer, and take in the sights around us. The Purple Iris bouquet combines the striking deep purple and yellow contrast of the iris with sweet-smelling white freesias.
The ultimate spring arrangement, this combination will fill your home with a tender fragrance and eye-catching glints of color. Get a single arrangement to fit a side table or a double arrangement for grander areas like entryways.
Savor the moment with the UrbanStems Purple Iris bouquet for $55–$88. Perfect for celebrations, bring these exuberant flowers to a loved ones' graduation or birthday
UrbanStems The Dauphine Review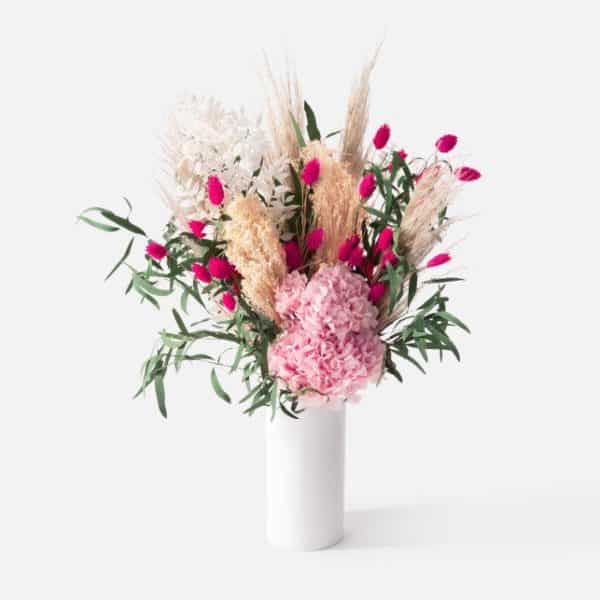 The Dauphine showcases the underappreciated charm of dried florals. The bouquet features preserved hydrangeas and bleached Ruscus, dried phalaris, broom bloom, and mini pampas with preserved willow eucalyptus.
UrbanStems creates a playful arrangement by contrasting various muted tones with sprightly bursts of hot pink. The magenta hand-dyed phalaris sets off the muted green of the eucalyptus for a bold pop in this otherwise airy bouquet.
The Dauphine comes in a complimentary, tubed ceramic vase measuring 3.75″ x 3.75″ x 8″.
Add some fun to your bathroom with this long-lasting bouquet for $135.
UrbanStems The Tutu Review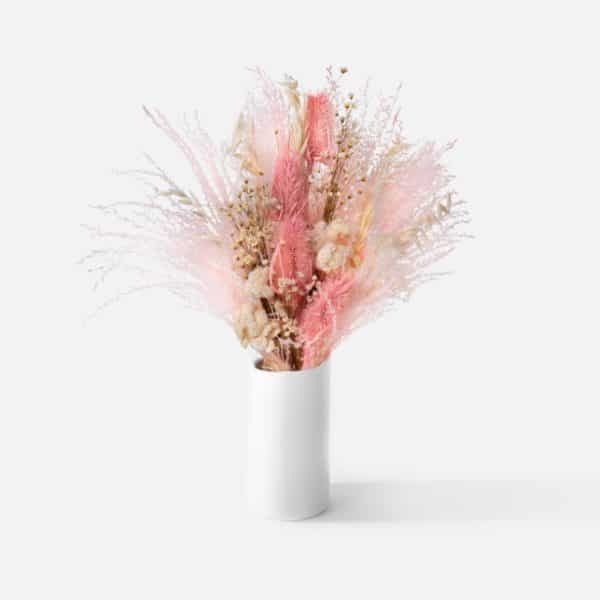 Dried flowers are becoming all the rage for their long staying power, easy to care for nature, and delicate, lingering beauty. The Tutu captures the essence of a graceful ballerina with its fluffy pale pink and white avena, stargrass, and feathery blush mini pampas.
The off-white of the dried thistle and helichrysum italicum add texture and variation to this exquisite, shapely UrbanStems dried flowers bouquet.
To really enrich the experience, nibble on some Sugarfina Birthday Cake Cookie Bites while you take in the floral whimsy.
Accompanied by a cylindrical 2.75″ x 2.75″ x 5.50″ ceramic vase, The Tutu makes a graceful centerpiece for $85.
UrbanStems The Sinabel Review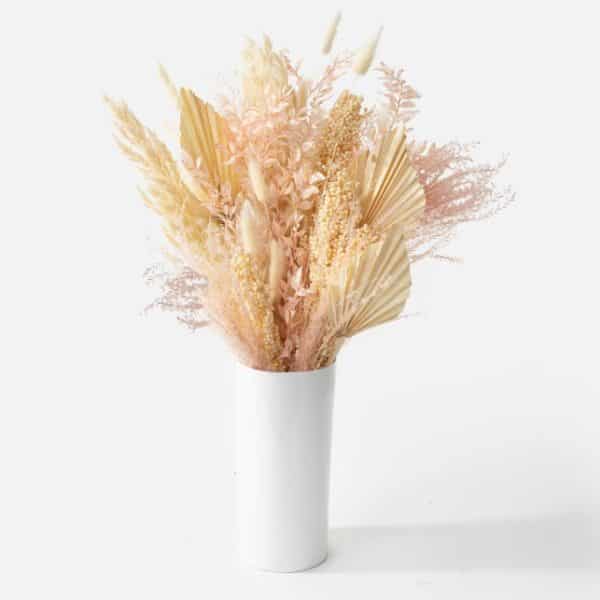 Bring the relaxing vibe of tall palm trees, a light breeze, and sandy shores into your home with The Sanibel arrangement.
Featuring cut, dried fan palms, fluffy white bunny tails, and the crochet-like look of sorghum, this bouquet is one pina colada away from a well-deserved vacation.
Natural pampas and preserved razor ruscus add to the swaying feel of this arrangement. A lengthy 3.75″ x 3.75″ x 8″ ceramic vase holds it all together.
Place these UrbanStems vogue flowers near an open window for extra movement, or in an ocean-themed bathroom for a light and sunny vibe. Rest and recuperate with The Sanibel nearby, sold for $140.
UrbanStems Plant Delivery Review
Is your living space looking a little bleak and cold after the long winter? Below, this UrbanStems review will feature some of the brand's most beloved house plants. You'll find a mix of leafy greens, succulents, and air plants, sitting cutely in contemporary pots.
UrbanStems The Bosco Review
With a wavy leaf, the elegant twist of the ZZ plant brings a mellow vibe to any room. Its dark green stems bend and grow how they please, giving off a laid-back sense.
The Bosco is simple to nurture as it doesn't require a ton of attention. And by that, we mean that it needs minimal light and water, as it thrives in low-lit rooms and doesn't like to be fussed with.
Your plant will arrive about 6 inches tall, in a contemporary black and white ceramic planter that measures 6.25″ x 6.25″ x 6.25″. For a buddy that's as zen as you are, purchase The Bosco for $75.
UrbanStems The Pheobe Review
With its stubby little legs, The Phoebe will stand proud among other knick-knacks, gold accents, and books atop your favorite shelf.
The unicorn houses a 3.5" succulent, which can purify the surrounding air. Just set the brand's Copper Mister next to it, so you never forget to give the plant a spritz.
The unicorn itself measures 5.75″ x 3.00″ x 7.00″ and is made of white stoneware, so it's durable and simple to manage, just like the plant it carries. Add some magic to your home with The Pheobe for $55.
UrbanStems The Cathy Review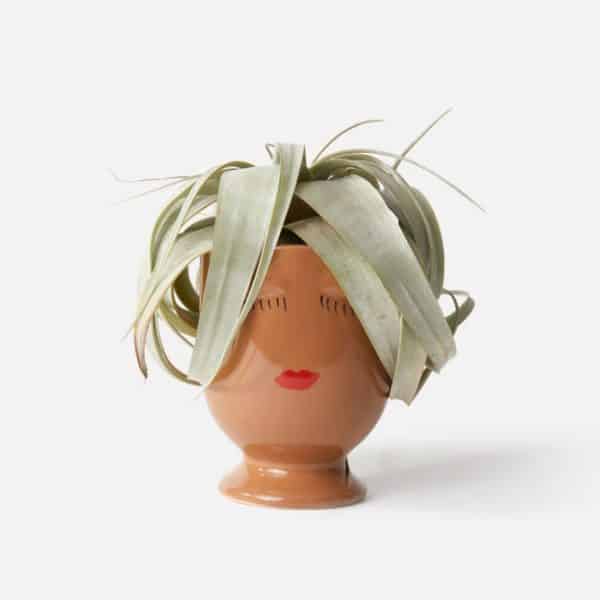 One look at The Cathy and you might think she looks familiar. With flowing locks and a satisfied smile, this xerographica air plant and planter makes for a friendly addition to your bedroom collection.
Air plants are lovely, low-maintenance creatures; requiring only that you give them a spritzing once in a while to help them stay healthy.
The 6"–8" air plant sits happily in a 4.75″ x 3.75″ x 3.75″ white, tan, or brown ceramic planter. To complete the look, she shows off fluttering eyelashes and wears a bold shade of painted lipstick.
The Cathy's hair (or, the body of your plant) will grow long and curly, or sort of tangly, giving off a carefree vibe. Bring her home for $50.
UrbanStems The Cora Review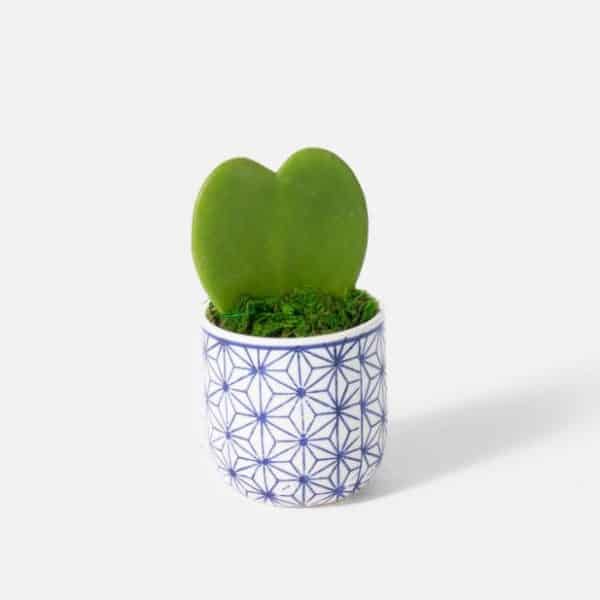 Statement pieces don't always need to be over the top. The Cora celebrates life and love with its simple heart shape that says no more than it needs to.
This humble 3" Hoya cactus is spikeless, always putting its best self forward and treating others with kindness.
This is a perfect addition to any space, especially for those with pets. Your pup can nudge or admire The Cora without worrying about hurting their paws. Set it on a windowsill where it can get some sunlight, or wrap it up as a 'just because' present for a friend.
The Cora costs $35, and comes secured into a 2.75" x 3" x 3" blue and white geometric ceramic planter. Make sure that you water it when the soil starts to feel dry.
Is UrbanStems sustainable?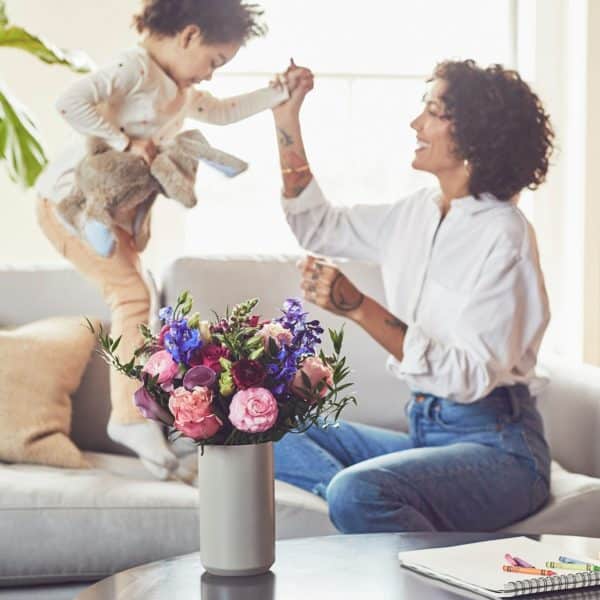 Charming, fresh floral arrangements are one thing, but in the end, sustainability is what really matters.
We were happy to read that UrbanStems sources all of its flowers from sustainable Rainforest Alliance Certified farms. Their beauty, and that of the world around them, can live on.
How do UrbanStems deliver?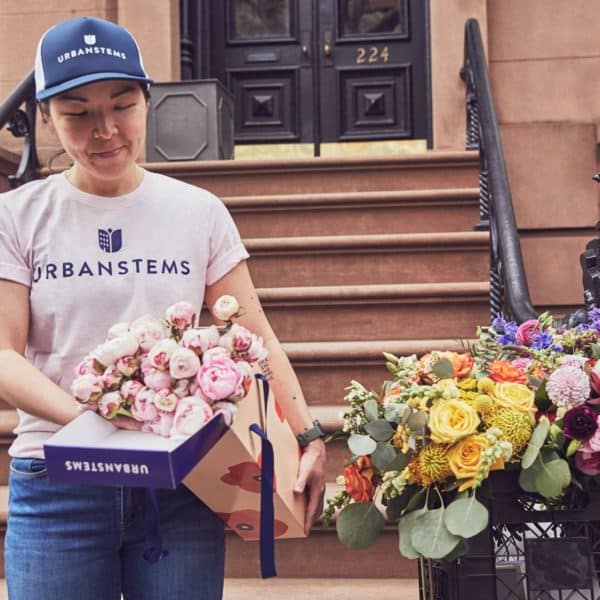 UrbanStems uses FedEx to deliver its orders. This carrier has a reputation for being a speedy and reliable delivery service—something that many customers have found when ordering from this company.
How fast you receive your order depends on where you live in the US. 2–4 hours delivery is common for areas like NYC and Washington, while next-day delivery can be scheduled for other locations.
UrbanStems box flower arrangements for NYC and DC recipients are delivered by either bicycle courier or car. Of course, you'll need to plan ahead for special events. For example, UrbanStems Mothers Day flower delivery orders will need quite a bit of notice.
How long do UrbanStems last?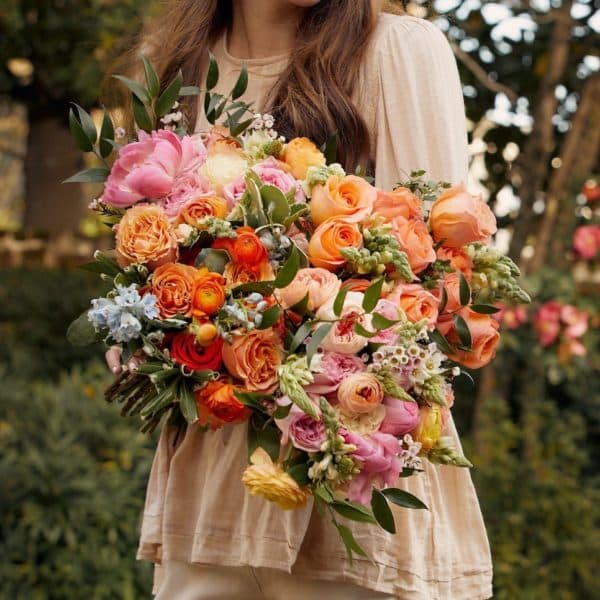 How long your fresh flowers last depends on how well you care for them. UrbanStems provides guidelines as to how to properly manage your bouquets for the best results.
Generally, freshly cut stems live for 7–10 days, but they do require a bit of work to elongate their life. For example, you will need to trim the ends of your bouquet daily, wash out the vase, and fill it with fresh water.
In the next section of this UrbanStems review, we'll talk you through some of the many floral arrangements that the brand can create for you. After that, you'll find a selection of potted plants as well, to liven up your home with long-term foliage.
UrbanStems Reviews: What Do Customers Think?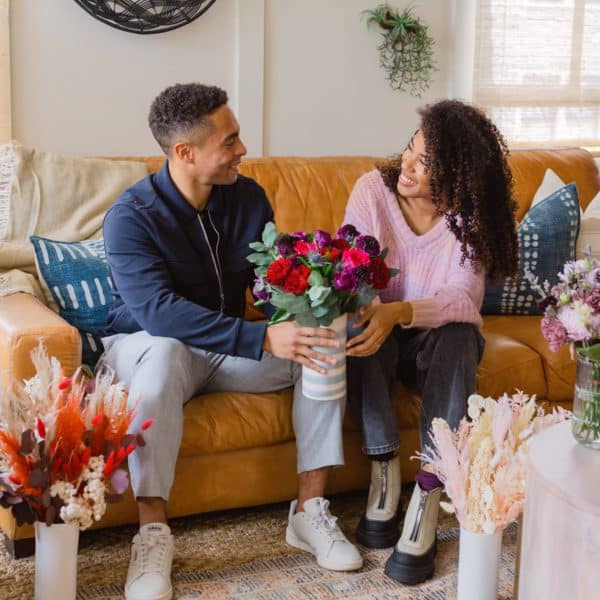 Flowers always look great in photos, but you may be wondering how the brand's shipping service works, and if the arrangements actually arrive in great condition.
If so, you're in luck, because this is the part of the UrbanStems review where we take a look at what customers have to say about their experience.
The official website doesn't showcase any ratings, so we hit up Influenster for a general idea of how buyers feel about UrbanStems.
Influenster hosts 282 reviews for the brand, with an average of 4.3/5 stars. In general, customers speak of beautiful arrangements and excellent customer service.
One UrbanStems peonies review reads, "I love the selection of bouquets that Urban Stems offers. The vases and items the bouquets come with are top-notch too." It appears that all the components of this brand are received well.
But, not everyone received their flowers in tip-top shape. One customer wrote, "Oh no!! These are the saddest-looking roses I have ever seen. Absolutely disgraceful." Luckily, there's an explanation and a solution for this.
The company warns that some flowers may appear wilted when they arrive. For example, if your UrbanStems peonies delivery looks a little lackluster, don't worry, they're not actually dead.
They might just need a little water and care; within 6–24 hours the bouquet should bounce back to normal. If it doesn't, give customer service a call.
An UrbanStems review on Top Ten Reviews gives the brand 4.5/5 stars. It speaks of the "quite varied" selection of flowers, "detailed product pages," and the "pleasant and seamless ordering experience."
The ordering process is something others have said they enjoy as well, and we see it as an important part of any online delivery service.
The brand has a 3.5/5 star rating on Yelp, with 302 reviews. Among those testimonials, customers rave about their bouquets, using phrases like, "fresh, modern," and "enormous, beautiful, carefully packaged". Buyers also mention the great customer service.
Despite the many glowing reviews from happy customers, some report that their orders arrived in "sad, old" shape. One wrote, "Some of the funky white leaves are dead and broken off in the bottom of the box. Poor execution for receiving flowers after my surgery yesterday."
Flowers arriving in great condition is a must for all occasions (especially spontaneous celebrations) and UrbanStems packaging appears very secure, but considering the method they use for shipping, it's understandable that they may not arrive perfect.
Is UrbanStems Worth It?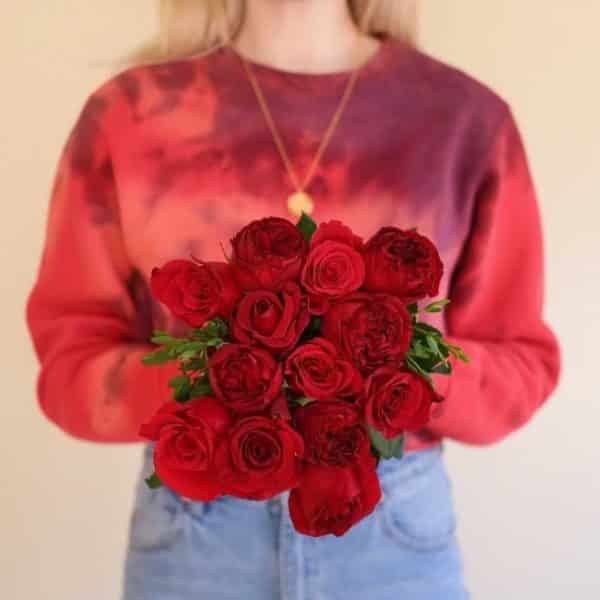 So, is UrbanStems legit? The brand carries a varied selection of fresh and dried flowers, potted plants, and other fun gifts. We love their creative add-ons (such as chocolates, balloons, misters, and more), as well as the chic vibe of their website.
Broken stems or crumpled petals are a risk with most fresh flower deliveries. With this in mind, it's great to know that UrbanStems' customer service agents are apologetic and quick to find a resolution if buyers do receive damaged arrangements.
While the pricing is on the higher end of things, the company does hold frequent sales and promotions, so keep your eyes peeled. Lastly, the 2 hour–overnight shipping time frame is pretty sweet.
For all of these reasons, we believe that UrbanStems online flower delivery is worth checking out for your next event.
UrbanStems Promotions & Discounts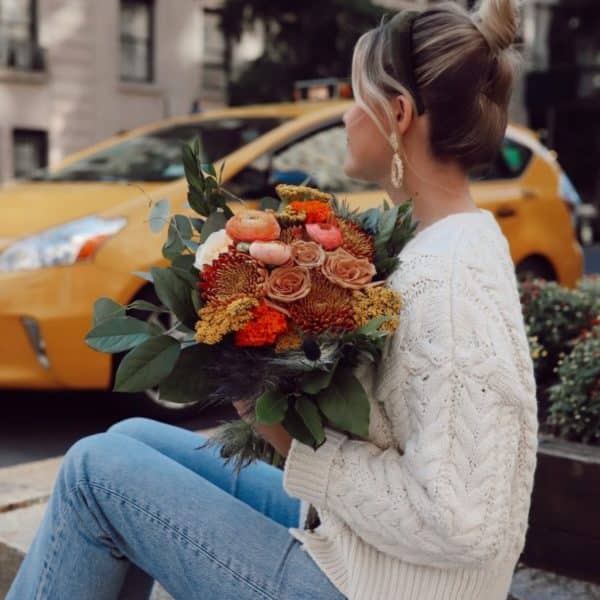 This UrbanStems peonies review uncovered the following deals on their website:
Refer a friend so you can both get $20 off towards your next order
Use the UrbanStems promo code BFF20 for 20% off their Double Bouquets
Subscribe to get 10–25% off each order
Select items are on sale sitewide
Where to Buy UrbanStems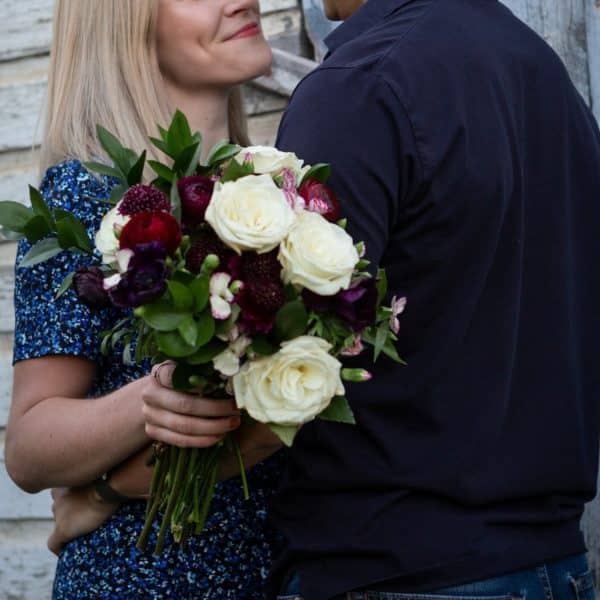 UrbanStems is an online retailer. For this reason, customers can place orders directly on their website: UrbanStems.com
FAQ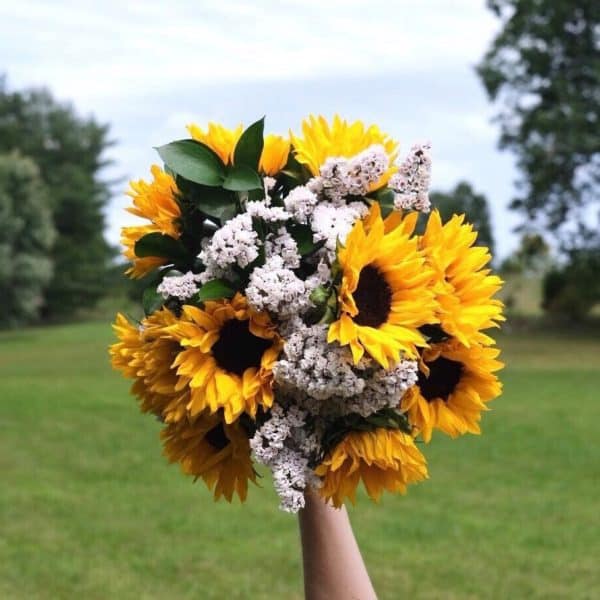 Where is UrbanStems located?
UrbanStems is located in Washington, DC. Their headquarters are based downtown.
Does UrbanStems deliver nationally?
UrbanStems review discovered that the brand delivers nationwide. Their main carriers are FedEx and CDC. Next-day delivery is common for areas outside of New York City and DC.
What is UrbanStems' Shipping Policy?
Delivery is free across the nation. For those who live in the NYC or DC area, UrbanStems shipping can take as little as 2–4 hours through FedEx. For areas outside NYC or DC, the earliest your items can be delivered is the day after.
To make the cut-off for UrbanStems same-day delivery flowers, place your order before 2 PM.
This UrbanStems review discovered that delivery days are Tuesday to Saturday, 8 AM–8 PM. Saturday delivery is only possible for some locations, but more information will be given at checkout.
Once the courier scans your order, you will receive a confirmation email with a tracking link to follow the flowers' progress. Alternatively, buyers can use their UrbanStems login for more details.
What is UrbanStems' Return Policy?
All UrbanStems products are considered final sale. If your arrangement, plant, or gift arrives damaged, email [email protected] within 3 days. You will need to include the following information:
Order number
Photo of the damage
Whether you would like a replacement or refund
UrbanStems will send you a replacement of the products if requested or will refund your original method of payment.