Like Crocs, Birkenstocks, and the Kardashians, Ugg boots—and Ugg slippers—are one of those things you either love or hate. If you're someone who loves them, you're in luck. Uggs are finally back in style, at least to celebrities like Emily Ratajkowski, Rihanna, Hilary Duff, and Selena Gomez (among many others) who have recently been spotted wearing the iconic brand.
If you want to snag a pair of the famously cozy shoes for yourself as we approach the colder months, we've rounded up 10 of the most popular Ugg shoes for both men and women that have thousands of reviews on Amazon. Some of our top picks besides the classic boot? The celeb-loved Fluff Yeah slide for women and the super soft Scuff slipper for men.
1. Classic Boot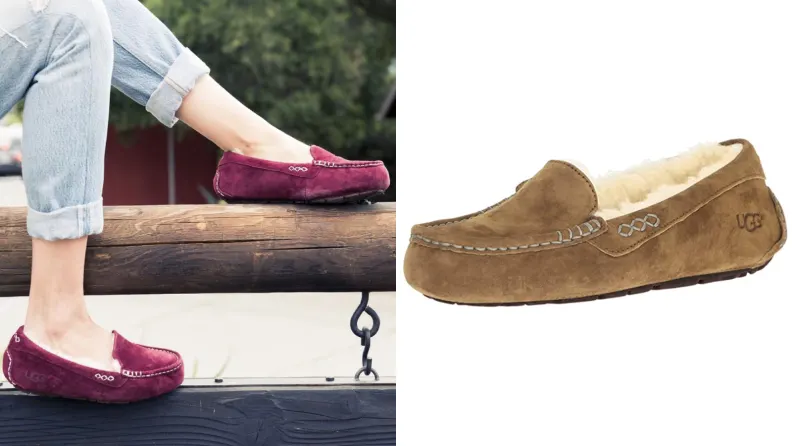 When you think of Uggs, the first thing that comes to mind is probably the classic boot. It's what the Australian brand is most famous for and what is coming back in style, per celebs and influencers. There are three different sizes to choose from—mini, short, or tall—and each one is lined with Ugg's signature plush sherpa. While the chestnut color is arguably the most popular, the boot also comes in other neutral tones like gray, brown, and black.
Get the Ugg Women's Classic Short II Boot from Amazon for $169.95
Get the Ugg Women's Classic Mini II Boot from Amazon for $149.95
Get the Ugg Women's Classic Tall II Boot from Amazon for $199.95
2. Fluff Yeah Slipper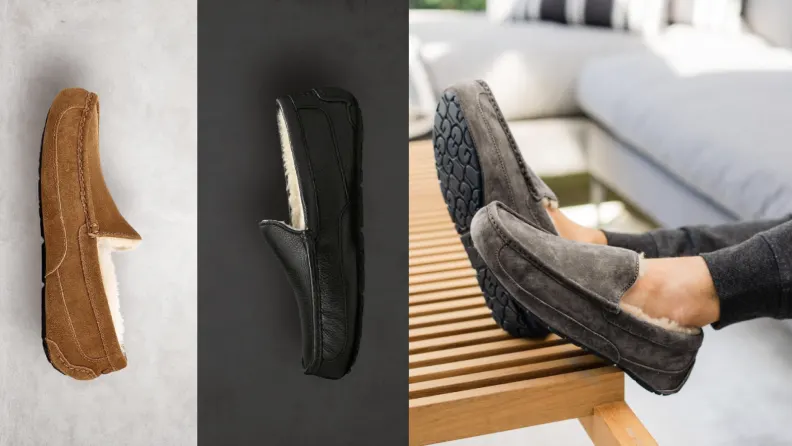 Meet the coolest kid in the Ugg family, according to its more than 26,000 reviewers. The Fluff Yeah slipper—which celebs like Gigi Hadid, Madonna, and Selena Gomez all have been seen in—comes in a rainbow of bright colors (including neon hues and even leopard print) and are as soft and snuggly as the name suggests. People love that they're so fuzzy and warm, yet breathable thanks to their open-toe design.
Get the Ugg Women's Fluff Yeah Slipper from Amazon for $99.95
3. Scuff Slipper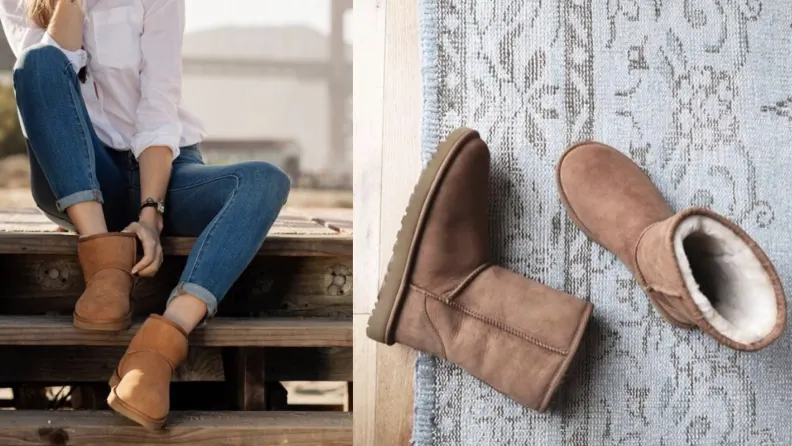 Kick back and relax in what's one of the best gifts for men this year: the Ugg Scuff slipper. With more than 7,000 reviews on Amazon, the popular slides are loved for being super soft and super high-quality. Fans rave that they're easy to take on and off and will protect your feet from the conditions (a.k.a. the icy cold hardwood floors when you get out of bed in the morning).
Get the Ugg Men's Scuff Slipper from Amazon for $79.95
5. Chukka Boot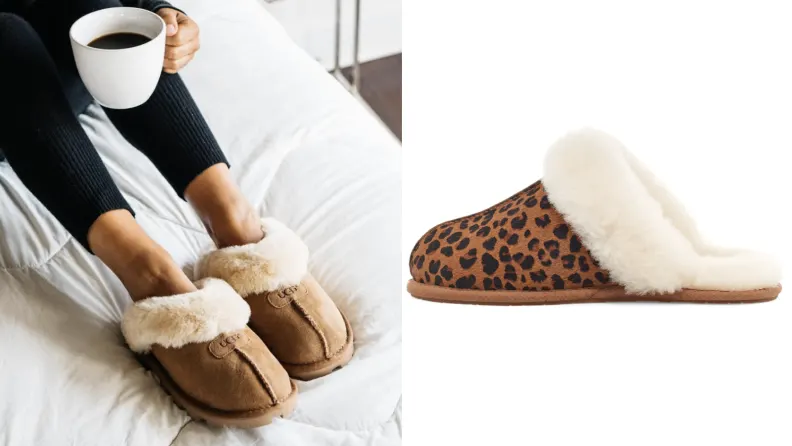 Ugg boots for men? They exist—and they're more stylish than you might think. The lace-up Chukka boots (which yes, still have that famous sherpa interior) have an impressive 4.8-star rating on Amazon from nearly 11,000 reviews for being both durable and versatile. You can wear them indoors as a slipper or outdoors as a fall or winter boot thanks to the thick rubber sole.
NEUMEL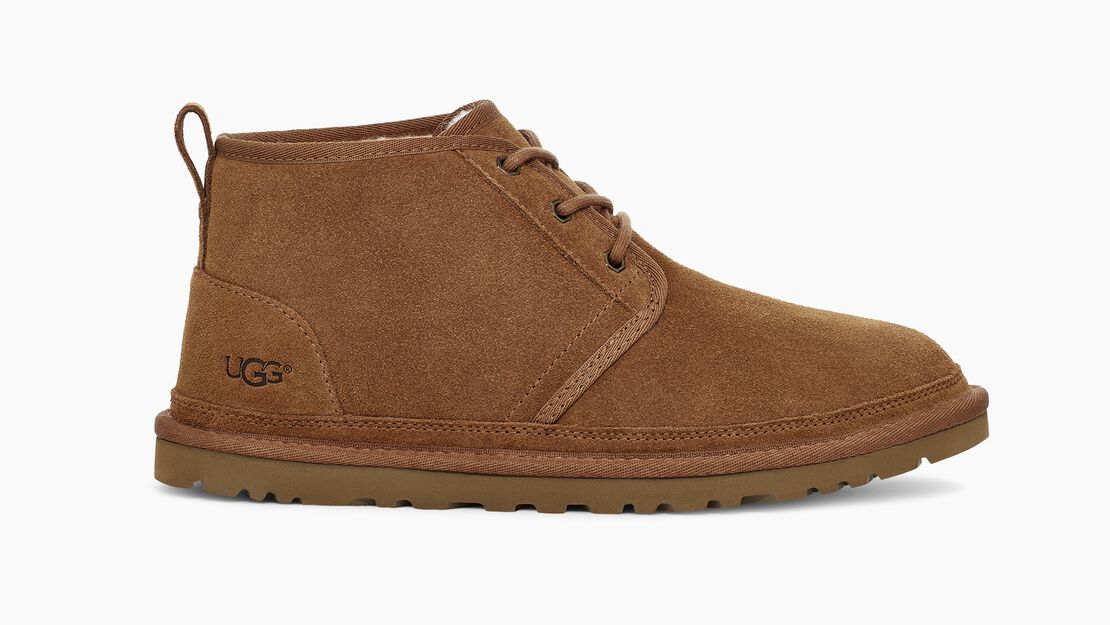 DETAILS
Item No. 3236
Combining premium materials and effortless style, the Neumel is our iconic heritage chukka. A timeless boot made of rich suede, it's lined in upcycled UGGpure™ wool and finished with a durable Treadlite by UGG™ sole for all-day cushioning, offering a signature slipper-like feel indoors or out.
This product was made in a factory that supports women in our supply chain with the help of HERproject, a collaborative initiative that creates partnerships with brands like ours to empower and educate women in the workplace.
Treadlite by UGG™ Proprietary compound which increases cushioning and traction for a supremely lightweight, ultra-durable sole.
Suede upper
Metal eyelets, Rear pull tab
Cotton laces
17mm UGGpure™ upcycled wool lining or 17mm UGGplush™ 80% upcycled wool, 20% lyocell lining
17mm UGGpure™ upcycled wool sockliner or 17mm UGGplush™ 80% upcycled wool, 20% lyocell sockliner
Foam footbed
Treadlite by UGG™ outsole for comfort
Polyester binding or textile binding made from 100% recycled polyester fibers
Heat-embossed UGG® logo
RN 88276
NEUMEL MOC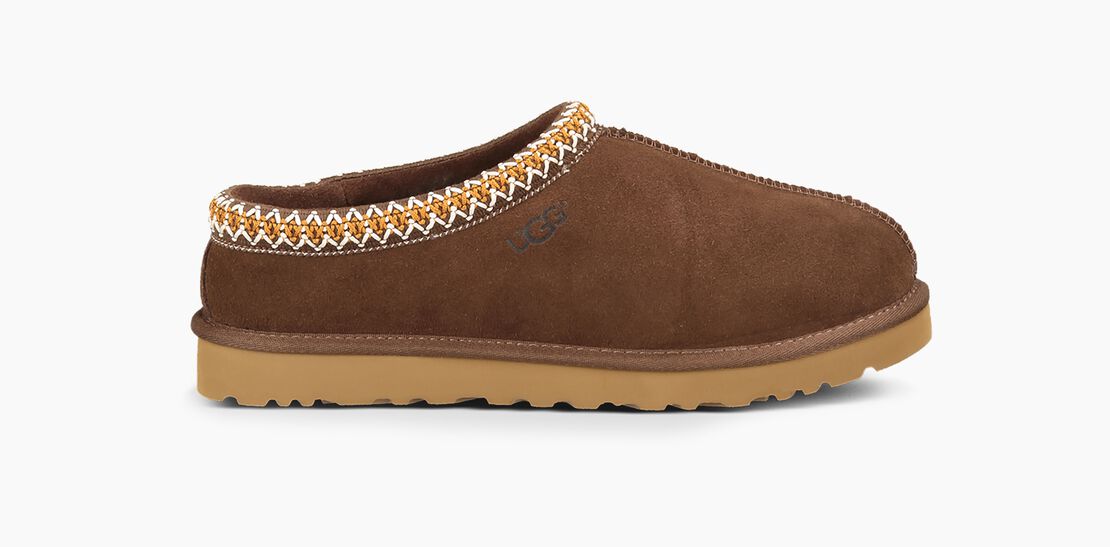 DETAILS
Item No. 1121645
Adapting our timeless chukka silhouette with moc-style stitching for a refined finish, the Neumel Moc combines premium materials and effortless style. Made of rich suede, it's lined in our UGGplush wool blend and finished with a durable Treadlite by UGG sole offering lightweight comfort and a flexible feel wherever you go.
Suede upper
Metal eyelets, Rear pull tab
Cotton laces
10mm UGGplush™ 80% upcycled wool, 20% lyocell lining
10mm UGGplush™ 80% upcycled wool, 20% lyocell insole
Foam footbed
Treadlite by UGG™ outsole for comfort
Textile binding made from 100% recycled polyester fibers
Heat-embossed UGG® logo
RN 88276
NEUMEL MOC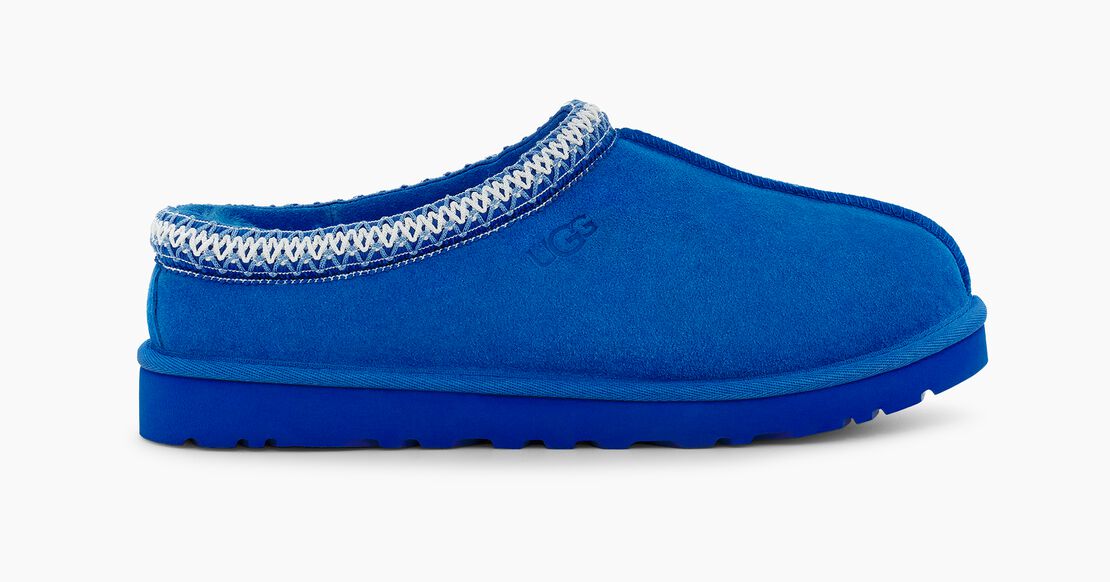 DETAILS
Item No. 1121645
Adapting our timeless chukka silhouette with moc-style stitching for a refined finish, the Neumel Moc combines premium materials and effortless style. Made of rich suede, it's lined in our UGGplush wool blend and finished with a durable Treadlite by UGG sole offering lightweight comfort and a flexible feel wherever you go.
Suede upper
Metal eyelets, Rear pull tab
Cotton laces
10mm UGGplush™ 80% upcycled wool, 20% lyocell lining
10mm UGGplush™ 80% upcycled wool, 20% lyocell insole
Foam footbed
Treadlite by UGG™ outsole for comfort
Textile binding made from 100% recycled polyester fibers
Heat-embossed UGG® logo
RN 88276
NEUMEL CHELSEA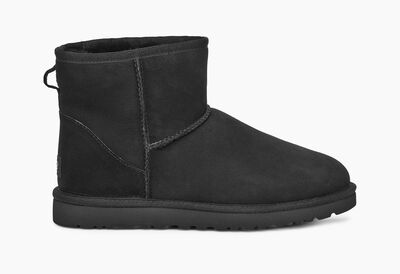 DETAILS
Item No. 1121644
Adapting our timeless chukka silhouette with twin gore for easy entry and a refined finish, the Neumel Chelsea combines premium materials and effortless style. Made of rich suede, it's lined in our UGGplush wool blend and finished with a durable Treadlite by UGG sole offering lightweight comfort and a flexible feel wherever you go.
Treadlite by UGG™ Proprietary compound which increases cushioning and traction for a supremely lightweight, ultra-durable sole.
Suede upper
Elastic gore, Front Pull Tab, Rear pull tab, UGG® Tasman webbing (100% recycled polyester)
17mm UGGplush™ 80% upcycled wool, 20% lyocell lining
17mm UGGplush™ 80% upcycled wool, 20% lyocell sockliner
Foam footbed
Treadlite by UGG™ outsole for comfort
Textile binding made from 100% recycled polyester fibers
Heat-embossed UGG® logo
RN 88276