From the moment I set my sights on some weighted blankets, my life changed forever. Honestly, that's not an exaggeration: I am utterly obsessed. In fairness, I was always going to be a convert. I'm one of those people who sleeps with a duvet every night without fail – even when it's hotter than hell outside – burrowing down hamster-style, wearing a sleep mask and ear plugs to keep me cosy. I create a literal fortress of security, without which I feel exposed and unable to relax. So yeah, elevating my bedtime routine with one of the best weighted blankets was always going to go down well.
Now that autumn is fully on its way? I'm literally recommending a weighted blanket to all of my friends. Not only because Black Friday is on the horizon, but because they'll keep you warm all night long and they're repped for banishing anxiety. Yep: they've got mental health benefits, too. Here's everything you need to know.
For more from GLAMOUR UK Commerce Writer Lucy Smith, follow her on Instagram @luceeeeesmith.
Keep scrolling for our full edit of the best weighted blankets
Weighted blanket UK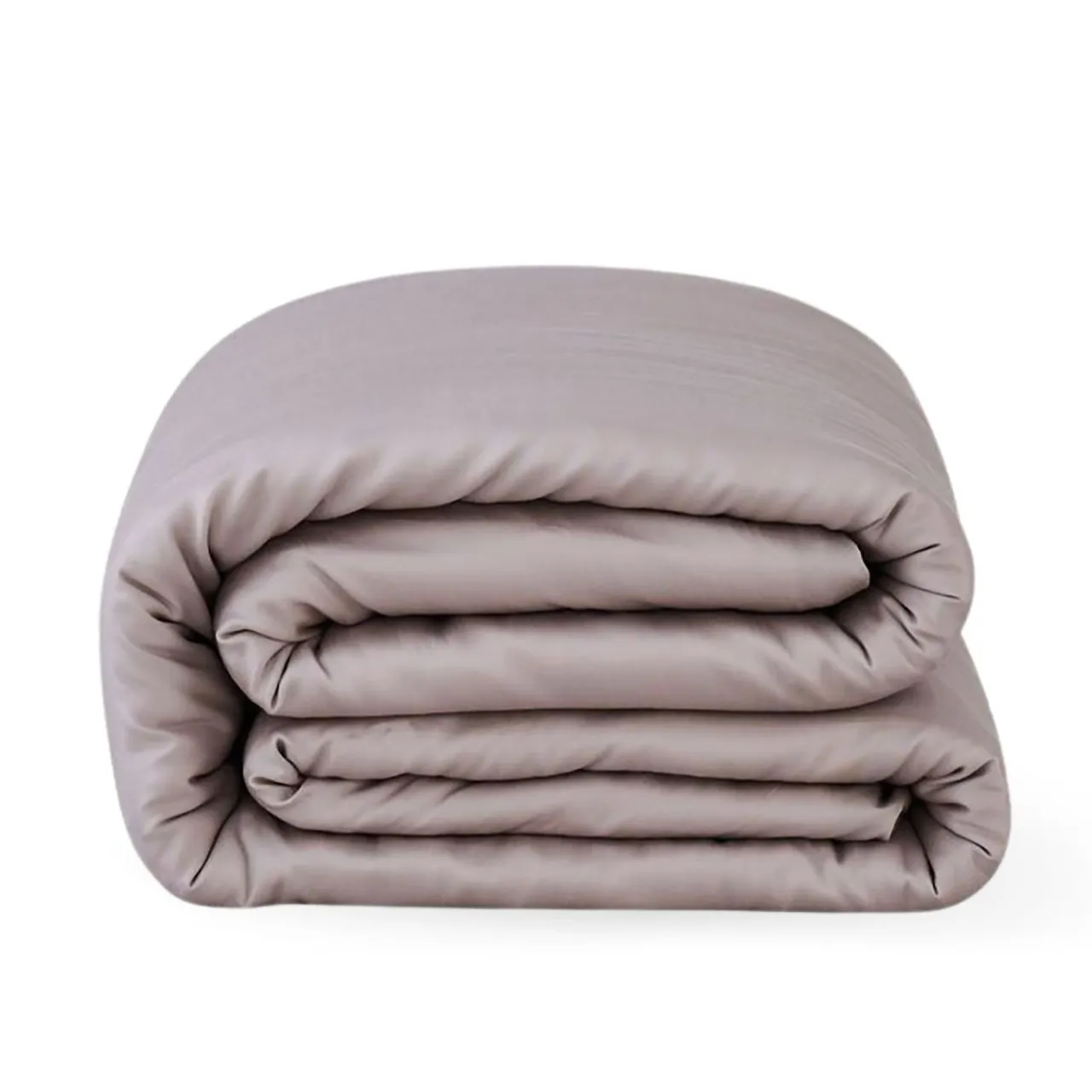 The Oodie Weighted Blanket is like a high-quality hug that helps with sleep and anxiousness. Using the relaxing principles behind deep pressure stimulation therapy, it will take your sleep to the next level.
Spec:
Size – 198cm x 121cm
Material – N/A
Filling – non-toxic glass beads
Pros:
Three different heavinesses to ensure you can find the right weight blanket to suit your body weight (it should be around 10 per cent of your body weight), as well as offering buyers free delivery.
Cons:
While it is super soft, there's no mention of what fabric, specifically, has been used, and it isn't machine washable (but can be washed by hand).
Customers are saying:
Super fast shipping and certainly contributes to a better night's sleep.
Weighted blankets for adults
The Calming Blankets Adult Weighted Blanket is designed to improve your sleep and reduce the effects of anxiety. Wrap yourself in the velvety embrace of the style and enjoy a new level of sleep that you haven't felt before. It utilises the relaxing principles behind deep pressure stimulation therapy, commonly used to calm people.
Spec:
Size – 198cm x 121cm
Material – N/A
Filling – eco-friendly glass beads
Pros:
Includes a washable cover that also happens to be a removable cover for easy cleaning and is cruelty-free.
Cons:
While Calming Blankets do sell a Queen-size bed compatible blanket, there isn't one big enough for a king-size mattress.
Customers are saying:
Eases stress and multiple buyers with autism stating how the 14 and 20 pound blankets have eased their minds.
The Gravity blanket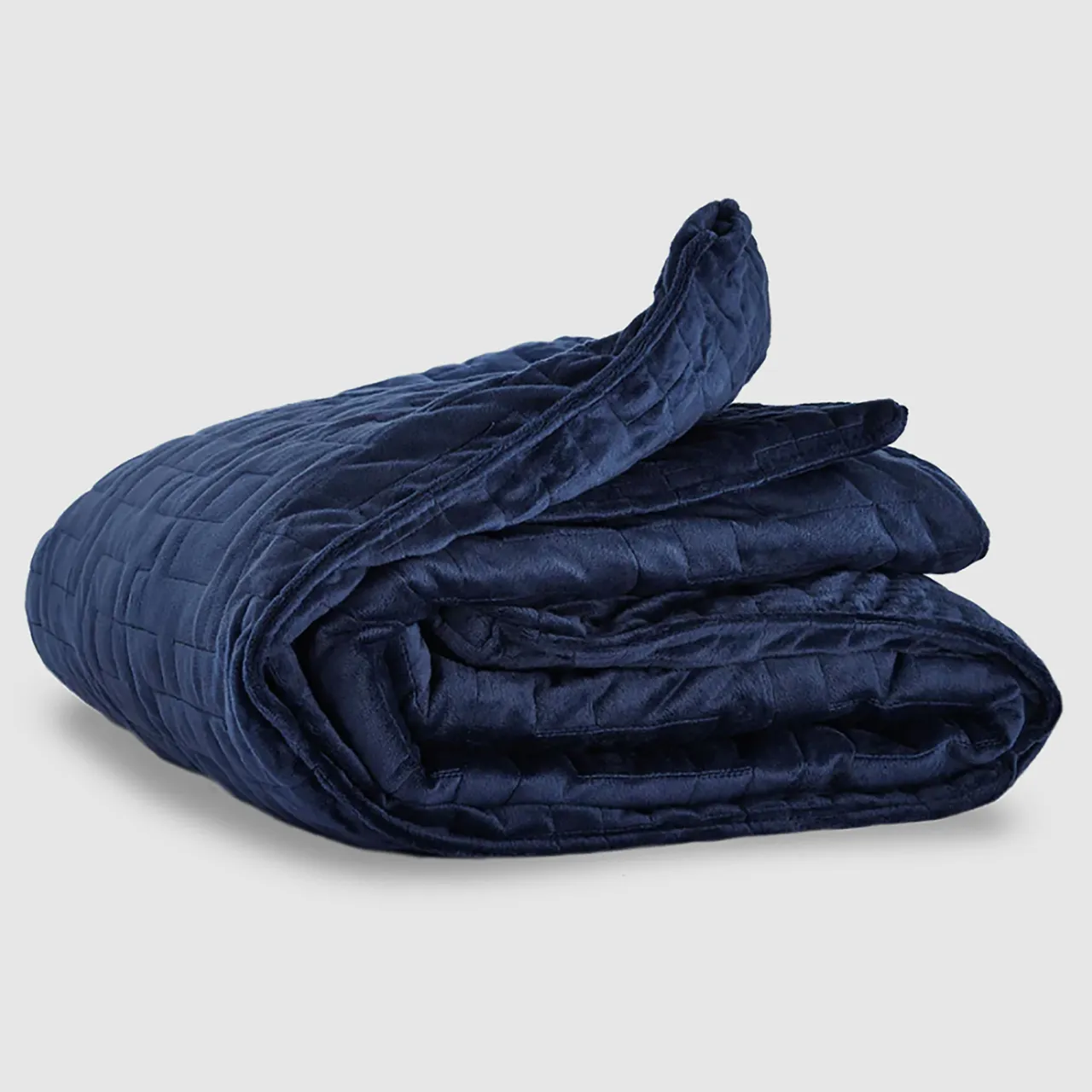 When it comes to homeware, there are few recent cult favourites more beloved than the hug-in-a-rug Gravity weighted blanket. Better than your regular blanket, its expertly stitched quilted pocket design isn't only eye-catching but also holds tiny weights to apply pressure to the body and soothe your anxiety during naptime, bedtime or any time you need a little some self-care.
Spec:
Size – N/A
Material – Polyester and spandex
Filling – Fine grade glass bead filling
Pros:
Includes a duvet cover and inner filling, making it more of a quilt to sleep under than a throw blanket, and the cover can be tumble dried, too.
Cons:
The inner section isn't washable, so you'll have to spot-clean any stains.
Customers are saying:
N/A
Save money on glass microbead weighted blankets with these Beauty Bay discount codes
Weighted blankets for anxiety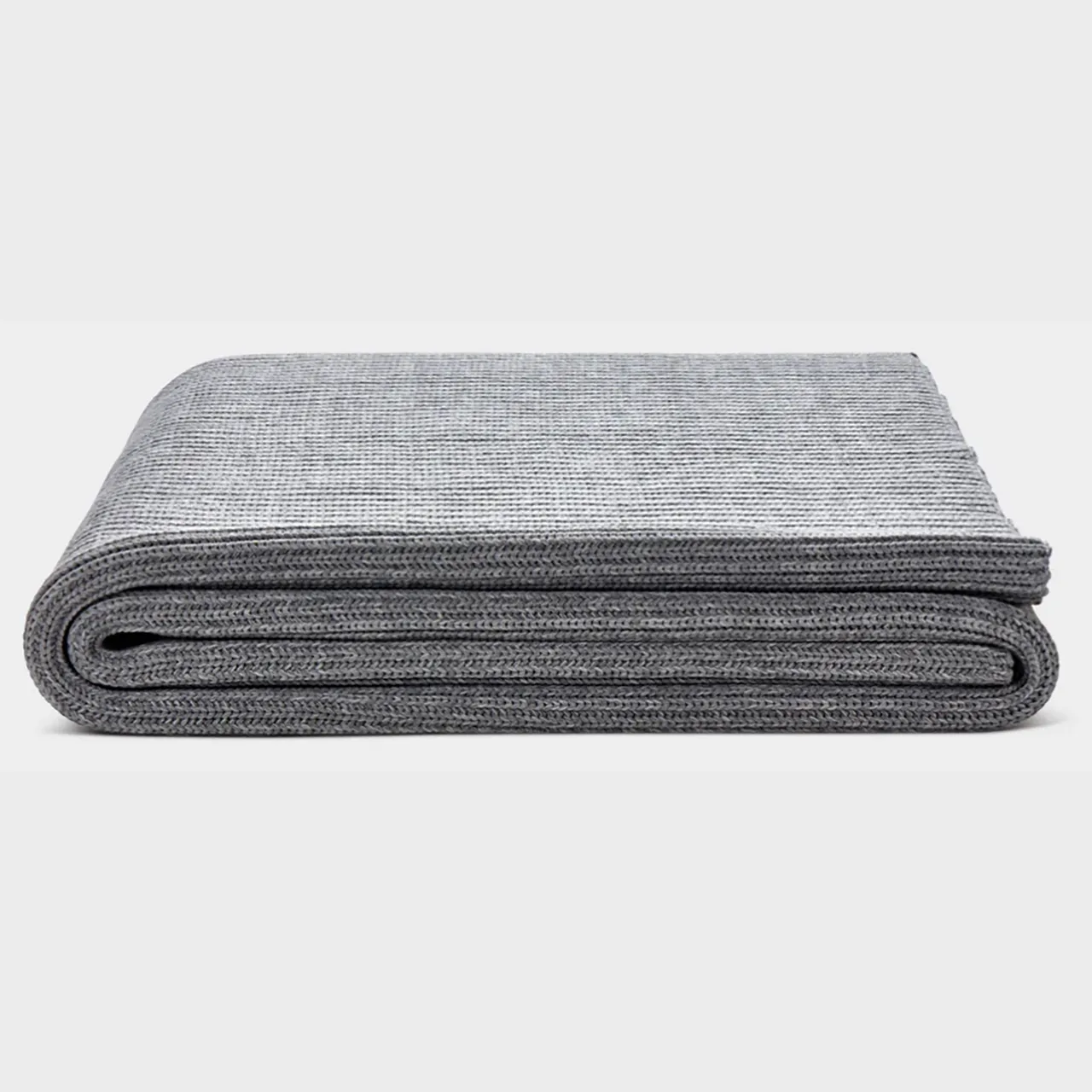 Unfortunately, in the UK we can't get hold of the Bearaby weighted blanket, so this Remy Sleep one is the next best thing. With a chunky weave that's ten times more attractive than a lot of the pocket-style weighted blankets, The Lounger will ease your stress, boost the quality of your sleep and elevate your living space. Bosh.
Spec:
Size – 100cm x 150cm or 120cm x 180cm
Material – Oeko-tex certified cotton
Filling – N/A, the weight comes from the cotton itself
Pros:
Is machine washable and tumble dryer friendly, includes a 100-night tester period and, without any pockets or beads slipping about, it excels when it comes to weight distribution.
Cons:
No mention of whether it's made up of organic cotton for buyers with sensitive skin.
Customers are saying:
Looks and feels great and is breathable to prevent overheating.
Weighted blanket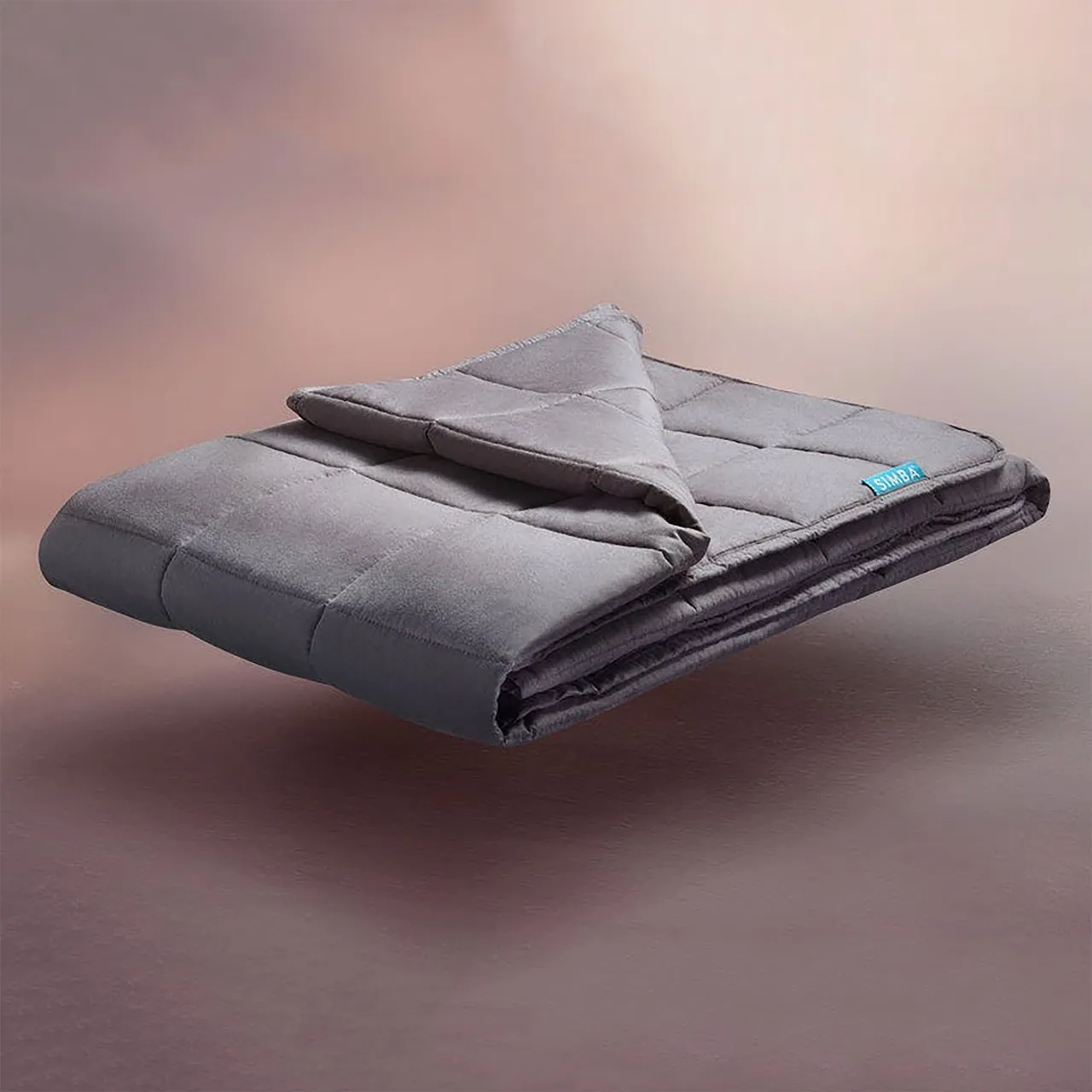 The Simba Orbit weighted blanket relaxes you, using the comforting weight of nano-beads to help guide away restlessness. Feeling like a gentle, full-body hug, it helps stimulate a calming process known as 'deep pressure therapy'.
Spec:
Size – 135cm x 200cm
Material – Cotton cover and inner bead pocket casing
Filling – Nano glass beads
Pros:
A top pick or hot sleepers as it's designed to keep you cool through the night.
Cons:
Not washing machine friendly, and not available in sizes bigger than a single, so perhaps better for use as a throw blanket for naps on the sofa.
Customers are saying:
Induces a deep sleep and, with the 9kg heavy blanket, it helps to reduce tossing and turning, too.
Save money on heavier blankets to improve sleep quality by using these Simba retailer discounts when you checkout.
Types of weighted blankets – no glass beads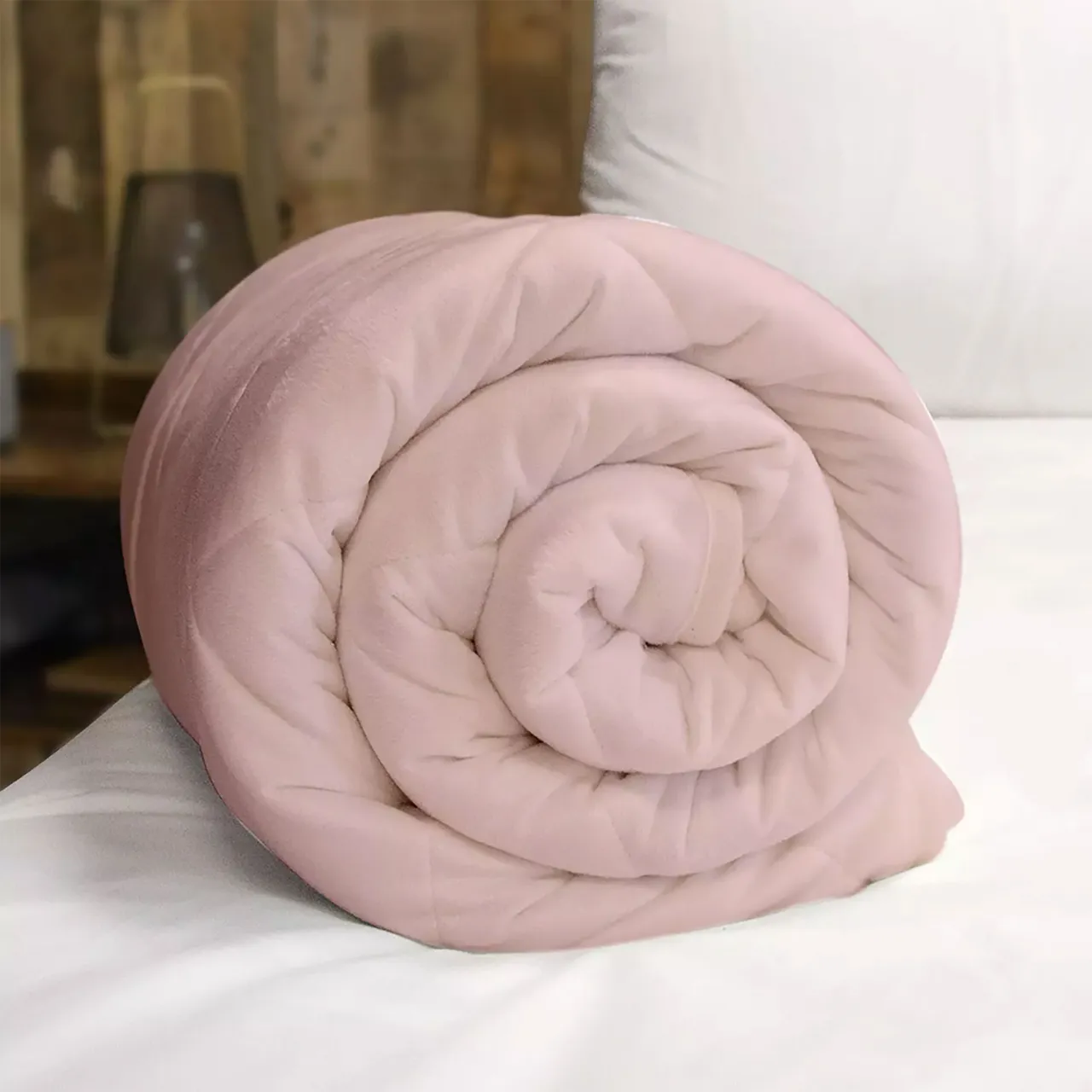 This 100% cotton weighted blanket can help nip any worrisome thoughts in the bud. Think of it as a giant hug that'll soothe you into a calm and peaceful sleep.
Spec:
Size – 120cm x 220cm
Material – Cotton
Filling – N/A the weight comes from the cotton itself
Pros:
Knitted and made fully from cotton much like the ever popular Sommio weighted blanket, eve sleep's model comes with a two-year warranty and, as a result of the lack of bead-filled pockets pockets, there's no bunching of filling.
Cons:
While the cotton is great for aiding sleep in the warmer months, buyers that run cold may prefer a sherpa or minky finish weighted blanket.
Customers are saying:
Generously sized and really comfortable.
Best weighted blanket for less stress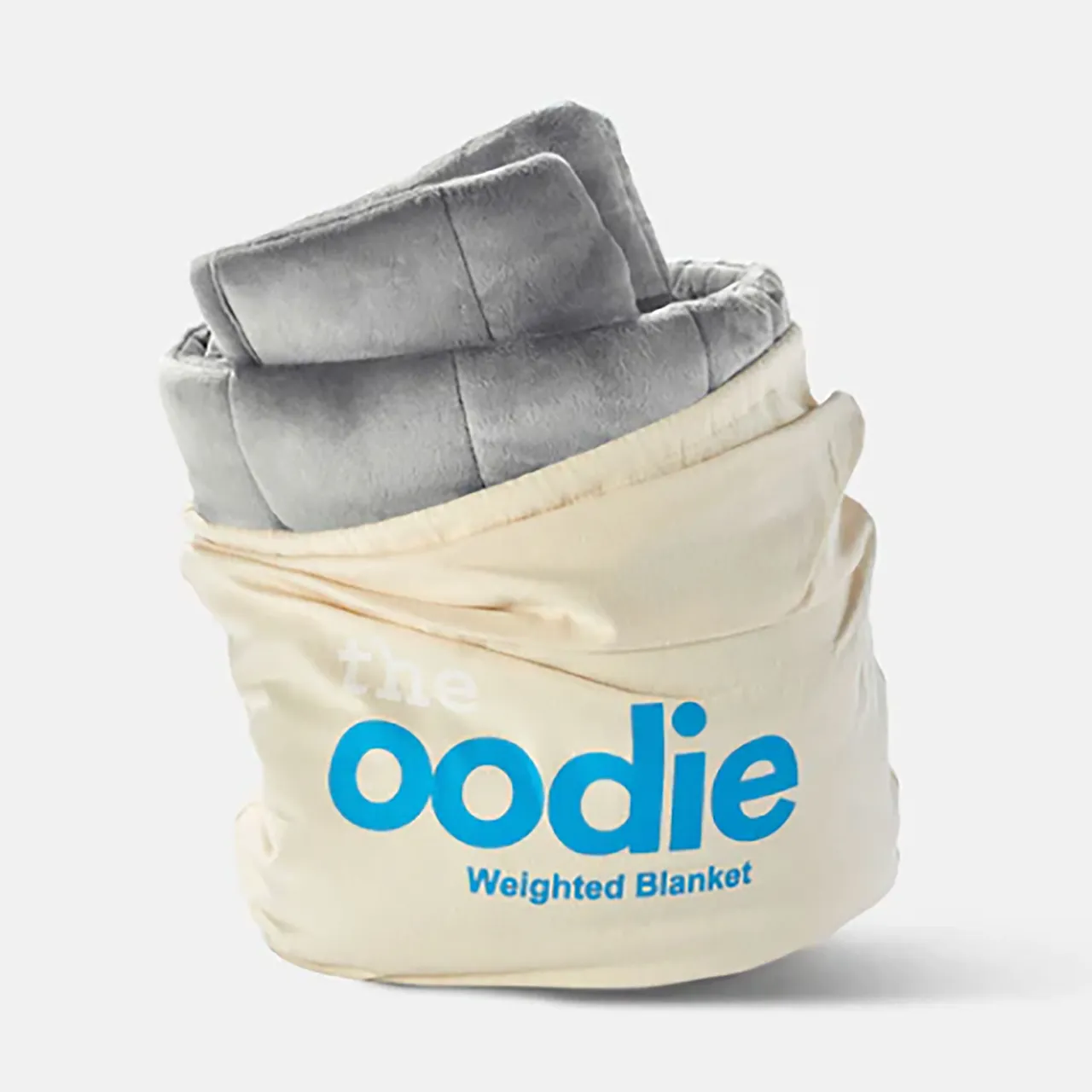 Ideal for hot sleepers, this year-round vegan silk weighted blanket from Oliver Bonas is made from eucalyptus thread with a buttery soft eucalyptus cover to keep you cool as you snooze.
Spec:
Size – 135cm x 190cm
Material – Eucalyptus fibre and recycled polyester
Filling – Quartz glass weighed pellets
Pros:
300 thread count, chic and smooth appearance (unlike the luna weighted blanket) and an Oeko-Tex certified fabric.
Cons:
No colour or weight variations.
Customers are saying:
Looks great and certainly makes or an excellent night's sleep.
Don't forget to use these Oliver Bonas discount codes when you buy a weighted blanket.
Best weighted blankets to help dissolve away stress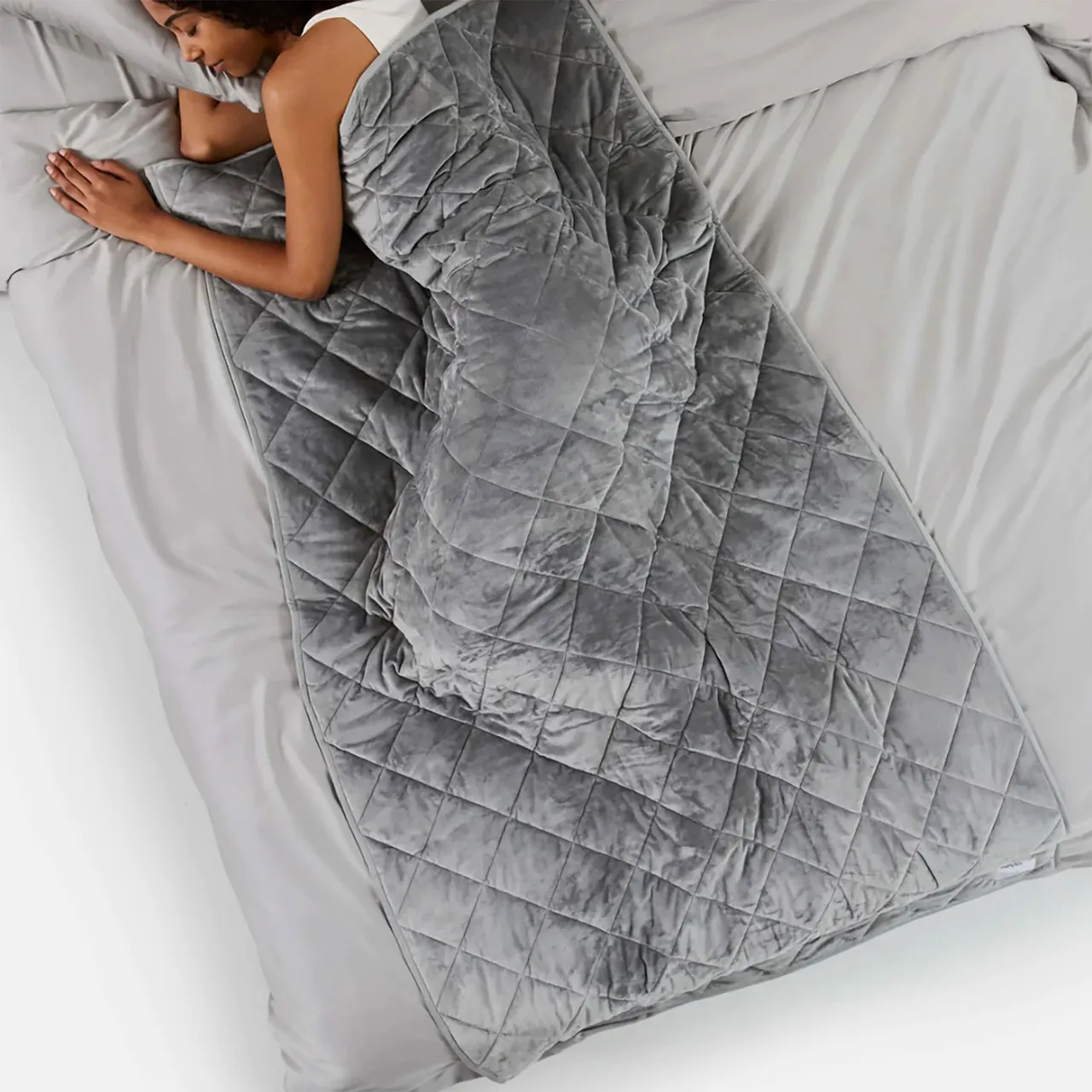 Silentnight always come through with the best budget picks when it comes to bedding, duvets and everything in between. This 9kg one on Amazon is no exception and comes in under £100 for buyers looking for a lower pricepoint.
Spec:
Size: 150cm x 200cm
Material: Microfibre
Filling: Glass bead
Pros:
One of few brands to offer buyers a king size blanket, is available in different weight ranges and is breathable for use in the warmer months, too.
Cons:
Not suitable for children and returns on Amazon are not free should you dislike the blanket.
Customers are saying:
Great value, doesn't slip off and helps you to fall asleep quicker.
Answered all your FAQs about weighted blankets? Save money on the best one from our buying guide by using these Amazon discount codes
Weighted blankets to keep calm for better sleep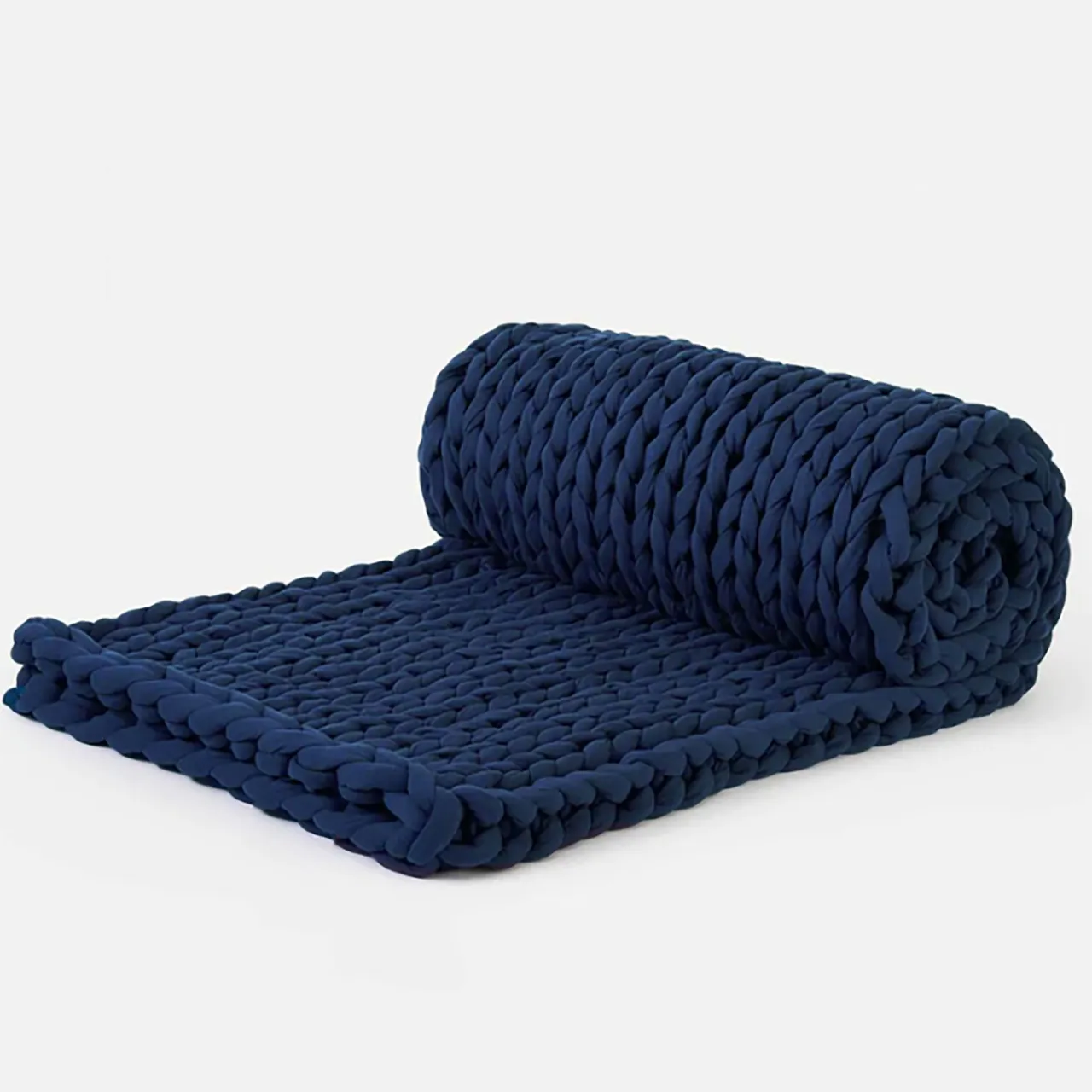 Baloo Living make one of the most popular weighted blankets among buyers and, looking at the customer reviews, it's not surprising. The Baloo weighted blanket is more of a duvet and can be upgraded with a luxury feel linen duvet cover to remove that slightly clinical feel that some of the quilted blankets can give off.
Spec:
Size – 107cm x 183cm
Material – Cotton
Filling – Lead-free glass bead filling
Pros:
Adding to the serenity of the blanket, Baloo opted for the white colourway as it's said to be better or Feng Shui, and orders of the Baloo weighted blanket come free with a calming singing bowl meditation recording.
Cons:
Quite a premium price point.
Customers are saying:
Delightful and feels like a luxe duvet so is well worth the money.
Save money on wishlist and bestseller weighted blankets with these Amazon discount codes
The very best weighted blankets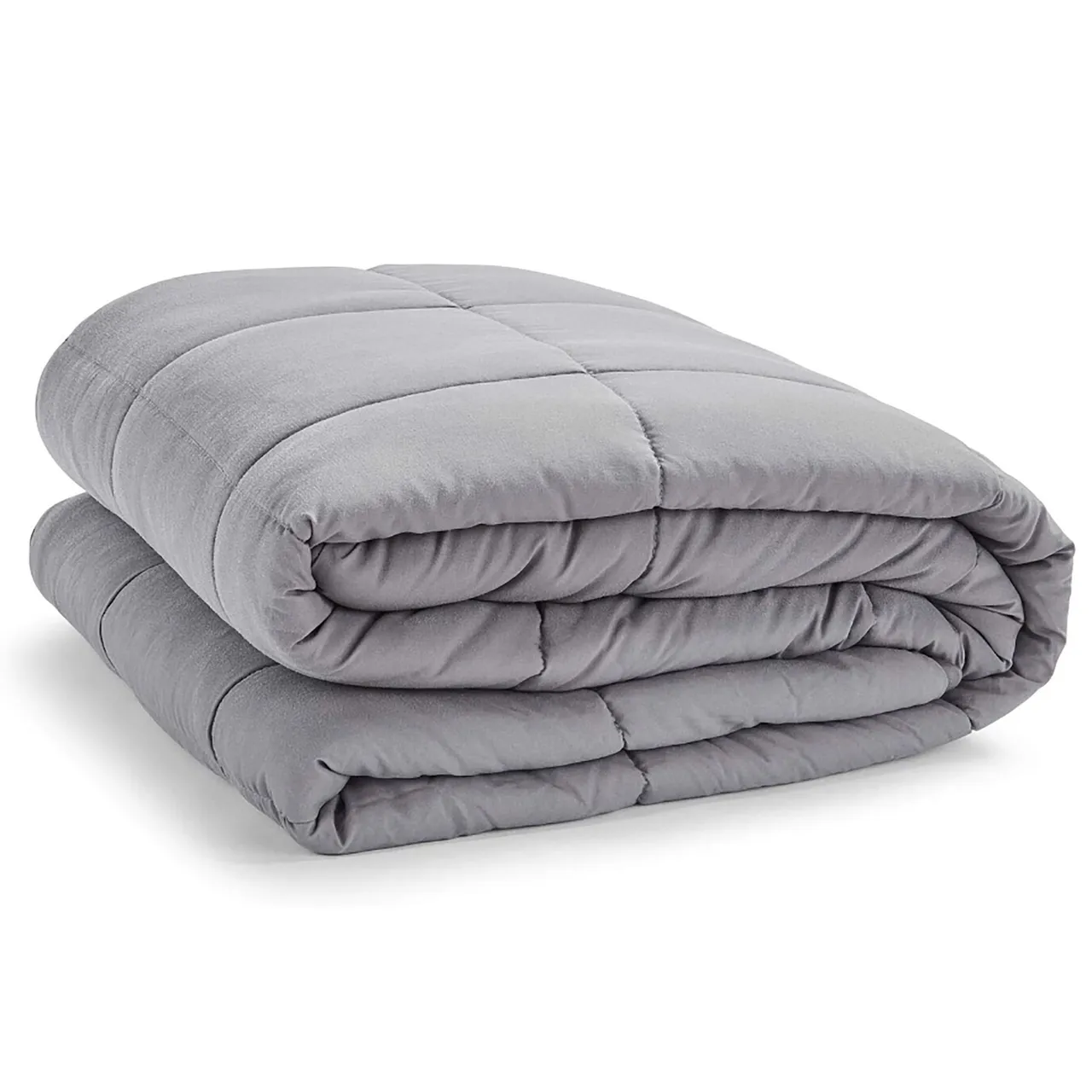 Engineered to melt away anxiety and welcome in a calm, deep and restorative sleep, the Mela Weighted Blanket is the ultimate nighttime companion. The reversible cover is plush and quilted one side for the ultimate snug experience, or breathable cotton the other to keep you cool.
Spec:
Size – 100cm x 190cm
Material – 100% cotton outer shell
Filling – Quartz glass pellets padded with polyester fill
Pros:
Features ComfortMould technology to ensure even distribution of pellets and no bunching.
Cons:
Not as effective for buyers over 11 stone.
Customers are saying:
Great quality, keeps you cozy and arrives quickly in the post.
Save money on the best weighted blankets with these Lakeland vouchers
The best weighted blanket for children, because they deserve better sleep, too
The micro-glass beads inside this blanket are hypoallergenic and non-toxic, and are surrounded by layers of padded polyester fibre for maximum comfort. Durable stitched pockets ensure an even distribution of beads to ensure consistent pressure while the plush fabric provides a truly cosy feel.
Spec:
Size – 110cm x 170cm
Material – Cotton and 'micro-plush'
Filling – Glass beads and polyester wadding
Pros:
Almost 100 were bought from John Lewis in the last month, which does speak for itself, and the £40 price point is generous, especially given that this children's size is hardly smaller than many adult models.
Cons:
Not suitable for children under three years old.
Customers are saying:
Ideal weight and, some reviewers remarked, can help to calm children will mental health difficulties.
Save when you shop for the best weighted blankets with these John Lewis discount codes.
The ultimate weighted blanket
Another trending weighted blanket, this YnM Weighted Blanket from Amazon comes in a gorgeous baby blue colourway, is Oeko-Tex certified and is suitable for queen AND king-size beds.
Spec:
Size – 150cm x 200cm
Material – Cotton
Filling – Premium glass beads
Pros:
Features a seven-layer makeup to ensure adequate encapsulation of the glass beads across a gridded system, thus helping to regulate temperature and prevent noise from movement.
Cons:
Premium price point.
Customers are saying:
Keeps you at a perfect temperature, leaves you feeling secure and, some buyers claim, it boosts your REM sleep, too.
Save money on the best weighted blankets with these Amazon coupons
Weighted blanket IKEA
Slightly different to its competitors, this IKEA weighted blanket has a plastic pellet fill, making it not quite so eco-friendly, nor as good at temperature regulating; however, with a generous heavy blanket 10kg weight, for its price at just over £100 it offers buyers a competitive value for money.
Spec:
Size – 150cm x 200cm
Material – Cotton
Filling – Polyester and PET plastic pellets
Pros:
Recycled polyester is used alongside the PET plastic beads to reduce the product's carbon footprint.
Cons:
Not washing machine nor tumble dryer suitable.
Customers are saying:
N/A
Save money on weighted blankets from online shops with these IKEA discounts
What is a weighted blanket?
Different to an electric blanket, a weighted blanket is a specially designed blanket that has been weighed down with pellets, which are evenly distributed across the blanket.
Weighted blanket benefits:
The reasons for using a weighted blanket are the same as the reasons for swaddling a baby – they keep you still and supported while you sleep.
Studies have also shown that the gentle pressure reduces the body's level of stress hormone cortisol and boosts the production of serotonin, which is the naturally occurring chemical that regulates mood and sleep patterns.
Both swaddling and weighted blanket use are forms of Deep Touch Pressure (DTP), which researchers have shown has a "calming effect on the alleviation of anxiety" and can also benefit those with autism and other medical conditions. In other words, it's like a giant, full-body hug, which, as darker nights draw in, we could all do with. In fact, research has shown that our skin can become "hungry" due to chronic lack of touch, resulting in a number of mental health issues such as loneliness. And a weighted blanket could serve as the solution.
Do weighted blankets work? What is the best weighted blanket?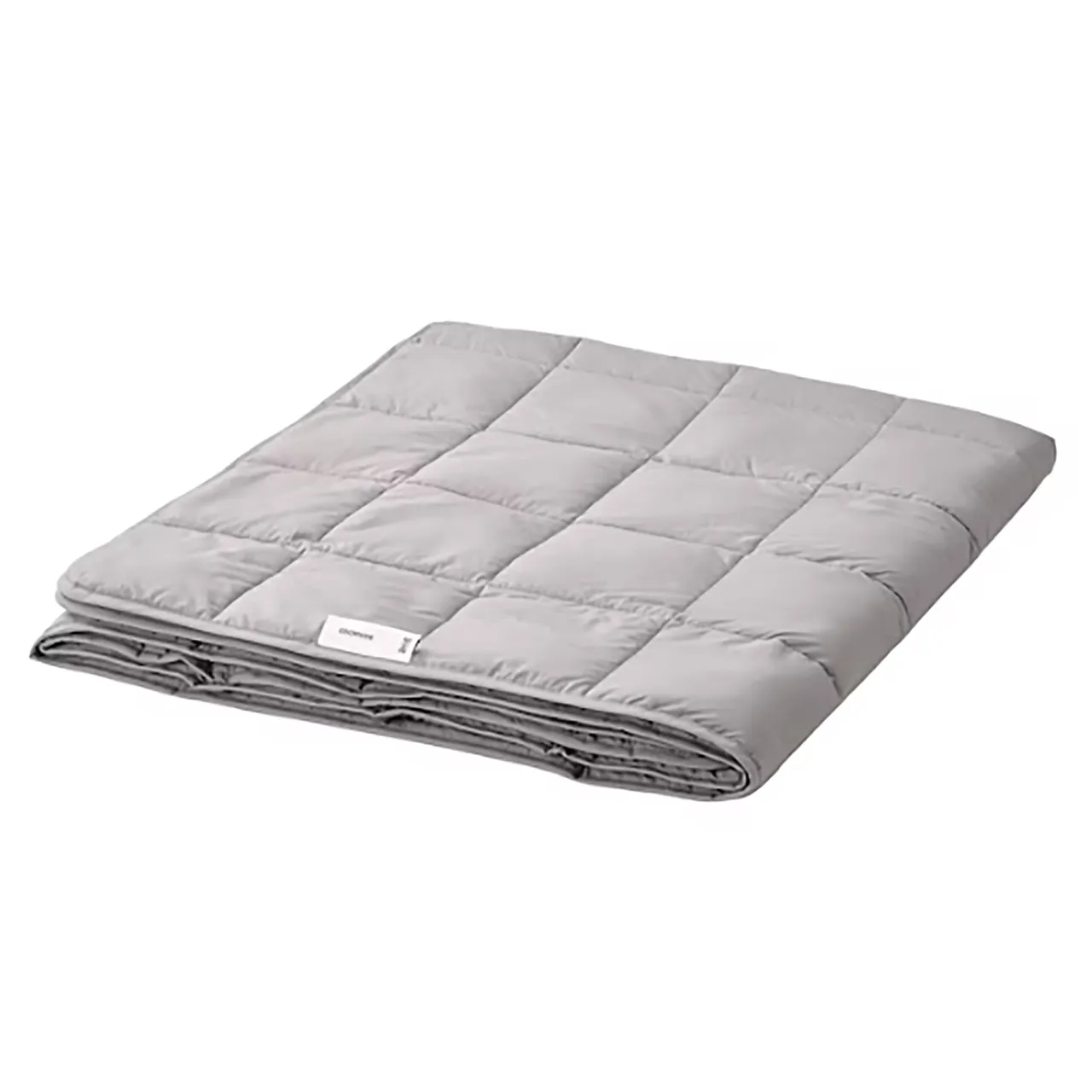 I opted for the Mela Comfort Blanket, which recently launched in the UK in a range of weights and is now stocked at Oliver Bonas after roaring success in the states. "We wanted to create Mela Comfort to not only tackle the growing problem of sleep deficiency using natural methods, but to also use business for good by giving back to projects that we feel passionately about in the mental health space. For every weighted blanket we sell, we donate a portion of our profits to help fund mental health research", says Matthew King, Co-Founder at Mela Comfort.
The blankets come in different weights between 15lb – 20lb, and are available in a range of sizes to fit all beds. I chose the 15lb weight option, which I was glad for when it arrived. Turns out, 15lb is kind of heavy. Top tip: order it to be delivered to your home and not to your office like I did. It's not exactly travel-friendly.
The blankets are weighed with SGS certified glass pellets, which are evenly distributed. It comes with the softest, microfibre cover, which while not to my aesthetic taste, feels beyond heavenly. It's like being cuddled by a huge velvet cloud. As I climbed into bed, I knew that it was the start of the rest of my sleeping life. It felt instantly relaxing, soothing and safe.
Weighted blankets aren't just for winter – they offer a new way for people to help switch off, calm their mind & get the crucial sleep needed to be the best we can," says Samuel Hochland, Co-Founder at Mela Comfort. "It's amazing that something low-tech can have such profound positive effects."
I woke feeling refreshed having slept deeply and undisturbed. But above all, I felt relaxed.
After more sleep-related content? We've found the best bedding, headboards, bed frames and best mattresses to upgrade your nighttime routine with. We've also discovered the benefits of silk pillowcases and silk bedding, as well as the best pillows for neck pain. We love our z's.