Boden is a popular brand among our style students because of its quality and timeless appeal.
At a time when it can be hard to find affordable pieces which are also fashionable, and which last, Boden fits that gap.
Plus, I love Boden because it's a brand that not everyone has heard of and not everyone shops at so it's not terribly likely that you will meet someone wearing the exact same outfit as you.
I think Boden really comes into its own during the spring and summer months when its classic, easy-to-wear dresses are perfect for warmer weather and vacations.
The Many Advantage Of Boden Clothing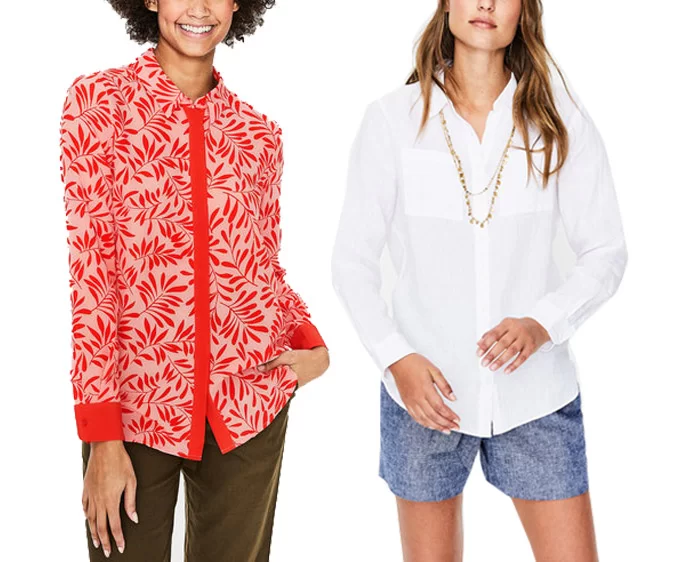 The big advantages of Boden pieces are the quality as well as the timeless nature of the shapes and styles.
You will find that while Boden tends to introduce new patterns and colors each season, the shapes and dress styles don't tend to change, so whatever you buy will be fashionable and stylish now without being the latest must-have trend that won't be on trend anymore in a few months' time.
Fabric is also one of the big draws for me. While many other brands largely use man-made fibers like polyester, Boden tends to seek out natural fibers wherever possible, so you'll find plenty of cottons, jersey, linen and silk.
Boden USA, Boden UK And Across The World
Boden is a fairly young company, having been founded in 1991. And, at one point, it was not widely available.
But, it expanded to the US a few years later and now delivers to most countries across the world.
Boden Online
You will find that even if you don't have a Boden shop on your high street, the online store is likely to deliver to you.
Boden Fashion
So what exactly is Boden fashion? What marks Boden's style out from others on the high street?
Perhaps, I should start with what it's not. It doesn't look cheap, it doesn't feature clothing which is too revealing and it is never absolutely bang-on-trend.
What marks Boden out from the crowd is the focus on the classic. You'll find plenty of classic shapes in all of its pieces which means you can wear them for years, but you'll tend to find there is a little twist. So, there might be stripes down your jeans, a pop of color or an unusual print.
Many of Boden's pieces make me smile. After all, how could you fail to be happy if you are wearing a pineapple print?
But there are also a lot of absolutely classic pieces which would make a great basis for putting together your basic capsule wardrobe.
You'll find items like black pants, classic single-breasted blazers, trench coats and white shirts along with flat pumps and white sneakers.
Below you will find a collection of some of our favorite pieces from the summer collection.
Please note that we used images from the brand which does not feature women over 40. However, all of these styles will be fabulous on women of any age.
The Perfect Boden Dresses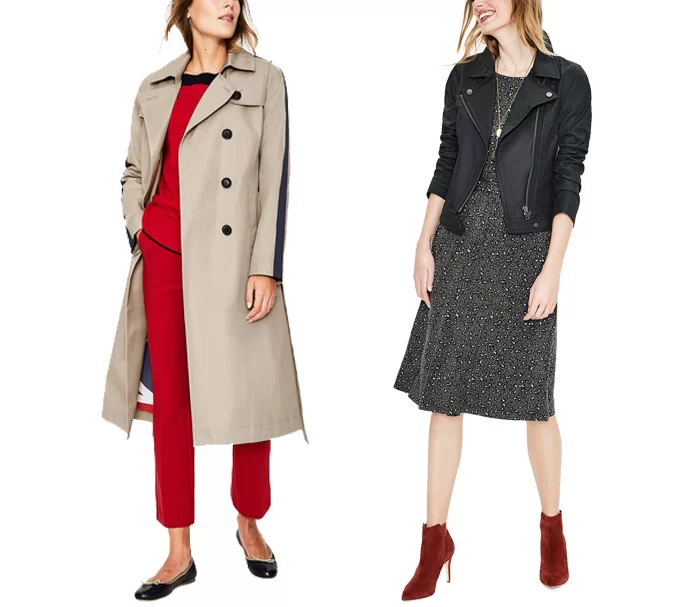 Boden is, arguably, best known for its dresses when it comes to womenswear.
The great thing is you will find plenty of lengths and shapes to suit women over 40.
All dresses tend to be knee-length, midi or maxi. It's quite rare to find a mini dress at Boden. Plus, while there are plenty of sleeveless styles for those who are happy with their arms, there are also plenty of dresses with sleeves.
It can often be tricky to find on-trend dresses from other brands which have sleeves, if you prefer to cover your upper arms.
Take a look at this article on the best dresses with sleeves for more inspiration.
Styles are classic wrap dresses, shirt dresses, a-line and shift, which won't date, and fabric tends to be easy-to-wear including jersey and cotton.
Boden Phoebe jersey dress: "I love this dress. I'm a curvy size 12 so I wasn't sure but it looks great." – LorrC
Boden Arwen midi dress: "Love this dress. Keeping it for my holidays, fits perfect, looks amazing, classy dress." – Lozz
Boden Dresses Which Are More Formal
While there are plenty of day dresses that you can pair with sneakers, sandals or ankle booties for everyday where, there are also a handful of more formal dresses that I think you'd definitely get complimented on for an event or special dinner.
Boden Tori midi dress: "Beautiful dress with excellent fit. I am a curvy hourglass and often concerned about V necklines, but this dress is tasteful and flattering." – PandenOneum
The Perfect Boden Skirts
Boden is a great place to shop for skirts because of their modern, classic patterns.
Boden Theodore midi skirt: "One of those pieces that makes you feel good! Good quality fabric and manufacture. Lovely garment to have in your wardrobe. Can suit any age depending on your personal style." – Bertie
Boden modern pencil skirt: "I have just bought this in another 2 colors as it is so flattering." – NikkiB
The Perfect Boden Trousers
Of course, Boden doesn't only stock dresses and skirts. There are also plenty of classic pant styles.
Whether you are looking for a classic pair of black pants for work or a printed pair of wide-legged pants for a vacation, you'll find it.
This season, there are plenty of on-trend cropped and wide-leg styles. And, as with its skirts and dresses, Boden comes into its own if you are looking for pieces with a print.
Boden 7/8 trousers – 566 reviews, 4.5 stars: "One word…beautiful." – Rosa151
Boden Bembridge trousers: "I was concerned these wouldn't suit me because I'm short and apple shaped but they look great." – Topsy
Boden Jeans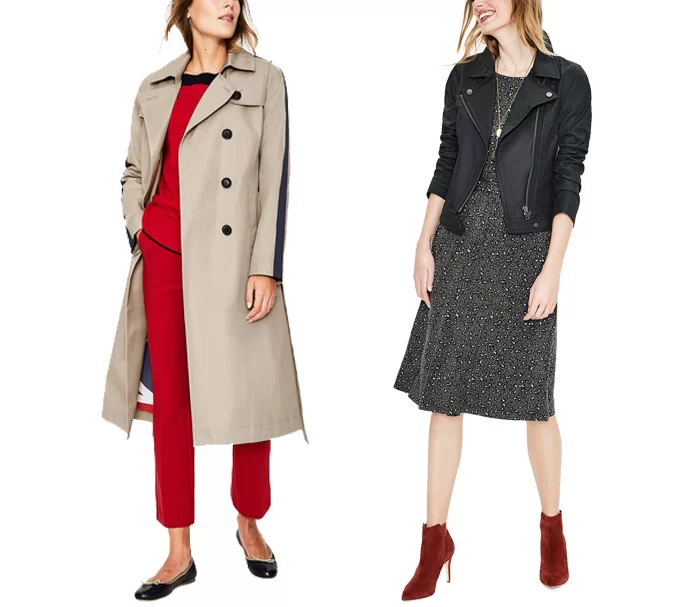 As well as pants, Boden also has a range of jeans. You'll find straight-legged, flared and some jeans with a difference such as embroidery or a bright pop of color.
If you're looking for jeans in a particular shade that you just can't find anywhere, Boden is often a good place to look
Boden Cambridge ankle skimmer jeans: "Beautiful jeans in great colors." – Candy
Boden Trafalgar straight leg jeans – 419 reviews, 4 stars: "So good I have bought three pairs." – retiree
Boden Jumpsuits
The perfect solution when you don't want to have to think about putting separates together, Boden's jumpsuits has lots of options you could dress up or down.
Again, there are lots of great choices for a vacation, which you could wear with sandals during the day and then add heels for dinner.
Another good choice if you are looking for something to cover your upper arms as plenty of Boden's jumpsuits have sleeves, although there are sleeveless options too if you prefer.
Boden Beatrice jersey jumpsuit: "This really is my favorite purchase EVER from Boden. Yes, it's flattering. Yes, it's comfortable. But most of all it makes me look like a goddess. Super sexy." – Toots
Boden Shorts
I've already talked about good options for vacations among Boden's pieces, and I'm going to continue in a holiday mode because Boden is also a good shopping choice if you're searching for shorts.
It can be tricky to find shorts which aren't, well, too short. But Boden has a good range of mid-length options
Boden Richmond shorts – 273 reviews, 4.5 stars: "So good that I have three pairs." – Bodenfan
Boden Bude shorts: "I was amazed just how good these are, really comfortable and with a bit of stretch." – Greedy Granny
Boden Tops And T-Shirts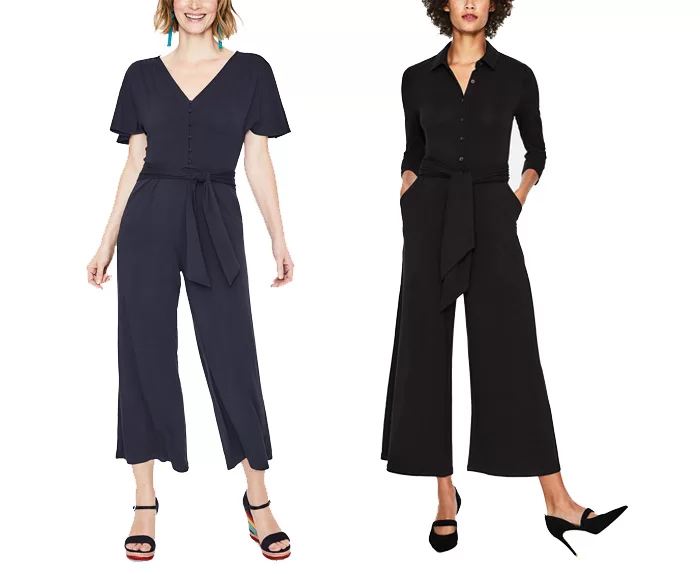 If you're not opting for a jumpsuit, you'll definitely need a top to go with your pants or skirts! If you've decided on a print skirt, you may want to look for a plain top which will go with it, or which will look equally great with jeans.
You'll find options for square, round and v-neck tops as well as classic wrap styles. There are Bretons and soft fabric tees which will good day-to-day wear, as well as those which are a little more special.
Boden Adriana top: "This is a lovely, flattering top that looks chic and expensive." – Teenypeach
Boden Broderie top: "Very cute top. I ordered my usual size 10 and the darts give plenty of room in the bust for my D cup." – Kate
Boden Blouses
For a dressier feel, or for workwear, you may prefer a blouse or shirt.
You'll find plenty of natural fabrics, including cotton, linen and silk.
I'd definitely take plenty of these on vacation too. You could wear the linen shirt during the day and a silk shirt in the evening.
Boden silk shirt: "Wow. Stunning on. Amazing with jeans. Dress it up, dress it down. So light to wear and the fit is perfect." – Barbara
Boden linen shirt – 70 reviews, 4.5 stars: "I own three of these linen shirts. Can dress them up or down." – Shelly
Boden Coats
Unless you live in tropical climes year-round, you are likely to want a coat or blazer to pop over your outfits, even during summer.
As with the rest of Boden's range, the coats and jackets are absolute classics which won't date. There are more casual waterproof coats as well as blazers which would look great dressed up with a skirt or down with jeans. Also, you'll find classic jeans and moto jackets that you can pop over your summer dresses to add a touch of edginess.
With many Boden pieces, you will find, while it is a classic shape, it comes with a little twist.
Boden trench coat – 27 reviews, 4.5 stars: "What a great coat. This coat has made my spring. I wanted a lightly-lined trench but nothing too boring and this fits the bill." – Rebecca
Boden biker jacket: "Fab jacket. I was in two minds about ordering it, but I have worn it so much. Lots of compliments too." – Kate B
Boden Sweater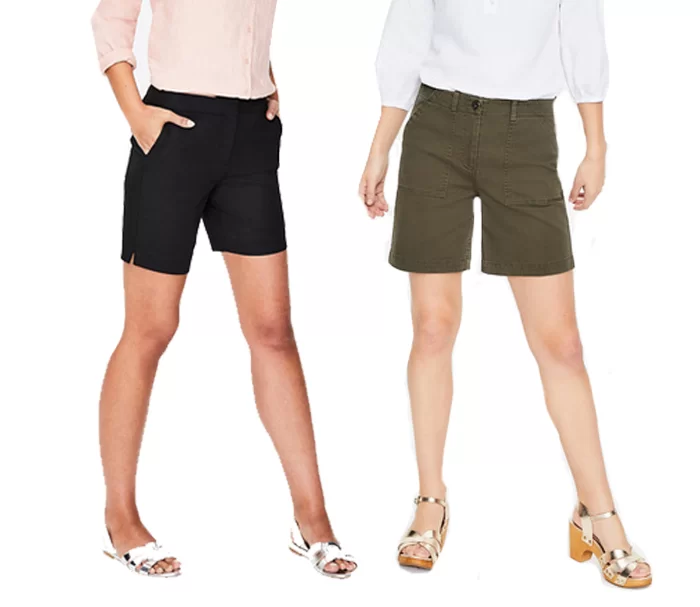 Again, you are likely to still need a sweater or cardigan, no matter what time of year it is. For cooler summer evenings, you can wear with a skirt or over a dress.
Sweaters at Boden tend to have a charming retro feel about them, with cropped cardigans you could easily wear over a sheath or fit and flare dress, along with wrap and crew neck styles. Some pieces are given an added twist through the addition of stripes or paneling and I also spotted a Chanel-inspired cardigan which would look great with jeans.
Fabrics include cotton and cashmere options.
Boden color block tee – 62 reviews, 4.5 stars: "Liked it so much I bought a second." – Lolo
Matilda cardigan, 5 reviews, 5 stars: "This little cardi is as good in the flesh as it looks on the model." – Marlow
Boden Swimwear
Taking about vacations, Boden isn't often thought of as a go-to for swimwear but I find it's a great place to look.
It can be hard to find swimsuit and bikini options which offer enough coverage for the bottoms because the trend at the moment is for teeny tiny bottoms which are almost thongs.
But Boden seems to understand that there are plenty of women who actually prefer to cover their derriere!
Cup sizes go up to a 38DD. Most options also come with body-sculpting lining.
Kefalonia swimsuit – 4.5 stars: "Obsessed. I own the Santorini, which held up well last year. I ordered the Kefalonia and I'm not disappointed! This fabric sucks you in a little bit more and the design is super flattering." – beach girl
Talamanca swimsuit, 58 reviews, 4 stars: "Inner lining holds you in, in all the right places." – Diahann
Boden Tunic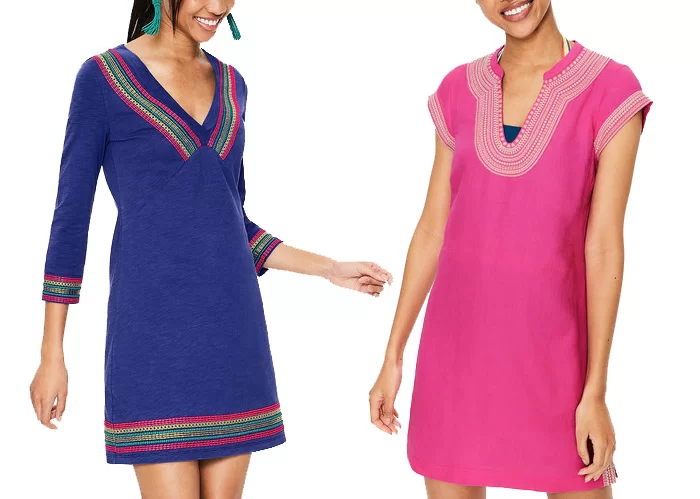 If you like to have something to pop on over your swimwear when at the beach or pool (I know I do!), then one of Boden's tunics could offer the answer.
Personally, I wouldn't wear as a dress as I think they're a bit short, but I would pop one over a swimsuit to walk up to a bar or restaurant for lunch at the beach, or I'd wear over white jeans or a pair of leggings.
Rosanna jersey tunic: "Lovely top or tunic or dress or anything you want really for holiday time." – Barbara
Yasmin embroidered tunic: "I love linen despite the ironing. It's cool and looks classy." – Mich
Boden Shoes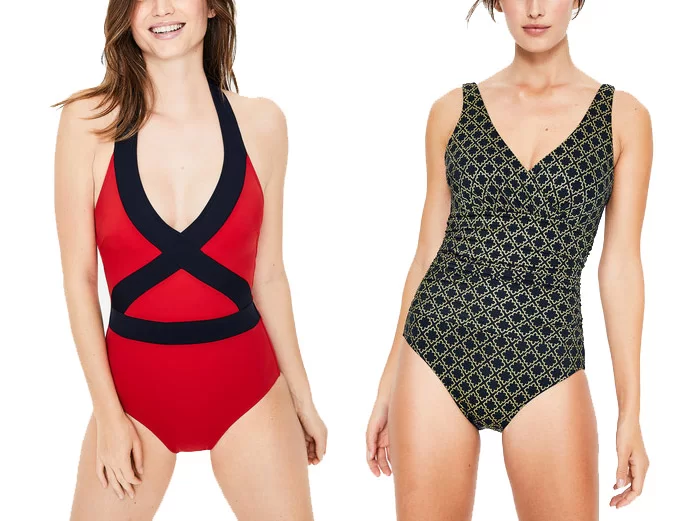 Boden isn't often known for it's shoes, but it does what it does well with its clothing pieces by creating classic designs which won't date so you can keep them in your closet for season-upon-season, which is so important in a climate of throw-away fashion which doesn't last or which we grow bored with.
I really don't want to suffer for my style, so I tend not to wear skyscraper heels.
I love that there are plenty of flats which are just as fashionable as heels, and that when I do want to wear a heel, Boden has a good range of block heels, which are easier to walk in.
There are also good sandal options for summer, and classic sneakers and boots for year-round.
There are also plenty of pieces which look designer, without the designer price tag.
Boden Bags
Just like any other department store, Boden really is a one-stop shop when it comes to putting together an outfit. As well as shoes, you can also pick up any number of stylish bags.
This season, there are classic totes for day and clutches for evening as well as on-trend saddle bag shapes which are similar to those seen on the catwalks of Victoria Beckham.
Boden Pajamas And Loungewear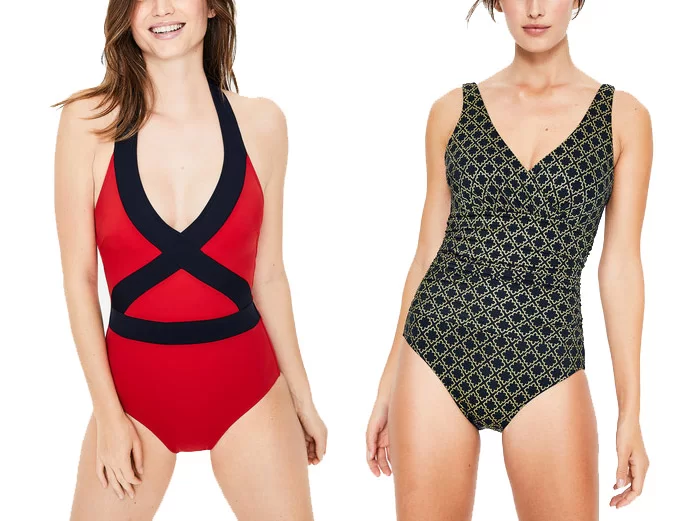 For those days when you are doing not very much at all, many of Boden's loungewear pieces come in a super-soft cotton which is great for lazy days. Boden calls them its Sunday uniform.
Styles are classic wrap dresses, shirt dresses, a-line and shift, which won't date, and fabric tends to be easy-to-wear including jersey and cotton.
Boden Phoebe jersey dress: "I love this dress. I'm a curvy size 12 so I wasn't sure but it looks great." – LorrC
Boden Arwen midi dress: "Love this dress. Keeping it for my holidays, fits perfect, looks amazing, classy dress." – Lozz