Tailor Brands Provides Logos and Branding for All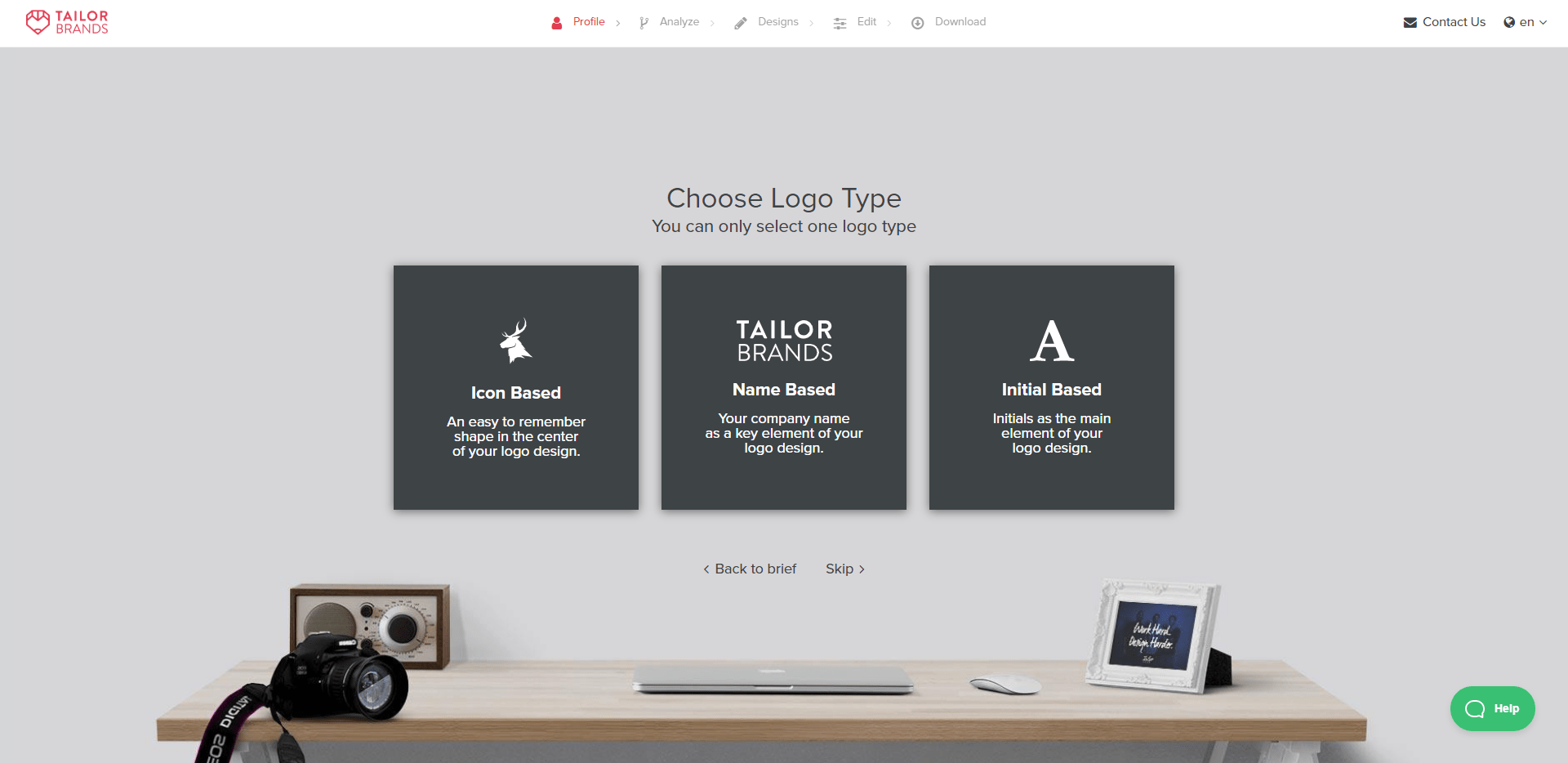 Tailor Brands has featured in the news for raising millions of dollars to invest in its AI-based logo generator. But can it help you create a unique logo for your brand or website?
Tailor Brands' logo generator might not offer the most advanced customization options, but it sure is easy to use. The pricing is odd, considering it's a subscription-based service, and, honestly, I'm not a fan of the way Tailor Brands implemented that.
But if you're looking to do more than just create a logo and don't mind the price tag, Tailor Brands might be the right solution for you.
The service is available in English, Spanish, German, French, Italian, Portuguese, and Dutch. The languages and alphabets you can use in the actual logos are limited to the Roman alphabet. Special characters, emojis, and Mandarin (I tested it) don't work.
Aside from logo generation, Tailor Brands also provides AI-driven website design, social media marketing tools, and some print work so you can put your logo on products like business cards and shirts.
Aside from Tailor Brands, I tested over a dozen logo design services to find out who could deliver the best new logo for Website Planet. Click here to read all about my quest to find the perfect logo and find out who won.
Tailor Brands Has the Basics, Plus Some Interesting Features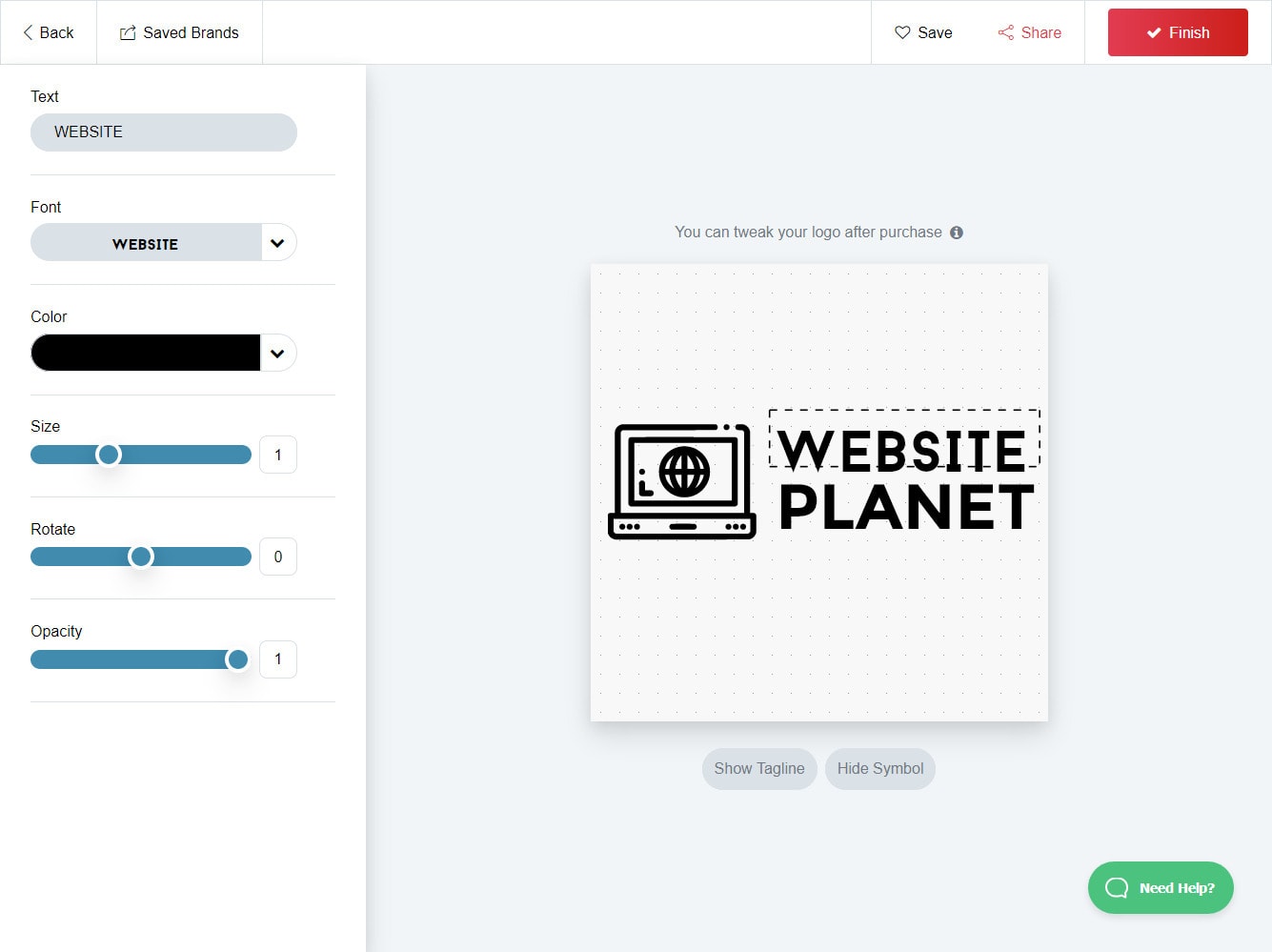 Tailor Brands' logo generator is fairly flexible, and it delivers decent results all around… kind of like a sandwich. It's simple, dependable, and if you get creative, you can do some quite interesting things.
It has the usual step-by-step AI-powered "wizard" that you'd expect from this type of service. As you can see in the screenshot above, you can choose to generate a logo that's purely based on type, a logo that includes an icon, or one that uses your company's initials. Each option will take you down a slightly different version of the logo generation process.
You get quite a few logo options at the end of the process, and you can keep generating more if you need them. As you keep generating more, however, the designs will look less and less like the styles you picked during the process. The first several logo designs seem to always be the "most relevant," and in my experience, they usually look quite close to what I intended.
There's also a large library of icons. Of course, the more "general" or statistically common your search terms are, the more icons you'll have to choose from. The typeface library is decent, but it's nothing to write home about. And according to the help center, Tailor Brands won't even tell you the name of the font unless you specifically ask for it after you've bought your logo.
You should know, though, that the font options you're given in the logo editing screen are quite limited, and will be based on the choices you made earlier in the design process. In fact, be prepared to have the algorithm make lots of choices for you. It's an easier way to do things, but people who like to be in control of their design (read: me) will not be pleased.
Oh, and you can't upload your own images unless you're on the Standard plan or higher.
There are character limits, too: 28 for your company name, and 32 for your tagline (if you want one).
Your completed logo comes in a ZIP file, including both JPG and PNG formats. EPS files that can be edited manually in software like Adobe Illustrator or Inkscape are available only from the Standard plan on up. You do get a couple of options with transparent backgrounds, though, so that's useful.
You can customize every aspect of your logo: icon, text, typeface, colors, and so on. Unfortunately, you can no longer drag and drop things wherever you want them to go. It used to be that you could, but now you just… can't. It's a disappointing change.
One limitation is that you can't pick the exact colors you want; you have to use the provided color palettes and you can't add an icon to a logo that doesn't have one in the first place. So, if you don't click on the "Icon Based" option at the very beginning, and you then decide you want an icon, you have to start all over again.
Now, the big question, of course, is whether or not you can get a properly "unique" logo from the service. Well, yes and no. Tailor Brands' customers who run similar businesses may well end up with logos that look suspiciously similar, but it's unlikely that the logos will ever look exactly the same.
Let's take a closer look at a few of Tailor Brands' standout features.
Create an Abstract Shape for Your Logo
If you really want to make sure your logo doesn't look like anyone else's, you can choose (at the beginning of the logo-generation process) to create an abstract shape to use as your logo icon.
These abstract shapes probably won't look like any sort of recognizable object or symbol, but that might be exactly what you want. There are about 20 shapes in total, and you can pick up to 5 to generate ideas from. Note that the tool doesn't really blend the shapes you've selected – it just shows more results.
In any case, if you choose an abstract shape, your logo should look fairly different from most others.
Business Cards and Merchandise
Good news – if you want your logo printed on business cards, t-shirts, or just about anything else, Tailor Brands has a partnership with Zazzle, a service that specializes in printing whatever you want on pretty much anything. You can order your merchandise without even having to visit another site.
Integration with Social Media Tools
Tailor Brands has some social marketing tools in its list of products, so you can go from designing your logo to spreading it all over social media in a matter of minutes.
It also has an automatic resizing tool that will quickly resize your logo to fit the ideal image size for various social networks. Even if you don't have a social media strategy yet, these features could help you get started.
Seasonal Logo Generator
This one might seem a bit odd at first, but hear me out: You know how companies sometimes have a different version of their logo for different seasons or popular holidays? They might throw on a Santa hat, or add some turkey feathers.
Well, this tool basically does… that. It helps your logo embrace the spirit of the holidays. The logos are automatically added to your brand profile as various holidays approach. I checked out the ones we got for the 4th of July, and "Video Game Day," and they uh… Well, let's just say both could have been better. At the very least they could have used the same typeface as the original logo. But still, the feature is there and has some use.
My Experience with Tailor Brands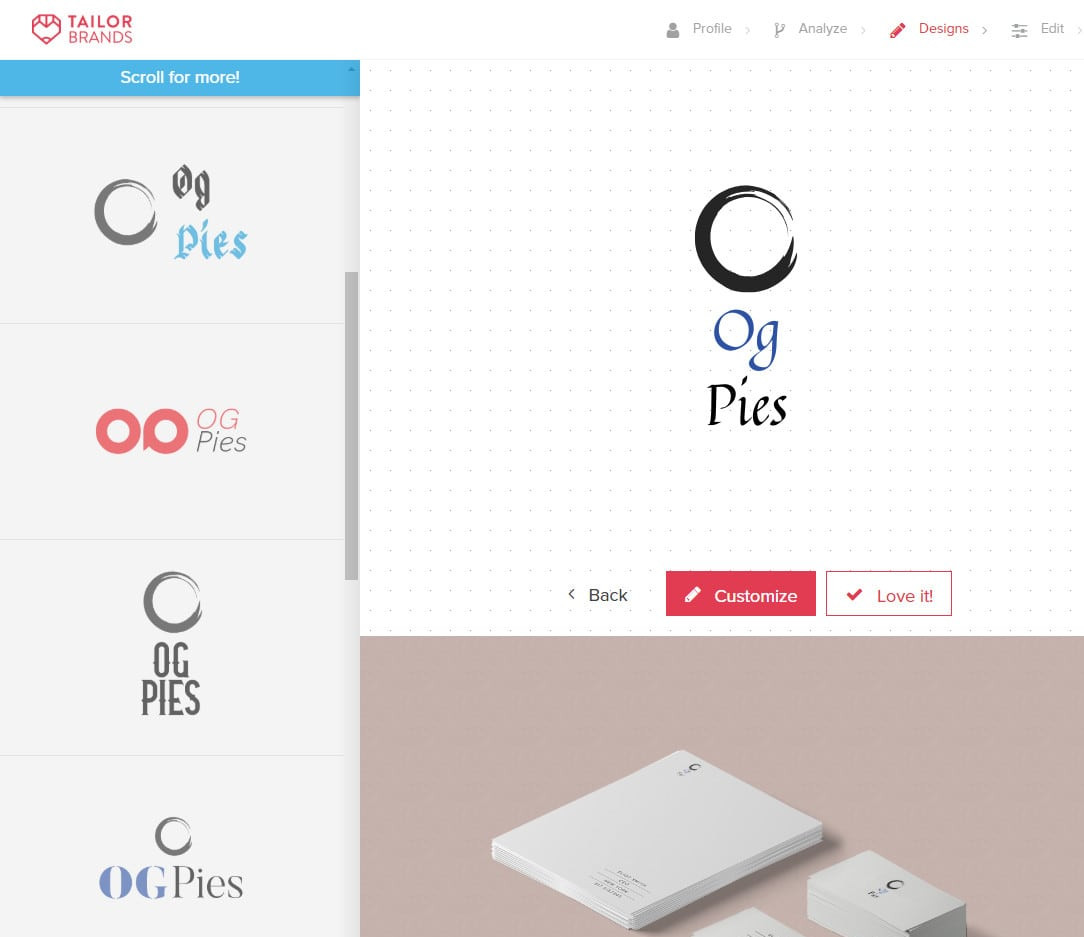 I'm on a quest to try out all the most popular logo design services. The best logo will be our new official logo for Website Planet. It probably won't be the one I made for this review, though.
As mentioned in the video above, I've used Tailor Brands before as research for other articles I've written here on Website Planet. It's always been the same: follow the wizard (boy, does that sound more exciting than it really is), make my style choices, pick a logo, and see what the editor can do. Watch the video above to see the process in full.
I've said previously on the Website Planet blog that Tailor Brands has my personal favorite logo generation process, when specifically compared to Looka and Wix Logo Maker. Despite my disappointment that you can't make your own color palettes, I stand by that statement. Tailor Brands makes a good logo, and I've personally been impressed by the variety of options on offer.
This time, we bought one of the logos on the cheapest monthly subscription plan. I am happy to report that you can make some changes after purchase. Specifically, you can edit the layout, color palette, and your tagline. It's not a perfect system, but it's better than when you couldn't make any changes at all.
Tailor Brands is a solid product that, thanks largely to their pricing model, left me with mixed feelings.
Designing Your Logo with Tailor Brands Is Easy Enough
It truly is. There are instructions for everything, and tooltips everywhere. What this software lacks in more advanced graphic design features, it makes up for by being very straightforward to use.
Plus, it has a couple of features that make things even easier:
You Can Save All Your Logo Designs
With Tailor Brands, every logo you design gets saved so you can come back later, even if you haven't paid for it yet. In another review, I said that I'd include a section for this feature for every product that has it, and I meant it – being able to save all your designs isn't just good, it's essential.
You Can Access Your "Seen Brands"
"Seen Brands" are just that: brands you've seen at some point in the logo design process. It means that as you generate logo options, and edit your logo before payment, all of your major design iterations get saved, and you can easily go find them again. So, if you decide that you actually like that logo design you made five versions ago, hooray, it's still there. Go buy it.
There's a Handy Tailor Brands Mobile App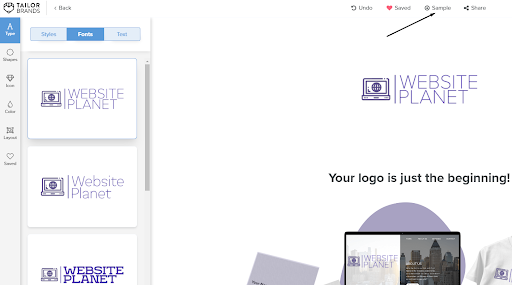 Want to design your logo on the go? It's not how I'd do it (I adore my mouse and keyboard combo, because that's what I grew up with). Anyway, Tailor Brands has a mobile app available for Android devices. A similar – though not exactly the same – app named Logo Maker Studio is also available on iOS.
The logo generator and customizer are both fairly intuitive. The generator has very specific instructions, after all. You'll have to answer around ten questions, and they're all multiple choice (except for when you type some basic info about your business, and when you manually search for icons in the database).
The logo editor is simple, mostly self-explanatory, and easy to use if you click around for a bit. The iOS app works in a similar fashion. There are a couple of small details, such as "plus" and "minus" icons, that you should be able to click on but can't.
Tailor Brands' customer service is mostly functional, but it's certainly not outstanding.
Email support, live chat, a blog, and a knowledge base/help center — those are your options. The knowledge base is very beginner-oriented, which is good, but it could probably use a few more visual aids.
The blog is pretty extensive, offering over 250 articles under the categories of logo design, business, and branding. There are also a couple of articles dedicated to the basics of logo design, but sadly, there's no search feature.
You can find the "help" chat button on the bottom right corner of the screen. When you click it, you're greeted by a friendly bot that "answers" your questions by redirecting you back to the knowledge base. The "Get in touch" button doesn't really connect you with a real human – it's just another way to contact the support team via email.
When it did load for me, sadly, no one was online to actually chat with me. The little chat window offered me the option to send an email instead, or to browse popular help articles.
Tailor Brands Email Support
I was restricted to email for support, so that's what I used, and that's what I can comment on. The promised timeframe for a reply is a tentative 24 hours, but they've mostly done better than that. The first two replies came within 1-3 hours. The third took around 9 hours. Please note that the support agent couldn't tell me when staff are available.
Is Tailor Brands an Affordable Logo Designer?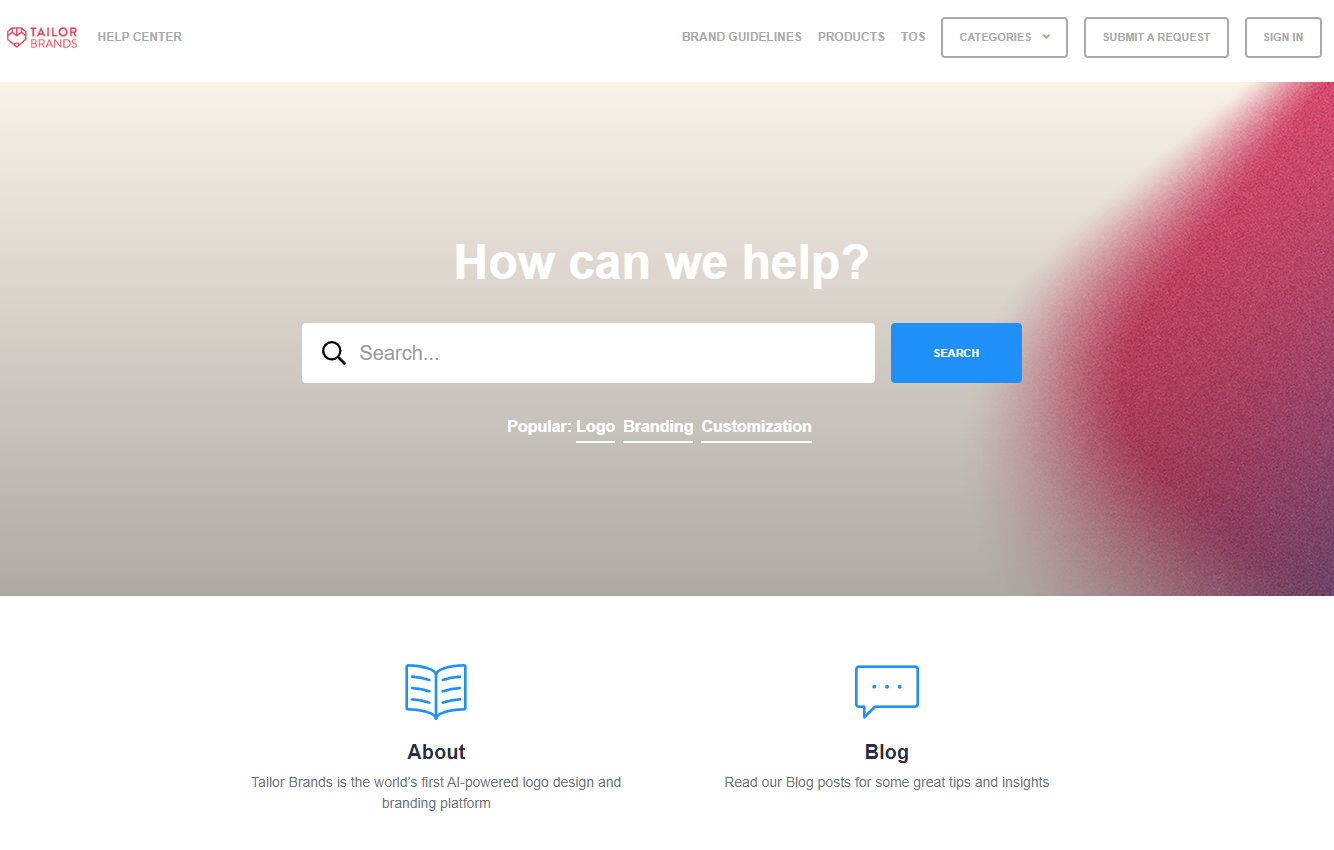 I'm not saying that Tailor Brands wants all of your money, but… it wants all of your money. Tailor Brands has adopted a subscription model for selling its software, which isn't such a bad idea in theory. After all, the more expensive plans give you ongoing access to things like social media tools, basic print design tools for business cards and stationery, and the ability to upload your own images.
The downside is that, as far as I can tell, you need a separate subscription for every logo you pay for. Oh, and the per-month price goes up by a lot if you pay only for one month at a time.
If you do want to pay, though, you've got options: Visa, American Express, MasterCard, Diners Club, JCB (Japan Credit Bureau), Discover, and PayPal.
You can get a free sample logo (or preview how it'll look on devices, merchandise, etc) by clicking on the "Sample" button, but it's low-quality — nothing usable, really.
On the upside, even the cheapest plans allow for commercial use. And if you pay for the whole year, and if you actually use Tailor Brands' ongoing services… it is pretty cheap.
Now, if you want to use Tailor Brands to run your whole online presence and marketing, it might very well be worth it. That sort of integration between marketing tools and design tools could make your life a lot easier, especially if you're new to web design and online marketing. Just be very, very sure that you like your logo — there are no refunds.
Lastly, just be aware that Tailor Brands will try to upsell you at every opportunity. Even if all you want is a logo, when you try to pay for it, you may still have to say that no, you don't want a domain name, a professional template for your site, or the ability to post on social media about your new logo.
I can't blame companies for trying to upsell, but Tailor Brands should at least try to space it out a bit.
Usage Rights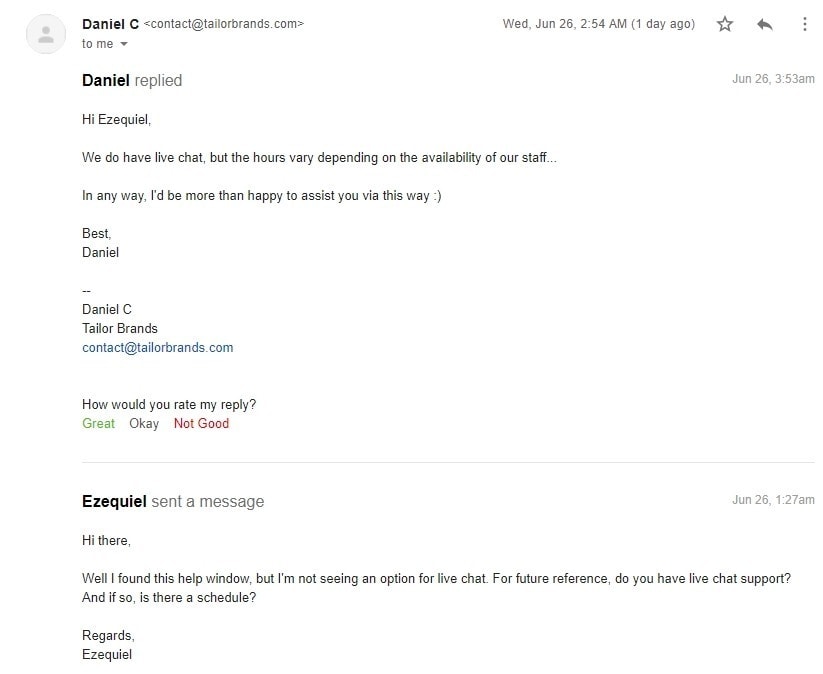 You get all the usage rights to your logo, with no restrictions, even on the Basic plan. Even if you cancel your membership, you retain the rights to all logos you've designed. However, you'll be unable to download them again, so make sure you keep local copies on hand, if you're going to cancel that plan.