About Supergoop! 

I was taught at an early age to protect my skin so I consider myself somewhat of sunscreen buff. Trying out everything— from sticks and creams to sprays and mists—I know the difference quality sun care products make.
Supergoop! develops SPF-infused skin, body, and makeup products. Their main focus is to stop the epidemic of skin cancer through specialized sunscreen formulas, and they do that by making products people actually want to put on.
With a following of over 540k on Instagram, Supergoop! has been featured in several media publications including Marie Claire, PopSugar, and InStyle Magazine. The company also won the Allure Best of Beauty award in 2018.
Ready to get serious about sun care? Keep reading this Supergoop! sunscreen review to explore your SPF skincare options. Ahead, I'll take an in-depth look at the company, its bestsellers, customer ratings, promotions, and more, to help you decide if this collection is worth slathering on.
Overview of Supergoop!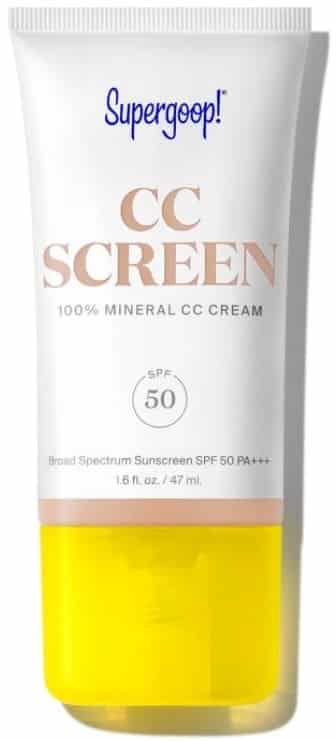 Supergoop! was more than just a business idea. The concept stemmed from a deeply personal experience of founder Holly Thaggard, when one of her closest friends received a skin cancer diagnosis. After hearing the news, Holly was compelled to research SPF and the harmful effects of UVB and UVA sun rays.
Armed with this new information, Thaggard began to educate her children and elementary school students about the importance of wearing sunscreen on a daily basis. Her efforts expanded, as Holly made it a mission for schools in over 19 states to educate students on skin protection.
Holly's initiative led to the creation of Ounce by Ounce, a program that donates SPF products to schools across America. But she soon realized that spreading the word wasn't enough, and recognized a lack of quality ingredients in conventional sunscreens.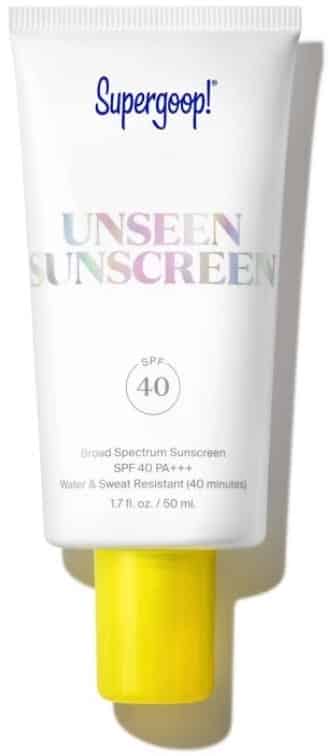 Holly was inspired to change the SPF game by introducing her line of sunscreens in 2007. Using a specialized formula that is ingredient-conscious and dermatologist-tested, Supergoop! quickly gained recognition for its products—like the fully transparent Unseen Sunscreen SPF 40, which became a global success.
 "We were the first to disrupt this category driven by our founder's mission to stop the epidemic of skin cancer. Not to mention that 90% of the signs of aging come from the sun. So we're setting the facts straight and changing the way you think about sunscreen, for good."
Supergoop! operates from their headquarters in San Antonio, TX. With the exception of a few products, like the City Serum, most of the skincare collection is manufactured in the USA.
Before I get into the details of its collection in this Supergoop! sunscreen review, let's go over some initial pros and cons of the brand.
Pros
Variety of Supergoop! skincare containing a healthy dose of SPF
All formulas are free of parabens, oxybenzone, and other harmful ingredients
Leaping Bunny certified vegan and cruelty-free
Most products are manufactured in the USA
Supergoop! donates SPF products to elementary schools across the nation
Subscription program offers savings
Positive customer reviews
Offers Afterpay as an alternative payment option
Cons
Pricier than most sunscreen retailers
No international shipping through the website (though non-US customers can access products through partner retailers)
Supergoop! Everyday Sunscreen Bestsellers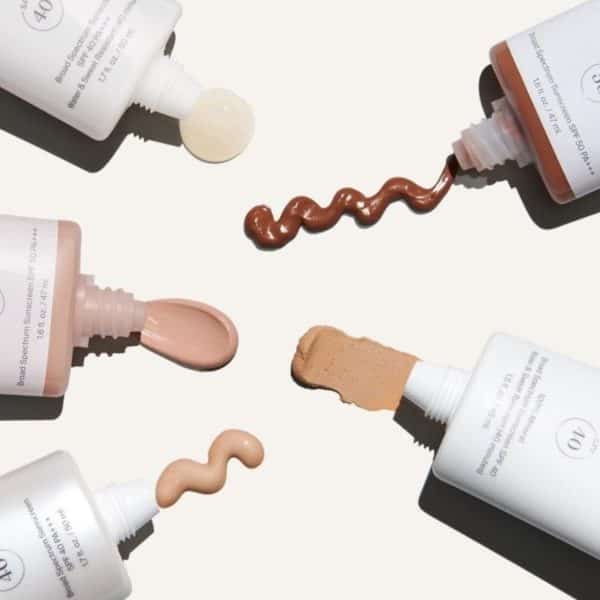 My experience with sunscreen? Most feel greasy or leave a white cast on my skin. Not the look I'm going for. On top of that, traditional formulas often feel heavy on my face and I often want to wipe them off.
From what I've come to know so far about the brand, Supergoop! is different. It offers an assortment of products packed with protective SPF, including makeup, skin care, and body care.
With over 100 products offered on their website, it's easy to become overwhelmed. Up next in this Supergoop! sunscreen review, I'll showcase some of their bestsellers to get you started.
Supergoop! Unseen Sunscreen SPF 40 Review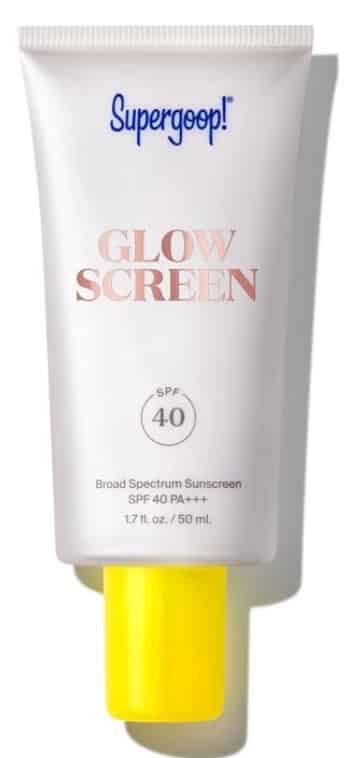 I have more than one family beach day photo of me covered with a face a white sunscreen. Though I appreciate the protection, mom, I'm not a big fan of the lok.
While most consider primer the first step in a makeup routine, sunscreen should actually be applied before. If you're worried about sun creams that leave a ghostly white residue, the Unseen Sunscreen SPF 40 can be your fix.
This oil-free formula contains a rich blend of antioxidants while providing broad-spectrum SPF 40 protection. This subtle sunscreen includes the health benefits of frankincense and meadowfoam seed to keep skin resilient and hydrated.
Designed for all skin types, this product can be used as a Supergoop sunscreen primer. Get a velvety smooth finish with the Unseen Sunscreen SPF 40, available in two sizes: 
0.5 oz: $17
1.7 oz: $34
2.5 fl oz: $44
Supergoop! CC Screen 100% Mineral CC Cream SPF 50 Review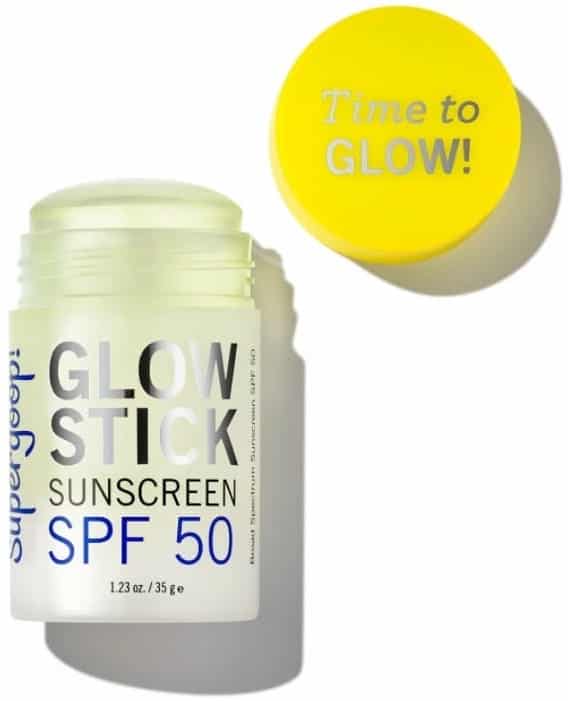 Skincare and makeup routines can be time-consuming, especially when you throw sunscreen application into the mix. Whether it's the time it takes to rub sunscreen in or waiting for it to dry, it's a step that's easily skipped on days when I'm in a rush.
The CC Screen 100% Mineral CC Cream SPF 50 combines foundation and sun protection in one convenient concoction.
This formula introduces a blend of non-nano zinc oxide, apple extract, Irish moss, and red seaweed extract to reflect UVA rays while brightening and maintaining healthy skin.
This lightweight mineral cream has a Supergoop PA+++ rating for health benefits. For additional sun protection, pair with the Supergoop! invincible setting powder SPF 45.
Available in over 15 different shades, the CC Screen 100% Mineral CC Cream SPF 50 costs $39 for 1.6 fl oz.
Supergoop! PLAY Everyday Lotion SPF 50 Review
Going for runs has often left me coming home with burned shoulders, but slathering on sticky sunscreen before my jaunt isn't something I look forward to.
To protect skin during exercise under the blazing hot sun, make the PLAY Everyday Lotion SPF 50 part of your daily routine. Designed for both face and body, this lotion provides high-performance protection against UVA, UVB, and IRA rays.
Supergoop! formulated this sunscreen to help prevent photoaging and dehydration. It's sweat- and water-resistant for at least 80 minutes, so reapplication is minimal. For extra protection, add a spritz of the Supergoop! defense refresh setting mist SPF 50.
Get the PLAY Everyday Lotion SPF 50 for your next beach volleyball or badminton tournament in one of four sizes:
1 fl oz: $10 
2.4 fl oz: $22
5.5 fl oz: $32 
18 fl oz: $58
Supergoop! Mattescreen SPF 40 Review
I try to eliminate excess oil on my face—so why would I use a greasy sunscreen? Typical greasy sunscreen puts your pores on display in an entirely unflattering way. The Mattescreen SPF 40 has the exact opposite effect, leaving skin looking mattified and poreless.
Featuring a slight tint to help mask its 100% mineral formula, this sunscreen seamlessly blends while providing a protective layer of broad-spectrum SPF 40.
This Supergoop matte sunscreen is sweat- and water-resistant for up to 40 minutes, so you don't have to rush reapplication after a run or quick dip in the pool.
To protect the delicate skin under your eyes from UV damage, aging, and hyperpigmentation, double up with Supergoop eye cream. Get the Mattescreen SPF 40 in one of two sizes:
Supergoop! Glowscreen SPF 40 Review
 
Supergoop! Sunscreen Glowscreen SPF 40
Sun kissed, dewy skin is always in, but sun damage never is. If it's a hydrated, shimmery look you're going for, I'd recommend checking out the Glowscreen SPF 40.
Combining the sparkle of a highlighter with the protection of a sunscreen, this sheer liquid sunscreen protects your skin against harmful rays and provides a pearlescent, glowy finish.
Formulated with hyaluronic acid, vitamin B5, niacinamide, and sea lavender, this glamorous lotion hydrates skin for a soft, nourished feel. Before applying makeup, mix a drop of the Supergoop serum and zincscreen into this lotion.
Make the Glowscreen SPF 40 your pocket full of sunshine before enjoying a day at the beach. This versatile Supergoop! product is available in sizes:
Supergoop! Glow Stick SPF 50 Review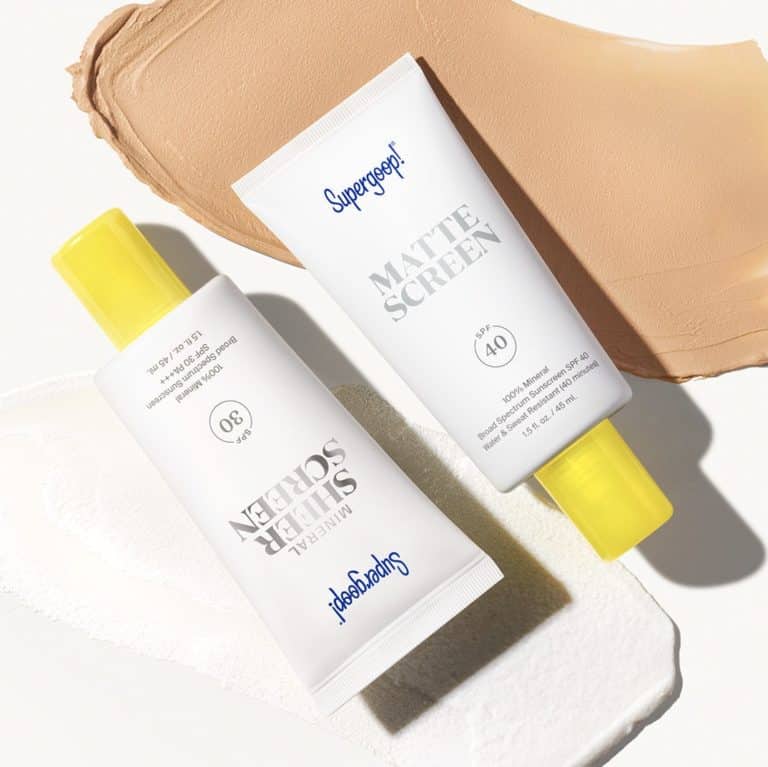 I carry a small purse, so I'm a big fan of compact products. The Glow Stick SPF 50 is presented in a small tube for on-the-go use. This travel-friendly sunscreen stick can be used on the face, chest, and shoulders, eliminating the mess factor that comes with regular bottles of sun lotion.
I think its great for quick re-application on sandy beaches or giving your kids an extra coat in 5 seconds flat on the playground.
The hydrating and highlighting formula becomes transparent during application for a radiant finish. Why not add the Supergoop forever young hand cream as another weekender bag essential? Get your hands on 1.23 oz of the Glow Stick SPF 50 for $25.
Supergoop! Bright-Eyed 100% Mineral Eye Cream SPF 40 Review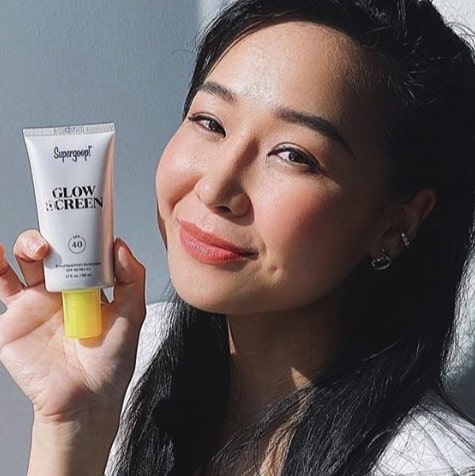 The skin under your eyes is the most delicate part of your face, making it highly susceptible to sun damage—the wrinkles that develop from exposure there can really mess with under-eye makeup.
Enter Bright-Eyed 100% Mineral Eye Cream SPF 40. This SPF eye cream is specially designed to protect against harmful UV rays, aging, and hyperpigmentation (dark circles).
The illuminating pink tint easily blends into the skin to highlight the twinkle in your eyes. Providing non-nano 100% mineral protection, this eye cream helps prime your skin before applying eyeshadow or eyeliner, as well.
I recommend adding a base of Supergoop daily correct cc cream for even more coverage. Say hello to happy eyes with 0.5 fl oz of the Bright-Eyed 100% Mineral Eye Cream SPF 40 for $36.
Supergoop! Sunscreen Reviews: What Do Customers Think?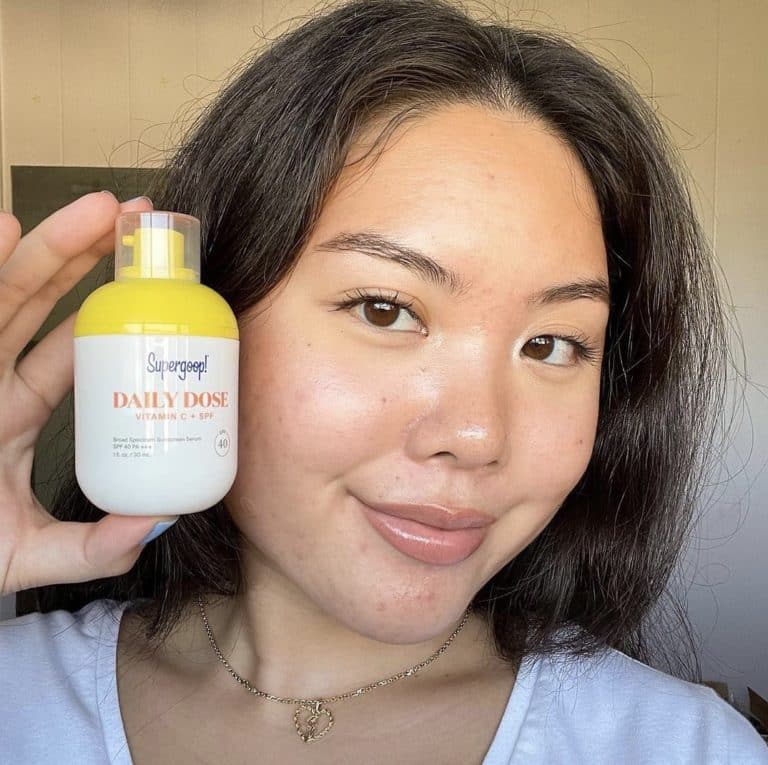 I already had the feeling that this brand was super popular, but I thought it was important to find out exactly why customers love it so much. While researching for this Supergoop! sunscreen review, I found an overwhelmingly positive customer response online—just like I thought I would.
Hundreds of product ratings on the brand's website have an average of 4-4.5/5 stars. Take the Unseen Sunscreen SPF 40 for example. With over 1,080 user reviews, the product is rated at 4.5/5 stars. Customers especially praise the non-greasy formula and transparent finish.
"Love how it goes on so sheer and isn't greasy at all. Works beautifully under concealer or foundation. Doesn't cause any whiteness like other sunscreens. For the first time ever I am motivated to put on face sunscreen daily," one reviewer wrote on the Supergoop! website.
Check out buyer comments for other bestsellers featured in this Supergoop! sunscreen review:
Glowscreen SPF 40 (4.5/5 stars out of 1191 ratings): "I use this daily over my serums and moisturizer. It's my last product on and gives my skin a highlighting lift and glow while saving my skin from any sun damage. I don't walk out the door without it."
Bright-Eyed 100% Mineral Eye Cream SPF 40 (4/5 stars out of 356 ratings): "I get sunburned around my eye area so when I saw this I couldn't wait to try it. Love the brightening effect and knowing my eye area is finally protected with spf."
PLAY Everyday Lotion SPF 50 (4.5/5 stars out of 495 ratings): "It goes on clear and feels so silky smooth. It's my last step before I apply makeup. I actually feel it makes my foundation seem dewy."
Stepping off of the brand's website, I found even more positive reviews. There are hundreds of comments posted on Sephora, with most products rated around 4/5 stars.
It appears that many more Supergoop! customers flocked to Influenster when posting feedback. On that site, I saw 20.7k Supergoop! reviews across multiple products, all with highly favorable ratings over 4/5 stars.
On Sephora and Influenster, most users commented that the sunscreens are lightweight, apply smoothly, and smell nice. Take this testimonial I found in the Super Goop CC cream reviews forum on Influenster:
"Really enjoy this product for workouts outdoors where I know I will sweat and need sun protection. Love this as a foundation. Light coverage and it's supergoop so I know I'm protected." Influenster rates the Supergoop Daily Correct CC Cream SPF 35 as 4.3/5 stars from over 1,700 reviews.
Lastly, I headed to Amazon, where a few thousand reviews are posted for the products. Here's a snapshot of how Supergoop! sunscreen performs on Amazon:
Unseen Sunscreen SPF 40: 4.8/5 stars from 3,177 ratings
PLAY Everyday Lotion SPF 50: 4.7/5 stars from 939 ratings
CC Screen SPF 50: 4/5 stars from 325 ratings
While writing this Supergoop! sunscreen review, I did find limited customer complaints. On Influenster, some reviewers noted that the Unseen Sunscreen SPF 40 and other offered Supergoop! sunscreens felt greasy and oily in the application.
Some Sephora customers were not fans of the (Re)setting 100% Mineral Powder, stating that it was difficult to apply and dispenses poorly.
The most interesting set of complaints I found was on the Supergoop! CC Screen SPF 50, in which customers reported that the new formula is inferior to the previous one.
I always keep in mind that we all have different skin and preferences, so there around bound to be some folks for whom Supergoop! just didn't fit. Overall, there is an incredibly positive response for this brand and I believe it lives up to the hype.
Is Supergoop! Sunscreen Worth It?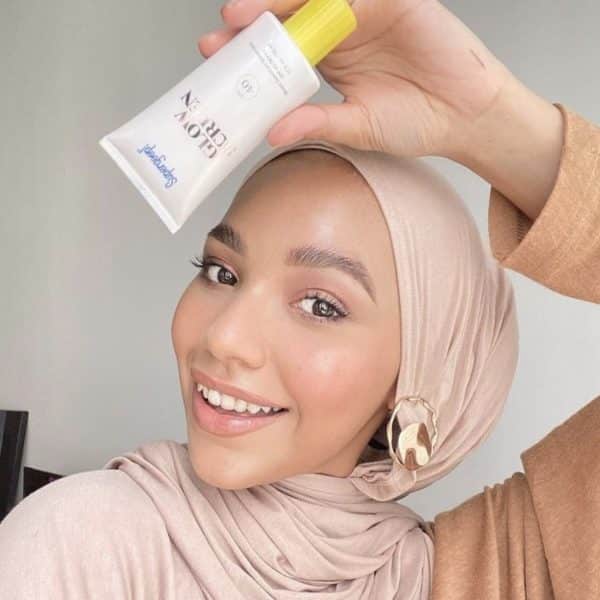 Based on thousands of glowing customer testimonials I found for this Supergoop! sunscreen review, I have a good feeling about these products. This skincare company is unique in its strong focus on SPF protection—as opposed to its competitors, which usually only include sun protection in some products.
The Supergoop! formula is a much-needed change from traditional sunscreen blends that perform poorly in terms of application and quality. I thought it was helpful that the website product pages include detailed ingredient lists and answers to common questions ranging from application to wearing time.
Supergoop! also ensures their skincare is vegan and reef-safe, as well as devoid of harmful chemicals and animal cruelty. They also give back to the community with the Ounce by Ounce program, donating sunscreen to schools in need.
For a company with great intentions, clean ingredients, and effective formulas, I think you know my final verdict in this Supergoop! sunscreen review: I encourage you to give them a try.
Supergoop! Sunscreen Promotions & Discounts
 
While scoping out deals for this Supergoop! sunscreen review, I discovered a subscription service, where customers can receive their favorite products regularly, access free shipping, and enjoy discounts on the entire collection.
To become a Supergoop! subscriber: visit the page for whichever product you're interested in, toggle the Subscribe button, and choose between receiving shipments every 1, 2, or 3 months.
Want more? You can also join the Loyalty Program to earn points and redeem rewards.
Where to Buy Supergoop! Sunscreen
If you're ready to start shopping SPF skincare, visit Supergoop.com. You can also find Supergoop! at numerous retailers, including:
Sephora Supergoop
Walmart
Nordstrom
Anthropologie
Amazon
Saks Fifth Avenue
Urban Outfitters
Cult Beauty
FAQ
Who is Supergoop owned by?
Supergoop! is owned by Holly Thaagard.
Where is Supergoop located? 
While digging around for this Supergoop! sunscreen review, I found out that their headquarters are located in San Antonio, Texas.
Where are Supergoop products made? 
According to their website, Supergoop! products are made in the USA. Hooray!
Is Supergoop FDA approved? 
In my research for this Supergoop! sunscreen review, I didn't come across a definite answer on this. I do know that some ingredients in their products are cleared by the FDA.
Is Supergoop cruelty-free?
Yes, Supergoop! is Leaping Bunny certified. This means their products are cruelty-free. I discovered that all of their products are vegan aside from those that contain beeswax.
What is Supergoop!'s Shipping Policy?
Supergoop! only provides domestic shipping, but their products are available internationally through partner retailers. The company provides 3 different Supergoop! shipping options for US customers:
Ground Shipping: $5
2nd Day Air: $15
Priority Overnight: $30
Buyers can get Supergoop free shipping if their orders total $50+ or through the subscription program. Customers will receive a Supergoop! track order number via a confirmation email to monitor their order status.
What is Supergoop!'s Return Policy?
If you're not totally happy about your order, you can return your products within 30 days of purchase for free. Initiate the process by visiting the returns portal found on the Supergoop! website.