Overview of Spanx Faux Leather Leggings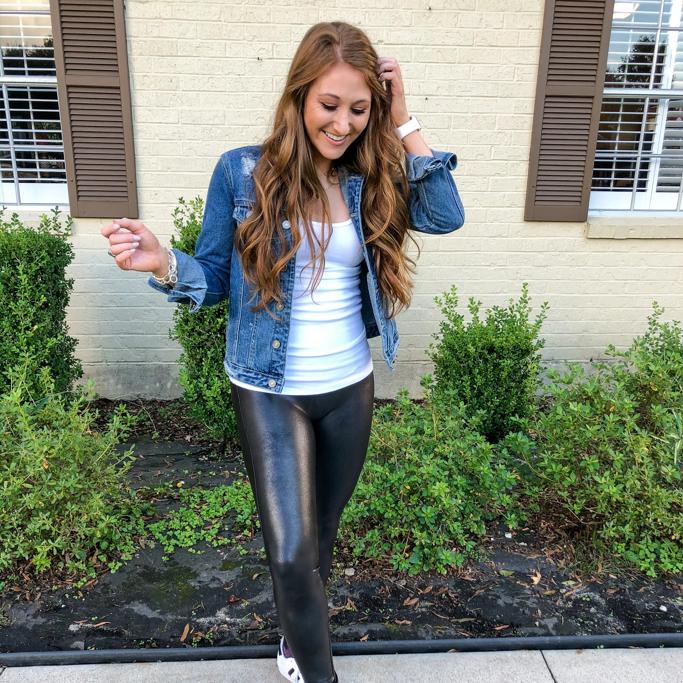 I have more leggings than I do pants in my wardrobe. Once resistant to the "leggings as pants" trend that emerged more than 10 years ago, I now welcome the comfort, shaping, and sleek look they add to my outfits.
Since leggings are kind of my thing, I know that there are certain types for sports, for lounge, and for going out. The Spanx Faux Leather Leggings are most definitely the latter.
For women by women, I trust my needs are met (no see-through fabrics here). The deal on SPANX? Spearheaded by founder Sara Blakely, this Atlanta-based brand manufactures all of its lines right in the US.
From what I've read, these are the leggings to have in your closet. Versatile, contouring, and opaque, thousands swear by these all-black babes.
Coming up in my Spanx Faux Leather Leggings review, I'll tell you everything you need to know about the flattering, must-have pair. After covering key details on pricing, fit, and customer feedback, you can decide if they fit your killer style by the end. Let's kick things off with a quick look at some highlights.
Highlights
Contouring & Shaping
Opaque material
Made from vegan leather
Available in sizes XS-3X
Petite, regular, & tall lengths
Spanx Faux Leather Leggings Review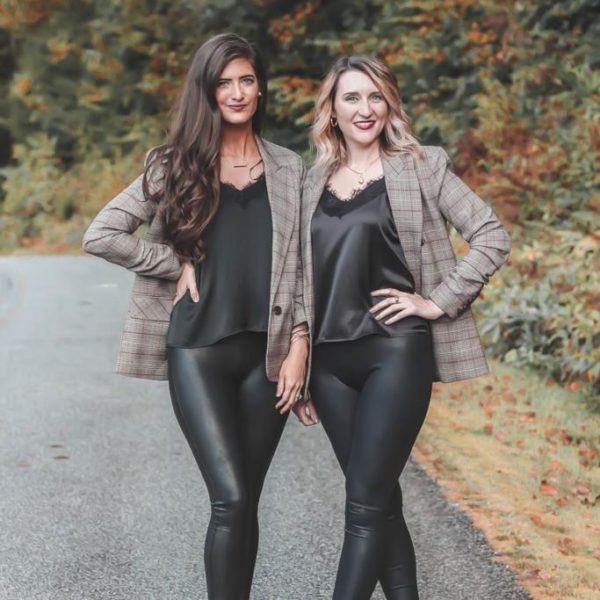 You probably own a few pairs of leggings, but maybe these would be your first ones with a faux leather look. First of all, great choice. I think every girl should have this style in their closet. Here are three reasons why:
Super comfortable
Versatile
Looks rad
As someone who has tried on oodles of leggings, I'm quite picky. They need to totally cover my butt, provide a little lift, and feel good when I wear them. SPANX takes care of all of this.
Wondering how to create a Spanx Faux Leather Leggings outfit? Whether you're rocking these to a concert with high tops or out for drinks in sky-high heels, you'll feel totally covered.
In the following sections of my Spanx Faux Leather Leggings review, I'll go into a little more detail about their performance and design.
Performance
Leggings are supposed to be a girl's best friend. But some of them have been my worst enemy. Yes, I've been the girl with see-through tights at work. Sigh. These leggings aren't like that. They're completely opaque so you don't have to worry about anyone seeing that neon thong you chose to wear.
But shielding your panty (or lack of) choice isn't the only reason I love these leggings. They're built with smart features to shape the female figure, highlighting what you want and hiding what you don't.
Design
Remember that whole shaping thing I mentioned a few seconds ago? SPANX makes it possible with a power waistband that both slims your tummy and boosts your booty. And since they're made without a center seam, you can wave goodbye to camel toe like the unwelcome guest it is.
With a high-waist design (do low-rise leggings actually exist?), these Spanx leggings are super flattering for a range of body types.
What's Included?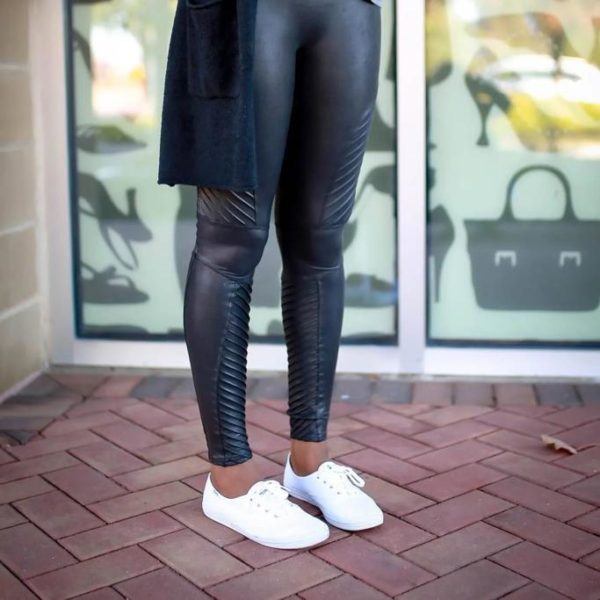 In this section of my Spanx Faux Leather Leggings review, I'll give you the dish on what these pants are actually made from and what you can expect when you slip them on.
While the outer is made of nylon and elastane coated with polyurethane, the lining is made from a blend of polyester and elastane.
SPANX offers a range of sizes for these leggings in petite, regular, and tall. They suggest that if you're under 5'4" tall, you should go for the Spanx Faux Leather Leggings petite option. If you're over 5'9" tall, go for tall. Regular is great for those who need a 34" inseam.
Important Things to Consider Before Buying a Spanx Faux Leather Leggings
You love the look. You're crazy about the details, but still, there are a few more things I think you should consider before adding these stunners to your cart. Next up, I'll walk you through the lot in my Spanx Faux Leather Leggings review.
Frequency of Use
As I said before, these leggings are a bit more upscale than a pair you'd wear daily. You may find yourself pulling them out of your closet 2-3x per week.
Comfort
By nature, leggings are more comfortable than jeans or slacks. If you want a polished look but the freedom to move and stretch, I think these are a great pick.
Price
The Spanx Faux Leather Leggings cost a little more than your average pair, clocking in at $98. Made from opaque, contouring material, I consider them light shapewear and rockin' pants all in one.
Care Instructions
While faux leather is certainly a lot easier to care for than regular leather is (not to mention kinder to animals), there are some general rules to follow:
Machine wash with cold water
Wash on a gentle cycle inside out
Never use fabric softener
Also, you shouldn't tumble dry these guys. Lay them flat to dry and be sure to skip out on ironing. They're leggings, they don't need it anyway.
Size & Fit
The Spanx Faux Leather Leggings come in sizes XS-3X in petite, regular, and tall sizes. I've read they run a little small, so size up if you're unsure.
Shaping
Made with a power waistband and contouring fabric, these leggings help shape and slim your figure.
Spanx Fur Leather Leggings Alternatives
While I'm super jazzed about these leggings, I get that they may not be for everyone. If you still love the faux leather look, just know that you always have options. I'll give you two just below.
Skims Faux Leather Biker Shorts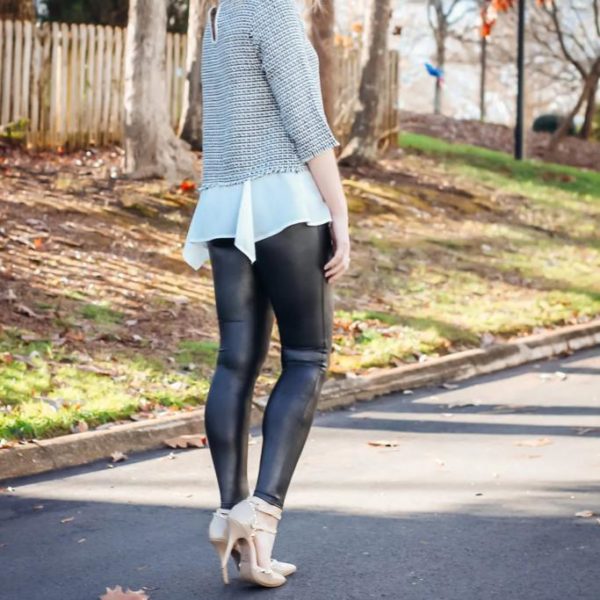 Looking for something a little shorter and less black? The Skims Faux Leather Biker Shorts are an awesome pick. Available in 6 modern neutrals (I'm a big fan of cement), these high-rise beauties are available in a wider range of sizes from XXS-4X. They're also slightly cheaper at $72.
Carbon38 Takara Shine Leggings
Prefer the liquid legging look? These high shine leggings have the look of glossy leather. Available in attention-grabbing colors like lazuli blue and dark teal, they're quite the show stoppers in sizes XXS-2XL. You can get a pair for $118.
While I love the look of both alternatives, I love the dependability and versatility of my featured leggings. Comparable in price to either option, I don't think you can beat the classic look of Spanx Faux Leather Leggings styled.
Spanx Faux Leather Leggings Reviews: What Do Customers Think?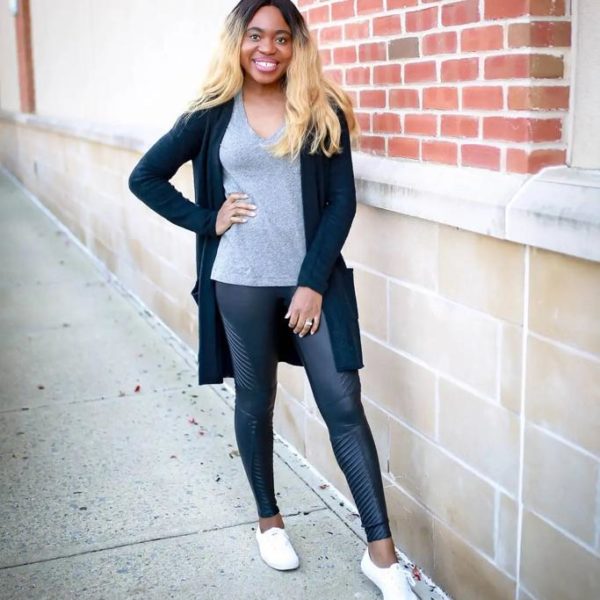 While I could go on and on about how awesome these leggings are all day, it's always important to hear from a variety of voices. In this section of my Spanx Faux Leather Leggings review, I snooped around the web to see what people think. Here's what I found:
Nordstrom: 4.4/5 stars over 3.4k reviews
Amazon: 4.3/5 stars from 328 global ratings
My first stop was Nordstrom. What's the vibe? Customers love them. One Spanx Faux Leather Leggings review read: "I could even lift and stretch in these! Breathable as well!… Spanx gives great shape and DO NOT camel toe! No wrinkling/ scrunching of that area!"
It seems that they do exactly what SPANX claims they do. This shopper wasn't the only one to say it either.
Moving on, I headed over to Amazon. In their Spanx Faux Leather Leggings review, one customer said:
"I love these leggings! I tried various other cheaper brands but nothing came anywhere near close. Every time I wear them, I'm asked if I've lost weight. They are so versatile, can be dressed up or down."
I'd have to say I agree with this one, and honestly, more than one shopper reported something similar: SPANX beats out many competitors, including Commando. As another buyer so aptly wrote: "You won't regret this purchase!"
I even found that Glamour's Spanx Faux Leather Leggings review agreed: "The fabric…isn't flimsy at all – it has weight to it (like real leather pants)…I also have an athletic build with a small waistline and muscular thighs, and the faux-leather material highlights my features in the best way possible."
Though the majority of feedback was quite enthusiastic about these leggings, it wasn't all positive. But just like with any item of clothing, preferences for fit and feel will vary. All in all, the Spanx Faux Leather Leggings come highly recommended.
Is Spanx Faux Leather Leggings Worth It?
After everything I've read through while researching my Spanx Faux Leather Leggings review, I can't praise these leggings enough. While they're a little more expensive than other casual leggings, they're great quality, versatile, and super flattering.
Where to Buy Spanx Faux Leather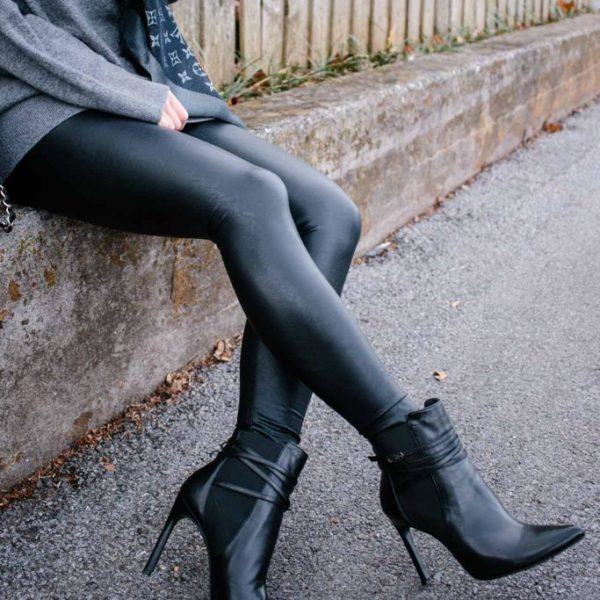 To get the best pricing, I suggest heading over to Spanx.com to shop. You can also find the style at Nordstrom, Amazon, and The Bay.