About Skims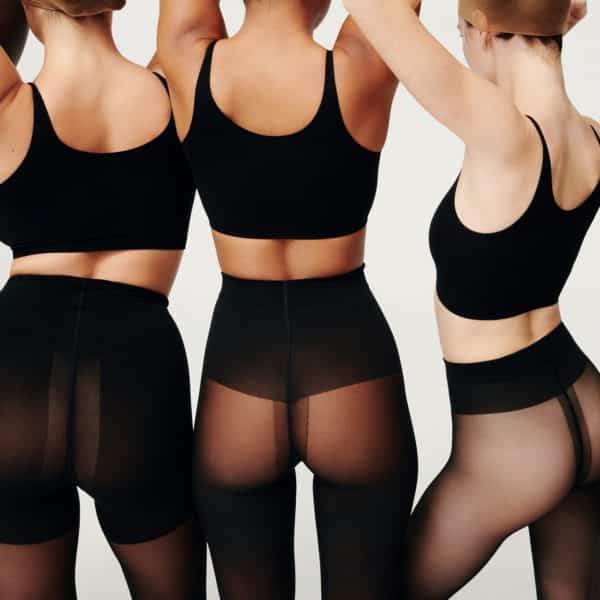 If shapewear is all about feeling good, why its it traditionally so uncomfortable? When I think about it, images of impossibly tight corsets come to mind. I breathed a deep sigh of belief when I learned that Skims is anything but restrictive.
In fact, it's quite the opposite, focusing on empowering women through comfort while embracing their natural shape.
Created by Kim Kardashian, the brand offers a hefty selection of everyday shapewear that smooths, enhances, lifts, and tones, along with a line of cozy loungewear and intimates.
Any brand owned and promoted by a megastar is bound to get a ton of attention, so I didn't blink when I saw its 4.1 million Instagram followers, nor the fact it reportedly made over $2 million on launch day. I heard stock sold out within minutes as soon as the site when live.
But is it really worth the buy? In this Skims shapewear review, I intend to find out. Here, I'll take a close look at the brand, its best-sellers, and feedback to help you decide if its sought after products are actually worth checking out.
Overview of Skims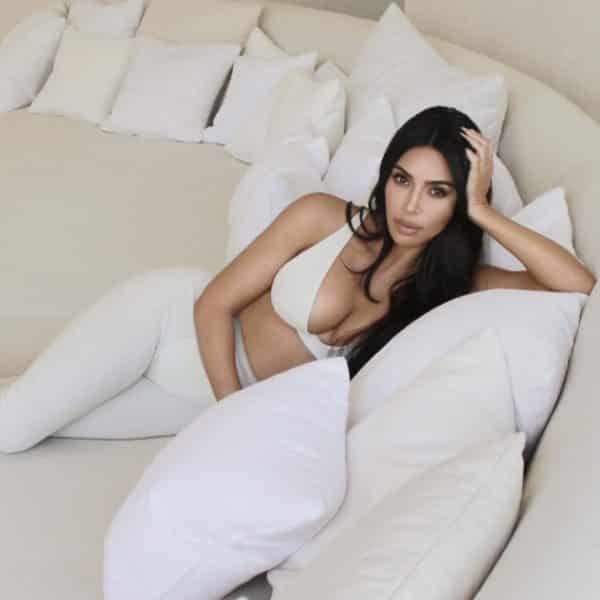 If you know who Kim Kardashian is, then you know she's celebrated for her curvy body. Her brand story starts as so many others do: Unsatisfied with the shapewear options available on the market, Kim set out to make her own.
When I say "make her own," I really mean it. Kim actually built the first prototypes for her shapewear in her own home, cutting up and dying pieces of fabric and sewing them together. And as the Skims Kim Kardashian line climbs to the top, her 'work from home' clearly paid off.
According to an interview in The New York Times, "It's a comfortable alternative — "really comfortable," Ms. Kardashian West said. Comfortable enough to wear every day, not just special days. Comfortable enough to want to wear at home, which she does, under sweats."
Skims' HQ is based in Culver City, California, where a professional team continues to develop shapewear that enhances the female figure— "each piece has a solution for every body" and I appreciate the inclusivity Skims by Kim Kardashian works into its line.
Before I get into exactly what makes Skims different from the pack, I'll run through its pros and cons first.
Pros
Well-designed shapewear including underwear, bras, loungewear, shapewear, bodysuits, and accessories
Pieces are highly flattering
All styles are stocked in a full and inclusive size range (up to 5X)
Affordable options
Afterpay available
Ships internationally
Cons
Some customers experienced problems with poor customer service and returns
Landing on Skims' website quickly taught me that the line is all about celebrating your body. With models of all shapes, sizes, and ethnicities, browsing through its intimates, clothing, and shapewear collections was refreshing to say the least.
The website told me to "believe the hype—26,000 5-star reviews and counting!" And though I'm not one to drink buzzy celebrity Kool-Aid, while making my way through the rows in each soft, comfortable, and flattering line, I found myself reaching for a glass.
Up next in this Skims shapewear review? I'll showcase some of Kim Kardashian's most popular designs. If you find that you're falling in love with one (or all), keep in mind that your order can be purchased with 4 Afterpay instalments instead of upfront.
Skims Loungewear Review
Anywhere Kim K goes, sexy follows. Skims loungewear ranges from cozy fitted joggers and knit sweaters to lavish silk robes with serious bedroom allure. Below, I'll highlight some of the hottest pieces in the Skims loungewear line.
Skims Silk Robe Review
The Skims Silk Robe is a timeless piece, made for the morning of your wedding day. To feel stunning and luxurious every day, I'd recommend it for every morning after too.
This piece of Skims loungewear is perfect for lazy mornings in bed or on your day off. Keeping you covered when all you want to do is lay around in your underwear, it gives you freedom to roam around your home without worrying about nosy neighbors.
I've always loved the look of silk robes, and personally adore the tonal chain stitch of "Mrs." on the breast pocket on this one.
But what I love the most is its little details—like satin piping on the cuffs, breast pocket, and collar—that amp up the elegance on this classic robe. Side seam pockets add a place to stash small essentials, while an interior center back loop makes for easy hanging.
Keep things secure with its sash and self-belt loops and an satin interior tie to secure closure.
Made from 52% silk, 40% viscose, and 8% spandex, this robe is incredibly delicate. Read the care instructions to keep it in good shape.
The Skims Silk Robe is available in classic cream and retails for $148.
Skims Knit Jogger Review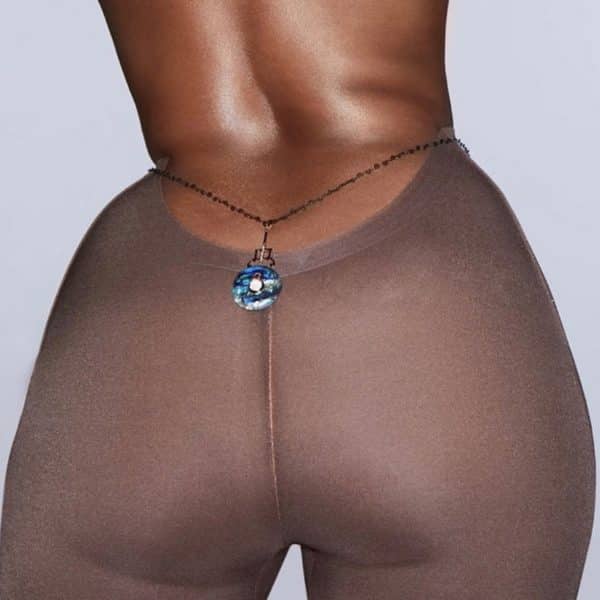 The biggest trend of 2020 was definitely loungewear. And I don't think it's going anywhere, anytime soon. In fact, I've seen even more and more pyjama-like office clothing pop up in the past year.
The Knit Jogger is part of the Skims Cozy Collection and looks like a dream.
Cozy is an understatement here, as these resemble the type of pants I'd like to exclusively live in. I think these joggers are a great WFH pant – something to make you feel snuggly while working alone inside.
As for the fit, the Knit Jogger has a soft knit elasticized waist and a straight leg. They are made from cushy yarn that has some stretch to it, and the fabric is 76% polyester and 24% nylon.
The Knit Jogger is available in Onyx, Smoke, Camel, Dust, and Bone for $88. I should note in this Skims shapewear review that this item is a hot seller, so if you see it in your size, I recommend grabbing a pair.
Skims Underwear Review
It's pretty easy to find barely-there underwear—but lingerie that shapes you at the same time? That's a different story. Pushups, bralettes, thongs, boyshorts, whichever you prefer, Skims underwear has the edge over ordinary intimates.
Skims Soft Lounge Plunge Bralette Review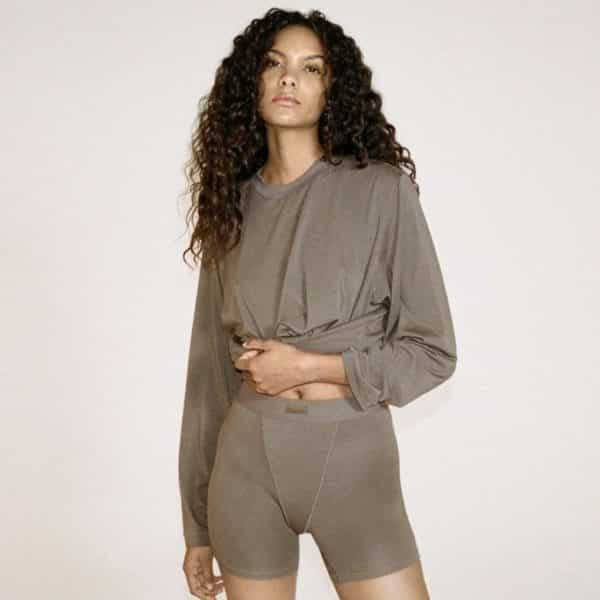 As far as bras go, I think this one is perfect. The Soft Lounge Plunge Bralette oozes comfort and sex appeal. Who knew those two things could mesh? A lot of triangle bralettes don't offer enough support but I've read this particular bra provides support while lifting and flattering your bust.
But honestly, it looks downright comfortable. A great addition to your loungewear set, this bra can be worn with high waisted leggings and a long sweater. Add some soft pillows on the couch, Netflix, and you're all set.
The bra features a low-cut V-shape plunge in Powermesh that gives full support. The fabric is 81% modal and 9% spandex, with adjustable straps and a wide elastic soft underband for additional support. The hook in the back means it's customizable to different cup sizes.
The Soft Lounge Plunge Bralette is available in 7 colors for an affordable price of $36.
Skims Cotton Rib Thong Review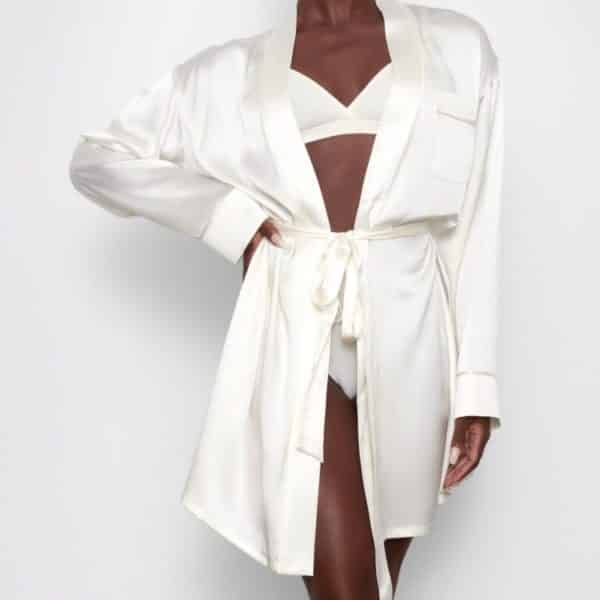 This thong has a high-cut, Brazilian style going on. And I'm all for it. It looks sporty and comfortable for a great everyday option, yet still offers a hint of sex appeal.
Stretchy without being too-stretchy, I suggest pairing the Skims Cotton Rib Thong with an oversized t-shirt for bed, or slip on under your leggings to take on the day.
Made with breathable 95% cotton and 5% spandex, the cotton rib jersey material is sure to please.
The Skims Cotton Rib Thong comes in the brand's signature neutral color palette; Bone, Mineral, Kyanite, and Soot for just $20.
Skims Sculpting Low Back Bra Review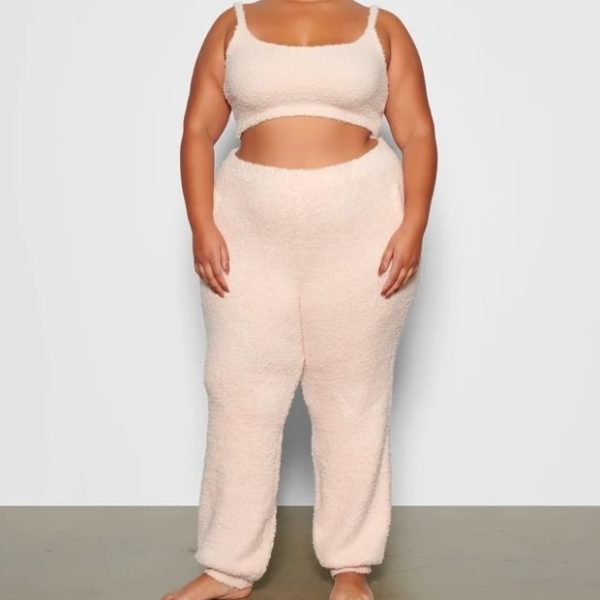 Ok, so I know I've just scratched the surface in this Skims shapewear review, but I'm totally loving Kim's designs. The Sculpting Low Back Bra has a lot of good things working for it, and that works for me.
First off, it looks great. It's a simple design but with something more to it – an elegance perhaps, in its seamless, clean-lined cut. Or maybe the sportiness aspect, as it seems appropriate for a run. Whatever it is, it appears made for action, comfort, style, and function.
But most importantly, the bra provides lift and support. I love the low scoop back and think it would be perfect for low-back dresses. Lightweight and seamless too…Skims is really on to something here.
A blend of nylon and spandex, the Skims Sculpting Low Back Bra comes in Onyx, Cocoa, Sienna, Clay, and Sand and is $38.
Skims Boyfriend Boxer Review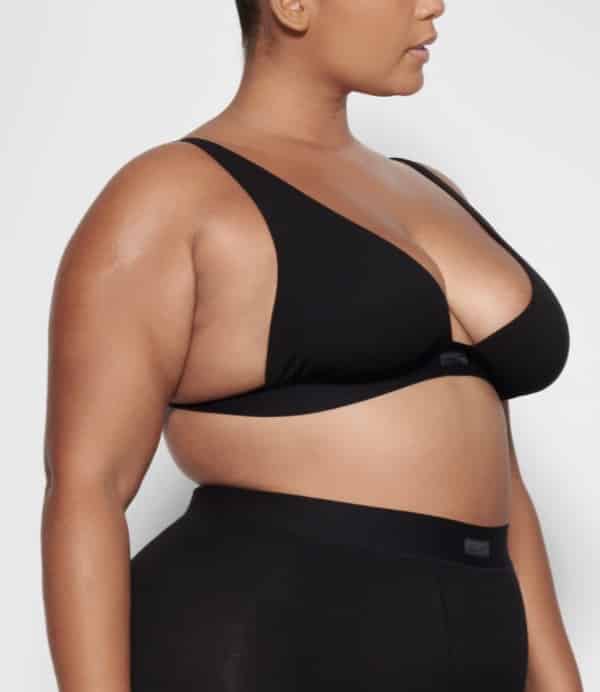 I love my boyfriend for many reasons, and one of those reasons is so that I can steal his clothes (boxers included). The Boyfriend Boxer brings out your inner tomboy but in a totally classy way.
To me, they seem like the ideal option for all-day lounging around the house, or to sleep in at night. I see the 90s boxers and baggy jeans trend coming back this season, and if you're partial to the style, this pair is comfortable and breathable for all day wear.
The Boyfriend Boxer is made from soft and lightweight stretch jersey material with a soft elastic waistband and double panel V with front faux fly. The material itself is 47% cotton, 48% modal, and 5% spandex.
Choose from 11 colors and get these comfy boxers for $26 a pair.
Skims Shapewear Review
Kim's iconic shapewear collection is Skims' creme de la creme. Corsets for enhancing your waist, leggings to reign in your thighs, bodysuits for intense shaping, and more.
While Kim's body is off the charts, she's all about playing up her curves. I love that the brand is all about embracing yours. See what Skims Shapewear can do:
Skims Waist Trainer Review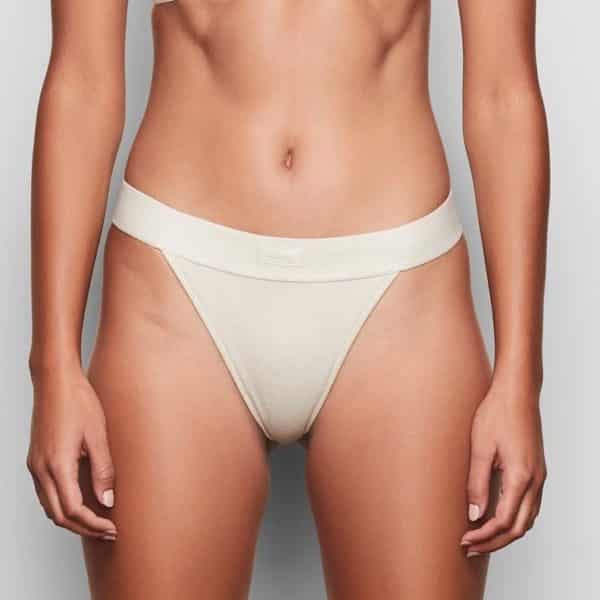 I've got to admit, waist trainers kind of scare me. As I learned more about the Skims Waist Trainer, I came to know it as nothing like others out there. There Skims goes winning me over again.
Working to accentuate what your mama gave you, it cinches in your waist, giving you that classic, oh-so coveted, Kim Kardashian hourglass shape.
Cinching in your waist has other perks too, like accentuating your hips and butt, and boosting up your breasts. The Skims Waist Trainer has a row of hooks to fasten at the back and lays flat and smooth in the front.
Kim K made sure that this waist trainer doesn't compare to others on the market making it from ultra-thin, high-tech neoprene (rubbery like material), but still super soft and seamless.
The Skims Waist Trainer comes in either Onyx or Clay for $68.
Skims Sculpting Bodysuit Review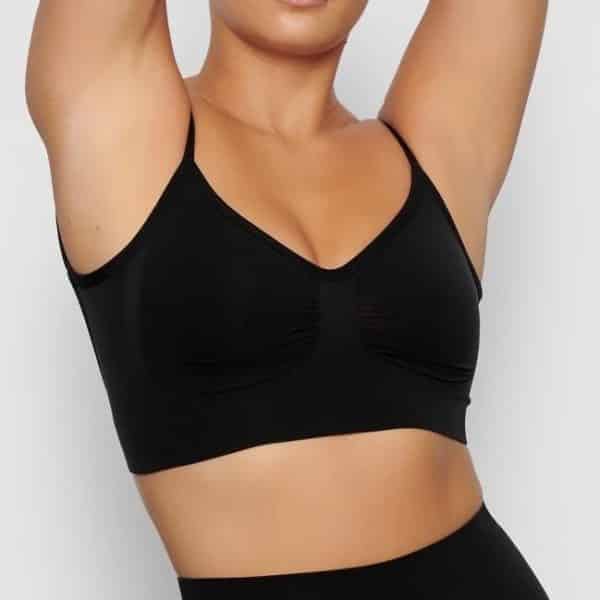 I was always so envious of girls who can wear bodysuits. Prancing around without a lump, bump, or roll, these chicks must be flawless. Now I know their secret—those bodysuits were probably shapewear from Skims.
Looking for all-day control? Slip into this bodysuit that was designed to secure your core, shape and lift your butt and chest, and smooth your upper thighs. Throw on a silky dress and head out on the town, worry-free.
This piece of Skims solutionwear enhances your body's natural shape and provides seamless coverage under silky materials. I read that Skims recommends buying a size up if you're looking for an all-day comfortable fit—it's meant to be tight.
The Skims Sculpting Bodysuit is available in 9 neutral colors for $68. If you're looking for shapewear that actually works, this could be for you.
Skims Body Tape Review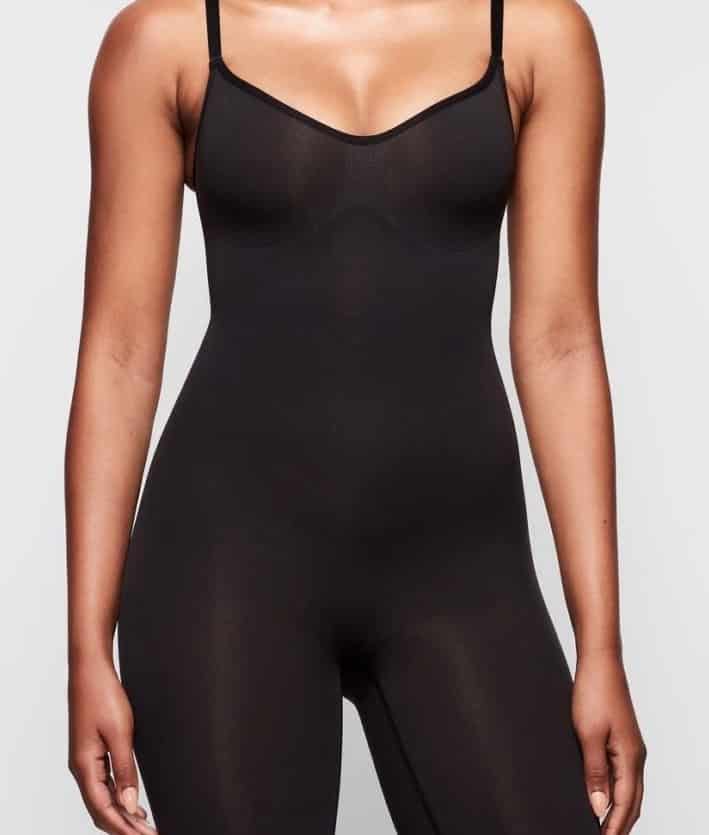 I remember when I didn't know body tape was a thing. How did that celeb get such perky twins despite that itty-bitty dress? It's Hollywood's best-kept secret that's not so secret anymore.
Skims Tape allows you to wear the most daring of outfits, and is especially great for those dresses or shirts that show a hint of side boob, low cleavage, are backless, or a combination of the three.
The tape itself is stretchy, so if you're already comparing this to duct tape, think again. It's made from 100% cotton with sweat-proof adhesive, unbeatable for sweaty summer nights. Skims recommends wearing pasties for extra coverage.
The tape's adhesive lasts up to 12 hours but I recommend doing a test patch first just in case you're allergic to the adhesive. The brand recommends putting a small piece of tape on the inside of your elbow and waiting 12 hours. If you have redness, itching, or burning, remove and discontinue use.
If you have trouble removing the body tape, just dab the back with warm water. I'll note here in this Skims shapewear review that the tape is single-use, ladies. But you do receive 45 feet on one roll, so there is plenty to last.
The Skims Tape is available in neutral tones like Onyx, Smoky Quartz, Tigers Eye, and Sandstone, with a price tag of $36.
Skims Face Mask Review
From my viewpoint in this Skims shapewear review, these masks look comfortable. They fit the face well with no gapping, and are ultra-soft and breathable. By now, we all know features like these are a must.
If you're in the market for a non-medical, basic, and comfortable mask, this option could be for you.
Skims masks are reusable and washable, too. But I should mention that they're not replacements for respirators and will not eliminate the risk of contracting disease or infection. They provide the same protection as a DIY cloth mask.
One size fits all with these soft babes made from 97% nylon and 3% spandex. Get your Skims Face Mask in Onyx, Cocoa, Sienna, Clay, and Sand for $8 each.
Skims Reviews: What Do Customers Think?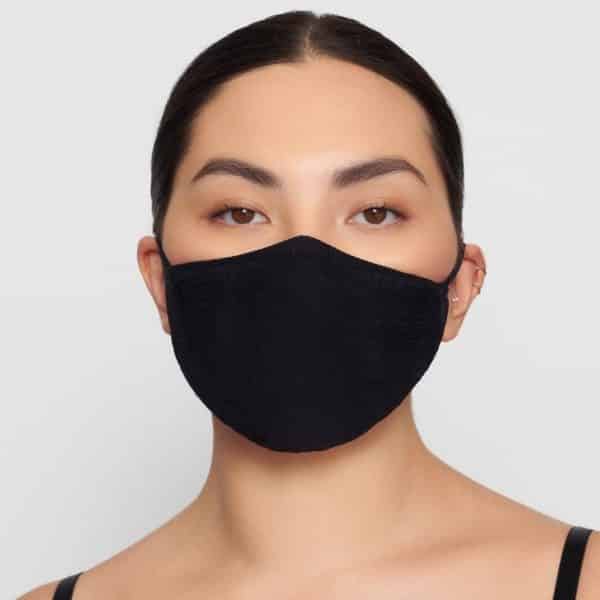 Ok, so now it's time to get real. This is the part of my Skims shapewear review where I consult customers, and I'm pretty interested in knowing what they actually think.
It's easy to get wrapped up in celebrity products, but in Skims' case, there's an overwhelming response for its shapewear. Take a look at these scores I collected from Skims.com:
Seamless Face Mask: 4.6/5 stars, 1,604 reviews
Sculpting Bra: 4.2/5 stars, 1,529 reviews
Cotton Plunge Bralette: 4.4/5 stars, 889 reviews
Waist Trainer: 4.2/5 stars, 905 reviews
Looking into the comments for the Sculpting Bra, here's what one shopper said in their Skims shapewear review:
"I absolutely love this bra! I wear a 34DDD bra and hate always having to wear the "traditional bra" that creates unwanted bulges and deep marks in my shoulders. THIS bra is…the most comfortable bra I own. It is surprisingly very supportive and lifts as much as a pushup bra."
And because I wanted to make sure the Skims Waist Trainer wasn't a modern version of 14th century torture, I checked out its comment section too. Here's what Skims shapewear review read:
"I've been wearing it under loose fitting shirts at work for 8-12 hr days, and am so so comfortable, I don't think about it twice."
Heading off of the brand's website, I turned to Trustpilot to get an overarching view of Skims. With an overall score of 3.8/5 stars from 833 shoppers, here's how it breaks down:
Excellent 62%
Good 3%
Average 3%
Poor 7%
Bad 25%
Positive Skims shapewear reviews on Trustpilot include details about items that were "excellent quality, feels great on the skin and sure makes you feel good and not like you're stuffed in a…plastic stocking." The most common note I found? Skims shapewear is the "best quality ever." 
I can't ignore the negatives, so I decided to see what issues customers faced with Skims. It turns out that 1-star reviews mention poor quality items and customer service.
In search or more for this Skims shapewear review, I headed over to the Better Business Bureau to see how they handled complaints. Although there have been some issues, the BBB gives the brand an A rating. This means most of the complaints have been addressed and resolved.
Hitting up Reddit for one final look at feedback, I found many users who loved the brand. One Skims shapewear review read: "The bras were pretty comfy…I would probably buy the bralettes again," while another shopper wrote "everything shipped fast and I have no complaints."
Overall, Skims really does live up to the hype. Though it has some issues with customer service and shipping, from my side of things, it looks like the brand has struggled to keep up with the demand.
Is Skims Worth It?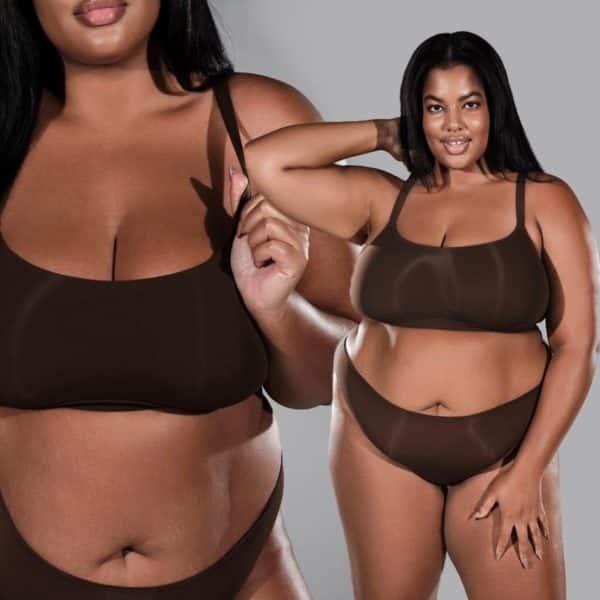 My journey through this Skims shapewear review went differently than I first thought. I don't worship Kim Kardashian, but I can't deny what a great product looks like. And I think Skims has many.
I appreciate the inclusivity of Skims in its marketing and online catalog, as well as the fact that its sizes range up to 5x. Its items appear to be really soft and made from fabrics that are kind to skin. I can tell a lot of thought went into this line—it's not a ditch effort made by a celebrity for the sake of having a business.
During this Skims shapewear review, I found an overwhelming amount of positive reviews for their shapewear (waist trainers, bodysuits, bras). Their simple, yet meticulously crafted designs are definitely appreciated.
People love this brand for good reason. It's my belief that Kim wouldn't be attached to a low quality brand with unflattering styles and I think what you'll get is the exact opposite: figure-friendly, feel-good styles to live in.
Skims Promotions & Discounts
 
While I didn't find any Skims coupon codes while scanning the brand's website, I did see that they does offer free shipping on orders over $75. Want to stay up to date on the latest? Subscribe to the newsletter for more information on Skims discount codes.
Where to Buy Skims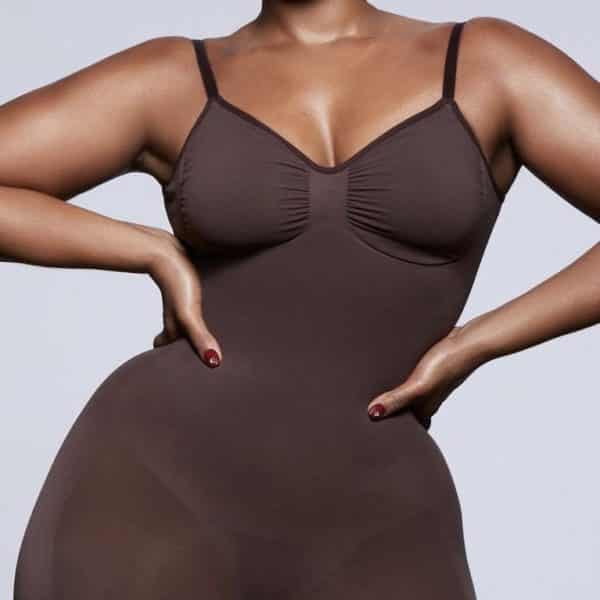 To shop the entire collection, you can head right to Skims.com. Looking for some variety? Check out the NET-A-PORTER, SSENSE, OUNASS, Nordstrom, or Selfridges e-shops to start loading up your cart.
If you'd rather browse in person, some items are available in-store in the Skims Nordstrom and Selfridges sections.
FAQ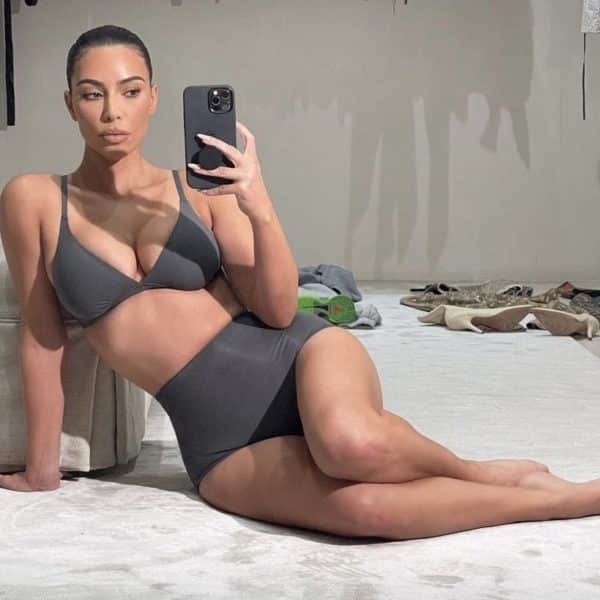 Who is the owner of Skims? 
Kim Kardashian West created and owns Skims. To my surprise (and delight), she even designed the prototype of her shapewear in her own home.
Are Skims successful?
Within the first few minutes of launching their website back in 2019, Skims completely sold out of stock and reportedly made $2 million. Over the past year, Skims continued to prove themselves as a successful company, selling over 3 million units of merchandise. So in short, I'd say so.
Where do they sell Skims Shapewear? 
You can buy Skims directly from Skims.com, or other online retailers mentioned previously in this Skims shapewear review. I'll give you a full list of in-store locations below so you know exactly where to set your GPS:
Nordstrom locations in Arizona, California, Colorado, Georgia, Illinois, Maryland, Minnesota, New York, Oregon, Pennsylvania, Texas, and Washington
Or, Selfridges locations in London, Birmingham, Manchester Exchange Square, and Manchester Trafford
How do I keep my Skims from rolling down?
I found out that Skims will roll down if they are not fitted properly to your rib cage, so it's important to buy the right size. Follow their measuring guide on how to measure yourself properly to ensure you purchase the appropriate size for your body.
How long does Skims take to ship?
It's my intent in this Skims shapewear review to give you all the details, and that includes delivery. Skims has a few different shipping options to choose from for Domestic U.S. orders:
UPS Economy $8 – free on orders over $75 (3-8 business days)
UPS Ground $8 – free on orders over $75 (2-5 business days)
UPS 2nd Day Air – $20 (2 business days)
Skims offers free shipping on all orders over $75 in the US. Shipping times do not include the 1-2 business days it takes to process your order. Track your order online with the tracking number provided via your account on skims.com.
For international shipping, Skims offers Standard or Express options. But when you checkout, they'll have more exact shipping options available. International orders can take anywhere from 4-21 days to arrive.
Can you return Skims?
Skims returns are pretty easy. Their return policy is that products must be unworn, unwashed, and in their original condition with all tags attached. Skims asks that you wear underwear when trying on any items for the first time.
The original order packing slip must be included inside your return package. You can return merchandise within 30 days of the date the order was shipped. A $6 shipping return fee will be deducted from your refund amount.
To start a return or Skims exchange, follow these steps:
Go to https://returns.skims.com
Follow the steps in the return portal
Skims customer service will send you a prepaid return shipping label by email
Print off the label and attach it to your return package
Include the original packing slip with your return package
Drop off the package at your Post Office
When Skims receives your return, the process for them to inspect it can take up to 5 business days. If your return is valid, they will issue you a refund for your original form of payment. This can take up to 7-10 business days to show up.
Can I cancel my Skims order?
It can get a bit tricky canceling a Skims order online, as the brand claims they're typically unable to do so. You'll most likely have to wait to receive the delivery, and then return it if necessary.