About Ruggable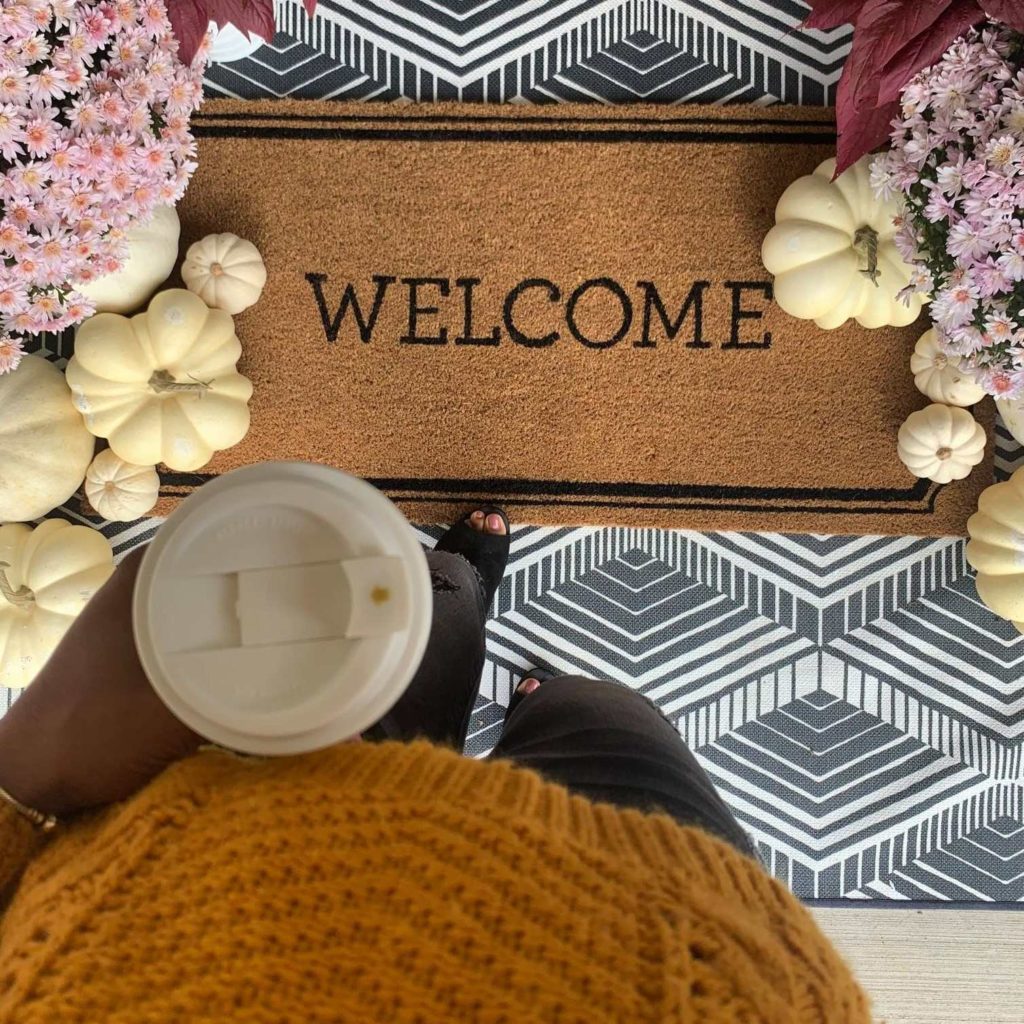 Having recently gone rug shopping, I found myself wondering how to properly wash my new living room rug. Sure, the one in my bathroom fits nicely in the washing machine, but this larger piece definitely couldn't.
Without a steam cleaner, I started to think about the dirt and dust that would surely be trapped in my beautiful 5×7. Ruggable solves that problem. Its stylish, 2-piece rug systems are lightweight, machine-washable, and stain-resistant—everything traditional rugs are not.
Great for parents and pet owners, the brand has proved its worth in every home, garnering a 1.5M social community and features in notable media outlets like NBC, New York Magazine, and Forbes.
What will I cover in this Ruggable rugs review? All the key elements of the brand and its products, along with feedback, FAQ, and more. Let's jump right in.
Overview of Ruggable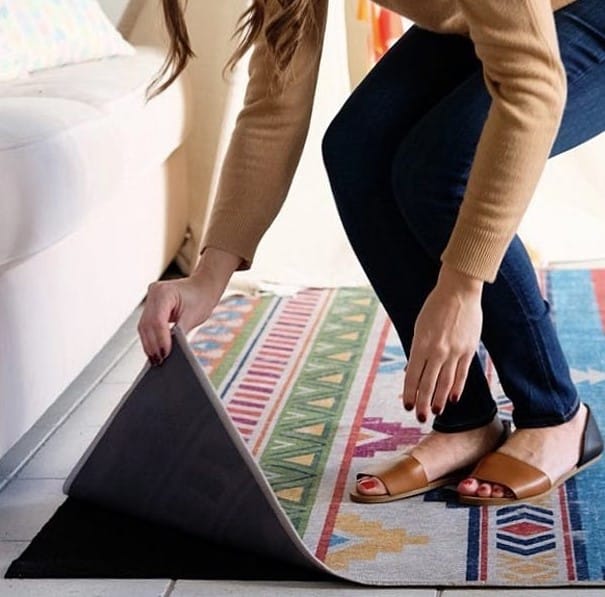 Ruggable started with a simple idea. In 2010, Jeneva Bell had the thought to create a washable and more livable carpet rug. After a few different approaches, she created and patented this genius 2-piece rug system. You don't have to be in the over 30 club to appreciate this one, though I've noticed my love for home-building has noticeably increased over the past few years.
Working with certified suppliers in Germany, Mexico, Korea, and China, Ruggable rugs are made-to-order and packaged in Los Angeles and Chicago.
Though I immediately realized the difference they would make in my life, I learned that Ruggable washable rugs are unique to the rug and carpet industry in more ways than I thought:
Innovative 2-piece system
Cling effect technology
Made with sustainable materials
Machine-washable covers
2018 Winner of the NBC Today Show's "Next Big Thing"
How Ruggable Works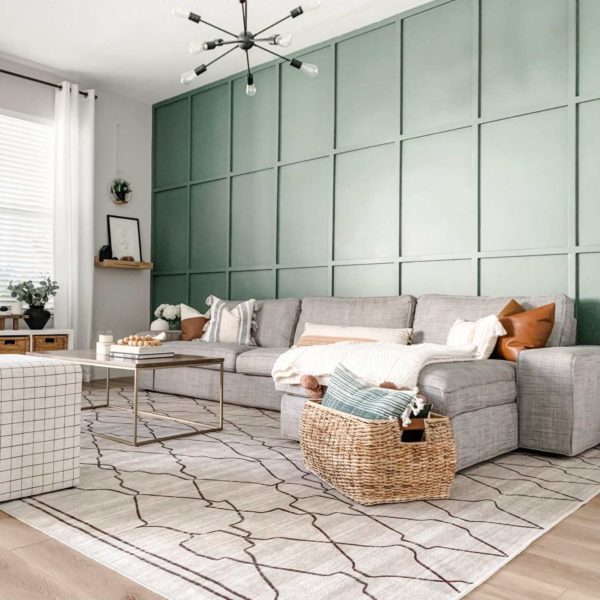 If those points piqued your interest like they did mine, here's where I found it gets really interesting. Using cling effect technology, Ruggable washable rugs use a patented 2-piece system. What does that mean, exactly? The bottom layer is a non-slip pad that grips the floor and acts as anchor, then an inter-changeable cover lays over top.
This innovative technology keeps the cover securely attached to the pad until you remove it in order to change or wash it. Covers are completely replaceable and my favorite part: they come in a wide variety of colors and designs. Love swapping up your home decor? I think you'll fall in love with Ruggable's collection.
And since they're made of 95% recycled polyester, Ruggable covers do not absorb liquid. That means they're both water and stain resistant. So smart. They're also hypoallergenic and, I'll stress this again, machine-washable.
In the sections ahead, I'll lay all the details down. But since no Ruggable rugs review would be complete without a thoughtful list of positives and negatives, you'll find those below first.
Pros
590 different rug styles
Wide range of sizes
Hypoallergenic & latex-free
Machine-washable
Afterpay options available
Plenty of discount codes available
Free shipping for Ruggable products to the US & Canada
Each Ruggable rug is made-to-order
All items purchased from the Ruggable website can be returned for a full refund
Cons
Large-sized rugs may not fit in standard-sized washing machines
Customers must pay for Ruggable samples
Ruggable Rugs Review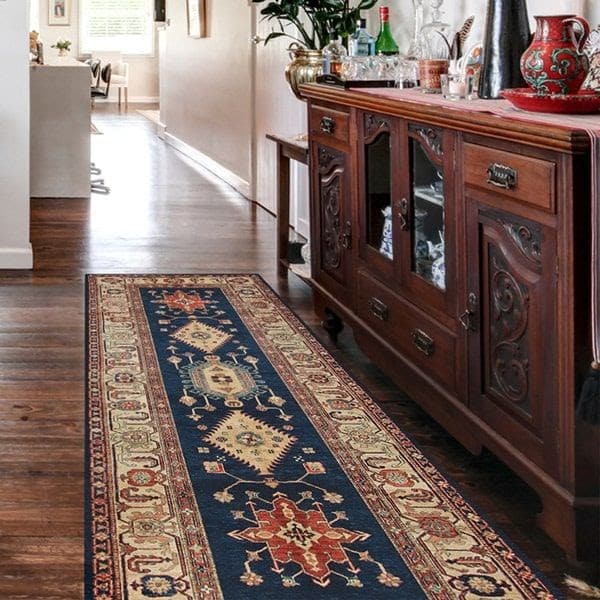 Ruggable rugs come in 590 unique designs—from floral to folk to bohemian, there's something for everyone here. My favorite? The Farmhouse collection stacked with Persian styles.
Offering practical, functional, and super stylish solutions for any living area or work space, Ruggable rugs come in 9 sizes including these best-sellers:
8×10 – A simple way to personalize any spacious room $399
6×9 – Ideal for cozy spaces or as a focal point in a roomy area $299
5×7 – Well-suited for medium-sized rooms $199
3×5 – A stylish way to spruce up an entryway and/or accent any small space $109
Bare entryway? Ruggable runners create a polished yet practical transition. Pick from:
2.5×10 – Long and lovely for $189
2.5×7 – Great for kitchens and small homes $139
Ruggable Colors
My favorite part about rug shopping is digging through colors. Ruggable has a ton, and in fact, you can even sort your search by color to streamline the process.
While the top drop-down menu offers popular color combinations, the left side bar breaks it down even further by providing the number of Ruggable designs offered in specific colors.
I've found this tool to be incredibly helpful. The brand groups its rugs into 6 color categories:
Blue/Green – From teal to turquoise to navy and emerald, there are 193 distinct Ruggable designs offered in these colors
Black – A chic and sophisticated look for any living and work space, you'll find 55 Ruggable designs available in black
Gray/Silver – Elegant in cool or warm tones, delight in 96 designs in the gray/silver color combo
Naturals – Ruggables offers 37 designs in neutral-toned rugs in a variety of patterns, textures and hues
White & Cream – Rugs in these shades create a more spacious effect and are also safe and easy additions to any room. They come in 35 designs
Multicolor – These vibrant choices make any room pop and are available in 90 designs
Ruggable Styles
Style is everything. It can make or break a space and totally sets the tone. While I excitedly made my way through the brand's site, I noticed there are 10 favorite Ruggable rug styles. I'll list them all below for easy reference along with how many you'll discover in each collection.
Moroccan – Inspired by patterns unique to Morocco (56 designs)
Modern Tribal – Bold and eye-catching arrangements in Southwestern motifs (47 designs)
Traditional – Classic patterns featuring florals, borders and medallions (69 designs)
Geometric – Modern and visually-interesting (125 designs)
Floral – Complementing all decorating styles from farmhouse to shabby chic to modern (112 designs)
Bohemian – An eclectic take on the modern rug with fun and funky patterns (66 designs)
Contemporary – Minimalist with clean lines and subtle color (24 designs)
Persian – Inspired by patterns and colors typically associated with Persian rugs (40 designs)
Solid and Ombré – From cozy and inviting to daring and eye-catching (26 designs)
Transitional – Combining contemporary with old-world charm (121 designs)
Ruggable Featured
I've learned the difference that shopping with Ruggable makes. not only does it have a fab collection, but it makes it really easy to find what you're looking for. There are 4 types of Featured popular Ruggable rugs:
Best Sellers – Customer favorites
Outdoor – Relaxing colors that stand up to the elements,
The New Vintage – Soft, faded colors and appealing patterns
Founder's Farmhouse – Moody, rustic, and heavily Persian
Ruggable Rugs Review: What Do Customers Think?
It's easy for me to get caught up in colors and patterns, so it's important that I hear from customers before making my final decision. Turning to ruggable.com, I found that almost every Ruggable rugs review featured on is positive and rated 5 stars.
Here's a sum-up of ratings for some of its best-sellers:
Kaden Steel Blue Rug: 4.7/5 stars, 30 reviews
Kamran Hazel Rug: 4.8/5 stars, 2,672 reviews
Sarrah Blue Quartz: 4.7/5 stars, 893 reviews
Jonathan Adler Ink Drop: 4.7/5 stars, 409 reviews
The feedback provided by shoppers is usually short and sweet, "Great" and "I love my Ruggable rug" were common amongst reviews. Feeling generally good about what I'd found, I set out in search of more.
When scouring the internet for customer opinions on Ruggable washable rugs, I saw plenty of good, but as to be expected with any brand, also some bad. I have included a sample for the Zinnia Blue 3×5 rug on Amazon just below in this Ruggable rugs review.
Rated 4.3/5 stars by 54 shoppers, I found that the majority of positive reviews came from parents and pet-owners who lauded the rugs for being durable and easy to wash. One Ruggable Rugs review read:
"To me it has an indoor rug look with an outdoor rug feel on top but cushiony when you step on it. I love it and so does the dog. It's his spot to lay if he's not on his dog bed."
Dog approved? What more could I ask for? Leaning in to other comments, I learned that some included issues with the rugs. Things like trouble replacing the cover, texture, and fraying popped up from time to time, but overall, weren't all that common.
Hopping off of Amazon, I bumped into a Ruggable rugs review by 3 HGTV editors on HGTV.com. After putting them to the test, they all rated the products favorably. In answer to the question, "Is it really washable?" one wrote:
Yes! And perhaps even more surprising, it does fit in a standard washing machine. I tested two sizes: 5'x7′ and 3'x5′, and both easily fit (separately) into my top-loading washer."
Getting a 5×7 in a washer is no easy feat, so I applaud Ruggable for its life-friendly designs. All in all, the feedback for this brand is great and based on customer feedback, I believe these rugs are more than worth it.
Ruggable Washing Instructions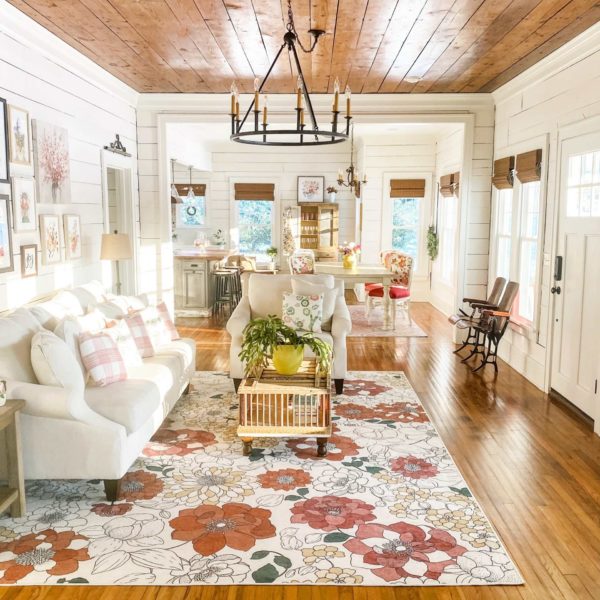 After hearing from both the brand and customers, I learned that Ruggable covers and pads are easy to clean and the brand is truthful in its claims.
Rug covers are machine-washable, though, I should note that products sized 2.5'x7', 2.5'x10' and 3'x5' fit into a 2.2 cubic foot washing machine. Products sized 5'x7', 6'x9' and 8'x10' fit into a 3.8 cubic foot washer.
Below, I'll take you through their simple instructions for cleaning your Ruggable washable rug cover.
Wash in cold water setting
Use a mild and non-bleach detergent – otherwise the rug may stain
Once clean, place in dryer on low heat or hang to air dry
Do not use fabric softener as this can result in surface-flattening of the rug
Ruggable washable rug pads can be spot-cleaned by hand using these steps:
Remove all solids from the pad's surface
Soak up excess liquid with cloth or towel
If required, gently wipe pad's surface with warm soapy water
Rinse
Hang to air dry
For extra precaution, I learned that a natural compound like Borax or EC3 is safe to use on the Ruggable washable rug system – without any worry of compromising the rug's integrity.
When vacuuming, I saw it recommended that you use low-suction settings and avoid heavy beater brushes or similarly abrasive attachments. Ruggable also states to avoid using autonomous robotic vacuuming systems on a Ruggable rug.
Ruggable Promotions & Discounts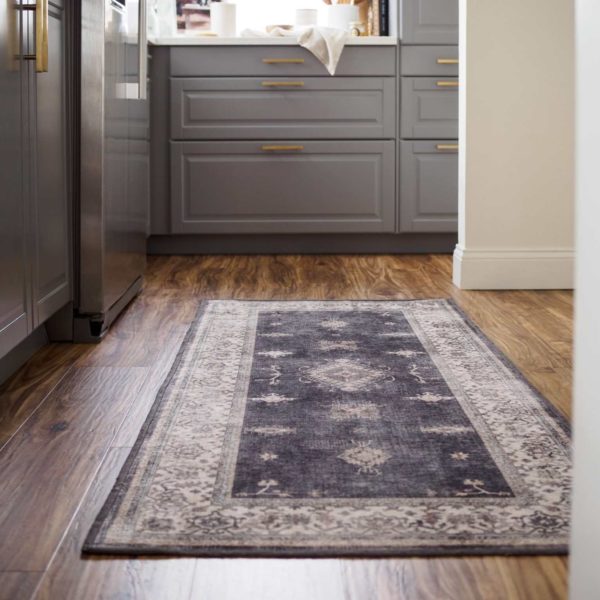 For this Ruggable rugs review, I hunted online for the best deals. Here's what I found:
By subscribing to the Ruggable website, you can receive a Ruggable coupon code for 10% off your first order along with future promotions and offers
Get a Ruggable discount code of 15% off for each friend you refer to Ruggable who makes a purchase
Spill Club Rewards: Shop to earn points & get perks
Though this isn't exactly a way to save, I thought it was worth including here. With afterpay, you can purchase your new washable rug in 4 equal payments made every 2 weeks—without interest. This offer is only available for orders $35-$1,000.
Where to Buy Ruggable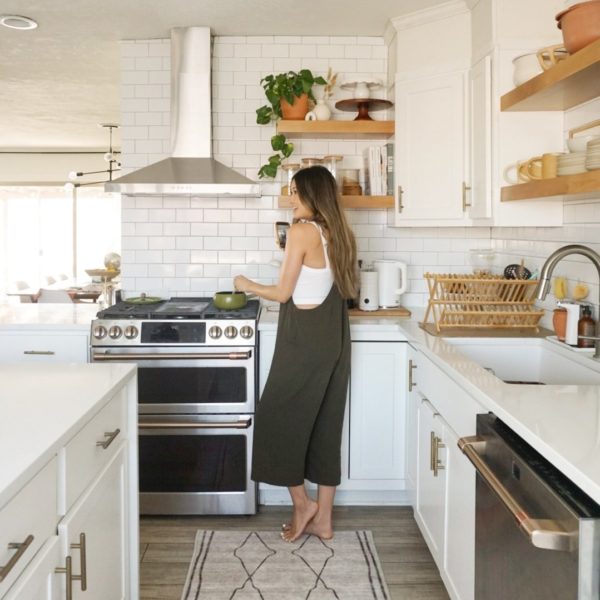 Retail
A google search for this Ruggable rugs review showed that its life-proof rugs are available for sale at quite a few retail locations across the US and Canada including:
Bed Bath & Beyond
Home Depot
Kohl's
Lowe's
Pier 1
Rona
Target
Walmart
Online
Want the shopping ease that so many love from this brand? Head to ruggable.com and start your search.
Amazon
Ruggable also offers its products through Amazon. Check out the online marketplace for a large selection of washable rugs.
FAQ
Shipping Policy
Ruggable offers free standard ground shipping to Canada and the US (excluding Hawaii, Alaska and US territories). Live in the UK? Go to ruggable.co.uk to see your shipping options.
US deliveries typically take 3-7 business days and Canadian deliveries take 7-14 business days to arrive. Important note: These estimates do not include the 1 week it takes for the rug to be made.
Ruggable uses Fedex for US deliveries and DHL or Fedex for deliveries to Canada. Once products are shipped, you'll receive an email notification with tracking details to keep tabs on your new rug.
Return Policy
Not totally pumped about your rug? If you bought from ruggable.com, you can return your items within 30 days of delivery. I should tell you that to get a refund, your item(s) must be in new condition—that means no stains or damage.
To start the return process, email Ruggable staff with the following information:
Your Order number
Reason for return
A request for shipping label(s)
All returns must be shipped in original or similar packaging. If your return is accepted, your refund will be issued minus return shipping costs. These vary by item so I'll leave the full list below:
Live in Alaska, Hawaii or Canada? You'll need to send the items back on your own accord.
When a returned item arrives at the Ruggable facility, it may take up to 5 business days for it to be processed. After that, they'll send you your refund.
It is important that I note in this Ruggable rugs review, that sample sale items and sample swatches are final sale products and not eligible for return. Another key point: For Ruggable products purchased at retail locations, returns must be made to the same store.
Ruggable does not currently offer exchanges. If you want a different color, design or size, please email the Customer Care team to initiate a return. Upon refund, you can then go ahead and place a new order.