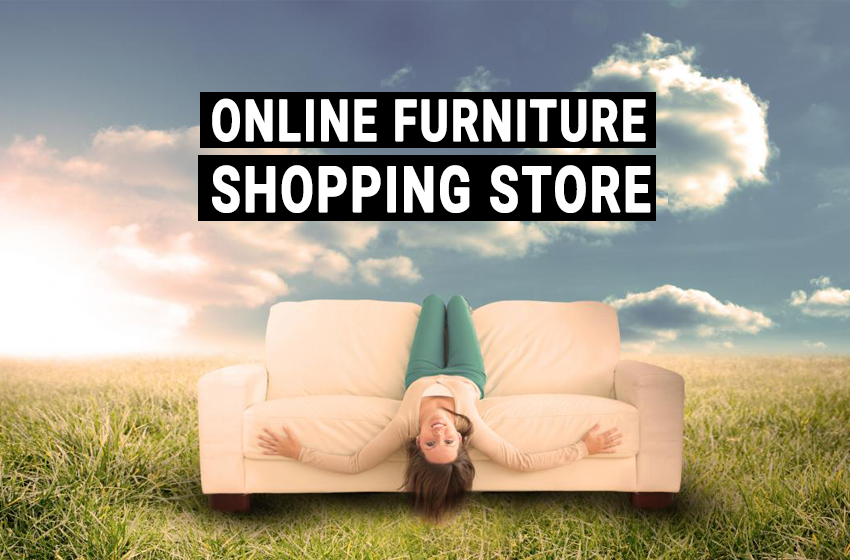 Raymour & Flanigan Review
About us Raymour & Flanigan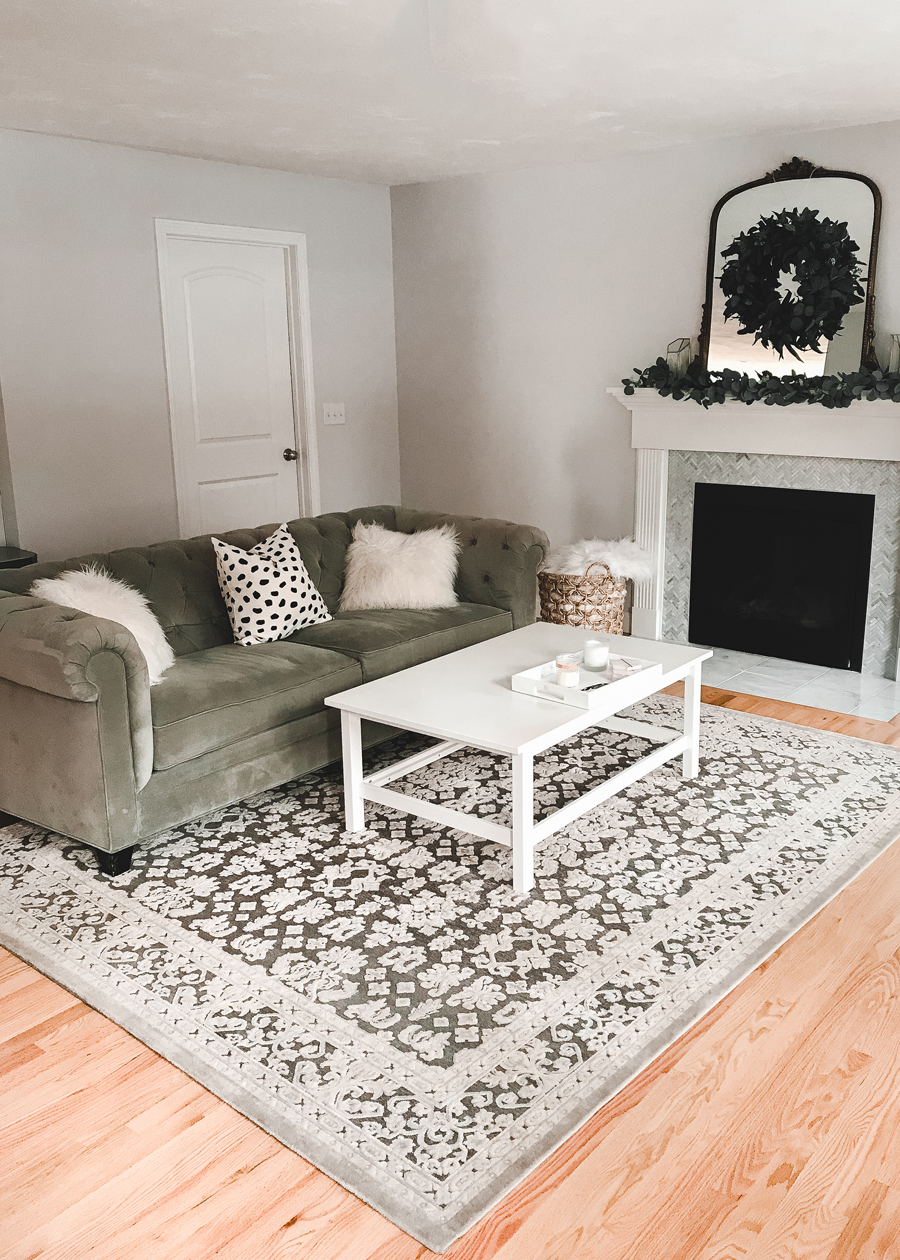 Thank you to Raymour & Flanigan for kindly sponsoring this post and gifting our couch and coffee table. All opinions are 100% honest & completely my own.
After such great feedback on our dining room, I wanted to share more of the process of decorating our house with you. My focus now is on our living room and rather than just sharing the end result in a couple months, I instead wanted to give updates every now and then.
Today I'm so very excited to share an update on our living room with some gorgeous pieces from Raymour and Flanigan Furniture. I'm loving how it's coming together and just a switch of two pieces – our couch and coffee table – made this space much more functional AND feel so much brighter and lighter.
When we moved into our first home in August, the living room wasn't as much of a priority because we at least had some furniture to make it liveable. We quickly realized was that while it was liveable, it wasn't cozy, inviting or all that functional.
BEFORE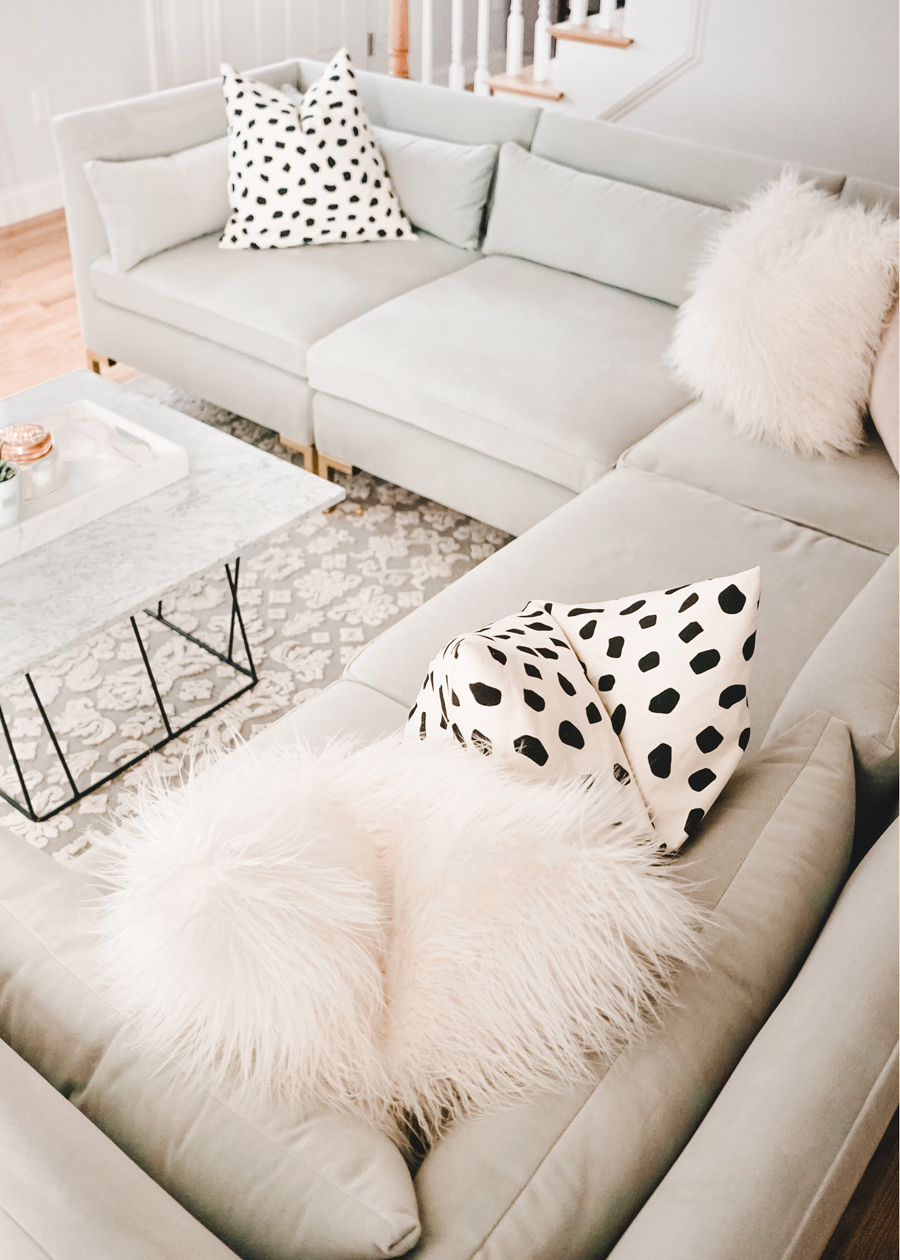 5 Piece Modular Stacy Sectional Sofa in 'Velvet Light Grey' c/o Raymour & Flanigan I Helix Marble Coffee Table c/o Raymour & Flanigan [sold out, same but black, rectangle version]
Here was my list of improvements:
The coffee table was too large for this room.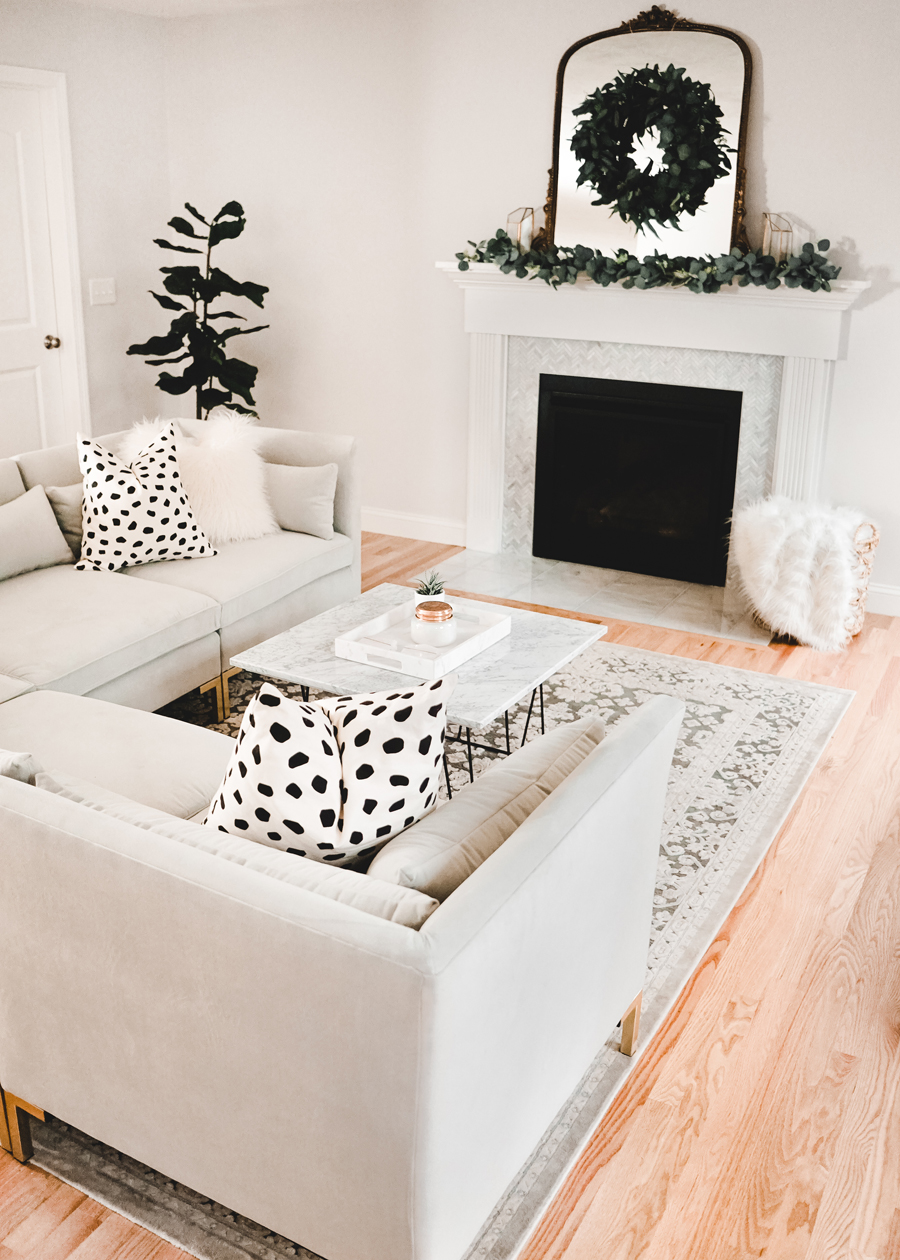 Our couch was too dark. We have natural light here, but it's more abundant in the dining room, so we knew out next couch would be lighter to brighten the space.
We needed more seating. Our couch was long, but fits three people comfortably so we had the option of adding chairs or just opting to replace our couch with a sectional.
The fireplace needed a facelift which was completed before the "before" picture you see! With an open concept, it's the focus of our entire downstairs so it needed a refresh which my talented dad did. You can read about that remodel here.
Our lighting tint was off. I had no idea how a cool versus a warm light could make in a space. We had a cool bulb and it was totally off putting due to the color and the strength. After having a crash course in light bulbs, we switched them out for warm bulbs and this immediately made the space more inviting, calming and comfortable!
With numbers 4 and 5 taken care of, we moved on to tackle 1-3. To optimize seating, brighten the space and find a coffee table, S and I looked to Raymour & Flanigan Furniture.
You may remember from a few weeks back, I shared our shopping experience at Raymour & Flanigan's local showroom via Instagram stories. We had such an amazing experience from beginning to end!
My dad was visiting us and he actually joined too. We both couldn't believe the variety of furniture styles in the showroom! Which makes sense because they are actually the largest conventional furniture and mattress store in New England and sixth overall in the U.S.
I know that it's rare that I'd ever walk into a furniture store and find pieces that fit both my style and my dad's since our tastes are so different! Not only is there a style for everyone, but they also hit all budgets.
We looked through lots of seating options in store and quickly realized that an L shaped sectional was what we wanted.
I immediately fell in love with Raymour & Flanigan's 5 Piece Modular Stacy Sectional Sofa and with one look, it's easy to see why, but here are my favorite parts of our new gorgeous couch:
Contemporary style: Aesthetically, this fits our style to a t. It's modern, but actually functional and so very comfy. Some modern style couches can be stiff and anything but comfortable, but this is just so soft and cozy. The gold legs were just the icing on the cake! If I designed my "perfect" dream couch, this 5 Piece Modular Stacy Sectional Sofa would be it.
Velvet material: While the 5 Piece Modular Stacy Sectional Sofa comes in many different materials and colors to fit any taste or style, velvet is what we were on the search for and I jumped for joy when I saw they had it in this specific couch. Velvet brings any piece of furniture up a notch in my book, plus it's so soft to the touch!
Grey shade: I like to keep the foundation of our rooms neutral because it allows you to then switch up more affordable and seasonal pieces [like pillows, blankets, candles, serving trays] throughout the year. Your room then always feel in-season and fresh all while not breaking the bank. I was open to varying colors like ivory and blues, but grey was always top of mind and I couldn't love the color of this couch anymore than I do! This light grey transformed the room to be light, airy and inviting.
Seat depth: On top of seating 5-6 people, the cushions on the 5 Piece Modular Stacy Sectional Sofa are super deep!
I could go on and on, but I'll cap myself there! Our couch was a custom online order, but with pieces available in the showroom, you'll receive free delivery in three days or less.
Moving on to our gorgeous marble coffee table! To replace our large wooden coffee table, we found a gorgeous marble table from Raymour & Flanigan with the perfect detailing. The showroom associate was so nice to find a swatch that's similar to our couch to help us make the final decision. All the Raymour & Flanigan employees from the showroom through delivery were so genuine, helpful and went above and beyond!
We knew this coffee table would be the perfect addition to our living room because the 30" size and square shape complimented our space and the L shape of our couch beautifully.
The top is real marble which bounces off the grey couch so nicely and our newly remodeled fireplace. You'll see the bottom is open so that there is no obstruction to the eye. I'd suggest a table with this bottom opening if you're styling a small space or just want a space to appear larger.
My exact coffee table is sold out, but here is the identical one with a black top and here is a larger rectangle option if that's the shape you're searching for!
We couldn't have dreamed up a more pretty combo from Raymour & Flanigan, plus the entire process from beginning to end was such a breeze!
So… what's next for our living room?
I'm looking to find a new rug that is a solid and has less going on. That's the first item to conquer next because that will inform my decision on throw pillows and artwork! Stay tuned 🙂
Until then, here are some home posts you may like:
HOW TO ORGANIZE A SMALL PANTRY
OUR DINING ROOM REVEAL
5 WAYS THE RING HOME SECURITY SYSTEM MAKES OUR LIFE EASIER
OUR MARBLE FIREPLACE MAKEOVER
SHOP OUR LIVING ROOM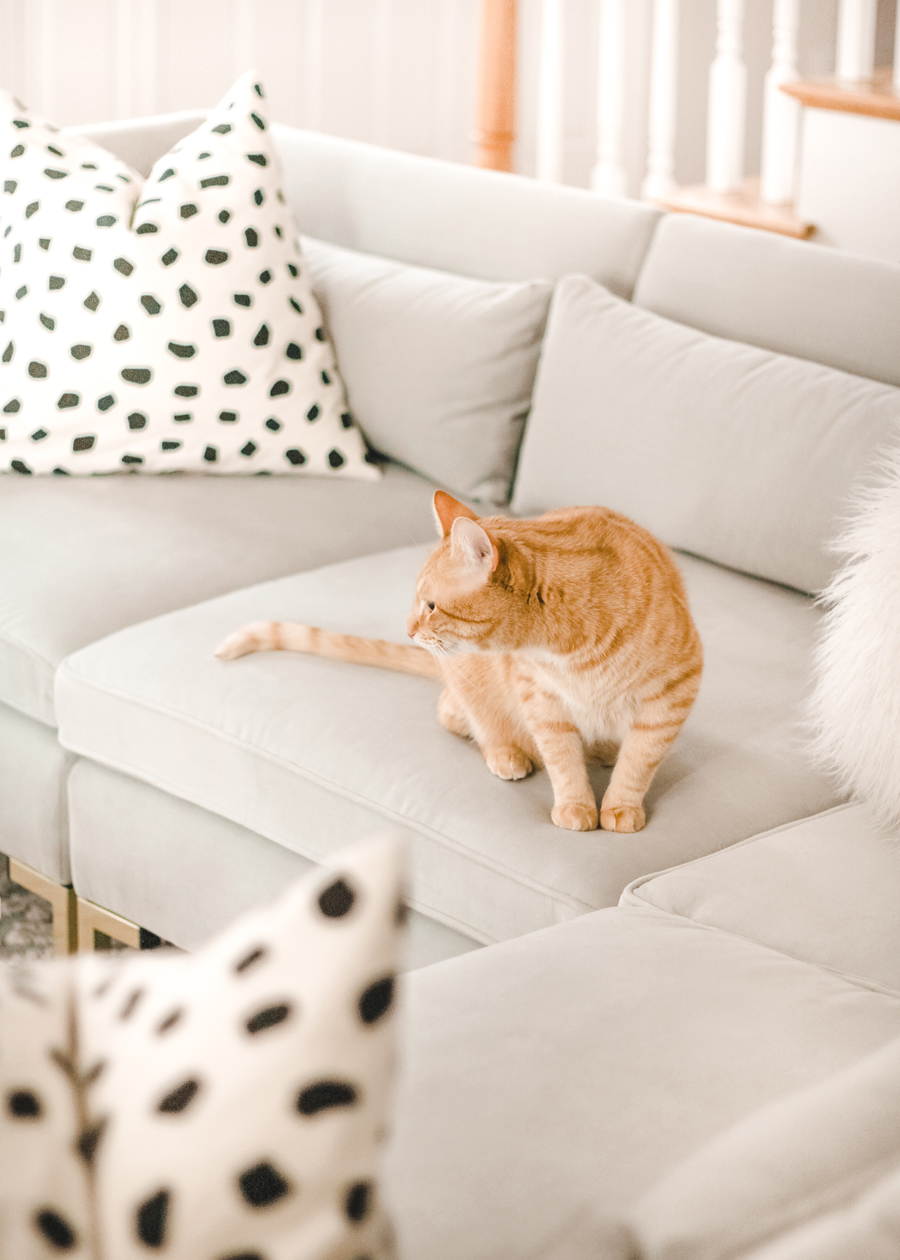 5 Piece Modular Stacy Sectional Sofa in 'Velvet Light Grey' c/o Raymour & Flanigan I Helix Marble Coffee Table c/o Raymour & Flanigan [sold out, same but black, rectangle version]
Thank you to Raymour & Flanigan for kindly sponsoring this post and gifting our couch and coffee table. All opinions are 100% honest & completely my own.