About Pit Boss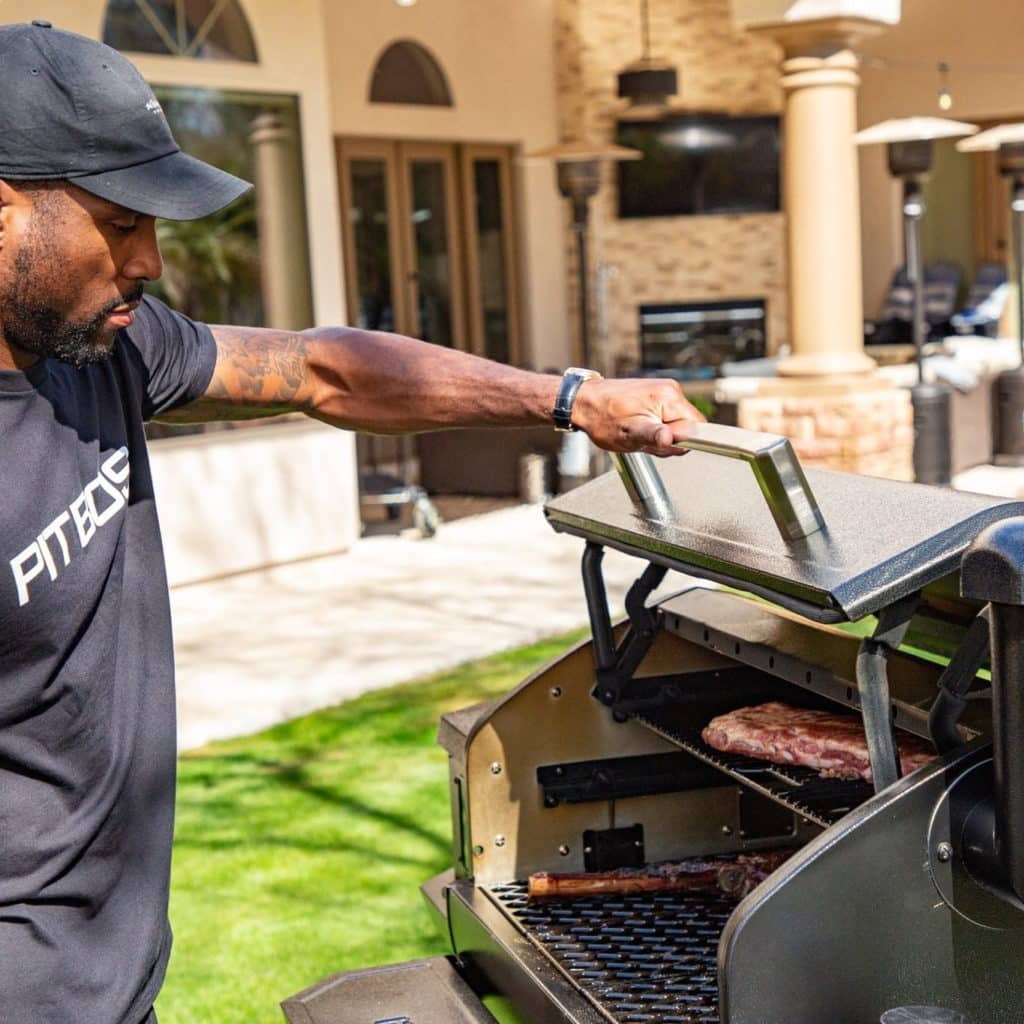 There's nothing quite like firing up the grill on a sunny day. My small charcoal grill has limits but larger models are usually too expensive.
Pit Boss sells affordable premium griddles, barbecues, and smokers for your cooking needs. They have wood pellet, charcoal, and gas options, all with excellent and durable designs. With tons of options, it was easy to find one that fit my outdoor space—and my budget.
The brand has 311K meat-loving Instagram followers (and maybe a few veggie enthusiasts in there too), and I found its name in headlines on CNN, Mashed, and USA Today while bouncing around the web.
What's in store for this Pit Boss smoker review? Ahead, I'll go over their bestselling product lineup, tell you what you can expect from Pit Boss grills, detail promotions, and a whole lot more to give you an idea of exactly what you're getting into.
Overview of Pit Boss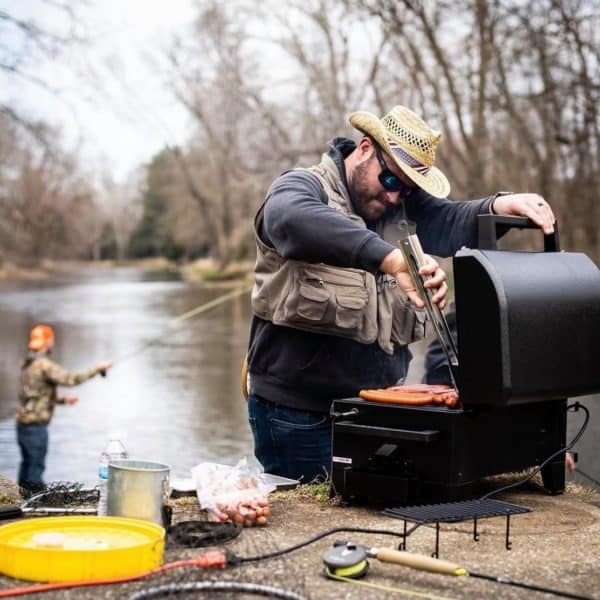 Pit Boss Grills was established in Phoenix, Arizona, by grill lover Dan Thiessen and his sons, Jordan and Jeff. The clan had founded their company Dansons, Inc. together in 1999, and made Pit Boss a subsidiary of that existing business.
The brand is built around providing high-quality grills for an amazing price that beats out classic barbecues. As someone who's shied away from buying a BBQ because of the price before, I really respect this.
Pit Boss defines their mission as, "being Bigger. Hotter. Heavier. than the competition at a better value, and constantly striving to improve." 
Another aspect of the business is "creating a community around outdoor cooking, backyard barbeques, and neighborhood block parties," which they participate in by offering exclusive Pit Boss recipes on their website.
Hungry for more? Let's chew over the pros and cons of the Pit Boss brand.
Pros
A range of durable and reliable grills, barbecues, and smokers
Fuel lasts a long time and excels at slow cooks
Excellent pricing compared to conventional barbecues
The brand regularly offers discounts and special deals
You can pay in monthly installments and lower the upfront cost
Wood pellets add flavorful aromas to your meat
Cons
Pit Boss phone app crashes sometimes
Customers have to pay for return shipping, and the original shipping cost is non-refundable
Pit Boss Pellet Grills Review
Get ready for a deep dive into nine best-selling Pit Boss Wood Pellet Grills. I'll go over what makes them work so well, how they differ from each other, what they cost, and what you can expect when they arrive.
Pit Boss Classic Wood Pellet Grill Review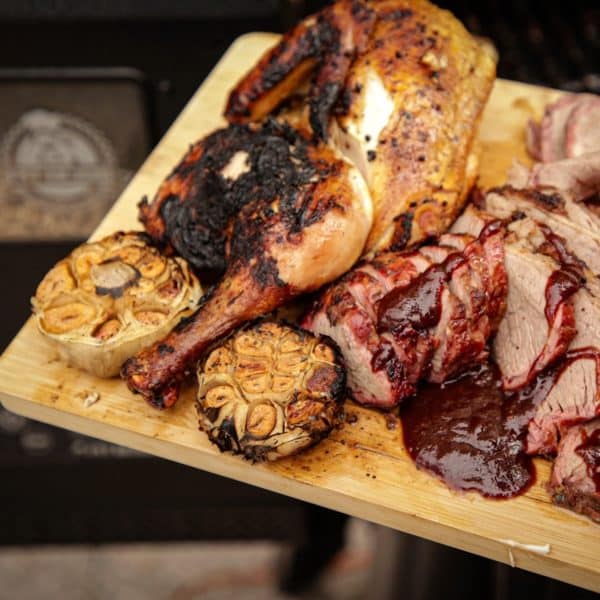 They call it "classic" for a reason. I think thePit Boss Classic Wood Pellet Grillis the perfect family grill, ideal for groups of four to six. The attractive two-toned design will make this a handsome addition to your backyard, but let's be honest—if it can't cook, then I don't think prettiness is gonna help it.
Luckily, the Pit Boss Classic has you covered with a digital control boardthat allows you to select the cooking style you want: grill, smoke, bake, roast, sear, roast, braise, BBQ, or char-grill. (True meat lovers will know the distinctions between all those.)
Get grilling today with the Pit Boss Classic Wood Pellet Grill, currently available exclusively through Walmart for$400. Walmart also offers an assembly service for an extra $60.
Pit Boss Lexington Wood Pellet Grill Review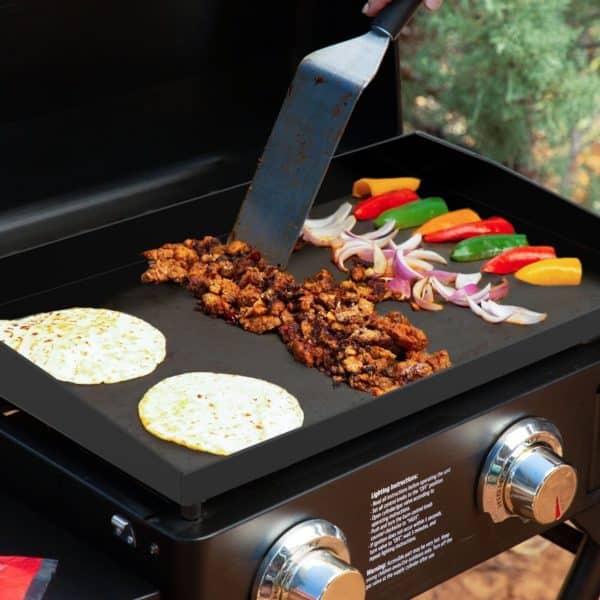 A more compact version of the Classic, the Pit Boss Lexington Wood Pellet Grill is a trim, two-tiered grill that gives you 540 square inches of cooking space (about ¾ the size of the Classic's grill surface).
I think it's a great starter grill that can manage any number of delicious cooks, like the Pit Boss smoked tri tip.
Like its bigger brother, the Lexington allows you to select your cooking method on its digital control board.
The board is also hooked into the stainless steel meat probe that comes with the grill so you can make sure you're not overcooking. (Of course, I know you never would—you're a Grill Master.)
The Pit Boss Lexington Wood Pellet Grill is only available at Walmart, where it'll run you $300.
Pit Boss Austin XL Wood Pellet Grill Review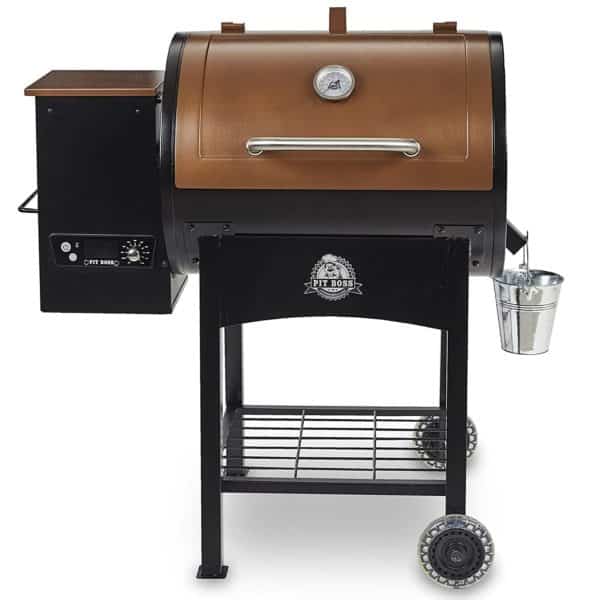 Life is starting to feel almost normal again and I've really missed summer BBQs with friends.
The perfect provider for your first post-pandemic backyard party, the long and low Pit Boss Austin XL Wood Pellet Grill gives you 930 square inches of cooking space, 31 lbs of wood-pellet hopper capacity, and a top-end temperature of 500°F.
If you're looking for bells and whistles, the Austin XL can be automatically fired up and shut down via LED control. And like its fellow Pit Boss grills, the slidable plate lets you grill directly or indirectly as your heart desires.
Another Walmart special, thePit Boss Austin XL Wood Pellet Grill goes for $450.
Pit Boss Pro Series II 850 Wood Pellet Grill Review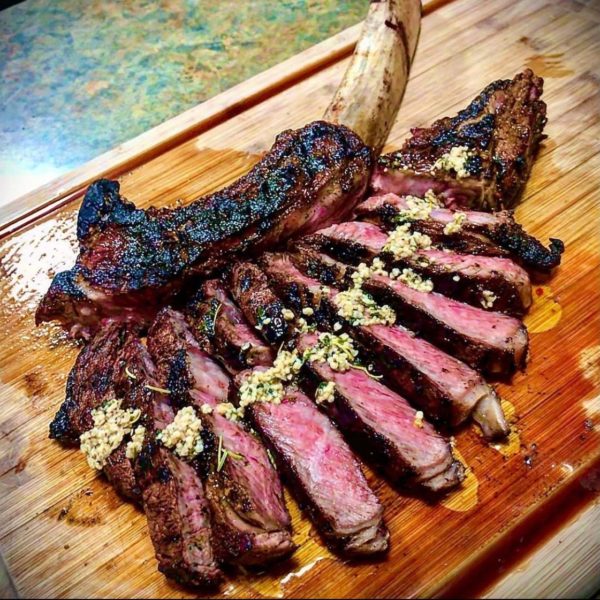 The Pit Boss Pro Series II 850 Wood Pellet Grillconnects with the Pit Boss phone app and works withwifi and Bluetoothso that you can control it from a distance.
Temperatures go from 180° to 500°F, but it also allows for searing as hot as 1,000°F across two tiers of cooking racks. I imagine juicy steak kebabs with a flame-kissed sear.
The hopper holds up to 20 lbs of wood pellets, and the total cooking area is850 square inches. I should note that when the warming rack is removed, that measurement goes down to 539 square inches in the main grilling zone.
The Pit Boss 850 costs $500 and is available at Lowe's, which throws in free delivery as a bonus.
Pit Boss Pro Series I 1100 Wood Pellet Grill Review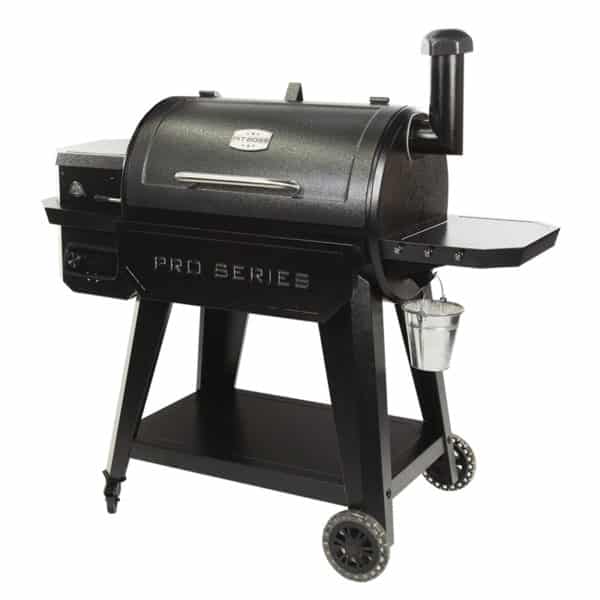 The Pit Boss Pro Series | 1100 Wood Pellet Grill is the biggest grill currently on offer from Grill Boss, and you better believe they're proud of it. This backyard behemoth has 1,100 square inches of grilling space and can hold up to 35 lbs of pellets in its hopper.
But I've read that size isn't everything with this one: like all other Pit Boss grills, the Pro Series gives you the cheat code for grilling mastery with its digital control panel and two stainless steel meat probes for instant temperature checks.
Order thePit Boss Pro Series | 1100 Wood Pellet Grillfrom Lowe's for $600, and stake your claim as the local backyard BBQ hero this summer. 
Pit Boss Platinum Laredo 1000 Wood Pellet Grill Review
I like grilling, just not the standing part as I supervise meats for a never-ending family BBQ. We all know that all that standing is the most punishing part of the grilling experience.
But the Pit Boss Platinum Laredo 1000 Wood Pellet Grillhas you covered: with its digital control panel that can be accessed with the Pit Boss app, you can control it remotely while putting your feet up and avoiding unnecessary calorie burn.
Seriously though, this slick-looking, heavy-duty Pit Boss grill gives you everything you need for your outdoor cooking needs. With 1,006 square inchesof cooking surface, a hopper capacity of 26 lbs, and evenbuilt-in grill lightingfor nighttime cooks.
You can get thePit Boss Platinum Laredo 1000 Wood Pellet Grillthrough Walmart, for a very reasonable $500.
Pit Boss Pellet Smokers Review
This is what you're here for: the famous Pit Boss smokers. Hang on tight as I cut through the smoke in this Pit Boss smoker review to reveal everything you need to know about these Pit Boss bestsellers' pricing, hopper capacity, fuel, and more.
Pit Boss Pro Series II 4-Series Vertical Wood Pellet Smoker Review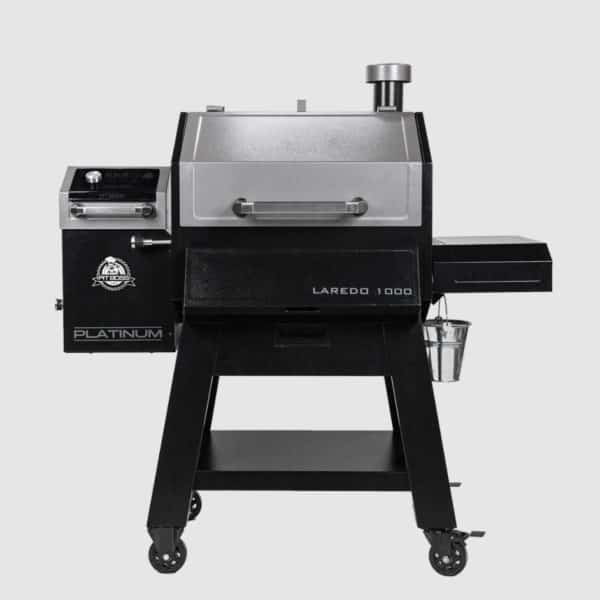 Smoke 'em if you got 'em—and man has this Pit Boss special got 'em.
With its four adjustable cooking racks and easily maneuverable wheels, the Pro Series II 4-Series Vertical Wood Pellet Smoker gives you 1,077 square inches of cooking space in a compact and easily portable size.
Like their grills, this Pit Boss vertical pellet smoker has a digital control board that is accessible through the brand's phone app and is wifi- and Bluetooth-compatible.
I think it's pretty cool I could kick back on the deck and monitor my meats' progress on my phone, or give them the eye test with the large view window.
The Pro Series II 4-Series Vertical Wood Pellet Smokeris available through Lowe's, for an impressively affordable price of$400.
Pit Boss 3-Series Vertical Wood Pellet Smoker – Silver Hammertone Review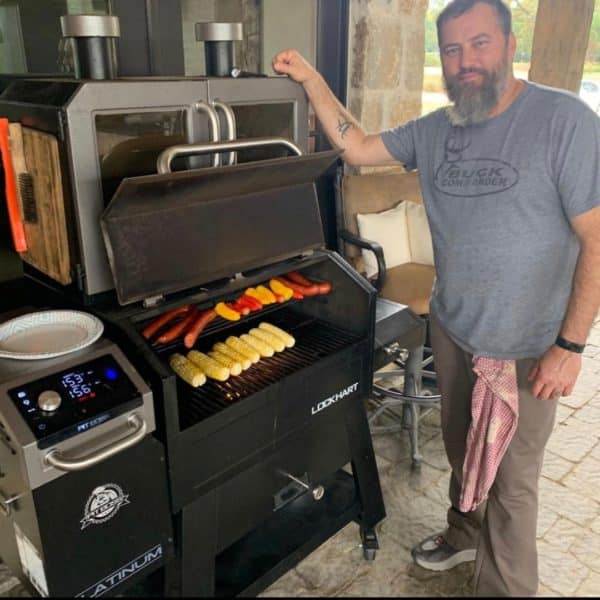 The3-Series Vertical Wood Pellet Smokermay look tall and lean, but it packs plenty of meat for those marathon smoking sessions.
With six adjustable racks, 721 square inches of cooking space, and a 39 lb hopper capacity, it can cook for up to 18 hours for those all-day (and -night) backyard bashes. I know a few guys who could keep it running the full 18.
Just like its squat 4-Series brother, the 3-Series is equipped with lockable wheels for convenient portability, the standard-issue Pit Boss digital control panel, and a large window so you can check on your cook without losing heat from those door-opening peeks.
You can buy this versatile Pit Boss vertical smoker from Menards for $440, and also save $48by taking advantage of the mail-in rebate.
Pit Boss 700FB Pellet Grill Bundle with Cover Review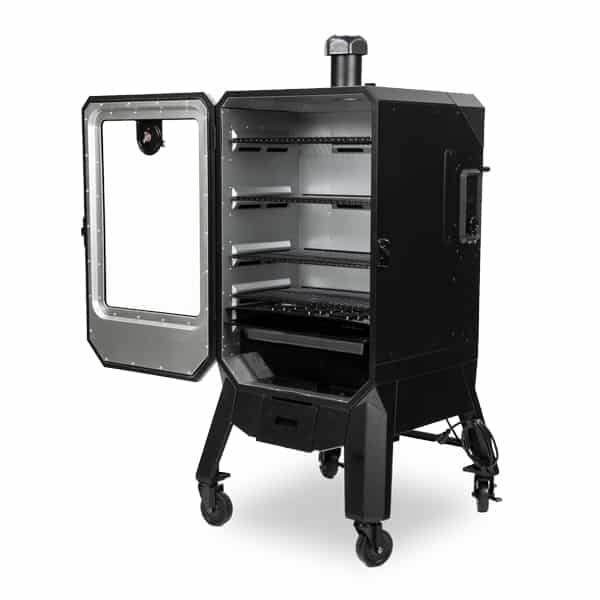 A beautifully made backyard grill is a thing of beauty and a joy forever, but environmental wear and tear can really take its toll. I've seen a few grills get totally ruined from rain, so I know the importance of buying a cover.
With the Pit Boss 700FB Wood Pellet Grill Bundle with Cover, you can give your grill the protection it deserves with a durable coverthat will keep it in perfect condition no matter the season.
If that sounds like the tail wagging the dog, rest assured that the grill lives up to the cover. A perfect family-sized grill, the 700FB has 700 square inches of cooking space (ideal for groups of four to six).
There is also a 500°F temperature capacity and sturdy, high-quality construction that makes it built to last.
There is currently a great deal available on this bundle at the Pit Boss website: regularly priced at $510, the 700FB has now been marked down to$350.
Is Pit Boss a smoker?
Pit Boss sells griddles, grills, and smokers. All their products use wood pellets for fuel, apart from five mini-sized charcoal and gas grills, two gas smokers, and three electric smokers.
While scoping out its site for this Pit Boss smoker review, I found a total of 15 smokers on their website. A few of them are already out of stock (not a surprise given National BBQ Month), but cheaper options are still available around the $250 to $300 range.
What does a Pit Boss grill do?
After getting to know the brand, I discovered that Pit Boss pellets are the secret component that make their grills so popular.
As fuel for the fire, their all-natural hardwood pellets come in six flavors to give added flavor and aroma to your grill. These include: Apple, Competition Blend, Mesquite, Classic Blend, Hickory, and Fruit Blend.
But no matter what flavor you spring for, it's the SearZone plate that makes it all possible. A Pit Boss invention, it's designed specifically so that your grill reaches high temperatures with the pellets, while also excelling at slow cooks.
Pit Boss Reviews: What Do Customers Think?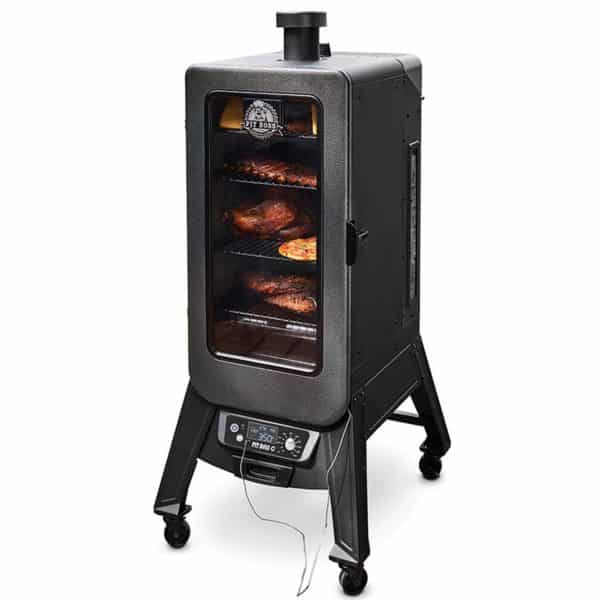 For this Pit Boss smoker review, I went through comments and ratings at pitboss-grills.com, Lowe's, and Walmart to see what the grilling community had to say about these high-tech cooking rigs.
At the brand website, the Pit Boss Classicpulls in an average rating of 4/5 stars from 41 reviews.
One 5-star reviewer who took advantage of the product's warranty was grateful for Pit Boss' full-spectrum customer service and how they support grill culture rather than just supplying the tools.
The Pit Boss Pro Series | 820 Wood Pellet Grill also scores high on pitboss-grills.com, with a 4.4/5 star average based on 73 ratings.
A returning veteran who bought the Pit Boss 820 loved how the wood pellet technology gave awhole new range of flavours to his cook.
The customer writes, "I bought the 820 pro in August upon my return from deployment and it has been incredible… I've never owned a pellet grill before, but grilling/smoking/whatever on it is easy. I love swapping pellets for different flavors…Highly recommend."
Jumping off of the brand's website and on to Walmart, I saw that the Austin XLtallies an average rating of 4.1/5 starsbased on 493 reviews. An impressed customer particularly praised the rig's easy assembly and setup, and they had the professional bona fides to back it up.
"I am a research and development chef and it took me about 3 uses to get everything adjusted properly. P-set, auger feed/prime, cleaning temp probes, etc. Now I give it 5 stars. I use it to smoke or grill anything," said the reviewer.
Over at Lowe's, the 4-Series smoker also has an overall 4.1/5 star rating pulled from 124 individual reviews. I read that customers were impressed by this Pit Boss electric smoker's long-termcooking performance and durable construction.
"On Easter Sunday I smoked ribs, on Monday a 10 lb brisket, and on Tuesday chicken wings. The results were amazing, the pit boss was flawless through 19 total hours of cooking. This unit is built to last, all of the features work exactly as expected, and the results are off the charts," wrote one.
Was anyone less than impressed with what these grills had to offer? While digging around for this Pit Boss smoker review, I picked up a few grumbles here and there.
Some users said that the rigs take a good deal of time to set up to work exactly as you want and that cleaning the grilling racks is annoying (though others said it was easy).
There were also some complaints about the tech side of things. One reviewer said that the Pit Boss app wasn't up to snuff and some customers wish it had more options for temperature control.
Not everyone has had a rosy experience with these grills, but problems really do seem to be few and far between.
Most complaints are very minor, and the majority of them say that once they got their grill going, they couldn't be happier with the results.
Is Pit Boss Worth It?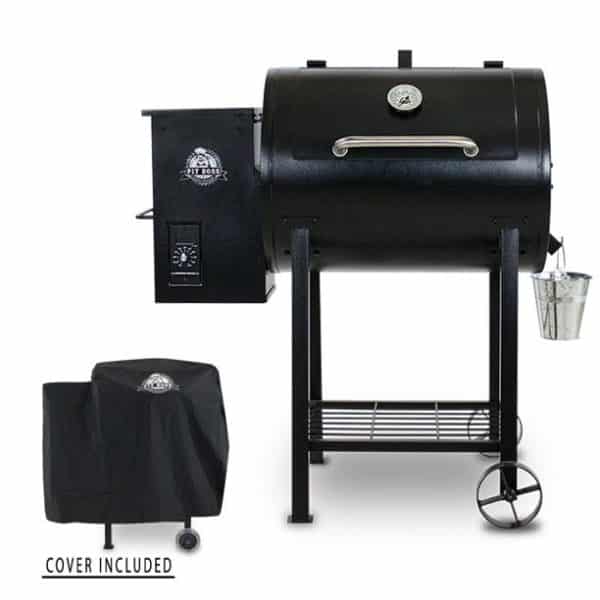 Looking at all the evidence, I have no doubt that Pit Boss is worth it.
As I showed in this Pit Boss smoker review, the brand's product lineup has excellent pricingand results that have customers leaving great reviews and buying out their grills, griddles, and smokers.
The wood pellet cooking technology is an affordable and high-quality fuel option for casual cooks and serious grillers alike.
Tech-wise, I think Pit Boss should invest more in tweaking their app, but it's still a great feature that adds a new level of convenience to your grilling experience.
My verdict in this Pit Boss smoker review? I have no hesitation in recommending this versatile and high-quality brand for your outdoor cooking needs.
Pit Boss Promotions & Discounts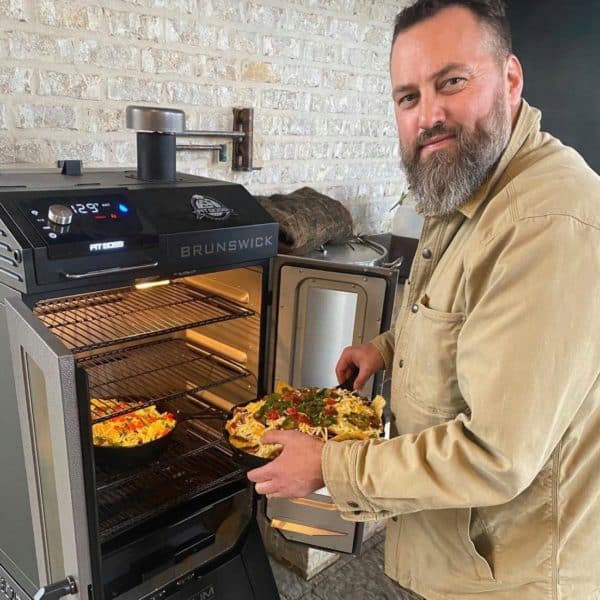 After nosing around the brand's website for this Pit Boss smoker review, I found several discounts. First and foremost, the Pit Boss Mahogany 820D3 is on sale for$579, giving you $70 in savings. It also comes with a free, high-quality, and durable cover that is made to fit the barbecue like a glove.
But Pit Boss has way more deals than that. In fact, they have a page dedicated to them all year round. Here's another grill-and-cover bundle: the huge Sportsman 1,100, on sale for $639(down from $799).
You can also check out sales like the:
Portable Tabletop 1 Burner Griddle marked down to $119from $149
Sportsman 5 Wood Pellet Smokerfor $527, down from$659
But my favorite discount I found during this Pit Boss smoker review is the 5 Piece Griddle Accessories Set of five essential premium cooking tools, which is priced at $24 for a full $70 in savings.
On top of all that, I'm happy to say that the brand offers a monthly payment option for almost all their products through the Affirm service, bringing down hundreds of dollars in upfront cost to double digits.
Where to Buy Pit Boss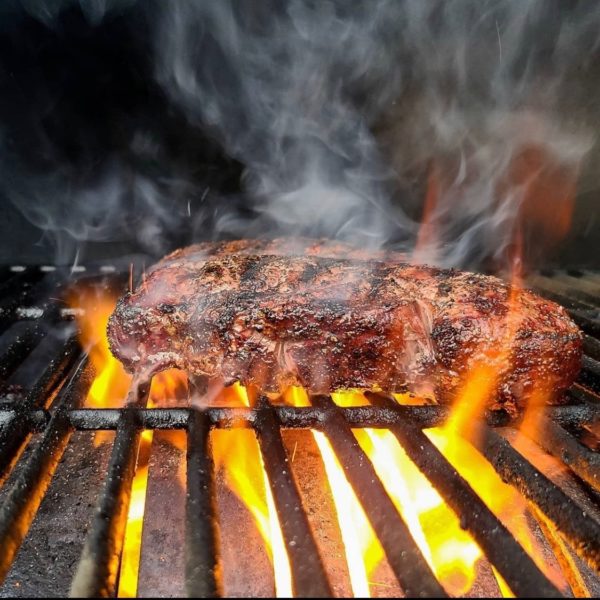 Ready to get cooking? You can purchase a Pit Boss of your own from the official Pitboss-Grills.com website, Wayfair, or from a range of retailers, including Amazon, Lowe's, Home Depot, Ace Hardware, Walmart, Home Hardware, and many more.
FAQ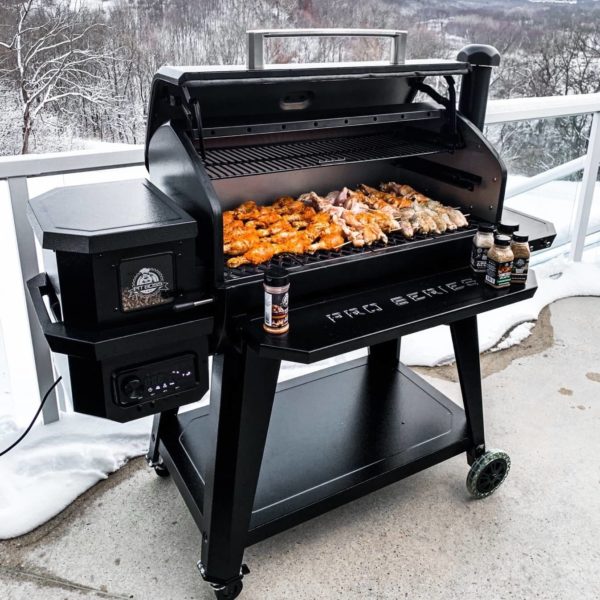 Is Pit Boss made by Traeger?
While doing the research for this Pit Boss smoker review, I did not find any evidence that Pit Boss is made by Trager. The two brands are competitors, and both use wooden pellets to fuel their grills.
Can you leave pellets in Pit Boss?
Yes, you can leave pellets in Pit Boss. But for the sake of being thorough in this Pit Boss smoker review, I recommend taking them out after cooking is done and storing them in a dry airtight container. That way the pellets will stay fresh for as long as possible.
Can Pit Boss pellet grill get wet?
A Pit Boss pellet grill can work safely in light rain, but only if you can be sure the outlet connection stays dry. Keep in mind that Pit Boss products are electrical, and they have some limitations as a result.
Why does my Pit Boss not smoke?
Your Pit Boss is smoking, but the natural wooden pellets it uses for fuel are such a clean energy source that the smoke is thin and more blue than black, making it difficult to see. White smoke will become more common as the grill becomes seasoned from drippings.
How long does Pit Boss fan stay on?
Expect the Pit Boss fan to stay on for up to 10 minutes after your cook. It helps the burn-off, keeping your Pit Boss grill in optimal condition.
How do I turn off a Pit Boss?
You can use the electronic display on your Pit Boss to turn it off with one tap of your finger. Alternatively, if your purchase allows it, you can install the Pit Boss app and control all the fine details from a distance.
How long will a Pit Boss Pellet Grill last?
A Pit Boss Pellet Grill will last decades if you treat it properly. The warranty on a Pit Boss smoker grill combo is five years, but if you buy a cover and take time to clean it, I see no reason why the steel and ceramic material won't last longer.
What is the warranty on a Pit Boss?
Pit Boss has a warranty of five years for the steel, wooden, electrical, and ceramic components of its pellet grills and vertical smokers, and two years for their gas grills. In any case, rust damage is covered by the warranty only in the case of structural damage.
How long does Pit Boss take to ship?
It's impossible for me in this Pit Boss smoker review to give a specific overall shipping time. Each individual retailer takes care of shipping, and each has its own unique policies in place for getting your order shipped as soon as possible.
Does Pit Boss offer free shipping?
Pit Boss does not offer free shipping on every product. Because many of their products are only available from select retailers, like Walmart and Lowe's, the shipping cost is variable.
How do I return to Pit Boss?
Unused Pit Boss items can be returned up to 60 days after your purchase. If you're not happy with your Pit Boss grill smoker combo or any other order, follow the steps below to make a successful return.
Make sure your purchase was made through the Pit Boss website
If you ordered from a different retailer, you must contact them for a return
Your product must be in unused condition and in its original packaging
You cannot return "pellets, spices, sauces, or electrical service parts"
Call Pit Boss customer support at 480-923-9630, available 6 am to 8 pm PST
You must pay for return shipping