Petunia Pickle Bottom diaper bags are a great option for women who want a stylish bag that doesn't scream 'diaper bag'. When DeNai Jones, owner and creative force behind Petunia Pickle Bottom (a nickname her father gave to her when she was young), became a mother she discovered that there weren't any sophisticated and fashionable diaper bags. Everything was cutesy and covered in teddy bears. So she took it upon herself to design a line of fashion-forward diaper bags inspired by travel, vintage appeal, vibrant color, textures and layers of rich fabric.
Petunia Pickle Bottom diaper bags are aesthetically pleasing while not skimping on the functionality required of a diaper bag. They may be a little pricier than some diaper bags but they are made from high quality materials and are built to last. In fact, because they don't look like diaper bags, once your child is beyond the diaper years you can still use them as a gorgeous purse or work bag. When you consider how long you may own and use your Petunia Pickle Bottom diaper bag they are great value for money.
Petunia Pickle Bottom was founded in 2000 with a single design, the Boxy Backpack. Since then the company has grown and many new styles of diaper bags have been designed based on functionality and consumer needs. Twice a year, in the Spring and in the Fall, new patterns are unveiled and old patterns are retired.
One of the beautiful things about these diaper bags is their versatility. Each bag can be carried in a number of ways and with an abundance of pockets inside and out they can be tailored to your specific needs. To assist you in your quest to find the perfect Petunia Pickle Bottom diaper bag we've compiled a style comparison chart outlining the different styles of diaper bags and comparing their size, the number of interior and exterior pockets, the type of change pad included as well as additional straps and accessories.
Further in this article you'll also find a list of the new Spring 2014 patterns, a breakdown of each diaper bag style and helpful video reviews.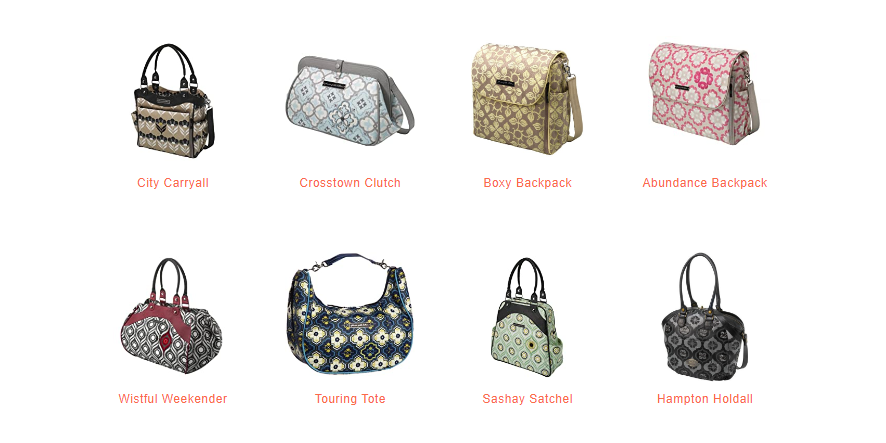 PETUNIA PICKLE BOTTOM DIAPER BAGS – STYLE COMPARISON CHART
CURRENT COLORS AND FABRICS (INCLUDING NEW SPRING 2014 LINE)
The Petunia Pickle Bottom diaper bags are available in a wide range of gorgeous colors. When you shop through Amazon you can find amazing patterns from both the current collection as well as previous collections while supplies last. This list names all the current patterns from the Spring 2014 line as well as a few popular patterns from previous collections that are still in production (collection listed in brackets).
Glazed Fabric:
(wipeable, water resistant, PCV-free matte coated canvas)

Casbah Nights
Lights of Lisbon
Captivating Corinth
Evening in Islington
Picnic in Portugal
Wandering in Westbrook
Breakfast in Berkshire (Spring 2013)
Classically Crete (Fall 2012)
Embossed Fabric:
(solid color with 'sculpted' petunia patterns)

Regent's Park Stop
Notting Hill Stop
Union Square Stop
Central Park North Stop
Central Park North Stop – Special Edition
Champs-Elysees Stop (Spring 2013)
Organic Cotton:
(certified organic and guaranteed to have minimal environmental impact)
Minted Meadows
Alluring Azaleas
Southwest Skies
Citron Blooms
Timeless Tulips
Chenille:
(soft and plush woven texture)
Persimmon Spice
Blackberry Sage
Earl Grey (Fall 2011)
Brocade:
(a rich fabric with a satin luster and vintage appeal)
Sakura Roll (Spring 2013)
Golden Topaz Roll (Fall 2013)
Aquamarine Roll (Fall 2013)
PETUNIA PICKLE BOTTOM DIAPER BAGS – BOXY BACKPACK AND ABUNDANCE BACKPACK
The Boxy Backpack (shown in 'Persimmon Spice') was the very first diaper bag designed by Petunia Pickle Bottom and it continues to be their bestseller. This bag has many great features including the ability to wear it either as a backpack or a messenger bag. Another great feature is that with the magnetic closure you can close the top flap either higher or lower depending on how much stuff you're carrying.
The Boxy Backpack features a zip-out changing station that is ideal because you don't have to go searching through the main compartment for your diapers or wipes. When you unzip the change station, you fold out the detachable change pad and there are two pockets for diaper and the included Petunia Pickle Bottom monogrammed wipes case as well as a smaller pocket for ointments or a pacifier.
The main part of the bag is closed with a zipper and includes three pockets, two bottle pockets and a key clip. You can easily fit all your stuff plus a change of clothing for your baby. The outside of the bag has two additional pockets for bottles, snacks or toys.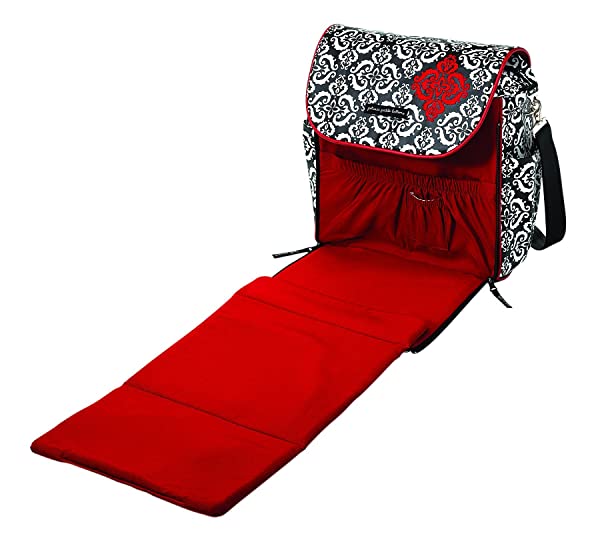 With the continued popularity of the Boxy Backpack, Petunia Pickle Bottom designed the Abundance Backpack (shown in 'Breakfast in Berkshire') for mothers with more than one child. The Abundance Backpack has all the great features of the Boxy Backpack but it is four inches wider, has an additional pocket within the main compartment and two extra diaper pockets as well as two extra pacifier or ointment pockets in the zip-out change station.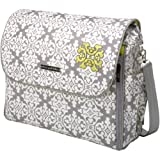 PETUNIA PICKLE BOTTOM CITY CARRYALL
If you love the zip-out change station of the Boxy Backpack but would rather not have a backpack style diaper bag then you'll love the Petunia Pickle Bottom City Carryall (shown in 'Bavarian Bliss').  This stylish cosmopolitan-inspired bag can be carried over the shoulder with the dual padded tote straps or like a messenger bag with the cross-body strap. The inside is spacious enough that you can pack your baby's essentials as well as a small laptop and tablet. There are four outside pockets for all the stuff you need quick access to and once your baby is out of diapers, you can remove the change pad from the change station and use the diaper and pacifier pockets for your pens, notepads and your flash drive.

PETUNIA PICKLE BOTTOM CROSS TOWN CLUTCH DIAPER BAG
If you have a toddler or you're a breastfeeding Mom who likes to travel light, then the Petunia Pickle Bottom Cross Town Clutch (shown in 'Evening in Innsbruck') will let you carry all the essentials without weighing you down. You can carry this bag as a clutch, use the wrist strap to wear it as a wristlet or to attach it to your stroller, or you can also attach it to the other side of the bag and wear it as a shoulder bag. In addition to the essentials for your baby, there is ample room for your cell phone, keys, wallet and sunglasses.
The bag seals shut with a very strong magnetic closure and there is a snap safety closure as well. In addition to the roomy main compartment there are also two accessories pockets, a key clip and a separate compartment for the change pad. The changing pad is circular, folds out to approximately 23″ in diameter, and attaches to the diaper bag with snaps. A Petunia Pickle Bottom monogrammed wipes case is included.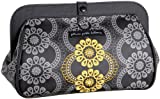 PETUNIA PICKLE BOTTOM TOURING TOTE DIAPER BAGS
The Petunia Pickle Bottom Touring Tote (shown in 'Happiness in Hamburg') is a great option for moms who want a mid-size diaper bag. Bigger than the Cross Town Clutch but smaller then the Boxy Backpack or City Carryall, you can fit all of your essentials into the stylish messenger Touring Tote bag.  While it may be small it's big on organization. Aside from the Wistful Weekender the Touring Tote has more pockets than any of the other Petunia Pickle Bottom diaper bags.  The Touring Tote also includes a pouch for the accessories: the hobo strap, the messenger strap and the Valet stroller clips.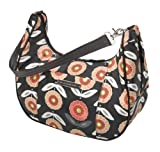 PETUNIA PICKLE BOTTOM SASHAY SATCHEL
The Petunia Pickle Bottom Sashay Satchel (shown in 'Twilight Tiger Lily') is a gorgeous bag with a stylish and beautiful shape. A great feature of this bag is that you can wear it as a shoulder bag with the dual padded tote straps, but on days when you have to pack more and it gets heavy you have the option to convert it to a backpack with the extra straps included. This can be a real lifesaver for your back, neck and shoulders. The interior of this bag is very spacious but you may need to adjust your packing technique since you will be packing vertically rather than horizontally. The magazine pockets on either side of the bag are brilliant for either carrying magazines or your tablet.
One thing to note is that although there are four bottle pockets, you can only use two at a time for bottles (either the inside or the outside pockets) since they cut into each other's space. So, if you're using the exterior bottle pocket then it's more realistic to keep a bottle of hand sanitizer or a small toy in the inside bottle pocket since it's space will be restricted.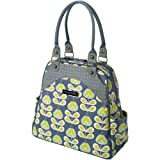 PETUNIA PICKLE BOTTOM WISTFUL WEEKENDER DIAPER BAGS
The Wistful Weekender (shown in 'Sunshine in Scandinavia') is the largest of the Petunia Pickle Bottom diaper bags and the perfect travel companion. Whether you are embarking on a long-haul intercontinental flight, a weekend at Grandma's or just a full day out, the Wistful Weekender will accommodate the needs of you and your baby. You could also use this bag as your hospital 'go bag'.
One of the beautiful things about this bag is how easy it is to find anything you've put inside. Once you've unzipped the main compartment, you can undo the side snaps which allow the bag to open up very wide so you can see everything inside.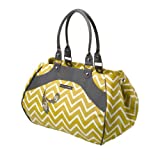 PETUNIA PICKLE BOTTOM HAMPTON HOLDALL DIAPER BAG
The Petunia Pickle Bottom Hampton Holdall (shown in 'Blackout Fondant') is a luxurious diaper bag that is part of their special 'Cake Collection'. This diaper bag is definitely a 'splurge' but it is a thing of beauty. The Hampton Holdall is available in either laser-cut leather (Blackout Fondant and Marmalade Fondant) or Italian cut velvet (Black Forest Cake, Plum Tart Cake or Key Lime Cream Cake).  While the Petunia Pickle Bottom Original Collection has silver hardware, the Cake Collection has antique brass hardware for a vintage look.
The Hampton Holdall has metal feet at the bottom of the bag to protect it from the ground when you set it down and in addition to the usual accessories you also get the Valet stroller clips with 'Cake' hardware, a matching Cake coin purse and a muslin dust cover for the bag. For easy access there are the exterior side bottle pockets and two magazine pockets. The inside of the bag is sealed with a twist-lock closure and there are plenty of inside pockets as well as the Petunia Pickle Bottom monogrammed wipes case and a plush changing pad.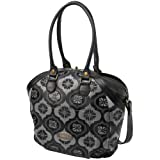 PETUNIA PICKLE BOTTOM ACCESSORIES
If you've fallen in love with Petunia Pickle Bottom diaper bags and can't decide which pattern to get, you will be pleased to know that there are many accessories available in many gorgeous patterns including iPhone cases, iPad sleeves, wallets, stroller blankets, nursing covers, powder room cases and baby memory books. So if you love more than one pattern then choose one for your diaper bag and buy an accessory in another special pattern