About OXO
We all want to clean up our lives, whether it's reorganizing our pantries or starting to shower more often than once a week. OXO is a company that can help you simplify your living space with their catalog of reusable containers.
The American company's minimalist designs and dependable materials have inspired over 142k people to check up on their Instagram feed as part of their daily routine.
Our OXO review will examine the brand's products, prices, practices, philosophies, customer scores, and more so that you can learn whether they're worth incorporating into your daily life.
Overview of OXO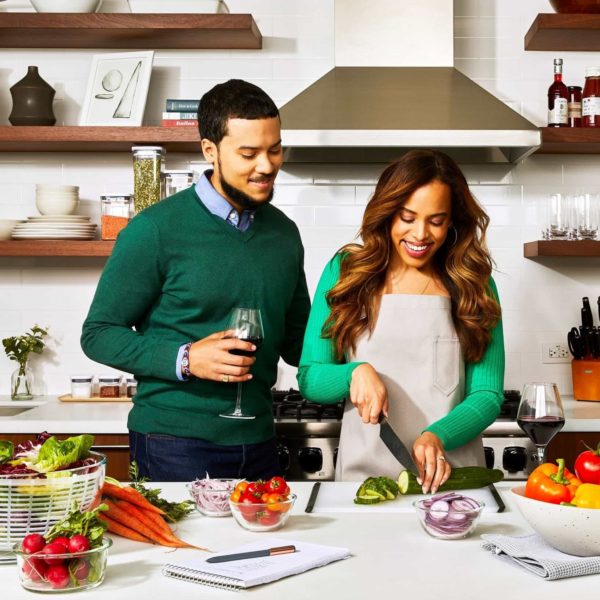 OXO is a brand that believes that everything in our lives should be intentional. They think that if we pay more attention to the objects in our lives and the purposes they serve then we can make better decisions for the good of the planet.
That also means that they make containers to embrace simplicity. OXO wants to remove the stress of an overstuffed cabinet or a poorly stocked fridge so that you can focus on what matters most in your life.
The brand's desire to help others came from founder Sam Farber's wishes to help his loved one. His wife suffered from arthritis, making traditional kitchen instruments nearly impossible for her to use.
Farber and his wife created the first OXO product in the form of an ergonomic vegetable peeler. From there, they took their design philosophy and expanded it to the rest of the kitchen.
OXO's philanthropy extends beyond giving customers the tools they need. The company regularly donates to 1% for the Planet, a non-profit organization that redistributes their donations towards helping environmental causes.
The company also created Cookies for Kids Cancer. This not-for-profit group organizes bake sales across the United States to raise money for cancer research. So far OXO has donated $2.5m to fighting the battle against cancer.
It's easy to feel inspired ready about OXO's history. Let's see what else about them is inspirational, aspirational, and motivational in the highlights section of our OXO review.
Highlights
Offers a line of containers that are durable and sustainable
Products are sold in bundles
The company donates a portion of their sales to not-for-profit environmental organizations
Most products are BPA-free
Satisfaction-guaranteed return policy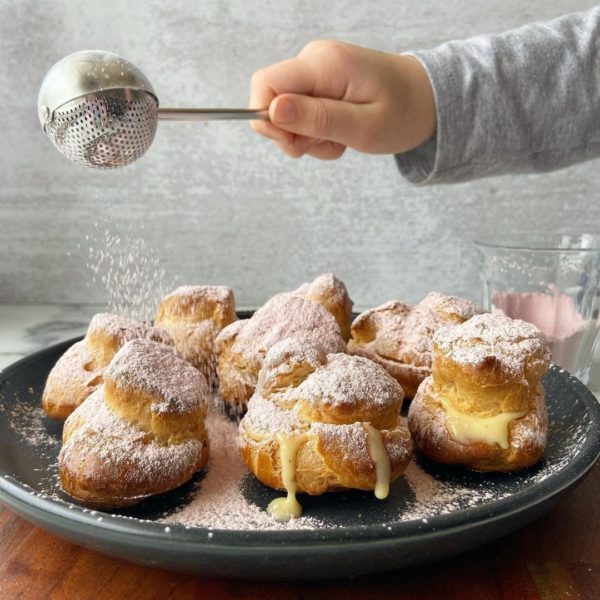 We were blown away by how many products this brand makes. Beyond the items we'll cover shortly, they also make kitchen utensils, baking and cooking goods, tea kettles, coffee filters, cleaning products, and more.
OXO Containers Review
Organizing your kitchen space is a great way to express yourself, and these best-selling OXO containers can spark your creative drive.
We'll be looking at some of the brand's most popular containers in this section of our OXO review.
OXO 20-Piece POP Container Set Review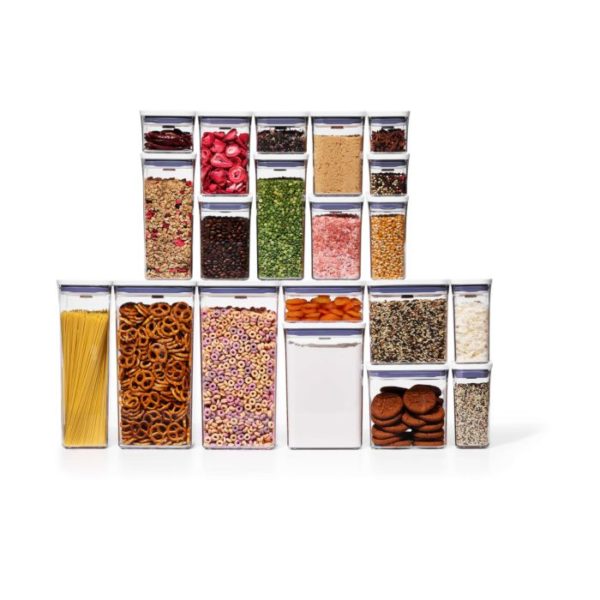 If you have a drawer full of Tupperware that you've been hoarding since your college days then you'll be familiar with this feeling; the feeling of searching for the missing lid and having to claw through messes of unmatched containers.
It's about time you look into the OXO 20-Piece POP Container Set. Each container has an airtight lid to keep food secure. These lids fit every container size so you won't have to scramble looking for the perfect base and lid pair. Every container is dishwasher safe and BPA-free.
The OXO 20-Piece Pop Container Set includes the following (and get ready because it's quite the list):
two 0.2 quart containers
one 0.4 quart rectangle container
one 0.4 quart square container
one 0.5 quart container
one 0.6 quart container
two 1.1 quart containers
two 1.2 quart containers
two 1.7 quart rectangle container
one 1.7 square inch container
one 2.2 quart container
one 2.7 quart container
two 2.8 quart containers
one 4.4 quart container
two 6.0 quart containers
The entire OXO POP Container Set can be yours for $210, which is a discount on its standard price of $286.
OXO POP 4-Piece Mini Container Set Review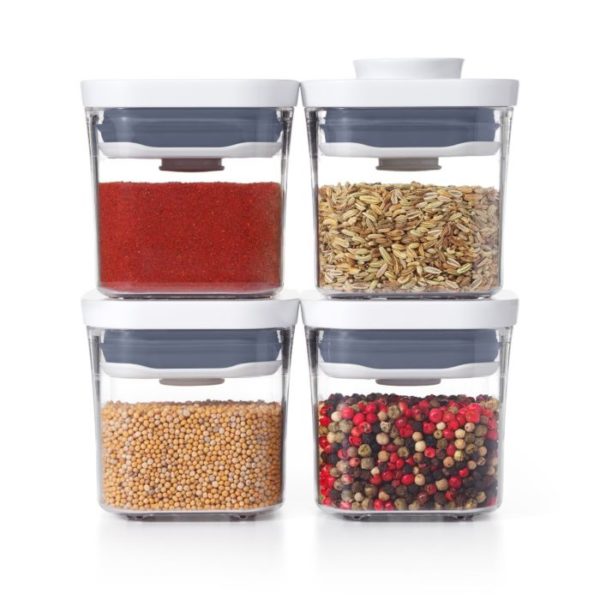 If the previous item in this OXO review seemed a bit overzealous for you (you might've asked who in their right mind needs 20 containers) then the more humble OXO POP 4-Piece Mini Container Set should be right up your alley.
These containers feature the same designs as the previous entry, meaning they are BPA-free, dishwasher-safe, and air-tight. The items contained in this package are all the same size. Each one can hold up to 2 quarts.
Their size makes these OXO containers perfect for holding spices and garnishes in the kitchen, but you can use them all over your house. They're a phenomenal way to clear up space in the washroom or to reorganize your workspace.
The OXO POP 4-Piece Mini Container Set is available for $21. Usually, it costs $28, but it appears that OXO is currently running a sale.
OXO Good Grips 30 Piece Smart Seal Glass & Plastic Container Set Review
As great as plastic can be, there truly isn't any material that can preserve freshness like glass. You won't find any glass containers with year-old curry stains on them nor will they carry any lingering scents of Christmas leftovers.
The OXO Good Grips 30 Piece Smart Seal Glass & Plastic Container Set has 15 different containers and 15 matching lids. The lids are spill-proof and lock in freshness. They're made from silicone so they snap onto the upper lips of the containers.
Each lid snaps onto the containers like an eagle snatching a mouse up in its talons. You don't have to drive a car over them to prove their toughness like Uncle Rico did in Napolean Dynamite. Just know that these lids and containers should last longer than the next presidential cycle.
Additionally, this set also features an array of plastic containers. That makes this set perfect for people who enjoy variety in their organization.
This collection contains the following pieces:
Four round containers of varying sizes
Four rectangular containers
Seven plastic containers
The OXO Good Grips 30 Piece Smart Seal Glass & Plastic Container Set can clean up your leftover drawer for $105.
OXO Prep & Go Utensils with Case Review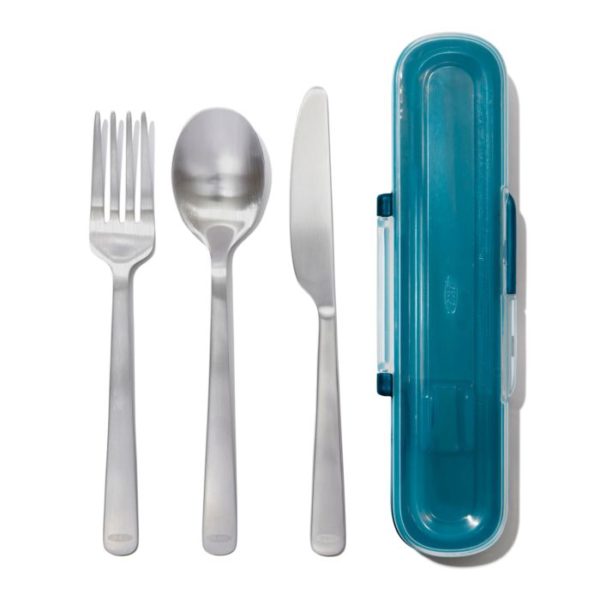 If you've ordered from an online delivery service over the past year you've probably noticed that more companies ask if you would like cutlery included in your purchase.
That's because they're trying to cut down on waste and one of the easiest ways to do that is by moving away from single-use plastics.
You can integrate more sustainable practices into your life by bringing cutlery with you when you eat out. But don't put a fork and knife in a plastic bag like a nerd; use the OXO Prep & Go Utensils with Case.
This item includes a stainless steel fork, knife, and spoon. They can all be stacked on top of each other in a convenient carrying case. Plus, every included item is dishwasher safe.
Prepare yourself for any meal outside of the house with the OXO Prep & Go Utensils with Case for $15.
OXO GreenSaver Produce Keeper (4.3 Qt) Review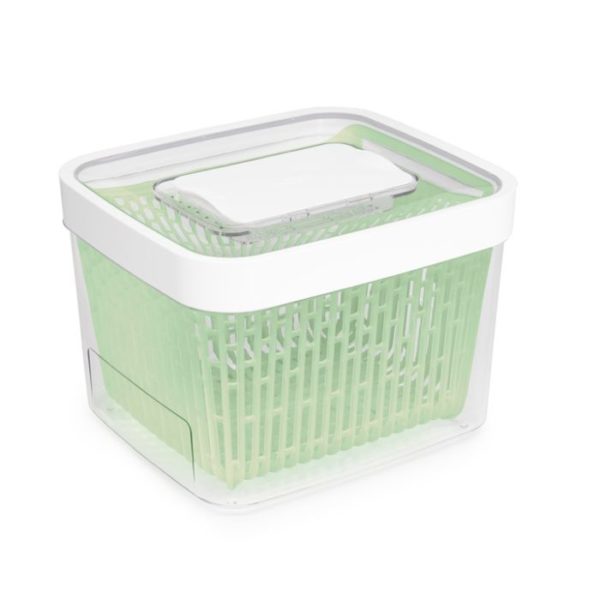 The most common reason people don't eat enough vegetables – besides the fact that most people don't know how to cook them – is that they store them improperly.
Our OXO review writers have read countless complaints from people who wish they could eat more salads but their greens go bad before they have the chance to prep them.
The OXO GreenSaver Produce Keeper (4.3 Qt) can help those in need of a salad saver. It has carbon filters that mitigate damaging gases and has a removable tray so that your produce can get the airflow it needs to stay fresh.
Plus, you can put the included basket to use as a substitute strainer. Why dirty another dish when you can rinse off your veggies in their container, i.e. the OXO GreenSaver Produce Keeper (4.3 Qt).
This lifesaver of an item is BPA-Free and dishwasher safe. It's available for $19.
OXO Coffee Maker Review
Our OXO review writers hate to assign you homework, but we think this exercise can show you the OXO Coffee Maker's worth. This machine can brew up to 9 cups of joe at a time and costs $210.
Now think; how much would it cost to buy 9 cups of coffee from Starbucks? Yeah, that's right, it would cost over a million dollars. Okay, maybe our calculator is broken, but the ability to brew 9 coffees at once without having to worry about water temperature, volume, and brew time sounds like heaven.
The OXO Coffee Maker deals with all those variables to streamline the coffee-making process. All you need to do is add water, add your ground coffee, and press start. It's simple and pure, just like a good cup of coffee should be.
You can reduce your morning routine's stress while amping up your caffeine levels with this stainless steel coffee machine.
OXO Coffee Grinder Review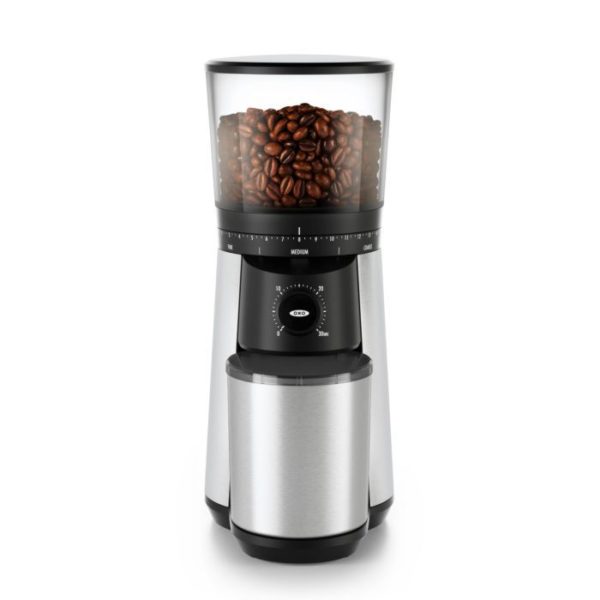 Did you know that chewing raw coffee beans is a faster way to get caffeine into your blood than drinking coffee? Did you also know that it's disgusting?
You're an adult, which means you eat and drink like one instead of a goat. You don't need to chew your coffee beans, especially not when the OXO Coffee Grinder can grind the beans for you.
This machine has 15 different grind settings, which can impact the final taste of your coffee. That gives you more freedom to personalize your coffee. It runs on a timer based on which style of coffee you wish to drink, removing the guesswork that comes from other manual coffee grinders.
The grinding burrs are made from stainless steel so they're both tough and easy to clean. That's a blessing because this product can only be washed by hand.
The OXO Coffee Grinder can turn you from bean-chewing goat to espresso-sipping stud for $105.
Who Is OXO For?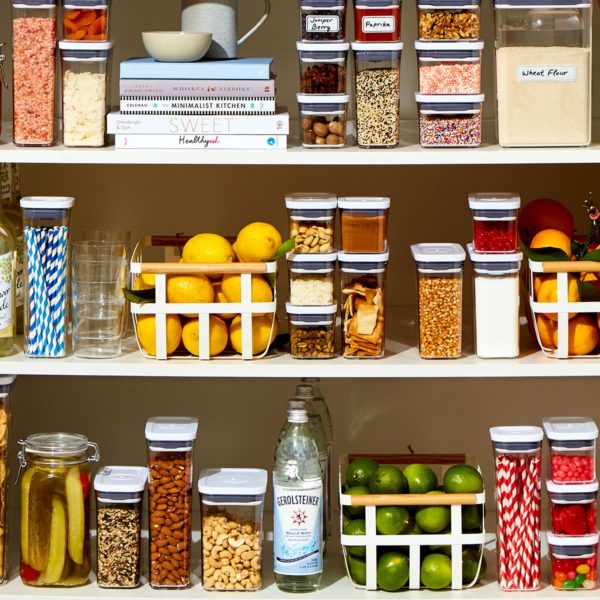 OXO is for people who, simply put, have too much stuff. The problem isn't that these people are hoarders, it's that they need a better way to organize their belongings.
If you or someone you know is battling an addiction to clutter and container collecting then our OXO review writers think this company may have the solution to your problems.
OXO Reviews: What Do Customers Think?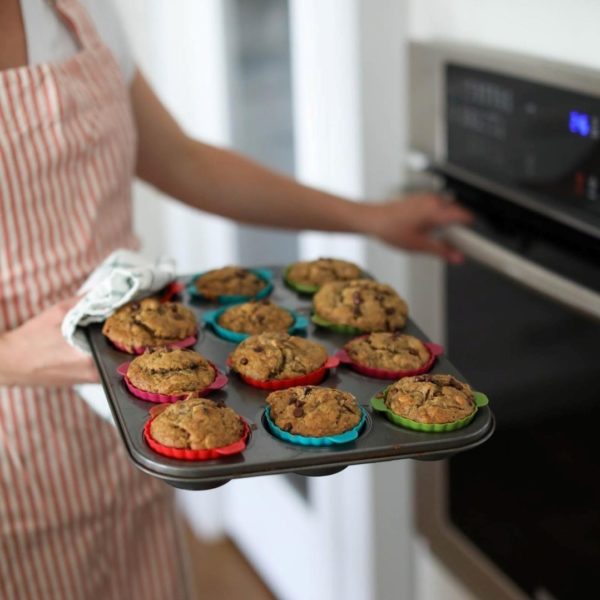 Let's investigate what real customers have to say in this portion of our OXO review. We'll be polling critiques and insights from various websites, but first, we'll start with good ol' Amazon.
Many customers there felt that OXO's items were sturdy, much sturdier than what other similar companies offer. One customer had this to say about the OXO Good Grips 10-Piece Airtight Food Storage POP Container Value Set:
"After having these storage containers for almost a year now I can truly say that I have very please with the build quality and design of these containers. They seal tight and stack well and are also easy to disassemble should you need to clean one of them."
Another shopper said that OXO helped revitalize her dismal spice drawer, cabinet, and more. She said, "One of my ultimate favorite purchases! I have cut down the wasted space in my cupboards by 1/3!!! As a person who LOVES open clean spaces and being able to find her stuff when she needs it, this is perfect!!!!"
We read similar testimonials on the OXO TrustPilot page. There, the brand earned a 3.1/5 stars average score based on 9 pieces of customer feedback.
Here's what one satisfied customer wrote about their experience with OXO: "Have used Oxo products for years. Always really nice designs and great quality materials used. Never needed to contact customer services but that is where real quality begins. But so far so good."
As you can probably assume from the score, there were some less-than-satisfied customers on TrustPilot. They complained that OXO's customer service was unreliable.
However, their reasonings were all different so it's hard to pin down one issue, and since there are so few reviews we have to take it with a grain of salt.
Finally, we turned to ReviewMeta for a comprehensive score of OXO. After adjusting for outliers, they calculated that OXO held an average score of 4.2/5 stars across the internet from over 180,000 customer reviews.
So what did customers think about OXO as a whole? They felt that the containers were awesome tools that helped them declutter their living spaces. Shoppers complimented the products for being well-made and for how easy they were to clean.
Is OXO Worth It?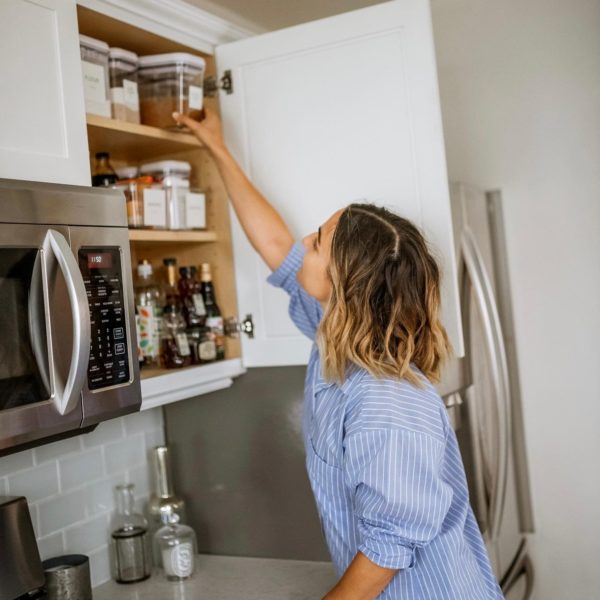 It's worth investing in a good set of containers given how flimsy most of them are. There's nothing worse than reheating leftovers only to see that your Tupperware has evaporated in the microwave.
With that in mind, we believe that OXO's products are reliable and sustainable enough to justify their price tags.
OXO Promotions & Discounts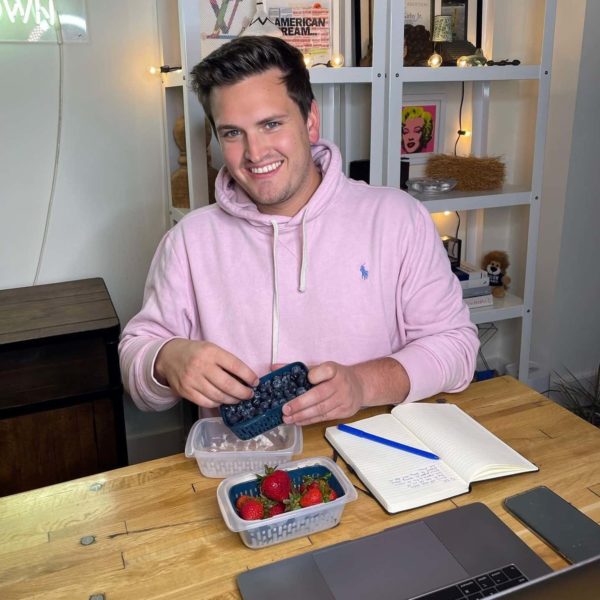 Some of the items previously covered in this OXO review, like the OXO POP 4-Piece Mini Container Set and the OXO 20-Piece POP Container Set, are currently on sale. There are more products available through the OXO website that you can purchase for similarly discounted prices too.
You'll generally save more by buying their products in bundles or in bulk than you would by buying them separately. This isn't the textbook definition of a discount but it's a way for you to save money nonetheless.
Where to Buy OXO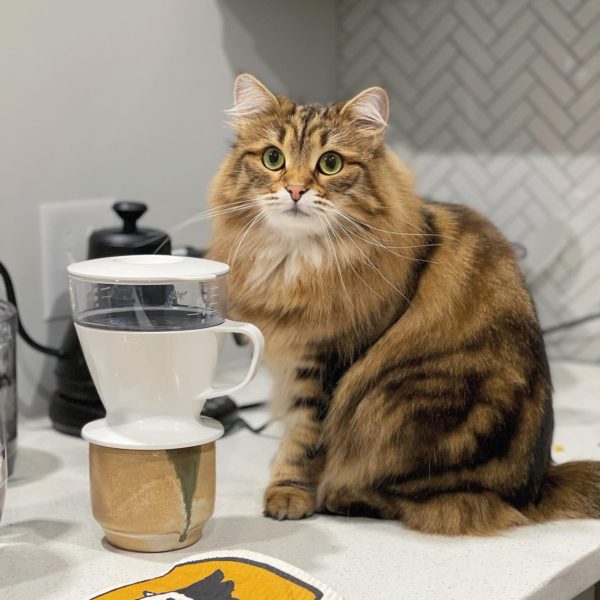 These are some of the places where you can buy OXO products:
Their website, oxo.com
Through online retailers like Kitchen Stuff Plus
Big box retailers like Walmart, Home Depot, and Canadian Tire
FAQ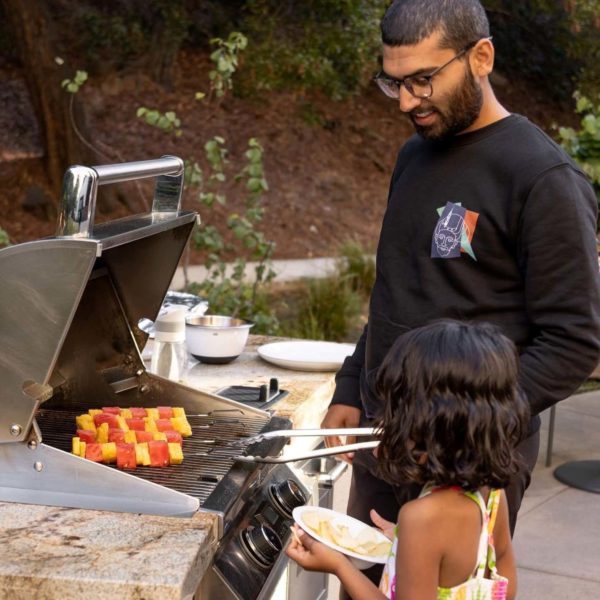 Who owns OXO?
OXO is a subsidiary of the larger company Helen of Troy Limited.
Where is OXO made?
Based on the research we put into this OXO review, it seems that the brand makes their products in the United States and China.
Does OXO ship internationally?
The OXO website can ship internationally but the company recommends contacting an OXO distributor located in your country for more reliable service.
What is OXO's Shipping Policy?
OXO is able to deliver to all 50 states via standard ground shipping. They estimate their delivery time is anywhere between 3 to 5 business days. It costs $10 for orders that weigh up to 9 pounds, then an additional $0.1 for every extra pound.
What is OXO's Return Policy?
Need to return any of your OXO POP Containers? You can return any OXO product for a refund by contacting their customer service department. From there, they can guide you through the rest of the refund process.