About Novogratz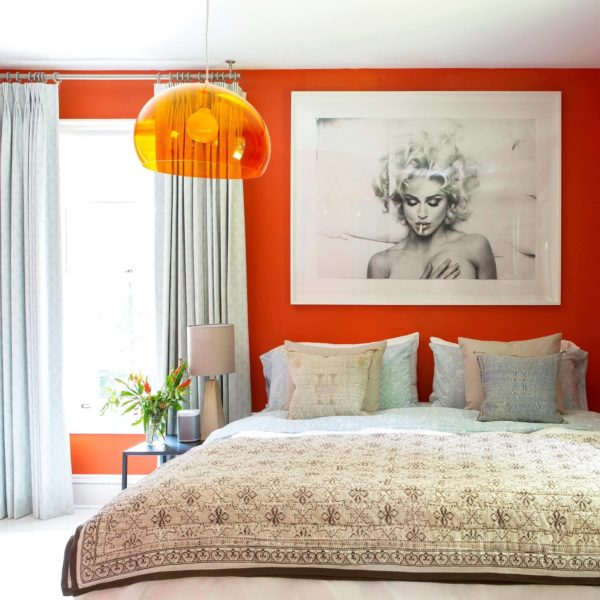 Novogratz is a family-owned boutique that sells modern furniture and urban-chic home decor. From old Hollywood glam to rustic camp house, their designs offer a unique twist to turn any ordinary house into a charming getaway.
Garnering a steady following of over 194K on Instagram, Novogratz has been spotlighted by several media outlets, including Vogue, Bloomberg, and CNBC. They've also made several appearances on television, as both founders star in reality shows 9 by Design and HGTV's Home by Novogratz.
Looking to add a celebrity spin to your house? Perhaps it's worth giving this brand a shot. Keep reading, as this Novogratz furniture review takes an in-depth look at the company, its products, customer ratings, promotions, and more, to help readers make that crucial decision.
Overview of Novogratz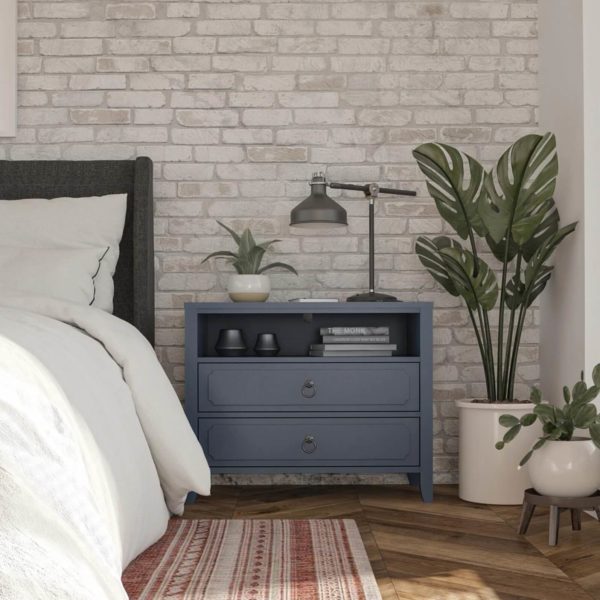 When it comes to interior design, it's best to leave it to the professionals. Founders Cortney and Robert Novogratz have over 25 years of home improvement experience. With hundreds of remodeled LA boutiques and residences under their belt, this husband and wife duo sought to popularize their passions and skills through the power of television.
Starring in their own HGTV and Bravo shows, the Novogratz team worked feverishly to expand their operations. Throughout the years, they have partnered up with several affiliated companies, such as Wayfair and CB2. In an effort to provide fans and amateur interior designers with their expertise, they decided to kickstart their own furniture brand in Los Angeles, California.
Today, the Novogratz shop offers a beautiful collection of contemporary furniture and home decor. From rugs to nightstands, customers can find a variety of unique pieces in several different shapes and designs.
According to Novogratz, their boutique is more than just a home brand. A statement on their website reads, "The Novogratz show their customers a lifestyle through product and content: inspiring people to be fearless in design and fearless in life."
Before we get into this Novogratz furniture review, let's go over some initial pros and cons:
Pros
A variety of furniture and home decor pieces to choose from
Most of their products are available in different colors
Has a side blog dedicated to interior design advice and tips
Positive customer reviews
Offers Afterpay as an alternative payment option
Cons
Limited information on shipping
Think of your house as a baked potato. I know, it's a strange analogy, but just bear with me here. The standard spud is great on its own, but with a dash of paprika, sour cream, and cheese—your afternoon brunch idea just became a 5-star dining experience. Home decor works the same way, like additional 'garnishes' to that final meal.
With a splash of funky rugs, a pinch of charming wallpaper, and a sprinkle of modernized plant stands, Novogratz acts as a 'cheat code' when it comes to amateur interior designing. Their inventory includes an extensive collection of futons, chairs, tables, lighting fixtures, and more.
Need a recipe to follow? Look no further than this Novogratz furniture review. We'll headline a few of their best-selling designs to get things started.
Novogratz Futons Review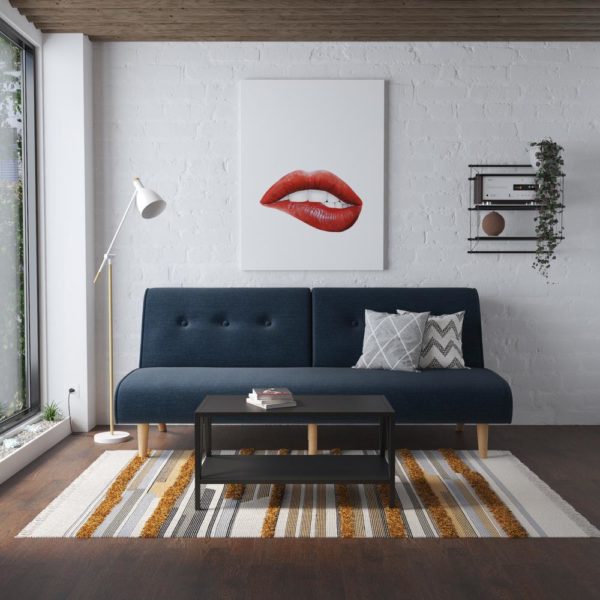 Watch out, Ikea. Novogratz is coming for your wig. Designed with a charming, mid-century touch, customers can choose from a variety of contemporary futons for their living space. Best paired with a throw cushion and a coffee book, this Novogratz furniture review will gloss over two of their most popular models down below.
Novogratz Brittany Futon Review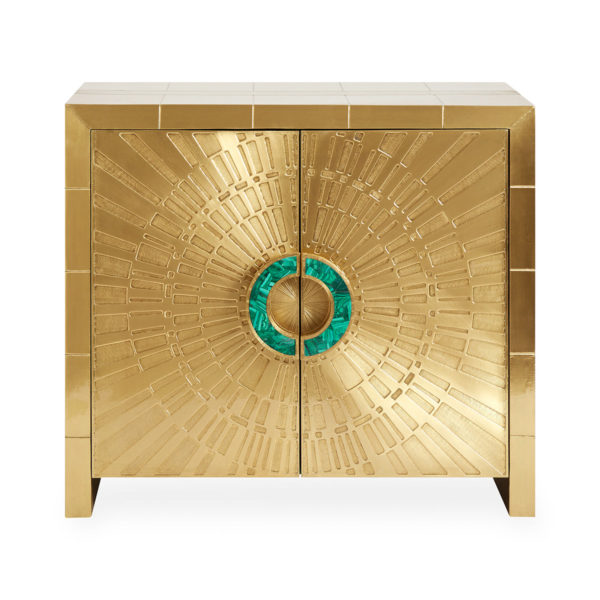 Say goodbye to the standard vinyl couch. Offered in a gorgeous mustard hue, the Brittany Futon comes in a sectioned cushioned back, slanted armrests, and complementary leg stands. It's covered in luxurious linen or leather upholstery, which is upheld by four oak-stained rests.
The best part about the Novogratz brittany sofa futon is that it can be transformed into a temporary bed for guest sleepovers.
In terms of styling ideas, the Novogratz brittany convertible sofa is best paired with an emerald green throw cushion and a matching blanket. Available in other colors such as pink and light blue, add a touch of class with the Brittany Futon for $339.
Novogratz Palm Springs Futon Review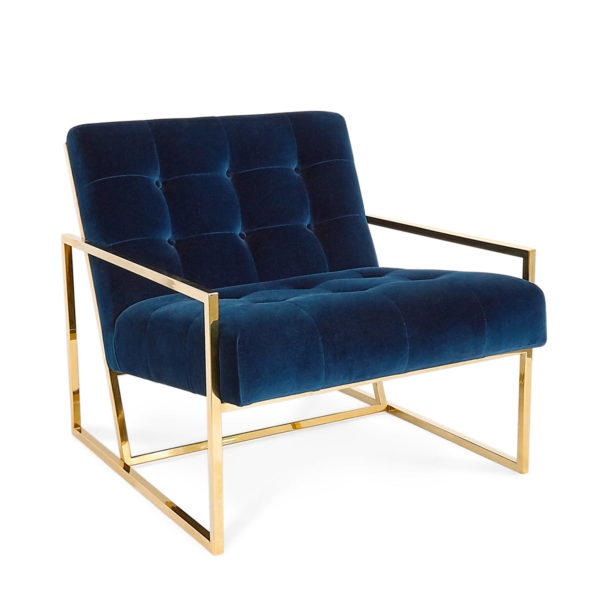 Set your clocks back to the 1950s. The Palm Springs Futon has that vintage class emblematic of the golden age. Offered in colors navy, mustard, and persimmon orange, this elegant couch embodies that slight touch of Jackie Kennedy due to its simple tufted back, rounded corners, and tapered wooden legs.
This Novogratz futon acts as the perfect addition to any contemporary household. We recommend matching it with other vintage decor such as a record holder, wooden accents, and a complementary throw mat from the Novogratz rugs collection.
Twist and shout for the Palm Springs Futon, available for $399.
Novogratz Beds Review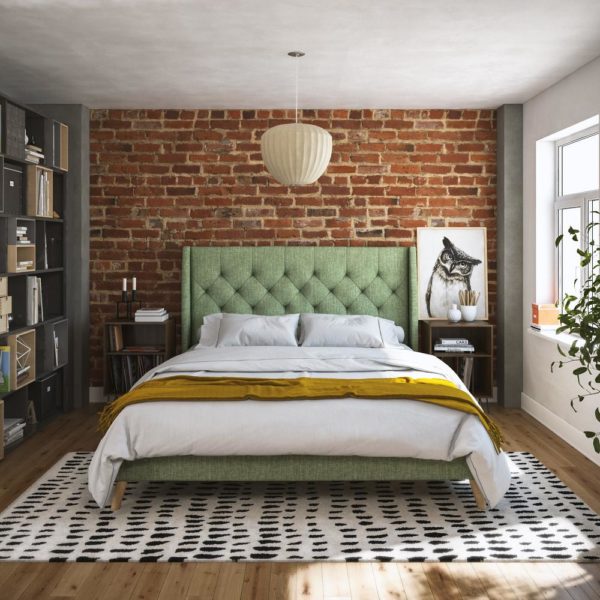 Unless you're comfortable on a hammock, this brand offers a wide selection of trendy beds on their website. From the princess-themed canopy to the classic fence headboard, this Novogratz furniture review will quickly look at one of its customer favorites for readers to consider.
Novogratz Bushwick Bed Review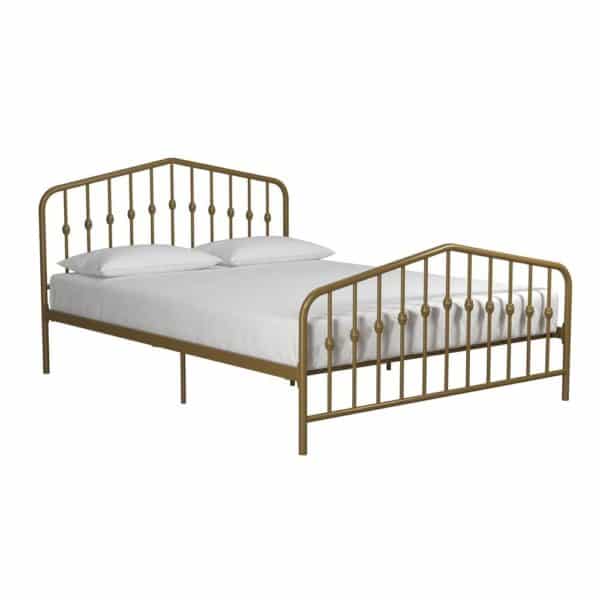 Looking to add a Victorian twist to your room? The Bushwick Bed comes with metal fencing for the head and footboard. Set with round finials as a decorative touch, this charming design offers a touch of 19th-century elegance without going full bells and whistles.
To help bring it back to the twenty-first century, this set is best paired with contemporary colors such as white, grey, black, or even red.
Customers can choose from a variety of different colors for the Novogratz bushwick metal bed. This includes gold, white, black, or sea blue. Offered in sizes full, queen, and king, go for the 'prim and proper' option with the Bushwick Bed.
Unfortunately, this model is currently sold out on their website, but it usually retails for $249.
Novogratz Concord Turntable Stand Review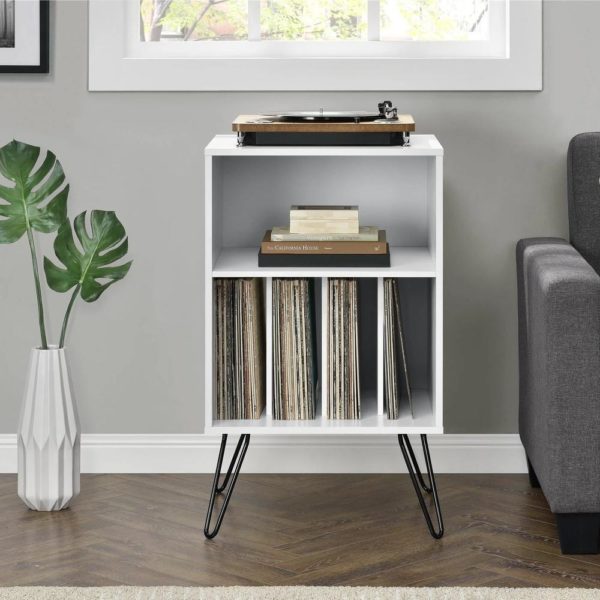 Don't opt for any plastic storage unit. This home decor brand offers a great assortment of stylish compartments and stands to help organize your things. Moving forward, this Novogratz furniture review will look at just one of their best-selling models that may pique your interest.
Novograts Concord Turntable Stand Review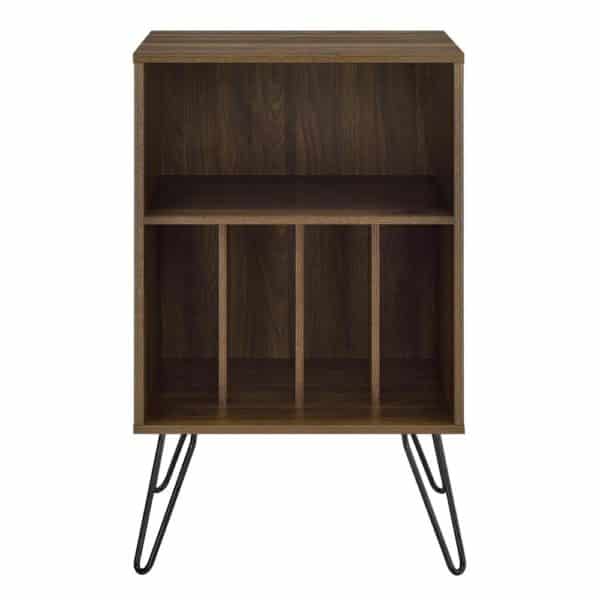 Set with hairpin legs, the Concord Turntable Stand serves as a unique alternative to your ordinary cabinet and cubby space. Made out of laminated particleboard and MDF material, this sturdy compartment can hold your records, books, and knick-knacks all in place. We highly suggest adding an indoor plant of your choice to tie everything in.
If you're savvy on interior design, this Novogratz concord turntable stand will look gorgeous atop a matching rug. We're awarding bonus points to those who've matched their Novogratz sofa to this stunning piece.
Available in colors white, walnut, oak, and more, the Concord Turntable Stand costs $119 at checkout.
Novogratz Rugs Review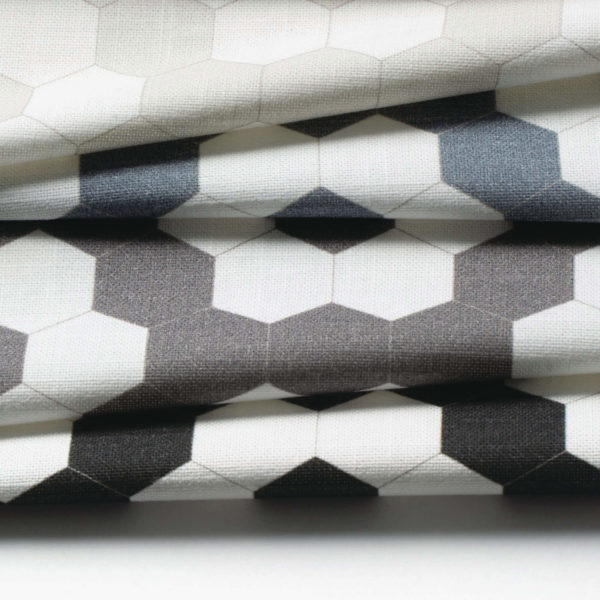 Rugs are considered the 'cherry on top' when it comes to interior design. More often than not, the standard throw mat can help bring the entire look together. If you're looking to add that final touch to your living space, this Novogratz furniture review will highlight one of their cult classics down below.
Novogratz Diamond Indoor/Outdoor Rug Review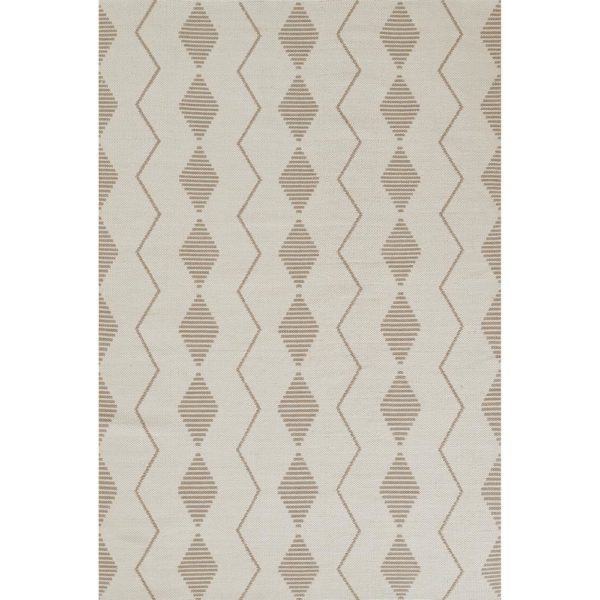 The Diamond Indoor/Outdoor Rug offers that slight sophisticated touch to any backyard patio or front entrance foyer. Featuring a minimalistic design of zigzags and prisms, this beige and white throw mat serves as a stylish addition to all living spaces. And the best part? It's completely versatile, as customers can flip over the carpet to reveal an inverted pattern.
Made out of PET fibers, this sturdy model can withstand pet or kid-related damage. Optimally paired with Novogratz brittany linen futon underneath, the Diamond Indoor/Outdoor Rug is offered in 6 different sizes. We'll only provide three of their price points for readers to look over:
2' x 3': $59
2'3" x 8' runner: $149
5' x 7'6": $299
Who is Novogratz for?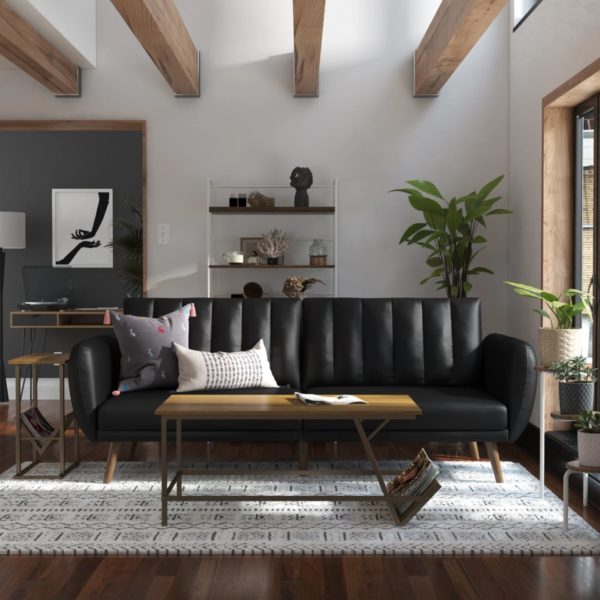 Novogratz seems to be a comfortable middle when it comes to cost. Compared to more expensive brands like West Elm and CB2, this home decor company offers more reasonable prices without sacrificing on quality and design. With this in mind, customers that are within a tight budget may want to give their furniture a shot.
It's also worth mentioning that everything is bought online. While there are talks that Novogratz stores will open in the future, this brand can serve as a speedy option for those who'd rather shop through the internet.
After combing through a few sources online, I'd rank Novogratz furniture up there with Ikea and Bed Bath & Beyond. As it may be a key deciding factor, this online home improvement shop offers more unique designs compared to its two leading competitors.
Comparison: Novogratz vs. West Elm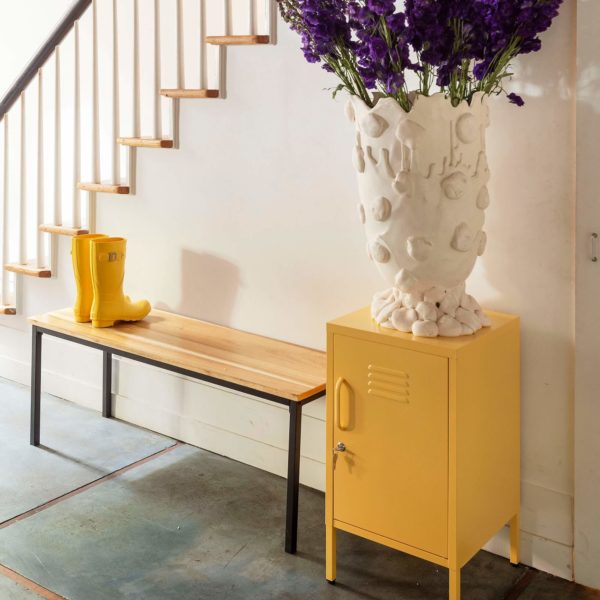 There's no competition here. Novogratz clearly takes the lead when it comes to affordability. Most of their products fall within the $200 to $500 mark when it comes to heavy furniture.
While West Elm is considered the 'hallmark' of all things trendy and unique in the home improvement department, their prices are considered faint-worthy—as a majority of their pieces cost upwards of $1,000 to $2,000.
In terms of design, Novogratz and West Elm seem to offer identical styles and aesthetics. Both companies are known for their contemporary furnishings and home decor. If we were to poke holes, customers do have the convenience of visiting a West Elm store in person compared to its competitor.
Novogratz Reviews: What Do Customers Think?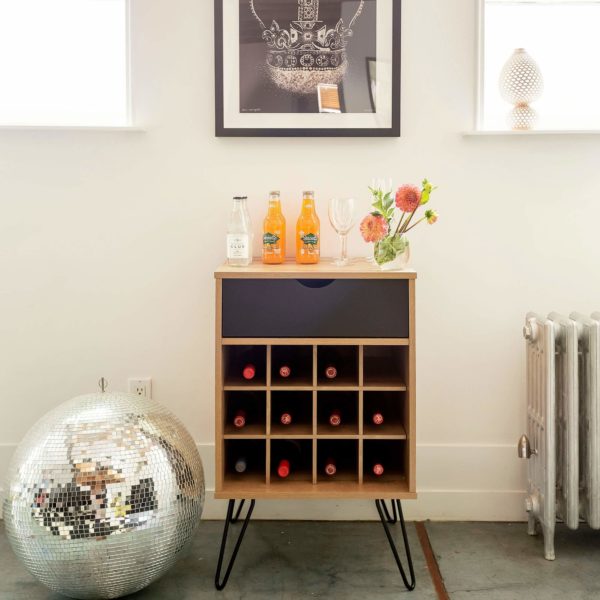 Don't click that checkout button just yet. This Novogratz furniture review has searched far and wide (that is, on the internet) to see how customers are liking this home decor boutique. While there are no testimonials posted on the company's website, we found a good amount of ratings on their Facebook page.
Earning an impressive score of 4.4/5 stars, 68 customers left positive reviews for the brand. A majority of commenters found their designs beautiful, trendy, and easy to put together. This is especially towards the Novogratz bed and couch.
"I love my Novogratz Futon. The color is just exquisite. As a petite lady, I was able to put it together myself with a little grind and grit. Very elegant and plush seating for a small apartment looking to add some beauty," one customer encouragingly wrote on Facebook.
Amazon and Wayfair both hold a sustainable amount of reviews for the Novogratz couch and Brittany Sofa. To give readers a small peek, we'll provide their ratings for some of their products down below:
Amazon—The Brittany Novogratz tufted sofa: 4.1/5 stars based on 6,285 reviews
Amazon—The Linen Brittany sofa: 4.1/5 stars based on 2,600 reviews
Wayfair—The Brittany 81.5" Round Arm Sleeper: 4.5/5 stars based on 6,674 reviews
According to both of these sources, a majority of customers found their sectionals and sofas to be comfy, sturdy, and reasonably priced for their quality.
"Really couldn't be happier with this piece. I bought it for my daughter's playroom, so I have somewhere to sit. It's pretty comfortable for a futon," one Wayfair reviewer wrote for the Brittany Round Arm Sleeper.
Independent blogs, such as Sofa Savant and Don't Waste Your Money, also left favorable reviews towards Novogratz furniture. In terms of their couches and sofas, both authors agreed that their designs proved functional, versatile, and budget-friendly compared to pricier retailers.
This was especially towards their convertible futons that can be transformed into a bed. Sofa Savant wrote, "I am running on quite a low budget throughout the coronavirus pandemic, so I was surprised at the element of comfort available from such an affordable sofa."
Overall, the positive reviews definitely outweigh the negatives. If you can bypass a few unsavory testimonials, there's a high chance that you'll end up with a charming loveseat or bedspread of your dreams.
Is Novogratz Worth It?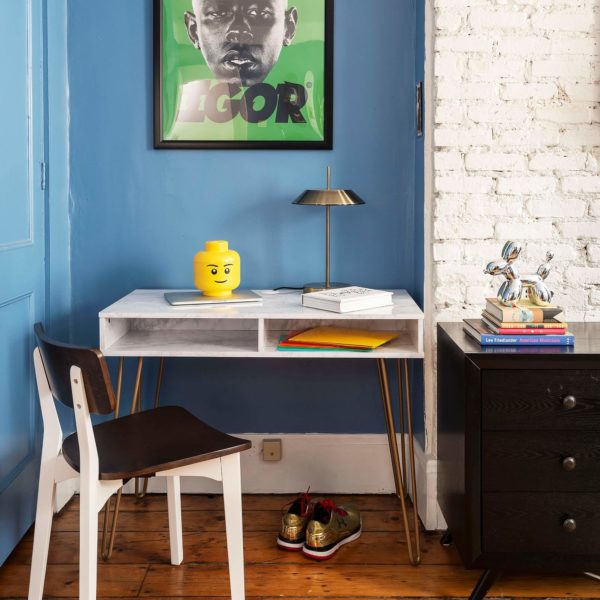 Gorgeous, functional, and affordably priced—what's not to love? This Novogratz furniture review highly recommends adding this brand to your home decor bucket list if you're on a tight budget. Their upscale contemporary designs will flair to any space.
Most of their products feature a unique charm that helps separate them from the competition. More importantly, each furnishing comes in a simplified composition, which makes it easy to pair in your living space without the fear of conflicting color patterns or ideas.
As we mentioned before, Novogratz is considered the cost-effective version of West Elm and CB2. Customers don't need to empty out their savings in order to purchase a decorative futon or lamp. They can have the best of both worlds. So, if you're looking for a middle-ground alternative to Ikea or Horchow, Novogratz is definitely the way forward.
Novogratz Promotions & Discounts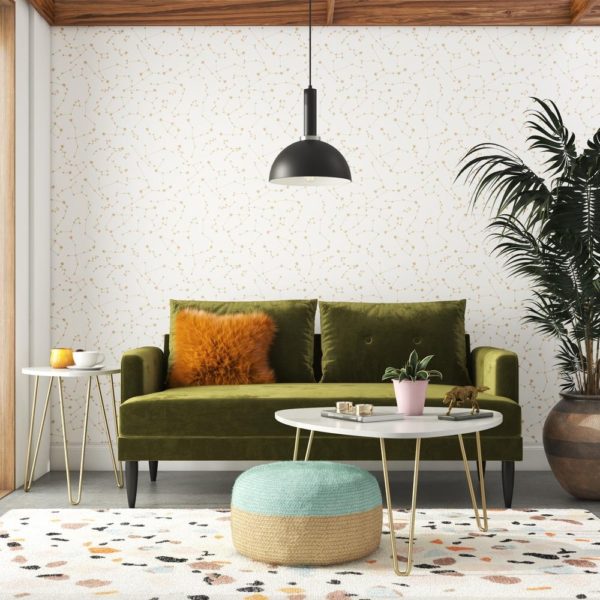 Looking to buy a Novogratz vintage tufted sofa sleeper ii, multiple colors set? There's a chance that you can save some money. Some of their products are on sale, such as the Cecilia Coffee Table. Customers can also get 10% off their next order by signing up for their newsletter.
As of lately, this Novogratz furniture review hasn't found any active discounts or coupon codes that customers can use on their website. We suggest following them on their social media accounts for updates on future promotions.
Where to Buy Novogratz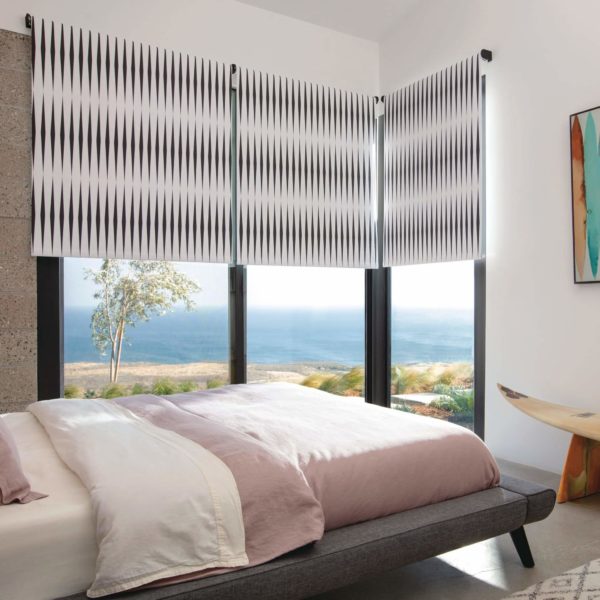 ustomers can purchase their products by heading over to shopthenovogratz.com. You can also find them at select retailers such as:
Wayfair
Amazon
Walmart
AllModern
Staples
FAQ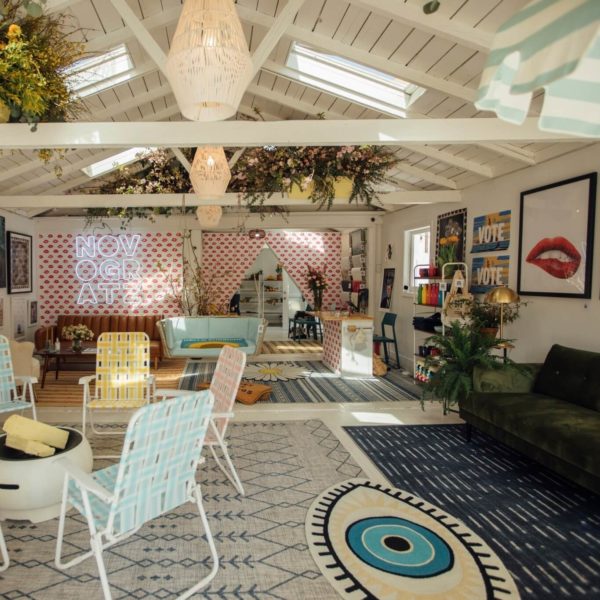 Who owns Novogratz?
If you watch 9 by Design and HGTV on the regular, there's a chance that you already know who owns this home decor brand. Novogratz is co-founded by husband and wife duo Cortney and Robert Novogratz.
Who makes Novogratz furniture?
Co-founders Cortney and Robert Novogratz oversee the design collection for their furniture line. They are also partnered with other companies such as CB2 and Wayfair.
Where is Novogratz made?
This Novogratz furniture review was unable to find out where their products are manufactured. We do know that their headquarters are based in Los Angeles and New York City.
What is Novogratz's Shipping Policy?
After combing through their website, this Novogratz furniture review found very little information pertaining to their shipping policy. It's unclear whether they offer international delivery or a tracking number that customers can use. So far, it seems that they deliver within the US.
We did find out that the brand provides ground shipping only. Depending on the product in question, it can take up to 10 days for orders to process on their website.
What is Novogratz's Return Policy?
Novogratz offers a 30-day window for customers to send back their products. Unfortunately, shipping is not free, and buyers will need to pay a 25% restocking fee as well.
Only select items are eligible for returns, which excludes lighting, framed art, throw pillows and more. To initiate this process and receive further instructions, you can contact their customer service team.