Wondering if Spanx is still worth the hype? Keep reading our in-depth Spanx reviews to find out!
We all have those days that our clothes just don't fit the way we'd like to. On these days, Shapewear such as Spanx are a great way to boost confidence and add a little definition to your curves! Since there are a lot of varying Spanx reviews, we decided to take matters into our own hands and review some of their top pieces.
What is Spanx?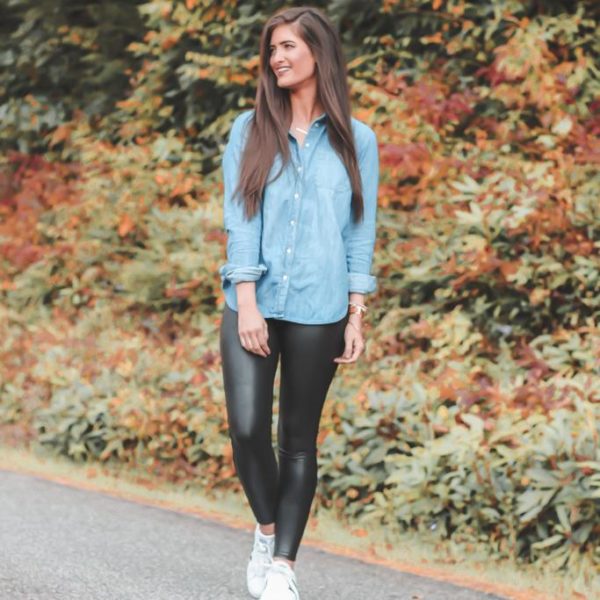 Spanx is one of the most popular shapewear brands around. It was founded by Sara Blakely with just a pair of scissors, pantyhose, and a vision.
From here, she created something genius and wanted to share it with the world to help women feel comfortable and confident. Spanx later grew into selling bras, leggings, underwear, activewear, and so much more.
Spanx Overview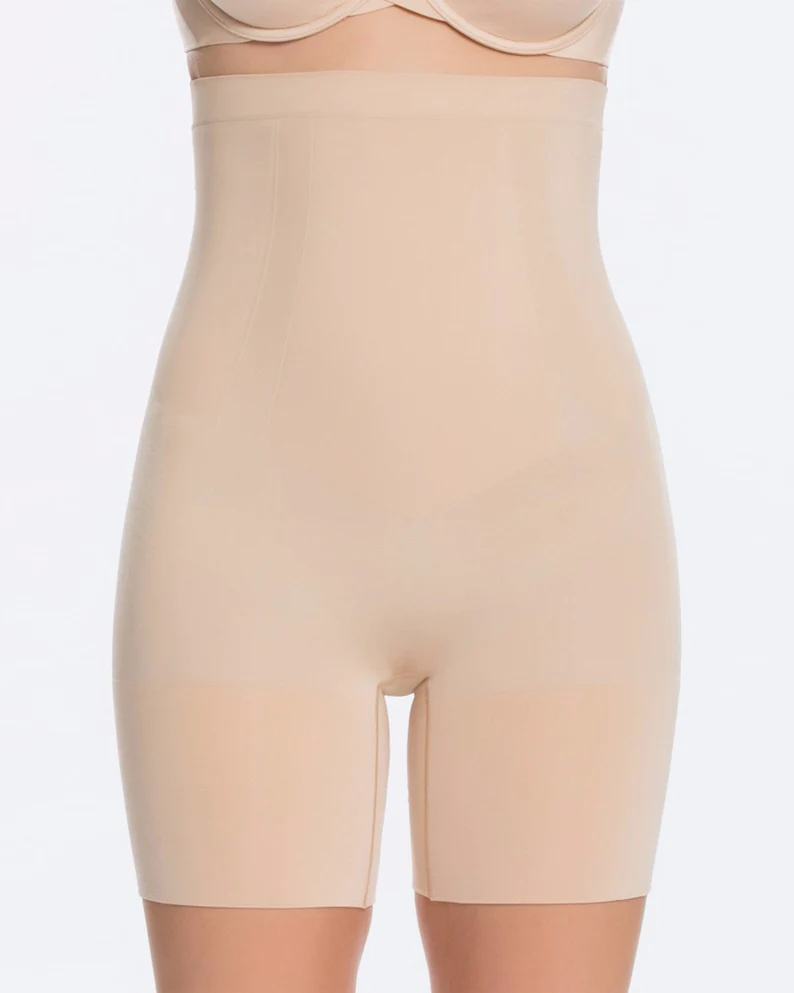 Cost can vary from product to product, but here are some averages for their top products. Of course, prices do vary per item, so it is best to look into the shop yourself for an accurate estimate of their items.
$50–$150 for shapewear
$100 for leggings
$50–$60 for bras
$20 for underwear
Now, Spanx is known for many things – they have quite a few top-rated products that people can't get enough of. We're going to share a few customer favorites!
My Spanx Reviews
My first order didn't consist of too many products since I had never tried the brand before. Having heard so many amazing Spanx reviews about their leather leggings, though, I had to try them out. I also purchased the OnCore Mid-Thigh Short and a pair of underwear.
Overall, Spanx is a great brand to find garments for light shaping for everyday wear. Their pieces are comfortable and great quality. However, they are other shapewear brands out there that do a much better job at shaping, if that's what you're looking for.
Spanx can definitely be considered comfortable! As uncomfortable as the faux leather leggings looked, they fit like a glove and were just as comfy as a regular pair of leggings.
The two shapewear pieces I tried were also very comfortable–I wore them for 8+ hours and completely forgot they were there.
While their shapewear definitely does some enhancing, I have tried brands that do much better (such as Honeylove). That said, Spanx are great for an everyday shapewear that you don't want to think about all day!
Even the leather leggings do a great job at enhancing my curves. And they make my booty look amazing!
Although I've only had these for a couple of months, I can tell the quality is good. The fabric is thick and well-made. I've also worn them quite a few times and they still look brand new after 10+ washes.
Faux Leather Leggings
These sexy faux leather leggings are one of Spanx's bestsellers, and there's definitely a reason. They provide an edgy look while hugging your curves like there's no tomorrow!
They also feature a hidden shaping feature to give you all the lift, flattening, and curve enhancing you could want while keeping in on the DL.
They're a little spendy at $98, but they're great quality and are worth every penny.
OnCore Mid-Thigh Short Review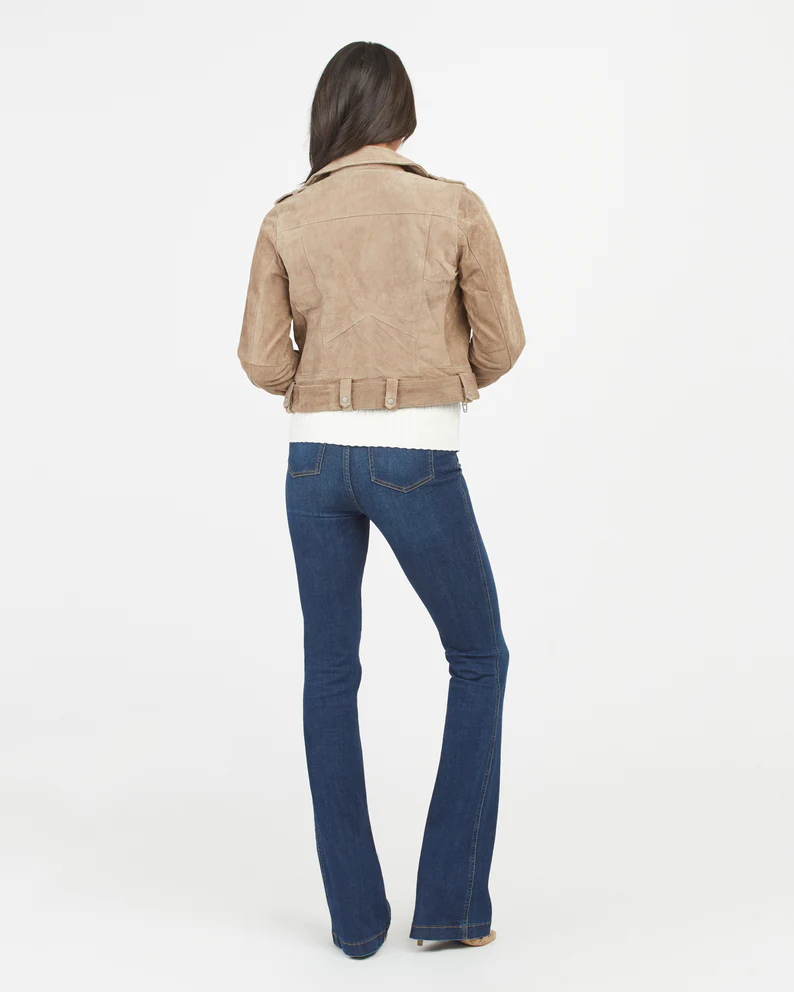 Available in 5 different shades, these lightweight sculpting shorts are the perfect addition to your outfit.
They feature a flat-tummy effect, with a comfortable fit for natural-looking slimming without having to squeeze into. These shorts are hot and are available on Spanx for only $64.
Bra-llelujah Review
Available in a few different shades and styles, this customizable bra works to add support, comfort, and freedom.
It has been voted one of the top bras for its custom features and cloud-like softness! Price varies depending on if you want unlined or full coverage.
What Other Customers Are Saying
Since I'm only one person, you'll want to know what other customers have to say, right? After searching through hundreds of Spanx reviews online from sites like Reddit, here are the main points of feedback about Spanx:
Good quality
Holds shape after washing
Comfortable
Good for everyday wear
Customer service can be hard to get in touch with
Spanx vs. Other Shapewear Brands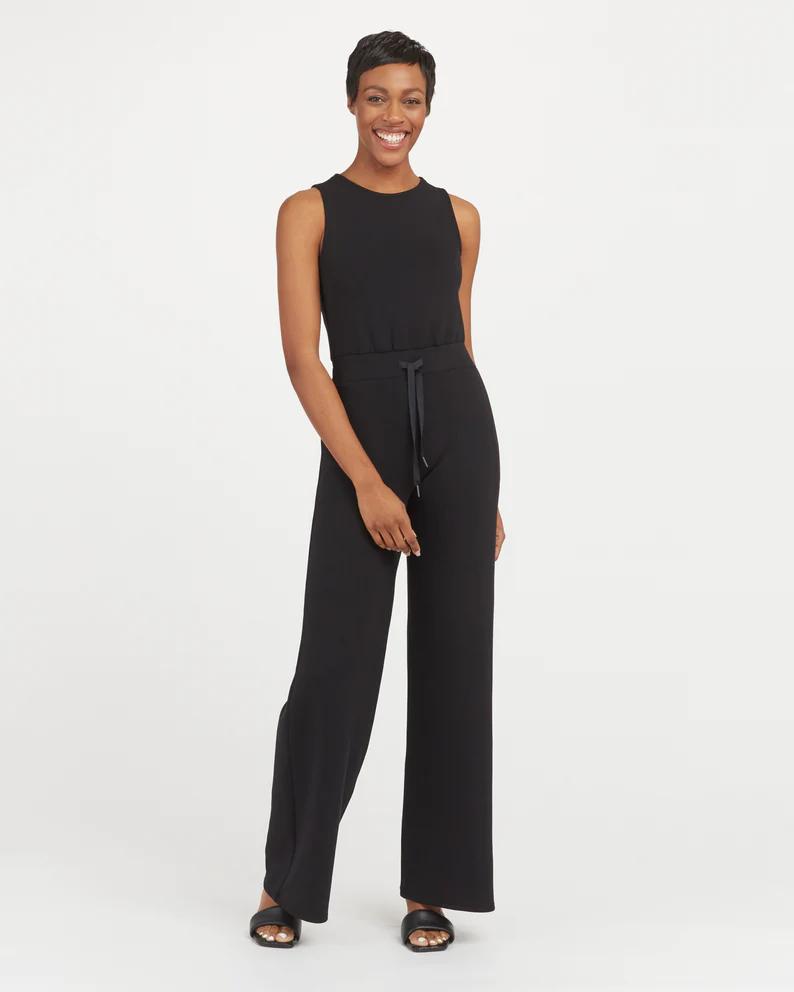 Although Spanx is one of the most popular brands, there are a few others that are worth comparing to when it comes to shapewear. For example, Skims and Honeylove are two other high-end brands that compete with Spanx. What's the difference?
Here are some key features about each brand:
Not many options (only a few pieces of shapewear)
Their small selection is thoughtful and high-quality
Excellent shaping
Free shipping on all orders
In our experience, Honeylove offers better shaping, but isn't as comfy
Check out our review for more details
Skims:
Variety of product choices
More comfortable, but less shaping compared to Honeylove
Check out our review for more details
In my opinion, it's my least favorite out of all 3 brands
Spanx:
Largest variety of items, including clothing
Free shipping on orders over $75
More comfortable, but less shaping compared to Honeylove
Return Policy
According to their policy, Spanx accepts returns within 90 days of purchase and a refund will be returned to your original method of payment. Return shipping is free for those in the US, but those shipping internationally must cover the return shipping fees.
Overall: Is Spanx Worth It?
This depends on what you're looking for as well as your body. Having experienced most of their top competitors, I wouldn't recommend Spanx if you're searching for the best possible shaping. I'd recommend checking out Honeylove as an alternative.
But, if you're looking for decent shaping and super comfortable pieces, Spanx is definitely worth trying out! I'd 100% recommend their faux leather leggings because those bad boys are incredible.
OnCore High-Waisted Mid-Thigh Short
Product Description
Looking for a total transformation? You're in the right place. This sculpting shaper is lightweight and powerful, featuring fully-bonded front-panels for a tabletop flat stomach and edge-bonded side panels for comfortable, squeeze-free slimming.
Details
Comfortable sculpting power with less bulk
Bonded tummy panel flat-out flattens
Side panels offer squeeze-free slimming and easy movement
Leg opening stays invisible under clothing
Booty enhancing pockets prevent uni-butt
Double-gusset opening for ease when nature calls
Care Instructions
80% Nylon, 20% Elastane.
Machine Wash Cold, Gentle Cycle. Only Non-Chlorine Bleach When Needed. Lay Flat To Dry. Do Not Iron.
Size & Fit
The OnCore High-Waisted Mid-Thigh Short offers our most powerful compression. If you're between sizes, fans recommend sizing up.
Faux Leather Leggings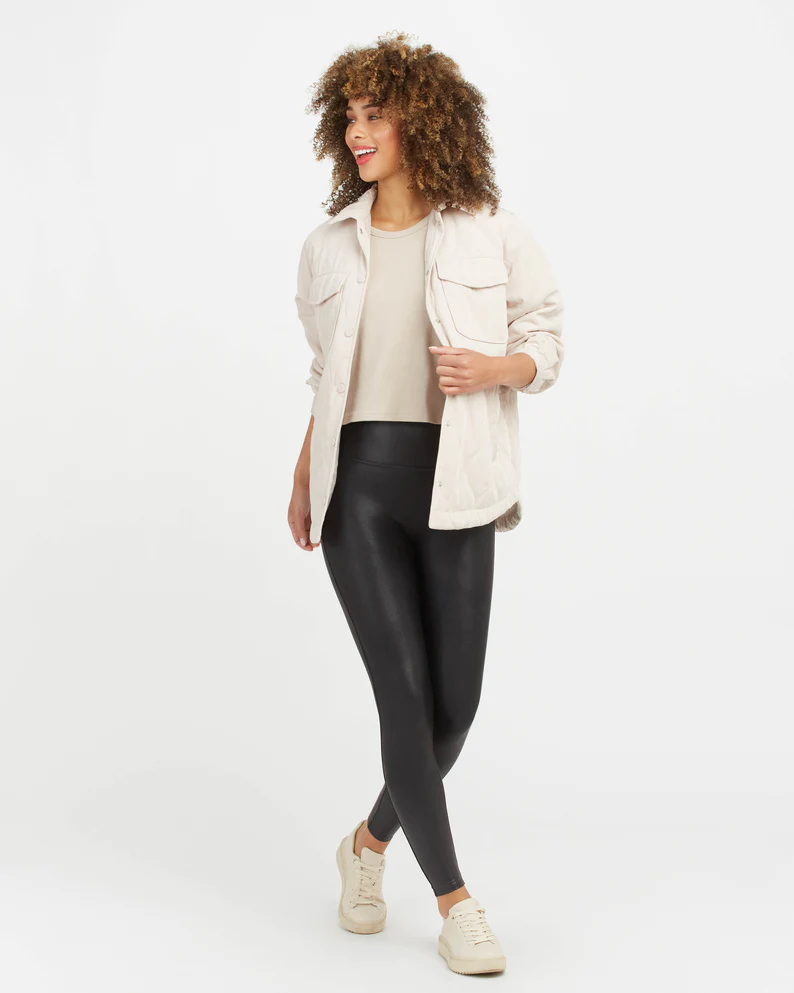 Product Description
Faux Leather Leggings are a total compliment magnet and keep you ultra-comfortable. Featuring our contoured Power Waistband, this style gives you a flat gut and great butt. In these leggings, you're everyone's asspiration!
Details
Contoured Power Waistband offers tummy shaping and a perky rear view
Center-seam free = no more camel toe
High-waisted design for great coverage and no muffin top
Care Instructions
Body: 87% Nylon, 13% Elastane With Polyurethane Coating. Lining: 80% Polyester, 20% Elastane.
Machine Wash Cold, Gentle Cycle. Do Not Use Fabric Softener. Inside Out. Only Non-Chlorine Bleach When Needed. Lay Flat To Dry. Do Not Iron.
Size & Fit
Many fans say these fit somewhat small – expect some compression
Fit tip: 5'4″ or under? Try our Petite inseam. 5'9″ or over? Try our Tall inseam
Regular Inseam: Product stretches on body to accommodate up to a 34" inseam
AirEssentials Sleeveless Jumpsuit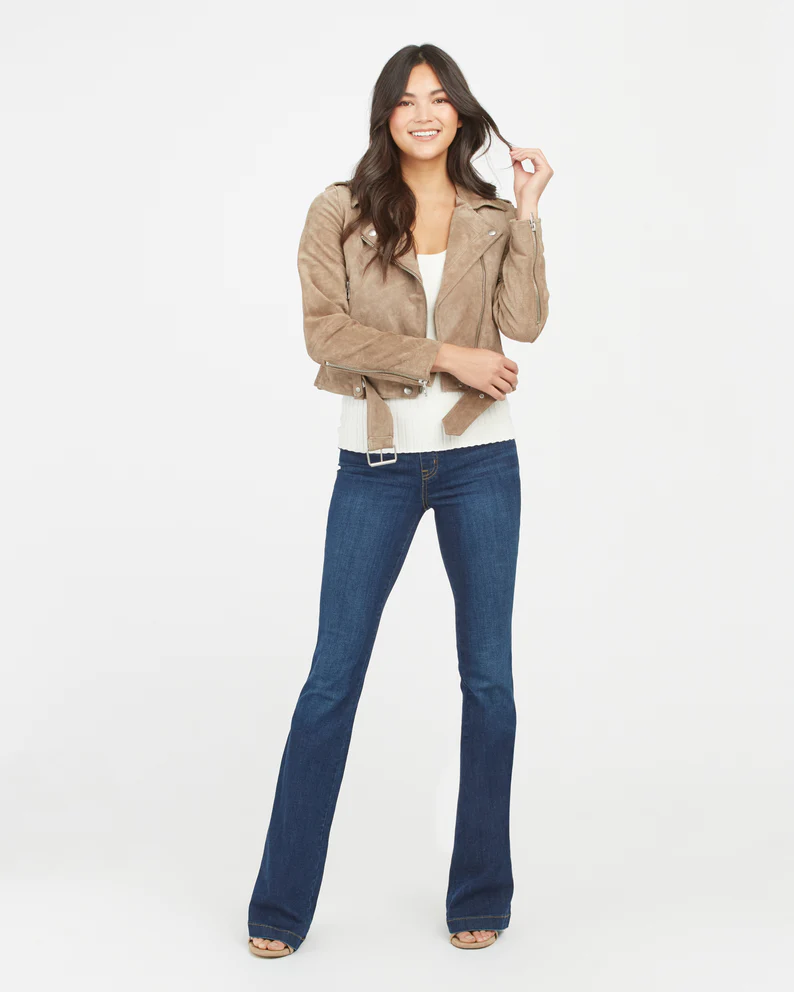 Product Description
Made with spacer fabric that's lightweight, luxuriously soft and ultra drapey, this AirEssentials Sleeveless Jumpsuit is your one-stop-shop for total comfort and flattery. Designed with refined comfort to feel silky against your skin, this throw-on-and-go style will take you anywhere and everywhere.
Details
Light-as-air fabric
Fine knit structure offers maximum softness
Optimal air flow and circulation for all-day comfort
4-way stretch for easy movement
Cinch waist design with draw string for custom fit
Care Instructions
Body: 47% Modal, 46% Polyester, 7% Elastane. Pockets: 80% Polyester, 20% Elastane.
Machine Wash Cold, Gentle Cycle. Inside Out. Only Non-Chlorine Bleach When Needed. Tumble Dry Low. Low
Iron If Needed.
Size & Fit
Insider Tip! For the best fit for our Jumpsuits, we recommend selecting your size based off your tops measurements
Available in XS-3X, petite, regular and tall
Inseams: Petite = 28.5"(recommended for 5'4" and under), Regular = 30.5", Tall = 33.5" (recommended for 5'9" and above)
Flare Jeans, Midnight Shade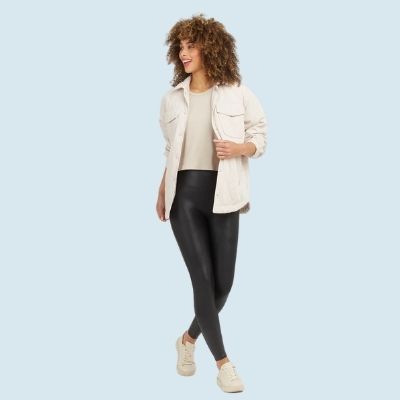 Product Description
Designed with comfortable stretch denim, high-rise coverage and hidden tummy shaping, our pull-on Flare Jean is a "jean come true." It's the perfect match for your tees, sweaters, tanks and everything in between.
Details
Pull-on design = less bulk and a completely flat front​
10.5" flare leg opening
Structured stretch-fabric for easy movement and comfort​
Hidden tummy shaping
Care Instructions
Body: 91% Cotton, 7% Polyester, 2% Lycra® Elastane. Lining: 70% Polyester, 30% Cotton.
Wash Before Wearing. Machine Wash Cold, Gentle Cycle. With Like Colors. Inside Out. Only Non-Chlorine Bleach When Needed. Tumble Dry Low. Low Iron If Needed.
Size & Fit
Hits at natural waist for great coverage (and no muffin top!)​
Fitted through hip and thigh with a flare leg
Inseams: Petite = 32" (recommended for 5'4" and under), Regular = 34", Tall = 37" (recommended for 5'9" and above)
If you prefer to wear flats or sneakers, we recommend selecting a shorter inseam.