Matt is a professional painter who owns and operates his own painting business, specializing in interior and exterior house painting.
Painting a Nursery with Benjamin Moore Regal Select
I painted a nursery for a customer who really wanted to use Benjamin Moore Regal Select paint and one of their colors instead of the Sherwin Williams paint I normally use. Having used Regal Select interior paint several years ago with good results, I thought this would be a good opportunity to use the paint again for a review.
For this painting project, I painted the nursery walls with Benjamin Moore color Super White (OC-152), using the pearl finish, which is similar to satin. The pearl finish is shinier and more washable, but less shiny than semi-gloss.
My overall experience using Regal paint for this project was very positive. I painted only the walls with this product, using Behr urethane alkyd enamel (supplied by my customer) for the trim and door. The walls were previously painted a darker gray, requiring a separate coat of primer to help the Super White cover without having to apply multiple coats.
Painting Interior Walls with Regal Select Paint
Like most premium paints, Regal Select is self-priming, but I primed the gray walls in the nursery white with one coat of Insl-X Aqua Lock water-based primer anyway. If you're painting a really light color over a dark color it's cheaper and more effective using one coat of inexpensive primer instead of buying extra gallons of premium paint and applying multiple coats.
Glossy white wall paints tend to cover poorly over dark colors without a flat prime coat, even if your paint is 'self-priming'. For more information about self-priming paint, check out my article What You Should Know About All-in-One Paint and Primer.
Benjamin Moore Regal Select Performance on Walls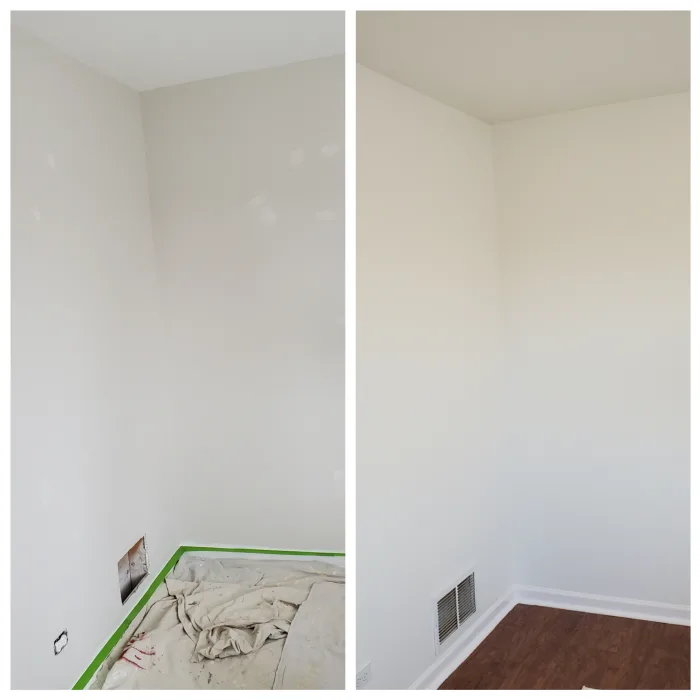 The coverage: Premium paints, like Regal Select, contain a higher volume of solids to help the paint cover better in fewer coats. Cheap paints are usually thin and watery and cover poorly due to having less solids in the paint. The percentage of solids in the pearl (satin) finish is 40.5%, which is pretty good and on par with Sherwin Williams paints I use. The flat and eggshell finishes have a slightly higher percentage than that. When painted over the white Aqua Lock primer I used, the Super White color covered perfectly in two coats, with some minor touch-up work needed in the corners.
Cutting-in: Nothing is more annoying than cutting-in walls with paint that's too thick and doesn't go on easily. One of the worst paints for cutting-in is Behr interior paint. The paint is too thick and difficult to brush on. While Regal Select is fairly thick, the pearl paint spread into corners easily with my Purdy Clear Cut brush, one of my favorite brushes for cutting-in walls. I was able to cut-in a second coat after about one hour of dry time.
Rolling: I used a lint-free fabric roller with 1/2-inch nap to roll the paint onto the walls. The first thing I noticed is how little the paint splatters, even less than Duration Home from Sherwin Williams, a similar wall paint. The paint rolled onto the walls nicely with the fabric roller I used. The coverage was excellent. I didn't have to constantly dip the roller in the tray over and over again.
The finish: I used the pearl finish, which is Benjamin Moore's version of satin for this particular paint. My customer wanted the nursery walls to be more smooth and washable. If you want your walls to be more washable and stain resistant the pearl finish is ideal. The paint dried evenly without roller marks or streaks showing.
The odor: The paint is zero VOC. The wet paint gave off odor while rolling the paint, but the smell wasn't any worse than other paints I've used. I paint walls a lot with Duration Home, but it's low VOC, not zero VOC. Duration smells like Windex when wet on walls and becomes odorless as it dries. With a window open, the Regal Select paint dried in less than one hour without lingering fumes.
The price: Like most premium paints, you pay more per gallon for Regal Select, but you get what you pay for. With that said, at the full price of $63.99 for the pearl finish, this paint isn't cheap, but it covers really well in fewer coats. You can buy this paint at lower prices too through a Benjamin Moore dealer. Many family owned paint stores sell Benjamin Moore paints and allow you to open a store account to buy their products at a discount. See what kind of discount pricing you can get by opening a store account at your local paint store.
Is Benjamin Moore Regal Select Worth the Price?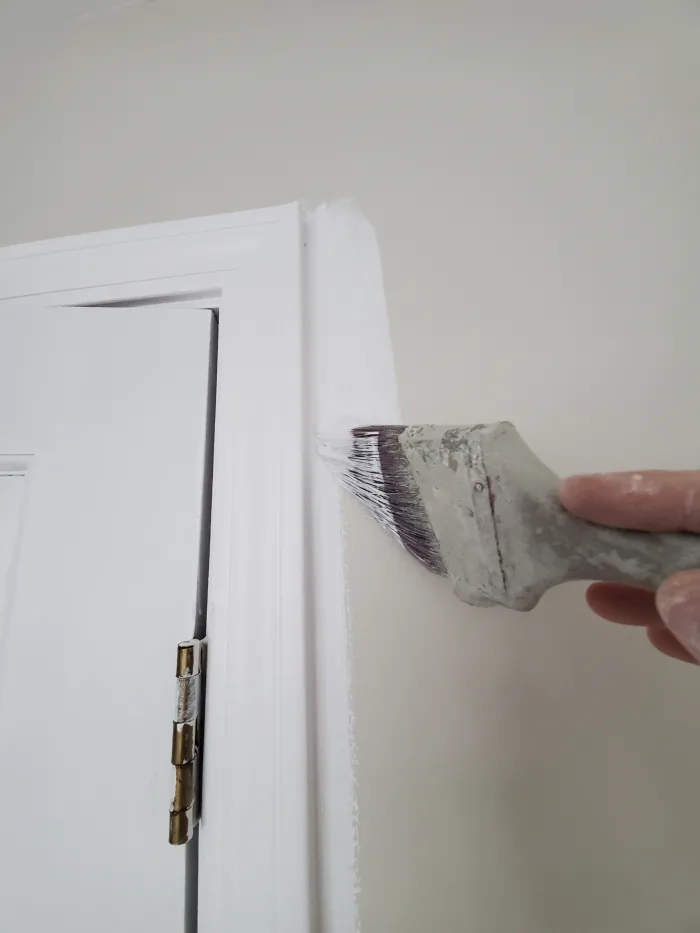 I didn't have any problems using Benjamin Moore Regal Select on this painting project or past projects. If you're a fan of Benjamin Moore, you can't go wrong with this paint. The paint covered good in two coats over primer with very minimal splatter, or odor. For those wanting a zero VOC paint, this is a good option. The paint also dries really fast. I was able to apply the second coat about one hour after the first coat.
Regal Select is a good alternative to Benjamin Moore Aura, which is very expensive. If you don't want to fork over almost $100 per gallon for that paint, go with the Regal line. It is one of the best Benjamin Moore paints I've used so far, and it performs a lot better than the original Regal Classic.
But if the $70 per gallon price is too steep, go with Benjamin Moore's Ben, or one of the less expensive paints from Sherwin Williams. Is Benjamin Moore paint better than Sherwin Williams? I've used Sherwin Williams paint for over twenty years. Their Duration Home paint is very similar in performance to Regal Select. Both brands sell good and bad paints, but I don't believe one is better than the other.