Our team is dedicated to finding and telling you more about the web's best products. If you purchase through our links, we may receive a commission. Our editorial team is independent and only endorses products we believe in.
Eunice Byun and David Nguyen don't have experience with kitchenware. They're not professional chefs. And they'd never built a company.
But none of that mattered when they founded Material Kitchen, a new category of tasteful kitchenware, designed and curated for modern home cooks (like… them). Tired of kitchenware that was expensive, clunky, and often highly reviewed but low in quality, Eunice and David filled their own customer void by building their own brand of kitchenware that 'peeled away the excess.'
I stumbled upon Material because my knives were dull, spatula was in shambles after years of flipping hundreds of latkes, and my tongs were on their last leg. After recently making an investment in some pans and pots that were nice-looking (AKA Instagram famous), but didn't actually perform as advertised, I felt burned, but eager to bounce-back with a new set of classic, but cool and reliable knives, spatulas, tongs and the like.
The Material Experience

Like Byun and Nguyen, I relish cooking for friends and family; sure, it can be stressful to plan, prep, cook, time, and execute, but sharing food is sacred to me. And having the right, reliable kitchen tools is critical. Material's "Iconic" set felt right for me for myriad reasons. Glowing reviews. Gorgeously designed products. But I was most drawn to the fact that Eunice and David were outsiders in the kitchen and restaurant industries. Nguyen spent years at Chanel and Valentino, leading business planning, and Byun was most recently a VP of digital marketing at Revlon.
More broadly, their less is more approach resonated, and it's a consistent theme throughout their brand — demonstrated in the design of the products, messaging on the website, packaging, and even in the company's choice to invest in a factory in Southern China where artisans have made knives, scissors, and other cooking utensils for 1,400 years (Yangjiang Province).
Cool Story — But Is It Legit?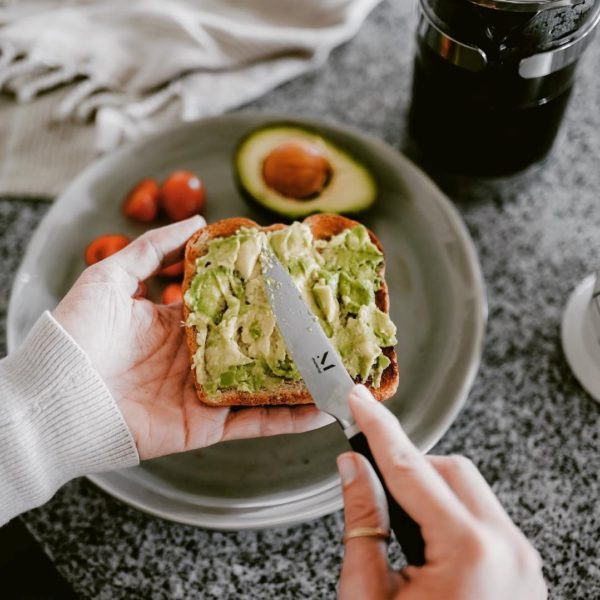 Prepare for a pathetic statement: I've never been so happy to slice a tomato. Weird, right? Perhaps. But these knives (one 8", one Serrated 6", and the Almost 4 knife) slice just about everything like butter. With three layers of Japanese steel, these are the real deal. And since I live in a very salad-forward household, where we're slicing veggies non-stop, these three knives have been getting a ton of use and deliver consistently exceptional quality. I also appreciate that the knives have a cool, non-stick grip, plus the subtle "M" logo embossed on one side of the knife has an effortlessly cool look to it.
Alongside all those veggies we're eating in salads, our cast iron skillet is a staple, which is why the slotted spatula has been a gift. It's easy to clean, stainless steel, and has a sturdy weight to it. Similarly, the slotted spoon is incredibly versatile, at times acting like a miniature colander.
Material's "Only Tongs" are stainless steel, dishwasher safe, have a sturdy weight to them and are virtually indestructible. But I won't lie — these tongs threw me for a loop. Let me explain. The tongs are uniquely designed so that they lock when you hold them up, and unlock when you hold them down. Once I figured that out, it was intuitive and useful. Key words: "Once I figured that out." Please forgive me when I say I felt like I was taking the SAT trying to figure these things out. I was lost, and as my girlfriend watched me struggle, I'm pretty sure she also struggled wondering how and why she was still with me.
The Iconics set also includes a wooden spoon, air whisk, and a base that holds the entire group. I chose the one that's a vivid walnut color, which pops from our off-white countertops without calling too much attention. And the section that holds the knives is magnetic, a simple design trick built to make it that much more functional.
The founders of Material tuned into exactly what I needed with this set: to execute more with less, so I wouldn't need as many products.
So — What's Next With Material?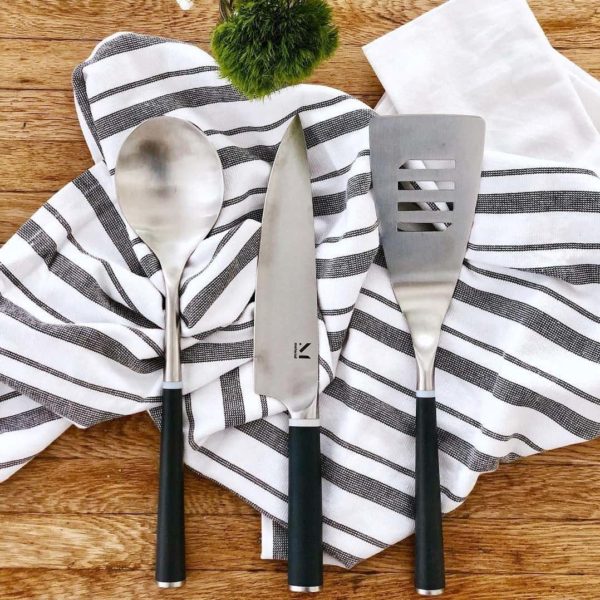 You can buy the entire "Iconics" set for $245, or buy individual items piecemeal; a knife, for instance, costs $75.
But Material isn't a one trick pony. The brand's got you covered on everything from your countertops, using recycled plastic and renewable sugarcane, to teflon-free, fume-free pots and pans.
Next up, as the world reopens and I plan to bring people together around our dining room table, I'm eying Material's super delicate, ceramic style tableware. Everything in this collection is designed and produced by Soil Baker founder Hye Rin Yang, a South Korean female ceramicist. Each piece in this collection is crafted from natural Korean soils and draws upon the rich history of Yeoju, a city known for its rich ceramic history; artists have been producing here since 918 AD.
I'm drawn to humble beginnings because they make what often seems unattainable — be it fame, wealth or building something with near universal appeal — feel within grasp. These stories deliver a sense of hope that there is no single, identical path to 'success.' Eunice Byun and David Nguyen have carved their own humble narrative, and I confess, I'm a sucker for their story.
But not so much their tongs (…just kidding).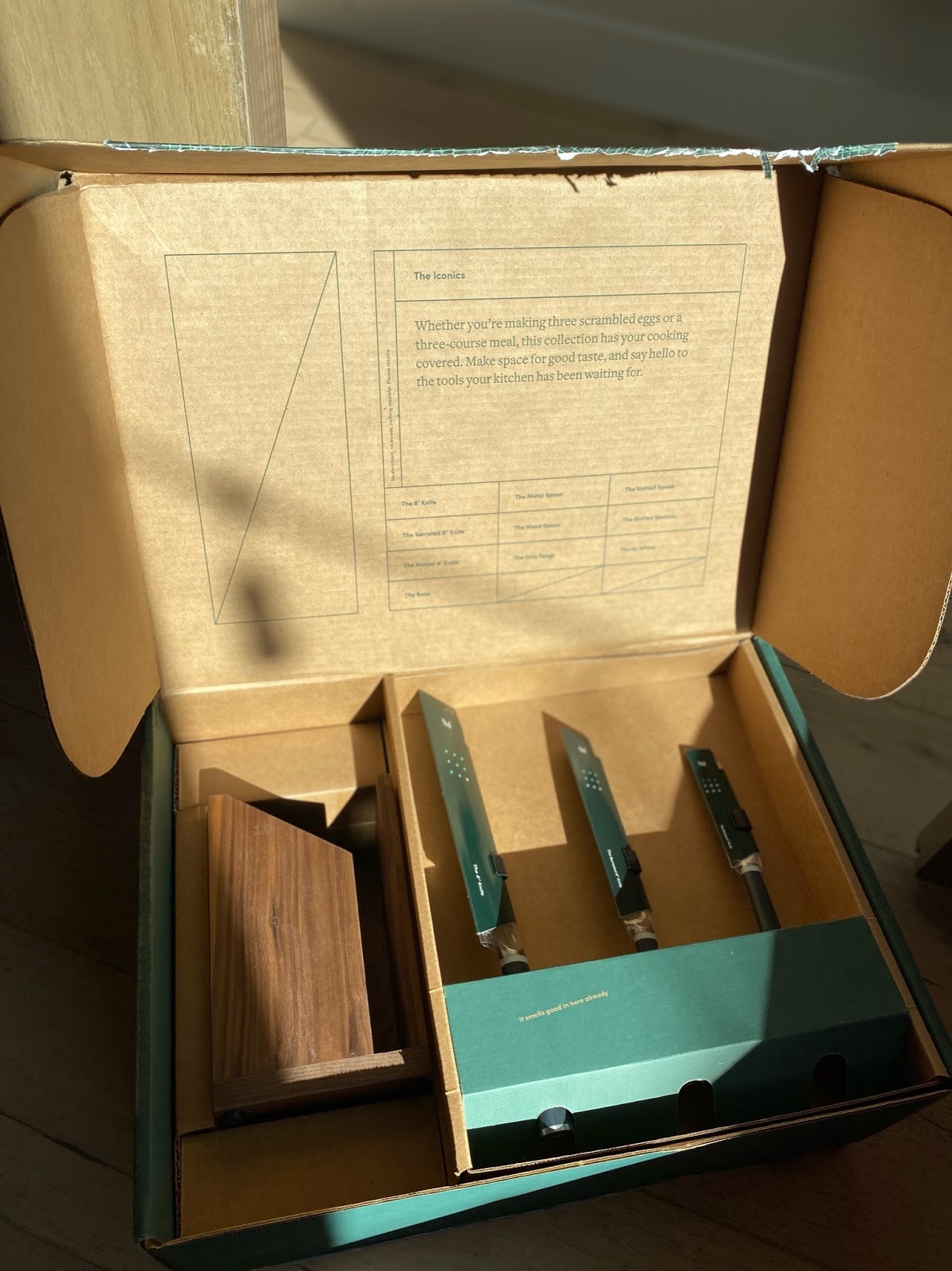 5 Reasons To Love, And Buy, Material:
You don't have to choose between something that looks great or does a great job. Material is the answer for home chefs in need of simple, functional, well-designed, affordable, and high-quality kitchenware.
Everything you need: From razor sharp knife sets to cutting boards, cutlery, pots, pans, and kitchen utensils, Material has high-quality cookware essentials and gadgets to simplify and optimize your cooking experience.
Who influences you? Because if Food and Wine, Goop, Architectural Digest, Fast Company, GQ, Forbes is on your list, then +1 for Material, who has earned an incredible amount of press for their array of products.
Material has heart, and a conscience! Not only is their brand rooted in the power of food as a way of connecting people and family, but they also invest in sustainable products — like their reBoard that used recycled plastic and renewable sugarcane — and showcase the importance of diversity by celebrating the breadth and depth of their community, like in this post on their website during May for AAPI month. ‍
Material's Coated Pan pan isn't just pretty — it's 37 times stronger than ceramic, which is a common material used in non-stick cookware. It has five-layers consisting of a copper core surrounded by stainless steel alloy, which gives the pan durability, weight and exceptional heat distribution and conductivity. And true to Material's roots, it's clean, non-stick coating is free of contaminants like lead and cadmium.
The Soft-Edge Turner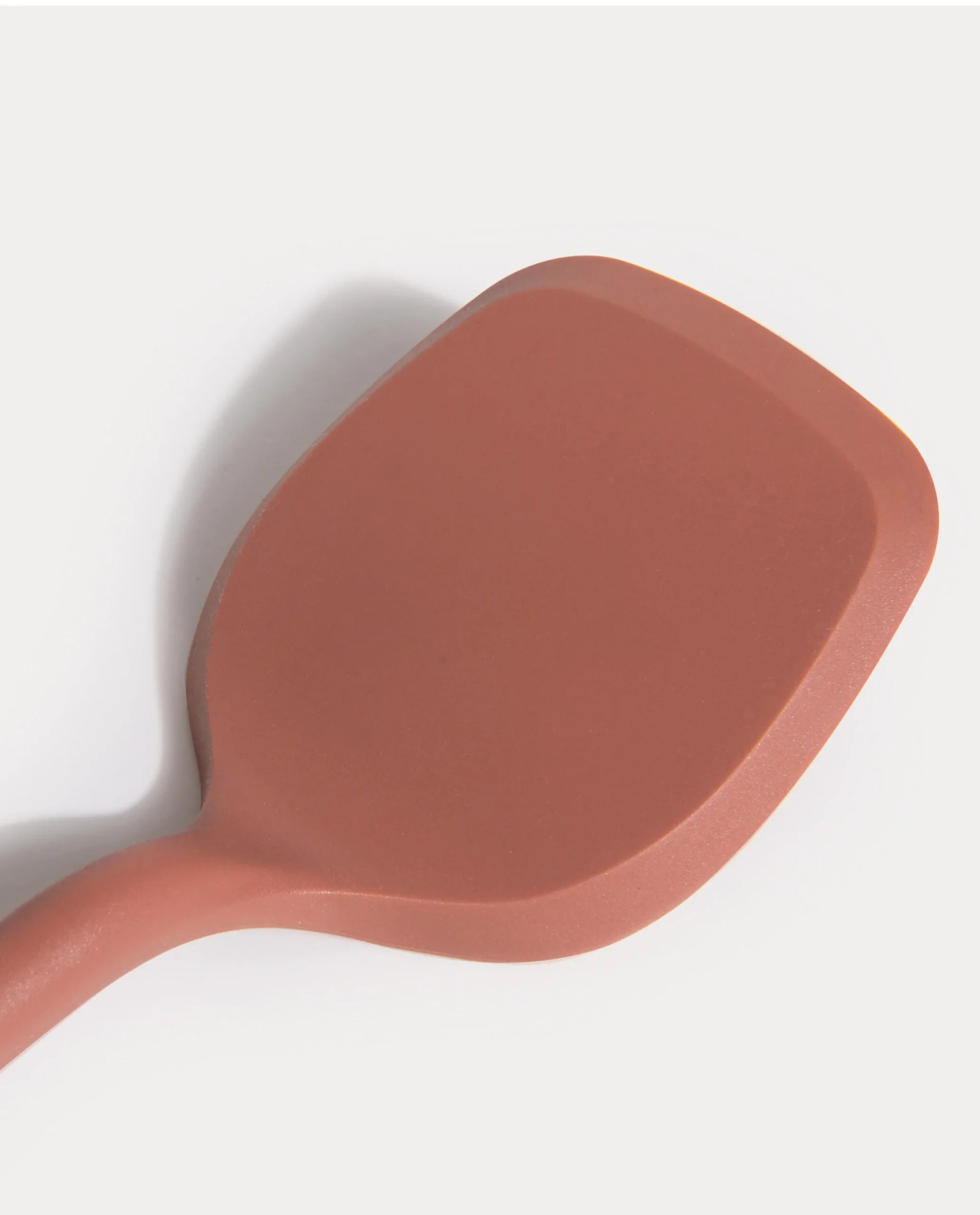 As seen in Harper's Bazaar. Pan's best friend. The Soft-Edge Turner is the BPA-free silicone wonder tool made just for flipping, folding, and scraping bits from pesky corners. Unlike flimsy spatulas, this one's got a reinforced nylon core for a stability that complements silicone's softness.
As seen in Harper's Bazaar. Pan's best friend. The Soft-Edge Turner is the BPA-free silicone wonder tool made just for flipping, folding, and scraping bits from pesky corners. Unlike flimsy spatulas, this one's got a reinforced nylon core for a stability that complements silicone's softness.
Silicone with nylon core and stainless steel cap