Outdoor apparel should be lightweight, durable, and performance-oriented. There's brands that check off one or two of those traits—but few that nail all three. Kühl has been making outdoor romp around gear for nearly 40 years.
We picked up a few of their staples to see if they still hold up.
A crappy fishing pole won't catch any fish.
A dull knife ain't cutting any wood.
Wet matches aren't lighting any fires.
Bad gear equals bad results.
The same goes for your clothing. When you're trekking into the outdoors, you won't be lugging anything you don't need.
So make sure whatever's on your back is built to last. Kühl thinks they've got the catalogue to service all your outdoor adventures. Let's see if they're right.
What Is Kühl?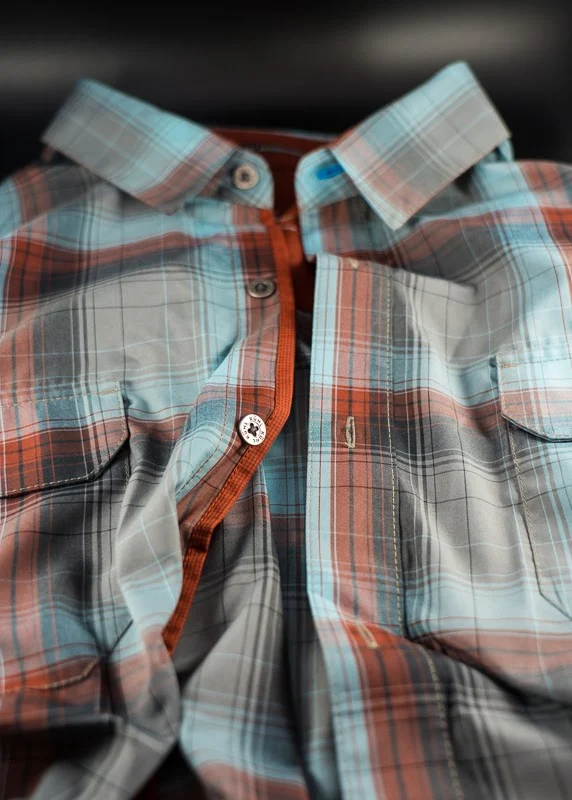 Kühl is an outdoor apparel brand that's been chugging along for almost 40 years. Based in Salt Lake City, Utah, Kühl is the second largest independently owned outdoor lifestyle brand in America.
Having first designed the pattern for a ski hat in the 1980's, Kühl has since morphed into an outdoor behemoth, producing all types of weather-ready garments and casual wear. Their motto is "born in the mountains".
Things to Consider Before Buying Outdoor Apparel from Kühl
Through years of development, Kühl aims to keep developing outdoor gear that handles just that: the great big wild outdoors. While much of their catalogue reflects casual styles and color tones, this stuff is built to tear up trails and mountains alike.
Their emphasis on fit, functionality, and utility makes Kühl a trusty brand for guys who are hiking, fishing, hunting, camping, or working a blue-collar job and looking for performance materials on the clock while they're on their feet.
Kühl Review
Before barging through my front door, chomping at the bit to get dusty and pine-scented, I packed a couple different shirts, a pair of pants, and a pair of shorts that Kühl sent me. My goal was to put them to Mother Nature's test and see how each piece held up.
Kühl Virtuoso Polo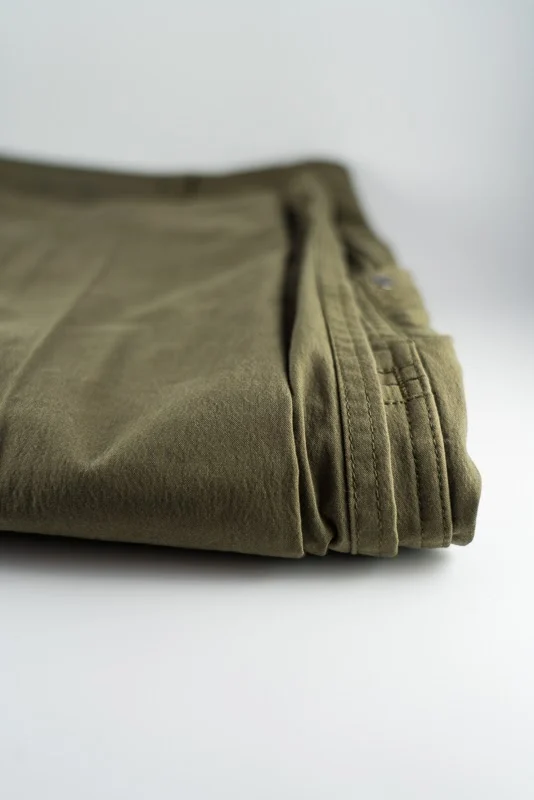 Well, first of all, the Virtuoso is stellar name for a polo. I'd also use the word stellar to describe the materials this polo is made of. The words "sweat wicking" gets tossed around more casually than "oat milk" in a Portland coffee shop. Kühl has engineered a truly sweat wicking shirt here.
The trademarked fabric used in this polo is called INVIZIWUL™. The blend consists of polyester and merino wool. The other part of the fabric in this shirt is a polyester-spandex blend. This makes for a fit that is soft and stretchy but still substantial. I wore this while hiking on a warm southern California day and sweat much less than if I had hit the trail in cotton or pure polyester.
The shirt also stretched and moved easily with the backpack I brought. And when I kicked up dust or walked through tall grasses, all the debris brushed off easily. I think stretch and durability are the two most crucial qualities in a hiking shirt, and this one has plenty of both.
I wore this shirt on a hike and it performed as well as anything I have in my closet. Even still, I gave it to my buddy for a day to wear to the office and he sported it elegantly with slacks. The rich, bright Neptune blue lends a nice splash of color to typical office or casual attire.
Kühl's website says the fit is tapered, though I'd disagree. If anything, it was a tad loose around the waist and biceps. I'd shop it true to size.
Kühl Free Radikl Pants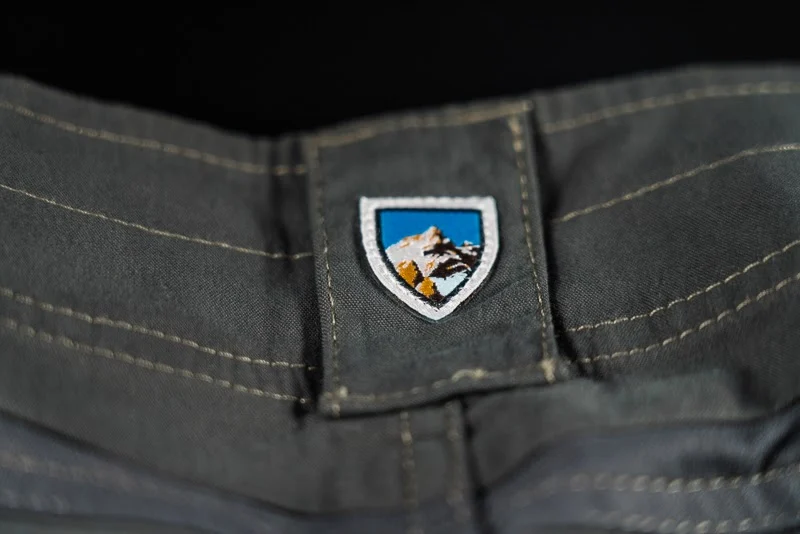 What's the difference between chinos, joggers, and hiking pants? To start, your joggers will feel like they're made of lead weights compared to these. They won't breathe as well, either. Chinos, even of the stretchy variety, will pale in comparison to the Free Radikl pants.
On a large card attached to the pants, Kühl points out all the unique design features of these trousers. The fabric, another trademark of Kühl's, is called ENDURO™ consisting of cotton, nylon, and spandex—an impressive and thoughtful blend of materials.
What you get from this blend is a material that has a cool, airy, lightweight stretch, but one that also doesn't feel like it would split open if you snagged the fabric on a rock or sharp object. It sits right in the middle of the lightweight and strong.
There's flat, almost hidden pockets on the back they coin as EQUALIZR™ pockets. These are about the same size as ordinary back pockets on most pants, though, the top of the pocket stays flat against your butt a little better.
These pants are also fitted with stretch panels around the knees which give you a full range of motion for leaping off of rocks, climbing, scrambling, or any of the other high-impact activities you might find outside.
There's seven pockets so be sure to double and triple check these for personal items before throwing them in the wash. Again, Kühl markets these as tapered, but I will politely disagree. After wearing joggers that nearly cut off the circulation to your ankles, I think the modern definition of "tapered" has progressed some.
These are an ordinary fit around the ankle and leave a little wiggle room. Since these are hiking pants, this is actually a bonus so your pants can fit over sneakers and hiking boots.
Kühl Response Short-Sleeve Button Up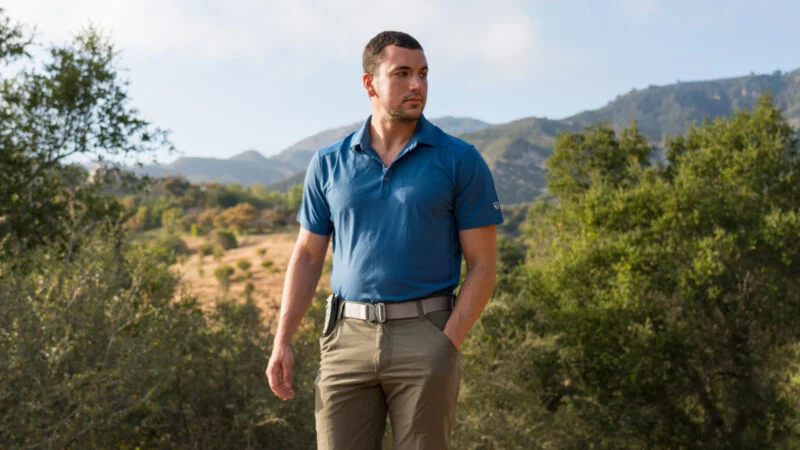 While some of their other garments are more technical, the Response short sleeve is a classical take on the men's plaid button up.
You've probably guessed by now that everything Kühl makes is more than meets the eye. This shirt is no different. It's made up of ELUXUR™ which is 100% polyester with a special finish.
The wrinkle-free quality of polyester is very apparent in this shirt. You could pull it out of a bag in an unfolded ball, shake it out, and watch the wrinkles fall away. However, it's not quite as sweat wicking or breathable as the Virtuoso Polo.
The plaid pattern won't turn heads, but it comes in 12 colors so you're bound to find a color combo that suits your style. This type of plaid is a reminiscent nod to the outdoor pioneer of years past, and exudes a timeless style you feel you've seen on a park ranger or in a movie somewhere.
Bear Grylls and the late Steve Irwin would be quick to slap a stamp of approval on this classic outdoor pattern.
Kühl Free Radikl Short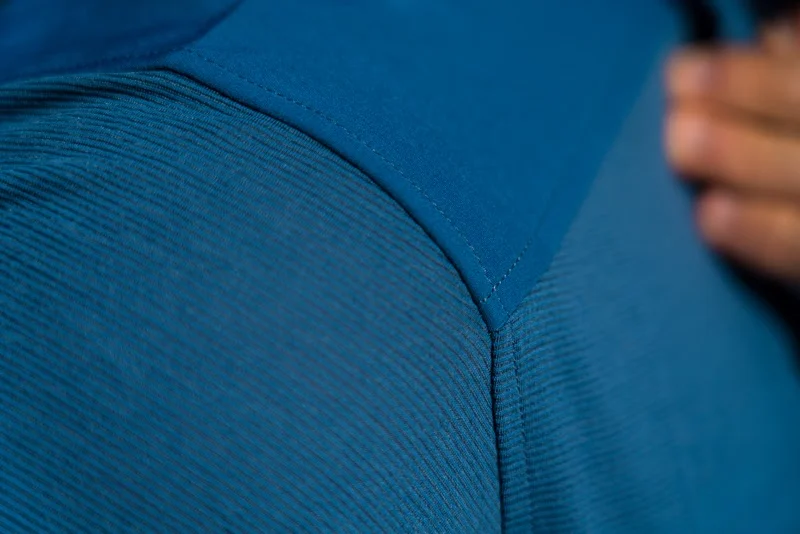 The Free Radikl Shorts are the same material and design as the pants. Kühl somehow managed to sneak seven pockets on these too. These include two front pockets, a coin pocket, two back pockets, and two stealthy cell phone pockets which will keep your electronics snug while you cruise along a bumpy dirt path.
With the stitching overtly visible, these shorts give off a working man's utility look. However, the fabric remains light and stretchy enough for outdoor play.
These fall in some unknown grey area between an athletic short, a cargo short, and rugged utility shorts you might see an electrician or handyman wear. The result is a versatile, comfortable fit with ample storage and durable design.
The Free Radikl Short is a capable option for anything from a day hike to a casual lunch downtown to an extreme, all-day trek. I had all the space I needed for keys, wallet, earphones case, granola bar, and a knife that sat deep and snug in the various pockets.
The shorts have a slimmer, form fit but will easily stretch and give way if you're walking up a steep hill, crouching down, or moving in awkward directions over terrain.
Consider wearing a belt so they stay snugly in place, especially if you're filling up a few of the seven pockets.
What do Other Reviewers Say About Kühl?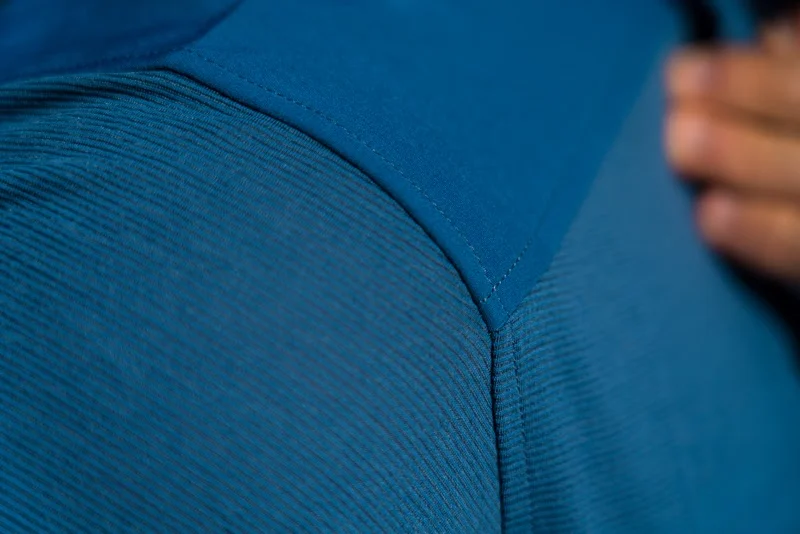 On Kühl's website, the Free Radikl pants and shorts tallied up an impressive array of five star reviews. The Response short sleeve is also a fan favorite with a surplus of five star reviews. The Virtuoso Polo fared well with consumers too and was my favorite item from the bunch.
In all the professional reviews I could find on Kühl, seasoned hikers and outdoorsmen all agree that Kühl's clothes hold up well for rigorous outdoor activities.
Kühl manufactures a dizzying number of garments and pieces of gear. Be sure to do your own research on any specific item you're eyeing. Guys who had positive reviews of Kühl were using their gear for anything from immersive nature adventures to everyday casual wear.
Reading reviews based on different uses will help you determine if a garment is right for your intended function.
Some items were more poorly reviewed than others, but the general sentiment was that Kühl is a serious manufacturer of quality outdoor gear and apparel.
My Thoughts Overall On Kühl
What I Like
The breathable sweat wicking fabrics in both the shirts and shorts meant that I had no problem staying dry and cool while hiking all day in warm California weather.
The pockets in the Free Radikl pants and shorts provide amazing storage will hold your personal items snugly in place without fear of something falling out.
The Virtuoso Polo is a stretchy and substantial option versatile enough for the trail or the office.
Kühl's innovation on the fabric front makes for comfortable and stylish clothes that are performance-driven.
What I Don't Like
The price tag on the shirts and shorts are quite steep for a single garment.
Some of the patterns feel bland and conventional.
The Virtuoso Polo and Radikl Pants were a bit loose-fitting.
Who is Kühl for?
Kühl is for both the casual and serious outdoor thrill seeker. I'd readily take any of this clothing hiking, fishing, hunting, mountain biking, backpacking, and even to the beach. These garments are built to perform in most any weather and will give you the movement, comfort, and durability you need to move through any terrain without being hindered by your clothing.
Similarly, Kühl would be a capable option for guys working blue-collar jobs like handymen, electricians, contractors, delivery men, or any occupation which requires you to be on your feet for long periods.
The Verdict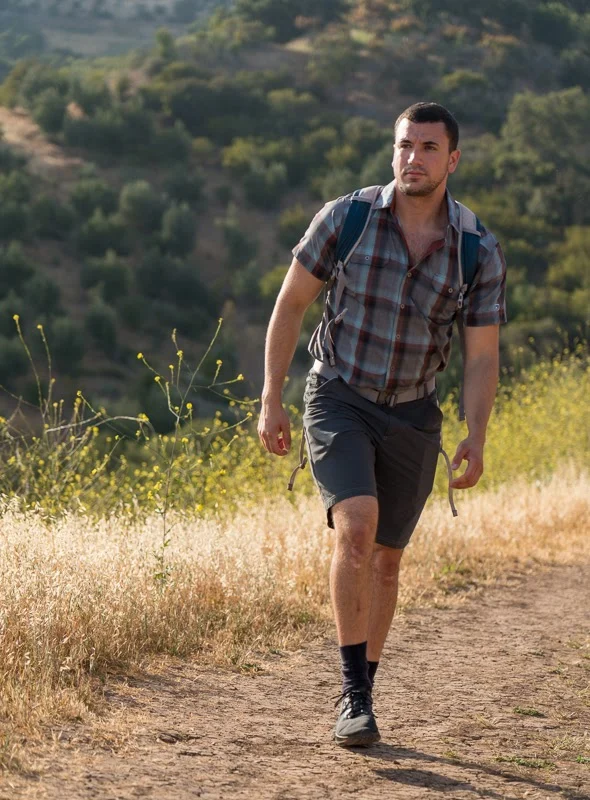 The best outdoor gear is designed by people who've spent copious time outdoors. Yet, the market for outdoor and adventure apparel is infested with wannabe manufacturers who make cheap garments that will fall apart on you and only offer one of the many factors you want in a true outdoor garment.
Kühl has been around for almost 40 years and they're experience is obvious in their innovative trademarked fabrics and durable designs. Kühlflawlessly pulls off garments that are lightweight and breathable but also dependable and lasting.
At the end of the day, you're paying for duds you will likely have for over a decade. And duds that won't fail you for the next adventure and the one after that.
Kühl's original fabric blends are constructed for the outdoors and that will be abundantly obvious when you put one on and set off down the trail.
Imagine garments with the airy, agile fabrics of Nike and the hefty working man's build of Carhartt. That's precisely what Kühl provides for the modern outdoorsman.