About Justice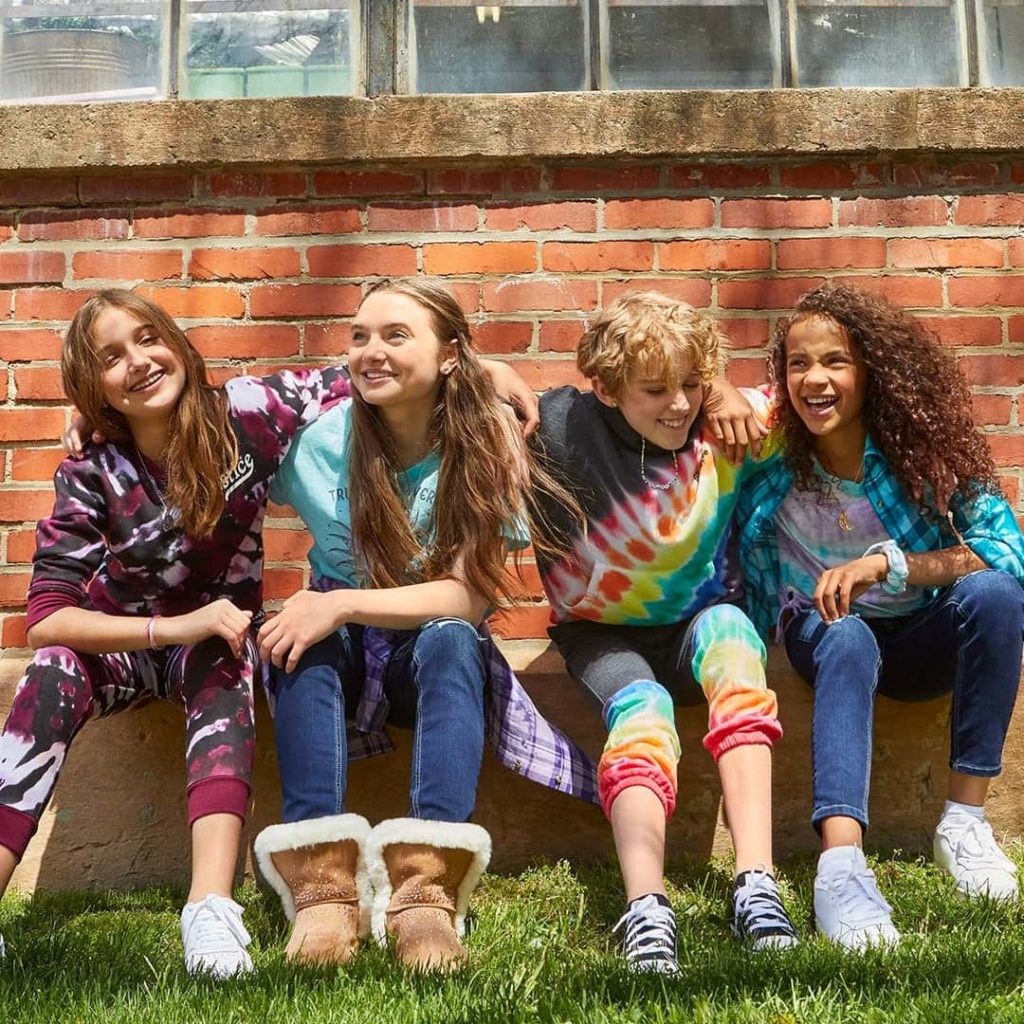 Justice is a clothing store for tween girls between the ages of 6 and 12. With a fun, bright aesthetic, it carries everything from tops, bottoms, shorts, dresses, sleepwear, undergarments, shoes, and swimwear.
The brand is known to make an impression with young girls due to its youthful look and collaborations, like with Disney. Under new ownership, Justice made the shift to acting as an online-only retailer and closed down its retail stores in 2020.
Justice has recently partnered with On Our Sleeves, a movement to help support free mental health care for children in America. The apparel company also displays a strong social media presence with its 1.1M Instagram followers.
This Justice clothing review will take an in-depth look at the brand and its products, customer ratings, promotions, and more, in order to help you decide if their products are really worth the buy.
Overview of Justice
Justice came onto the scene about a decade ago with Tween Girls, Inc. At their peak, they had retail stores mainly across North and South America.
The company worked to create fun, comfortable, age-appropriate, and affordable clothing options for young girls. Justice clothes then switched things up in 2020 when it closed all of its retail stores and went strictly online. It's now owned by the Bluestar Alliance.
This Justice clothing review will now take you through some of the pros and cons associated with this brand:
Pros
A wide range of trendy clothing for young girls
Shoes, swimwear, and accessories also offered
Fun prints, colours, and design collaborations to choose from
Plus size clothing available
Affordable price points
Regular sales
Attention customer service team
Cons
Justice clothes are only for girls with a "feminine" flair
No options for boys or kids under 6 years of age
No free shipping below $75
No international shipping
Justice Clothing Review
Do you have a tween girl in your life? Haven't got the foggiest idea of where to shop for them? If their go-to style is bright, colourful, and fun, this Justice clothing review can help you decide before making any purchases. Let's take a look at some of their bestsellers.
Justice Striped Eyelet Girls Tank Review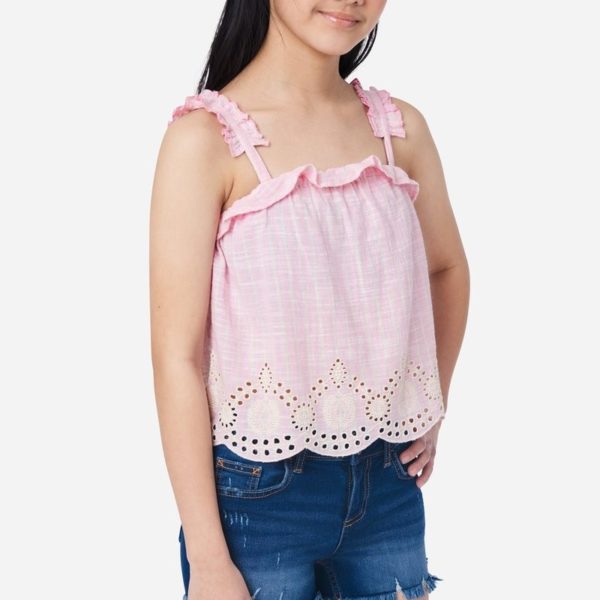 Does your little one enjoy ruffles? If so, the Striped Eyelet Girls Tank is one of the sweetest tank tops you might ever set your eyes on.
It comes with frilly ruffle detail along the top, as well as on the spaghetti straps. The embroidered element along the bottom creates a beautiful flowy look, so this breathable cotton girls tank top is the epitome of a breezy, casual look.
This ruffle tank top comes in four adorable colours, including a powder blue that just screams summer time. The Striped Eyelet Girls Tank is currently on sale for $10 (down from $20).
Justice Denim Bermuda Shorts Review
Not every person is comfortable in denim shorts that are super short, so if you're looking for something that gives a little more length, the Denim Bermuda Shorts could be the answer for your tween.
Firstly, they're super no-fuss with the stretch waistband that can be easily pulled on, and they're made from a breathable cotton blend. These shorts come in two different washes and feature that great raw hemline that allows them to look a little more vintage and cool. What girl wouldn't appreciate that?
The Denim Bermuda Shorts are currently offered for just $10 (originally $22).
Justice Full-Length Leggings Review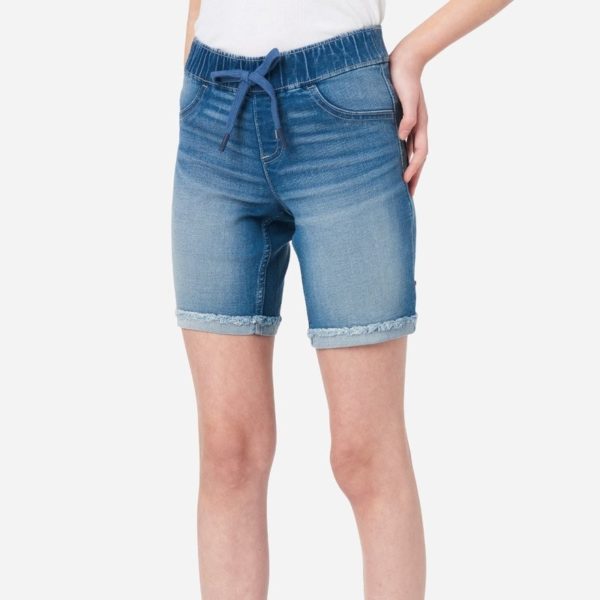 Leggings are still a super popular wardrobe staple for a reason—they're versatile, comfortable, and easy to throw on. Your tween daughter will want to wear Justice's Full-Length Leggings day after day!
Available in six different colours, these bottoms feature a wide waistband and stretch cotton. They're the perfect option to wear to those after-school dance lessons. Plus, these leggings are also machine washable.
At the time of this Justice clothing review, the Full-Length Leggings are on sale for $11 (from $14).
Justice Girls' Swimwear Review
Not only can swimwear be expensive, but it can be difficult to find suits that young girls will actually want to put on and feel comfortable in at the pool or on the beach. Let's take a look at bestsellers from the Justice girls swimwear category.
Justice Patterned Tankini Swim Set Review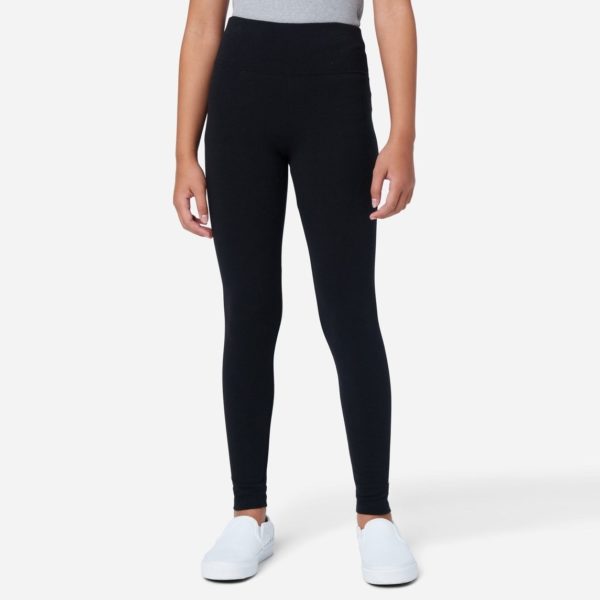 Can we all thank whoever came up with the tankini? It's such a lifesaver for those who want to look cute in a swimsuit without exposing too much. That type of modesty certainly exists in Justice's Patterned Tankini Swim Set.
Available in three different patterns (you have to love the cute cherry pattern though), it's really all about comfort and ease with the stretchy fabric and solid colour bottoms. The Patterned Tankini Swim Set is offered at a steal for just $8 (originally $26).
Justice Color-Changing Graphic Tankini Swim Set Review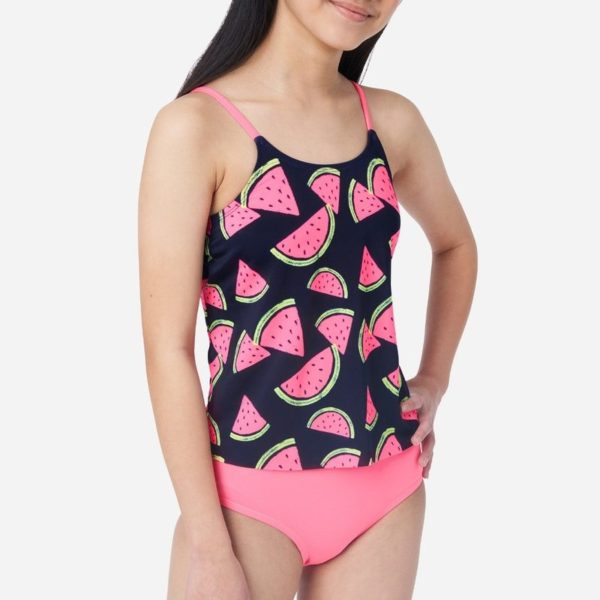 If you're browsing through Justice girls swimsuits for something fun and surprising, then you have to check out the Color-Changing Graphic Tankini Swim Set. The polyester in this two-piece suit is made from recycled materials.
Firstly, you have the classic and easy tankini style that's appropriate for young girls. And second, this Justice girls tankini is all about catching you off guard—because the cute beach graphic across the top changes colours in response to UV rays! How cool, right?
This Color-Changing Graphic Tankini Swim Set is offered for $8 (down from $26).
Justice Floral Ruffle Tankini Swim Set Review
It's all sunshine and spring with this Floral Ruffle Tankini Swim Set. This piece features a flouncy top that sports ruffles and delicate yellow flowers all the way down, with a little scoop neck and bow featured at the top.
Plus, you have the matching yellow bikini bottoms that are comfortable and stretchy—great for hitting the beach or the pool. This tankini set is also made from polyester from recycled materials, which you can feel good about.
Justice Patterned Bikini Swim Set Review
If you have a tween that's a little more set on wearing a bikini, you really can't go wrong with this Patterned Bikini Swim Set. It comes in three adorable patterns, including an age-appropriate watermelon print, and it also features a high neckline that's still modest and comfortable.
You also have the cute criss-cross straps on the back for an added detail with a featured slim waistband that colour matches to help keep things uniform. Ideal for running around in for a sunny day at the beach!
The Patterned Bikini Swim Set is on sale for $8 (from $26).
What Age Are Justice Clothes For?
Justice clothes are made for young girls aged 6 to 12. You can find a measurement chart under each item to figure out the best size for your tween.
Who Is Justice For?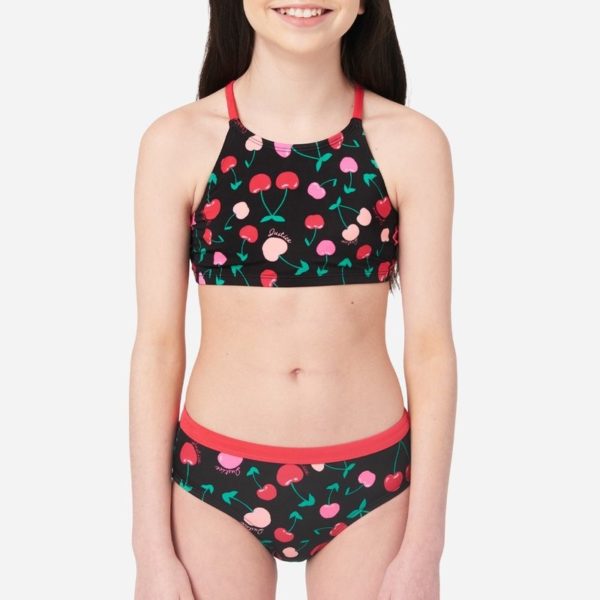 As this Justice clothing review hopes to display to potential shoppers, the brand's designs come from a place of fun, comfort, and affordability; all with an age-appropriate mindset. You'll find everything from everyday wear like leggings, sweats, jeans and tops—which are all adorned with a feminine and cute flair.
You'll also find items like swimsuits, shoes, and accessories. So, the Justice store is actually a one-stop choice for parents who want a little bit of everything at prices that are completely budget and kid friendly.
Comparison: Justice vs. The Children's Place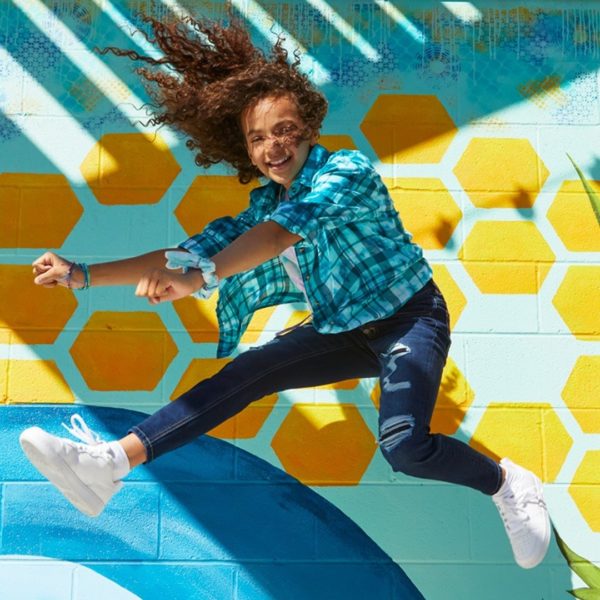 When kids reach a certain age, they usually start to notice what their friends are wearing and beg for you to buy them the same outfits. If you're still far from those "But moooom!" days, consider yourself lucky. Until then, you can enjoy browsing your options to see what's out there.
Let's place Justice and its competitor, The Children's Place, side by side for a moment. The biggest difference is that TCP sells clothing for both boys and girls. Their sizes also range from baby and all the way up to school aged. Justice's sizes, as we previously mentioned, cater to girls over the age of 6.
In terms of price points, Justice and The Children's Place are more or less the same. There are tons of affordable options for children who grow out of their clothes quickly, and we recommend taking advantage of the clearance sections at both stores.
There are perhaps a few more perks for those who shop at The Children's Place because you can collect Air Miles. The brand also offers international shipping with complimentary delivery in the US and Canada. Justice only ships within the US at this time.
Ultimately, it depends on your child's preferences. If you have a tween who enjoys wearing feminine clothing and covering themselves with trendy accessories, Justice is the place to go. For those shopping on a budget for babies or boys as well, The Children's Place has all you need.
Justice Reviews: What Do Customers Think?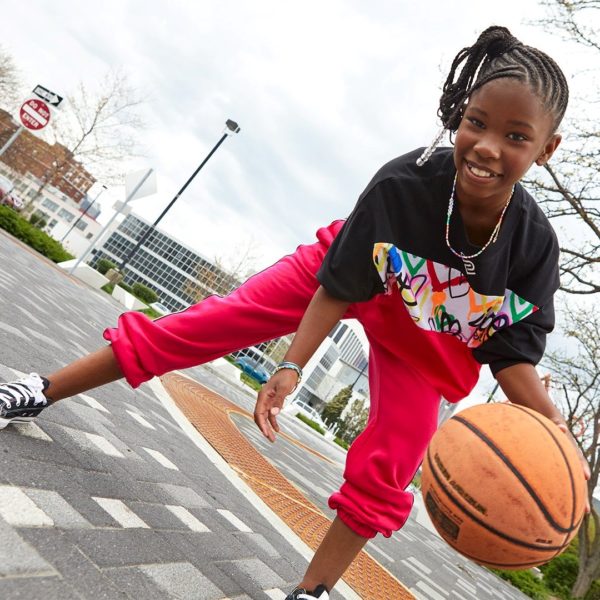 This Justice clothing review wouldn't be fully complete without taking a look at what customers have to say about the brand. We're sure that parents wrote these testimonials after watching their child admire herself in the mirror before school, all clad in beads and bright prints.
Let's take a look at ratings for some of the most popular Justice kids clothes:
Knotted T-Shirt Dress: an average of 4.7/5 stars out of 9 reviews
Patterned Bikini Justice Girls Swimwear: an average of 4.4/5 stars out of 20 reviews
J Sport Color Block Justice Backpacks: an average of 4.1/5 stars out of 8 reviews
Collection X by Justice Tie-Dye Sports Bra: an average of 4.7/5 stars out of 13 reviews
Candy Graphic Zip-Up Hoodie: an average of 4.8/5 stars out of 17 reviews
One parent shared how their daughter reacted to receiving the Collection X by Justice Tie-Dye Lace Front Hoodie as a gift: "It's very cute, soft, and my daughter put it on right away! Even though it was 85 [degrees] outside."
There are quite a few comments from shoppers who missed being able to take their little ones into the Justice stores. One customer left a comment on Facebook discussing how they feel about the brand, "Bring back the stores! The stores were amazing! They were so fun and youthful and vibrant."
One shopper left a Justice clothing review on Chick Adviser commenting on how much she appreciated the sales and clearance prices that are offered on the brand's clothes. She shared some tips with other parents on how to save more money:
"My 7 year old is a huge Justice Clothing Store fan…You just have to know how to shop at Justice. Sometimes you may be able to get an extra 60% off already reduced clearance. They also send out emails with coupons for so much off a purchase like $25 off a $75. The coupons can also be utilized on clearance and stacked with the extra % off. I never purchase anything here at full price!"
Is Justice Worth It?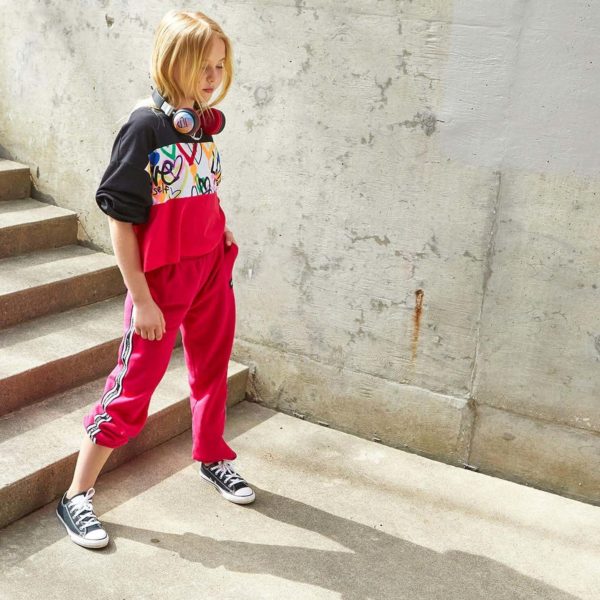 The brand is a hit among tween schoolgirls who find its apparel and accessories exciting. Kids can go wild with the patterns, styles, and sizes offered. Though it's unfortunate that the fun experience of shopping at one of the Justice for Girls retail stores is no longer an option. We would definitely. We still recommend giving their online store a look.
Justice Promotions & Discounts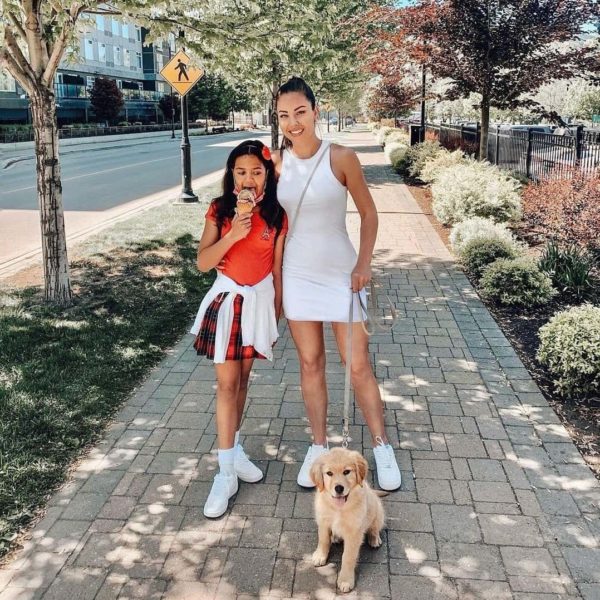 This Justice clothing review found a number of flash sales on the company's website, such as:
$15 sleepwear sets
35% off back-to-school accessories (check out these chic Justice backpacks!)
35% off activewear
New items added to the clearance section
There's also a loyalty program exclusively offered for Justice store shoppers, which will relaunch in the coming months. It will likely offer special rewards and promotions to members. Lastly, US customers can enjoy free shipping on orders over $75.
Where to Buy Justice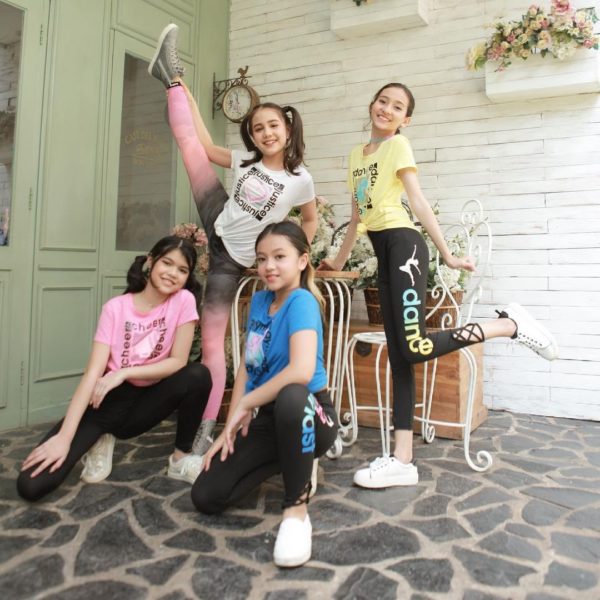 You can shop the Justice girls collection online at ShopJustice.com. Some of their clothing is also available at Walmart.
FAQ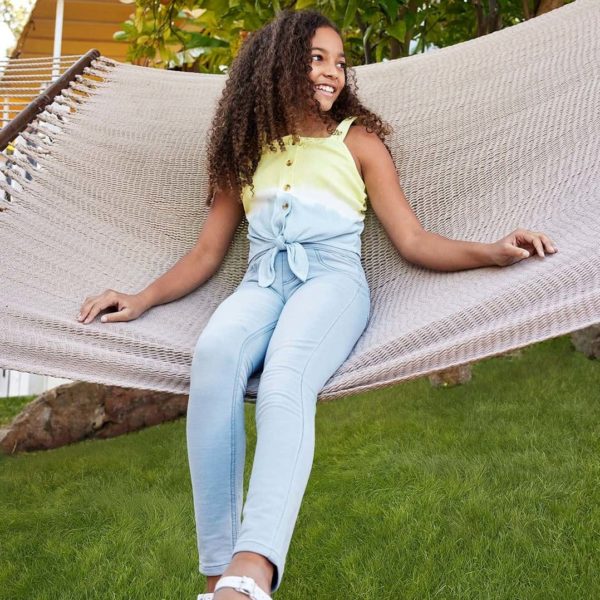 Where is Justice made?
The company's headquarters are located in Ohio. This Justice clothing review found that their production and manufacturing takes place in both the US and overseas.
Does Justice fit true to size?
Justice's clothes typically range from sizes 5/6 (XS) to 20 Plus (XXL). Some parents found their items to fit smaller than other girls clothing stores. It's recommended that you check the brand's measurement chart before making that final purchase.
What is Justice's Shipping Policy?
Currently, Justice only delivers within the United States, with free ground shipping on orders over $75. Under this amount, the shipping fee is $5.
If you want to receive your order within two-day shipping time, the extra charge is $20 and next day shipping is $30. USPS or FedEX are the delivery services used for the Justice store.
Once the order is placed, you will receive tracking information via a confirmation email. Ground shipping takes approximately 4–8 days to be processed and delivered. You can receive next day shipping if you place your order before 2 PM.
What is Justice's Return Policy?
Justice will accept returns on unworn clothing items within 45 days of purchase. There is no option to cancel or change an order once it's placed.
Refunds are always made in the original payment form with appropriate discounts deducted, if applicable. Exchanges are currently not available.
As you might've guessed already, final sale items are non-refundable. Shipping and handling charges are the buyer's responsibility. To begin a return with the Justice store, visit their return portal.