About Jonathan Adler
Jonathan Adler provides 'oh-so-chic' furniture to help you achieve your Pinterest dreams. Known for its wide selection of chairs, daybeds, dining tables, pottery, and home decor, this lifestyle goods brand caters to interior design aesthetics, including contemporary, minimalism, and urban modern.
There's a good chance that you've heard of Jonathan Adler before, as he's a renowned potter, author, and interior decorator. The brand's catalog is definitely something worth ogling over, which is probably why it boasts over 853k followers on Instagram. They've also caught the attention of several media outlets, such as Real Homes, Livingetc, and Forbes magazine.
Looking to flip your crib? Perhaps this brand can act as a needed alternative. Stay tuned as this Jonathan Adler review takes an in-depth look at the company, its best-selling products, customer ratings, promotions, and more to help you decide if it's worth the investment.
Overview of Jonathan Adler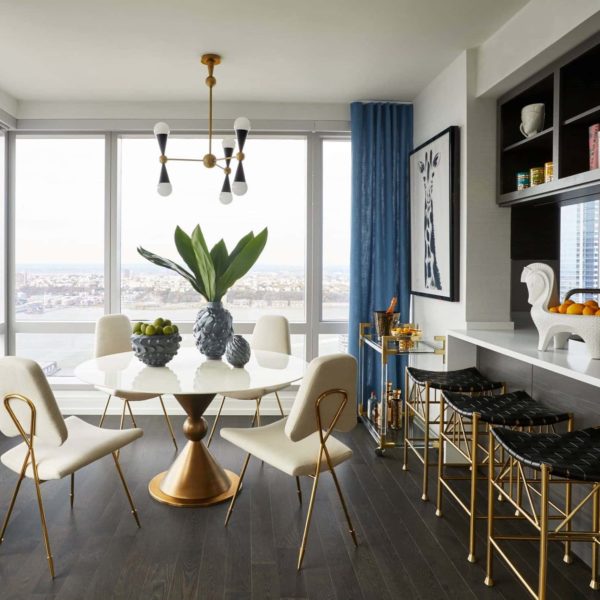 It's relatively humbling to know that a business as big as Jonathan Adler began as a summer activity. Raised in a small farm town located in New Jersey, J.A was first introduced to pottery during his adolescent years.
What started off as a simple hobby quickly turned into a love of ceramics and art. Eventually, his skills landed him in several business opportunities. His first big partnership was through Barney's in 1994.
Over the years, the Jonathan Adler brand quickly grew into an acclaimed name. Designing pots after pots, the owner decided to create his own company in 1998. Now based in New York City, this home goods retailer continues to handcraft timeless and elegant designs for trendsetters to enjoy.
Adler has also written several books about interior design, including 100 Ways to Happy Chic Your Life and Jonathan Adler on Happy Chic Accessorizing.
Before we get into this Jonathan Adler review, let's go over some initial highlights:
Highlights
A broad selection of furniture, bedding, and home decor to choose from
Considered a reputable brand
Positive customer reviews
Provides Affirm as an alternative payment option
Provides international delivery
Free shipping on orders $150 or more
From bedding to barstools, Jonathan Adler has an arsenal full of luxury home goods. More specifically, categories are divided into furniture, decor & pillows, rugs, pottery, lighting, bedding, bath, dining, and arts.
It's definitely the site to visit if you're looking to spice up your living space, as each product is styled to fit any contemporary residence. But enough talk; let's get down to the nitty-gritty of things.
This Jonathan Adler review will feature a few of the company's top-sellers that are definitely worth some major consideration.
Jonathan Adler Furniture Review
It's time to abandon those old, plastic chairs and that scruffy couch you thrifted years ago. For a more stylish upgrade, Jonathan Adler furniture provides a touch of mid-century elegance to your resident pad. From accent tables to counter stools, customers are bound to find something that speaks to their inner Joanna Gaines.
Below, this Jonathan Adler review has compiled a small list of contenders for readers to consider.
Jonathan Adler Talitha Cabinet Review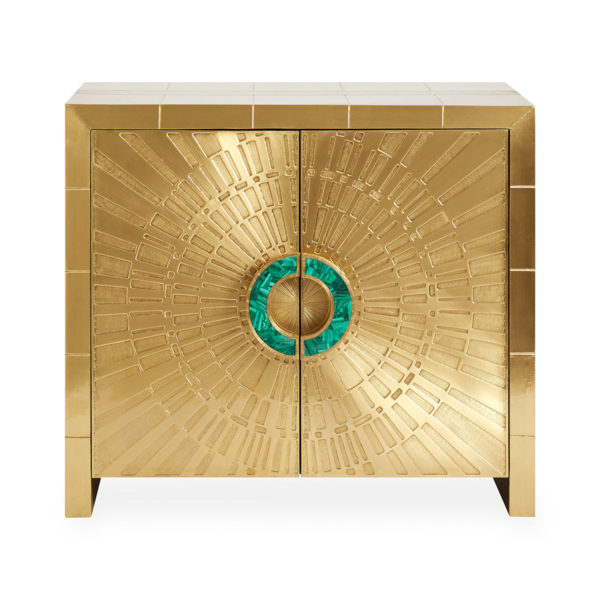 The Talitha Cabinet embodies the finesse of old-sport Great Gatsby combined with 70's hipster realness. It's groovy, chic, and definitely the bee's knees for homeowners who love to make a statement.
This cupboard features a spiked sun pattern set in nickel-plated or solid brass metal. For the handles, a half-moon pair of carved shell mosaic or emerald malachite acts as the central piece to help marry the look together.
Handcrafted and finished in high-gloss lacquer, the Talitha Cabinet can turn any mundane living space into a jazzy hotspot in no time. It acts as a great storage space in keeping your liqueurs and bitters protected, but it can also serve as an excellent cubby hole for records, books, and other valuables.
If you're looking to add this beauty to your home, this Jonathan Adler bestseller is offered at two different prices:
Brass: $2,900
Nickel: $2,625
Jonathan Adler Goldfinger Lounge Chair Review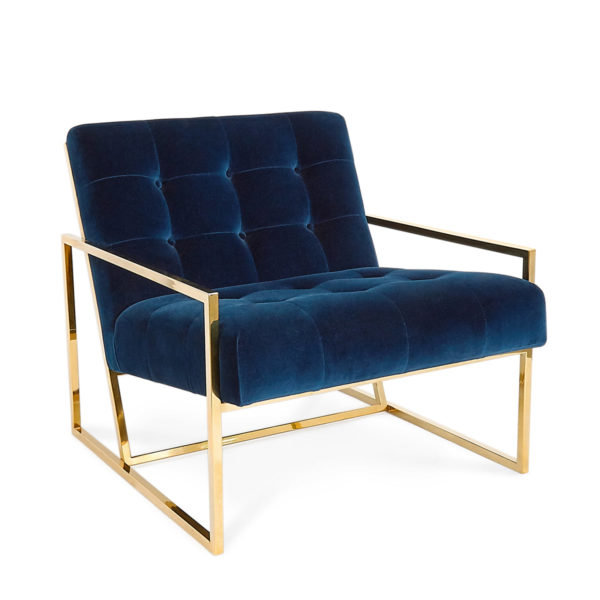 Do you remember? The twenty-first night of September? If not, then I'm sure that the Goldfinger Lounge Chair will bring back memories of disco parties, roller skating, and lots of fondue.
'70s themed in design, this love seat denotes a sort of groove, funk, and jazz to your living space. By no means are we describing old-school psychedelics. Instead, this beauty features button-tufted cushions dyed in exquisite navy blue and a polished brass frame.
For those looking to add more 70s spice to their home, we suggest pairing the Goldfinger Lounge Chair with some printed art. Of course, no hipster-themed living space is without some wooden accents as well.
Also available in white lucerne oyster, this upper-class loveseat retails for $1,850.
Jonathan Adler Claridge Sofa Review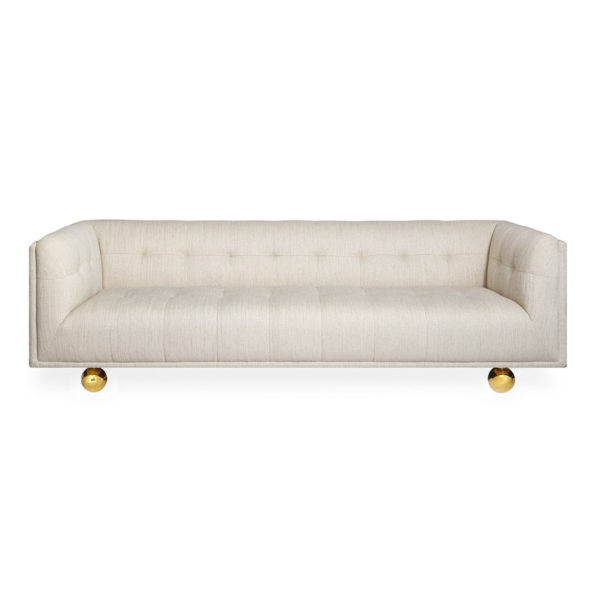 Game-day couches serve a distinct purpose: provide the tush with 'cush' from playtime to halftime. But once the match is over, you're left with nacho crumbs, beer stains, and unflattering butt-dents that are difficult to undo.
We can't promise that the Claridge Sofa is completely immune to all three, but it's definitely more stylish than settling for the one you have now. Classy, chic, and eye-catching, this simplistic couch comes with tailored tufting, and brass orb stands. It's offered in an array of colors, including Belfast stone cream, brogue navy, and Varese faded blue.
To help maintain its quality and silhouette, we don't recommend using this as a guest seat during SuperBowl. But, it can make for a great sit-down and discuss space for when the game is over. Price-wise, the Claridge Sofa costs:
Belfast stone cream: $3,900
Brogue Navy: $5,050
Varese faded blue: $3,900
Jonathan Adler Pillows Review
The Jonathan Adler pillows selection is designed to be admired—not so much for sleep. They act as decorative elements to any contemporary couch or loveseat. From rainbow prints to color-block patterns, we'll spotlight a few of our favs down below.
Jonathan Adler Sinsemilla Beaded Pillow Review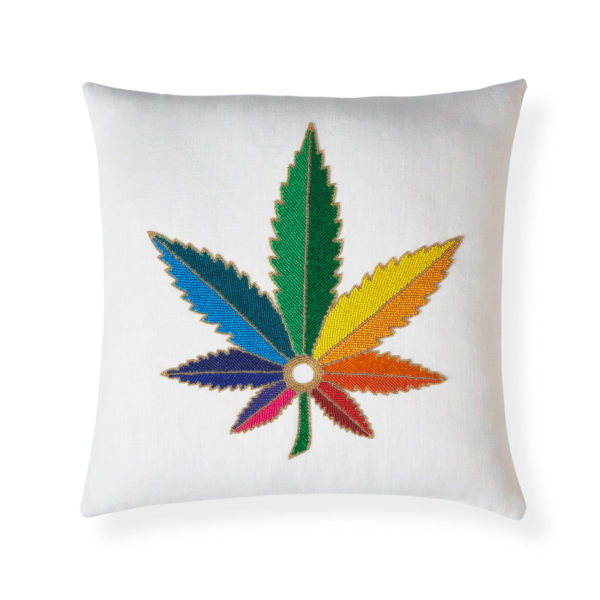 Speckled in an array of psychedelic colors, the Sinsemilla Beaded Pillow is direct proof that marijuana can make a 'merry' design. Weed gets a bad rep as an unattractive drug, but this cushion manages to transform this recreational hobby into a quirky and glamorous pastime.
It's an excellent accessory for cannabis users to showcase their love of kush—but, for family's sake, we suggest hiding it away before Thanksgiving dinner.
Crafted by a team of expert artisans in India, this intricately designed cushion took nearly 100 hours to complete. Of course, with a detail like that, you should probably treat it as a decorative throw instead of bedding.
Brace yourselves, as the Sinsemeilla Beaded Pillow retails for a hefty $248.
Jonathan Adler Happy Pills Beaded Pillow Review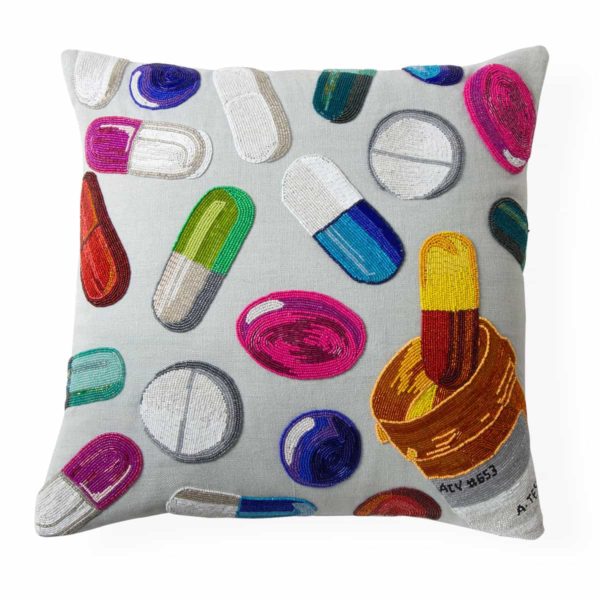 While some opt for candy-themed prints, the Happy Pills Beaded Pillow is definitely adult for those who get the in-joke. It's designed by the one-and-only Jonathan Adler, who was inspired by the 60s counterculture.
Considered a homage to sex, drugs, and rock 'n' roll, this unconventional pattern reminds us that thrills can come in the form of psychedelics. Whether you practice it or not is up to you.
Patterned with colorful painkillers, prescription bottles, and cream-colored aspirin, each design is hand-beaded by a team of Indian artisans. Tired of commercial prints? If so, the Happy Pills Beaded Pillow can serve as a bizarre alternative for $340.
Jonathan Adler Muse Snake & Apple Throw Pillow Review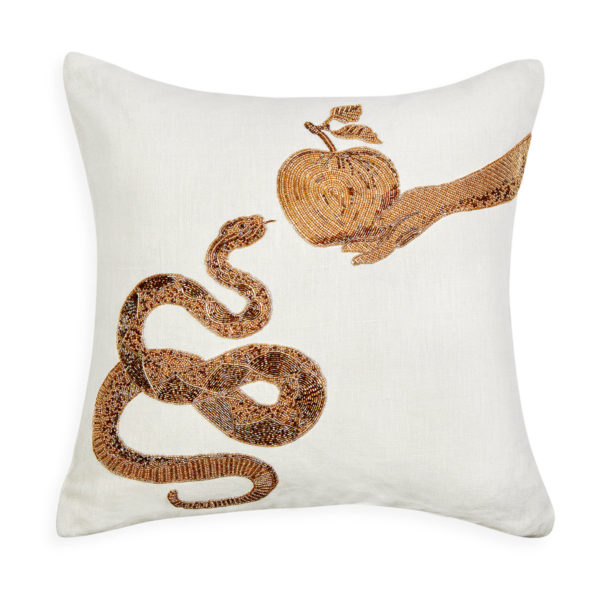 Biblical in design, the Muse Snake & Apple Throw Pillow embodies a sort of historical elegance in any academic setting.
It depicts Eve receiving the forbidden fruit from the temptress serpent. Considered a mish-mash of Halston and Dali, I'm sure that this decorative accent will click with several history buffs and art lovers. I mean, I'm 100% certain that this print is also a homage to Michelangelo's Creation of Adam.
Beaded in a series of gold, red, and silver rounds, the $340 Muse Snake & Apple Throw Pillow would look amazing paired with a Persian rug. May we suggest a brass-tinted candelabra to finish the look off?
Jonathan Adler Rugs Review
Last up on our list is the Jonathan Adler rugs collection. While it's usually the category that most customers 'step on,' we encourage you to give J.A a try. They've got a curated selection of Peruvian Flat Weave, hand-knotted, and loomed designs.
For a slight introduction, this Jonathan Adler review will highlight some of their hottest picks that are worth a second glance.
Jonathan Adler Milano Hand Tufted Rug Review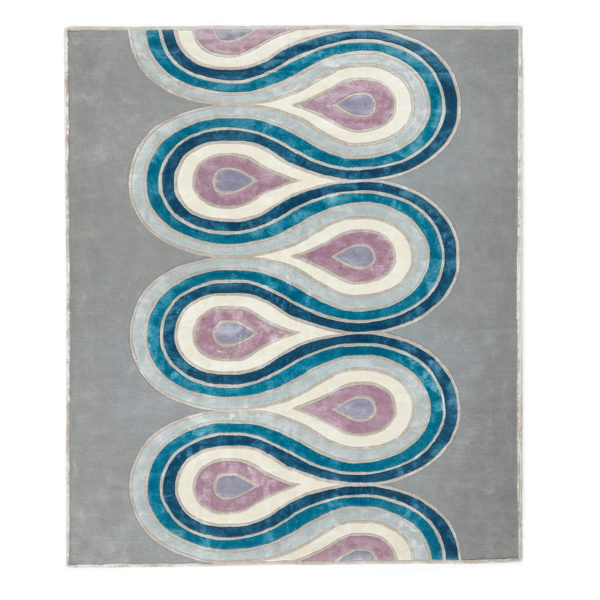 Antique, regal, and perfect for those who love ancient mythology, the Milano Hand Tufted Rug acts as the perfect 'cherry on top.' It features a mesmerizing spiral of ocean blues, seafoam, and drops of lavender.
Finished with sheen, this indoor carpet provides a pop of nautical hues to your living space. We highly suggest adding some gold-toned accents to help emphasize its fantastical design.
Ideally paired with cream-colored furniture, potted plants, and sea-shell decor, the Milano Hand Tufted Rug can act as the perfect accouterment. Currently, it's available in four different sizes:
6' x 9': $1,395
8' x 10': $1,995
9' x 12': $2,795
11' x 13': $3,595
Jonathan Adler Sunburst Hand-Knotted Round Rug Review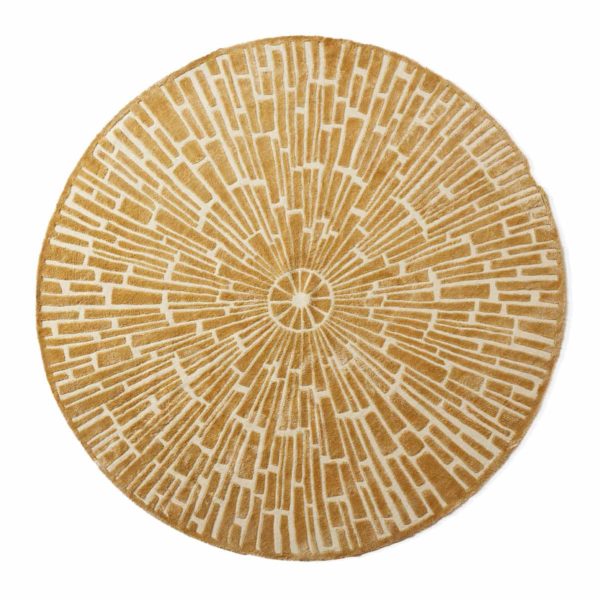 The Sunburst Hand-Knotted Round Rug keeps things bright, friendly, and warm through its illuminating design. This indoor carpet is partly inspired by the brand's Talitha collection, as it features the same hand-stamped relief pattern. Instead of resorting to firm metals, it's made with hand-woven wool for a plusher alternative.
Location-wise, the Sunburst Hand-Knotted Round Rug would make an excellent addition in your bedroom, bathroom, or foyer. At this time, customers can get this floor mat in either gold or grey for $3,495.
Jonathan Adler Droplet Hand Tufted Rug Review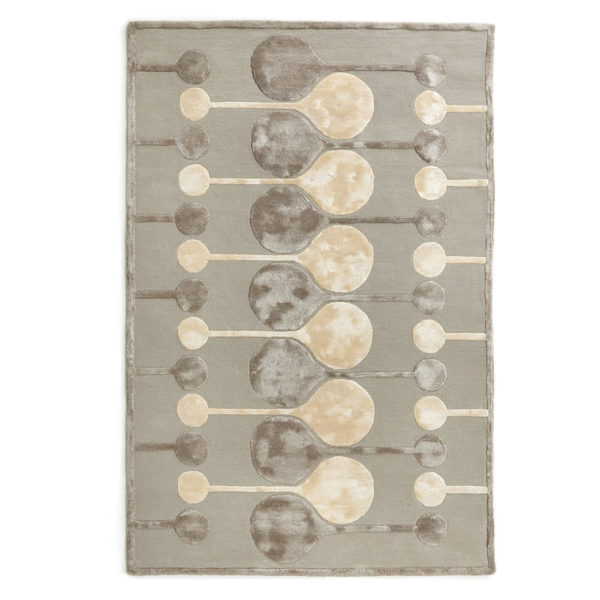 Is it just me, or does the print from the Droplet Hand Tufted Rug remind you of tablespoons? It's definitely giving major baking vibes, but we don't recommend placing it in your kitchen for maintenance reasons. Featuring an interlocking pattern of spoon-shaped figures, this indoor carpet may put you in a cake-making mood.
Offered in slight shimmer, the Droplet Hand Tufted Rug will pair well with any silver-toned home decor. It's currently offered in four available sizes for those interested:
6' x 9': $1,195
8' x 10': $1,695
9' x 12': $2,295
11' x 13': $2,995
Who Is Jonathan Adler For?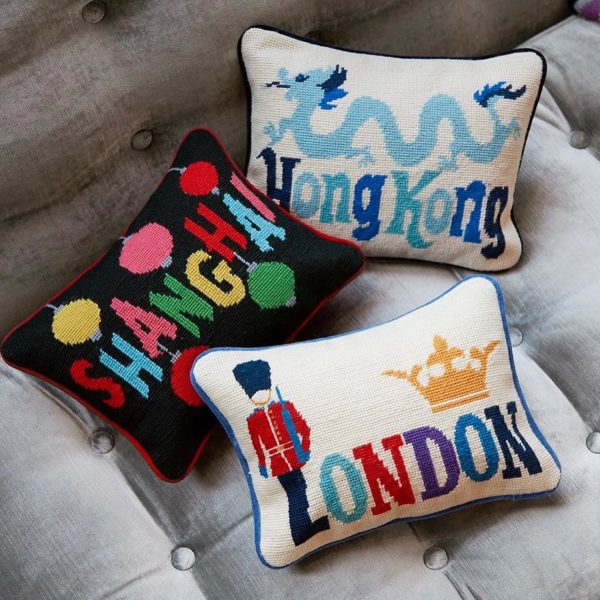 Have an eye for interior design? If so, you're Jonathan Adler's ideal candidate. They typically cater to mid-century aesthetics, nautical themes, and cool-toned color palettes.
By selecting their home decor and furniture, your living space will tend to look more refreshing, open, and inviting. I mean, who doesn't want to transform their pad into a Better Homes & Garden magazine page?
Jonathan Adler Reviews: What Do Customers Think?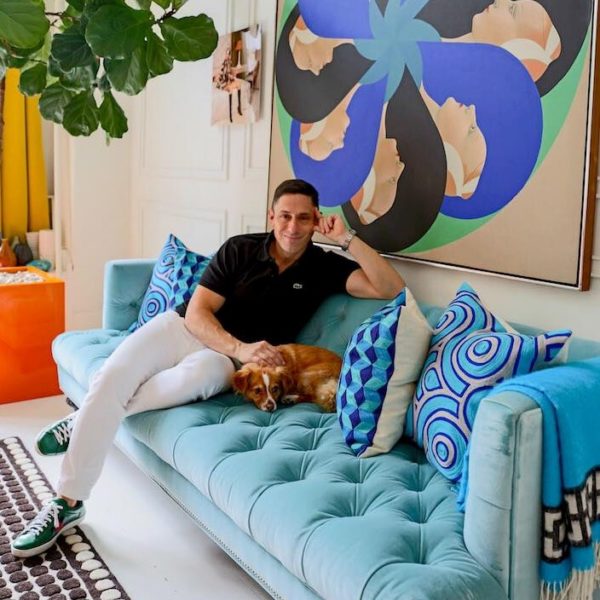 Furniture shopping is no joke. Like buying a new phone, lifestyle goods often require a hefty expense on your part. So with that in mind, is J.A worth the investment? To help readers make a more informed decision, this Jonathan Adler review has compiled a list of common customer feedback and ratings from various sources.
To kick things off, let's take a look at the rankings posted for some of their best-selling products, shall we?
The Talitha Cabinet: 13 reviews with 4.8/5 stars
The Sinsemilla Beaded Pillow: 2 reviews with 5/5 stars
The Milano Hand Tufted Rug: 2 reviews with 5/5 stars
The Happy Pills Beaded Pillow: 3 reviews with 5/5 stars
Unfortunately, we couldn't find many reviews posted for the best-selling products we did feature—but you should know that there's a total of 3,935 testimonials on jonathanadler.com. So far, the consensus is quite positive, as most customers agree that J.A furniture is beautifully made and high-quality in construction.
"This piece is BEYOND words," one reviewer shared for the Dora Maar Centerpiece Pedestal Bowl. "OMG, love it! Put my orchid plants on them and couldn't be happier. It is stunning and has been a wonderful addition to the decor upgrades I recently did in my home."
The hype for Jonathan Adler furniture continues on other websites such as Slumber Search, Wayfair, and Yelp. Aside from product quality, buyers shared the excitement of finding one-of-a-kind pieces for their living space.
Others agreed that in-person shopping was a plus, as it seems that J.A's customer service went above and beyond their expectations. Of course, we'll let the ratings and testimonials do all of the talking.
Yelp for the brand's Greenwich, New York location: 19 reviews with 3/5 stars
Wayfair for the Lampert 85" Velvet Sofa with Reversible Cushions: 21 reviews with 5/5 stars
Slumber Search: 167 reviews with 9.4/10 stars
"I bought three incredibly cool looking pillows. One was in the store while my sales person, bless her heart, called around the country to find two more that matched what I saw online. They were shipped from Santa Monica at no charge for the shipping," one Yelp reviewer detailed.
Slumber Search, a company that commonly reviews furniture, left a commendable critique of this online brand. "Jonathan Adler is a designer furniture and home decor brand with a luxe and chic design aesthetic. Their sassy and light-hearted flair is reflected in their devotion to glam and statement pieces for their own sake."
Jonathan Adler holds a few complaints, but quite sparingly. For example, some buyers noted issues in customer service and delivery times. It's not totally unheard of for a company to run into these kinds of problems, and we still think it's worth giving J.A furniture a try.
Is Jonathan Adler Worth It?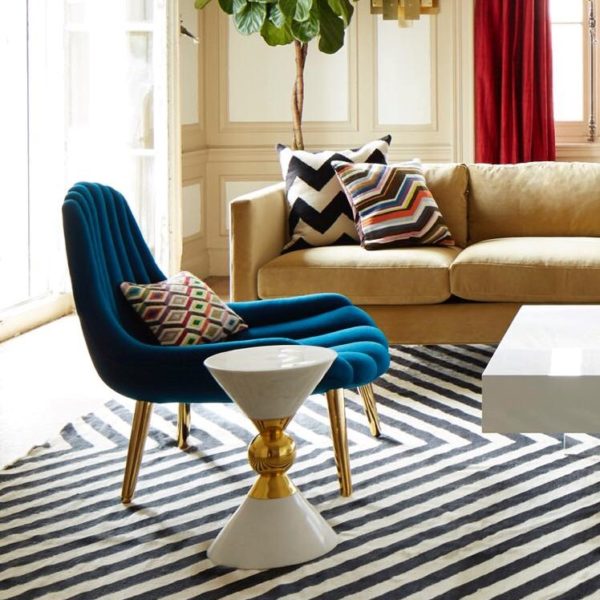 It's two thumbs up from us. While expensive, Jonathan Adler is an exceptional furniture brand to support if you're looking for something unique.
It's especially heartwarming to know that some of their pieces are handcrafted, which provides a sort of sentimental twist compared to stiffly designed, manufactured alternatives. From barstools to throw pillows, you can find a wide assortment of decorative elements that are lovingly made.
For those who are beyond their Ikea days, this Jonathan Adler review recommends that you give this company a try. And if price is the one thing that prevents you from hitting checkout, we suggest staying put for some promotions and discounts.
Jonathan Adler Promotions & Discounts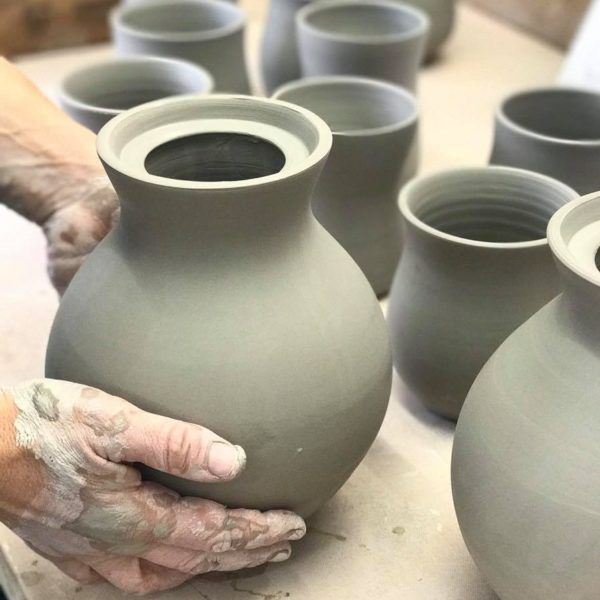 This Jonathan Adler review found out the brand conveniently offers a sale outlet—in which you can find markdowns as low as 65% off.
Plus with their refer-a-friend program, buyers can receive $20 in points for every successful referral.
Lastly, Jonathan Adler has a rewards program. By joining in, members get access to insider perks and company-exclusive promos.
Where to Buy Jonathan Adler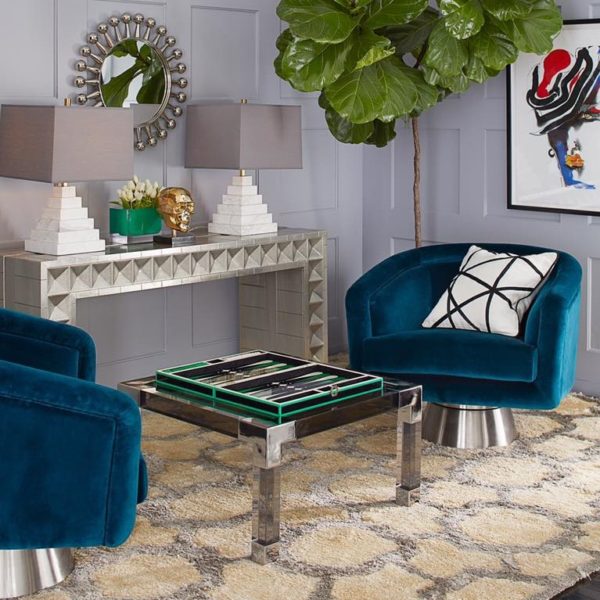 Looking to buy a nautical-themed rug? Customers can head over to jonathanadler.com to see what they have to offer. Aside from visiting their in-store locations, you can also find them at partnered retailers such as:
Wayfair
William Ashley
Black Rooster Decor
Neiman Marcus
The Bay
Saks Fifth Avenue
FAQ
Who owns Jonathan Adler?
Since 1998, the brand has been owned by founder Jonathan Adler.
Does Jonathan Adler ship internationally?
Yep! If you live outside of the US, Jonathan Adler encourages you to give them a call to arrange a full quote.
What is Jonathan Adler's Shipping Policy?
This Jonathan Adler review is happy to report that they offer free shipping on orders that total $150 or more. Anything below this amount is charged a flat fee of $10. They also provide other delivery options such as Express and Expedited.
It usually takes 7 to 10 business days for packages to arrive, but it ultimately depends on how large the product is.
Most orders require White Glove delivery, which typically takes 10 to 14 days to arrive. For pricier furniture, shipping fees may range from as low as $75 to as high as $250.
To help keep tabs on your package, the brand will issue a tracking number alongside a confirmation email.
What is Jonathan Adler's Return Policy?
Jonathan Adler provides a 30-day window for customers to send back their unused products. For damaged items, buyers have 48 hours to report them. It's worth noting that certain merchandise cannot be returned.
This includes furniture, lighting, art, wallpaper, custom designs, and final sale products. International orders are also exempt from their policy as well.
Unfortunately, they do not provide a free shipping label for buyers to use. To initiate this process, customers must reach out to the brand to receive their RMA number. Once this step is completed, you can mail your returns to:
Jonathan Adler Returns
2568 HWY 321 South
Newton, NC 28658