Helly Hansen Odin 9 Worlds 2.0 Jacket Review
The Helly Hansen Odin 9 Worlds 2.0 Jacket is a do-it-all hardshell that is one of the Norwegian manufacturer's most popular jackets. It's gotten a lot of interest as a general purpose outdoor trekking shell, but not as much as a ski shell — even though Helly Hansen includes an avalanche rescue RECCO reflector in the hood and includes the jacket in its men's Ski Jackets lineup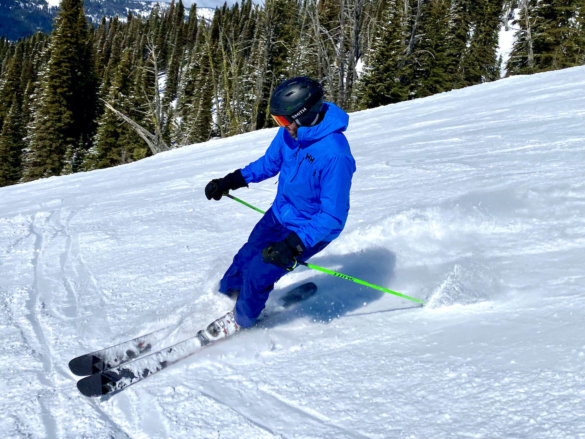 We were first interested in the Odin 9 Worlds 2.0 Jacket first as a waterproof ski jacket shell, but now we also appreciate it as a crossover rain jacket. It's reasonably lightweight, the fit is trim but comfortable, and the style is through the roof. Most of our ski gear ends up packed away each season to wait for the next season, but the Odin 9 Worlds 2.0 Jacket? It's earned a spot in the gear closet for further study on the trail.
Waterproof, Breathable Fabric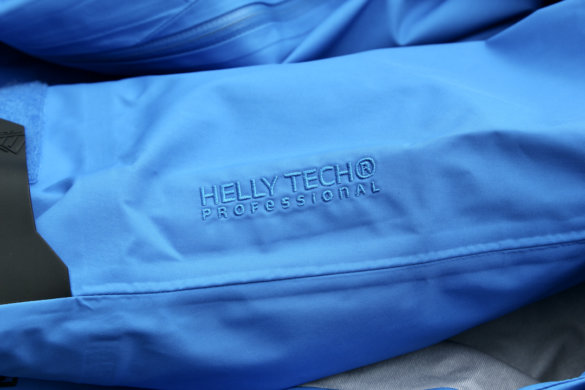 The Odin 9 Worlds 2.0 Jacket uses Helly Hansen's Helly Tech Professional 3-layer, waterproof, breathable, and windproof fabric. Helly Tech fabrics include a DWR exterior coating that helps shed water, but a waterproof membrane provides the direct waterproofing. Helly Hansen weaves 'Helly Tech' jackets into three performance levels: Professional, Performance, and Protection. Professional, as you might guess, provides the best waterproofing.
How's the fabric feel? It's lightweight and supple for a ski hardshell. It feels thick and durable enough to handle the elements but light enough for cool weather trekking. For warm weather backpacking it'll be a bit heavy, but doable if you only go once or twice a year.
In terms of durability as a ski shell, I don't have any concerns about it — should last for years. More importantly, I really appreciate how supple it is on the mountain. Feels great when you're wearing it.
Odin 9 Worlds 2.0 vs Odin 9 Worlds 'Infinity'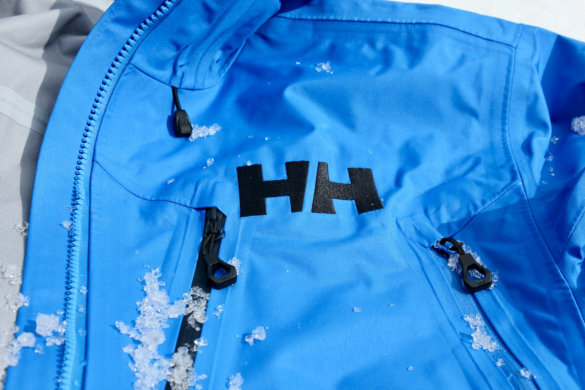 Helly Hansen currently makes two versions of its "Odin 9 Worlds" hardshell jacket. The 2.0 version is an upgrade from the original Odin 9 Worlds jacket, and it uses a traditional Helly Tech waterproof/breathable fabric with a DWR coating applied to the outside.
The Odin 9 Worlds Infinity Jacket, on the other hand, is an upgrade to a whole new fabric, Helly Hansen's Lifa Infinity Pro. What's the difference?
Lifa Infinity Pro fibers are tightly woven and are hydrophobic, but they don't have to be treated with a DWR chemical like traditional waterproof/breathable fabrics. Helly Hansen says this is better for the environment. Plus, it means you won't need to refresh your DWR coating over time.
DWR coatings, by the way, help keep water from clogging up the tiny pores in a waterproof/breathable jacket. Without the DWR coating, the jacket is still waterproof, but if the outer shell is saturated, water vapor from your body will have a hard time exiting.
Helly Hansen's innovative Lifa Infinity Pro fabric doesn't need a DWR to work, which means you won't have to refresh it. That is super cool. Any drawbacks? The Odin 9 Worlds Infinity Jacket costs about $100 more than the Odin 9 Worlds 2.0 Jacket.
If you're wondering how to refresh a DWR coating, it's not particularly hard. We've had great success with Nikwax TX.Direct Spray-On (which has no harmful PFCs).
Stellar Zippers & Pockets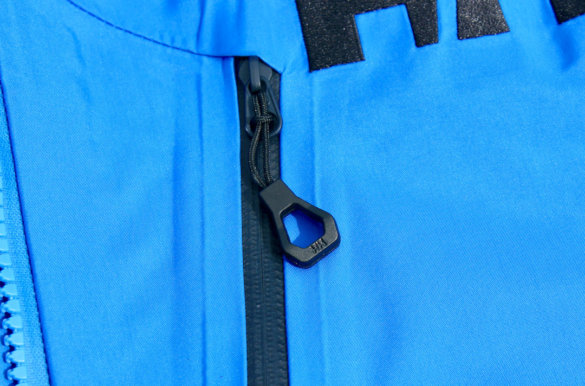 The Odin 9 Worlds 2.0 Jacket has stellar zipper pulls on all of its pockets, as well as on its pit zips. The zipper pulls are easy to find and use, even when wearing gloves. In addition, Helly Hansen has done a nice job of positioning the pockets to make the zippers easy to grab.
As for pockets, you get a small upper chest pocket and two large front pockets that are high enough to be backpack waist-belt compatible. Helly Hansen includes two-way zippers for each of the large front pockets, which lets you open the pockets from the bottom or from the top. It also means that you don't have to have the long zipper fully open if you want to warm your hands in your pockets . . . or grab something out while it's raining.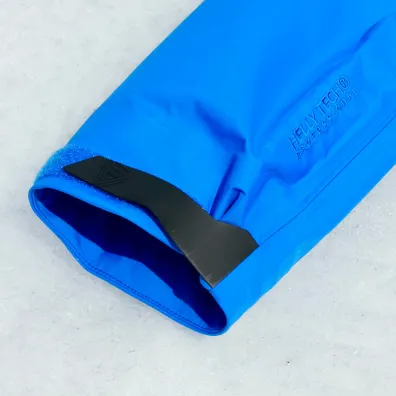 Fantastic Elbows
There is something special about the fit of the Odin 9 Worlds 2.0 Jacket. Even though it has a relatively trim torso, there is very little binding across the shoulders and arms. At first glance, the construction seems traditional but arm mobility — across my body or arms raised — is surprisingly good for a hardshell.
Upon closer inspection, Helly Hansen has sewn in articulated elbows with multiple panels of (fully seam taped) fabric. It's barely noticeable, but wow — it sure seems to improve arm mobility.
The Odin 9 Worlds 2.0 Fit Recommendations
One of the most important considerations when buying online comes down to fit. How does the Helly Hansen Odin 9 Worlds 2.0 Jacket fit compared to other similar hardshell jackets?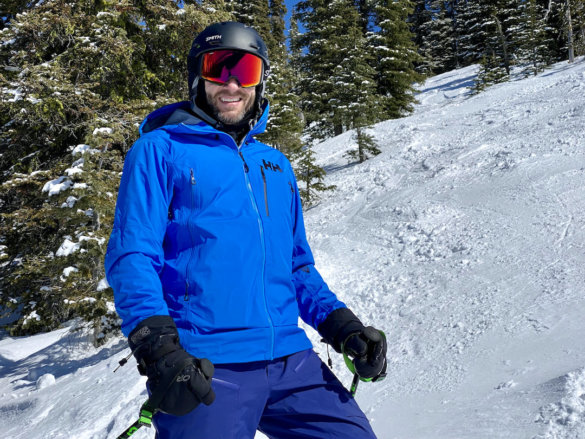 The Odin 9 Worlds 2.0 Jacket fits a bit trim with a slightly smaller-than-average torso size. The sleeve length fits just a bit long, which is perfect because it lets you be active outside with your arms and still retain coverage.
I'm about 6'3″ and 220 pounds with long arms, broad shoulders, and a flatter stomach. The size XL review unit fits me almost perfectly. How so? With a light base layer and a midweight midlayer, it's perfect. When I add a base layer and a thicker insulated jacket midlayer, it's a bit tighter for skiing than I usually appreciate, but still doable.
Incidentally, Helly Hansen has a pretty good 'Fit Finder' pop-up feature on its clothing pages. When I step through the questions, Helly Hansen recommends the XL for my body size (69%) accuracy rating. Helly Hansen also shows me a 31% success rate for the XXL. I think the averages are spot on. I'm a tweener here — I could easily stick with the XL or go to the XXL to allow for thicker layering underneath.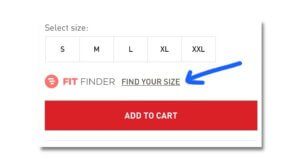 For men in the United States who typically wear jackets marketed primarily to North Americans, I recommend that you size up if your typical jacket size is usually a bit trim already. If your typical jacket size is a bit loose, you'll likely appreciate the trimmer fitting Helly Hansen Odin 9 Worlds 2.0 Jacket.
.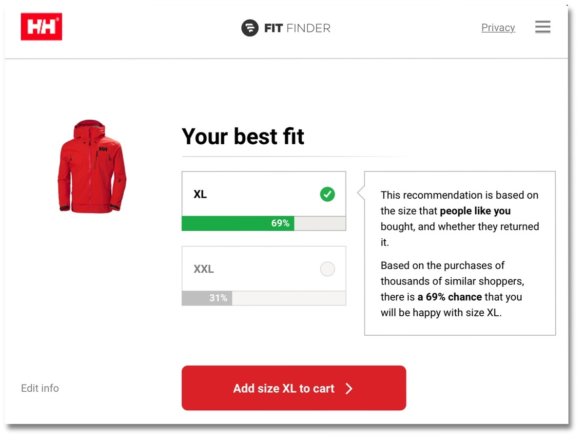 If you're curious about what a bit of extra weight — or less weight — does to your fit recommendation,
Ski Shell Notes
The Helly Hansen Odin 9 Worlds 2.0 Jacket is missing a few ski-specific features . . . but they also happen to be the features we care least about when we're on the ski hill. What are they?
The Odin 9 Worlds 2.0 Jacket does not have a soft interior collar. Some ski shells will include a tricot fabric lining on the collar, which feels great against your face. I generally have a trim beard, so it's not something I notice easily either way. And when it's really cold, I usually have a neck gaiter to pull up.
Next, the Odin 9 Worlds 2.0 Jacket doesn't have a powder skirt. Some competing jackets, like the Stio Raymer Jacket, also forego a powder skirt in favor of delivering a lighter jacket that will also work for non-skiing use.
Last, Helly Hansen doesn't include a sleeve pocket, which can be handy for your RFID ski pass. However, this isn't a dealbreaker because Helly Hansen includes two interior pass-sized stash pockets inside the two monster frontside pockets. These little interior stash pockets can keep your pass positioned below typical chest pocket contents but above heavier contents that are also inside the deep front pockets.
Shop Helly Hansen direct and get FREE Shipping on orders over $50 — and free 90-day returns!
Helmet-Compatible Hood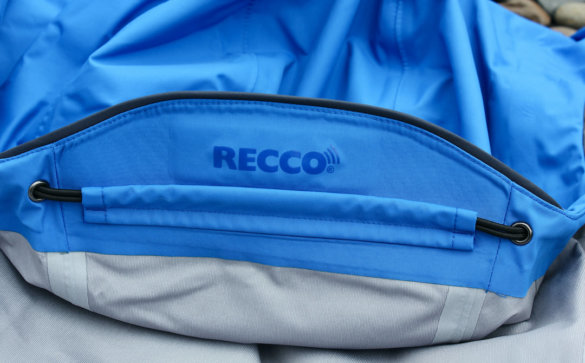 The Verdict: Outstanding Fit & Finish
All-in-all, there's a reason why the Odin 9 Worlds 2.0 Outdoor Shell Jacket is one of Helly Hansen's best selling jackets: The overall quality and attention to detail is outstanding. The fit, while a bit trim compared to most hardshell jackets, is very good with excellent mobility. Finally, there's an almost intangible feature working here, too — the style. The Helly Hansen Odin 9 Worlds 2.0 Jacket not only comes in rich, bright color options, the cut looks great in person. Very highly recommended.