It's our goal to cut through the noise and arm you with the information you'll need to find the best massage gun for you. With so many options, we know it can be a somewhat overwhelming process — which is why today, we're taking a look at one of the most popular ones on the market. Of course, we're talking about The Sharper Image deep tissue percussion pro massage gun.
After our analysis and testing, we've concluded that The Sharper Image massage gun raises a high bar for what you should be looking for in a massage gun. It boasts high-quality performance, strong battery life and popular attachments.
Let's take a closer look as to why it should be on your radar if you're looking for a new or upgraded massage gun.
The Sharper Image Massager "Hype"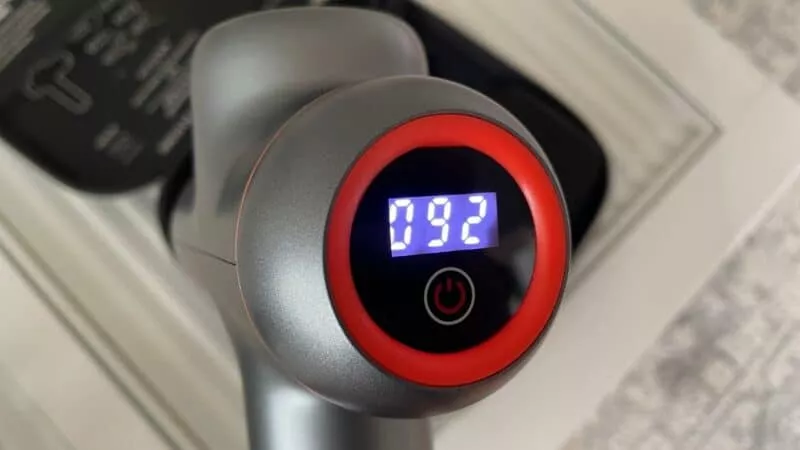 Sharper Image is a luxury and high-tech consumer electronics brand. It offers a seemingly endless selection of high-tech products, including air purifiers, headphones, white noise machines and more. If there's a tech product you have in mind, chances are the Sharper Image makes it. Aside from the wide array of products they offer, customers trust the Sharper Image for its quality, as well.
What The Sharper Image Gets Right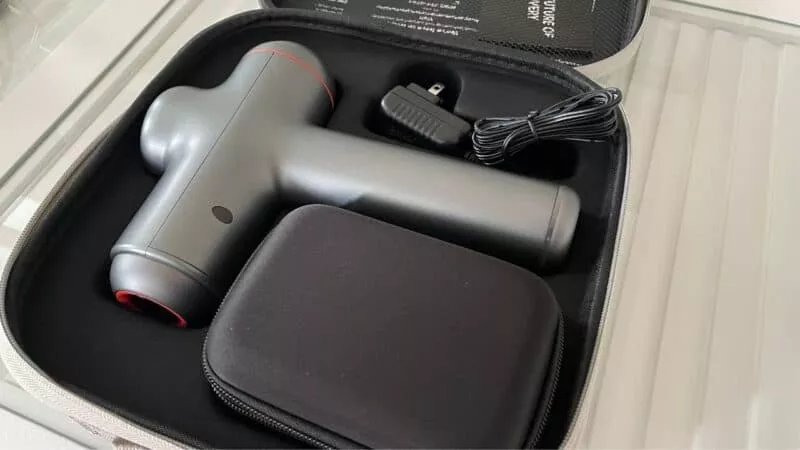 The overall design is nice with an ultra-smooth finish to the body. We particularly like the orange accent rings around the back that provide just the right amount of aesthetic pop.
According to the Sharper Image, the machine weighs about 1.5 pounds. The carrying case is fairly attractive, too, unlike some other brands such as the Hypervolt.
The box also comes with six massage head attachments with extra o-rings to keep them seated. They're the standard variety that are sold with most other massage guns and while they're basic, they work just fine.
Battery life is advertised to last up to 4.5 hours, and we've been using our unit a bit more for testing and has held up very well. You shouldn't have to charge it that often.
Buyer beware, though: We did see quite a few reviews stating that customers returned their massage guns because of premature battery failure. While it's unclear if this is a systemic issue, it's worth at least keeping in the back of your mind for now.
As far as other reviews go, people give it high praise for its long battery life, various attachments, size, and of course, high power. One said that it "does not disappoint," while another lauded it for its "easy interchange of the heads," adding that the "best one is the acupuncture head."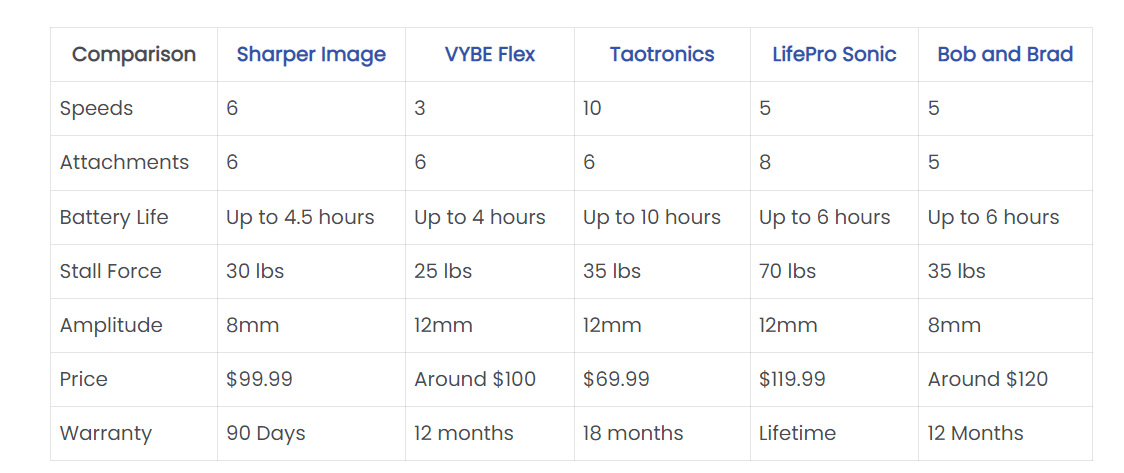 According to our calculations massage gun has a stall force around 20 to 30 pounds maximum, and an amplitude of 8mm. These features describe not only the depth of the massage, but the force behind the percussion, too. For comparison's sake, the Theragun Pro has a stall force of 60 pounds and an amplitude of 16mm — virtually double that of the Sharper Image, although at nearly six times the price.
As is, the Sharper Image works well on areas of the body like the arms and shoulders. Once you move to fleshier, more dense areas like the glutes and the quads, you'll realize that it lacks the ability to "dig in." In fact, doing so would only stall the motor.
Sharper Image Massage Gun Comparisons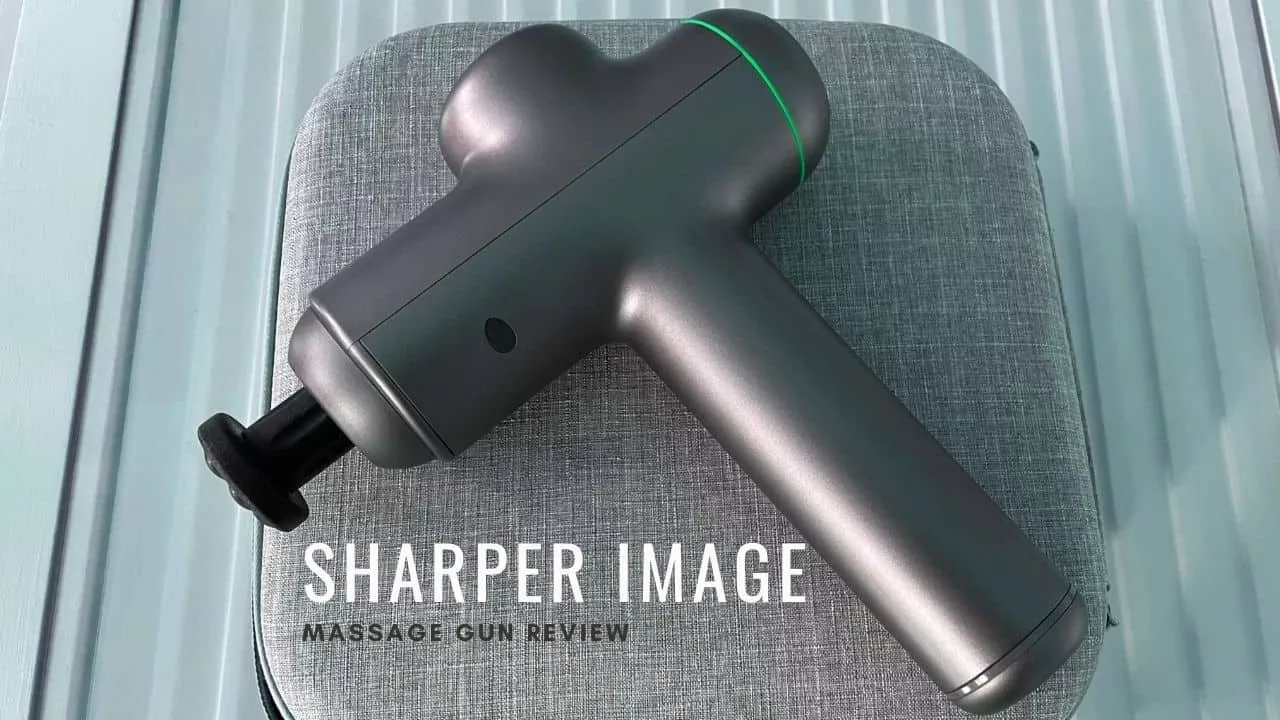 With all of this in mind, it's important to shop around to compare and contrast the right massage gun for you. To that end, we've rounded up some other top-tier massage guns on the market that you might want to consider.
While the Sharper Image massage gun is certainly a solid choice, depending on your preferences, you might want to consider another type. For example, the VYBE Flex particularly has virtually the same price point and is one of our top-rated massage guns on the market. Better yet, you can get an additional 10% off the VYBE Flex with code MGF10VYB.
Bottom Line
When shopping for massage guns, it's important to look out for attributes that are important to you, as well as a brand name you know and trust. To that end, the Sharper Image massage gun certainly fits the bill nicely. We definitely recommend keeping it at the top of your shortlist when shopping for a new massage gun.
Sharper Image Deep Tissue Percussion Massager FAQs
Portable Evaporative Cooler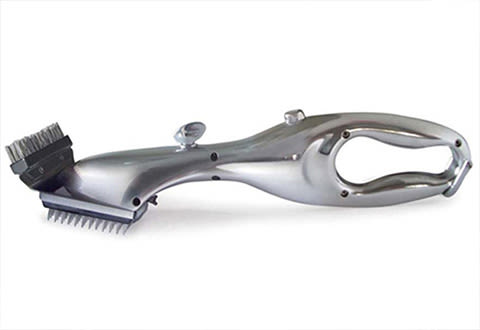 IN STOCK NOW – Usually ships from our warehouse the same day.
The Portable Evaporative Cooler combines the natural, eco-friendly properties of evaporating water with a powerful fan to keep your indoor/outdoor space cool and comfortable. Simply fill the water tank and use the wireless remote to control the air speed, oscillation and humidifier/misting functions. Recommended for rooms up to 250 sq. ft.
Stainless Steel Steam Cleaning Grill Brush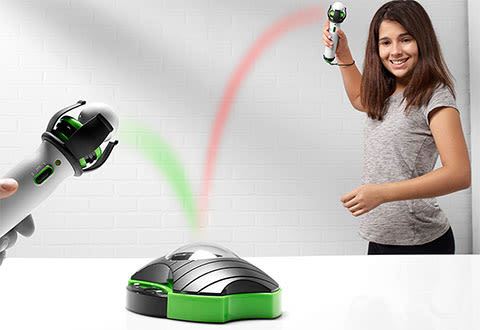 4th of July Sale! Take $15 Off Orders Over $75! Use Promo Code 4THJULY in the Cart.
IN STOCK NOW – Usually ships from our warehouse the same day.
The Stainless Steel Steam Cleaning Grill Brush uses heat from your grill to make steam, so cleaning the barbecue is a breeze. Just fill the reservoir handle with water and flip a switch. Water flows into the steel bristles. When the water hits the hot grill, it turns to steam and instantly loosens up grease and charred foods. The powerful combination of steel bristles and steam gives your grill a clean-as-new appearance that's also safer for food preparation. Works on virtually all charcoal and propane barbecues with cast iron, stainless steel or ceramic grilles.
Motorized Pool Lounger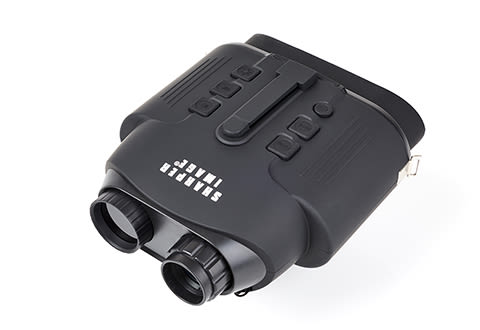 Why just float when you can drive? The Motorized Pool Lounger will revolutionize the way you relax (and play) at the pool. This unique lounger features dual 66-Watt motors with 3-blade propellers to transport you around the pool or lake. Simply use the joystick controllers to go forward, backward, left, right or spin 360 degrees. Features heavy-duty PVC construction, built-in headrest and cup holder. Max weight capacity 300 lbs.
Giant Rubber Duckie Float
Add some cool to your pool! The Giant Rubber Duckie Float will have your friends "quacking up" with laughter. It's the ultimate inflatable for fun at the pool, with room for 1 or 2 riders (up to 175 lbs. total), built-in cup holders and four handles for safety. You can even place him on dry land to use as a poolside lounger. Made with heavy duty vinyl for loads of splash-splashing fun in the sun.
True Night Vision Binoculars
True Night Vision Binoculars have built-in infrared lights that allow you to see clearly, shoot photos and record videos, even in total darkness. Get a closer look with 7X optical zoom and 2X digital zoom. Features 3 levels of infrared brightness and a nighttime range of 300 feet (1,320 feet in the daytime). Ideal for emergency use, spotting wildlife and home security. Micro SD card required.
Smart Tracking Telescope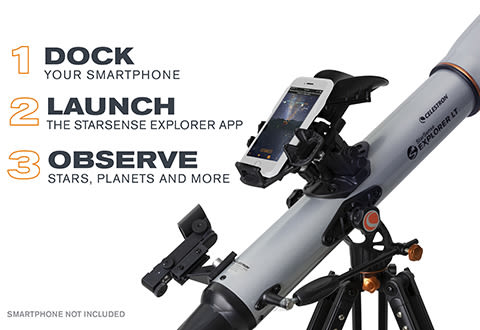 Discover galaxies far and beyond using the Smart Tracking Telescope. Special sky recognition technology enables you to use your smartphone to analyze star patterns and calculate its position in real time! Download the free app to view a list of planets, galaxies, star clusters and more. App compatible with iPhone (iOS 10.0 or later) and Galaxy/Android (OS 7.1 or later). Features an 80mm refractor lens, 25mm and 10mm eyepieces, 2X Barlow lens and an optional red dot finder. Ideal for beginners and enthusiast users. Includes a full-height tripod with an accessory tray and smartphone dock.
Infrared Heating Pad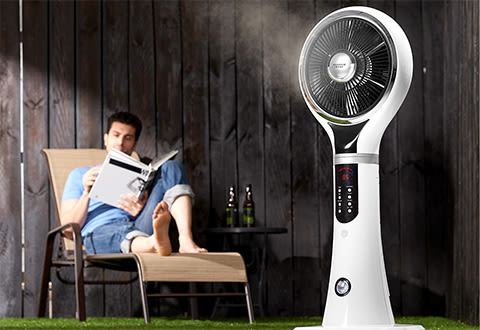 The Infrared Heating Pad is designed to provide temporary pain relief from arthritis, carpal tunnel syndrome, joint stiffness, cramps, sports injuries and more by utilizing a safe, low-voltage design. Unlike traditional heating pads, the Infrared Heating Pad uses Far Infrared Ray (FIR) heat, so it's never hot to the touch. Instead, the Far Infrared Rays penetrate deep to warm your muscles and bones. Features a large size (27"x35"), 3 heat levels and a 60-minute auto shutoff timer.
Virtual Pong
Virtual Pong is the fast-paced, futuristic game that keeps players on their toes with a simulated "ball of light" that bounces off the walls and ceiling. It's the spaced-out version of tennis you can play in your living room. Use your electronic "racquet" to face off against an opponent… or play solo against the game console. The first one to 11 wins! Includes 2 racquets. Ages 6+.
Monster Vision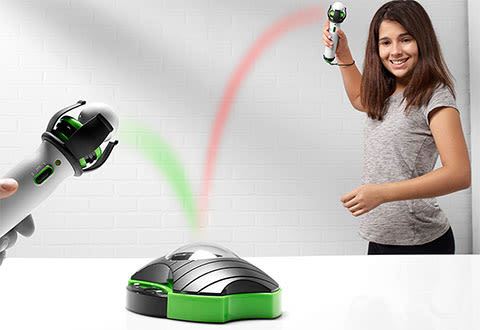 Monster Vision is the exciting action game that allows players to zap monsters, right in their own surroundings. A high-tech projector headset makes "virtual monsters" appear right before your eyes. Take aim and zap them before they disappear. Includes 1 headset (fits kids and adults) and 1 blaster. Ages 6+.