I've decided to spend all of my money, YET AGAIN, on pointless clothing items I really don't need. In fact, this is becoming a repetitive habit of mine and only seems to occur when I'm in a state of boredom. I'm pretty sure (well I hope) I'm not the only one with this problem!!! I've wanted to try I Saw It First for a long time and decided this was the time to do just that.
For online clothing, my baby has to be ASOS. I shop on there all the time and find that personally, I have always had such good service from them and their website. However, when I spotted the I Saw It First discount, I just couldn't resist treating myself to some new clothing items. Being my first purchase from this brand, I was hesitant with the quality and service I was about to spend my hard earned money on. But my god when it arrived, I was surprised by how little I actually sent back. I think I ended up sending 3 things back, and only for the simple reason that they didn't fit…not bad for a first timer! I ended up making two transactions and only spent around £100. I thought I was grabbing a billy bargain with this one and can't quite imagine spending £100 on ASOS and receiving 10 items worth. I wanted to share with you all every item I bought and kept from I Saw It First with reviews!
1. Ribbed Black Bodysuit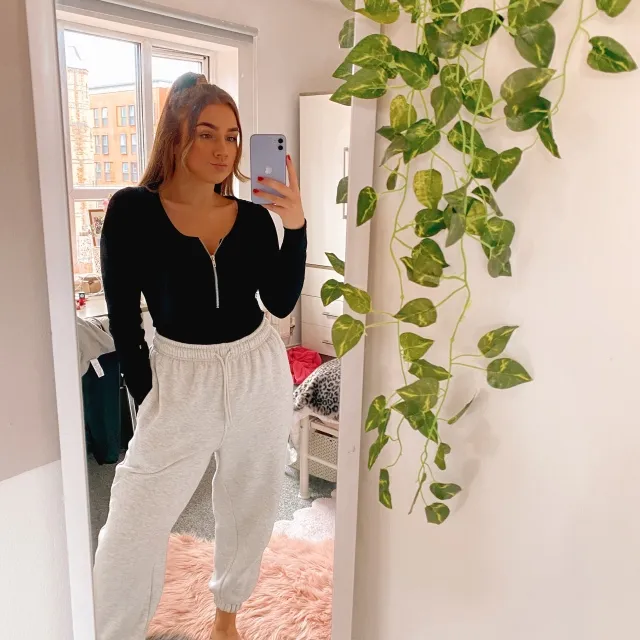 My thought process going through this order was 'I want to be comfy whilst I am not leaving my flat in University'. So forgive me if you notice a running theme with the neutral colours and loungewear vibe. My first purchase for my I Saw It First Haul had to be this basic ribbed black bodysuit, with a half zip detail running through it. I gave this an 8/10 because I fell in love with the long sleeves, comfort and fit of this item. I like having the zip to allow me to give more shape and overall, I think this item pairs well with my Topshop joggers and black trainers. My only downfall on this item was that it doesn't have a fastening, it literally fits like a swimming costume…any girls worst nightmare if you're wearing this on a night out, drinking and constantly finding yourself needing the toilet!
2. Ribbed Grey Bodysuit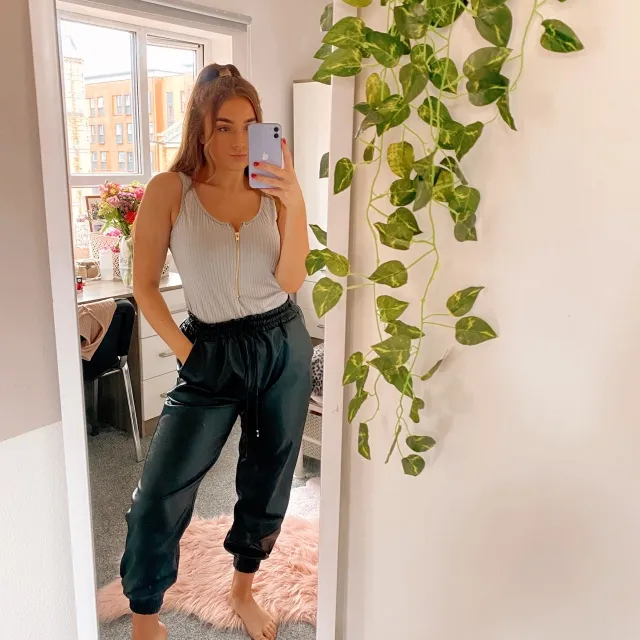 I JUST DON'T SUIT SCOOP NECKS WITH THIN STRAPS AND I DON'T KNOW WHY I CONTINUE TO BUY THESE SORTS OF ITEMS! It really gets me down yet I still purchase items like this as if it will solve all my problems. Like, don't get me wrong, it doesn't look horrific and that's why I decided to keep it but it's just not flattering on my chest (in my opinion). The material is comfortable and stretchy, but I already know that this is going to be one of those tops catching dust at the bottom of my wardrobe.
3. Ribbed Beige Crop Top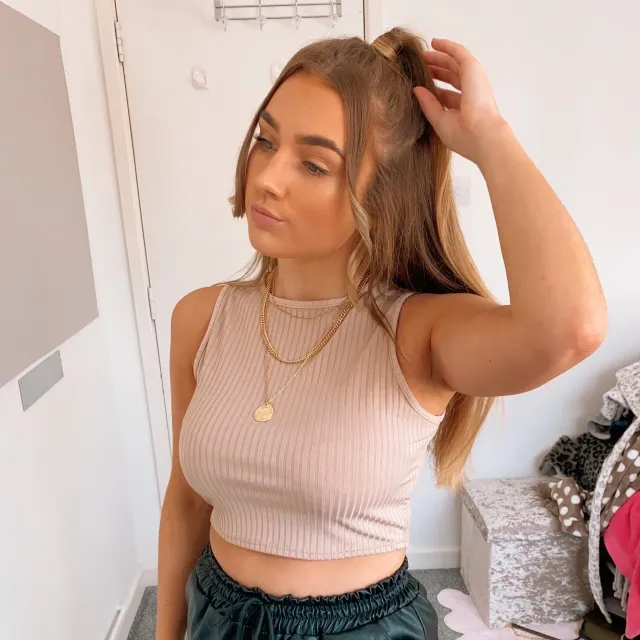 Again, if I had a smaller chest this I Saw It First top would have been a 10/10. It just ever so slightly gapes by my under-arms. I swear, buying tops is just the bane of my life. Nothing ever fits as well as I would like it to or imagine it to, it's a pain. The top itself is neutral toned with a simple ribbed design, absolutely perfect for the chilled, loungewear look I am going for this Autumn. Its extremely cropped so sometimes I do find myself fiddling with it trying to tug it down, but all in all I do find this is my most worn top I have out of this collection.
4. Black Leopard Print Long Sleeved Jumper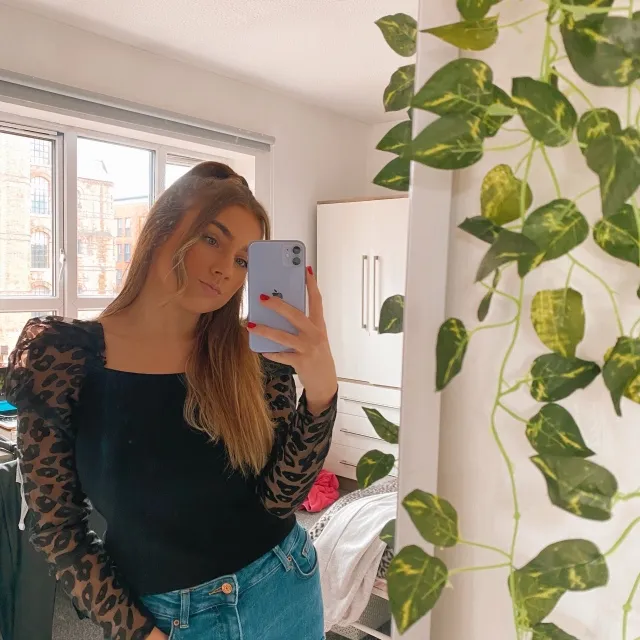 This top is just STUNNING. Honestly everything I was looking for in regards to its fit, style and comfort. The knitted frame of the top is perfect for the transition from Summer into the Autumn/Winter times. The pattern on the long sleeves make this product so unique and its slightly puffed shoulders give the top a gorgeous structure. I'm such a jeans and a nice top girl, like so many of us, and feel like I Saw It First UK offers a great range to suit this style.
5. White Wrap Top
Again, an item from my I Saw It First haul I've been shocked by because of how beautiful it is! The fit of this top, guys I am obsessed. Its wrap design covers everywhere I need it to and gives off an expensive vibe. The material itself isn't see through like you'd automatically expect with cheap white clothing, my nude coloured bra disguises perfectly underneath. In relation to this top, I was on a night out in Liverpool the other week and actually spotted someone wearing this exact item, she finished the look off with a red lip and jeans and honestly, it was to die for… I LOOOVED! Definitely trying this the next time I wear it.
6. Faux Leather Joggers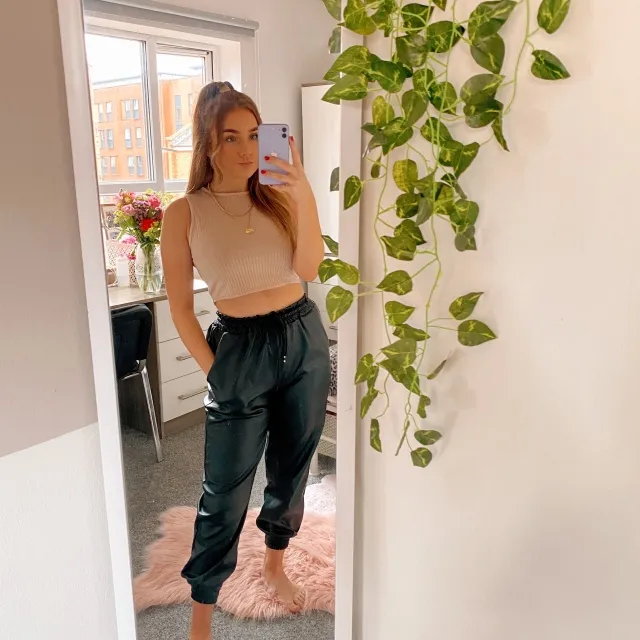 Normally for anything trousers related, I have to get the Petite range in every, single, shop. Scraping 5'3/4 makes online shopping very difficult and I've found that over the years I will rarely ever buy anything trouser related unless I am physically in a store and can try them on. With COVID-19 hitting and, as a result, fitting rooms closing, I've had to step out of my comfort zone and take the plunge for online retailers in this field. I purchased these on a whim not knowing how I would feel about them, they gave me total Autumn/Winter street style vibes which doesn't isn't something I have ever pulled off. These I Saw It First trousers came and I fell in LOVE. So flattering, comfortable and stylish! My oddly shaped legs fit perfectly in them and don't fall too long either. They crop so well and I am over the moon with this purchase. I wore them once for a night out and found they stuck to my legs when it got hot and sweaty but honestly, try find me a pair of faux leather trousers which don't please…
7. Cropped Denim Jacket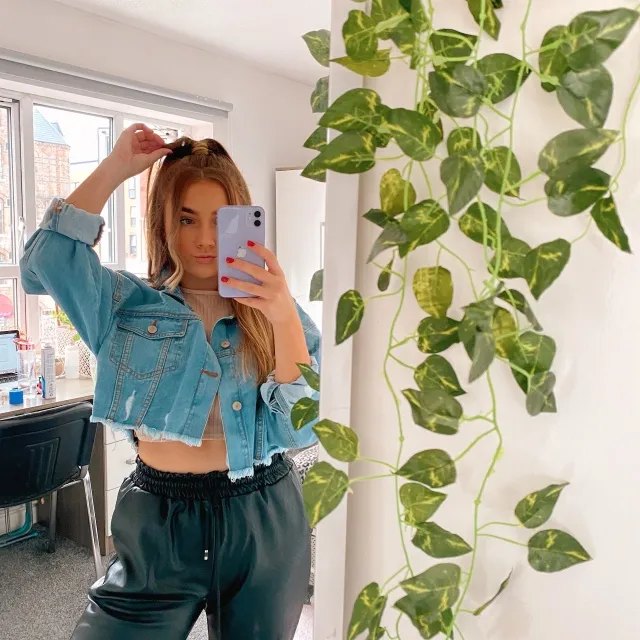 Denim jackets are just a statement aren't they? They match nearly everything in my wardrobe and I can honestly say I don't know what I would have done without my Pull and Bear baby I've had over all these years. The next level up however, was 100% an I Saw It First cropped denim jacket. I had a vision in my mind of an oversized cropped jacket look paired with joggers and my Air Force. Simple but effective. I bought this jacket from I Saw It First, it was originally supposed to be £50 but I grabbed it at a bargain with the I Saw It First student discount. I paid for next day delivery and altogether it came to £24.99. My first thought when I got it out the bag was 'Jesus I would never have paid £50 for this'. The quality just isn't as thick and durable as what you'd expect from a £50 denim item. Although, I do think that what I spent with the discount makes this item a worthwhile purchase. It's stretchy and oversized. Its distressed look
Overall, I would recommend I Saw It First to anyone looking for cheaper alternatives to clothing. I am now finding myself constantly scrolling through their newly added lines to see if I can grab myself any more bargains with the I Saw It First student discount. Don't ask me if I will be buying anything any time soon because my bank says otherwise but I'll definitely hop on there for my staples in the future. For the best deals, make sure you download the I Saw It First app and I promise, you won't regret it!