About Huda Beauty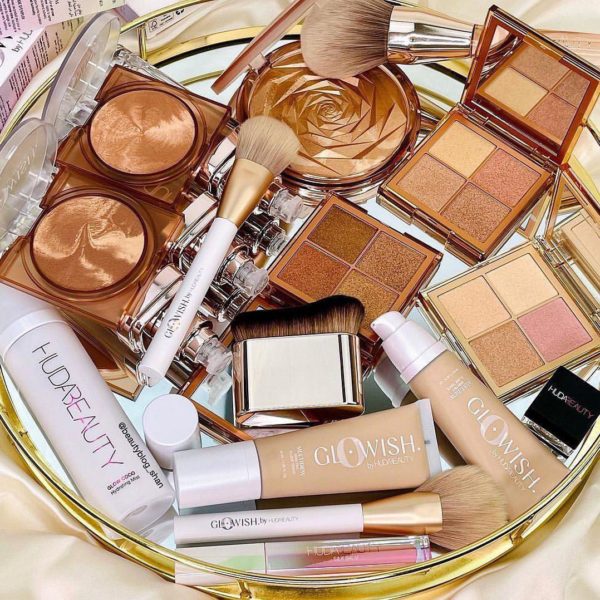 Huda Beauty sells a variety of high-end cosmetics for makeup lovers. The brand has gained substantial popularity over the years, and has attracted immense buzz from the beauty industry. Its Instagram account alone has over 47.9 million followers!
The company has been featured in a variety of notable media sources such as InStyle, Harper's Bazaar, and Forbes. It has also garnered a series of commendations, such as WWD Beauty Inc.'s Indie of the Year prize and Allure's Best of Beauty award.
This Huda Beauty review will take an in-depth look at the brand and its bestsellers, customer ratings, promotions, and more, to help you decide if these cosmetics are worth the buy
Overview of Huda Beauty
The company was founded in 2013 by Huda Kattan. She started a beauty blog in 2010 and became a huge sensation in the community. Then, she decided to bring her skills to YouTube and Instagram.
Huda trained in a cosmetics program in Los Angeles and became a celebrity makeup artist. In 2013, she enlisted the help of her sisters Monda and Alya to create a brand that initially only sold false eyelashes.
They quickly rose to fame and expanded their line of products in Dubai and worldwide. A mission statement from Huda Beauty's founder reads:
"It is about giving people the power to express who they want to be no matter who they are, or where they are from. Beauty is not about how much you spend, but how confident you feel, so that will always be the ultimate goal for us."
This Huda Beauty review will now take a look at the initial pros and cons of the brand:
Pros
Great collection of cosmetics, tools, and gift sets
Reputable name in the beauty industry
Positive customer reviews on eyeshadow palettes
Many formulas are devoid of parabens and sulfates
Cruelty-free brand
Items are sold through many accessible retailers
Ships internationally
Afterpay available on orders over $35
Cons
Not fully vegan or hypoallergenic
No exchanges offered
No contact email or phone number
Huda Beauty sells an impressive assortment of makeup. These products include eyeshadows, foundation, lipsticks, and so much more. It also offers tools and accessories for easy application.
Looking to elevate your appearance? This Huda Beauty review will feature some of the brand's bestsellers from several categories to get you started.
Huda Beauty Foundation Review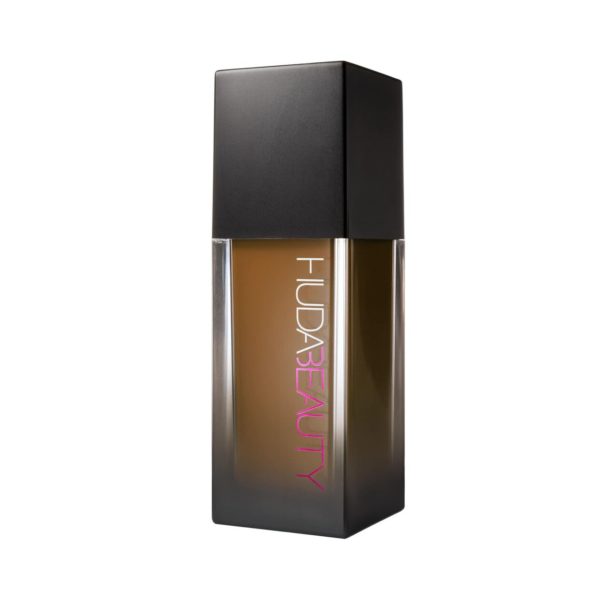 Unless you're blessed with a naturally luminous complexion, foundation is usually the most important part of any makeup routine. It helps create a base so that you can experiment with colors and fun techniques on top. This Huda Beauty review will look at the brand's top-selling foundation below.
Huda Beauty Original #FauxFilter Foundation Review
The Original #FauxFilter Foundation is a liquid formula that offers full coverage for a natural matte finish. It melts your worries over texture with its ultra refined pigments, and creates almost a filter-like effect.
It will give you a radiant finish to reduce the appearance of hyperpigmentation, blemishes, redness, and acne. As long as you've done the right prep beforehand, it goes on smoothly without looking caked on.
For those who are unsure about finding the right color, try out Huda Beauty's handy shade matching guide online. Typically, it works on most skin tones. Using differing application techniques will deliver different finishes from this product.
For a full-coverage, matte look:
Use 1–2 pumps of the Huda Beauty foundation
Stipple onto skin using a synthetic buffing brush
Dab the foundation with a makeup sponge for a smooth finish
For a medium-coverage, dewy look:
Mix foundation with a moisturizer, hydrating primer, or an oil of your choice
Apply all over face with a damp makeup sponge
To complete your base, apply a Huda Beauty concealer onto any problem areas or dark spots. Then, bake with powder.
This Huda Beauty Faux Filter foundation comes in 30 colors that range in price from $16–$40.
Huda Beauty Concealer Review
First impressions are important, and we always want to put our best face forward. If you're not a fan of the full-glam look, concealer can help you touch up on blemishes in just a few minutes.
This Huda Beauty review found only one concealer within the company's beauty line, but really—who needs more than that? All you type-A personalities, keep reading as we divulge more details on The Overachiever.
Huda Beauty The Overachiever Concealer Review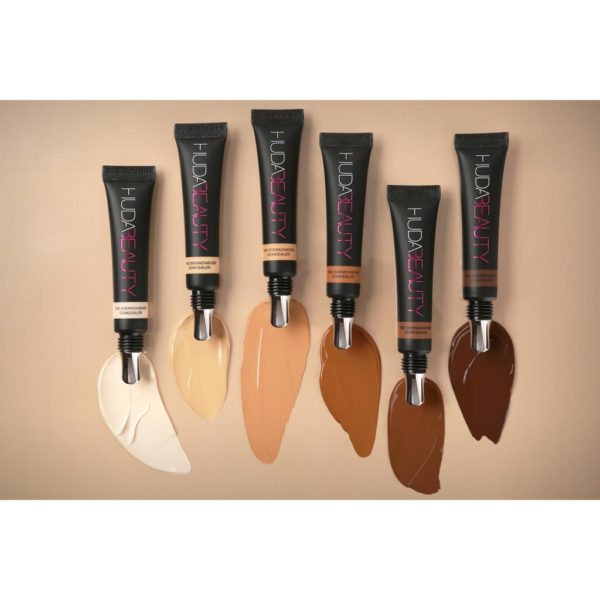 The Overachiever Concealer is a blendable product that comes in 30 different colors. Once you learn about the undertones in your unique skin tone, it should be easy enough to find the perfect shade.
You can dab some of this formula on acne scars and blemishes, or cover up undereye circles after you've applied foundation. It features a cooling zamac tip that helps depuff the skin under tired eyes.
If you want to step it up a notch, use the brand's Conceal & Blend Dual Ended Complexion Brush for a more precise application of this concealer on smaller areas.
The 10ml Overachiever Concealer comes to a cool $30 at checkout.
Huda Beauty Palettes Review
Eye makeup is an art that takes some skill and patience to master. With the right tools and pigmented formulas, you can save yourself some frustration and achieve that 'glow up' with ease.
So, throw on that YouTube tutorial and grab one of these customer favorite palettes featured below in this Huda Beauty review. Along the way, we'll drop helpful tips and tricks.
Huda Beauty The New Nude Eyeshadow Palette Review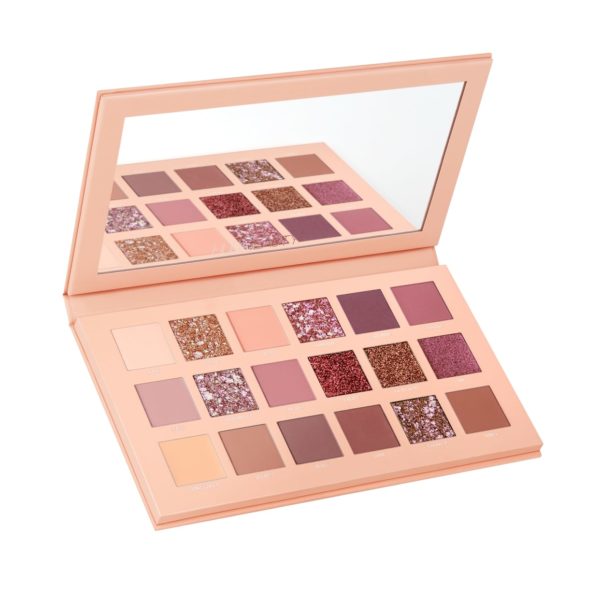 The New Nude Eyeshadow Palette comes with stunning shadows that everyone will love. Whether you like a neutral light look or something delivers a strong impact, this versatile set gives you 18 pigmented colors to play around with.
There are ten mattes, two duo-chromatic reflexive shades, two glitter shadows, one pressed pearl shade, and one concealer base. All of the shadows are free of fragrance and talc, containing aloe vera and coconut oil.
The palette itself is a chic nude color and has a large mirror inside for on-the-go application. If you're new to the world of eyeshadow, this Huda Beauty review can detail some simple steps:
Create a base on your eyelids with The Overachiever Concealer for maximum color payoff
Choose a matte shade from the palette and apply onto lids with a blending brush or your fingers ('concealed', 'play', or 'bare' would be great for this step)
Add reflective shade onto your lids
Top off with a glitter or pearl shade for extra shine and dimension
This Huda Beauty nude palette retails for $65.
Huda Beauty Rose Gold Eyeshadow Palette Review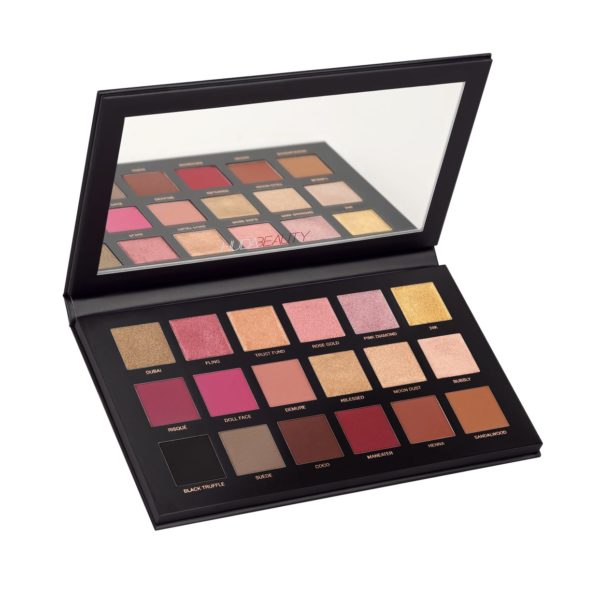 This coveted Rose Gold Eyeshadow Palette offers 18 universally flattering shades. The colors are wearable enough that you should be able to transition from a casual look to a full glam in no time.
These shadows are highly pigmented and suitable for people with both cool or warm-toned skin. When you're feeling bold and feminine, go for the hot pink 'doll face' shade. If you want to look more professional at work, it's best to stick with neutrals such as 'trust fund' or 'sandalwood'.
Each palette includes eight mattes, eight metallics, one eyeshadow liner, and one pressed pearl. Not sure how to make the most out of each type of shadow? We've compiled some suggestions below:
Metallic Shades:
Blend into the matte shades for a diffused look
Apply over a base or on top of bare lids for a high shine look
Apply directly with a silicone brush or your finger for a glimmering look
Pressed Pearl Shades:
Apply on top of mattes for a high shimmer look
Dry to Wet Shade (eyeliner):
Use a damp fine brush to line your eyes with precision
Use a dry brush to create a smokey effect
This Huda Beauty Rose Gold palette sells for $65.
Huda Beauty Obsessions Eyeshadow Palette Review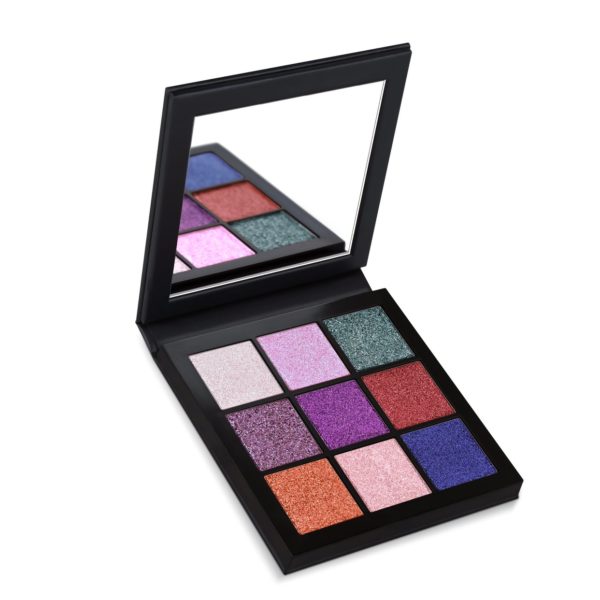 The Obsessions Eyeshadow Palettes are mini and compact sets featuring all of the colors you could possibly need. These are well suited for beginners or even professional artists who are looking to add specific shades to their collection.
Each of these small Huda Beauty palettes are designed with a unique color scheme—from golds to greens and neutrals. You get a mix of mattes and shimmers, which should last a long time since they're highly pigmented and buildable.
The palette itself features a large mirror, which can come in handy for quick checks. There are 11 different options that range from $11–$27.
Huda Beauty Mercury Retrograde Review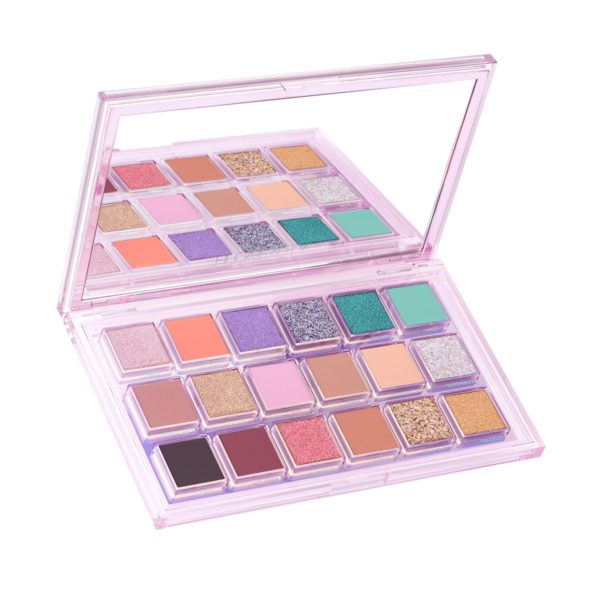 Feeling blue under the moon? It's not just you, sis. It's the Mercury Retrograde. For astrology fanatics who want to express themselves during this Leo season, Huda Beauty offers a selection of 18 eccentric shades.
The set consists of nine velvety mattes, two sheer reflective shades, six metallics, and one glitter powder. This playful palette gives you the chance to explore the galaxy with greens, violets, silvers, and more.
Swipe on 'haze' to make a rebellious statement in full Aquarius spirit. Or if you're a Taurus, maybe you want to chill at home and blend together some classic mattes like 'vortex' and 'karma'. Libras, there's even a shade named in your honor.
Pick up this fun Huda Beauty Mercury Retrograde palette for $67.
Huda Beauty Desert Dusk Eyeshadow Palette Review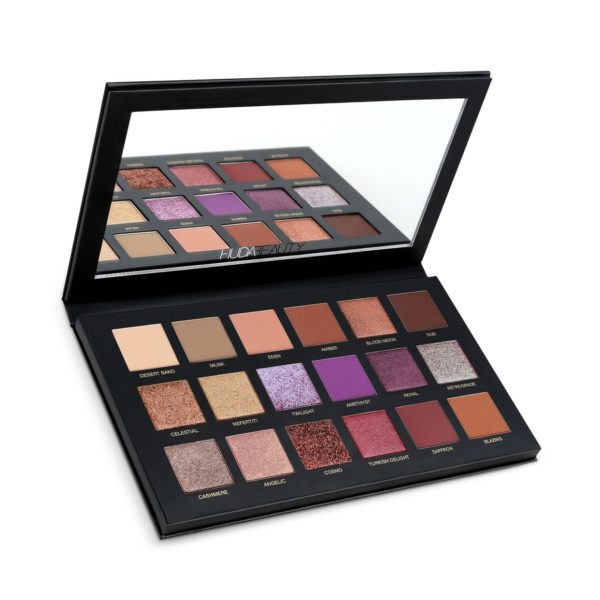 If you're cooped up indoors, escape into a beautiful daydream with the Desert Dusk Eyeshadow Palette. These shades are pressed into four different textures—you get eight mattes, six pressed pearls, three duo-chrome toppers, and one pure glitter.
Start off by creating a base with the neutral mattes. Then, choose a fictional character from your favorite novel or movie. Would they rock the bright purple 'amethyst' shade, or are they more of a subdued but sophisticated 'angelic' type?
Let your imagination run wild with the Huda Beauty Desert Dusk Palette. It retails for only $26.
Huda Beauty Lashes Review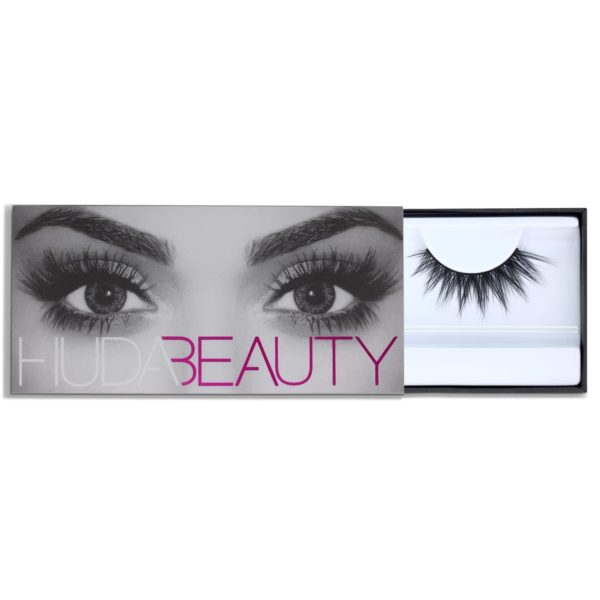 Base? Check. Eyeshadow? Check. Now, the final step in your eye makeup routine is carefully applying some Huda Beauty lashes. To make those peepers pop, the brand has developed 20 different styles of false lashes that all require a bit of glue for application (sold separately).
This Huda Beauty review will peer closely at the top-selling Classic Lash, which can appear natural on almost anyone. Plus, it's super affordable and beginner-friendly.
Huda Beauty Classic Lash Review
Huda Beauty is known for its amazing false eyelashes. That's where the company's roots lie, after all. The Classic Lash style is offered in 11 different forms. All of them are durable and can be worn up to 15 times if taken care of properly.
These lashes are cruelty-free; made from synthetic fibers and a cotton band. They're also suitable for many eye shapes and will amplify your makeup look at the end. The lightweight design allows for comfortable wear during the day, whether you choose the natural or dramatic version.
While it may seem daunting at first (and it does take some practice), applying the Classic Lash can become easier over time. This is the recommended process:
Carefully remove the false lashes from their tray, starting from the outer edges
Measure them against your own lash line and cut off extra bits from the ends
Apply a thin layer of glue on the lash band
Wait for the adhesive to become tacky
Using a pair of tweezers, your fingers, or a lash application tool, place the lashes onto your natural fringe
Gently press them down, paying careful attention to the corners
The Classic Lash varies in price according to the style you choose:
Claudia #6 and Carmen #9: on sale for $13 (down from $18)
Lana #10: on sale for $14 (down from $20)
Monique #3, Coco Jo #4, Candy #5: $16
Giselle #1, Alyssa #2: $18
Sasha #11, Scarlett #8, Samantha #7: $20
Huda Beauty Lipstick Review
Pucker up for this next section! Our Huda Beauty review will now 'gloss' over the brand's high performance liquid and cream lipsticks. Whether you're looking for gift ideas or need some retail therapy, these suggestions can help lift your mood.
Huda Beauty Liquid Matte Lipstick Review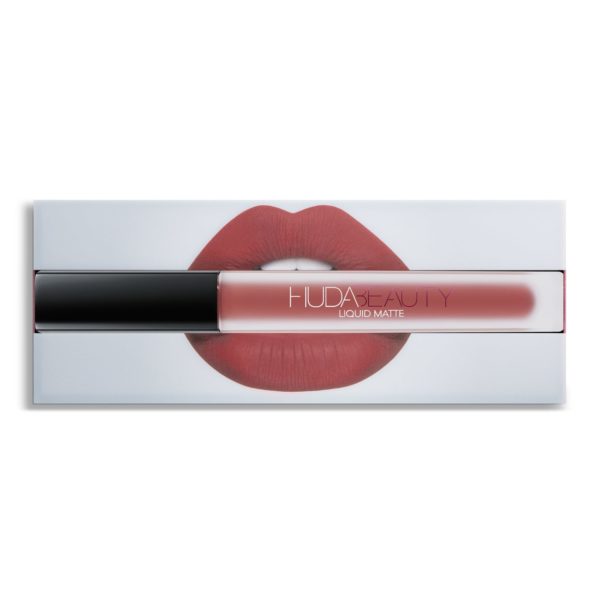 Huda Beauty's Liquid Matte Lipstick can be that ideal companion when you're leading a busy life and don't have time for touch-ups. It stays on for hours, so you can devour that burger or sip on your third afternoon iced coffee stress-free.
This is a highly pigmented liquid-to-matte lip product which gives you a suede finish. The lightweight formula can be applied in one smooth swipe, and hydrates your kissers instantly. It comes in 25 colors that can flatter anyone; if you're looking for a reliable nude, try the Huda Beauty bikini babe shade.
If you want to extend the longevity of your lip color throughout the day, here are a few helpful tips:
Prep your lips beforehand by exfoliating and blotting
Line your pout with a matching Lip Contour 2.0 or Lip Contour Matte Pencil
Evenly apply your chosen Huda Beauty liquid matte vault lipstick
Let it set for 30 seconds
This Huda Beauty lipstick comes with a sleek applicator in a frosted glass tube for $20.
Huda Beauty Demi Matte Vault Review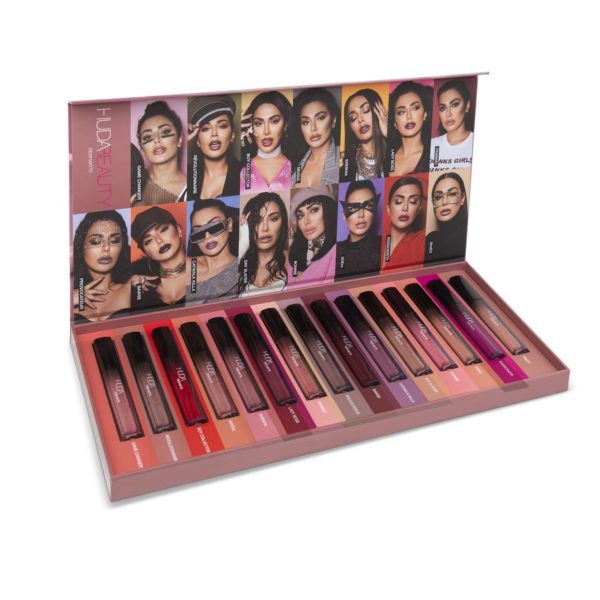 The Demi Matte Vault includes all 15 of the brand's cream lipsticks. These will give you a juicy, satiny finish. The formula also moisturizes your lips while providing an intense pop of color.
These pigmented lipsticks come in a range of feminine colors that highlight the natural contours of your mouth. They're enriched with Maxi-Lip and a tinge of menthol, which simultaneously creates a cooling and plumping effect.
Huda Beauty's Demi Matte Vault costs $260 altogether. If you're feeling generous, it can be the perfect birthday gift for your makeup-obsessed best friend.
Is Huda Beauty Cruelty-Free?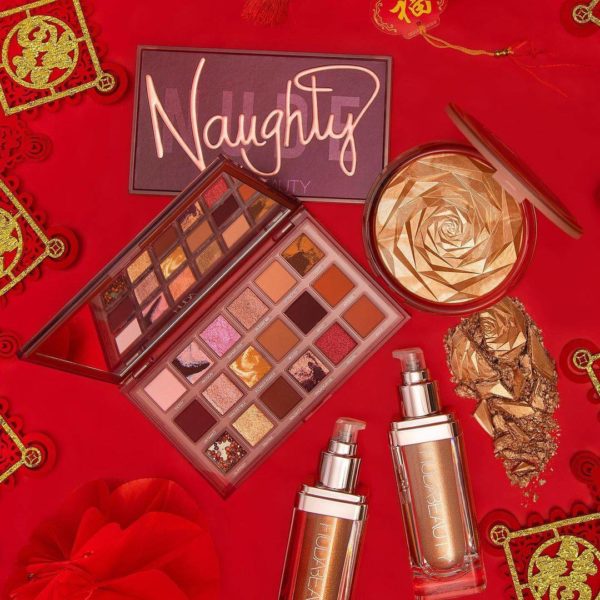 This Huda Beauty review found that the brand is indeed cruelty-free. None of its ingredients or products are tested on animals. Additionally, they don't sell their beauty items in Mainland China.
Is Huda Beauty Ethical?
Huda Beauty does not market itself as an ethical brand. They provide very little information regarding whether their labour practices are fair and sustainable.
Is Huda Beauty Vegan?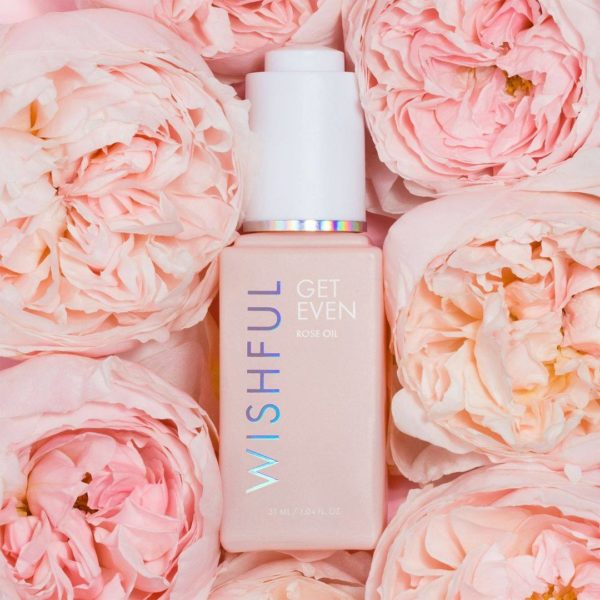 As a whole, Huda Beauty is not a vegan brand. They use beeswax and carmine in some of their products, which are animal-derived ingredients.
If you're looking for vegan cosmetics, their #FauxFilter foundation or The Overachiever Concealer are safe to try out.
Huda Beauty Reviews: What Do Customers Think?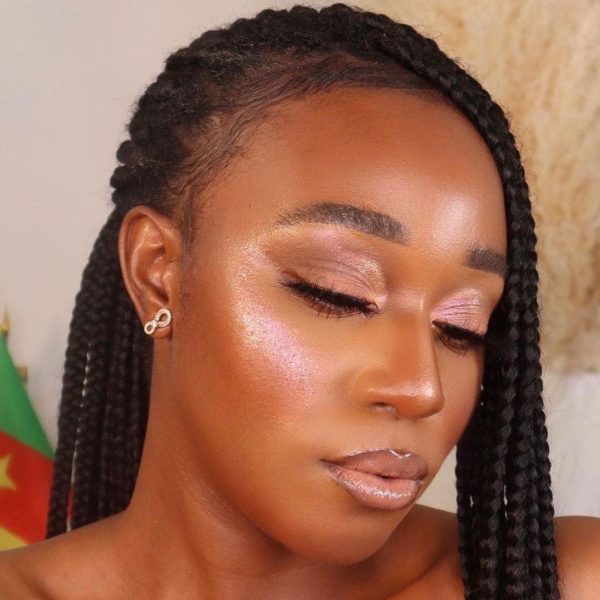 This Huda Beauty review was curious to find out what customers were saying about the company. We searched high and low for feedback on how the products performed and what the overall shopping experience was like for buyers. Below, you'll see honest comments from Sephora, Trustpilot, and MakeupAlley.
Here is a rating snapshot of some Huda Beauty's bestsellers sold through Sephora:
The New Nude Eyeshadow Palette: 4.5/5 stars from 1,901 reviews
Obsessions Eyeshadow Palette: 4.3/5 stars from 4.887 reviews
Classic False Lashes: 3.8/5 stars from 881 reviews
Liquid Matte Lipstick: 4.2/5 stars from 2,448 reviews
So far, so good! It seems that people are enjoying these Huda Beauty eyeshadow palettes and lip products. One customer writes about how she was able to find a new staple lipstick, "I have been using this lipstick, this same color for years now! It is just perfect!"
Switching over to MakeupAlley, this Huda Beauty review discovered a score of 3.9/5 averaged from 247 opinions. One pleased customer raved about the formula of the brand's lipsticks, writing, "The lipstick is not too drying like other brands and lasts all day."
Another user shared her excitement with the Huda Beauty Mauve Obsessions palette, "This could very well be my favorite palette of all time! The colors are beautiful, they blend well, I don't think I could ever be without it. I get sooo many compliments when I wear this. You can make a number of different looks."
Is Huda Beauty Worth It?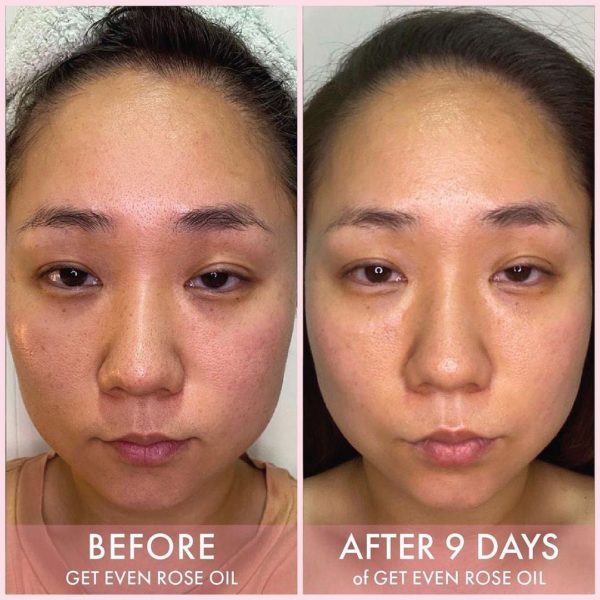 Huda Beauty offers many high-quality products that are trailblazing and unique. We especially loved the creativity and thought put into palettes such as Mercury Retrograde and the Obsessions shadows.
It's quite evident that the founder loves makeup herself and that she has developed these cosmetics with her customers' needs in mind. The formulas are long lasting, pigmented, reasonably priced, and versatile enough for everyday experimentation.
All in all, this Huda Beauty review believes that these products are worth checking out!
Huda Beauty Promotions & Discounts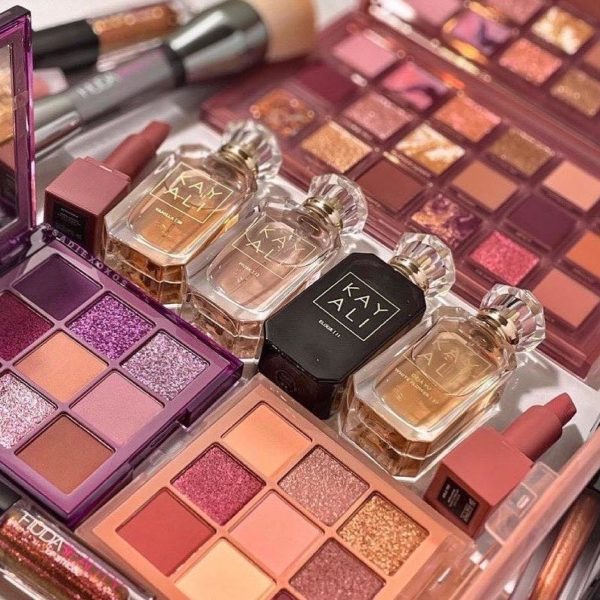 This Huda Beauty review found that the brand has a sale section where you can purchase items at a discounted price. Currently, there is also a Summer Sale going on where select products are 60% off.
Lastly, customers can also get 10% off their first purchase after signing up for emails.
Where to Buy Huda Beauty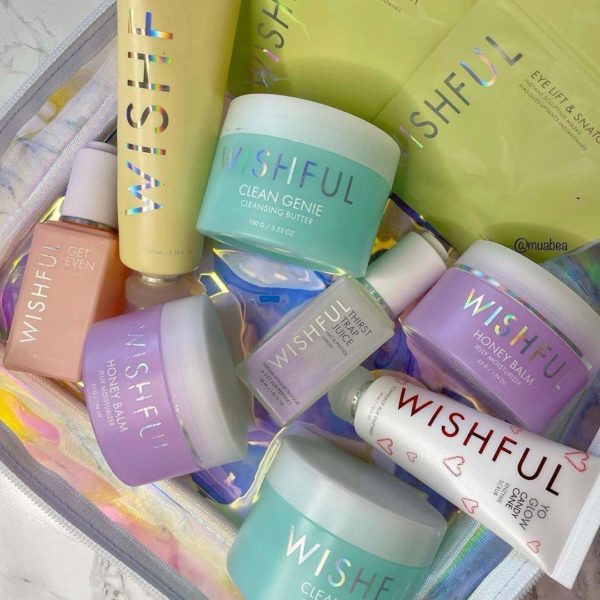 You can purchase the brand's cosmetics directly at hudabeauty.com, or from any of the following retailers:
Sephora
Walmart
Amazon
Local department stores
FAQ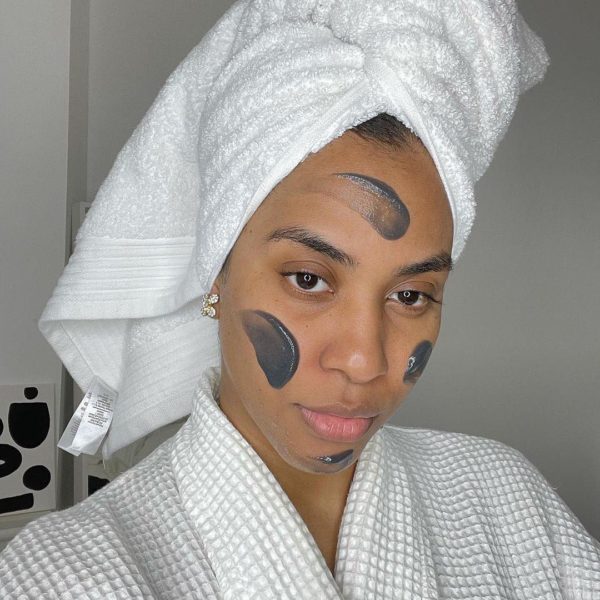 What is Huda Beauty?
Huda Beauty sells cosmetics, tools, sets, and more. The brand has been around for nearly a decade now and has a devoted fan base of makeup lovers. These products can be found at your local Sephora, or online if you prefer to shop from the comfort of home.
Who is Huda Beauty?
Huda Beauty was founded by Huda Kattan. Huda is an Iraqi and American entrepreneur, makeup artist, and beauty influencer who rose to fame around 2010.
Where is Huda Beauty from?
Huda Beauty was initially established in Dubai, UAE. The founder was born in Oklahoma and moved to Dubai later in her life. The brand now sells their products all over the world.
Is Huda Beauty hypoallergenic?
This Huda Beauty review found that the products are unfortunately not listed as hypoallergenic. There is also no indication that they are non-comedogenic.
The brand states that their cosmetics should not cause irritation on sensitive skin, but it's always wise to conduct a test before using any of the formulas liberally.
Is Huda Beauty safe?
In the past, Huda Beauty found itself in hot water due to its Neon Obsessions eyeshadow palette being marked unsafe by the Food and Drug Administration. More specifically, the FDA warns consumers not to use cosmetics around the eye area "unless they are intended specifically for that use" and neon pigments are not on its list of approved substances.
That being said, there are several reputable beauty brands that sell products also marked unsafe by the FDA, including Urban Decay. So, this is a topic of controversy in the beauty community—calling into question how cosmetics are labelled and if the FDA's guidelines on this topic might be outdated.
Generally speaking, cases of reported irritation with Huda Beauty's eyeshadow palettes and beauty products are rare.
Is Huda Beauty high-end?
Huda Beauty can be considered high-end. The luxury beauty brand carries many affordable items, but most of their popular eyeshadow palettes and body makeup products fall in the $50–$100 range.
Does Huda Beauty charge customs?
This Huda Beauty review found that the brand does charge customs. Luckily, buyers are not responsible for any further fees once their order is delivered.
Do you have to pay tax on Huda Beauty?
Yes, you will have to pay taxes on Huda Beauty products. If you live in the UK, the prices you see online are before VAT and duties are incurred.
If you need more information on the types of charges that will be added onto your order upon delivery, this Huda Beauty review recommends contacting customer service directly.
How long does Huda Beauty take to ship?
Can't wait to get your hands on the Huda Beauty Ruby Obsessions palette? We've got some good news. First of all, the company ships globally from either the US or the UAE depending your location, and orders over $60 qualify for free delivery.
There is no express shipping option available for US orders. All international packages are sent out with DHL Worldwide Express from Dubai. Shipping charges will vary according to your items and address.
Once your order has been processed, the brand will send you tracking details in a confirmation email. Our Huda Beauty review uncovered the following shipping times:
UAE: 1–2 business days
US: 5–7 business days
Europe: 3–5 business days
Canada: 3–5 business days
Australia: 3–5 business days
Asia: 5–7 business days
Rest of the world: 5–7 days
US (PO Box): 21 business days at most
US (not mainland): 21 business days at most
What is Huda Beauty Cosmetics's Return Policy?
Huda Beauty accepts returns within 30 days of purchase. At this time, exchanges are not offered and shipping charges are the buyer's responsibility. The brand will provide you with a UPS prepaid return label after you contact their customer service team.
We've compiled a list of items that are ineligible under this policy:
Full collections or vaults
Single masks
Fragrances
Sale or exclusive items
After printing out your return label, follow these simple steps to get your refund:
Fill in return details on the packing slip (including order number and reason for return)
Pack up your item in its original packaging
Attach the prepaid UPS label to the outside of your box
Drop off your shipment at a local UPS location
Hold on to your tracking number
How to Contact Huda Beauty Cosmetics
If you have any questions after reading this Huda Beauty review, simply fill out the contact form on the brand's website.