About
The company offers a range of services to streamline the fulfillment process for online businesses, including:
Order Fulfillment: ShipBob operates fulfillment centers strategically located in different regions, allowing businesses to store their inventory closer to their customers, reducing shipping times and costs.
Inventory Management: ShipBob provides tools and software to help businesses track and manage their inventory levels, ensuring that products are available when customers place orders.
Shipping and Delivery: ShipBob works with various shipping carriers to handle the transportation of orders, offering multiple shipping options to meet the needs of both the business and its customers.
Returns Management: The company also handles returns and provides a streamlined process for customers to return products if needed.
Analytics and Insights: ShipBob's platform provides businesses with data and analytics to help them optimize their fulfillment and shipping strategies.
By outsourcing their fulfillment operations to ShipBob, e-commerce businesses can focus on other aspects of their operations, such as marketing, product development, and customer service, while ensuring that orders are processed and delivered efficiently.
Pros & Cons

Pros:
Fast and Efficient Shipping: ShipBob's strategically located fulfillment centers enable faster shipping times, which can lead to improved customer satisfaction and potentially higher conversion rates.
Scalability: ShipBob is designed to handle businesses of varying sizes, making it a suitable choice for both small and large e-commerce companies. As your business grows, ShipBob can adapt to accommodate increased order volumes.
Automation and Integration: ShipBob provides robust tools and integrations with popular e-commerce platforms, making it easier to automate order processing and inventory management.
Cost Savings: By leveraging ShipBob's fulfillment network and negotiated shipping rates, businesses may save on shipping and storage costs compared to managing their fulfillment in-house.
Returns Management: ShipBob offers returns management services, streamlining the process for both businesses and customers, which can enhance customer satisfaction and improve the overall shopping experience.
Analytics and Insights: The platform provides businesses with data and analytics to help them make informed decisions about their inventory, shipping, and fulfillment strategies.
Cons:
Cost Structure: While outsourcing fulfillment can lead to cost savings, the fees charged by fulfillment services like ShipBob may be higher than handling everything in-house, especially for small businesses with low order volumes.
Service Fees: Depending on the level of service and support required, businesses may encounter additional fees beyond basic fulfillment charges.
Minimum Volume Requirements: ShipBob, like some other fulfillment providers, may have minimum order volume requirements, which could be challenging for very small or new businesses to meet.
Limited International Coverage: As of my last update, ShipBob's international fulfillment capabilities were more limited compared to its coverage within the United States. This could be a drawback for businesses targeting a global customer base.
Shipping Carrier Limitations: While ShipBob works with multiple shipping carriers, the available options might not align perfectly with a business's specific shipping preferences or requirements.
Integration Complexity: While ShipBob offers integrations with popular e-commerce platforms, setting up and configuring these integrations can still be time-consuming and potentially complex, especially for businesses with unique systems.
How Does ShipBob Work?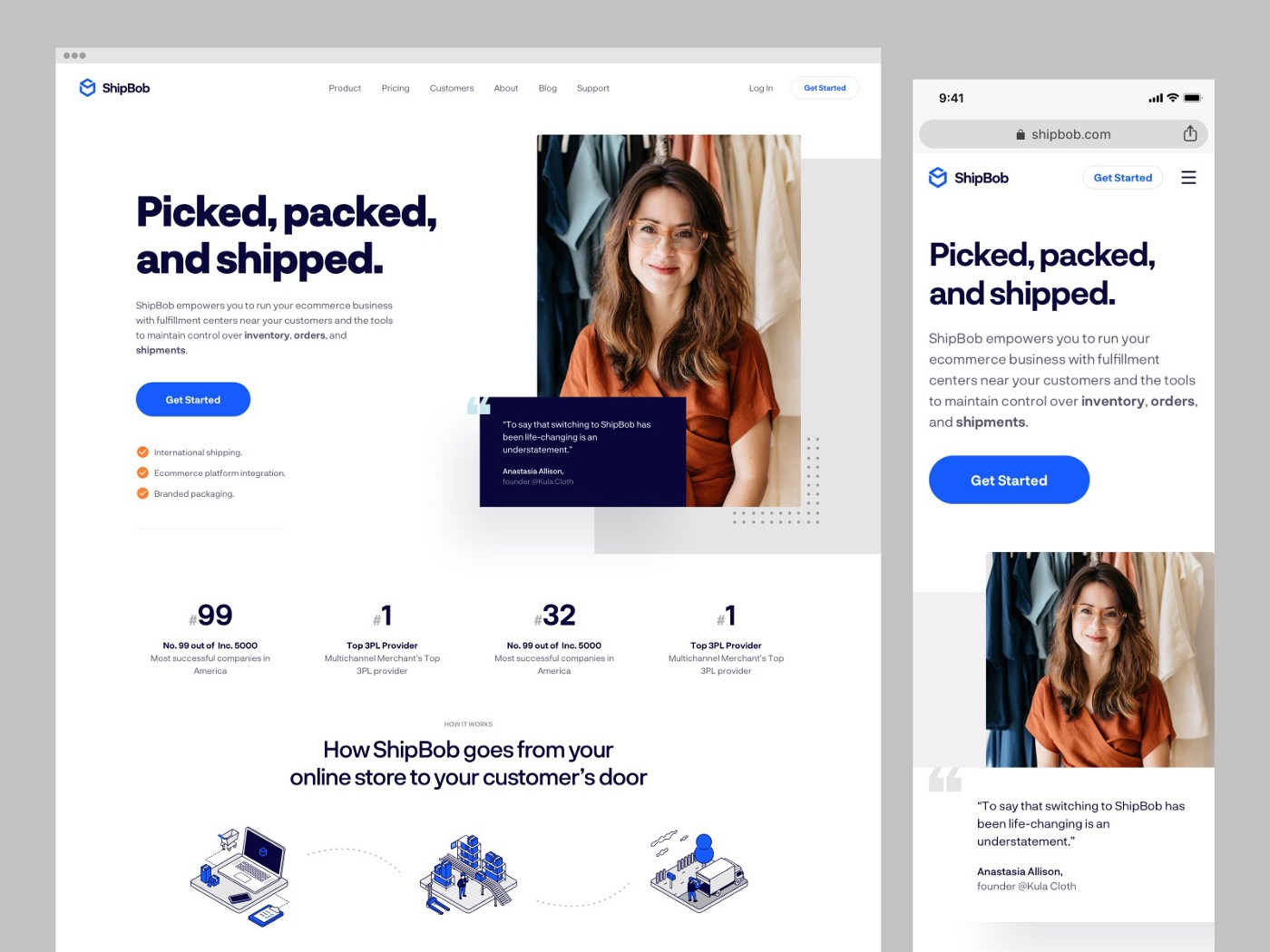 ShipBob works as a technology-driven fulfillment service that streamlines the order fulfillment process for e-commerce businesses. Here's an overview of how ShipBob works:
Onboarding and Integration: To get started with ShipBob, an e-commerce business signs up for an account and provides necessary information about their products, inventory, and shipping requirements. ShipBob offers integrations with popular e-commerce platforms like Shopify, WooCommerce, BigCommerce, and others, allowing seamless synchronization of order data and inventory.
Inventory Storage: ShipBob operates multiple strategically located fulfillment centers across the United States. Upon onboarding, the business sends its inventory to these fulfillment centers. This ensures that products are stored closer to customers, which can lead to faster and more cost-effective shipping.
Receiving and Storing Inventory: ShipBob receives the incoming inventory, checks it for accuracy and quality, and then stores it in their fulfillment centers. The business can manage its inventory through ShipBob's dashboard, which provides real-time visibility into stock levels.
Order Processing: When a customer places an order on the e-commerce website, the order data is automatically sent to ShipBob's system through the integrated platform. ShipBob then processes the order, picking the items from the inventory and preparing them for shipping.
Shipping and Delivery: ShipBob works with various shipping carriers (e.g., UPS, FedEx, USPS) to deliver the orders to customers. The system selects the optimal shipping method based on factors like delivery location and shipping speed. ShipBob also provides tracking information to both the business and the customer.
Returns Management: If a customer needs to return a product, ShipBob handles the returns management process. They inspect and process returned items based on the business's return policies.
Analytics and Insights: ShipBob provides businesses with access to data and analytics that offer insights into order fulfillment, inventory levels, shipping performance, and other key metrics. This information helps businesses make data-driven decisions to optimize their fulfillment processes.
Scalability: ShipBob's platform is designed to accommodate businesses of various sizes. As the business grows and order volumes increase, ShipBob can scale its fulfillment services accordingly.
Who is ShipBob For?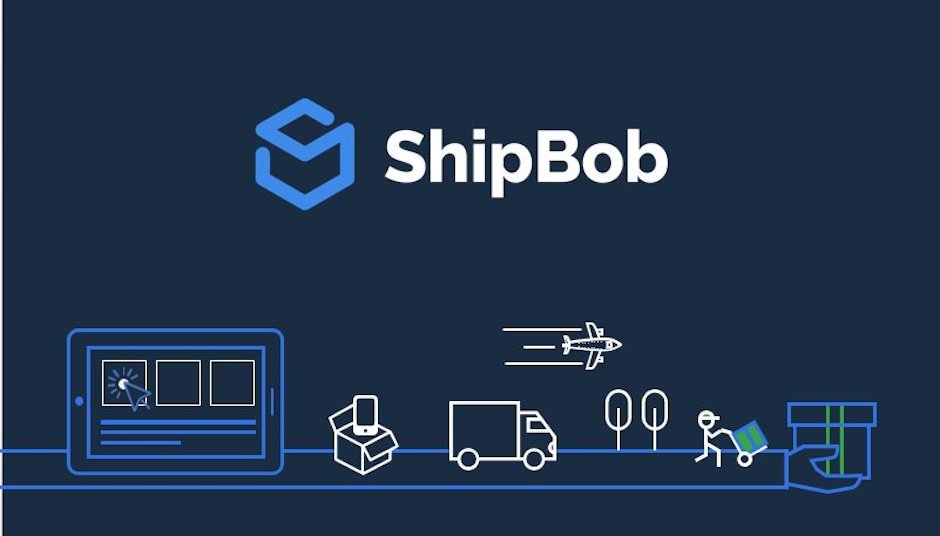 ShipBob is primarily designed for e-commerce businesses looking to outsource their order fulfillment and shipping operations. It caters to a wide range of businesses, from small startups to large enterprises, operating in various industries. Here are some of the types of businesses that ShipBob is well-suited for:
Online Retailers: ShipBob is an excellent fit for online retailers of all sizes, including those selling physical products through their own e-commerce websites or online marketplaces like Amazon, eBay, Shopify, WooCommerce, BigCommerce, and more.
Direct-to-Consumer (DTC) Brands: Many direct-to-consumer brands leverage ShipBob's services to manage their fulfillment efficiently. DTC companies often prioritize fast and reliable shipping to provide a positive customer experience, making ShipBob an attractive option due to its strategically located fulfillment centers.
Subscription Box Companies: Subscription box businesses that offer regular shipments of curated products benefit from ShipBob's automation and fulfillment capabilities, as it streamlines the process of sending out recurring packages to subscribers.
Crowdfunding and Kickstarter Campaigns: Entrepreneurs and startups running crowdfunding campaigns can use ShipBob to fulfill orders to their backers and customers once their campaigns are successfully funded.
Fast-Growing Businesses: ShipBob is designed to scale alongside businesses as they experience growth. This makes it suitable for businesses that anticipate or are already experiencing a surge in order volume.
E-commerce Startups: ShipBob can be a valuable solution for new e-commerce businesses that want to focus on building their brand and customer base without having to manage complex fulfillment processes in-house.
Brands Expanding into New Markets: For businesses looking to expand their reach to different regions or countries, ShipBob's multiple fulfillment centers can help them reach customers more efficiently and cost-effectively.
Businesses with Seasonal Sales: Companies that experience fluctuations in sales volume during peak seasons (e.g., holiday sales) can benefit from ShipBob's ability to handle increased order volumes during such periods.
Alternatives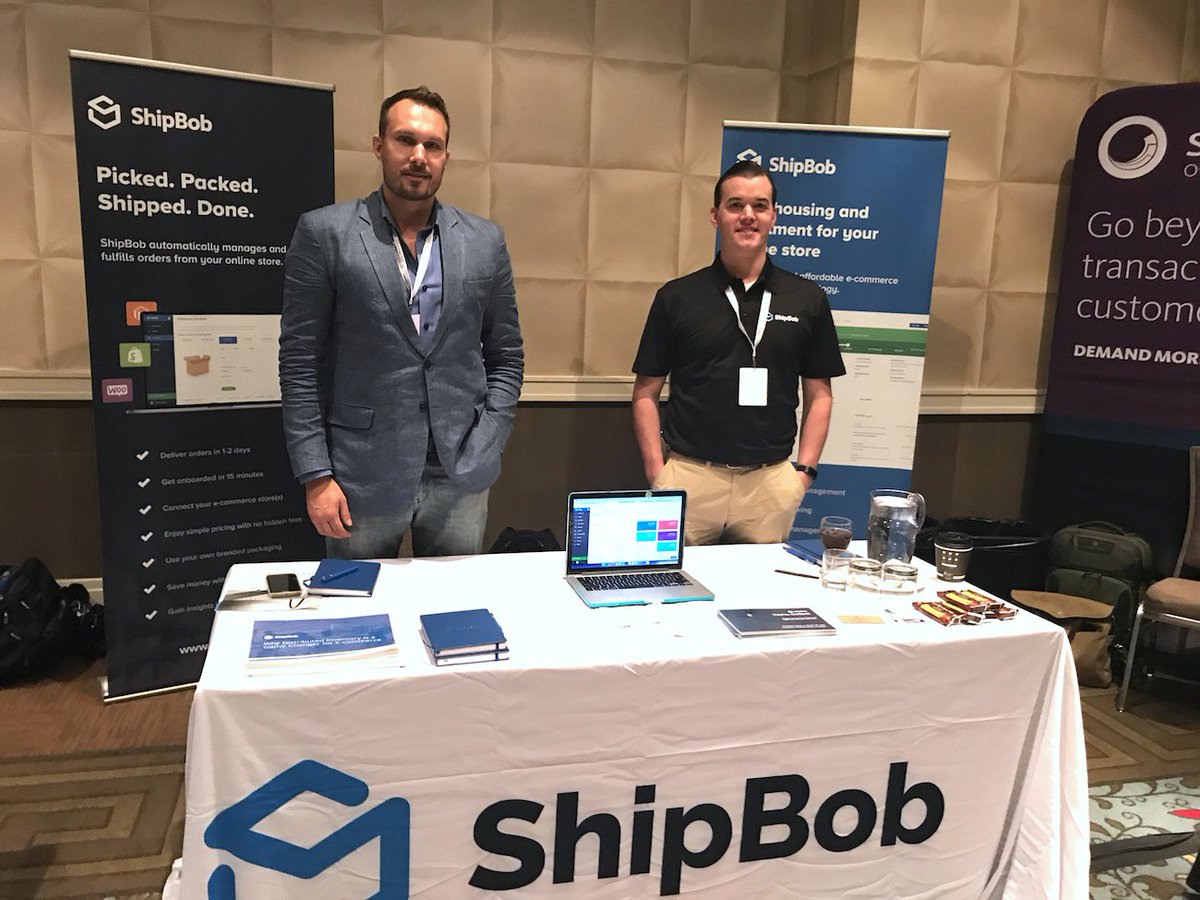 Fulfillment by Amazon (FBA): Amazon's FBA program allows e-commerce businesses to store their inventory in Amazon's fulfillment centers and have Amazon handle the order processing, packing, and shipping. FBA is particularly beneficial for businesses selling on Amazon's platform, but it can also be used for orders from other channels.
Rakuten Super Logistics (RSL): Rakuten Super Logistics is a fulfillment service that offers order fulfillment, inventory management, and shipping services. It operates multiple fulfillment centers across the United States to provide fast shipping options for customers.
ShipStation: While not a traditional fulfillment provider, ShipStation is a popular shipping and order management platform that integrates with multiple fulfillment partners, including ShipBob. It allows businesses to compare shipping rates, print labels, and manage orders from various sales channels in one place.
Red Stag Fulfillment: Red Stag Fulfillment is a 3PL provider that specializes in serving e-commerce businesses with larger, heavier products. They offer accurate order fulfillment, same-day shipping, and a focus on handling large or high-value items.
Deliverr: Deliverr is a fulfillment service that aims to provide fast and affordable fulfillment for e-commerce businesses. They integrate with various e-commerce platforms and marketplaces and offer two-day and next-day shipping options to boost sales.
ShipMonk: ShipMonk is a technology-driven fulfillment service that caters to e-commerce businesses of all sizes. They offer multi-channel order fulfillment, inventory management, and real-time order tracking.
Floship: Floship is a Hong Kong-based 3PL provider that specializes in international fulfillment and shipping. They offer services to businesses looking to reach a global customer base efficiently.
Easyship: Easyship is a shipping platform that offers a wide range of shipping options and rates from various carriers. They provide businesses with tools to compare shipping costs, generate labels, and manage orders across different channels.
Is ShipBob Worth It?
Determining whether ShipBob is worth it for your e-commerce business depends on several factors, including your order volume, shipping needs, budget, and the specific services and features offered by ShipBob. Here are some key considerations to help you decide if ShipBob is a good fit for your business:
Order Volume: ShipBob is often a better fit for businesses with moderate to high order volumes. If your business processes a significant number of orders each month, outsourcing fulfillment to ShipBob can help streamline operations and improve efficiency.
Shipping Requirements: Consider your shipping needs, such as shipping speed, delivery locations (domestic and international), and the types of products you sell. ShipBob's strategically located fulfillment centers can offer fast shipping options to customers, but if you require specific shipping services that ShipBob doesn't support, it might not be the best fit.
Cost vs. Benefit: Evaluate the costs of using ShipBob against the benefits it offers. Fulfillment services like ShipBob come with fees, and these costs should be compared with potential savings in shipping expenses, time saved on fulfillment tasks, and improved customer satisfaction.
Integration with E-commerce Platform: Check if ShipBob integrates seamlessly with your e-commerce platform or marketplace. Smooth integration can simplify the order fulfillment process and prevent potential errors.
Customer Reviews and References: Read customer reviews and testimonials to gain insights into other businesses' experiences with ShipBob. Additionally, consider reaching out to ShipBob for references from clients in your industry or with similar order volumes.
Support and Customer Service: Assess the level of customer support and service offered by ShipBob. Good customer service can be crucial in resolving any issues that may arise during fulfillment.
Scalability: If your business is experiencing growth or you anticipate scaling in the future, ShipBob's ability to accommodate increasing order volumes and expand to new markets might be a valuable advantage.
Returns Management: Consider how ShipBob handles returns, as efficient returns management can significantly impact customer satisfaction and retention.
Sign up for ShipBob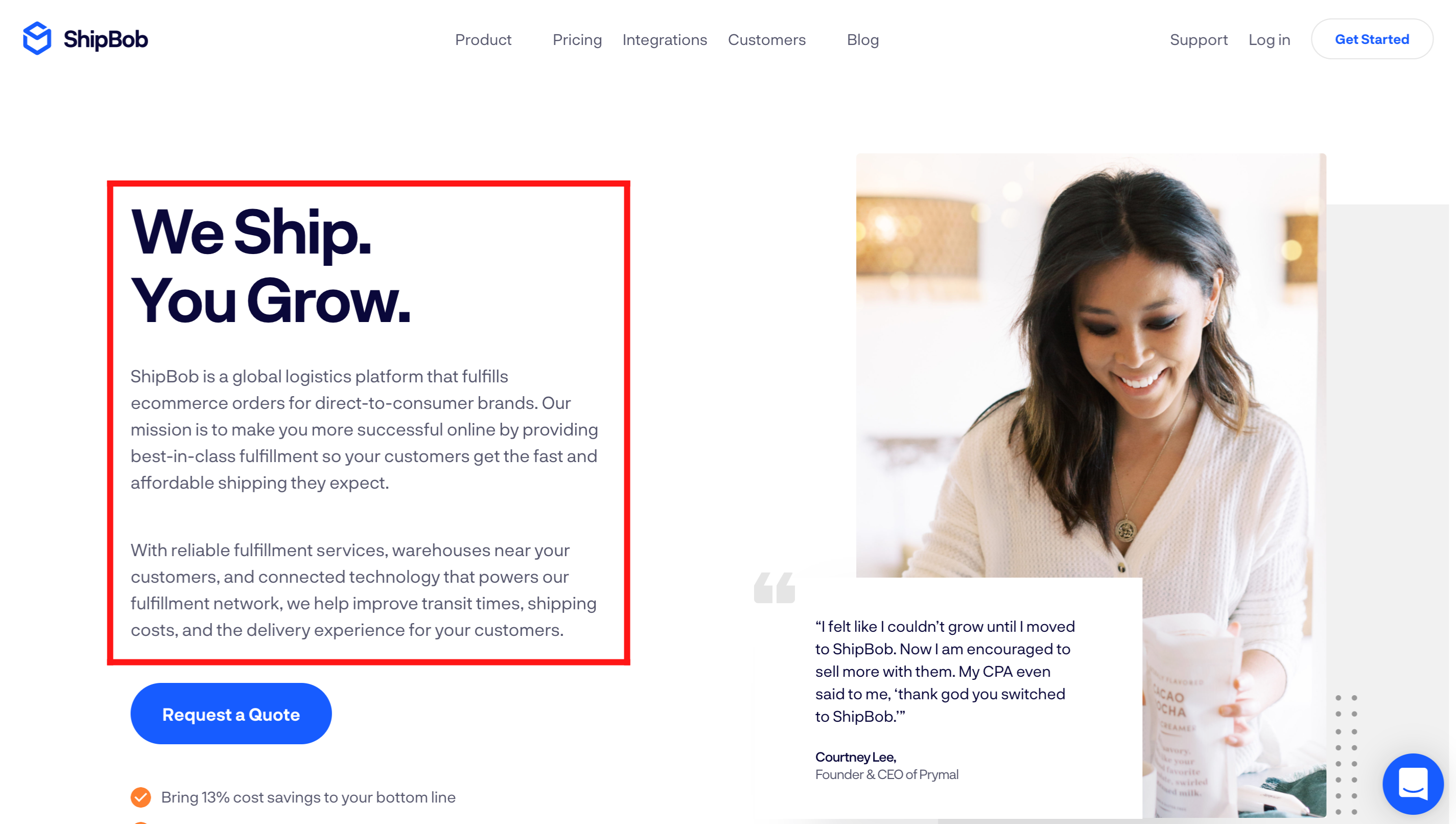 Visit ShipBob's Website: Go to ShipBob's official website (https://www.shipbob.com/).
Click on "Get Started" or "Sign Up": Look for a prominent button or link on the website that says "Get Started" or "Sign Up." Click on it to begin the sign-up process.
Provide Business Information: You'll be asked to provide information about your business, such as your company name, contact information, and website.
Fulfillment Details: You may need to provide details about your current fulfillment setup, including your average monthly order volume and the type of products you sell.
Shipping and Inventory Information: ShipBob will likely ask about your shipping needs, shipping destinations, and where your inventory is currently stored.
Integration: If you're using an e-commerce platform or marketplace, you'll be asked to integrate it with ShipBob, so order data can be seamlessly synced.
Review and Submit: Review all the information you've provided, make any necessary corrections, and then submit your application.
Contact from ShipBob: Once you've submitted your application, someone from ShipBob's sales or customer support team may reach out to you to discuss your requirements and finalize the setup.