About Homary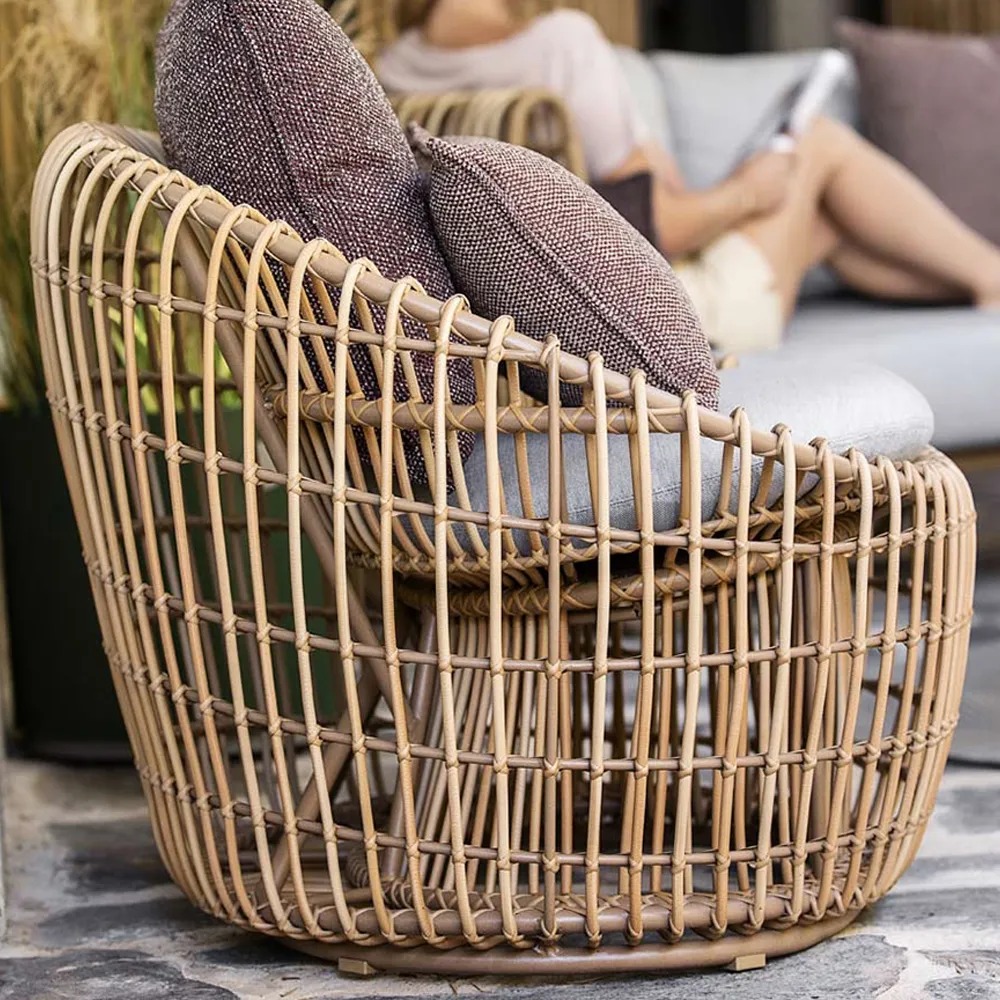 Homary is an online furniture and decor retailer. From contemporary light fixtures to bohemian accent pieces, this company offers a wide range of ideas that can help elevate your space at reasonable prices.
They've garnered a decent following on social media, with 40k likes on Facebook and 5.5k followers on Instagram. Both pages feature an abundance of photos for decor inspo and home styling tips.
Cultivating your personal environment is a task within itself. Can this company end your search for that picture-perfect dresser or bookcase? In this Homary review, we'll be going over their best-selling products, customer reviews, shipping policies, and more, to help you decide if they're worth checking out.
Overview of Homary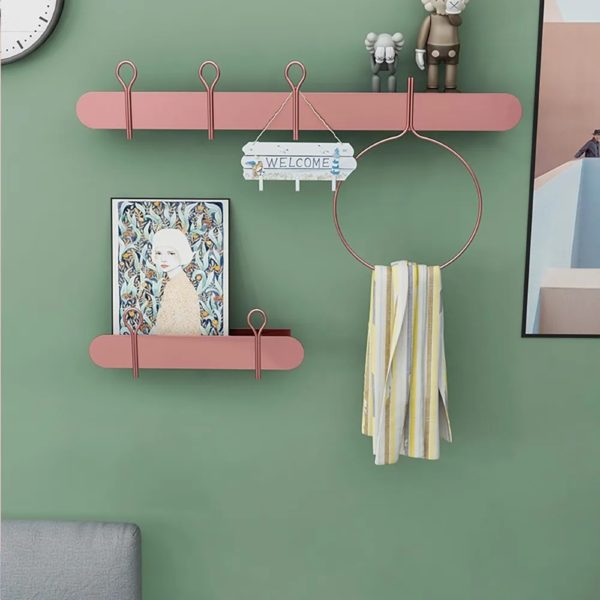 Homary launched in 2012 with its main office located in California. They began with the simple mission of providing good quality, "exquisite home stuff" that wouldn't break the bank.
The company wants to be a place that shoppers turn to when embarking on the exciting adventure of home-building. All of their products are chosen from leading global manufacturers. So, Homary might just be a one-stop shop for interior decorating enthusiasts.
Before getting into this Homary review, we're going to give you a brief summary of the brand through a pros and cons list.
Pros
Extensive collection of classic and modern furniture, along with lighting and water fixtures
Suitable for many tastes
New users can get up to $300 off their first purchase
The brand offers warranties on their products
Financing options available with Affirm
Free shipping on all orders
Cons
Limited reviews on specific products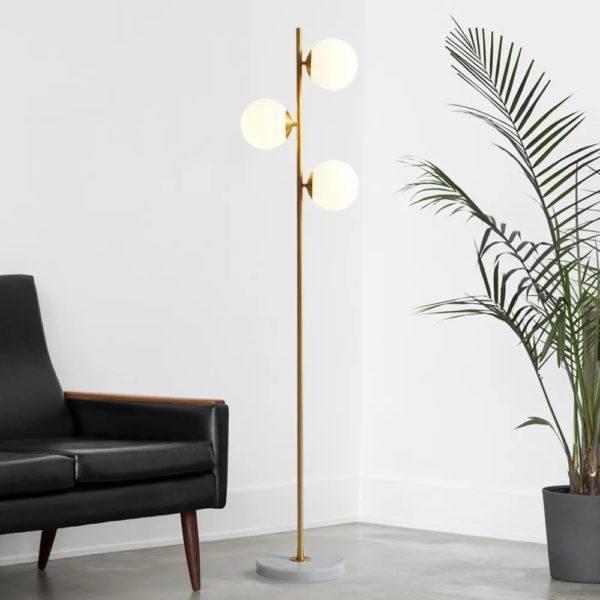 As we said, Homary carries a vast collection of furniture and decor for your home, including bedroom, outdoor, and kitchen furniture. They also offer water fixtures for your bathroom and kitchen. So if you're looking to become your own handyman, keep reading!
Note that all of the furniture featured in this Homary review comes with financing options through Affirm.
Homary Lighting Review
Lighting your rooms might seem like a simple task, but the fixtures you choose can help establish the vibe you're going for. So, which Homary lighting products are customers loving? In this section, we're going to go over the company's best-selling lights and chandeliers.
Homary Modern Plug-in Black Wall Sconce Review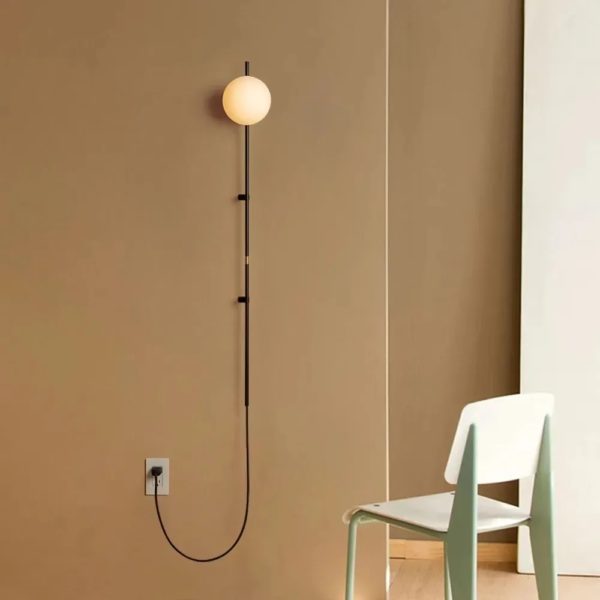 This Modern Plug-in Black Wall Sconce is described as "adorable" on Homary's website, and honestly, they're right. The minimal design with a sphere-shaped shade is bound to be a focal point in your living area.
Because of this sconce's simplicity, it's easy to pair this with other fixtures and furniture. In addition, it can come in a black or white finish and with an LED light bulb. So, it's also an energy saver.
The Modern Plug-In Wall Sconce is on sale and currently retails for $54. It regularly sells for $72. This product also comes with a 5-year limited warranty.
Homary Green Feather Gold Table Lamp Review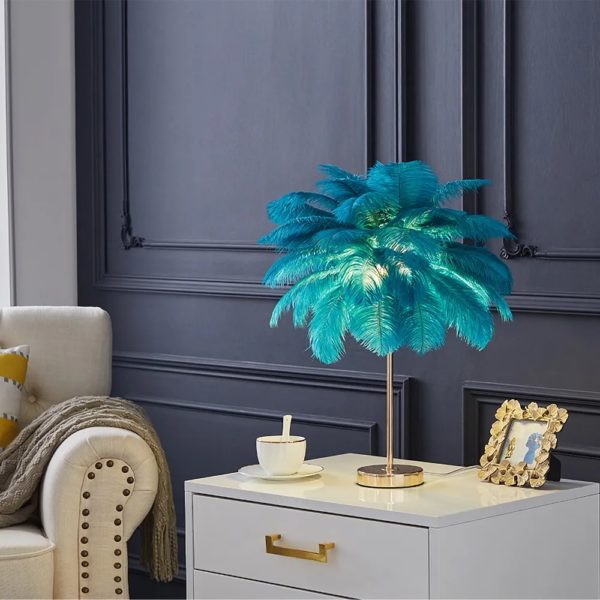 Next in our Homary review is the Green Feather Gold Table Lamp. This charming statement piece is made from actual ostrich feathers and is fashionable as can be. Plus, the green feathers kind of remind us of a tropical vacation. How cute!
This table lamp offers soft light, so it is more for decoration than function. You can also buy this lamp with pink or white feathers. It can be a sophisticated touch in any room and sells for $96. With its current sale price, you can buy this lamp for $80.
Homary White Glass Semi-Flush Mount Chandelier Review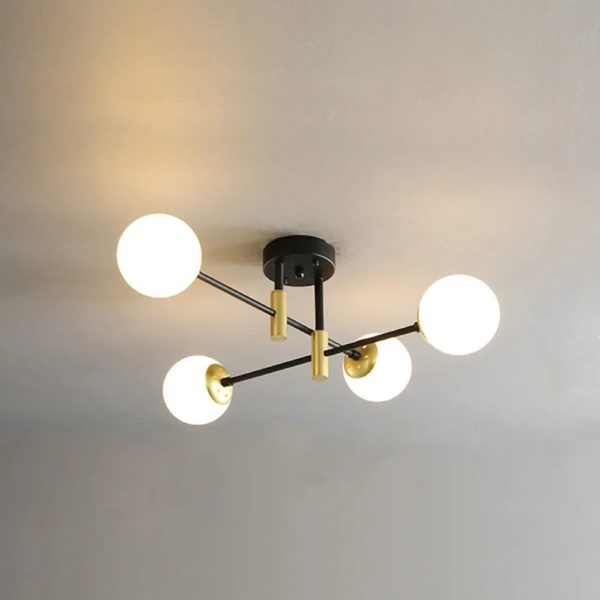 Looking to add that mid-century touch to your home? The White Glass Semi-Flush Mount Chandelier could be the perfect addition. This inviting chandelier can create a cozy space, and Homary recommends the lighting for "transitional, cottage-style, or mid-century" houses.
The polished brass finish adds a touch of elegance to this fixture. As we said, it can make any room cozy, and that includes dining rooms. It brings a modern edge to the room while also bringing warm energy for dinner guests.
You can get the White Glass Semi-Flush Mount Chandelier on sale for $75, while it would regularly run you about $9.
Homary Furniture Review
Next, we'll be taking a look at some of the most frequently purchased Homary furniture items. If you're digging the modern designs so far, the following picks might also scratch that itch.
Homary Modern Space Saving Multifunctional Solid Wood Folding Dining Table Set Review
So, let's say you've found yourself in an apartment with a tight dining area. The Modern Space Saving Multifunctional Solid Wood Folding Dining Set can be a lifesaver. Not only does it have a minimalist design, but it can be stored away after use. Bless modern designs.
This folding set is counter-height, and it can be expanded unilaterally or bilaterally. So, it can also function as a console with included storage. Plus, the included four folding chairs can be tucked underneath the countertop to make room for happy hour.
With the built-in four wheels, the tiny space-saving dining table is also easily transported when the party's over. This set is currently on sale for $810 (down from $984) and comes with a 3-year limited warranty.
Homary Corner Makeup Vanity with Drawer & Side Cabinet Multifunctional Dressing Table Review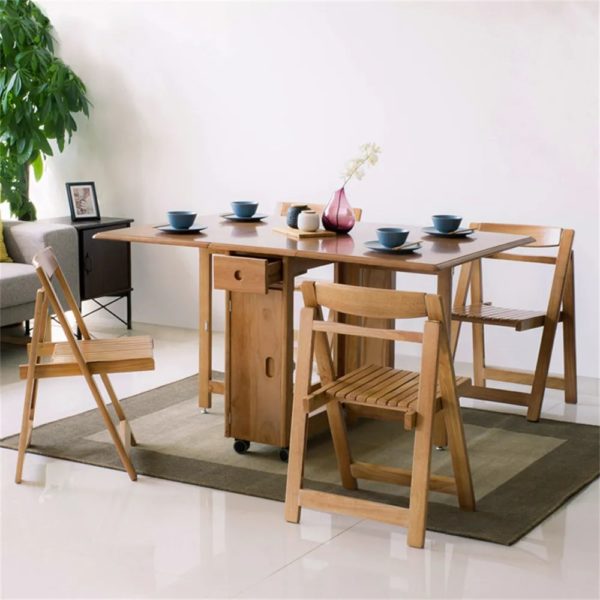 The Corner Makeup Vanity is every interior decorator's dream! The corner design saves space in your bedroom, while also providing you with multiple storage spaces for cosmetics and accessories.
Sitting down at this walnut and white vanity gives off some real independent adult energy. It's incredibly charming and convenient, as it comes with a standing mirror. It's not too flashy either, making it an easy piece to decorate and design around.
This fantasy Corner Makeup Vanity is currently on sale for $1,000. It regularly sells for $1,459. This Homary review recommends setting up a few small plants on the table for a pop of color.
Homary Boho Woven Rattan Bookcase 3-Tier Open Storage Display Shelving Wood Review
Adding unique pieces to your home makes for attractive, eye-catching decor. The Boho Woven Rattan Bookcase is an example of that. As the name suggests, it has open 3-tiers for any of your storage needs.
This adorable shelf would look great in a kid's bedroom or playroom. But, the natural rattan color is versatile, and it can honestly be put anywhere. Homary recommends the living room and the laundry room as well.
This Boho Woven Rattan Bookcase can store books, towels, and other miscellaneous items for $204.
Homary Faucets Review
It's not something that's often thought of, but even small fixtures can contribute to a bathroom's overall look. These best-selling Homary faucets are chic and affordable for your home improvement needs. As a big bonus, both models come with a lifetime warranty.
Homary Modern Waterfall Floor Mounted 1-Handle Bathroom Tub Filler Faucet Review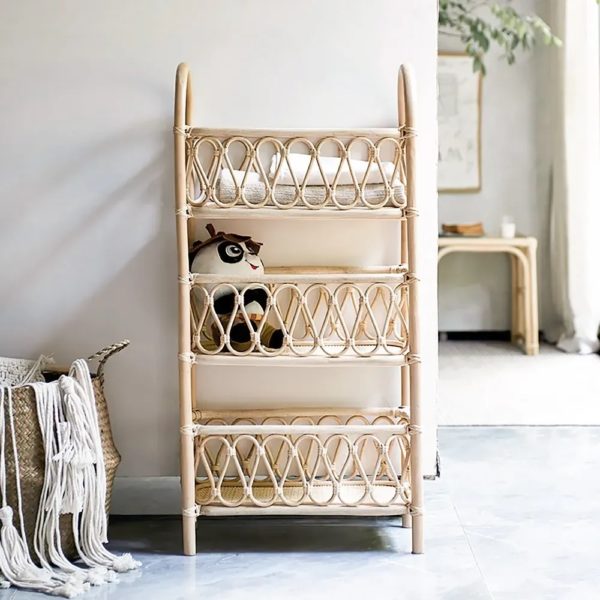 The Modern Waterfall Floor Mounted 1-Handle Bathroom Filler Faucet is a wonderfully stylish water fixture—it's definitely an attention grabber. This trough-style piece can promptly fill your tub, waterfall style, so you can get some well-deserved 'me-time'.
This faucet is another minimalist design of Homary's that can make a home look luxurious. Plus, it's made from lead-free brass, so it'll be a part of your home for years. It also comes with a hand shower, so bath time for the kids or the dog will (hopefully) be a breezy process.
The total height of the Modern Waterfall Floor Mounted 1-Handle Bathroom Filler Faucet stands at about 35". It also comes in gold, nickel, and chrome. It's currently on sale for $360 (a steal from its regular price of $509).
Homary Modern Single Handle Wall-Mount Swivel Tub Filler Faucet Review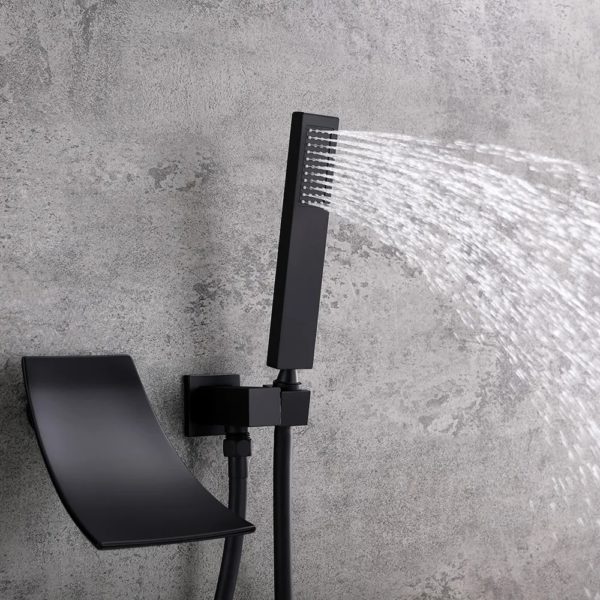 Another option in this Homary review is the Modern Single Handle Swivel Tub Filler. This wall-mounted faucet is another minimalist fixture for your home. Plus, it's incredibly unique and would look stunning in any bathroom.
This is one of the Homary taps that swivels 360 degrees, allowing you to get a lot of reach out of it. The included shower handle is another convenient addition to this aesthetically pleasing faucet. The entire set simply elevates your bath experience.
This swivel faucet comes in gold, chrome, and black, so it can be an excellent fit for any bathroom. It's currently on sale for $170 from $190.
Who Is Homary For?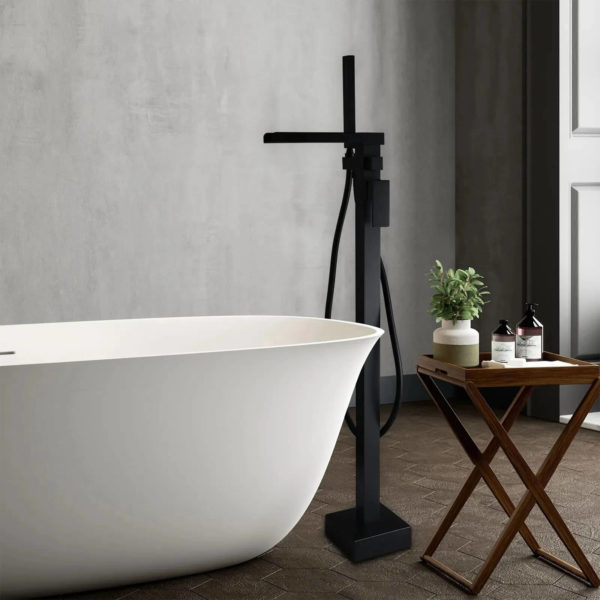 Homary is for young adults and those looking to redecorate (or renovate) their space on a budget. People who appreciate modern and mid-century aesthetics in their homes will also enjoy the collection. Basically, if you're looking for functional pieces that will put your living room on a Pinterest board, this is the place for you.
Comparison: Homary vs. Wayfair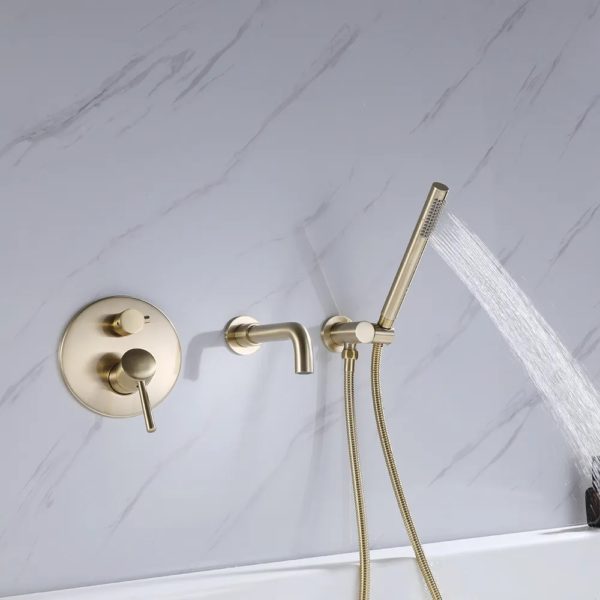 Homary is not the only budget-friendly furniture retailer out there. So, how does it shape up against the others in the industry? We took a look at Wayfair to figure out how the two compare. Who knows, this might help you decide on which company you'll end up going with.
First, we'll go over a few similarities:
They both offer an extensive collection of aesthetic furniture and lighting, as well as bathroom and kitchen accessories
Both companies offer a Rewards Program
Their products are around the same price range
They have the same return policy
So, at the core, both brands are pretty similar. But, while digging deeper, we did find some differences:
Wayfair's products have more reviewers
Wayfair distributes products from different companies, while Homary offers their own products curated by their design team
Wayfair has a free shipping minimum, while Homary offers free shipping on all orders regardless of price
Which one will you choose? If Wayfair sounds enticing, you can check them out on our full Wayfair Furniture Review.
Homary Reviews: What Do Customers Think?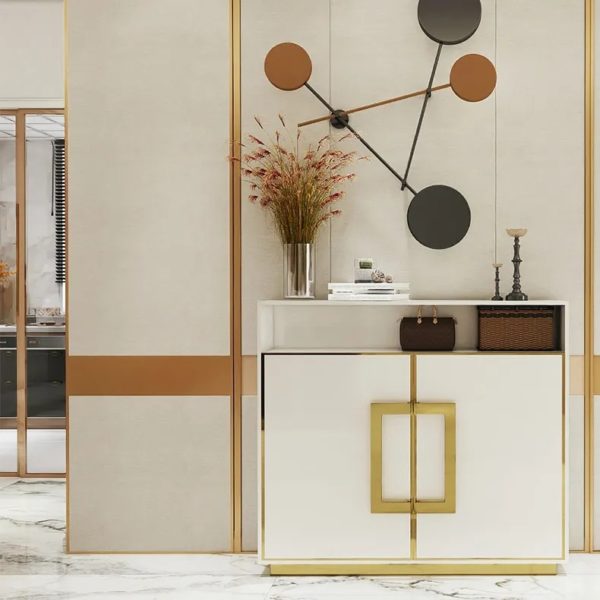 Now, the big question is, what do customers have to say about the brand? This Homary review searched high and low for testimonials and found them on the company's website, Trustpilot, and other sources.
The overall rating for Homary on their website is 4.9/5 stars, while their bestsellers received pretty limited reviews. Here are each of their average ratings:
Modern Plug-in Black Wall Sconce: 5/5 stars from 2 reviews
Green Feather Gold Table Lamp: 5/5 stars from 12 reviews
White Glass Semi-Flush Mount Chandelier: 5/5 stars from 6 reviews
Modern Space Saving Dining Set: 4.92/5 stars from 13 reviews
Modern Waterfall Floor Mounted 1-Handle Bathroom Faucet: 5/5 stars from 7 reviews
Modern Single Handle Wall-Mounted Faucet: 5/5 stars from 5 reviews
Reviews outside of the website are a mixed bag, but we'll get to that later. In terms of the Space Saving Dining Set, it has the most reviews out of these items.
One 5-star reviewer writes, "I love this table!! It's everything I wanted and more! It was easy to assemble, and the quality is fantastic. There was great craftsmanship behind this table. I highly recommend this to everyone!"
Okay, so far, so good. Another customer agrees, saying, "Great quality and space saver. It could easily fit in our front patio. Great piece of furniture to have."
People are clearly loving Homary products. Additionally, a customer on Trustpilot says, "Modern designs and delivery was on time as mentioned on their website. Good price for the designs."
Overall, people's outlook on Homary seems pretty rosy.
Is Homary Worth It?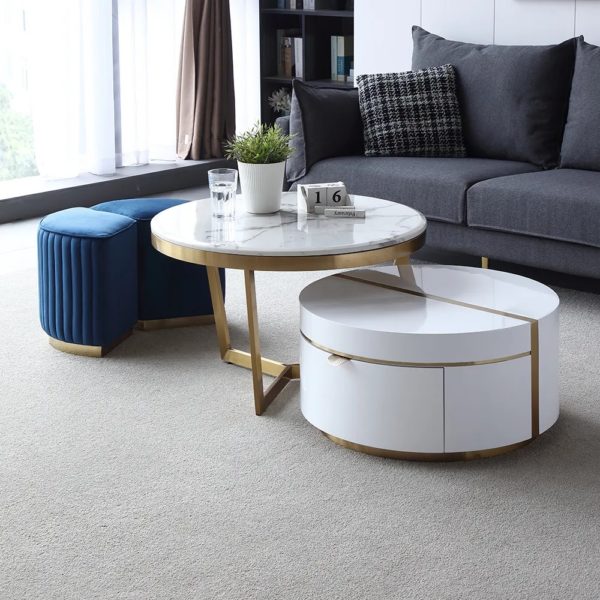 There's no doubt that remodeling your home can be an expensive and tedious task, and that's why online companies like Homary are so convenient.
Based on this Homary review, we would say that their products could be worth browsing. They have gorgeous and contemporary items for anyone's home. Plus, from the comments on their website, it seems like most people love the things they purchased. They also have decent deals and a rewards program for returning customers.
If we were to nitpick, it does seem like a few of Homary's products and customer service are hit-or-miss. So before making any commitments, we'd definitely recommend doing more extensive research on individual furniture items before hitting the 'buy now' button.
Homary Promotions & Discounts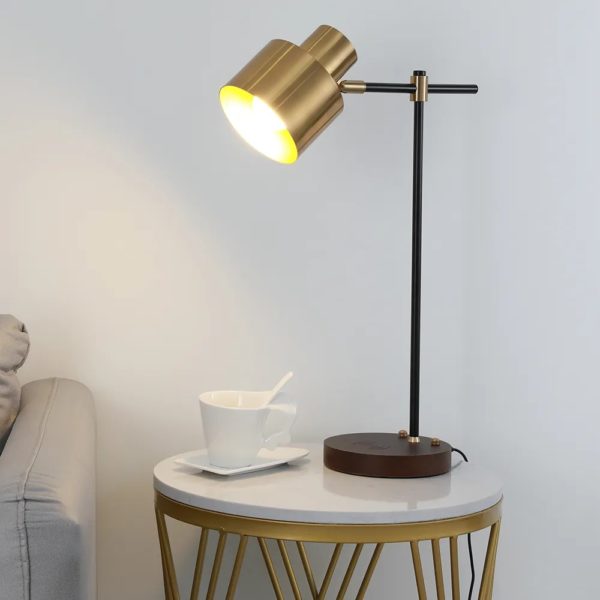 At the time of this Homary review, first-time users can sign up to get $500 worth of Homary coupon codes. They currently have a $300 off deal for new users as well.
You can also get $20 off when signing up to receive their emails. They do have a Pointes Rewards Program, but unfortunately, it's currently suspended. More information will be available on their website when the program is restored.
Where To Buy Homary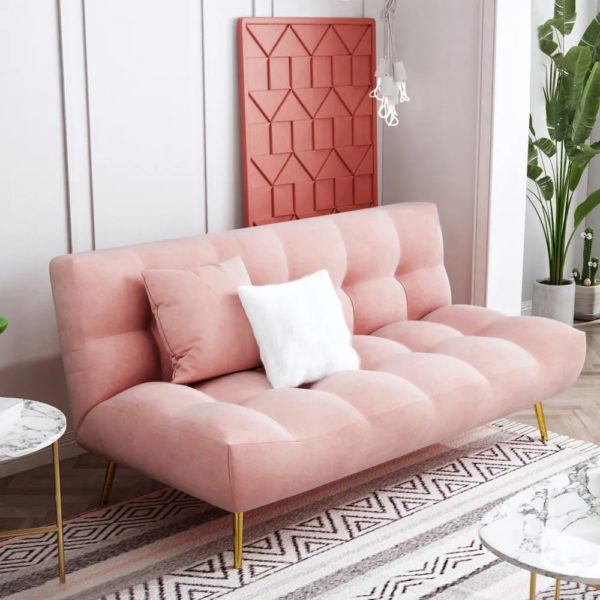 You can buy Homary's furniture directly from their website, homary.com.
FAQ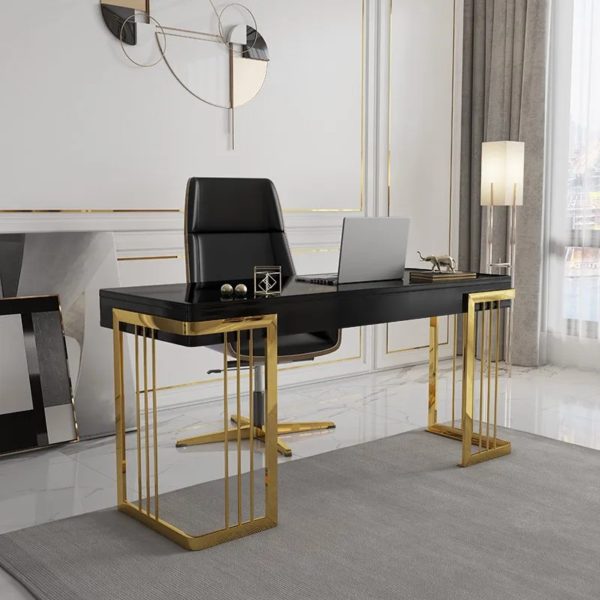 Where is Homary made?
products are made in China. Each product goes through item control stages to ensure the best quality.
What is Homary's Shipping Policy?
Homary offers free shipping on all orders going to mainland parts of your country. But, fees might apply if you live in a more remote area.
Orders are usually shipped within 1 to 2 business days, as soon as your payment is confirmed. But, each product has different ETAs that are stated on the respective product pages.
Orders for oversized items are fulfilled by the Freight Outside Home Delivery Service. This includes Homary tubs, most of their furniture, and toilets.
The estimated delivery time for these items is about 3 to 7 business days after leaving the company warehouse. Fees might apply if any circumstances affect delivery.
What is Homary's Return Policy?
Homary has a 30-day return policy. Customers are responsible for returns or exchange fees (up to a 15% restocking fee) if there aren't any issues with the product. Clearance and customized items or items that are marked 'non-returnable' are not eligible for a refund.
Homary states that if you received defective items in the mail, they will cover refunds, exchanges, or replacements. Your package must be returned in its original packaging, within 30 days, with all pieces included.