About Girlfriend Collective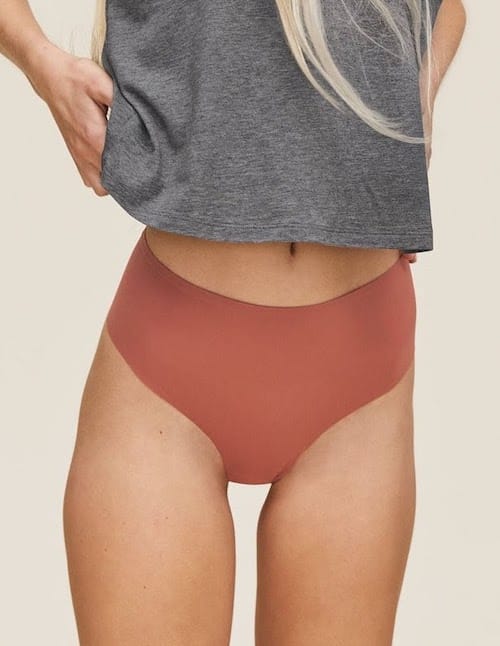 Girlfriend Collective is an ethically made, eco-friendly clothing brand on a mission to make "sustainable activewear for people who care – care about other people, care about how their clothes are made, and care about making an impact through their purchasing power."
Girlfriend Collective is known for filling a gap in the activewear market to include high-quality, size-inclusive gear created by sustainable means. The activewear brand is featured in notable publications including Business Insider, Vice, Bustle and Refinery29, having received praise for boosting women's self-confidence and body positivity.
This Girlfriend Collective review will give you a thorough look at the brand, including some of their best selling items, customer feedback, promotions, and more, to help you decide if this apparel is worth the buy.
Overview of Girlfriend Collective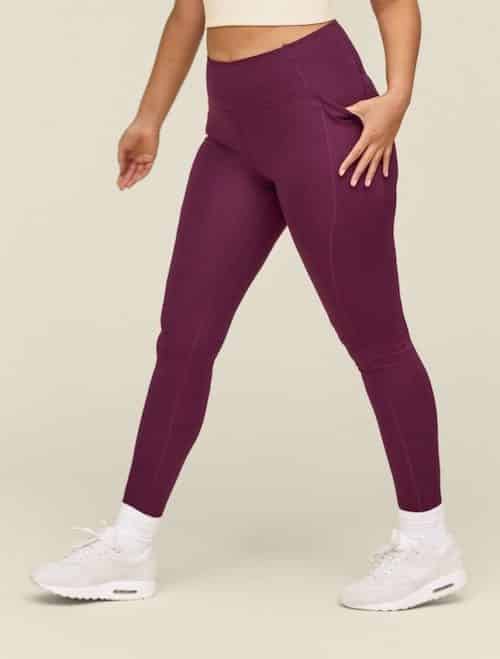 Girlfriend Collective was born in Seattle in 2016, founded by husband-wife duo Guang and Ellie Dinh. Good quality, affordably priced activewear produced by eco-friendly and ethical means presented itself as the industry niche this pair was determined to fill.
The company utilizes re-purposed, post-consumer plastic drinking bottles to make their apparel. Twenty-five bottles for every pair of leggings, to be exact!
In 2020, they diverted over 9 million bottles from landfills and oceans. This sustainable approach saved over 21 million gallons of water. With impressive stats like that, Girlfriend Collective seems to be the eco-conscious and active lady's dream.
This Girlfriend Collective review will see how their products stack up against these values in quality, versatility, and style. First, let's take a look at some pros and cons of the brand.
Pros
Activewear features an extensive collection of tops, bottoms, socks, outwear, and accessories
Clothing is hand-dyed with attractive and unique color variation, though this variety isn't for everyone
Socially responsible and ethical brand
Environmentally conscious production practices, using post-consumer plastic to create each product
Size inclusive with options ranging from XXS-6XL
High-quality apparel at affordable prices
Cons
$7 restocking fee for mail-in Girlfriend Collective returns unless you're a Jade or Sage rewards member
Shipping limited to US and Australia from their website, although available through other outfitters
Girlfriend Collective sells women's apparel in stylish neutrals that revolve around activewear essentials. Their collection features tanks and tees, sweaters, leggings, outerwear, fleece, windbreakers, and more.
This Girlfriend Collective review will take you through some of the most coveted pieces for women.
Girlfriend Collective High-Rise Pocket Legging Review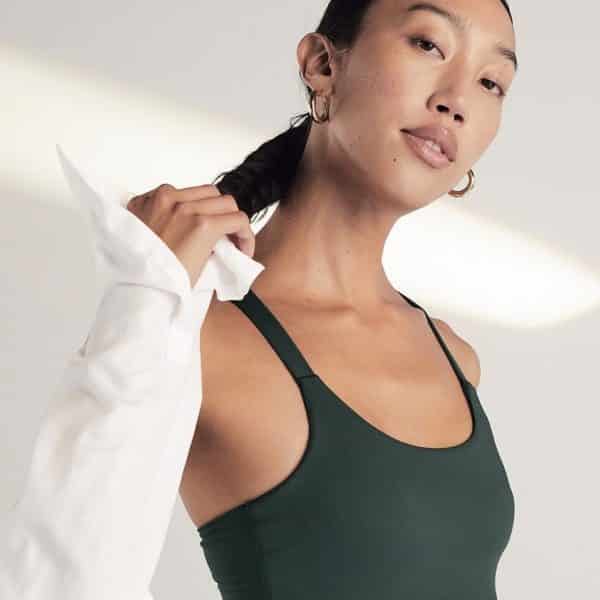 The Girlfriend Collective High-Rise Pocket Legging is the kind of workout piece that is also great for everyday use. The pants offer multiple benefits, including compression that promotes healthy blood flow and sweat-wicking properties.
Hugging every curve with a pill-resistant and sheer-proof fabric, they'll hold up under even the most hard-core squat sessions. The High Rise Pocket Legging is available in 2 inseam lengths, 5 essential colors, and 4 limited colors. I
f you're looking for great leggings with functional pockets, the Girlfriend Collective High-Rise Pocket Legging can be yours for $78.
Girlfriend Collective Maternity Legging Review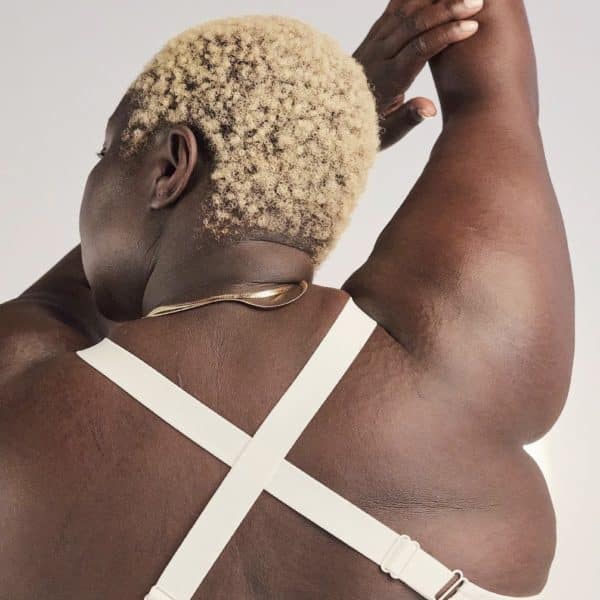 The Girlfriend Collective Maternity Legging is designed to grow with you. Breathable, flexible and versatile, this maternity pant will keep you comfortable and supported through your whole pregnancy—and beyond.
With options to keep them high-waisted or roll the waistband down for a mid-rise style, they'll hug your bump perfectly. Available in 2 inseam lengths and 5 colors, the Girlfriend Collective Maternity Legging sells for $88.
Girlfriend Collective High-Rise Bike Short Review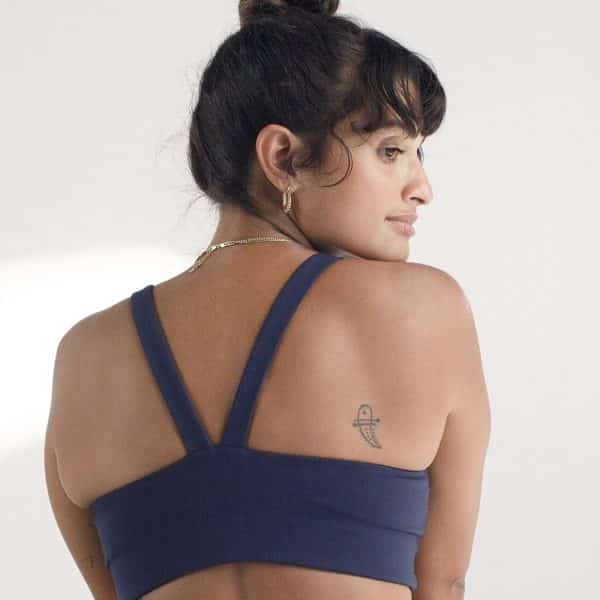 The Girlfriend Collective High-Rise Bike Short is a necessity for every cycling girl's wardrobe. Available with or without pockets, squat proof, and compressive, these shorts will take you from lounging to the gym to running errands, with an effortlessly flattering fit.
Even if you're not a cyclist, this short length is very on-trend right now. The Girlfriend Collective High-Rise Bike Short is available in 6 essential and 4 limited colors for $48 (or $58 if you like pockets).
Girlfriend Collective Bike Unitard Review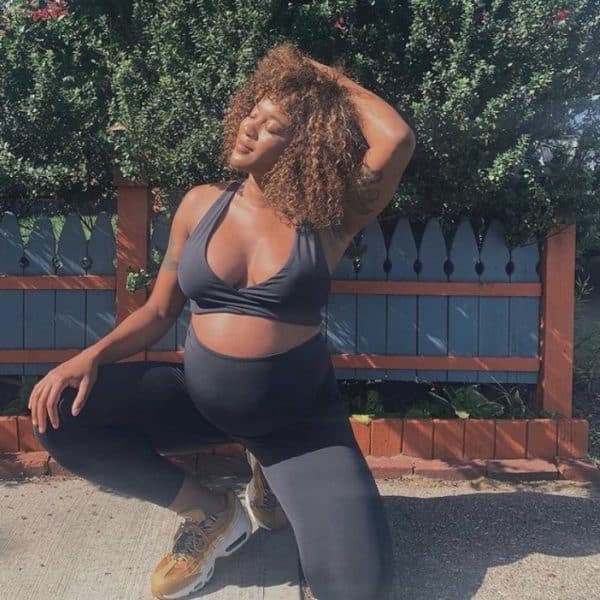 The Girlfriend Collective Bike Unitard is a bike short meets sports bra hybrid. This low-back unitard is the definition of fashion meets function. Compressive yet comfortable, this bestseller is easy to wear without worry.
This Girlfriend Collective review found that some customers noted that while incredibly comfortable, the compressive unitard Bike may not be designed to flatter every body. One customer said, "if your body isn't 100% proportional, it won't fit."
So, if your top and bottom differ in size, the $78 Girlfriend Collective Bike Unitard might not be for you. We still think it's stylish though!
Girlfriend Collective R&R Hoodie Review
The Girlfriend Collective R&R Hoodie is the cropped hoodie of your dreams. This stretchy but not saggy, lightweight hoodie is great for a weekend getaway or chilling at home.
Moisture-wicking, quick-drying, and buttery soft, it's another win from Girlfriend Collective. It has a cute crop length and would pair well with high-rise Girlfriend Collective leggings or a sweet pair of jeans.
The R&R Hoodie from Girlfriend Collective is available in 5 colors and sells for $68. According to one reviewer, it's "a steal for the versatility this hoodie has!"
Girlfriend Collective Paloma Bra Review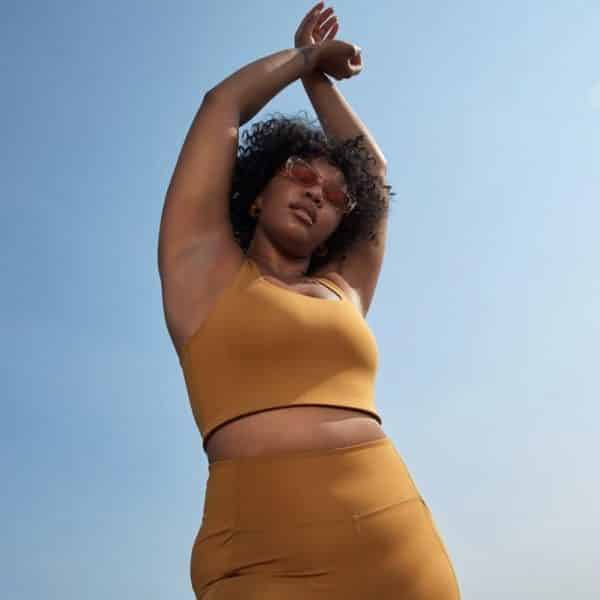 The Girlfriend Collective Paloma Bra is the brand's number- one bestselling bra. This racerback sports bra offers solid support to the girls, while still being soft and comfortable.
If you venture onto the product page for the Paloma Bra, you'll see it pairs really well with the High-Rise Bike Short due to its long-line silhouette.
Available in 7 essential colors and 4 limited colors, this Girlfriend Collective bra sells for $38.
Girlfriend Collective Dylan Bra Review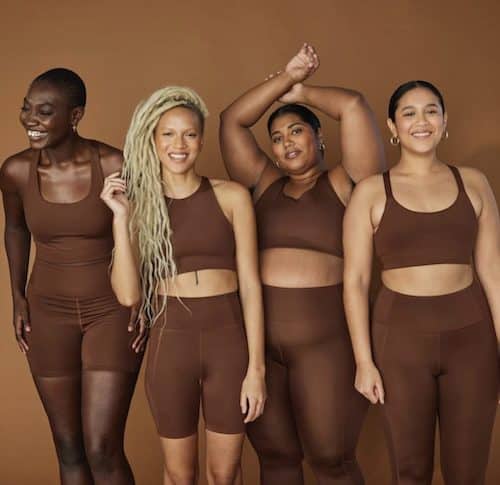 The Girlfriend Collective Dylan Bra is a cropped tank, sports bra hybrid. With a racerback, longline fit and a high neck, this bra is the modest girl's best friend.
Designed with medium-impact workouts in mind, the Dylan Bra features a built-in support band and sturdy 4-way stretch. Recommended by customers as a crop top, the soft, stretchy material is comfortable to wear all evening on a warm night out with the girls.
The Girlfriend Collective Dylan Bra is available in 7 essential colors and 3 limited colors for $38.
Girlfriend Collective Thong Review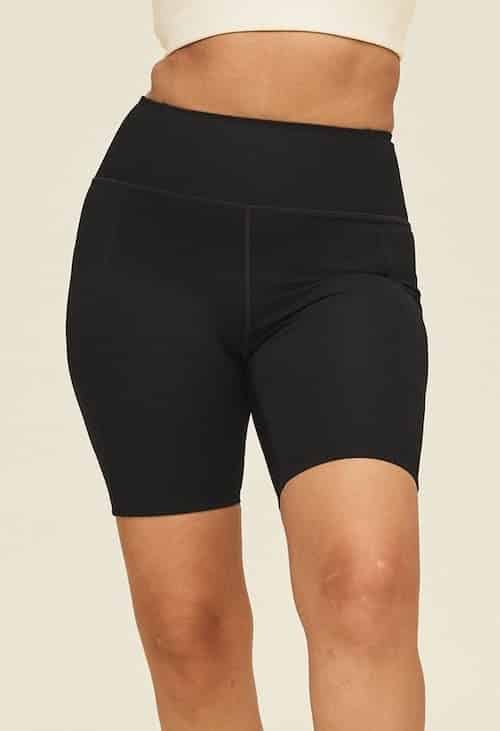 The Girlfriend Collective Thong is classic mold-to-your-body underwear. Available as the High-Rise Thong or Mid-Rise Thong, both styles feature a raw-cut waist and leg opening, designed to camouflage VPL (visible panty lines). 
This Girlfriend Collective underwear features a moisture-wicking liner to keep you feeling dry and fresh all day. The High-Rise Thong features a bonded tape waistband to keep your undies in place all day.
Soft and stretchy meets light and breathable, this basic yet sexy thong is available in 3 essential colors for $14.
Girlfriend Collective Reviews: What Do Customers Think?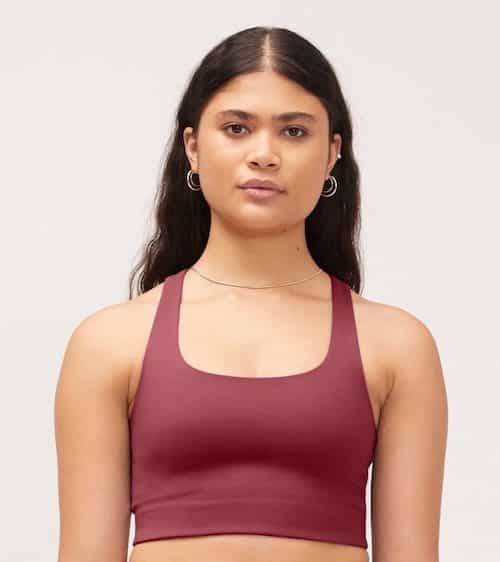 This Girlfriend Collective review turned to the official website to see what customers really think. The site uses a 5-star review system for all of their products, and it is easy to see that they are thought of quite highly.
Here's a sample of ratings for some of the pieces featured in this Girlfriend Collective review:
High Rise Pocket Legging: 4.3/5 stars out of 4738 reviews
High Rise Bike Short: 5/5 stars out of 3467 reviews
R&R Hoodie: 5/5 stars out of 292 reviews
Paloma Bra: 5/5 stars out of 8285 reviews
High Rise Thong: 5/5 stars out of 180 reviews
One Girlfriend Collective review reads, "The Paloma Bra is my new favorite!…soft, stretchy material but it just feels a little tighter and compressive in a way that is supportive and comfortable..It's perfect for any number of physical activities, but is comfortable enough for lounging, too." 
Customers rave about the Compressive Leggings too, with one wearer claiming, "GF collective has done it again! I'm on my third pair and love the color of these midnight blue ones…The quality of material and overall feel is perfection." 
Another buyer said about the High Rise Bike Short: "I wear these bike shorts almost every day now! When I exercise and I wear them when I lounge. They are absolutely perfect for both! … They are so comfortable."
One of the most frequent comments left by customers echo what Business Insider said in their review of the Girlfriend Collective. "It's nice to get the best product out there and simultaneously support a company who puts working conditions and sustainability first." 
This Girlfriend Collective review found that, Girlfriend Collective customer service is always prompt and helpful with their replies, no matter if you're leaving a comment on their official site, reaching out by email, or commenting on Instagram.
Is Girlfriend Collective Worth It?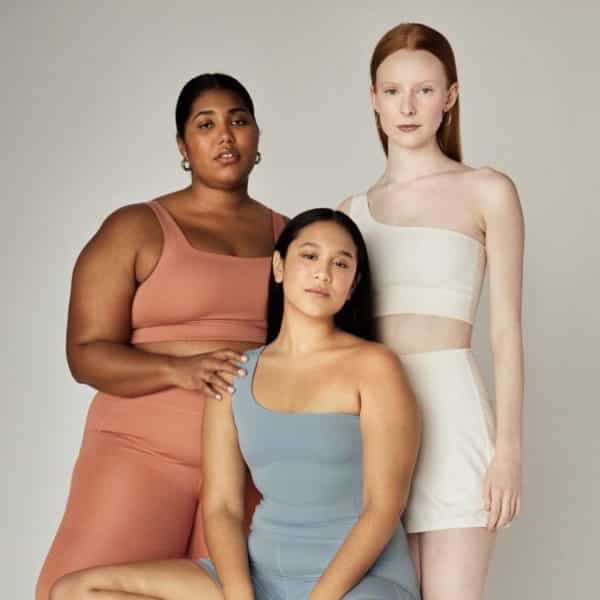 Are Girlfriend Collective leggings worth it? Should you buy this apparel? Our Girlfriend Collective review has covered a lot of ground; the company's origin, an overview of products, and the pros and cons that come along with them.  
This Girlfriend Collective review concludes that the apparel is definitely worth the buy. Whether it be the ethical and sustainable practices that pull you in, the fairly priced athleticwear or the comfortable designs—the reviews left by thousands of Girlfriend Collective customers speak for themselves.
While there are some issues, Girlfriend Collective is a size-inclusive brand that is doing their best to give everyBODY a place within the collection.
Girlfriend Collective Promotions & Discounts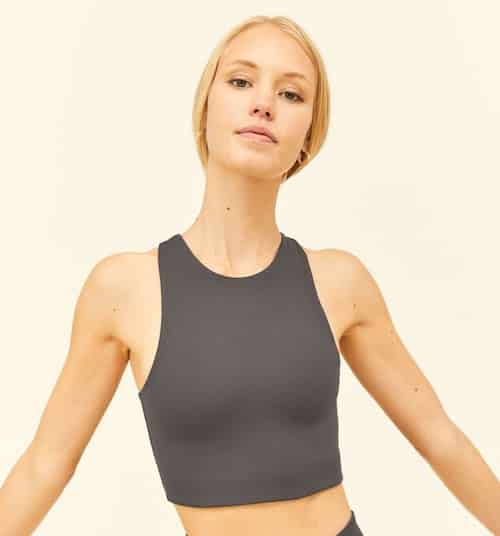 Signing up for emails on the Girlfriend Collective official site is the easiest way to keep up to date with upcoming deals.
You can also gain access to exclusive promotions by joining The Collective, where customers earn points to use toward purchases, gain access to exclusive gifts, and early access to new collections.
If you refer a friend, and they make a purchase, you can get them $10 off of $95+ (not including shipping or taxes). You receive a free pair of leggings in return!
Another way to save both your wallet and the planet is to participate in their ReGirlfriend program. Girlfriend Collective makes their products last, but if you send in old, worn products back to be recycled, you'll receive a $15 credit toward your next purchase.
They also have a Top Drawer Discount, which is a mix and match deal for up to seven pairs of socks or underwear. The discount can save you up to $30 on 7 pairs!
Where to Buy Girlfriend Collective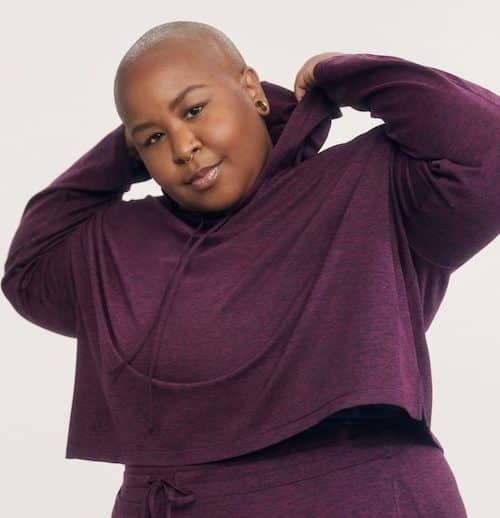 Girlfriend Collective can be purchased directly on their website, GirlfriendCollective.com. They also provide a very comprehensive list of their stockists on their official website. While their site currently only ships to Australia and the US, there is a wide variety of stores that carry the brand.
Nordstrom carries Girlfriend Collective online, as well as MEC, Net-A-Porter, and Holt Renfrew, to name a few. There are also plenty of brick-and-mortar stores that carry their products in Austria, Canada, Denmark, France, Germany, Italy, Netherlands, Spain, Sweden, United Kingdom and the US.
FAQ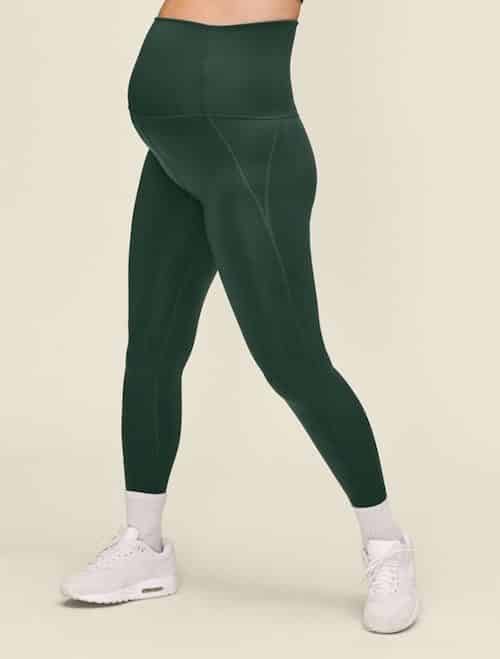 Who founded Girlfriend Collective?
Girlfriend Collective was founded by husband and wife duo, Quang and Ellie Dinh. After Ellie noticed a gap in the athletic wear market for ethical and affordable leggings, they launched Girlfriend Collective.
Is Girlfriend Collective ethical?
This Girlfriend Collective review found that the simple answer is yes! Girlfriend Collective's merchandise is made in an SA8000 certified factory, an internationally recognized standard that ensures fair work hours and pay, safe working conditions, and no forced or child labour within their factories.
The company is incredibly transparent on the About Us page of their website — including links to their SA8000 certificate and a breakdown of how eco-friendly the products produced by the brand actually are. They've even gone so far as to include every bylaw SA8000 puts forth for their certification, right on their website.
How do I wash Girlfriend Collective?
Girlfriend Collection items, from bras to leggings, can be washed in cold water, and hung to dry. As their website says "it's better for the environment, reduces energy use and is the best way to take care of your clothes." 
What sizes do Girlfriend Collective offer?
Girlfriend Collective is a size-inclusive brand, offering every item in sizes XXS to 6XL.
How long does it take for Girlfriend Collective to ship?
According to Reddit, Girlfriend Collectives shipping times vary quite drastically. If purchased from their original site, the consensus is it takes anywhere from 2 weeks to a month for orders to arrive. Some commenters recommend purchasing through one of the company's stockists, for faster shipping and more reliable tracking.
What is Girlfriend Collective's Return Policy?
Girlfriend Collective accepts returns of unworn, unwashed items with the tags still attached within 30 days of their ship date. There is a $7 shipping and restocking fee for mail-in refunds, but exchanges are free.
If you accept your return in the form of store credit, your restocking fee will be waived. Collective Jade and Sage members get free exchanges and returns, always!
Your first sock and underwear purchase can be returned, following the above guidelines, but after your first purchase, they are final sale.