Comfort is everything when it comes to clothing. It is helpful to wear comfortable clothing when sleeping or just relaxing in the house. Eberjey is a clothing brand that provides sustainable and comfortable-to-wear sleepwear, loungewear, and swimsuits. This Eberjey pajamas review will look at the company's bestsellers, customer ratings, shipping policy discounts, and much more to help customers determine if their products are worth purchasing.
About Eberjey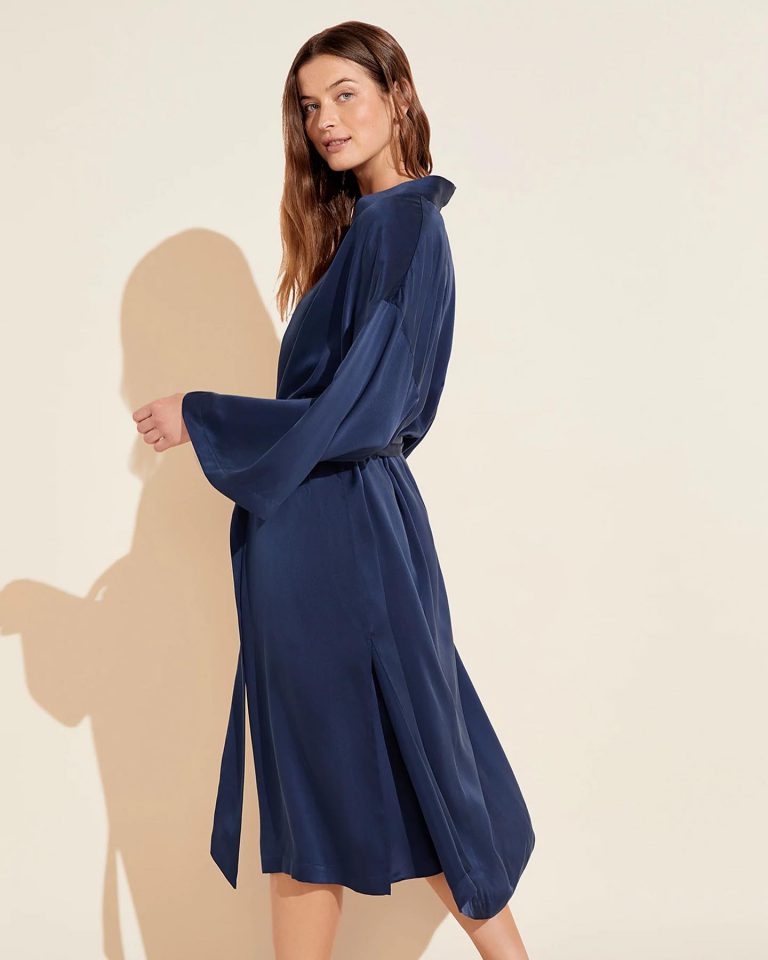 Eberjey is a company that has created a unique space where customers can be themselves. The company has been in operation for 25 years.
Ali Mejia is the co-founder and chief inspiration officer at Eberjey. She was born in El Salvador and raised in Miami, and her passion for luxurious and designer pajamas started at an early age. Ali was inspired by her mother's European sleepwear, which was beautiful and paid attention to detail. Her passion grew stronger, and she started to alter and redesign clothes before she entered middle school.
With time, her creative interests spurred. Ali began her career on Wall Street and later ventured into advertising. During her working days, she was lucky to meet Mariela, the company's co-founder. Within a short time, Ali's tiny projects and sewing samples blossomed into something bigger.
When she was stable, Ali resigned from the corporate job she had and founded Eberjey. The company was started for the sole purpose: to create comfortable, beautiful designs that encourage confidence and a relaxed lifestyle.
Ali redefined the lingerie market. Back in 1996, the market was dominated by designs that focused on appealing to the male gaze. Eberjey started making comfortable clothing that made women feel confident. They later launched their iconic pajamas, which gave the company a breakthrough.
Over the years, Eberjey has become a popular brand; several magazines have featured the brand, including Vogue, Brides, The Oprah Magazine, The New York Times, and Forbes. They also enjoy a massive social media following, with over 138k followers on Instagram and more than 20k followers on Facebook.
Before we go further with this Eberjey pajamas review, let us look at some of the pros and cons of the company.
Eberjey Products Review
Eberjey offers sustainable comfort through its sleepwear and swimming clothing line. Below is a review of the brand's best-selling products, including Eberjey robe, pajamas, swim, and loungewear collections.
Eberjey Pajamas
To enjoy deep sleep, you need to wear comfortable pajamas made from the right material. Sweet dreams are made from wearing Eberjey Pajamas.
The pajamas are available in different designs and styles to suit your mood, body temperature, and season. The brand's Gisele Tuxedo Slim PJ Set is a top-selling pajama. It is available in different sizes, extra small, small, medium, and extra-large. The limited-edition products have various colors, including raspberry, ivory, and charcoal.
Eberjey Gisele pajamas feature a long sleeve top and a pants set. This Eberjey pajamas review found that the long-sleeved top is a classic slim fit with buttons on the front top, a notch collar, and a functional pocket.
The pants are a mid-rise slim fit embedded with a tuxedo piping and elastic waistband. To care for the pajamas, machine wash using cold water and tumble dry low.
Gisele pajamas are made of 95% TENCEL Modal and 5% Spandex. The materials used are beautiful, gentle on the skin, and easy to take care of.
During the cold season, you can pair this classy pajama with cozy ribbed socks for maximum comfort and warmth.
There is also a wide range of pajamas to choose from to suit your needs. You'll find long-sleeved, short sleeves, cropped, and slouchy pajamas.
Eberjey Robes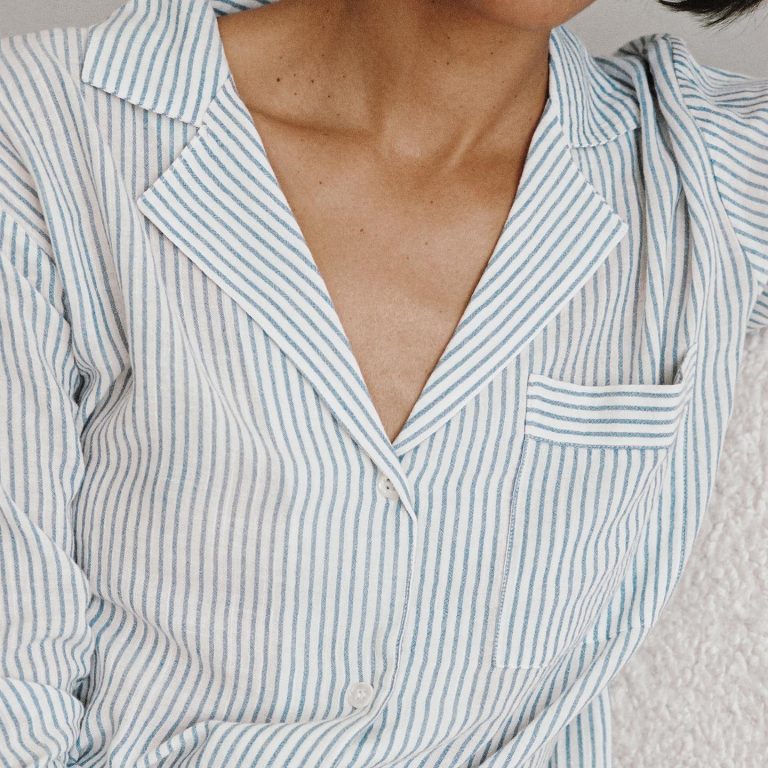 You can wear a robe when you get out of the shower to help your body dry off when wet. You can also wear it when you get out of bed as you do your morning routine. A good robe should have a soft texture and a warm fabric that calms the body and mind. The Eberjey robe collection consists of pieces made from 100% cotton that is soft, breathable, and lightweight.
The robe consists of a detachable belt and whip-stitch details. The fabric used to make this robe is water absorbent, making it easy to machine wash using cold water and dry it in a low heat setting or item in the dryer.
Gisele robe is one of the best-selling robes; it is available in different sizes, from extra small to extra-large, depending on your fitting. Available in black and navy/ivory, the robe is perfect when you want to relax after a bath or as you get ready in the morning. You can wear it on its own or over your favorite pajama, and this classy robe is durable and will not lose its shape or color.
You can pair the robe with Frida TENCEL Modal Cami & Short PJ set and the plush ankle slipper sock.
Eberjey Swim
Swimming is an exciting activity that requires wearing a comfortable swimsuit. A good swimming costume is made from a high-quality fabric that is thick and soft. The Eberjey swim collection has a wide variety of bikinis, one-pieces, and cover-ups.
The Nessa Printed Textured Bikini Top is luxurious swimwear. The bikini comes in two colors: redwood/sand and mango/lilac.
The sizes range from extra small to large. Eberjey Bikini has a light and textured fabric that is soft and stretches for a flattering and comfortable all-day fit.
The body of the bikini is made from 93% nylon and 7% spandex. The liner consists of 90% Nylon and 10% Spandex. The material used has a 50+ UPF to ensure that your skin is protected from the harmful rays of the sun.
The fabric used is also certified by OEKO because it is free from harmful chemicals. The bikini is designed to flatter your curves and hold your body without making you feel restrictive; this unique design makes it the perfect bikini for swimming and sunbathing.
The Nessa Bikini features a triangle top with adjustable strings that you can tie on the front or back, depending on your preference. The top also has removable bra pads if you feel it's too puffy.
For maximum care and durability, hand-wash Eberjey swimwear using cold water and air dry. You can pair the bikini with a matching Sadie bottom from Eberjey. If you are not comfortable walking around in a bikini, you can purchase the Elsie Organic Cotton Voile Cover-up, which is available in similar colors.
Eberjey Loungewear
Loungewear is perfect for chilling in the living room on a relaxed day or taking a walk on a lazy weekend. Eberjey loungewear is your everyday uniform. It is available in different styles from Finley, Heather, and soft sweats.
The Heather Cotton-Blend Top is a favorite for many shoppers. The limited-edition production comes in ocean bay color; it is available in different sizes, including extra small to extra-large.
This classy loungewear will make you comfortable as you work on the desk from home, take casual walks or run errands. It will make you feel relaxed and pulled together.
The Eberjey loungewear collection consists of pieces made from 50% cotton and 50% polyester, making them lightweight. The materials used are also certified by OEKO.
The Heather Loungewear features a relaxed long sleeve top with a scoop neckline. The shoulder comes with a roomy drop and a slim sleeve. It also has an adjustable sash for a custom fit.
Eberjey Mens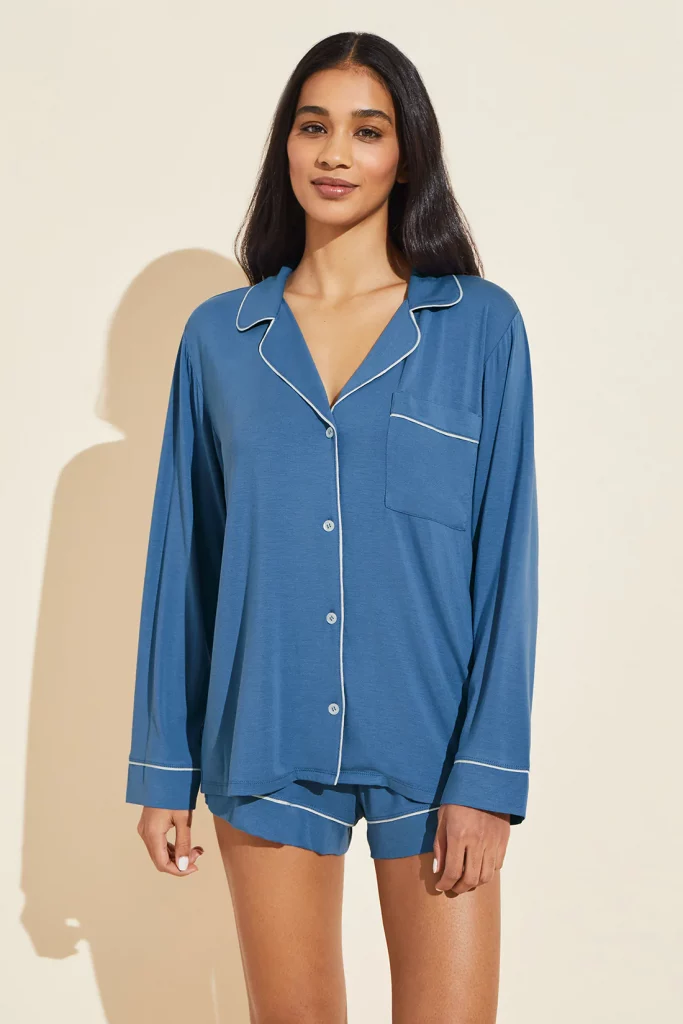 The brand caters to the needs of men and women, as it has an expansive collection of classy men's pajamas, robes, and loungewear. Eberjey mens pajamas come in different shapes and sizes. They are available as long pants and shorts to suit different types of weather. For cold weather, you can wear long pants and a long-sleeved top.
The Henry TENCEL Modal Short PJ is a limited edition available in three colors: heather gray, blue fog, and kelp. The sizes range from extra small to extra-large.
The pajamas are made from 95% TENCEL Modal and 5% spandex. The materials used are breathable, durable, and suitable for machine washing.
The Henry Pajama consists of men's short sleeves and a short; the short sleeve is a classy crew neck t-shirt. The short has an elastic waistband and functional pockets, and the front part has a drawstring tie to adjust it for a perfect fit.
The design of the pajamas features temperature-regulating shorts that will keep you cool during hot nights. You can also wear these pajamas after working out and relax in them.
Eberjey Pajamas Review from Customers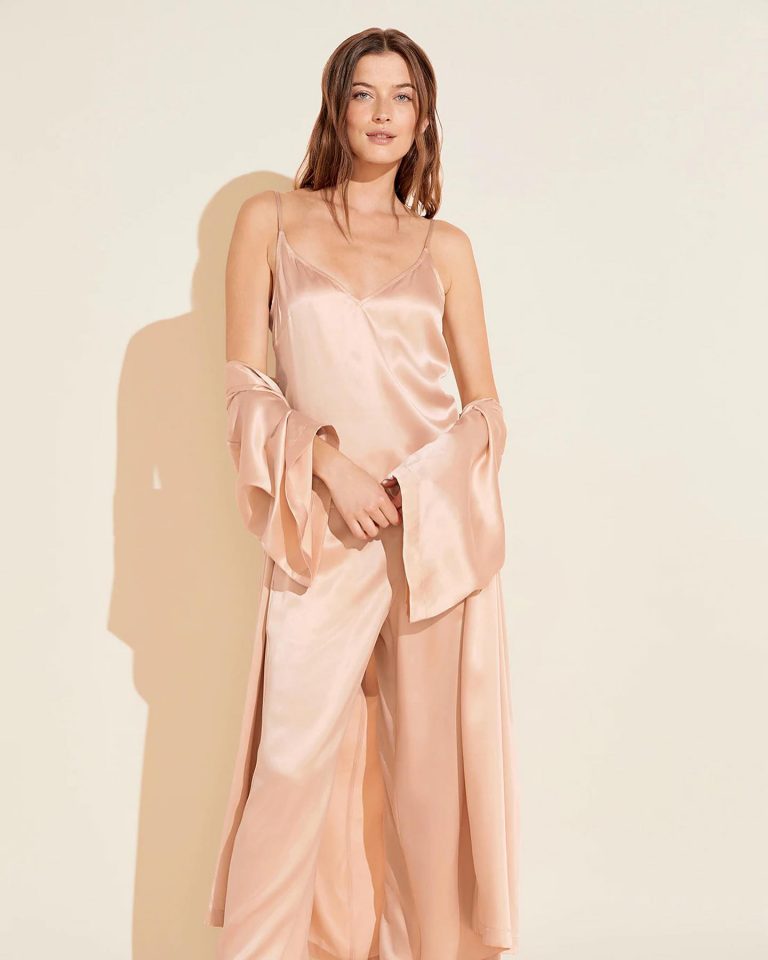 We checked Eberjey reviews from customers and analyzed what buyers had to say about the brand's pajamas, loungewear, robes, and swimsuits. We found that there were lots of positive reviews written by satisfied customers. From the company's website, most garments have a five-star rating. There are also numerous positive reviews on Amazon.
Most reviews we came across indicate that the brand's clothes are comfortable to wear because they are made from soft and high-quality TENCEL fabric. Many customers praised the pajamas and robes because they are perfect everyday wear. Others loved Eberjey Sale, which allowed them to get up to 70% on select items.
One of the customers commented on the Eberjey Women's Gisele two-piece long sleeve & pajama. They praised the pajamas for being soft and comfortable to wear. The customer added that she had not worn pajamas for over a decade and felt like she was sleeping in the clouds. The pajama she bought has lasted for three years, and she's planning to purchase another from Eberjey. The customer also hopes the company could consider making pajamas for different shapes and sizes.
Another customer highly recommended Eberjey products after she bought the Gisele Tuxedo women's robe from their site. She said the robe fit perfectly and loved how it was made from high-quality materials.
Further customer reviews
She continued by saying that she also loved how they are comfortable and lightweight, and it is easy to hand wash or machine wash. It was also easy for her to match the robe with other inner garments because she got a neutral navy blue color. The customer is grateful she finally got a robe that suits her morning routine.
A content customer from Amazon bought the redwood Loretta 1-Piece Swimsuit and raved about how she loved it. The customer appreciates the swimsuit because the front is aesthetically pleasing, and the back has good coverage. The size was also perfect for her. Since she is a frequent swimmer, she felt comfortable wearing the swimsuit all day. The buyer stated they love pairing the costume with Eberjey Cover-Ups whenever she is walking on the beach.
Sign Up for Eberjey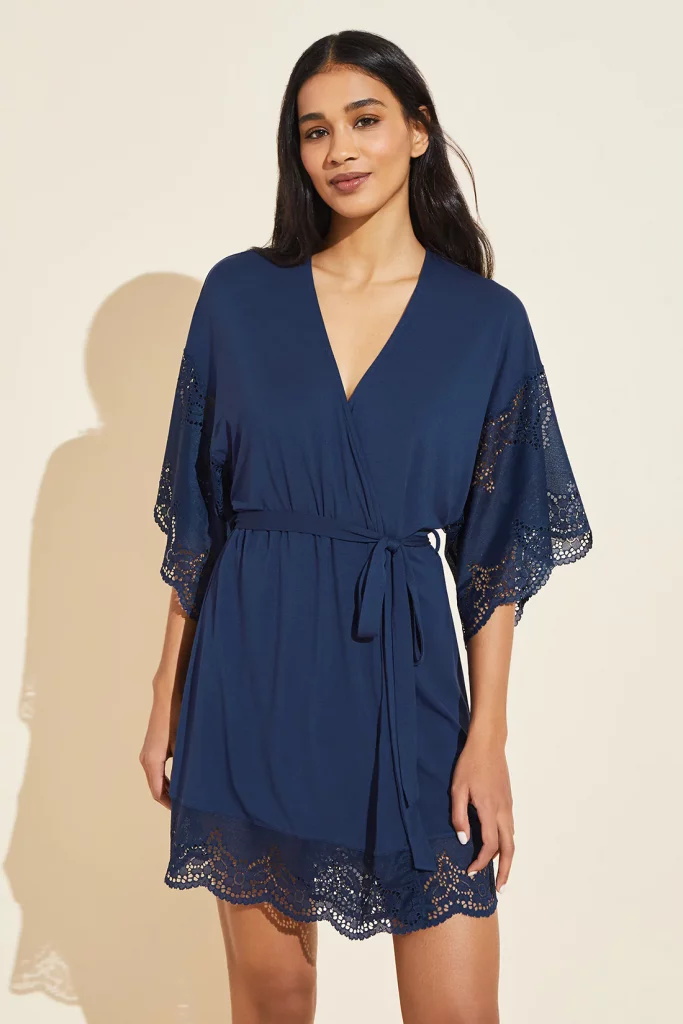 If you want to be part of the Eberjey family, visit the company's official website and click the MY ACCOUNT button. You can then click Create Account and fill out your details on the registration form.
Remember to subscribe to the company's newsletter to get updates on upcoming discounts and promotions. You will also get updates on new arrivals.
Where to Buy
You can purchase Eberjey products from their official website at Eberjey.com. You can also find a selection of their products on the following retail partners' sites:
Amazon
Bloomingdales,
Saks Fifth Avenue
Harrods
Selfridges
Hudson Bay
Net-a-Porter
Revolve
Shopbop
Eberjey Shipping and Return Policy
Shipping:
Eberjey ships within the United States and internationally, and it takes two days to process local orders and four days for international orders. The company offers the following shipping options:
Standard shipping (4-8 Business days)
Express shipping (2-3 Business days)
Overnight shipping (1 Business day)
International orders are shipped through Global-E, a global e-commerce vendor.
Return Policy:
The company accepts returns on all unworn, unwashed, and unaltered merchandise. Eberjey returns are only eligible on items purchased through the brand's official site.
They give a refund or exchange within 30 days for local orders and 45 days for international orders. The company will not accept your returns after the stipulated days.
If the item you purchased has a manufacturing defect, email the company through [email protected] within seven days of receiving the order.
Promotions & Discounts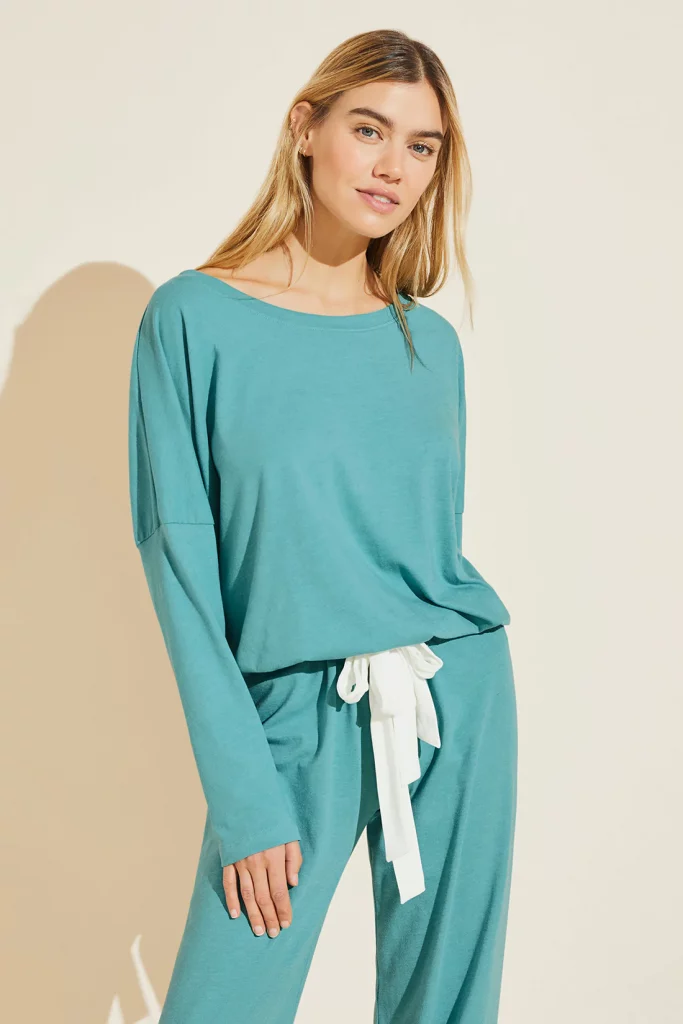 Our team discovered several promotions and discounts available to customers to help them save money when shopping for Eberjey products.
Customers enjoy free shipping for orders above $100
Eberjey Sale allows shoppers to enjoy up to 70% on select items
The company offers 10% off on your first order when you sign up for their email list.
You will get $25 off for any order worth over $75 with Friend Referral
Customers enjoy up to 40% off on summer purchases when they use the Eberjey discount code SUMMER
Contact Eberjey
To know more about Eberjey products, visit the company's website and click on the live chat icon. A customer care representative will be on the other end to help you.
You can also call Eberjey Customer Service at 877 323 7539 or send an email to [email protected]. Alternatively, you can send their support team a direct message on the Eberjey Facebook or Instagram page.
Eberjey Pajamas Review: Editor's Verdict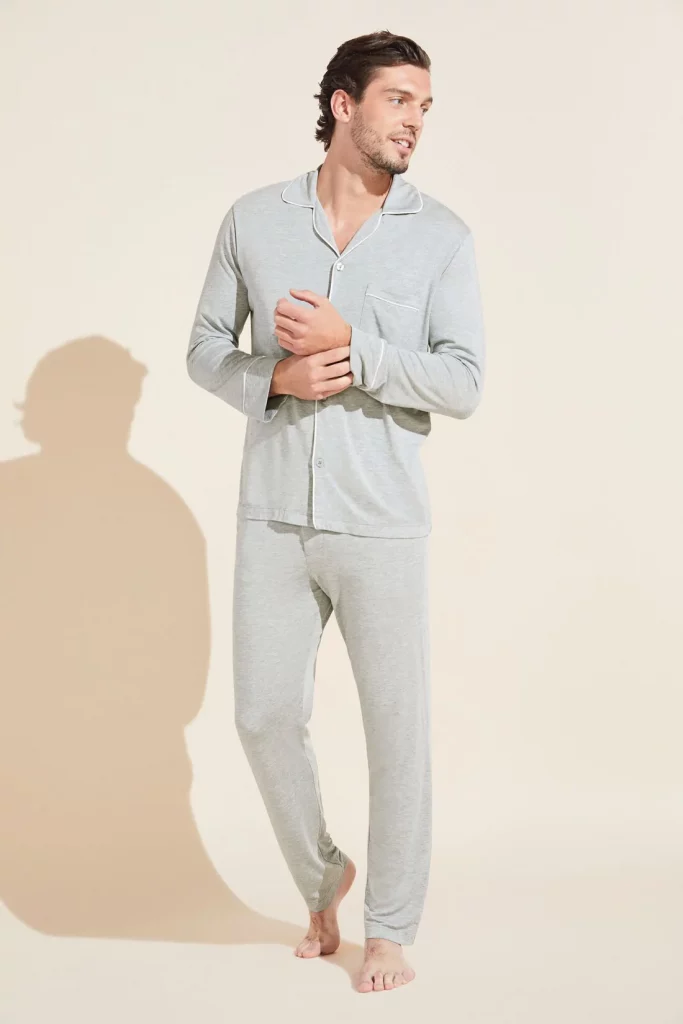 If you value comfortable sleepwear or high-quality swimwear don't worry, Eberjey has got you covered. They offer a range of products, including sleepwear, swimwear, and loungewear made from soft TENCEL Modal fibers.
From our Eberjey pajamas review, we can conclude that the clothing line is worth checking out if you are looking for sleepwear, loungewear, or swimsuits.
Check out other brands that sell clothing items such as Cos, Chantelle, and Bold Socks.
Eberjey FAQ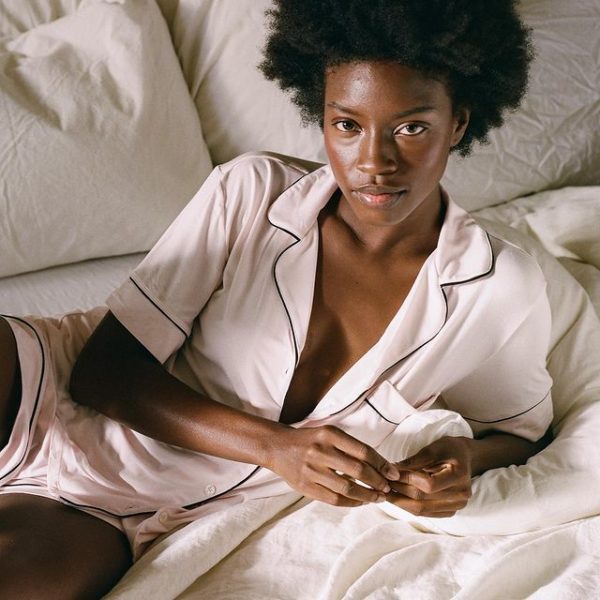 Does Eberjey offer monogramming?
Monogramming is available on selected men's and women's pajamas, with the embroidery being centered at the top of your PJ pocket. Keep in mind that monogramming adds a processing time of between 7 and 10 business days. They do not edit monogramming orders after you have placed them.
How do I care for Eberjey products?
To keep Eberjey products in good condition, follow the care instructions available on the fabric tag. Each fabric has specific care instructions that suit its style. Appropriate care extends the product's lifespan.
The best way to care for the pajamas is to hand wash using a mild detergent. Delicate items like lingerie require hand washing and air drying to preserve the fabric. The company is not eligible for damages if you do not follow the provided care instructions.
Does Eberjey offer bridal discounts?
Yes. The company offers a 15% discount on group orders with 6 to 9 units of the same item. They also give a 20% discount on bulk orders with more than 10 units of the same item. Bridal discount only applies to single orders of full-price items. For more information, send an email to [email protected].
How do I sign up for Eberjey's rewards program?
You only need to create an account and provide your name, password, date of birth, and email address. It is free to join, and you will receive notifications on promotions, sales, and new arrivals. If you have an account with Eberjey, log in and start earning points. The rewards and referral program is only available for US shoppers.