Best Running Shoes for Men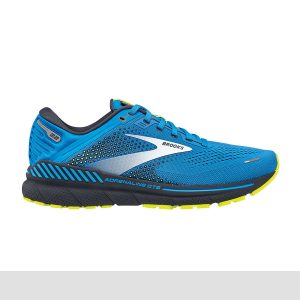 Need a fresh pair for your next run? Whether you're looking for comfort, stability or responsiveness, there's a shoe that fits your specific needs.
Pounding the pavement (or the treadmill) is a lot more enjoyable when you have the right gear. Finding the best shoe for your stride can be overwhelming, so we've narrowed down the top running shoes for guys. And while there's a lot that goes into choosing the right running shoe or the best treadmill shoe, we're confident you may find something you'll love.
*Disclaimer product availability may fluctuate due to inventory.
Nike Air Zoom Pegasus 38
The Nike Air Zoom Pegasus 38 is a reliable workhorse that's ready to take on your next set of miles. These shoes are built with a comfortable mesh upper, giving them a breathable, plush feel. You'll find space for your toes, thanks to the wider forefoot design. But don't worry—you can get your just-right fit with the midfoot webbing that provides a snug feel when you tighten the laces. And finally, it's equipped with Nike React foam for optimal cushioning that is soft, springy and long-lasting. The Nike Pegasus style has been beloved by runners for years and the 38 is a great update to a crowd favorite.
Shop the Men's Nike Air Zoom Pegasus 38
Brooks Ghost 14
Hit your stride with the Brooks Ghost 14. These shoes boast a smooth feel, soft midsole and secure fit. Plus, the Ghost 14 is Brooks' first carbon-neutral shoe. It's a soft, light ride, now with an even lighter environmental footprint. What's more? You'll love the included technology: DNA LOFT, 3D Fit Print, Segmented Crash Pad and more.
Shop the Men's Brooks Ghost 14
HOKA ONE ONE Clifton 8
Enjoy a softer landing, step after step, with the HOKA Clifton 8. With their incorporated crash pad and engineered mesh upper, you'll experience a truly soft and comfortable fit. The plush collar makes slipping on easy and helps to ease any Achilles tension. If you're looking for a lightweight design with plush, responsive cushioning, this could be the shoe for you.
Shop the Men's HOKA ONE ONE Clifton 8
Brooks Glycerin 19
Step ahead in the Brooks Glycerin 19. It's packed with DNA LOFT cushioning, making it Brooks' softest shoe yet. Experience the cushy feel of the internal stretch bootie that moves and expands with your stride. Plus, Omega flex grooves enhance midfoot flexibility, while the rubber forefoot offers durability. With hundreds of five-star reviews, you can bet that runners everywhere are loving it too.
Shop the Men's Brooks Glycerin 19
HOKA ONE ONE Mach 4
Softer. Bouncier. Faster. The HOKA Mach 4 is designed to do all that and more. This is the fourth edition of the Mach style, and it has taken a big leap forward, thanks to its extended heel for a smoother ride, all-new foam design for a softer landing and a lighter, more breathable upper. See how this ultra-cushioned option can make you feel ready to fly.
Shop the Men's HOKA ONE ONE Mach 4.
adidas Ultraboost 22
Energize your ride with the adidas Ultraboost 22. Built with BOOST technology, this energy-returning shoe is designed to add more to every step. This newest update comes with a 360° fit improvement, incredible responsiveness and a primeknit+ upper. Get fresh style with less impact—this shoe contains at least 50% Parley Ocean Plastic and 50% recycled polyester.
Shop the Men's adidas Ultraboost 22.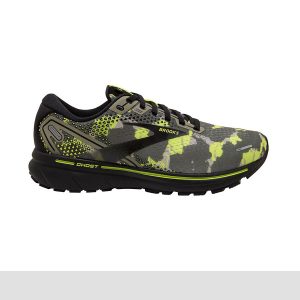 ASICS GEL-Kayano 28
Give yourself soft landings and responsive rebounds with the ASICS GEL-Kayano 28. This shoe is known for its ability to deliver support. The heel is constructed to help offer stability and comfort and the Dynamic Duomax™ technology helps prevent overpronation for an efficient toe-off. For a shock absorbing, supportive fit, reach for the GEL-Kayano 28.
Shop the Men's ASICS GEL-Kayano 28.
Brooks Adrenaline GTS 22
For over 20 years, the Brooks Adrenaline GTS 22 has been a runner favorite. Featuring Guiderail support, DNA LOFT cushioning and 3D Print, these shoes bring the tech. You'll likely love the feel of their holistic support system that helps align your body into its natural motion path. They're the perfect blend of softness and support, and they're ready for your next run.
Shop the Men's Brooks Adrenaline GTS 22.
HOKA ONE ONE Arahi 6
Maximum cushion meets minimal weight in the HOKA Arahi 6. Their J-Frame™ midsole is designed to combat overpronation without unnecessary weight. Experience a balanced toe-off with the early-stage meta-rocker. And, the mesh lining is made with recycled materials, so you can feel good about your gear. If you're looking for a breathable, plush, smooth ride, this might be the pick for you.
Shop the Men's HOKA ONE ONE Arahi 6.
Saucony Endorphin Speed 2
For race day or your everyday jog, the Saucony Endorphin Speed 2 is ready to run. From its PWRRUN PB cushioning to its responsive nylon plate, this shoe is a great choice for logging miles. Feel yourself propel forward, thanks to SPEEDROLL technology. Engineered mono-mesh keeps the upper light and breathable, while FORMFIT delivers a snug feel.
Shop the Men's Saucony Endorphin Speed 2.
If you're looking for the best running shoes for men, you may just discover the perfect fit for your gait right here. Still searching for your ideal style? Check out the DICK'S Running Shoe Finder. Answer a few quick questions about your running habits and preferred fit, and the Running Shoe Finder will point you toward the perfect pair.
Searching for the right size? Look for the True Fit icon on apparel and footwear product pages when shopping online at DICK'S Sporting Goods. Get personalized size and fit recommendations with just a few clicks. Learn more about True Fit.
How to Buy Running Shoes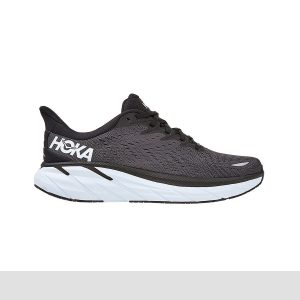 Before you lace up for your next run, use this guide to help find the right running shoes for you.
No matter if you're preparing to run a big race or working to get into shape, knowing what to look for in running shoes is key. There are several factors that go into choosing a pair that fits your needs. However, once you find the right pair, you may find yourself running in a different gear. Find out how to choose the right running shoes for you with these helpful tips from our DICK'S Sporting Goods Run Ambassadors.
Before you begin racing toward your new running shoes, it's important to understand how they should fit. Run Ambassador Ryan Marshall says, "As a whole, I recommend at least one half of a thumbnail to one thumbnail of space from where your toe is to the end of the shoe. Typically, that ranges from about one half-size to a full size of what you measure at."
This added space can help improve your running comfort due to the natural toll running takes on your feet. With every pavement-pounding step, your feet can begin to swell. The extra space can allow your feet to expand comfortably without jamming your toes into the front.
There are instances, however, where a tighter fitting shoe can come in handy. According to Run Ambassador Amy Adkins, a snug fitting shoe can be great for speed training or trail running. The added tightness can create a more form-fitting feel, holding your foot in place for agility and security. Be sure to think through your intended running plans and personal preferences before trying on a pair.
There are three distinct styles of running shoes: neutral, stability and motion control. Each type of shoe offers different qualities for various running styles.
Neutral Running Shoes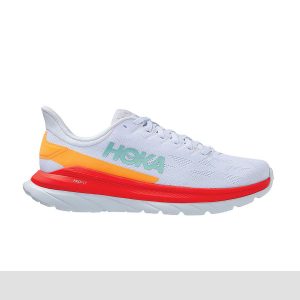 This type of running shoes complements neutral runners with medium arches. Neutral running shoes can also benefit runners with high arches who exhibit supination, also known as underpronation. Neutral running shoes offer midsole cushioning and support designed for added shock absorption.
Stability Running Shoes
Stability shoes are for runners who experience mild to moderate overpronation with low or flat arches. They feature adequate medial support and midsole cushioning. These shoes can help distribute the impact of running to minimize overpronation.
Motion Control Running Shoes
These shoes can be a great choice for runners who exhibit moderate to severe overpronation. Motion control shoes have extra built-in support and flatter outsoles. This combination can help combat excessive pronation to help stabilize the foot.
There are a few ways to figure out which running shoe may best fit you. This includes the arches of your feet, your gait type and the tread of your shoes.
For more guidance on how to choose the right type of running shoe, check out the DICK'S Running Shoe Finder. Answer a few quick questions about your running habits and preferred fit, and the Running Shoe Finder will point you towards the perfect pair.
The first step to finding a pair of running shoes is to know your arch type. An easy way to determine this is by following these three steps:
Wet the bottom of your foot.
Step onto a paper towel or a piece of paper.
Look at the arch on your foot's imprint.
This will help you determine which of the three arch types (flat, medium or high) you have.
Flat Arch Size
Flat feet have very low or non-visible arches. They leave imprints that are nearly whole, appearing much like the entire sole of the foot. This type of arch is usually flexible and likely to overpronate.
Medium Arch Size
These feet have moderate to average arch sizes and leave an imprint that shows only the heel and forefoot connected by a wide band. Runners who have normal feet usually have a semi-flexible arch.
High Arch Size
A foot has high arches when the heel and forefoot connect in a very narrow band. High-arched feet are more rigid and do not typically pronate enough to effectively absorb impact. For this reason, runners with high arches may prefer neutral running shoes with extra cushioning.
Your running gait is the way your feet strike and leave the ground while you're running or walking. Gait helps determine what part of your foot touches the ground when moving. This will impact what running shoe you buy.
There are three distinct gait types:
Neutral Gait Size
With this gait, the outside of your heel strikes the ground first and your foot rolls slightly inward to absorb the shock. The foot may pronate but not excessively. Your foot evenly pushes off at the end of your gait. Runners with a neutral gait should consider neutral running shoes.
Overpronation Gait Size
The outside of your heel strikes the ground and rolls excessively inward. This hinders your foot and ankle's ability to stabilize your body and absorb impact. Runners who exhibit overpronation should go with stability or motion control shoes.
Supination Gait Size
The outside of your heel strikes the ground first but does not roll inward through the gait cycle. The heel remains rotated outward. This causes the impact to concentrate in a small portion on the outside of your foot, decreasing impact absorption. This gait type can benefit from a neutral shoe with plenty of cushioning.
If you are still unsure of your gait type, visit your local DICK'S Sporting Goods. The running PROS will give you a complimentary gait analysis to help find the right type of shoe for you. Learn more about gait analysis with Pro Tips.
An easy way to find clues about your gait type is to check the tread of a pair of your shoes. If you do not have another pair of running shoes, look at a pair of well-worn sneakers. You should be able to identify which gait type you have:
Overpronation: Wear on the inside of the shoe.
Neutral: Even wear of the shoe in the ball of the foot and a portion of the heel.
Supination/Underpronation: Wear on the outside of the shoe.
Your footwear's effectiveness can also depend on your running environment. Depending on where you're running, you may find that traditional running shoes or trail-running shoes are better for you.
Traditional Running Shoes: Run on pavement, packed trails and indoor surfaces with these shoes. Traditional running shoes are light and designed with flexible outsoles.
Trail-Running Shoes: Dense rubber outsoles fortify these shoes. This provides tread and durability against off-road terrain.
Knowing what to look for when choosing a pair of running shoes can help you hit the ground running during your next workout.
Finding the right pair of shoes is only the first step in gearing up for the big run. Check out what to look for in running socks and learn how to choose a pair of running shorts.
Shop the entire collection of men's running shoes and women's running shoes at DICK'S Sporting Goods.
Searching for the right size? Look for the True Fit icon on apparel and footwear product pages when shopping online at DICK'S Sporting Goods. Get personalized size and fit recommendations with just a few clicks. Learn more about True Fit.
How to Know When to Replace Running Shoes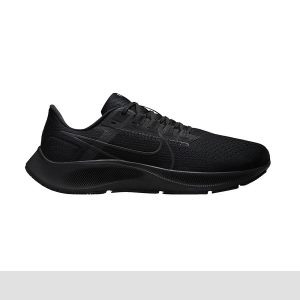 Find out how often you should replace running shoes and what to look for when purchasing a new pair.
Elite runners share a deep connection with their shoes. With so many miles traveled and so much time and effort invested in them leading up to a race, they know that any signs of significant wear and tear on their favorite footwear can mean the difference between clocking a personal best and dealing with disappointment.
Regardless of whether you're an experienced marathoner or a novice just running around the block, being aware of the condition of your shoes — and knowing when to replace them — is important to reaching your goals while also preventing possible injury.
For DICK'S Sporting Goods Associate Cathy Connor, a seven-time Boston Marathon competitor with 25 completed marathons to her credit since 2004, changing out her old shoes for new ones is crucial … no matter how hard it may be to say goodbye.
"You do bond with your shoes sometimes," Connor said, laughing. "But it's important to listen to your body and replace them when your feet and knees start needing a longer recovery time after a run. That's when you know the cushioning [in the midsoles] has compressed, because there's no more propulsion in your stride."
To prevent soreness to your feet and knees (as well as shins, hips and lower back), Connor recommends treating a new pair of running shoes like a furnace filter in your home. Use a permanent marker to jot down the date of purchase/first use on a part of the shoe that won't be worn off, and keep track of the miles you run to know when to swap them out.
Connor, a masters-level runner who logs approximately 30 miles per week recreationally and 45-60 weekly when training for a race, replaces her shoes roughly every three months. This frequency can vary, she said, depending on the running surface. For example, asphalt, dirt and crushed limestone are rougher on shoes than running on grass and can shorten a shoe's lifespan. Water and mud can also play a factor. But on average, racking up 300-500 miles per pair is a good rule of thumb.
Connor added that knowing your gait is key for gauging the deterioration of your shoes' soles and uppers.
The majority of runners experience some pronation (inward roll) and supination (outward roll) during their strides, based on the natural motion of the foot and ankle upon impact with the ground. This weight transfer from the heel to the forefoot and toes during forward propulsion can become exaggerated, however, leading to overpronation or oversupination and uneven treadwear on the inside or outside edge of the shoe.
In addition, look for wear along the ankle collar or the toe box, as these parts of the fabric mesh upper may become frayed or stretched from continual contortion of the foot.
"Once you know your gait, you'll have a familiar baseline that will help you determine when to replace your current shoes and the ones you'll wear in the future," she said.
With this in mind, here are a few more tips from Connor to extend the life of your current or future running shoes:
Consider getting a professional fitting and gait analysis by a trained Associate at a DICK'S Sporting Goods store. They'll help you find a model best suited to your expected use and type of stride (i.e. stability shoes for enhanced support to counter overpronation or oversupination, neutral shoes for more normal gaits).
Although most factory insoles are fine, investing in a pair of high-performance models or having custom orthotics made that are tailored to your feet can make a difference. These offer superior cushioning for a more comfortable run while providing better heel support for more even, all-around wear. They're also interchangeable from one pair of shoes to the next.
"Remember that your foot's arch can change over time due to age or weight," she said. "So having the best materials inside the shoe can make a difference. If you can afford this purchase, it's worth it."
Double tip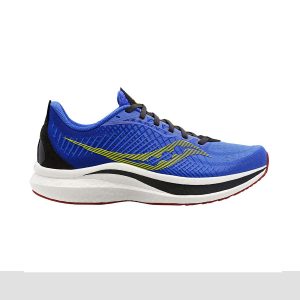 Found a particular pair of shoes that you really like? Consider purchasing two or more pairs of the same model the next time. You'll extend not only the lifespan of your investment, but your enjoyment of running, too. "Shoe companies are notorious for tinkering with tried-and-true designs every year," Connor said. "If they work for you, and you can get them in multiple pairs, do it while you can."
Bonus Tip
For running shoes that are lightly used and still have plenty of miles left within them, consider donating them to a shoe repurposing program to benefit those less fortunate.