About Dermalogica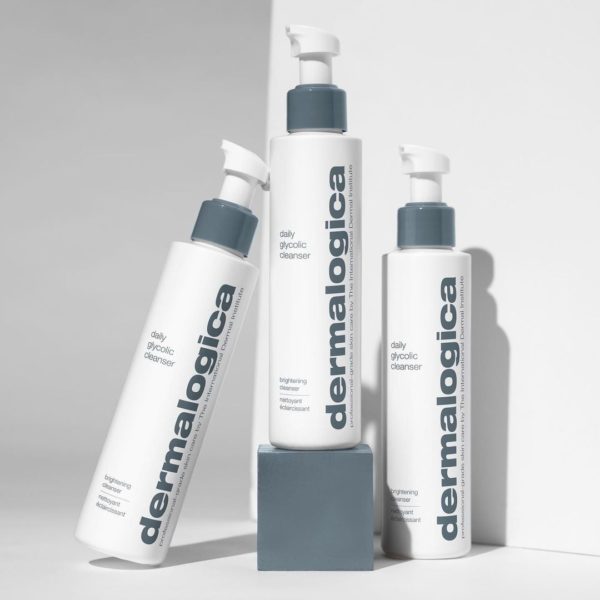 Acne, be gone! With the help of a solid skincare routine, the perils of oily, dry, broken-out skin can be dealt with. Dermalogica simplifies the process through their collection of skincare products specifically made to deal with the overlying issue you're looking to solve.
This brand has made it big in their years of service. Over 564k followers on Instagram loyally support them, while their features in Forbes, The New York Times, E Online, and more show that they're professionally loved as well.
It's safe to say that this one is a well-reported company ready to be trusted.
But it's easy to toss around the word trust without the details behind the brand. This Dermalogica review will lay down company history, products, missions, practices, prices, and more to inform everyone on whether this brand is worth the buy.
Overview of Dermalogica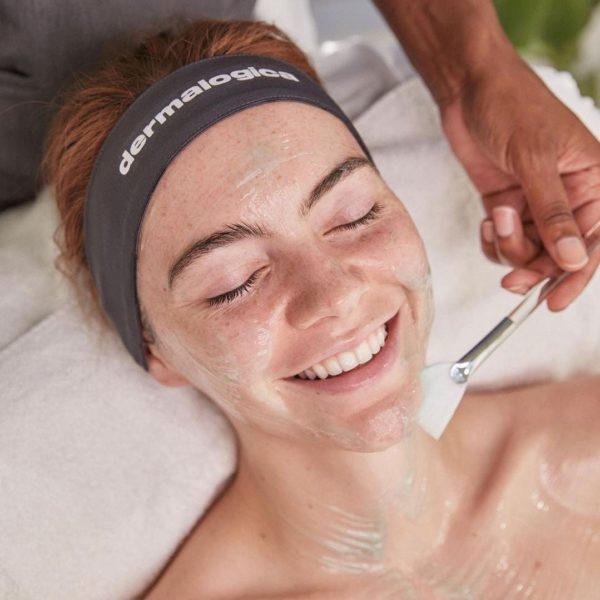 Since 1986, Dermalogica has been on the market working to find skincare solutions that actually get the job done. Founded by Jane Warwand, a professional skin therapist, these products not only help customers but also work to educate individuals on why a solid skincare routine matters.
Since their inception, this brand has prided itself on being a company trusted by medical professionals. Personalizing regimens for skin type and condition, this brand works with its buyers to find the right fit for every individual.
Focusing on sustainable production, natural ingredients, and cruelty-free practices, this brand keeps those essential goals in mind every step of the way. On top of that, their Give Back program helps support and uplift women in less affluent communities.
There are a lot of pros to consider in this Dermalogica review, but it's time we laid them all out in one place:
Pros
Extensive skincare products organized by product type as well as skincare concerns for easy finds
Financing options available with Afterpay
Subscription service offered for all products
Sustainably made
Natural ingredients
Runs a Give Back program to empower women
Great customer reviews
Fast shipping services
Easy returns on almost all products
Cons
No international shipping
With that firmly in mind, our Dermalogica review is moving on over to products and prices. This company is cruelty-free and works with natural ingredients in all of their products. See anything you like? Subscription services are available to keep the goodies coming.
Dermalogica Exfoliant Review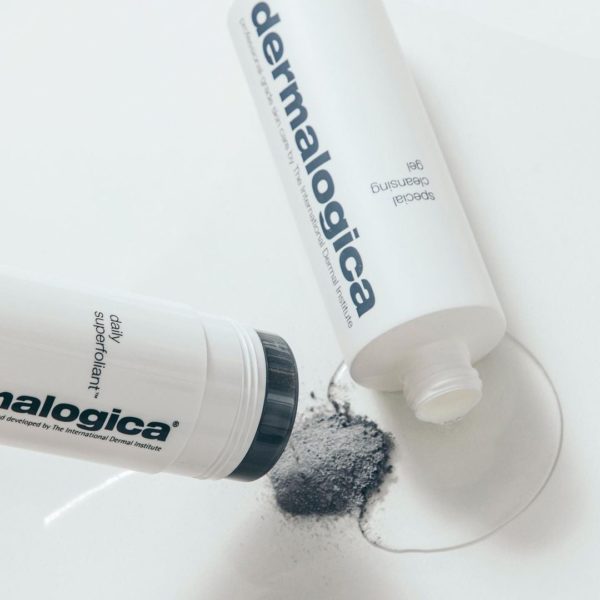 Scrub out the dirt and keep things clean with these favored Dermalogica exfoliants. An overlooked step in the process of a healthy skincare routine, these products are quick and easy enough to add to any day.
Dermalogica Daily Microfoliant Review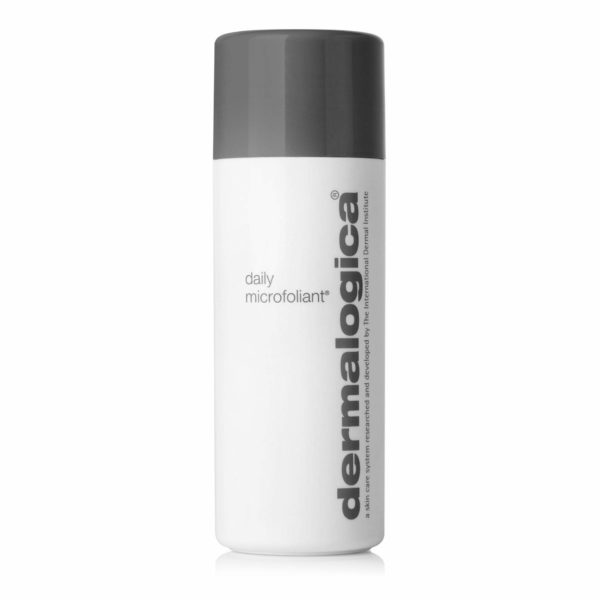 As a first step in the cleaning process, it's first on the list in this Dermalogica review. We're starting with the Daily Microfoliant and all its glory.
Using natural ingredients including Rice Bran, White Tea, and Licorice, this exfoliant powder rids the face of any dead skin cells taking up space.
Removing dry patches, itchy spaces, and flaky skin, this exfoliant unclogs the pores to open things up for peak hydration and cleansing. Soothe the skin and get glowing with a new and clean look.
A 0.45 oz bottle goes for $15 while a 2.6 oz container costs $59.
Dermalogica Superfoliant Review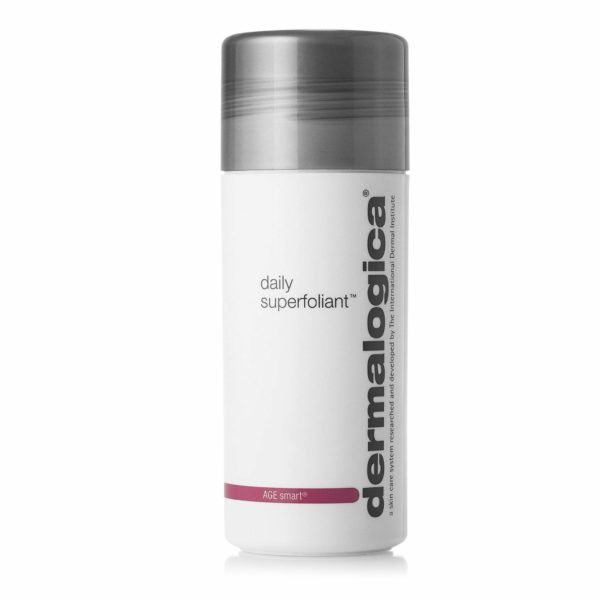 You always have to love any product that starts up when you just add water. With simple instructions working wonders, the Dermalogica Superfoliant is one no one wants to miss.
Made from natural ingredients, this powder purges the toxins and unleashes a flood of hydration to flaky and dried-out skin. Get protection in place against airborne pollutants and keep that skin smooth and supple throughout the year with daily use of this product.
The Dermalogica Superfoliant comes in two sizes, with the 0.45 oz bottle costing $20 and the 2.6o z container costing $59.
Dermalogica Cleanser Review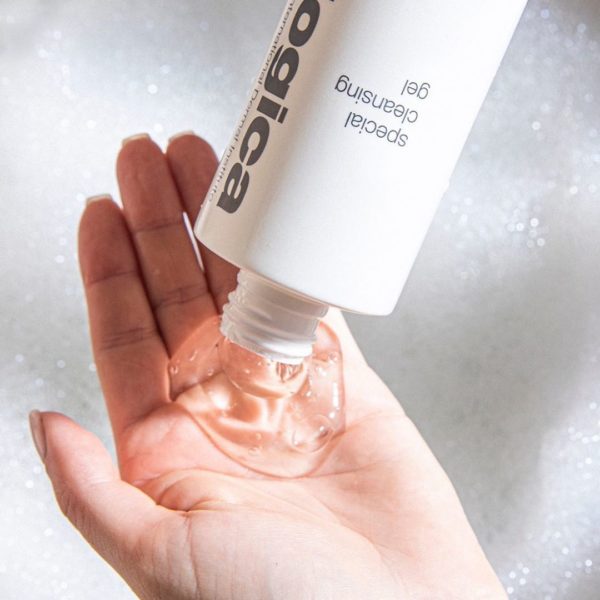 Put in the effort to get the results. Dermalogica's cleansers are an easy step towards flushing out toxins and working with your body's natural oils to keep skin fresh, hydrated, and above all else, cleansed.
We've chosen a few of their most popular products in this collection to show off as that first step to better skin.
Dermalogica Precleanse Review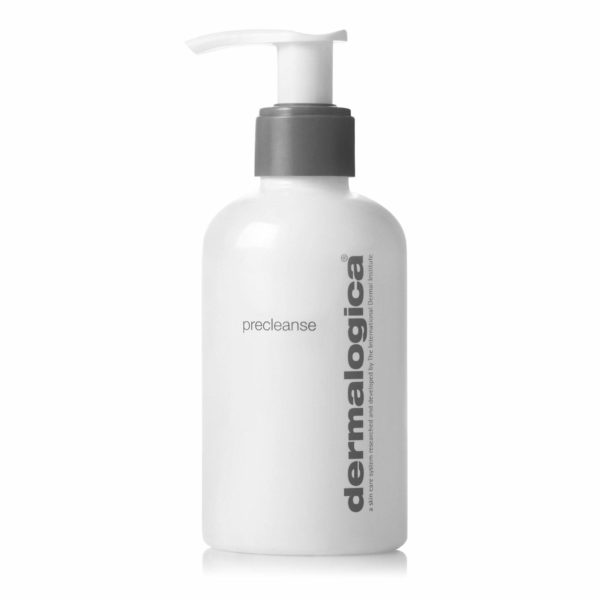 Our skin takes on more in each day than we realize with layers of pollution, oils, creams, and more. The best potential solution? The Dermalogica Precleanse.
Tough on the oily and cream-based products we tend to cake onto our skin, the precleanse cuts through the worst of it to bring our faces back to their natural glowing state.
With a light, mild scent that is pleasant enough to encourage continuous use, this product soothes the skin with no fear of irritation or redness. Best suited for oily skin types, the Precleanse will break things down and deal with them in no time.
This product is available in 1 oz and 5.1 oz containers, costing $14 and $45, respectively.
Dermalogica Ultracalming Cleanser Review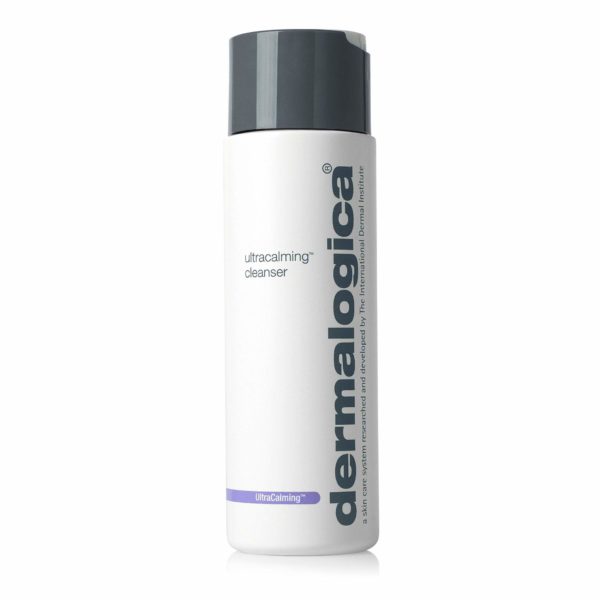 With a name like Ultracalming Cleanser, why wouldn't we trust this product to get the job done?
Sensitive skin can finally breathe without fear of irritation. This soothing cleanser was designed to maintain a healthy pH balance to keep things cool and relaxed. Cleaning doesn't always have to mean scrubbing your skin to a state of redness – sometimes it's as simple as a gentle cleanser that rinses with ease.
This one comes in strong with 8.4 oz and 16.9 oz containers, each available for $40 and $62.
Dermalogica Moisturizer Review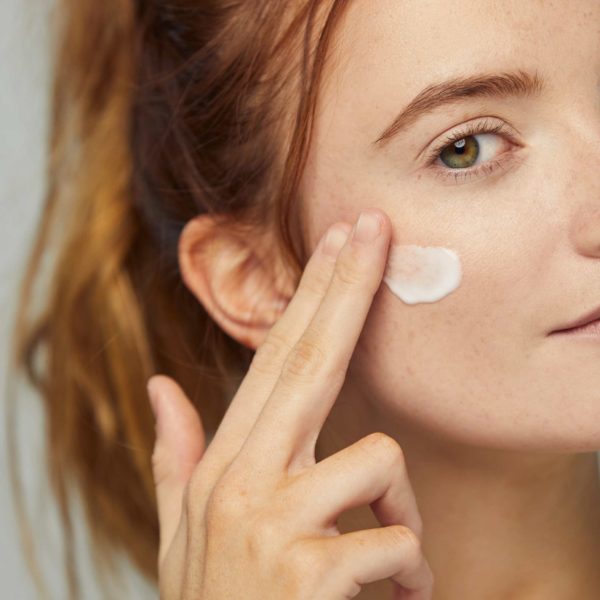 Soft, silky, supple – that's the skin everyone wants to feel first thing in the morning. Dermalogica's best-selling moisturizers are a step towards cleaner and smoother skin that will last a lifetime.
Dermalogica Super Rich Repair Review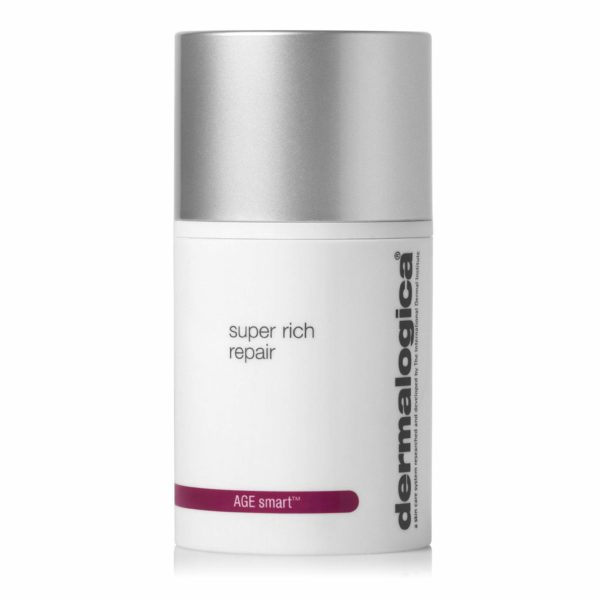 Dry skin got you down? Try out the Super Rich Repair remedy offered by Dermalogica for fast and easy hydration.
Dry, flaky, and dehydrated never met a stronger match than this repair remedy. Working with Shea Butter and Primrose oil, this moisturizer fights dirty by packing in all the hydration it possibly can.
Quench the thirst of your skin by throwing in a Super Rich Repair to the nightly routine. The 1.7 oz container is available for $89 while its larger 3.4 oz companion goes for $139.
Dermalogica Skin Smoothing Cream Review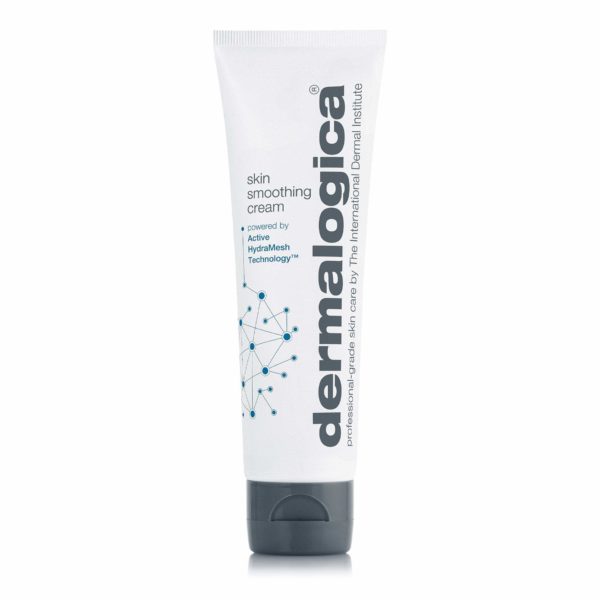 Smooth out any issues with ease. We're finishing off the products portion of this Dermalogica review with the Skin Smoothing Cream.
What's the best part of this product, you ask? It's "48-hour continuous hydration". That's not us bragging, that's a promise from the company itself. Two days of constant moisture to the skin to relax and hydrate all dry patches.
Using Grape Seed Extract alongside Vitamins C and E, this calming cream will work wonders at providing the softer skin we've all been dreaming of.
This one comes in three size options: 0.5 oz ($16), 1.7 oz ($43), or 3.4 oz ($70).
Who Is Dermalogica For?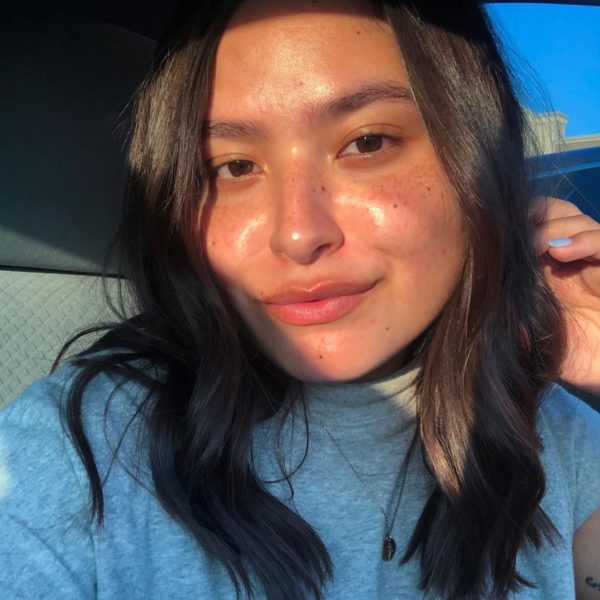 Anyone can benefit from a good skincare routine, so it's safe to say Dermalogica is a brand that works for all. While they do offer specific products that deal with acne and anti-aging, their expansive inventory also deals with dryness, dehydration, redness, sensitivity, and more.
Basically, to look great, some effort needs to be put in, and Dermalogica is there to help each step in the process. Age, gender, race, none of it matters. Everyone wants clean and smooth skin, and this brand is more than happy to deliver results.
Comparison: Dermalogica vs. Murad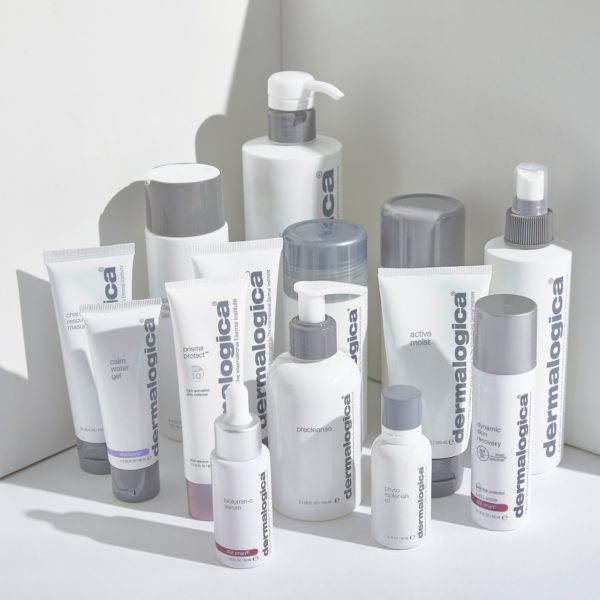 Skincare is one of the biggest markets out there – especially with the amount of acne popping up due to constant mask-wearing these days.
Dermalogica is far from the only brand with products designed to conquer those blemishes. One fierce competitor to this company is Murad, founded in 1989 as the first brand of clinical skin products.
Both brands are well-known in the market for their quality products, but how do you decide between them for the best buy?
Products – both brands offer a variety of skincare options, but Dermalogica separates their products by product system and skin concern. This simply breaks it down to help customers find the desired product with ease.
Price – When it comes to cost, neither of these brands is built to help customers save. Both brands are within a $10 range of each other, meaning price isn't really a comparable element when it comes to purchasing,
Effect – The effectiveness of any skincare product is key to gaining loyal customers. When it comes to these brands, we've glanced over customer testimonies to guide the way. Both brands are known to aid in dealing with acne, but Dermalogica products contain natural botanicals and retinol making it somewhat healthier for the skin.
Let's clarify – we're not saying Murad is bad in any way. Both brands do wonders for acne issues. All we're saying is the Dermalogica ingredients are eco-friendly and tend to have fewer reports regarding skin irritation
Either way, these brands are well known to do wonders for the skin. Both brands are reputable and reasonably sourced. This Dermalogica review simply sees a few extra pros for Dermalogica that Murad doesn't quite reach.
Dermalogica Reviews: What Do Customers Think?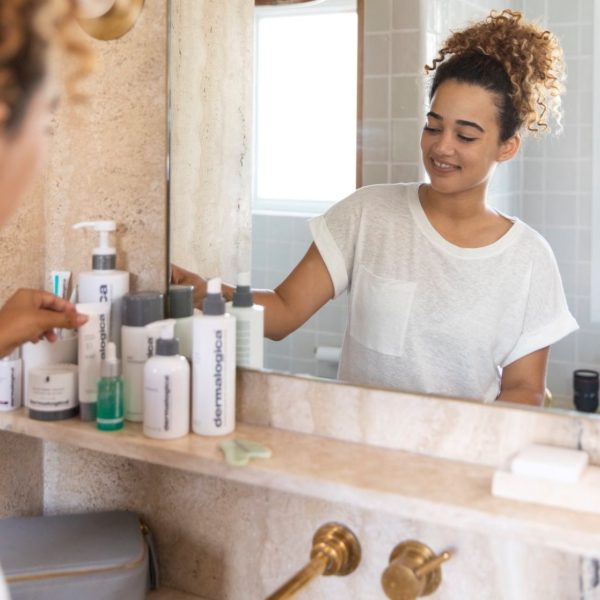 Turning this Dermalogica review to the online world of customer ratings, we're taking a look at how buyers feel these products stack up.
Things can look and sound great online, but reality can sometimes be a whole other thing. It's always good to have the word of a few thousand other people to back up whether or not to buy.
We'll admit to starting with the weakest rating – TrustPilot rates this company 2.8/5-stars based on 40 ratings. We need to note right away that this is only out of 40 ratings. Not nearly high enough to paint a picture of the whole company.
With that being said, there are some wonderful reviews listed by customers who adore these products.
One five-star Dermalogica review stated, "I absolutely love this brand and would never use anything else on my skin. It really does wonders on my skin and I could not be happier with the products."
One other posted refuted complaints of delivery times and commented, "I also appreciate that I always receive my orders from them very quickly (always shipped right away and the delivery never takes longer than 2 days). Every time they add to my orders lots of samples or miniatures."
Coming in a bit stronger with a score of 4.1/5-stars based on 10 ratings (not a great number, but we're building up to the better ratings), Google Reviews lists a variety of praise for the brand's extensive products, quality ingredients, and customer service.
One such review wrote that they had the "Best customer service, best products, and best skin care therapists! I'm always so happy when I go to Dermalogica and buy new products."
A large number of reviews come from retail partners like Sephora, offering products with hundreds of customer ratings per item.
The Daily Microfoliant Exfoliator alone has 4.6/5-stars based on over 1.6k ratings. That's over 1,000 individuals who love this product enough to comment and order again.
"I'm pleasantly surprised by how much I like this exfoliator. It's not harsh at all, and there's no fragrant smell to it which I like. It can be used daily, and my skin feels smooth… This is a wonderful product and it absolutely makes my face glow and my skin so much softer and more smooth."
Customers absolutely love the feel of the products, with creams and serums protecting the skin without leaving it too greasy. In the search for silky smooth skin, buyers appreciate the natural feel of this brand.
Other Dermalogica products popular with Sephora are as follows:
Mini Daily Microfoliant Exfoliator: 4.6/5 stars based on over 1.6k ratings
Special Cleansing Gel: 4.5/5 stars based on almost 500 ratings
Blackhead Clearing Fizz Mask: 4.2/5 stars based on over 320 ratings
Precleanse Cleansing Oil: 4.2/5 stars based on over 640 ratings
Smart Response Serum: 4.8/5 stars based on 350 ratings
BioLumin-C Vitamin C Serum: 4.6/5 stars based on over 515 ratings
Biolumin-C Vitamin C Eye Serum: 4.5/5 stars based on over 860 ratings
Strong reviews for these products speak to the brand, service, and stock. As a leader in their market, this is a company that keeps coming out with effective and easy products.
Is Dermalogica Worth It?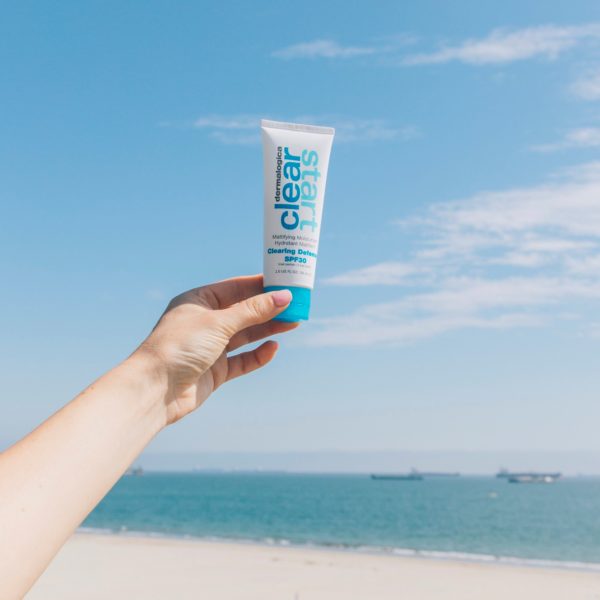 In the opinion of this Dermalogica review, this brand is more than worth the money. We'll admit, their products do cost a bit more than some other names in the industry, but customer testimonials show just how effective these products can be.
While there can be side effects and reactions to any skincare product, Dermalogica keeps things as safe and universal as possible to gain that natural glow.
Dermalogica Promotions & Discounts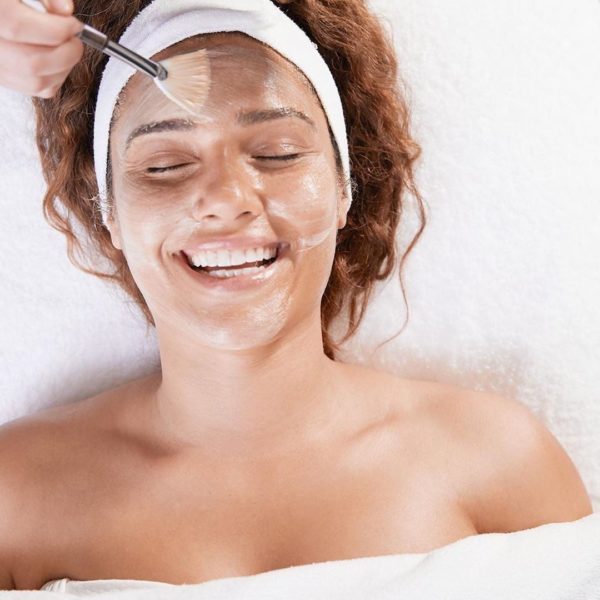 This company doesn't advertise a lot in terms of sales, but they do sell bundles that save on product prices. Occasional deals pop up from time to time, so you just have to stay on the lookout by, say, signing up for their mailing list to get the latest details.
Where to Buy Dermalogica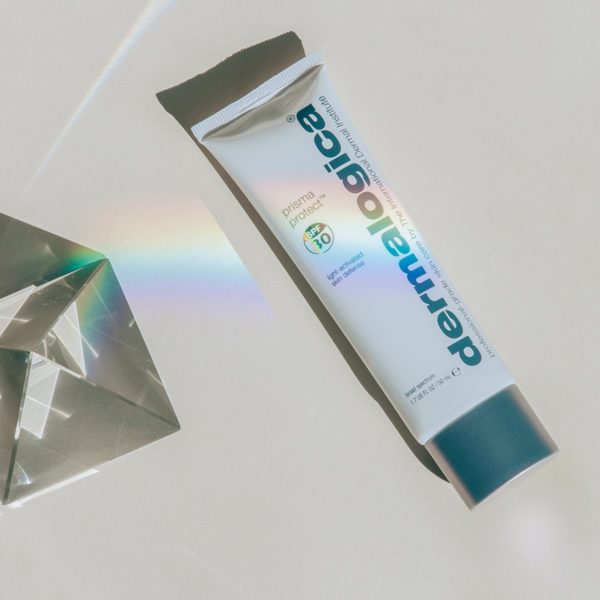 Easy orders for Dermalogica products can be done on dermalogica.com, but for those who are unable to order directly, this company has some retail partners with simple shipping options:
FAQ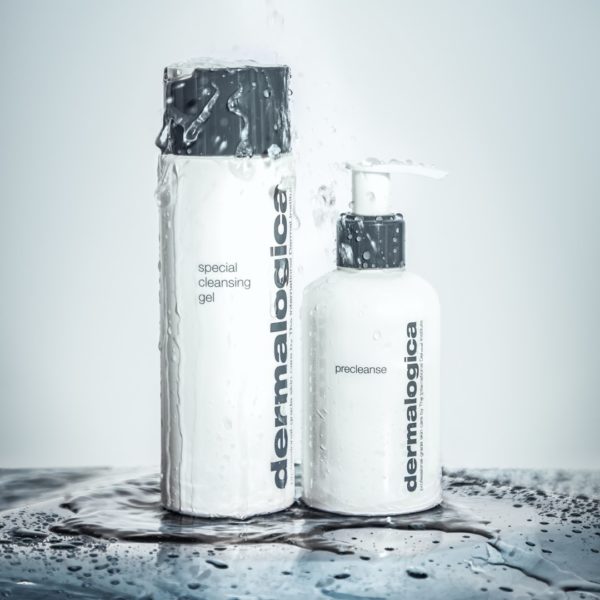 Do Dermalogica Products Contain Natural Ingredients?
Yes, this brand uses natural ingredients in their products. From Vitamins C and E to Retinol and Amino Acids, this company focuses on natural remedies for natural problems.
Does Dermalogica Test on Animals?
Dermalogica does not test on animals. All products are cruelty-free.
Does Dermalogica have an Auto-replenish Option for my Favorite Products?
Did you find a favorite product after reading this Dermalogica review? Good news – any product can be set up for a subscription service. Choose the frequency and make changes when needed for better prices, constant product, and easy service.
What are Dermalogica Rewards?
Dermalogica rewards are a loyalty program that anyone can join for free. All members get access to new products, faster shipping, and more year-round.
What is Dermalogica's Shipping Policy?
Customers have a solid selection when it comes to shipping Dermalogica products. This company offers up to five shipping prices (four services) depending on location:
Ground Shipping

Free for orders over $50
Orders under the limit cost $8
1-4 business days

Expedited
Next Day
2-Hour

Available only in LA
Costs calculated at checkout
Currently, Dermalogica only ships within the US, so any international customers should look to outside sources to get their products. Once the order ships, a tracking number will be sent to the attached email account. Just follow the link and watch out for the goods.
What is Dermalogica's Return Policy?
Have an item that doesn't work as well as planned? Aside from final sale, free, and promo items, everything else can be returned within 30 days of purchase.
It's all an easy, step-by-step process to get that money back into its original account:
Head to the Return Center online
Select the item for return and fill out the required information
An email will be sent with a shipping label and step-by-step instructions
Package the items, attach the label, and ship them out
Refunds will be sent to the account within three days following the package's return and confirmation of quality. That's all there is to it.