About Chamberlain Coffee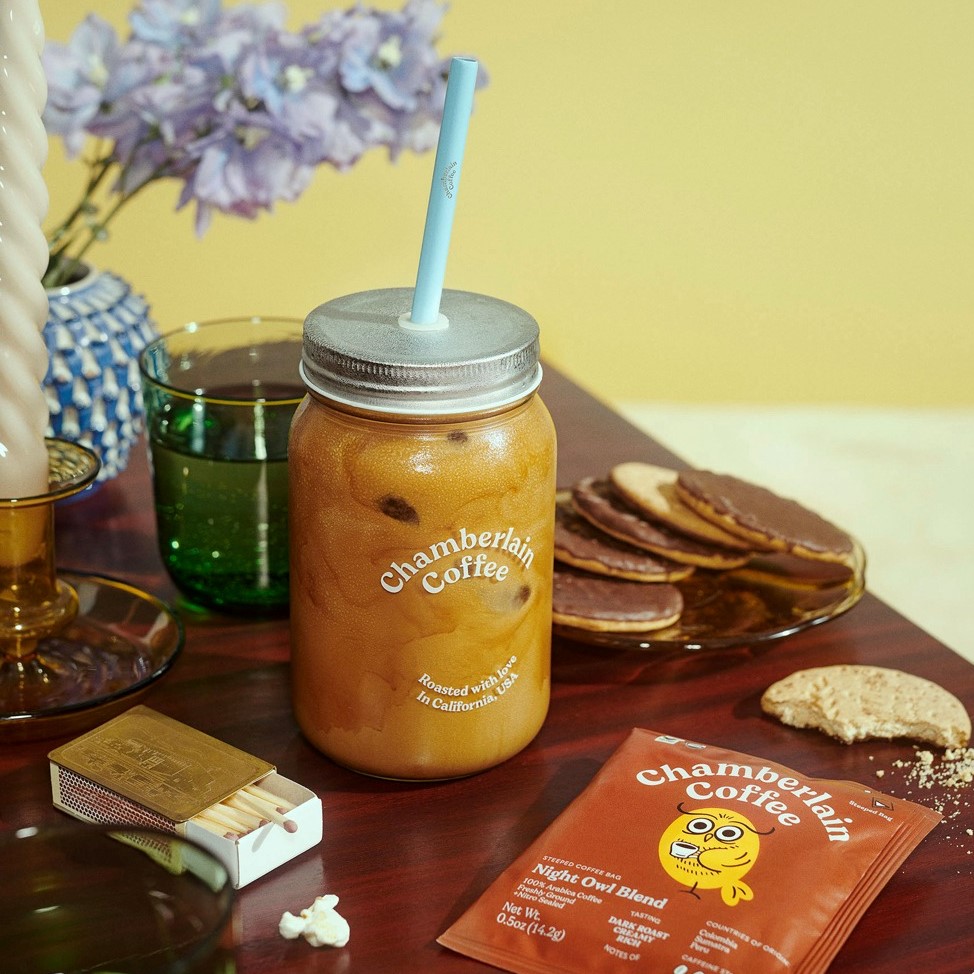 A well-made cuppa joe is the best way to start most mornings. But sometimes, the coffee scene can be a little confusing and complex. Chamberlain Coffee is a coffee company that demystifies coffee by offering straightforward blends for everyday life.
And if you're in need of a quality cup of coffee, you've come to the right place. In this Chamberlain Coffee review, I will tell you everything you need to know about the brand.
The brand has attracted significant attention with the popular influencer, Emma Chamberlain, at the helm. Their Instagram page boasts about 475k followers, and they've been featured in media outlets like Refinery29, Insider, and Forbes.
Are the brews worth the buzz? Keep reading this Chamberlain Coffee review as I take a look at the brand's history, best-selling blends, customer reviews, and more so you can decide if their products are worth buying.
Overview Of Chamberlain Coffee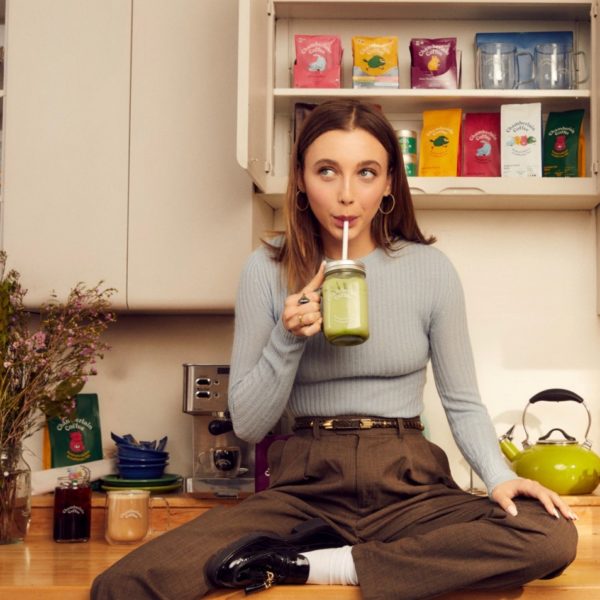 Emma Chamberlain launched Chamberlain Coffee in 2019. The 20-year-old influencer's other merch launches have been wildly successful. Plus, she has a popular podcast and YouTube channel. But, Chamberlain Coffee stems from her love of the drink, and it's what she's most known for.
Chamberlain's fascination with coffee started at age 10. She spent her time going to cafés and coffee shops with her parents. And after ordering foamy lattes for years, she graduated to drinking a cuppa during her high school years to keep up with work.
So, with that, the California-based brand was born. Chamberlain's passion for coffee transformed into a mission to deliver "coffee without pretentiousness" and a way to foster memories and connections with loved ones. And, of course, it doesn't hurt when you need to get work done.
In addition, Chamberlain Coffee blends are organic, made without pesticides, and sustainably and ethically sourced. The company knows that your daily brew is part of your ritual, and they aim to make it "as special as it can possibly be."
Now that I've gone over some brand history, let's kickstart this Chamberlain Coffee review with some highlights:
Highlights
The company offers different blends, coffee accessories, and other merchandise
The coffee is organic, pesticide-free, and sustainably sourced
A flavor quiz is available to find the perfect blend
Financing options and international shipping is available
They offer free shipping with an order minimum
Finding the proper coffee for ourselves can be a tasty or bitter journey. So, I'll give you some insight in this
Chamberlain Coffee review as I look at the brand's most wanted coffee blends.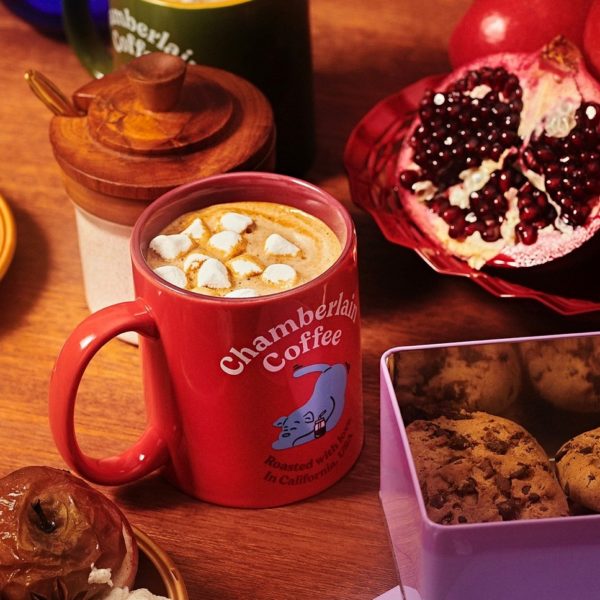 Chamberlain Coffee Review
From adorable packaging to highly caffeinated blends, Chamberlain Coffee has it all. Their best-sellers are some people-pleasing classics that'll satisfy anyone's taste buds.
Chamberlain Coffee Careless Cat Coffee Blend Review
First up is the Careless Cat Coffee Blend. The medium roast offers a relaxing half-caffeinated beverage for days of relaxation. In addition, it also has a flavor blend featuring hints of toasted almonds, semi-sweet chocolate, butterscotch candy, and raisin. So, this blend might make you into a smitten kitten.
This coffee's fruity and sweet undertones make for a pretty balanced brew. I also found that it can be enjoyed black or with your favorite milk or creamers. It's also available freshly ground or in whole bean form.
A one-time purchase of the Careless Cat Coffee Blend will run you $17. If you're looking to subscribe, it'll cost you $15.
Chamberlain Coffee Family Blend Coffee Bag The Original Review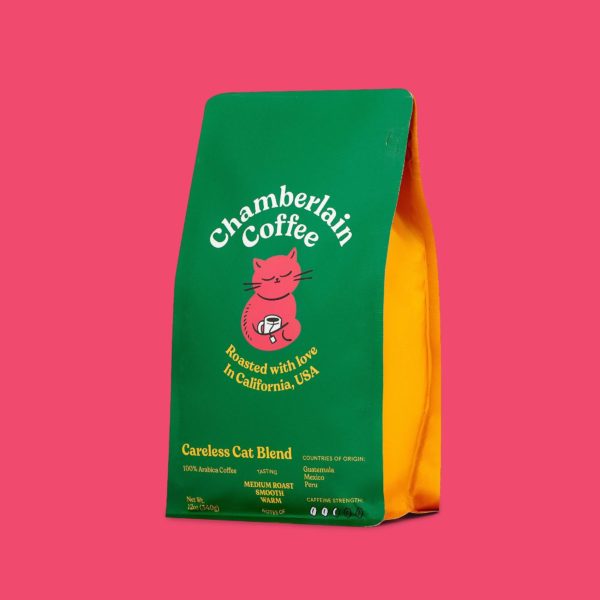 The Family Blend Coffee Bag The Original is a people-pleasing medium roast with a 4/5 caffeine level. The beans are sourced from the Americas and Africa and the coffee has a subtle fruity flavor.
This is a great blend to start your early mornings with since the hint of chocolate and cherry will wake up your palate. Not to mention that it also has a high caffeine level, so it's bound to stir up some workday energy. The whole family will definitely want a taste of the action.
The Family Blend Coffee Bag The Original costs $17 to add to your cart. Or, you could subscribe for $15.
Chamberlain Coffee The Full Coffee Collection Steeped Bags Review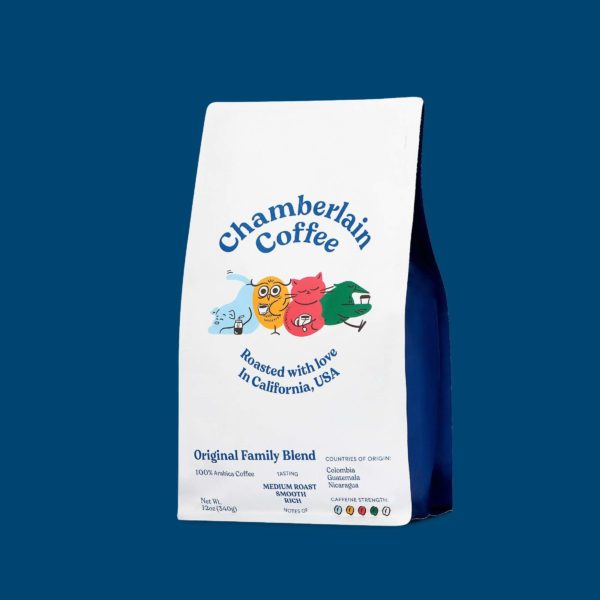 Last up in this Chamberlain Coffee review is The Full Coffee Collection Steeped Bags. This bundle has 50 single-serve coffee bags featuring the brand's different blends, including the Careless Cat and Family Blend.
In addition to these two best-sellers, the package includes coffees with medium to high caffeine levels. These packets are perfect if you're running late for your morning commute and need something on-the-go. Plus, with the variety of coffees in this collection, you'll have a brew for all occasions.
Who Is Chamberlain Coffee For?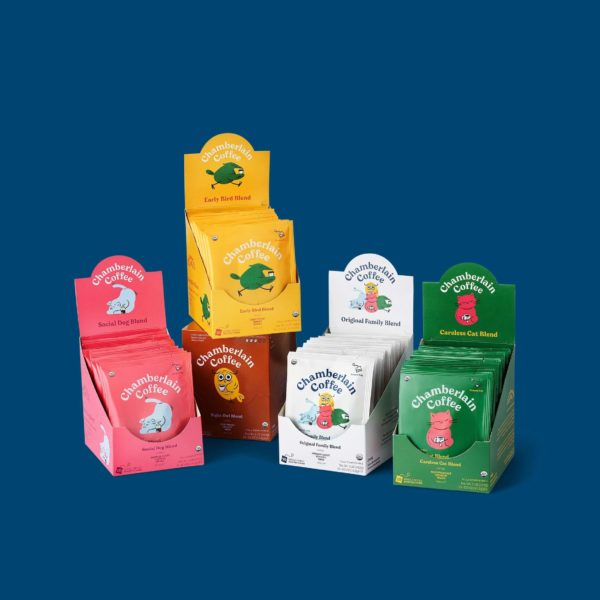 Chamberlain Coffee is a charming option for coffee lovers. The brand has a variety of blends available, along with decaf options and teas if you're not into beans. Plus, the coffees are organic and sustainably sourced, appealing to customers who prioritize those factors.
How Does Chamberlain Coffee Work?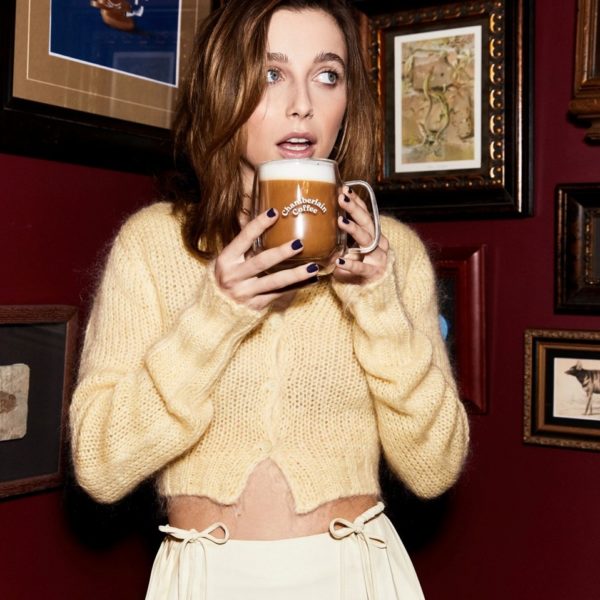 As I've mentioned, Chamberlain Coffee offers a subscription service for their bags of beans. Their products can be delivered right to your door, and you're able to choose which blend you'd like to receive. You can even take a flavor quiz to find out which coffee is right for you.
Then, you can choose between steeped bags, freshly ground, or whole bean coffee. After that, you can choose if you want one, two, or three bags per subscription. Finally, you can select the subscription frequency. If you're a coffee fiend, you could go for 30 days. But, if you can bear it, 90 days is also an option.
Chamberlain Coffee Reviews: What Do Customers Think?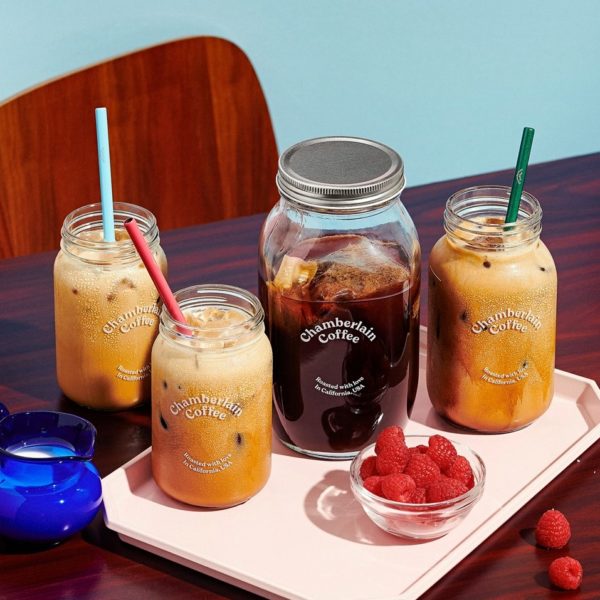 Now it's time the part of this Chamberlain Coffee review where I check out some customer feedback. I searched the internet for consumer ratings to help you make an informed shopping decision. I found some reviews on the brand's main website, Trustpilot, and Facebook.
The reception is generally positive, with a few critical testimonials that I'll discuss later. Here are the average ratings for the products featured in this review:
Careless Cat Coffee Blend: 4.9/5 stars from 183 reviews
Family Blend Coffee Bag The Original: 4.9/5 stars from 258 reviews
The Full Coffee Collection Steeped Bags: 5/5 stars from 46 reviews
The Careless Cat Coffee Blend has many rave reviews. For instance, one reviewer wrote, "Definitely my favorite
blend for brew coffee so far. Though it's a bit pricey, the taste is worth every penny."
The Family Blend Coffee Bag The Original also receives a lot of praise. A customer wrote this enthusiastic review about the product: "This is my fave coffee!! I've ordered it multiple times, and it has a nice medium roast flavor that the description stays true to. My family even drinks it (when I let them), and they love it too."
Plus, there are many excellent reviews about the brand's customer service. One reviewer had nothing but great things to say: "ordering is super easy, and the shipping takes no time at all. I love all the email and text updates I receive as well."
Chamberlain Coffee also receives high ratings on external sites. For example, on Trustpilot, the brand has a 4.4/5 stars rating from 22 reviews. And on Facebook, it has a 4.5/5 stars rating from 61 reviews.
One grateful shopper on Trustpilot wrote this review: "I had an issue with my order which arrived damaged, and the customer service team was super quick to answer and help! Thank you so much for your help."
Facebook users also have excellent customer service experiences. A Facebook reviewer wrote this glowing review: "I absolutely love Chamberlain Coffee and their staff! They are very interactive and respond quickly! Not to mention how good their coffee is and all the cute accessories!"
As mentioned earlier in this Chamberlain Coffee review, I found more critical comments about the company's shipping delays. Still, they're pretty rare, and they always receive responses from the brand's customer service team.
Is Chamberlain Coffee Legit?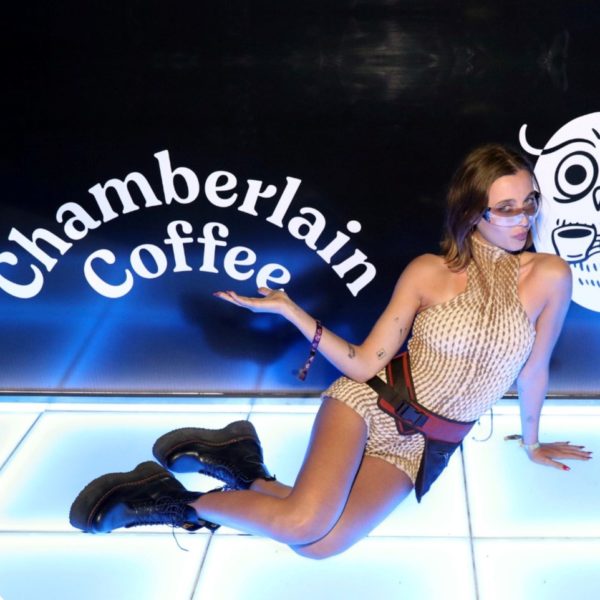 Chamberlain Coffee is legit. There are no ratings about the company that pose any red flags, and it looks like their customer service team prioritizes consumer satisfaction. And like I said, the critical reviews are scarce compared to the positive ones.
Is Chamberlain Coffee Worth It?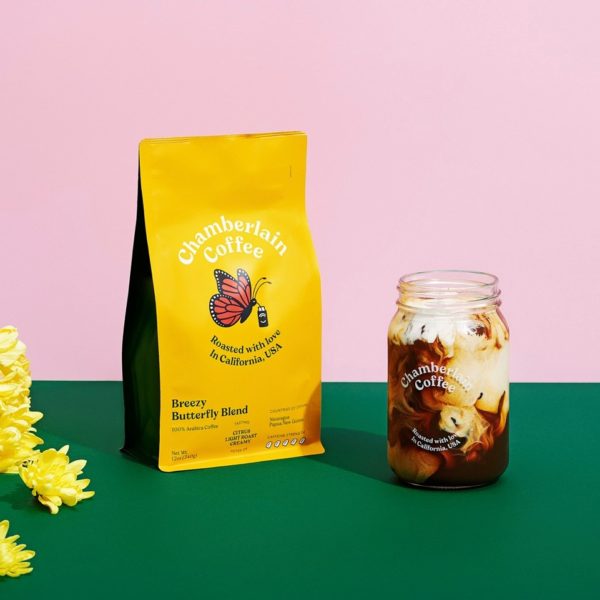 Based on this Chamberlain Coffee review, I think the brand is worth checking out. They have a variety of blends available with varying caffeine levels, so coffee novices and veterans alike can find their perfect brew.
Plus, they obviously have a loyal customer base. And most of these shoppers only have pleasant experiences with the company.
Chamberlain Coffee Promotions & Discounts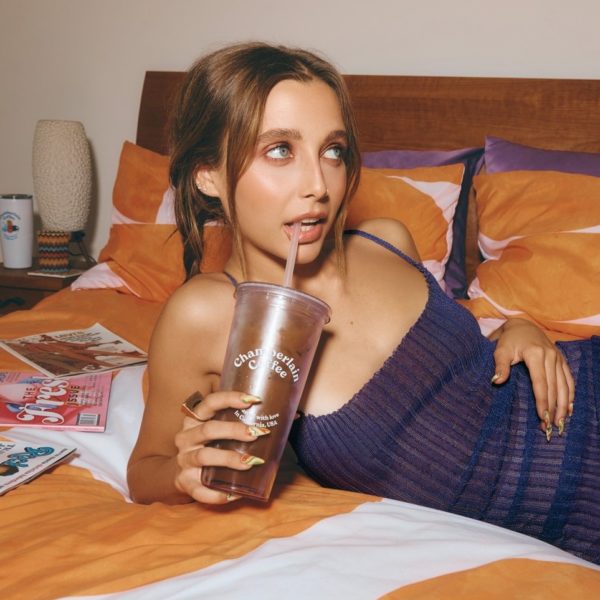 Everyone loves a good deal. You can sign up for Chamberlain Coffee's newsletter to get 10% off your first order. They also host giveaways on occasion.
Unfortunately, I couldn't find a Chamberlain Coffee discount code, but you can stay informed about future promos by subscribing to their emails.
Where To Buy Chamberlain Coffee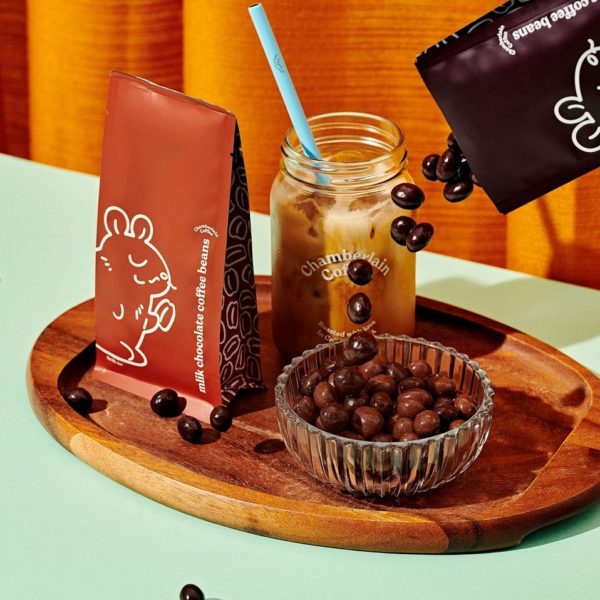 Did any of the blends in this Chamberlain Coffee review pique your interest? If so, you can buy the brand's products at chamberlaincoffee.com.
FAQ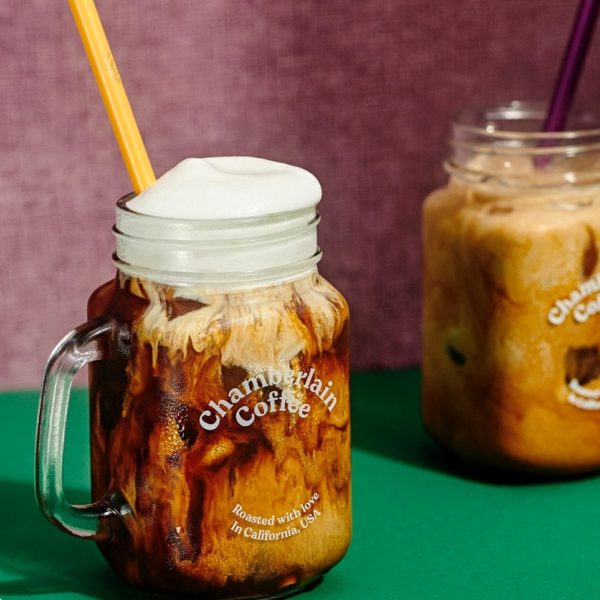 Who owns Chamberlain Coffee?
Emma Chamberlain is the CEO and owner of Chamberlain Coffee.
Does Chamberlain Coffee ship internationally?
Yes, Chamberlain Coffee does offer international shipping. I'll get into more details about that in the following section.
What is Chamberlain Coffee's shipping policy?
As I've mentioned, Chamberlain Coffee ships worldwide. They also offer free shipping with an order minimum occasionally, but that policy is subject to change. If the promotion isn't currently available, shipping costs are calculated at checkout.
Estimated delivery times vary depending on your location. The company notes that there may be delivery delays due to pandemic restrictions. Non-EU and non-US locations are considered international. Here are the variations:
United States
Standard: 4-7 days
Expedited: 2-4 days
Canada and other international locations: 7-30 days
The EU: 4-7 days
Outside of the EU: 5-7 days
United Kingdom: 4-7 days (7-14 with delays)
Also, customers are responsible for customs duties. These charges will depend on your location's postal
regulations.
What is Chamberlain Coffee's Return Policy?
Chamberlain Coffee has a 14-day return policy. Your item(s) must be in its original packaging and brand-new condition to be eligible for return. In addition, customers are responsible for purchasing return labels and paying for the return shipping costs.
Plus, you may be subject to additional charges if your return doesn't meet the company's requirements. If you want to initiate a return, you can contact the brand's customer service team for the returns address.