The Cabela's Space Rain Jacket and Pants offer a fantastic price-to-value ratio for lightweight hunting rain gear. While you can find all sorts of excellent rain jackets in solid colors, it's much harder to find affordable rain gear in great camo patterns for hunting, much less lightweight camo rain gear.
If you're on a budget, the Cabela's Space Rain Jacket and Pants should make your hunting rain gear shortlist.
Cabela's Space Rain Jacket & Pants Review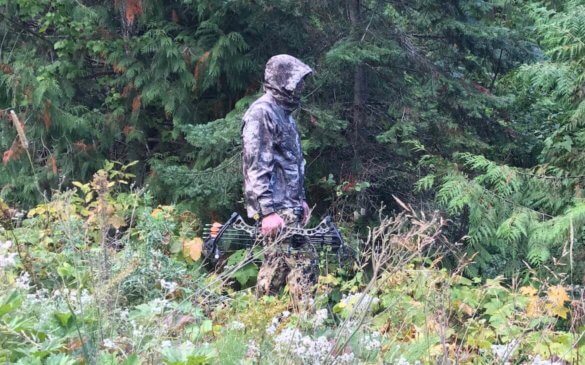 As we get started, there are a few things you should know about rain gear: The very best rain gear is typically breathable, which means water vapor produced by your own body can escape. This also means that the very best rain gear is often made with some flavor of a GORE-TEX fabric. Why? GORE-TEX is simply one of the best technical breathable fabrics ever made by humans.
There are other breathable waterproof fabrics, and many of them are very good — but they're also often very expensive.
Meanwhile, for a hunter who doesn't need rain gear often, investing in expensive lightweight camo rain gear is a genuine problem.
A few years ago, I tried to use my standard black backpacking rain gear — just in case I got caught in the rain while archery elk hunting — and I ended up using it one day. As the rain stopped, I had a small bull elk come into 25 yards . . . and as I was at full draw hoping for just one more step, the elk busted me in my all-black rain gear. I stood out like a hulking mass of something clearly out of place.
After that experience, I knew I needed camo rain gear designed for hunting.
Trouble was, I couldn't see dropping $300+ on a rain jacket . . . and then another $300+ on pants. Sure, if I was on an expedition hunt of a lifetime or hunting in truly awful weather, that would make sense. But hunting in weather that's mostly good?
Fortunately, companies other than GORE-TEX have started to produce competing breathable fabrics at varying price points. In addition, Cabela's has developed its excellent O2 Octane camo pattern, and the company has been using it throughout its hunting gear line.
Affordable Hunting Rain Gear: Cabela's to the Rescue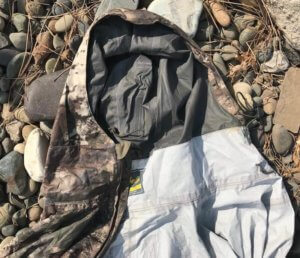 This photo shows the hood and interior of the Cabela's Space Rain Jacket.
The jacket hood is darkened on the inside and the seams are all sealed.
When Cabela's introduced its Space Rain Jacket and Space Rain Pants, made with 4MOST DRY-PLUS, which is a waterproof, breathable fabric laminate, I jumped at a chance to test it out. The Cabela's Space Rain Jacket and Pants are lightweight, durable, and use a four-way stretch polyester fabric.
They're definitely not as breathable as say, the REI Co-op Drypoint GTX Jacket (review), but they're less than a third of the price. They're also far quieter in the woods and they're not a solid blob of color.
And those are the biggest reasons, it turns out, to choose the Cabela's Space Rain Jacket and Pants:
the price to value ratio is outstanding
they're quieter than most rain gear
they come in camo for hunting
The XL jacket weighs in 12 ounces while the XL pants weigh in at 9.25 ounces. Sizing runs a bit big to allow for layering underneath. In addition to the Cabela's O2 Octane camo pattern, Cabela's also offers a Realtree Xtra option.
Update: Cabela's has been tweaking its camo offerings lately. Because of the pandemic, supply chains for alls sorts of outdoor gear have been frequently constrained. If the camo pattern is close enough to what you want, nab it before it's gone.
Cabela's Space Rain Jacket & Pants: Performance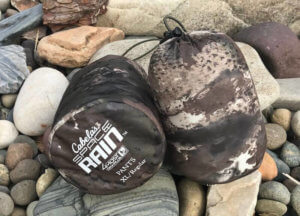 So how do they perform? Pretty darn well. They're lightweight and packable, so you can stow them in your hunting pack until you need them. I've worn them during short thunderstorm bursts, during morning climbs through wet brush, and during all-day drizzles. The performance was pretty good — not as good as other high-end GORE-TEX jackets I've tested, but they performed far better than their price point. And that's a win if you're looking for budget-friendly camo rain gear.
If you think of the Cabela's Space Rain Jacket & Pants more as emergency hunting rain gear, you're going to be thrilled. If you're looking for all-day downpour hunting rain gear for wet weather day after day, I would likely direct you toward much more expensive rain gear, likely with GORE-TEX because the breathability is as good as it gets.
For most of us, though, most of the time, being able to snag a decent hunting rain jacket for about $90 from Cabela's is a good compromise. Add in another $70 for the pants, and you've just created a lightweight layering system that could save your life in the event that you get caught in a fast moving storm in the high country . . . or get hit with an early winter blast.
(Because packing lightweight rain gear in the backcountry is a safety issue and a lot of hunters still don't splurge on rain gear, we think rain gear makes a great hunting gift idea, too.)
If you're hunting through brush and blowdowns, there is a decent chance you're going to eventually tear or poke a hole in your rain gear. Again, you can spend three or four times as much or you can deal with a hole every now and then. I've put about 40 miles in the Space Rain gear while deer, elk and turkey hunting and I haven't torn it yet, but that's partly due to the terrain and picking my paths of least risk when moving through brush. If you do poke a hole, get yourself a tube of Gear-Aid Aquaseal. This stuff is seriously fantastic. It repairs fishing waders and it stays flexible after it cures. It's also machine washable and survives the dryer. Every outdoor adventurer needs a tube.
One last point on rain gear performance — and this is true of many consumer rain jacket reviews — a lot of people believe their rain gear is leaking when they're working hard hiking, backpacking or hunting outdoors. What often happens during high output activities is that they're perspiring inside their rain gear and that perspiration is building up inside until they get wet or the interior of the rain gear feels clammy or wet. Cheap rubber or vinyl rain gear might never "leak" but the users will still get wet if they're working hard and sweating.
High-end breathable rain gear mitigates this effect, but that's all it does — pace yourself while hunting in rain gear and be smart with your layers so you don't overheat.
Cabela's Space Rain Jacket and Pants with 4MOST DRY-PLUS Review: The Verdict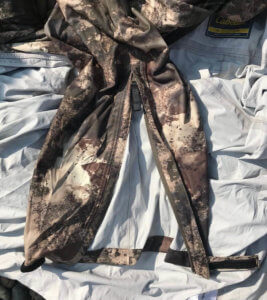 The Cabela's Space Rain Jacket and Space Rain Pants with 4MOST DRY-PLUS are fantastic, affordable camouflage rain gear made for hunting. While they don't compete in overall performance with rain gear that costs three-to-four times as much, they're surprisingly great for the price point. In addition, they're lightweight, quieter than most rain gear, pack down small, and they're camo. Highly recommended.