im Kardashian West immediately generated a buzz with her 2018 business venture: a shapewear line dubbed SKIMS. The line of body-conscious and diverse undergarments launched in September of that year and has been nothing short of immensely successful ever since.
Accompanied with the hashtag #ShowYourSKIMS, the line has harnessed support from customers everywhere. On the purpose of the brand, Kardashian-West says: "I rely on solutionwear to accentuate and enhance my body, shape, and silhouette. As my style changed and evolved, I found myself altering existing shapewear to work specifically for each look that I was going for. I knew I wasn't alone in looking for the perfect shapewear and was inspired to turn my passion into something real that works for every body type."
SKIMS is the ultimate clarion call in the quest for the most versatile shapewear. Nine unique shades ranging from sand and mica to ochre, sienna, and oxide are all featured in practically every subsequent collection. Mere days after the initial launch of the brand, more than half of its inventory was sold out—a trend that continues even after multiple releases and launches. With a range that features bras, underwear, shapewear, and more, the latest undertaking from the Kardashian empire has only upped the ante for similar brands everywhere. Below, we review some of the brand's best-selling pieces and let you in on everything from their comfort level to durability to how to style them as well as their long-awaited swimwear collection. Keep reading to find out all you need to know.
Shop the Best Pieces from SKIMS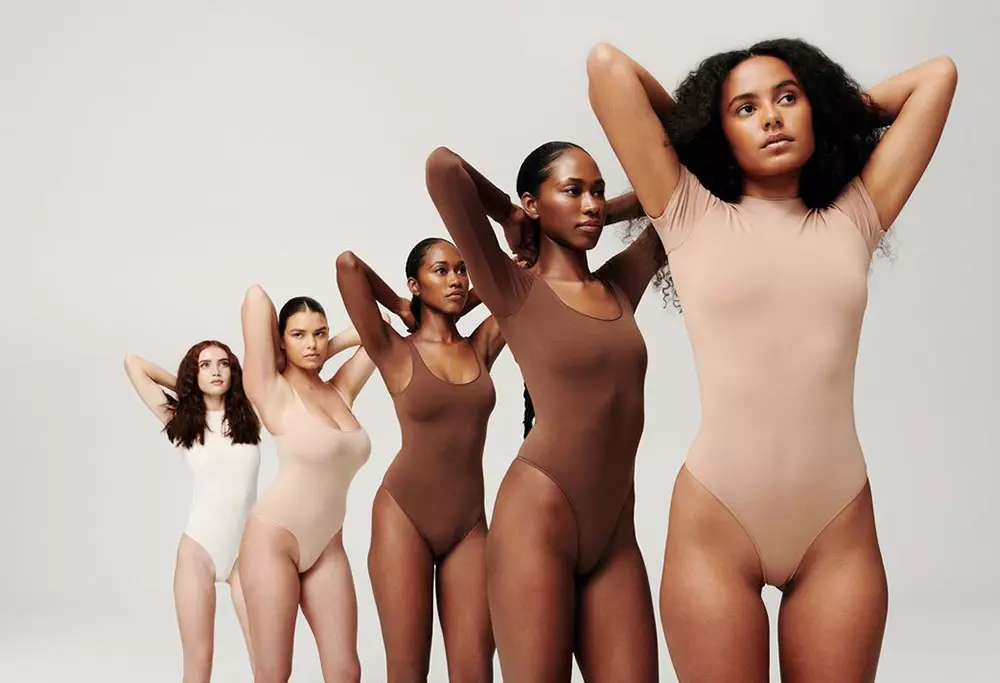 1. Fits Everybody Square Neck Bodysuit
Comfort: I've been trying to get into the bodysuit game for what feels like years, and SKIMS was finally my first foray into the now cult-status trend. Needless to say, I'm never going back. This Fits Everybody bodysuit is anchored by a double-layered fabric that is supportive, yet still incredibly soft and breathable. In other words, it literally feels like a dream. Plus, the snap closure makes it incredibly easy to take on and off so that you don't end up looking like a human pretzel in the ladies room.
Durability: When I say I've been living in this bodysuit, I mean it. Namely, because post-holiday laziness has definitely kicked in the last few weeks and I'm living in a nebulous space where I can't even tell what day of the week it is. Regardless of how many washing cycles and hand-drying sessions this piece goes through, though, it retains its color and feel and doesn't seem to lose its elasticity, which I was definitely scared of.
Support: One of the main reasons I keep reaching for this bodysuit is because it feels supportive without veering constrictive—a miracle considering how my New Year's diet doesn't seem to be starting any time soon. The bodysuit's fabric is soft but sucks my abdomen area in and makes it look smooth and toned.
Style: Overall, the bodysuit's square neckline and low scoop back make it the ultimate everyday wardrobe item, whether it's styled as a layering piece or solo. I've been combining it with simple jeans and a denim jacket for a chic, retro-inspired look and with long pleated skirts and heeled ankle boots for a slightly more festive and dressed-up slant.
2. Fits Everybody KKW Favorite Bralette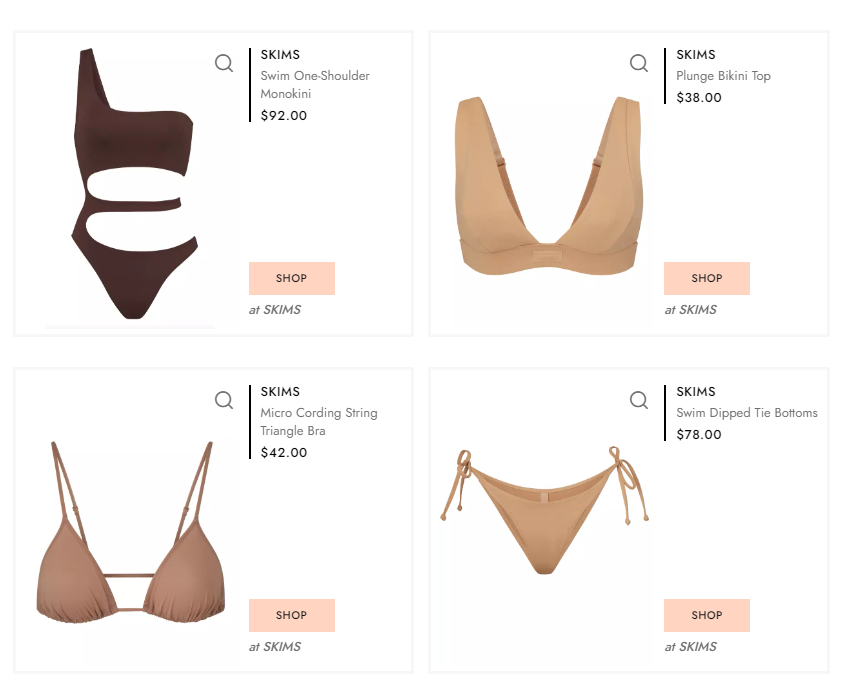 Comfort: Over the years, I've seemed to have forgotten that bras can be…comfortable? Teenage me would be shocked to find out that this Fits Everybody bra (sans underwire!) is being used in heavy rotation. It feels incredibly lightweight and can be styled with everything from a cozy tee to a turtleneck.
Durability: Given that this bra veers more minimalist than delicate, I haven't been afraid to throw it in the washing machine after a few wears out of fear that it might get completely ruined. After each time, the second-skin piece still offers natural support and comfort.
Support: This Fits Everybody bra is made from 2-ply stretch fabric that doesn't cut into my skin and is lined with the label's innovative power mesh for additional support. Plus, it has fully adjustable shoulder straps that make lifting easy—all without a potentially uncomfortable underwire.
Style: This is truly an everyday piece that goes with absolutely everything. I don't think I'll ever go back to wearing underwire bras casually around the house. As a matter of a fact, consider it my only resolution for 2021. The neutral hue makes it the ultimate option to mix and match with any thong or brief and it looks sleek no matter what.
3. Fits Everybody Dipped Front Thong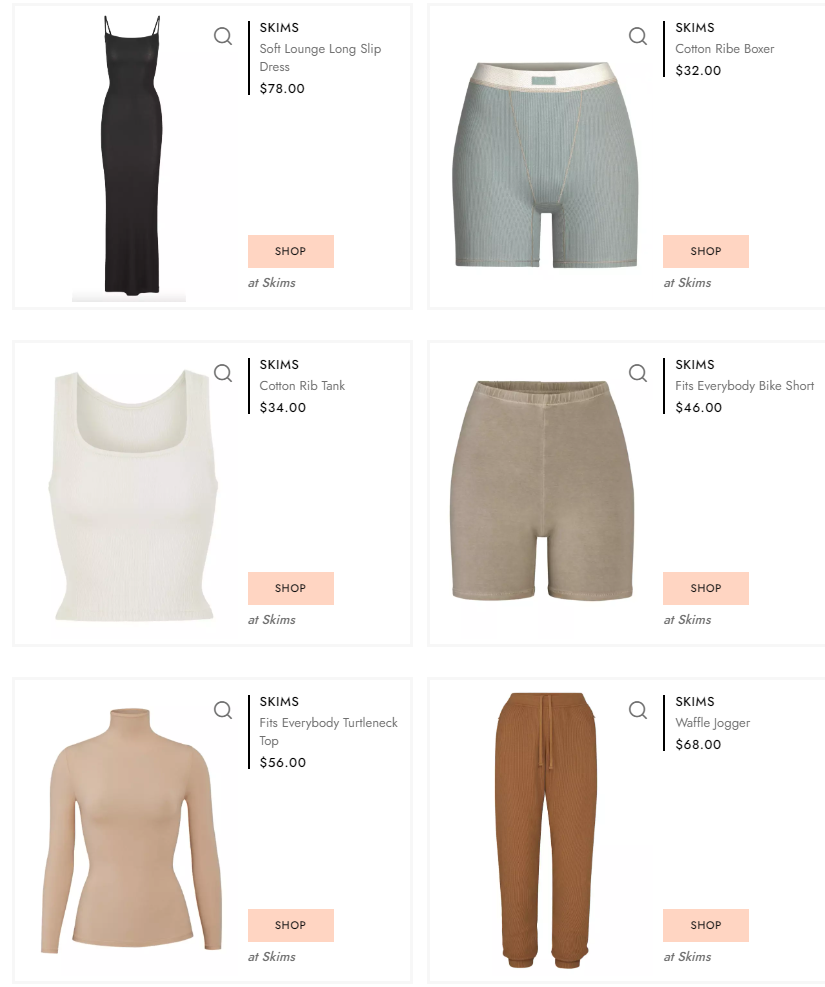 Comfort: Anchored by a dipped front and ultra-flattering, high-cut, this 90s-inspired thong is updated in a buttery soft fabric with innovative stretch that's also somehow extremely breathable. Basically, you'll barely know it's there.Plus the fact that it has a no-cut design that prevents that digging sensation. You know, the one that feels like circulation is being cut off from your hips down.
Durability: This Fits Everybody thong is easy to machine wash cold and wear time and time again under whatever you so choose. Initially, I was afraid that the stitching along the thong's perimeter would eventually unravel since it seems so delicate, but it has yet to do so after three washes.
Support: It would be a bit misleading for me to say that this thong (or any thong for that matter) is super supportive. However, because it has a high-cut silhouette, it definitely feels secure on my hips and doesn't annoyingly move around or slip down. I.e. it supports me in all of the right places without feeling overly restrictive.
Style: The definition of comfort and minimalism, this piece has a subtle seductive appeal that is anything but pretentious. Mix and match it with a number of bras and it will look elegant no matter what.
4. Fits Everybody Full Brief
Comfort: SKIMS' Fits Everybody brief features raw-cut edges along the leg openings that prevent pinching and digging into the skin for a comfortable feel, while the brief's bonded waistband helps seamlessly secure the garment to the body. It was easy to wear regardless of whether I opted to sport the tightest of skinny jeans or the roomiest of sweatpants during my downtime.
Durability: Similar to the thong, I was skeptical about the stitching along the brief and thought that it might come undone or loose after a few cycles in the washing machine. However, it has still maintained its look and feel and is completely durable even after a number of wears.
Support: The full-back silhouette of the brief offers tons of support, yet is completely seamless, so it won't show through anything you wear. Plus, it sits above the natural waistline, so I also felt additional support around my stomach.
Style: Is this the sexiest pair of underwear? Probably not. But even Kim K has to trade risqué underwear for a failsafe brief every once in a while. Sometimes there's just no competition when it comes to comfort.
5. Sculpting Short Mid-Thigh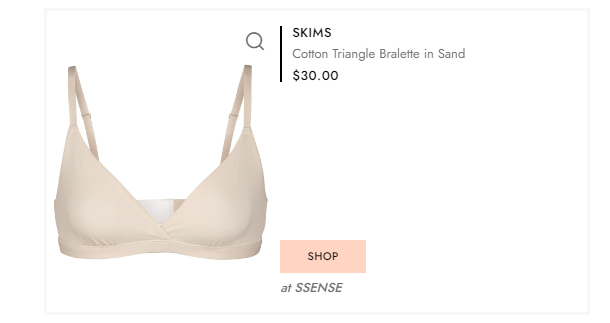 Comfort: A year-round staple, this Sculpting Short is loosely modeled after the bike short trend that completely took over our social media feeds last summer. The cut, which lands right at mid-thigh, is complimentary to various body shapes and the high double waistband feels smoothing and sculpting all at once.
Durability: All of the features of these shorts completely retained their functionality no matter how many times I wore them. The seamless construction makes it so that all of the parts that need to lift, lift, all of the parts that need to support, support, and all of the parts that need to smooth, well, smooth.
Support: Between us, I've actually never used a sculpting garment of any kind. Namely, because they scare me. However, this piece totally supported me and didn't cut off the circulation at my thigh like I thought it would. Also, if you're anything like me, you have a dreadful feeling of having the fabric roll up your leg as you walk. Luckily, these shorts stayed in place and didn't have to constantly be pulled down. Plus, the high-waisted fit gave me an hourglass shape that I really loved.
Style: I think it would take a few glasses of wine for me to wear these solo around the house (after all, they are slightly see-through), but never say never. In the meantime, I opted to wear these with a high-waisted satin skirt. I was initially hesitant because the skirt's fabric was really diaphanous and I thought that the short's outline was going to peek its way through and completely expose me. However, I was pleasantly surprised when this didn't happen and I'm now using this piece under a number of other skirts and dresses for a smooth look.
6. Core Control Thong
Comfort: A result of dedicated fabric testing and development, the Core Control Thong is designed to sit undetected beneath clothing while it tightly contours the lower abdomen and hips with a supportive, compressive fit. Upon first glance, the shapewear is a bit confusing aesthetically—I've never personally seen a high-waisted thong before—, but it masters the perfect balance of support and comfort. The portion that goes around the waist sucks everything without being overly restrictive. That said, the material is a bit more coarse than that of the Fits Everybody range, which is primarily made of breathable cotton.
Durability: Thicker than the Fits Everybody range, this piece from the Core Control collection feels a lot more sturdy and secure. It remained durable and wearable after two washing and drying sessions and didn't lose its elasticity throughout the day.
Support: What I love the most about this piece is the double waistband and strip of silicone on the skin-facing side at the back that keeps it in place. I've never worn anything with a silicone strip, but it completely alters the feel of the piece by guaranteeing that it doesn't move or roll down throughout the day.
Style: I wore this Core Control thong under a long dress that has a corseted waist and needless to say, I felt like I was literally a part of the Bridgerton cast in the best way possible. I felt super supported and sucked-in in all the right places, and the fact that this piece is a thong didn't make me feel overly constricted.
7. Sculpting Bodysuit with Snaps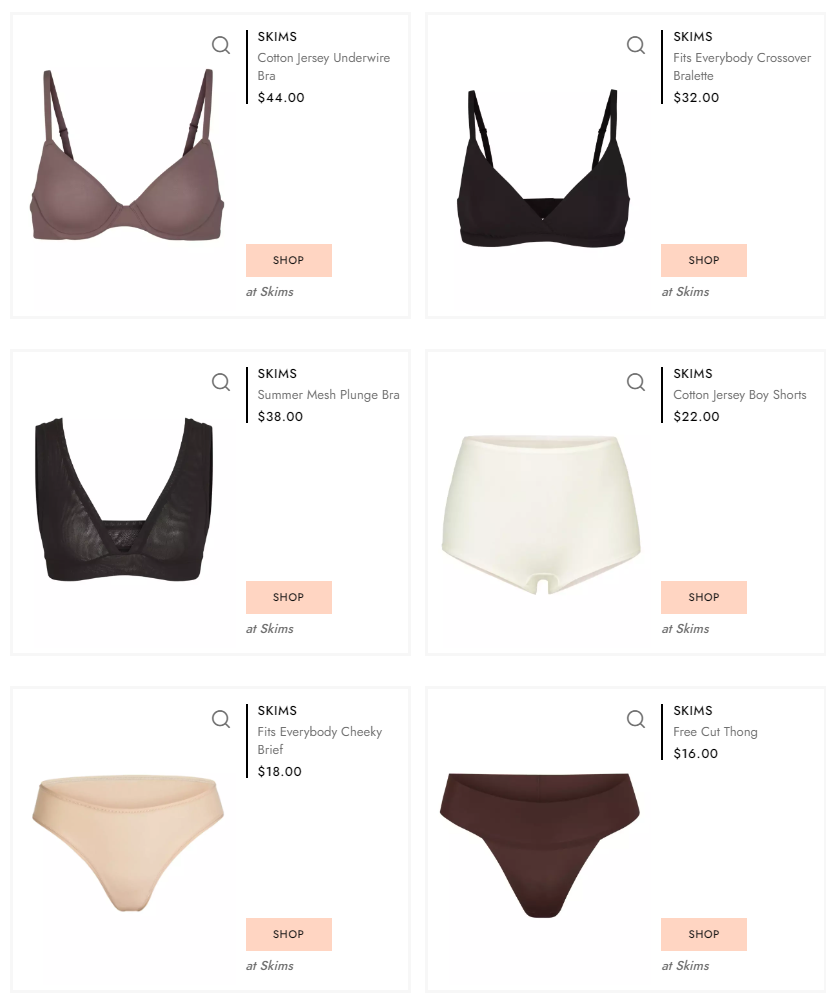 Comfort: SKIMS' Sculpting Bodysuit can do it all. Not only does this shapewear piece hold in and smooth out your core and the rest of your torso, but it is also rendered in an ultra-soft material and features a high-leg silhouette that seamlessly enhances the body's natural shape. Compared to the Fits Everybody Square Neck Bodysuit, this one certainly makes me feel more cinched in. However, it is still comfortable even after a long day of wear and never feels too constricting.
Durability: You can just look at this bodysuit and know that it's going to retain its durability. Off the hanger, it literally looks like it could fit a toddler, but miraculously stretches and fits comfortably no matter how many times you shimmy it on, and then shrinks back down to its miniature size as soon as it's off.
Support: This is a holy grail piece simply for the fact that it is a seamless style, yet lifts your butt, sculpts your core, and supports your bust. Plus, the low back and high-cut legs make it a great base for so many outfits. At first glance, I didn't think it was going to do much for me, but now I can't imagine wearing jeans and a blazer without it.
Style: Again, thanks to its seamless construction and skin-matching hues, this inherently versatile staple can easily be worn under a myriad of fabrics (yep, even the most clingy ones, like silk) I wore mine under a cozy button-down cardigan and high-waisted denim jeans for a nostalgic, 90s-inspired look.
8. SKIMS Swim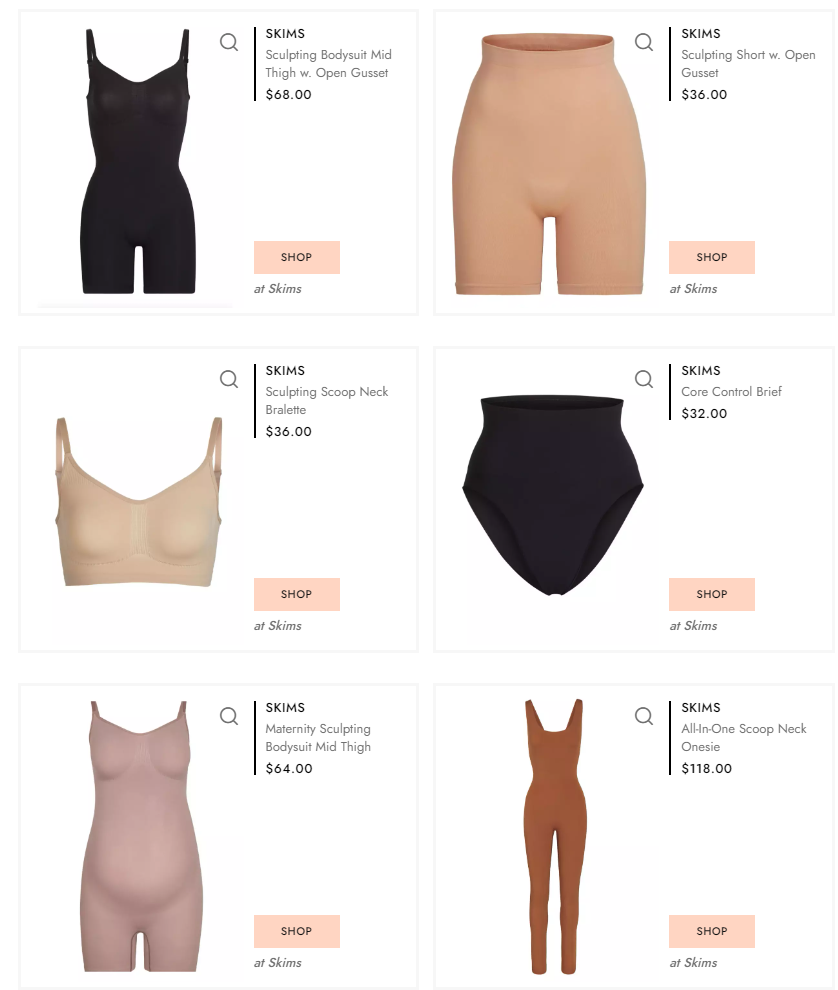 Summer is heating up with SKIMS' newest swimwear line. This highly anticipated collection features versatile and flattering pieces for all body shapes and sizes—XXS to 4X. It consists of 19-pieces that include everything from barely-there bikinis, bandeaus, and sporty one-piece swimsuits to bike shorts and rash guards. All styles come in seven solid colors from the brand's minimalist hues we know and love.