About Balance of Nature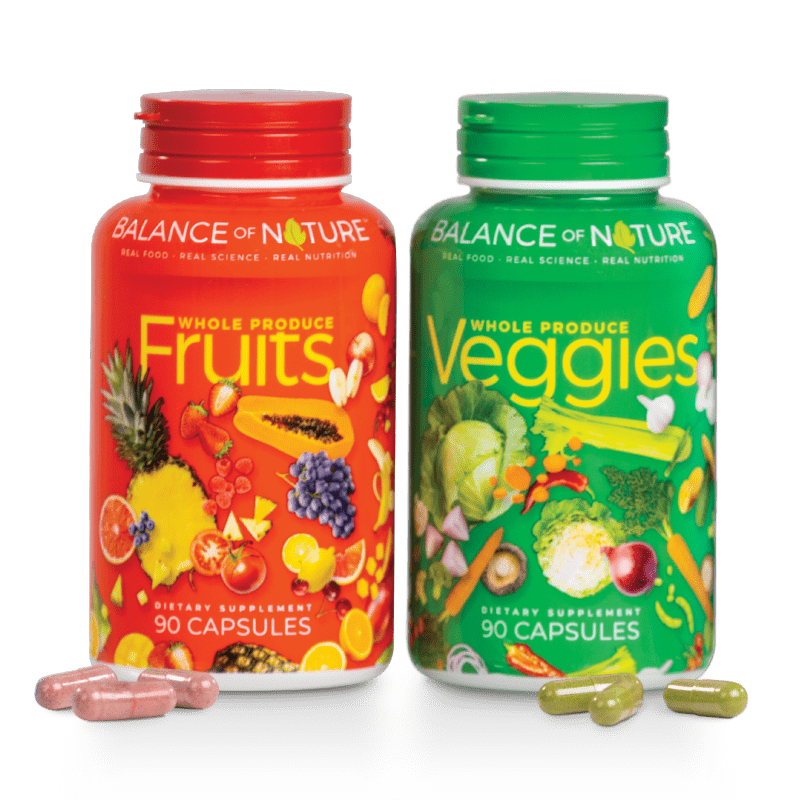 Balance of Nature was founded in 1997 by Dr. Douglas Howard, a well-known chiropractic physician.
After living in several countries, he observed those who had a healthy diet rich in fruits and vegetables were generally healthy. In contrast, those who experienced food insecurity and lacked proper nutrition were often unwell.
As his interest in nutrition grew, Dr. Howard began to learn more about phytonutrients, or phytochemicals, which are compounds a plant develops to stay healthy and prevent damage.
Although Dr. Howard found that phytonutrients are beneficial to humans to maintain optimal health, he realized there wasn't just one phytonutrient that was a magical cure. As research progressed, he discovered thousands of phytonutrients found in plant-based foods that work together to promote overall health and wellness.
With his newfound knowledge, Dr. Howard founded Balance of Nature to combat the lack of nutritional value in standard diets today and provide people with proper nutrition and a variety of phytonutrients to live healthier lives.
What Is The Balance Of Nature?
Balance of Nature offers a natural way to get in over ten servings of fruits and vegetables daily. Balance of Nature Fruits and Veggies are composed of thirty-one flash dried fruits and veggies.
The company also offers a daily fiber supplement made from whole fiber sources and twelve spices called Fiber & Spice.
Feature Product & Coupon
Does It Really Work?
Balance of Nature claims to be a results-based company. The products are made with real fruits and vegetables and, if you have a nutrient deficiency, you may see improvement.
Although the exact nutrient amounts in products are not available, the company reports their blends may promote a healthy immune system, repair DNA, protect cells, and more.
Many Balance of Nature customers report improvements in:
Energy
Mental clarity
Sleep
Digestion
Inflammation
Blood pressure
Cholesterol
Skin
Hair
Nails
Plus, if you're not satisfied, the company offers a generous 30-day money-back guarantee.
Is It Safe To Use?
Generally, the Balance of Nature products is safe for most people. According to their website, all products are tested in an independent laboratory by a third party. However, it does not appear that there are any public lab reports available at this time.
To add even more concern, in 2019, the Food and Drug Administration[1] (FDA) sent a warning letter to Balance of Nature because their products were not meeting Current Good Manufacturing Practice (GMP) and they did not have a system in place to verify supplement quality. The letter also reports that the company claimed their products could prevent, cure, or treat disease, which is against the Federal Food, Drug, and Cosmetic Act.
Let see what customer say about the product:
Pros
A convenient way to get fruits and veggies
Health coaching for preferred members
30-day money-back guarantee
The whole health system offered
Cons
The company has received an FDA warning letter
Requires six pills daily
There's no exact amount of each nutrient on the label
Multiple customer service complaints
Balance of Nature Whole Health System Ingredients
All products offered by Balance of Nature are made from 100% natural, whole foods and are free of additives, fillers, added sugars, pesticides, or synthetics. They're also non-GMO and gluten-free. As of today, over 500 million products have been sold worldwide. One of their best sellers is the Whole Health System, which includes their Fruits and Veggies capsules and Fiber & Spice blend.
From seeds to the skin, Balance of Nature utilizes every part of the produce they source to keep its natural chemistry. Many companies use heat and light that result in oxidation, causing many nutrients to be destroyed. Balance of Nature uses a unique system of flash drying fruits and veggies to prevent oxidation resulting in a pure, clean supplement.
Unfortunately, Balance of Nature Supplements does not have a "USDA Organic" seal. According to the company, this is mainly because they sometimes go outside of the United States to get higher quality produce.
Balance of Nature reports that products from other countries go through rigorous testing to ensure it is free of pesticides, harmful chemicals, and heavy metals.
In addition to their dietary supplements, Balance of Nature also offers health coaching to educate and support preferred customers both mentally and physically. If you choose to buy without signing up for the preferred customer subscription, you will not have access to the Health Coaching Program.
Balance of Nature fruit and veggie capsules are made up of proprietary blends, making it difficult to know what ingredients you're getting.
Let's look at the supplement facts label of each product that makes up Balance of Nature's Whole Health System.
Balance Of Nature Fruits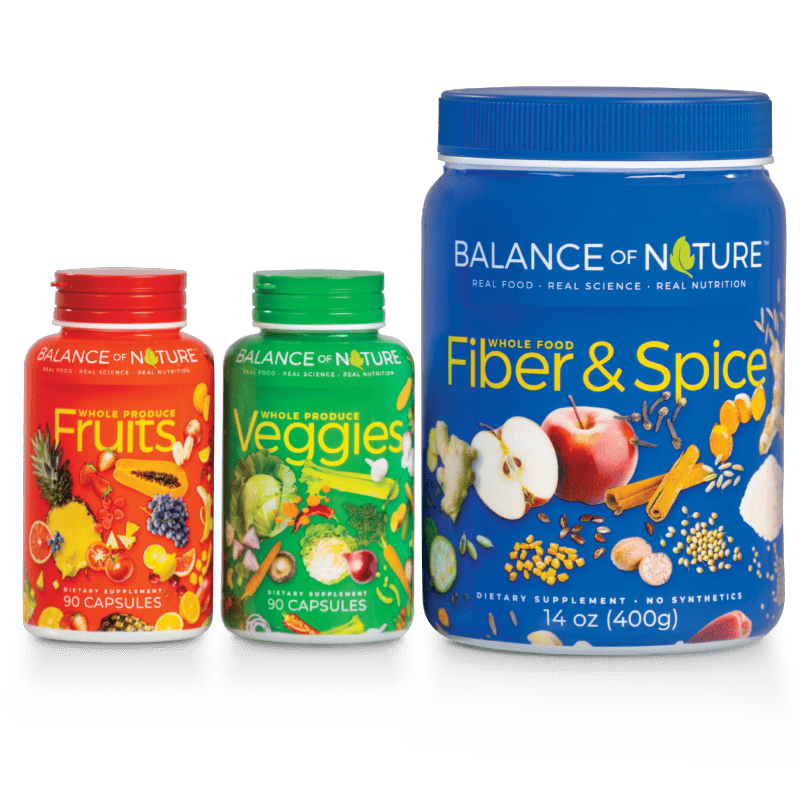 Three capsules of Balance of Nature's Fruits blend contains:
731 mg of Maintain blend
719 mg of Protect blend
561 mg of Repair blend
The Maintain blend consists of tomato, papaya, banana, apple, grape, wild blueberry, strawberry, and aloe vera.
The Protect blend consists of orange, tart cherry, cranberry, wild blueberry, grape apple, grapefruit, and aloe vera.
The Repair blend consists of raspberry, pineapple, mango, sweet cherry, lemon, and aloe vera.
Balance Of Nature Veggies
Three capsules of Balance of Nature's Veggies blend contains:
720 mg of Maintain blend
713 mg of Protect blend
576 mg of Repair blend
The Maintain blend consists of broccoli, spinach, soybean, green cabbage, wheatgrass, kale, cauliflower, celery, white onion, and zucchini.
The Protect blend consists of garlic, red cabbage, red onion, soybean, carrot, kale, cayenne pepper, shiitake mushroom, wheatgrass, and sweet potato.
The Repair blend consists of carrot, kale, green onion, soybean, spinach, cauliflower, celery, and zucchini.
Balance Of Nature Fiber & Spice
Balance of Nature's Fiber & Spice blend contains:
10g of Balanced Whole Fiber blend
3g of Protect and Repair Whole Spice blend
The Balanced Whole Fiber blend consists of whole psyllium husk, flaxseed, a whole apple, and whole monk fruit.
The Protect and Repair Whole Spice blend consists of cinnamon, turmeric, ginger, fennel, cardamom, cumin, fenugreek, coriander, clove, allspice, mustard, and nutmeg.
Balance of Nature Reviews: What Do Real Users Say?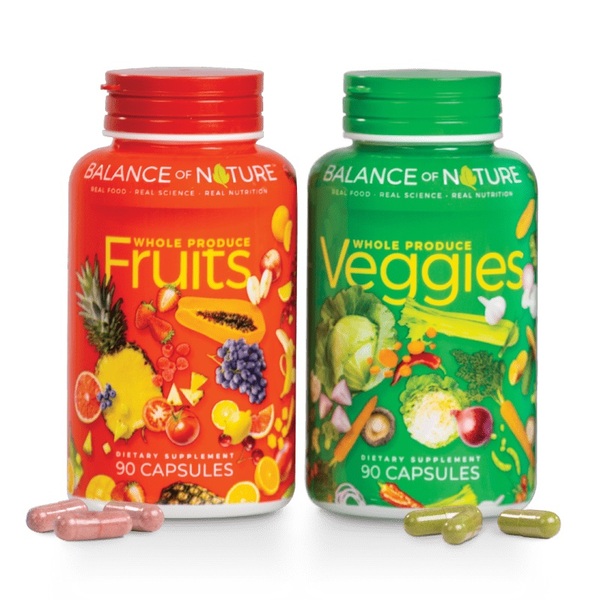 Balance of Nature has a 4.3 out of 5-star rating on Amazon, which is a pretty solid rating. Many of the reviews are either one star or five stars. Most of the complaints are related to poor customer service, delayed shipping, and the product simply not working.
Let's dig a little deeper into what real users are saying about Balance of Nature products.
Health Benefits of Balance of Nature
As most of us know, eating a diet rich in fruits and veggies may reduce the risk[2] for obesity and chronic diseases like heart disease and diabetes.
Balance of Nature does not claim to cure or prevent disease but emphasizes the importance of plant-based foods to help our body repair itself.
Though the company has researched the effectiveness of its supplements, none of the studies are published in peer-reviewed journals.
One clinical trial[3] from 2004-2006 evaluated the use of Balance of Nature on patients with chronic hepatitis in the cirrhotic stage. The experimental group received triple doses of Balance of Nature for different durations of time. The study concluded that Balance of Nature might improve liver function in those with cirrhosis.
Another animal study[4] on lactating rats suggested that Balance of Nature may increase milk production and prolactin level.
Additional studies on fruit and vegetable powders similar to those offered by the company have also shown potential health benefits.
One study[5] discovered that fruit and vegetable food supplements might reduce exercise-induced oxidative stress. However, the study also notes the need for additional research.
In one clinical trial [6], healthcare professionals in Germany were given a fruit or vegetable supplement or a placebo for eight months. Researchers discovered that the group who took the fruit and vegetable supplements had 20% fewer moderate or severe cold symptom days.
A 2019 review [7] took a look at the effect of fruit and vegetable concentrate supplementation on risk factors for noncommunicable diseases. Researchers found that taking encapsulated fruit and vegetable concentrate may decrease risk factors associated with heart disease. However, these studies were small, and more research should be done to further investigate the potential benefits of supplementation.
One review [8] from 2017 found that psyllium supplementation may help improve symptoms associated with irritable bowel syndrome.
Potential Risks & Side Effects
Dr. Howard reports Balance of Nature supplements is safe for most people, including those who are pregnant or nursing. They're also safe for children.
According to their website, Balance of Nature products will not interfere with any other medications. However, the Fruits blend does contain grapefruit. Some medicines are known to interact with grapefruit and can cause side effects if taken together.
The veggie capsules also contain soybean, which is probably not safe for people with a soy allergy.
It's always important to talk to your physician before starting dietary supplements, even if it only contains fruits and veggies.
If you're not used to a high fiber diet, adding a dietary fiber supplement may cause unwanted gastrointestinal discomfort, including gas, abdominal cramps, and bloating.
How to Take Balance of Nature Vitamins?
According to their website, you should take three Fruits and three Veggies capsules each day for a total of 6 capsules. You can choose to swallow the entire capsule with a beverage, chew the pill as a treat, or break open the capsule and sprinkle the fruit and vegetable powders on top of your meals.
They're also safe to cook with and can be added in with baked goods, smoothies, eggs, and more.
Users should consume the Fiber & Spice blend once daily. To make the fiber drink, mix two scoops in a glass of water or apple juice.
Where To Buy Balance Of Nature Supplements?
You can purchase Balance of Nature supplements on their website at www.balanceofnature.com, or you can find them on Amazon. However, if you are buying directly from their website, additional discounts are offered.
Alternatives To Balance Of Nature
Final thought: Is It Worth Buying?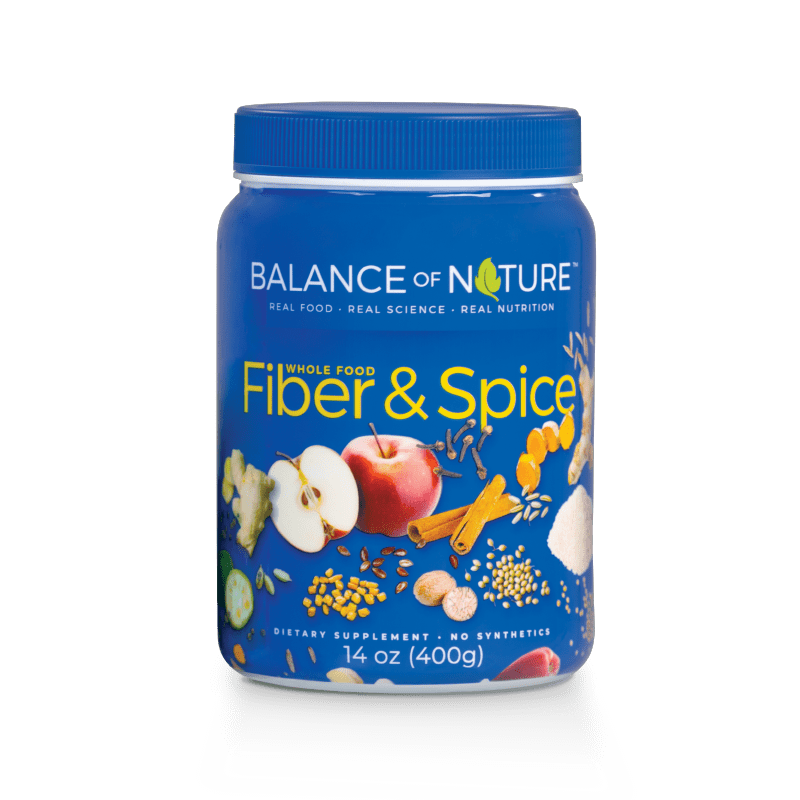 If you're not a fan of fruits and veggies or find it challenging to get in enough servings per day, Balance of Nature may be a good option.
Additionally, if you struggle to get enough fiber in your diet, the Fiber & Spice blend may be a good option.
However, the company has had an FDA warning letter, and its products are expensive compared to their competitors.
It's always important to research brands and consider alternatives before making a purchase.
If you decide to purchase Balance of Nature, consider choosing the preferred membership to cut costs.
Although the Balance of Nature products come from whole fruits and vegetables, eating real fruits and vegetables will benefit you the most.
Before adding in a supplement like Balance of Nature, be sure to consult with your healthcare provider before use.
Frequently Asked Questions
Is Balance of Nature any good?
Balance of Nature products appear to be high in quality and, if you struggle to get enough vitamins and minerals, may benefit you.
Does Balance of Nature Fruits and Veggies have any additives?
According to their website, Balance of Nature products does not contain any additives or artificial flavors.