About Away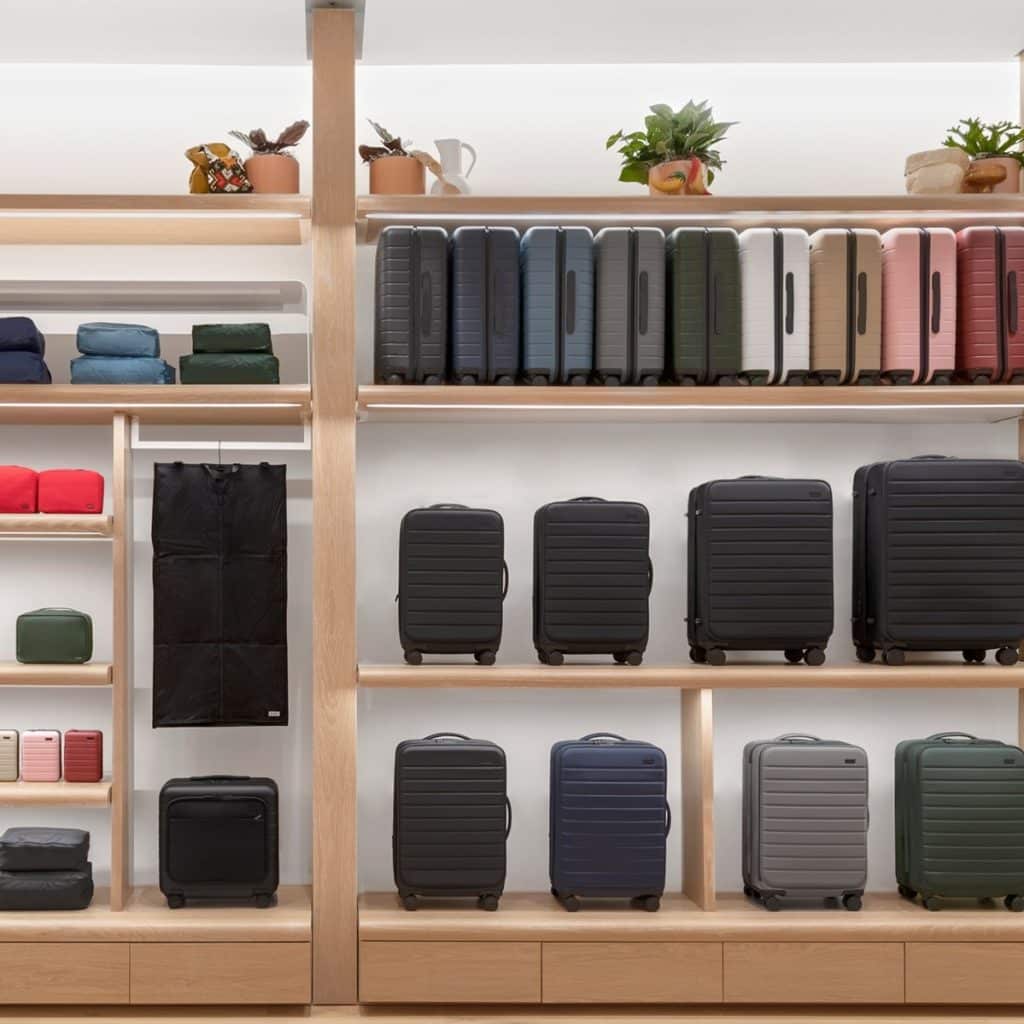 Traveling has been a priority of mine since I was young. Whether it's experiencing a new place, seeing friends abroad, or going somewhere for the sake of going…sometimes, it just feels good to get away.
Before I knew what an ideal suitcase was, I lugged around an old relic or a giant duffel bag—without wheels. Away designs suitcases that just make sense. Addressing real-life travel problems (like gate sprints and too many bags), its line of sleek, elegant luggage is nothing short of chic.
Made with durable materials in colors to match your personal style and needs, a quick, smooth zip will reveal the travel-friendly innovations your jet setting dreams are made of. With a social community of 700K+ And features in Forbes and CNN, it seems I'm not the only one to think so either.
When it comes to travel, I've learned that luggage is one part of the journey I shouldn't mess around with. So in this Away luggage review, I'll take a close look at the brand and its products to see if they're really worth the buy.
Overview of Away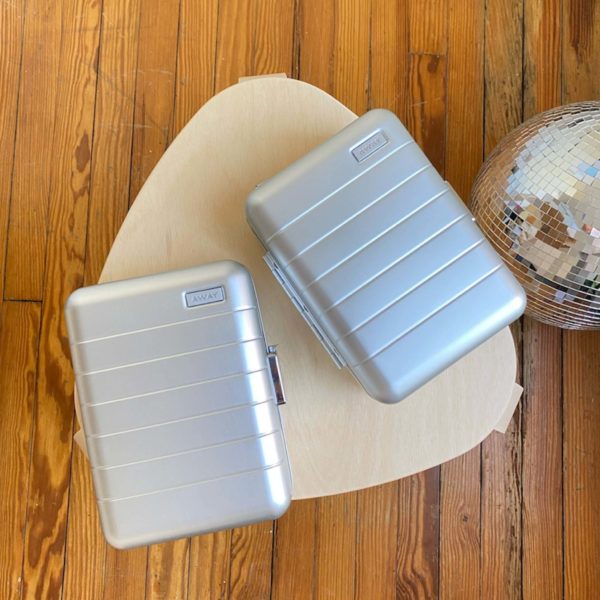 Away began as most brilliant ideas do: out of necessity. After more than one travel woe, founders Stephanie Korey and Jennifer Rubio launched the brand in 2015 to put an end to easily avoided frustrations when traveling.
The pair believe that luggage is the "unsung hero of travel," and I couldn't agree more. I know the irritation that arises from a zipper that just won't zip, a wheel that doesn't track, and handles that just up and fall off. Little things like this make traveling stressful when it doesn't need to be.
When launching their brand, Korey and Rubio decided to keep it digital. With an aim to make things easy for shoppers and keep costs as low as they could, they wanted to do things differently from other luggage companies that either pushed too-expensive bags or ones that were too low-quality.
Meeting somewhere in the middle, Away suitcases are equipped with all of the thoughtful details the duo could dream up—like a built-in battery to charge your phone. Their mission? To help you "get more out of every trip to come." I appreciate that, and I'm also a personal fan of how the two perceive the concept of luggage: a mobile home and closet when you're on the road.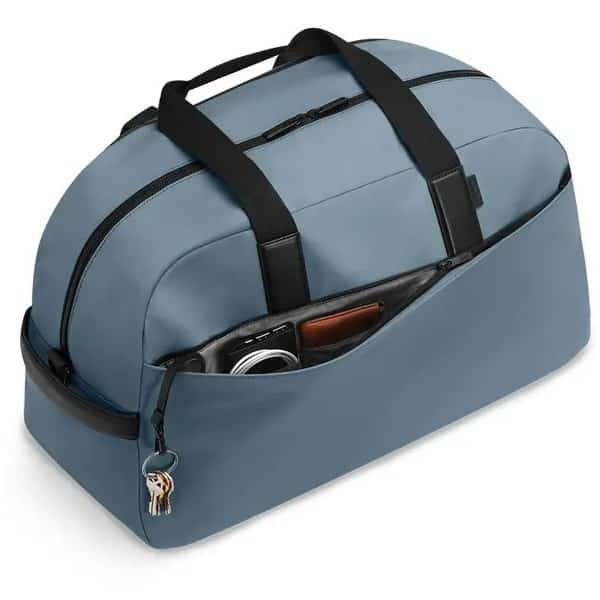 And while they help to bring you more peace when traveling, Away also partners with Peace Direct, a non-profit that helps reduce conflict around the globe. As if I wasn't in love with this brand already.
If you don't want to read me gush about my love for this company, maybe it's time to turn away from this Away luggage review. Want to learn more about its premium quality and travel-friendly designs? By all means, read on.
To kickstart this Away luggage review, let's first take a look at the brand's pros and cons:
Pros
Range of sizes, styles & colors
Offer suitcases & travel bags
Incredibly durable
Innovative interior features
Built-in phone charger (option)
Free US & Canada shipping
100-day return policy
Lifetime guarantee
Cons
Some suitcases are quite expensive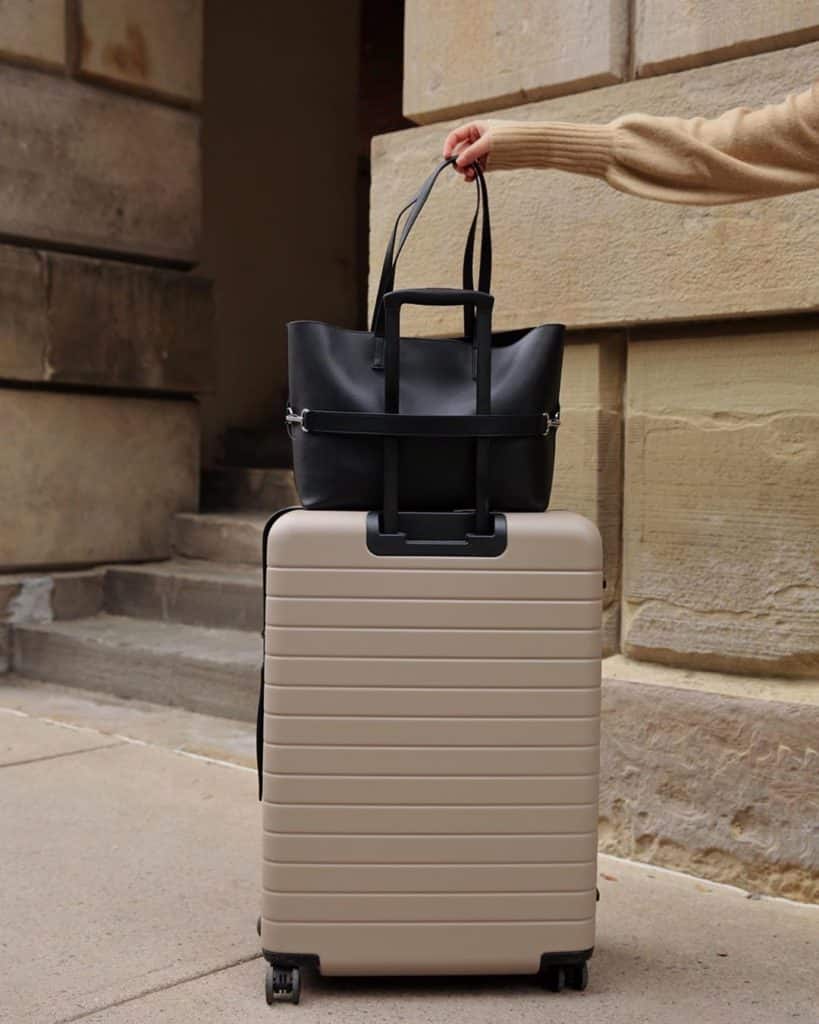 While I won't take you through every product the brand makes, in this Away luggage review, I'll give you the details of some of their bestsellers to show you what their smart suitcases are all about.
Away The Large
First up, the limited edition Chalet Collection. Once in awhile, you're on the chairlift and conversation stops mid-sentence because someone is carving down the slopes in a retro ski suit.
You point it out, laugh about it, but secretly, you admire the look and wish that you could pull it off yourself. And to be clear here, when I say you, I really mean me.
This suitcase is that retro ski suit. Away's limited edition Chalet Collection harnesses the energy of this eye-catching look. The Large comes in a variety of bold colors and stripes equipped with a custom matching luggage tag.
There's no fear of losing this bright bag on the luggage belt when you arrive in Aspen to hit the slopes. As Away's biggest suitcase, if you're one to over pack, I think this one is a great pick. My favorite part? Despite how large it is, it's deceptively lightweight.
Made from protective polycarbonate, this suitcase's shell keeps your belongings safe and sound. But that's not the only reason I think it's a winner. With an interior compression system and removable laundry bag, traveling in style is all that much easier.
Enjoy airport-friendly features like 360-degree spinning wheels and multiple handles to help manage whatever you've piled it up with inside. Get The Large for $348.
If you're not into the bold colors of the Chalet Collection, I get it. Away The Large also comes in a range of neutral darks and a few brighter colors like pink and blue for the same price.
If you really want to splurge on your luggage, and honestly look like the flyest person in the airport, check out The Large – Aluminum Edition:
You can literally walk around with a suitcase that looks like it's made of gold, rose gold, or other precious metals. I like the sound of that.
All its features are the same as the Chalet collection, the only difference is the aluminum shell. Be prepared to shell out a little more for this shell though, since The Large in aluminum costs $629. And while it's a little pricey…its also super preeetttyyy.
Away x Serena Williams – The Medium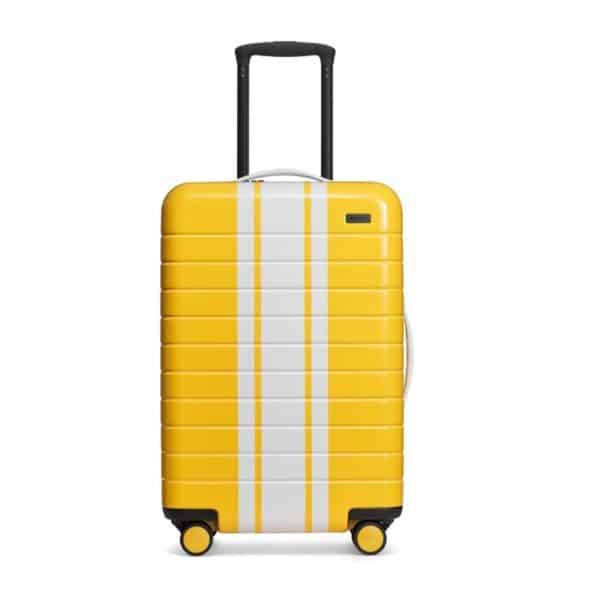 If you're shocked that world-class tennis pro Serena Williams designed an Away collection, so was I. Go Serena!—though since she travels a ton, it kind of makes sense.
Admire how awesome this midsize soft suitcase is, great for staying organized on short trips. With solid red on the outside, her favorite patterns are featured in the interior lining of the bag, the luggage tag, and the Away luggage monogram. I'm a huge fan—of Serena and her rad design.
The Medium Soft Case is made with durable and water-resistant nylon, so it's much more flexible than the polycarbonate case. With an easy-access front pocket, you can access your items on the go. Heading to rainy old England? Pack a rain shell and umbrella to pull out on the fly.
Just like all Away luggage, The Medium Soft Case features an interior compression system to help you to organize your life on the go. As well, the built-in zip feature increases the capacity of the body up to 1.75" so that you can fit in all your favorites!
Away x Serena The Medium Soft Case is $333 and includes:
Multicolored camo print interior lining and organization system
Compression pad and water-resistant laundry bag
Matching camo print leather luggage tag
360-degree spinner wheels
Bottom slip handle for easy lifting
TSA-approved combination lock
If you're not a fan of this colorful collaboration, you don't have to miss out on The Medium—it's also available in more neutral and understated colors and in a hardside version:
The Carry-On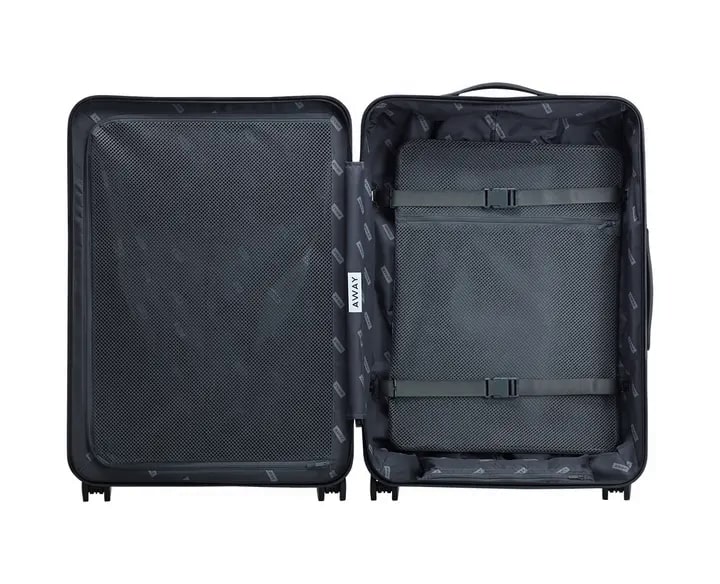 Keep calm and carry-on. That's my general rule for traveling. I get totally overwhelmed in busy airports, but to avoid the massive baggage check lines and short-tempered agents, I go straight to security with my carry-on bag and pre-downloaded boarding pass.
The Away Carry-On fits nicely into the overhead bin of most airlines. Small in size, it's ideal for the calculated traveller. With a conscientious design, this durable case is built for many adventures with its polycarbonate shell.
I love that it's made with classy leather detailing and comes with a black luggage tag too, but mostly, that it's available in 7 colors. What can I say? I love options as much as I love convenience and this case has both.
Equipped with a built-in charger, you can stay connected without searching for a plug. Charge your device up to 4 times.
If you're a fan of security, breathe easy knowing the Carry-On has a TSA-approved combination lock. Made with the brand's signature interior compression system and hidden laundry bag, your focus can be on sightseeing rather than sorting your clothes. Travel smart for $295.
If you need a little extra space, Away The Bigger Carry On could be a more suitable option for $315.
The Kids' Carry-On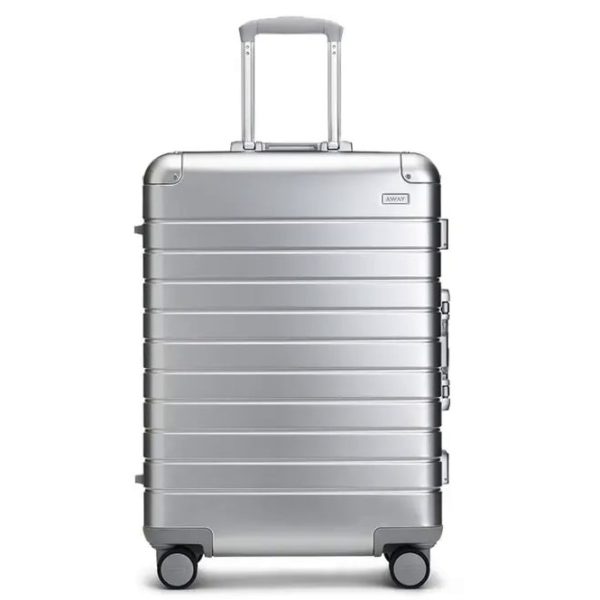 The Kids' Carry-On is "sized down (not downsized)," and constructed thoughtfully so that children can become independent travellers from a young age. I like that, but also the fact that I wouldn't have to handle two suitcases and a kid at the same time.
The durable suitcase can meet the demands of any adventure, but here's the clicker: it's lightweight enough that a child can handle their own luggage. That's one less thing for you to worry about as a parent while travelling with your kids (unfortunately jet lag and plane boredom isn't something a suitcase can fix).
Just like Away luggage for adults, The Kids' Carry-On is built with an interior compression system, laundry bag, and 360-degree spinner wheels. They'll have fun with its features and the fact that their luggage looks cool. Whether you're a kid or adult, good-looking luggage doesn't go unnoticed.
The Kids' Carry On comes with an ejectable phone battery and combination lock, so they won't be looking for entertainment or their lost items as you catch your next flight. This piece is currently unavailable, but check back with the brand for future launches.
Set of Two: The Carry-On + The Medium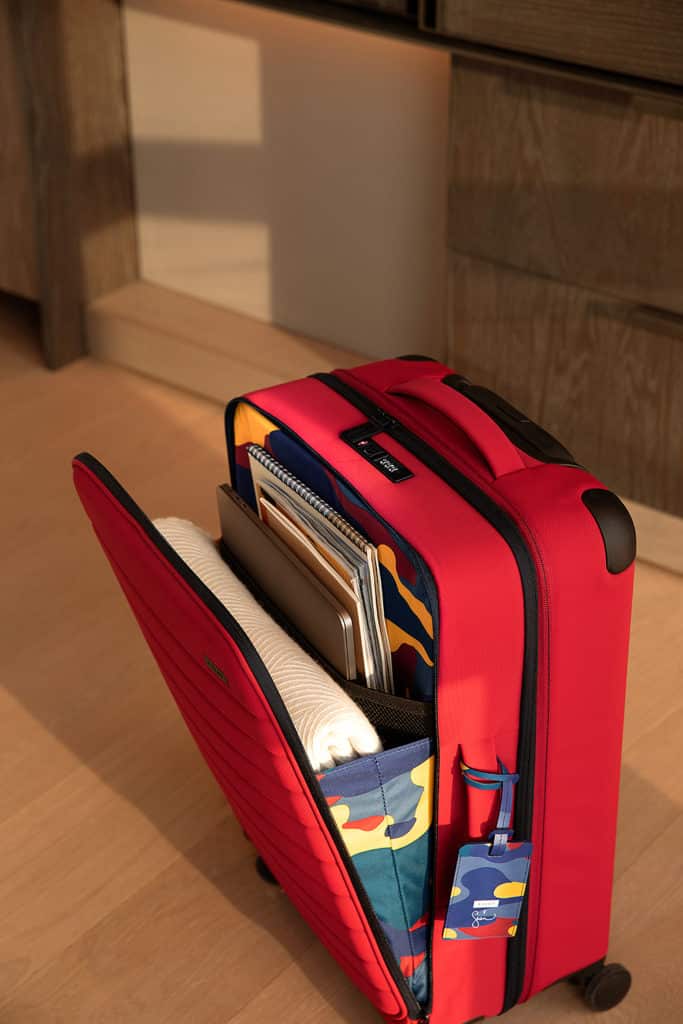 No matter where you're travelling, this Away luggage set—one carry-on and one checked bag—has you covered for $490. In the realm of luggage, that's a killer deal.
The smaller bag fits inside the larger one, saving you storage space between trips which I think is just brilliant.
The Medium is designed with two interior compartments: one for clothes and another for harder items like shoes, so that you focus on enjoying your day, not how to prepare for it. You can separate your dirty clothes into the hidden water-resistant laundry bag so that keeping your clothes straight and unpacking on the other inside are two separate, easy processes.
Other features of The Medium include:
Durable polycarbonate shell
An ejectable battery that charges your phone
TSA-approved combination lock
360-degree spinner wheels
Suitcase features leather details
Black leather luggage tag
Interior compression system
Hidden laundry bag
Set of Two: The Daily Carry-On with Pocket + The Medium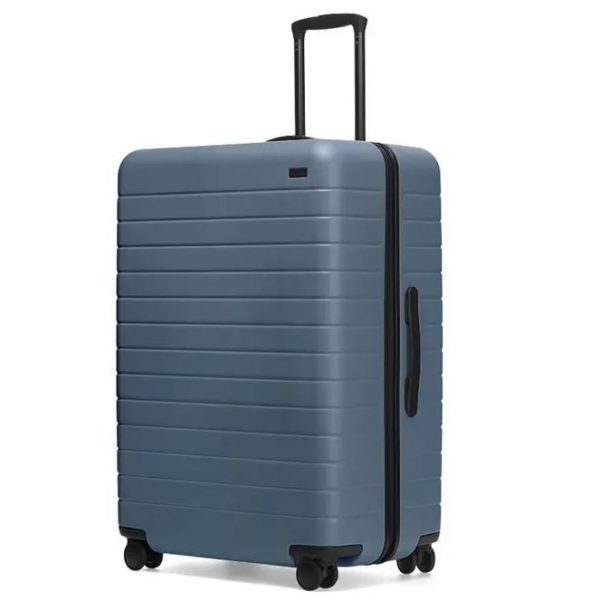 This set of two includes the Daily Carry-On with Pocket and The Medium for $505. The Daily Carry-On With Pocket is designed for short trips, and I'm partial to its elegant leather details and a black Away luggage tag.
The 360-degree spinner wheels will make it easy to cover ground, and the interior compression system and hidden laundry bag will let you pack for multiple purposes. The TSA-approved combination lock keeps your valuables secure. Paired up with The Medium suitcase, this one's a winning combo.
The Weekender
Packing for short trips taught me something: I have a ton of essentials. Though it may be a spritz here and a scribble there, on a day-to-day basis, I use a lot of stuff.
The versatile Weekender duffle squeezes into any trunk, underside of the seat, or overhead bin. The Weekender is meant for short journeys, and it accommodates life on the go with a fully lined shoe compartment, a 15" padded laptop pocket and a sleeve at the back.
Comfortable with a detachable padded shoulder strap, it also features top handles joined by a button clasp closure for security. A leather base and accents offer style and durability, with a convenient zippered interior and exterior pocketing.
The Weekender duffle is available in nylon, canvas, and limited collections of unique edition fabrics for $258. 
The Backpack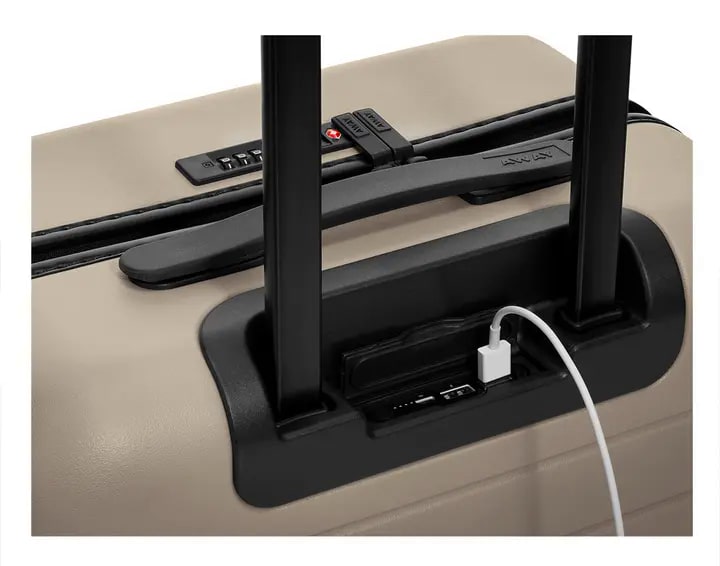 When I can, I choose to travel with a backpack. Allowing for hands-free carrying, I'll admit that any backpacks I've used without compartments often leave me digging for the things I need—as well as more than one missing passport scare.
A well organized, accessible backpack offers a lot to your trip or workday. For this part of my Away luggage review, I analyzed the spacious interior of the backpack, which features a cushioned pocket with a water-resistant zipper to fit a 15" laptop.
The clever design also includes a passport pocket on the back of the pack and a collapsible water bottle pocket on the side of the bag. Two things that definitely would have come in handy for me a few years ago.
The Backpack has three compartments with strategic uses. Here, I'll break them down for you:
Front side-access zipper pocket for large, flat items like books
Middle zip compartment features a hidden zipper pocket (for valuables such as keys or phone)
Large main compartment with space for clothes, shoes and other bulky objects
The bag is sleek, but it fits everything in—more than you might think! I've found the slimmer design to be useful when on the road to keep essentials close. The backpack costs $295 and is made of nylon in black, navy, green, asphalt, coast, and sand hues.
Is Away Luggage Worth It?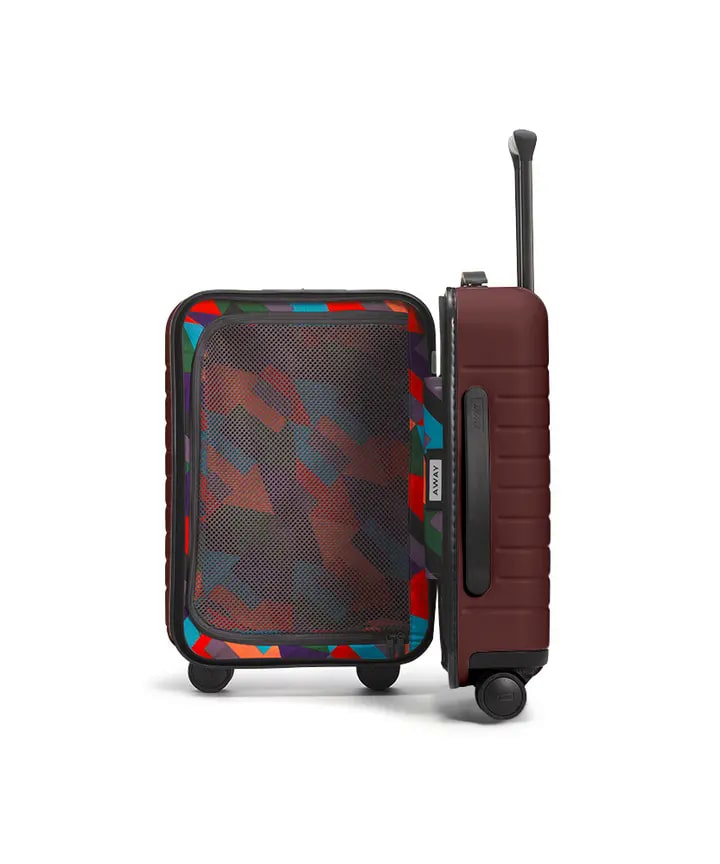 It's easy to fall in love with how something looks. While writing this Away luggage review, the details made it clear that Away is more than looks, and to me, totally worth it.
Away luggage takes care of the details of travel—charging your phone on the go, keeping items secure, making models to suit young children, ambitious skiers, or the focused business person, alike.
I really appreciate that Away takes customer needs into account while designing. Addressing common problems and eliminating them, its suitcases and bags are equipped with smart and consistent features.
Away provides high-quality technical luggage with detailing for a middle-of-the-road price. And since I know my way around baggage claim, that's something I value about this brand—I truly feel like it cares for its customers.
Offering a 100-day trial to seal the deal, overall, I think Away makes a brilliant, durable, and beautiful luggage that won't break the bank. What more could you ask for?
Away Luggage Customer Reviews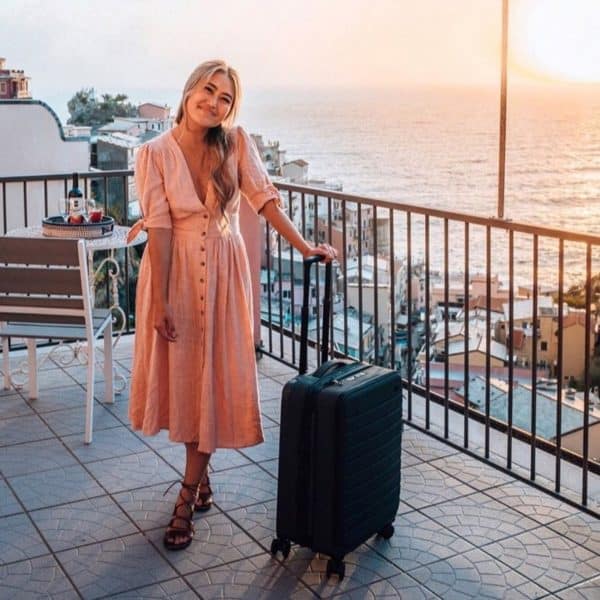 Don't just take my opinion for it, read what Away's customers have to say. I hit up awaytravel.com to see what they thought and placed a few ratings and comments below.
The Carry On: 4.9/5 stars, 1,887 reviews
The Medium: 4.9/5 stars, 1,304 reviews
The Large: 4.9/5 stars, 979 reviews
The Everywhere Bag: 4.9/5 stars, 469 reviews
Diving into the comment, I learned that customers feel that Away stood by their promise. When issues arose with Away luggage, the company replaced it. As for the quality, here's one Away luggage review that sums things up nicely:
"Absolutely love this The Large checked in bag! I used it for a holiday trip and it fit so much more than I ever expected and the hard shell really makes a difference! And I loved the bag for the dirty laundry. Overall super happy with my purchase I've recommended it to my entire family."
Heading over to Reddit, I read that one customer remarked that their carry-on had met every criterion in an Away luggage review. The delivery happened promptly, and customers were happy with the quality of their products, finding the design to be "pristine."
Though I did run into some negative comments about troubles with contacting customer service and slow shipping, overall, this brand appears to be loved by the thousands and that's probably why it's sold over 300,000 bags to this day.
Away Promotions & Discounts
 
While combing through the brand's website for this Away luggage review, I found that while there was no Away luggage code, it does offer a Refer A Friend promo. You can also sign up for the mailing list to stay on top of the latest news.
Away Luggage Careers
If you've liked what you read in this Away luggage review, you might be interested to know that they're hiring. There are a bunch of Away luggage jobs to look into, if you're considering a change of scene.
Away New York has corporate positions available in these fields: Brand, Communications, Creative Strategy, Customer Insights, Digital Product/UX, Engineering, Growth, Operations & Supply Chain, People & Culture, Real Estate and Information Systems.
Away also has sales position openings in openings in Houston, LA, New York, Seattle, Toronto, Austin, Boston, Chicago, London, Los Angeles, and San Francisco.
Where to Buy Away Luggage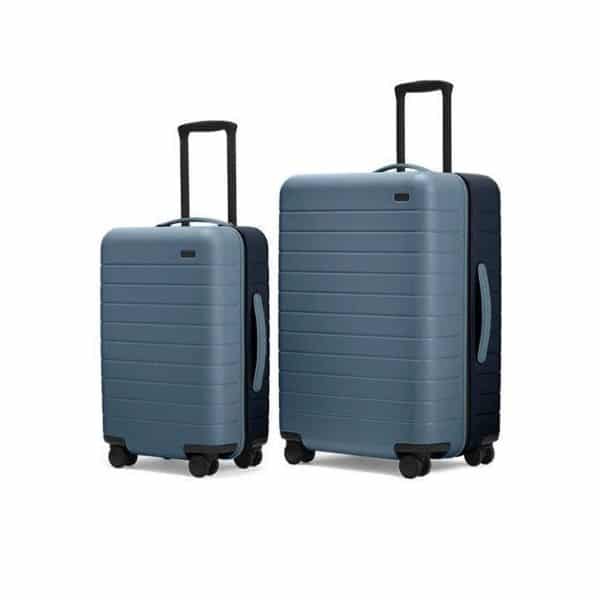 Online
Away products can be purchased on their website and through Away Luggage Amazon.
Retail
Live in or close to NYC? Pop into their travel boutique on Bond Street. Happily, I found that there is more than one Away Luggage store. You'll see the complete list here:
Away Luggage Austin
Away Luggage Boston
Away Luggage Brooklyn
Away Luggage Chicago
Away Luggage Dallas
Away Luggage Houston
Away Luggage NYC
Away Luggage San Francisco
Away Luggage Los Angeles
If you're not in the UK, you may be pleased to know that Away also has one physical store in London, UK.
FAQ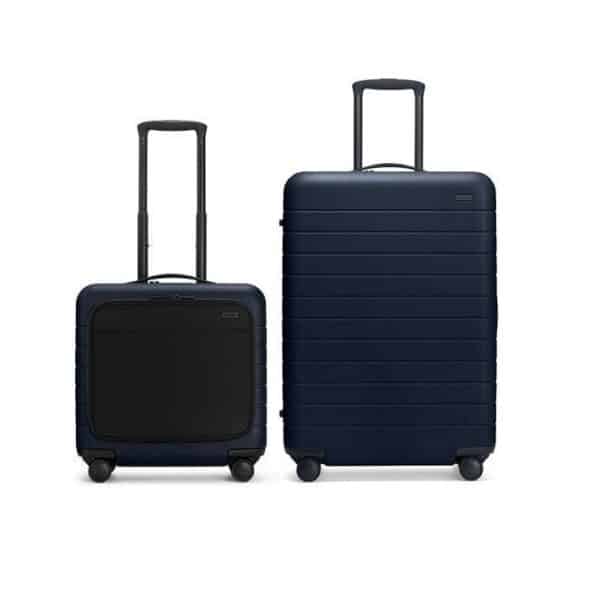 Away Luggage Sizes
I realize that it can be hard to tell how big or small a suitcase is just from a picture. That's why I've included a size guide up next in this Away luggage review to make things super easy—guess I was inspired by the brand:
| | | | | |
| --- | --- | --- | --- | --- |
| Product | Height | Width | Depth | Capacity |
| The Carry On | 55.1 cm | 34.8 cm | 22.9 cm | 38.3 L |
| The Bigger Carry On | 57.7 cm | 37.3 cm | 24.3 cm | 47.9 L |
| The Medium | 66 cm | 47 cm | 28 cm | 68.8 L |
| The Large | 73.6 cm | 52 cm | 31.7 cm | 99.2 L |
| The Daily Carry On With Pocket | 42 cm | 44 cm | 22.8 cm | 36.9 L |
| The Kids Carry On | 45 cm | 30.48 cm | 22.8 cm | 31 L |
| The Weekender Bag | 55 cm | 22 cm | 32 cm | 38.7 L |
Away Shipping Policy
Away ships everywhere in Canada, the US, and the UK. Away has a goal of shipping worldwide, so if you live outside of those areas, I'd recommend staying tuned!
To let Away know that you'd like your country on their radar, tweet (@away) or send an email to help.ca@awaytravel.com. Away offers free shipping to the US and Canada, with the exception of P.O. boxes. Otherwise, shipping ranges between $15-$50 depending on the method and what you buy.
How long does it take to ship?
Orders ship from the Away warehouse in 1 business day
Length of the shipping process depends on the shipment method
Free shipping arrives within 1-7 business days, depending on location
Personalized items take longer for delivery
Items are not shipped on weekends or national holidays
Away Luggage Return Policy
If your Away product doesn't meet your needs, you can return it within 100 days of purchase (no hidden qualifiers!) Fill out the online form to begin. Quick note: Away does not cover the cost of shipping for orders returned from Canada though.
Personalized items are made to order, so the 100-day trial does not apply. These items cannot be returned or exchanged, but other regular warranties apply.
The 100-day trial period is not renewed when you exchange your item for a new one. Instead, the remainder of the 100-day period applies to your exchanged item, which, I think is fair.
To make a return, fill out the form on the returns page, and the Away team will get back to you with the next steps. Shipping fees are non-refundable.
Away Luggage Lock Reset 
My aim (like the brand's) in this Away luggage review is to be as helpful as possible, and that means giving you all possible details about its luggage. This section is all about locks—because, well, they're what separates you from your belongings while traveling. Here's what to do if you have to reset yours:
Set the dials to 0-0-0
Push in the reset button with a pointed object, like a pen until you hear a click
Roll the digits to your preferred combination
Press the circular button in the middle of the latch and the reset button will pop back out. When the clasp opens, your combination has been set.
Roll the digits to your combination and press the circular button to open the suitcase
100-Day Trial
Away understands that the best way to test that your luggage items support your travel is to pilot them. For that reason, every Away item comes with a 100-day trial (unless the item has been personalized).
You can live with your suitcase for 100-days to make sure it meets your needs and standards. If it doesn't feel right, you can return it for a refund or exchange.
Away Luggage Warranty
In this Away luggage review, I highlighted that Away suitcases are guaranteed by a lifetime warranty. This warranty covers any damage to the wheels, shell, handles, zippers or anything else that affects the functional use of the luggage.
Another important note for this Away luggage review: part of this deal is that the company will repair anything that breaks, by fixing or replacing it. This applies to defects in manufacturing and parts, of course, not ill-treatment.
The Mini and all personal items or interior organization products are subject to a one-year warranty. These items are meant to be protected by your suitcase, so the same lifetime warranty does not apply.