About Aveeno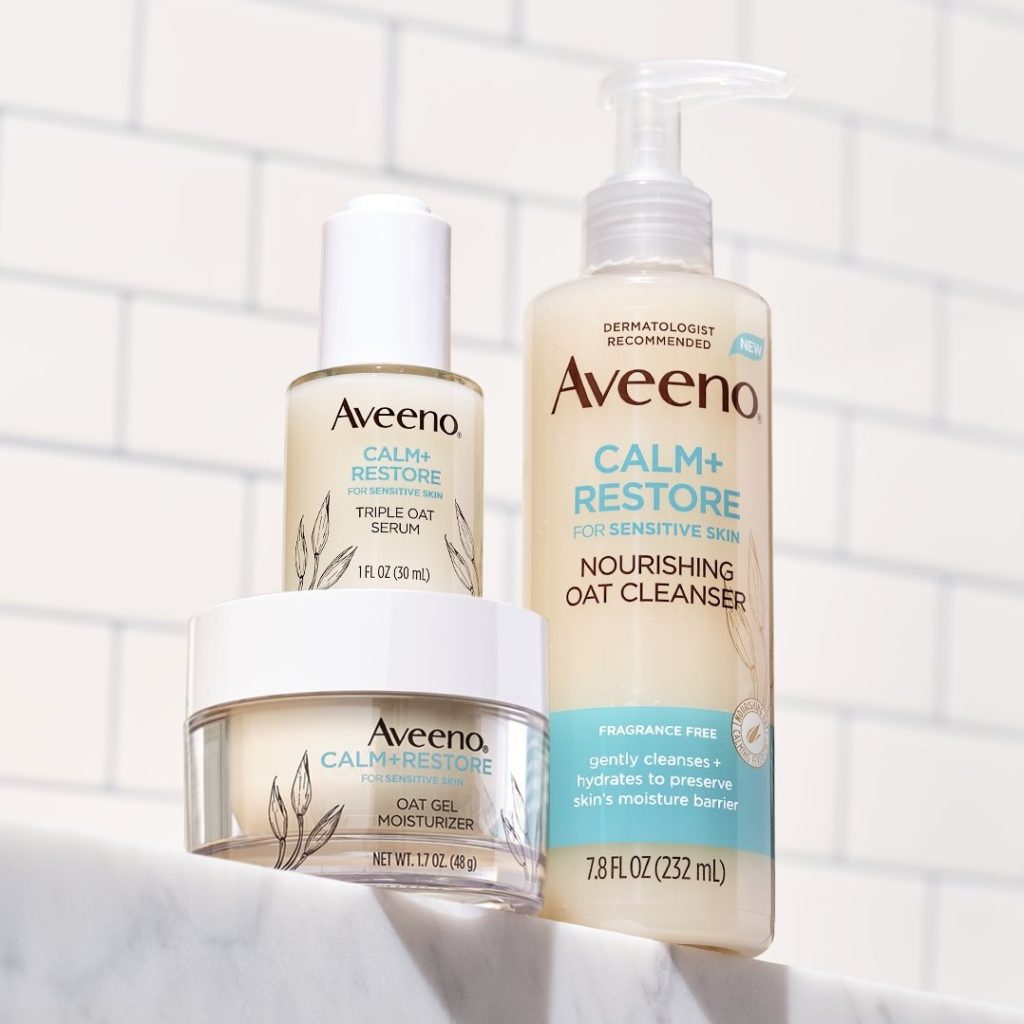 Aveeno believes that self-care should be sustainable, natural, and relatable. This cosmetic company has been producing formulas circa 1945, and they're considered a mover-and-shaker within the industry. There's a good chance that you've encountered Aveeno before, as they're usually grouped with other big-name brands such as Neutrogena and Olay.
Hundreds of magazines such as InStyle, Narcity, and the New York Post have included Aveeno in their top 10 skincare lineups. Plus, numerous celebs have integrated this brand's products within their self-care routines, like Cher and Jennifer Aniston.
There are dozens of self-care brands to choose from, so what makes this company all that special? Hopefully, this Aveeno review will answer that for you. We'll take a comprehensive look at the retailer, its products, customer ratings, promotions, and more to help you decide if it's worth checking out.
Overview of Aveeno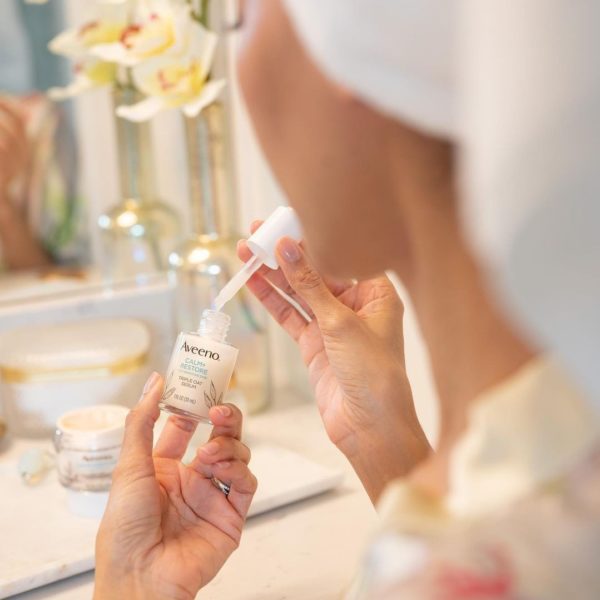 For some, the dream to kickstart a cosmetic company comes from a love of beauty products. Aveeno, on the other hand, was the by-product of curiosity. Founders Sidney and Albert Musher were interested in learning about substance interactions and how traditional remedies improved physical health.
In 1945, they put their hypotheses to the test by conducting a series of experiments involving raw cereal and oats with the Mayo Clinic Dermatology Center. The result? A super soothing bath formula that needed to be shared with the world.
Since its debut, this New York-based cosmetic brand has produced formulas for the face, skin, and hair. The company states that they utilize natural ingredients within their blends in a sustainable manner. In a heartwarming message, Aveeno concludes that they'll continue to pave the way for holistic beauty.
"Our scientists unlock the power of a selection of natural ingredients—science and nature, working together, in harmony. We bring nourishing solutions to your skincare so even the most sensitive skin feels soothed and moisturized," reads a statement on Aveeno.com.
Before we get into this Aveeno review, let's go over some initial highlights.
Highlights
A wide selection of self-care products to choose from
Only natural ingredients included in their formulas
The brand practices some sustainable initiatives (including its use of recycled packaging)
Offers resources for customers who have eczema
Positive customer reviews
Affordable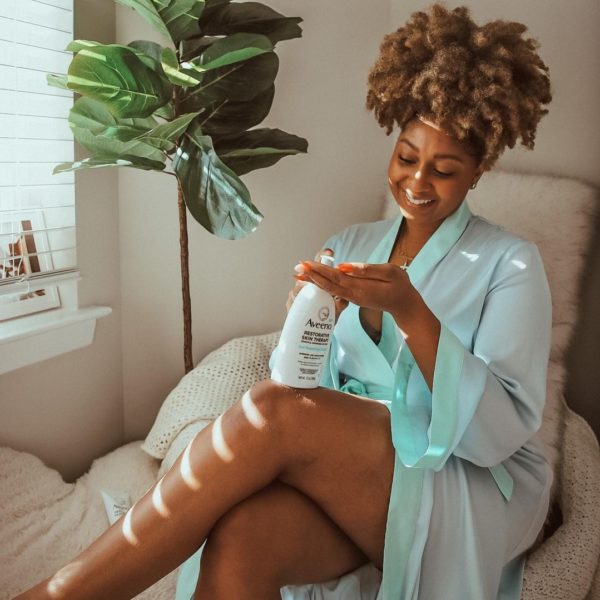 For some, Aveeno acted as the starting point to healthy skin. It was affordable and highly accessible. The shopping experience, at least for me, was less overwhelming than opting for Sephora-based alternatives. It was the go-to brand if I needed something inexpensive and quick. If anything, Aveeno was—and always will be—our ol' reliable.
From lotions to shampoos, this cosmetic company has it all. Unfortunately, you can't buy their products directly off their website. But, as mentioned, Aveeno can be found in nearly every department store. The brand will just redirect you to one of their partnered retailers.
Next up, this Aveeno review will spotlight a few of our favs the next time you're low on cosmetic goods.
Aveeno Lotion Review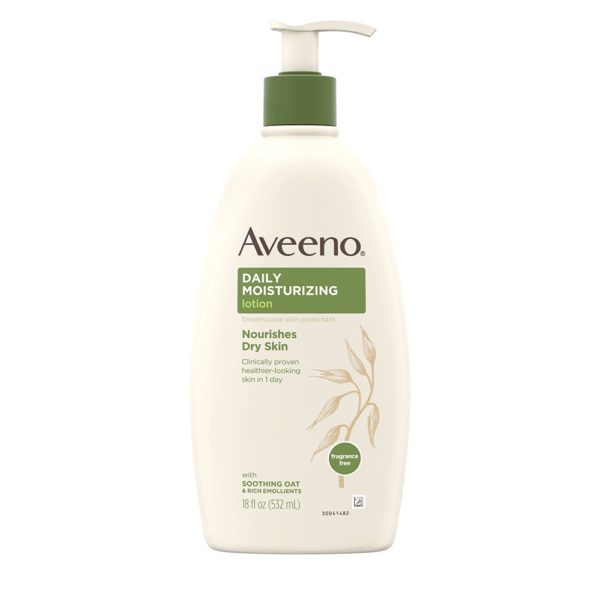 Buttery, smooth, and decadent in texture, it's no wonder that the Aveeno Lotion is an all-time bestseller. It's a must-have during the cold season, as this super nourishing formula takes care of dry spots and irritation in a matter of seconds.
Arguably, the best part about this skin cream is that it provides moisture for up to 24 hours. That means no re-applying and no accidental lotion squirts in your bag. God bless.
Enriched with colloidal oatmeal and dimethicone, the Aveeno Lotion aids in quelling inflammation and itchy skin. It can also treat eczema as well.
As an added bonus, this self-care necessity is non comedogenic and fragrance free. Honestly, it's a lifesaver for those who can't stand overpowering perfumes.
Looking to add the Aveeno Lotion to your skincare roster? You can grab a bottle from one of these partnered retailers:
Amazon: $9
Walmart: $9
Target: $9
Aveeno Body Wash Review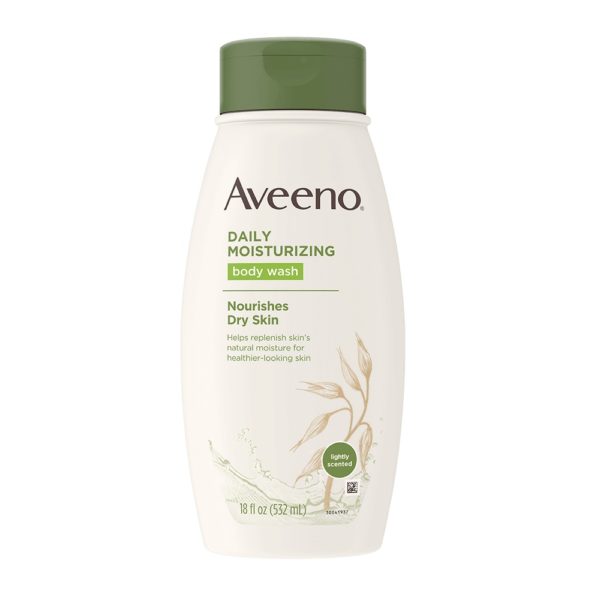 The waft of creamy, oat milk lattes in the midst of winter is way too indulgent. I wish we could practically bathe in it. Instead of placing a rather unusual order at your local coffee shop, the Aveeno Body Wash can act as a more socially-accepted alternative.
This nourishing cleanser utilizes the power of oat and emollients to help smooth rough textures. It's a great substitute for harsh soaps, as this formula is super gentle on the skin.
Lightly fragranced to help give off that 'out of the shower' smell, the Aveeno Body Wash is essential for post-workouts or especially humid days. For those looking to add to their self-care routine, we suggest adding an Aveeno shampoo into the mix.
Price-wise, this cleanser is offered in 4 different sizes. For the time being, we'll only feature one for now. For the 12 oz Aveeno Body Wash bottle:
Amazon: $6
Rite Aid Pharmacy: $7
Walgreens: $6
Aveeno Oatmeal Bath Review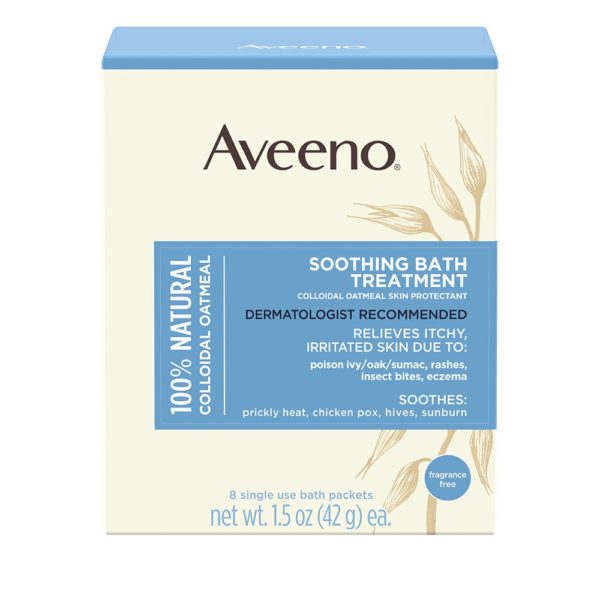 Speaking of indulgent milk soaks, Aveeno encourages you to get your Cleopatra on with their Oatmeal Bath. This naturally-made treatment is made out of, you guessed it, colloidal oatmeal. It's divided into 8 single-use packets, which you can dissolve easily with warm water.
For those who suffer from insect bites, sunburn, and eczema, this nourishing bath can help quell inflamed spots the longer you soak. All that's left is to kick back and relax.
Since this treatment is scent-free, we recommend adding some dried lavender in the bath as a subtle fragrance. We also suggest a face mask, some calming music in the background, and a steaming cup of tea to add to the home-spa experience.
Regarding price, the Aveeno Oatmeal Bath can be found in 3 different stores:
Amazon: $7
Walmart: $7
CVS Pharmacy: $11
Aveeno Eczema Therapy Review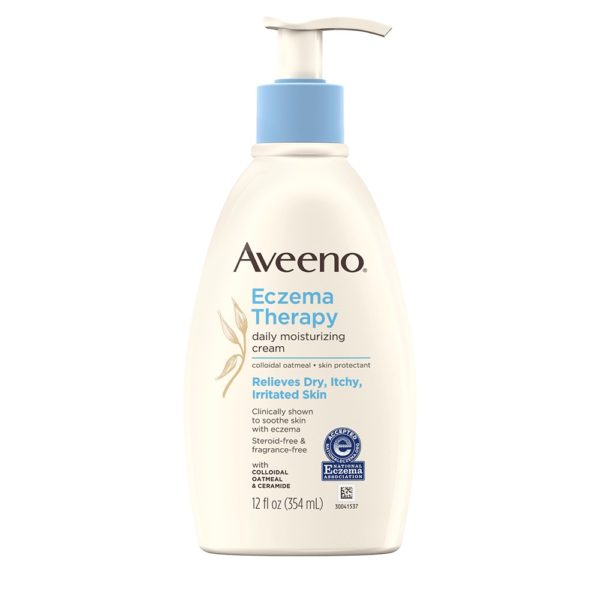 Rosy red works if it's blush; not so much of it's a symptom of irritated skin. If you're in dire need of relief, the Aveeno Eczema Therapy moisturizer takes care of inflamed areas for up to 24 hours.
Recommended by dermatologists, this solution is enhanced with colloidal oatmeal to help reduce itching. It's also free of steroids and fragrances, which is excellent for those who have sensitive skin.
Need more eczema-relieving solutions? Aveeno has an entire lineup ready for you, including a balm, body wash, and even a baby lotion. The Eczema Therapy moisturizer is currently offered in 3 different sizes and can be found in these three department stores. We'll only feature the prices for one of their available quantities.
For the 12 oz Aveeno Eczema Therapy bottle:
Amazon: $16
Walmart: $18
Walgreens: $20
Aveeno Shampoo Review
Can't get enough of colloidal oatmeal? Fortunately, Aveeno has an entire line of shampoos that feature this rock star ingredient. To mix things up a little, each cleanser involves a star additive, whether that be blackberry quinoa or sunflower oil. To keep things short, this Aveeno review will only highlight one of their top sellers for readers to try.
Aveeno Sunflower Oil Blend Shampoo For Dry Damaged Hair Review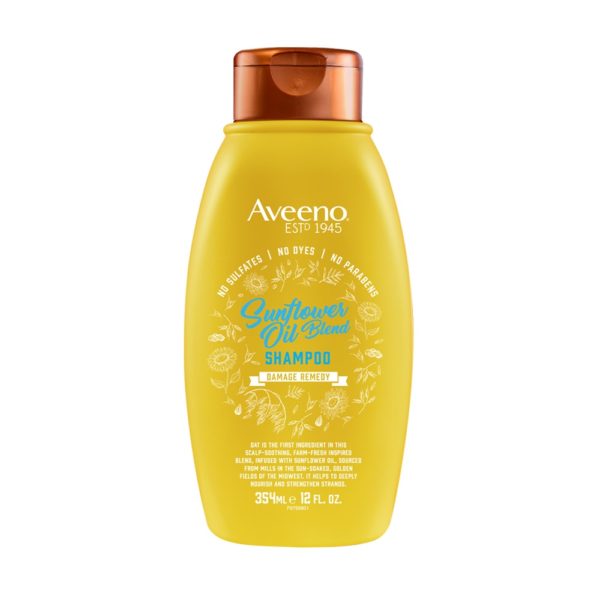 The winter hair nightmare is a common reality for anybody living in colder climates. Basically, it's a mess of split ends, super dry tresses, and never-ending dullness. If you can't wait for spring, the Sunflower Oil Blend Shampoo for Dry Damaged Hair brings back the shine, softness, and strength attributed to warmer seasons.
It's formulated with a blend of sunflower oil and oat, which work wonders in retaining moisture while taming frizzy strands. This shower cleanser is also free of dyes, parabens, and sulfated surfactants.
Lightweight and soothing on the scalp, the Sunflower Oil Blend Shampoo for Dry Damaged Hair retails for under $8 if you shop at these select stores:
Amazon: $6
Walgreens: $7
Kroger: $7
Aveeno Face Wash Review
Don't resort to harsh soaps. Instead, Aveeno provides a selection of nourishing alternatives that are super gentle on your skin. From scrubs to exfoliating pads, customers can find an arsenal of remedies to help get rid of deep-seated debris. This Aveeno review will feature one of our favs that's definitely worth some major consideration.
Aveeno Aveeno Calm + Restore Nourishing Oat Cleanser For Sensitive Skin Review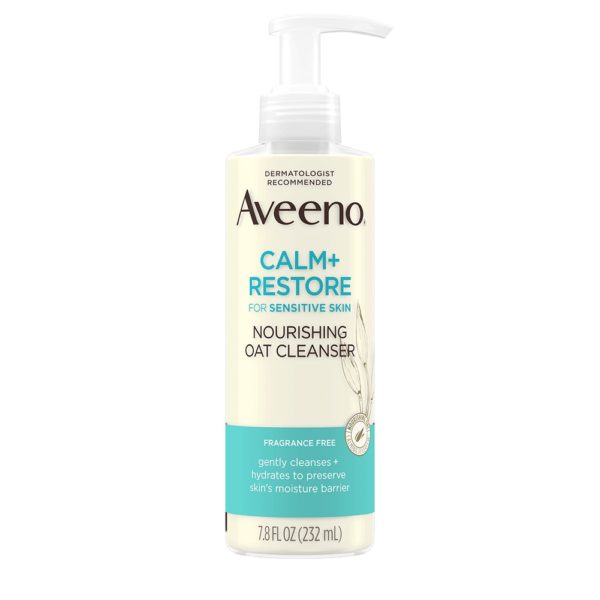 The traditional makeup wipe does nothing for your skin. It's reasonably effective in removing surface-level debris, but what about the dirt underneath?
Designed to eliminate excess oils and pollutants, the Aveeno Calm + Restore Nourishing Oat Cleanser for Sensitive Skin is a must-have for morning and nightly routines. It features the brand's prebiotic triple oat complex, which helps to nourish dry complexions.
Formulated without dyes, parabens, sulfates, phthalates, and other cosmetic no-no's, this Aveeno face wash is definitely suited for sensitive skin. It's a great base for moisturizers and serums, including the Restorative Oat Repairing Cream.
In terms of price, the Aveeno Calm + Restore Nourishing Oat Cleanser For Sensitive Skin is offered at these three retailers:
Walmart: $9
Target: $9
Kroger: $9
Aveeno Baby Review
Self-care isn't just exclusive to adults. Babies need the best formulas too. From body washes to shampoos, this Aveeno review will highlight just one of the brand's bestsellers.
Aveeno Baby Daily Moisture Lotion Review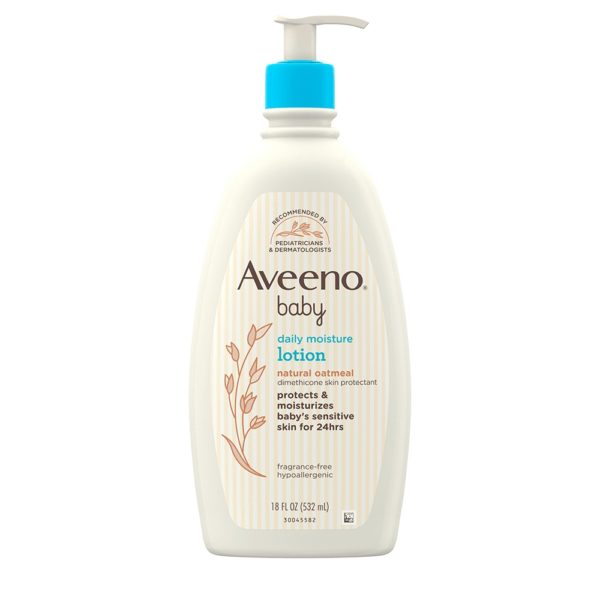 If you're a concerned parent, harsh shampoos, moisturizers, and balms are usually tossed in the bin. Fortunately, Aveeno understands that your tot deserves the best.
The Baby Daily Moisture Lotion is gentle but effective in protecting sensitive skin. Infused with colloidal oatmeal and dimethicone, this nourishing cream helps to quell irritation and itchy complexions.
Parents will be glad to know that this product is free of phthalates, steroids, and parabens. Designed to pair with wet wipes and balm sticks, the Baby Daily Moisture Lotion is available in 3 different sizes. We'll keep things short by only featuring one of their options down below:
For the 18 oz Aveeno baby lotion:
Amazon: $28
Walmart: $9
Target: $9
Who Is Aveeno For?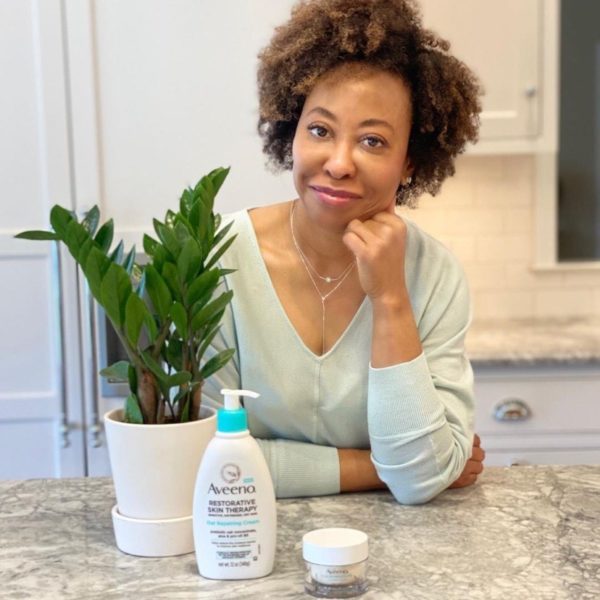 Aveeno is a trusted cosmetic brand favored by thousands of loyal customers. It's an excellent substitute for those unwilling to commit to more expensive options such as Drunk Elephant or Innisfree. Affordable, naturally blended, and considerably sustainable, it's no wonder why Aveeno continues to be a popular choice over the years.
There is no intended demographic for Aveeno, as anybody can use their products. Those diagnosed with eczema and other dire skin conditions may find this cosmetic brand a suitable option.
Aveeno Reviews: What Do Customers Think?
With a company as old as Aveeno, you'd think that 77 years of skincare experience would result in thousands of happy customers. And…they don't disappoint! It seems that the mix of colloidal oatmeal, natural additives, and overall company transparency does wonders in elevating a brand's reputation. Who knew?
To kick things off, this Aveeno review will feature the ratings posted for the company's best-selling products:
The Daily Moisturizing Lotion: 1,294 reviews with 4.7/5 stars
The Daily Moisturizing Body Wash: 221 reviews with 4.6/5 stars
The Oatmeal Bath: 110 reviews with 4.9/5 stars
The Eczema Therapy treatment: 518 reviews with 4.9/5 stars
Aveeno is a hot-pick for many customers, and you don't have to be a skincare enthusiast to understand the hype. From lotions to body washes, their products seemed useful in quelling irritation while providing all-day smoothness. Others found their eczema treatments helpful in relieving itchy skin.
"I bought this a couple days ago," one customer shared for the Eczema Therapy treatment. "The eczema on my face was dry red and my face was swollen. After two days of using this, it was completely gone. My skin has never been this soft."
Since Aveeno is a worldwide fan-favorite, it's only natural for reviews to reside outside of its company website. To keep things easy to read, we'll provide the ratings in point-form down below:
MakeupAlley for the Daily Moisturizing Lotion: 843 reviews with 4.3/5 stars
Amazon for the Daily Moisturizing Lotion: 305 reviews with 4.5/5 stars
ChickAdvisor for the Restorative Skin Therapy Cream: 1,878 reviews with 4.7/5 stars
Influenster for the Baby Daily Moisture Lotion: 7,786 reviews with 4.6/5 stars
According to hundreds of customers, the Daily Moisturizing Lotion did the trick in smoothening dry skin. Its light scent and buttery texture were something to look forward to, at least, for one Amazon user that left a 5-star review.
"I LOVE this lotion. I have dry/sensitive skin and have used different creams and lotions over the years trying to keep my skin hydrated. This really lasts the whole day! My skin has never been softer."
Independent reviewers, such as The Pink Velvet Blog, also left a favorable review of the Aveeno Daily Moisturizing Lotion. "It actually improves skin texture and skin health over time. I am an oily skin person and I still love it purely because it not only moisturizes for that particular moment but heals the skin for real in the long run."
Over the years, Aveeno has gathered its fair share of complaints as well. Some customers weren't too happy with the results; reporting itching, red spots, and a general lack of improvement after using their products. Fortunately, you can take care knowing that these reviews are quite limited online.
Our consensus? Given that the brand is affordable and highly accessible, Aveeno self-care is the way forward.
Is Aveeno Worth It?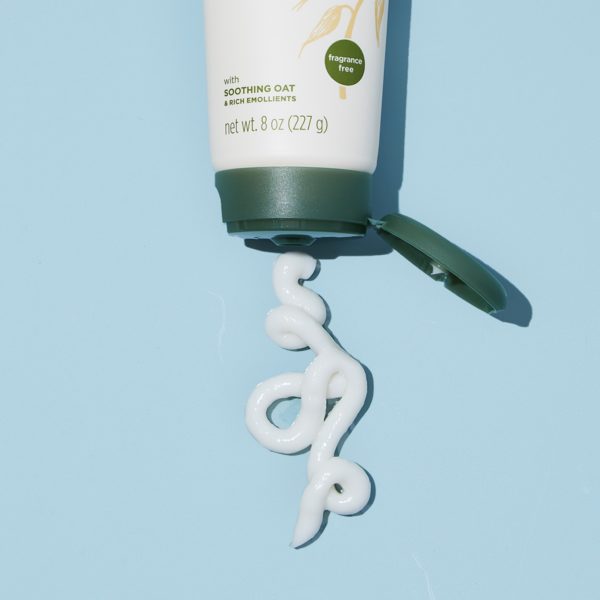 Self-care should never be expensive. Unfortunately, with the onslaught of uber-pricey skincare brands in Sephora, it's relatively difficult to look after yourself. Aveeno, a brand that's been around since the dawn of time, never lets us down.
Price-wise, you don't have to worry about emptying out your pockets. They aren't as chic as some of the leading companies out there, but Aveeno is always reliable.
Nowadays, brands will only cater to normal or combination skin types. Natural ingredients aside, it's always nice to see a company as big as Aveeno making products to treat eczema. All in all, it's a full round of applause for this Aveeno review.
Aveeno Promotions & Discounts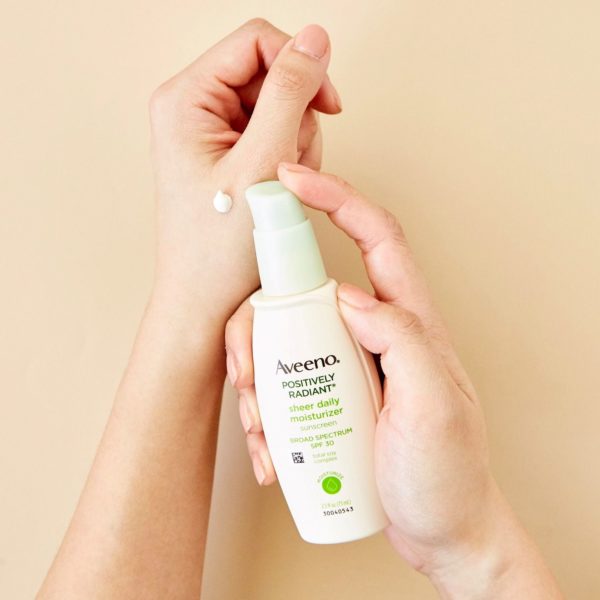 Since you can't buy products off of Aveeno.com, they don't provide any promotions or discounts on their website. You'll need to visit one of their partnered retailers for any news on coupon codes or sales.
Where to Buy Aveeno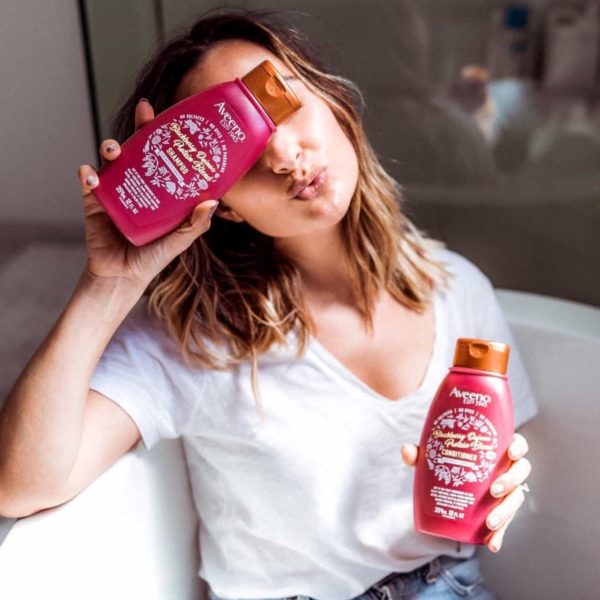 Ran out of moisturizer? Customers can visit one of Aveeno's partnered retailers to stock up on their products:
Walmart
Walgreens
Amazon
CVS Pharmacy
Rite Aid Pharmacy
Shoppers Drug Mart
FAQ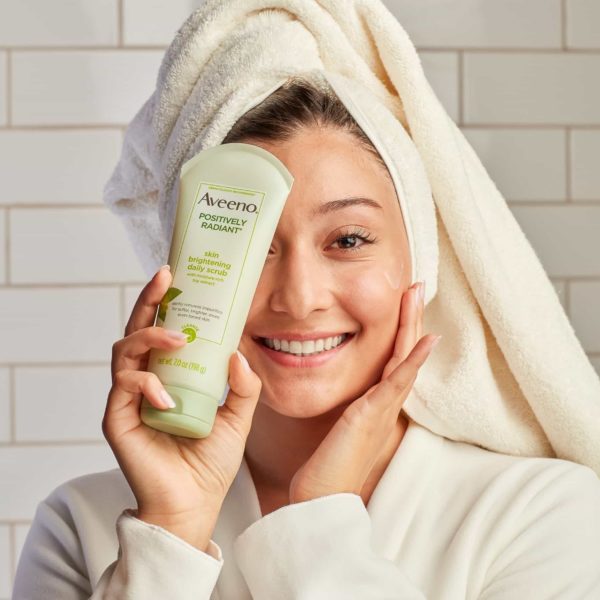 Who owns Aveeno?
Aveeno is currently owned by Johnson & Johnson.
Does Aveeno ship internationally?
Since you can't buy Aveeno products from the brand's official website, they don't have a shipping policy.
What is Aveeno's Shipping Policy?
As this Aveeno review has mentioned previously, the brand does not provide a shipping policy. You'll need to hop over to Walmart, Amazon, or any one of their partnered retailers for details on delivery.
What is Aveeno's Return Policy?
Aveeno doesn't list an explicit return policy, so we suggest following the instructions provided by the retailer you bought their products from. With that being said, they do offer a money-back guarantee for their Calm + Restore skincare line.
To take advantage of this offer, you'll need your original receipt. Afterwards, Aveeno requires customers to fill out a mail-in certificate.