About la Prairie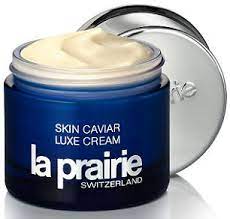 beauty editors, we get bombarded with a ton of new products every day (we know—tough life). Reviewed is a series where we report on some of the best products we've tried. Whether it's a drugstore lipstick that lasted all day or a hand cream that saved us this winter, you'll find all of our favorites in this column. Enjoy!
I've been a La Prairie fan for years. In fact, I've been devoted to the luxury skincare brand for exactly as long as I've worked as a full-time beauty editor—seven years—because I've had gratis access to the products. Admittedly, they're incredibly expensive, and such luxury isn't exactly accessible on a limited budget. So when I was able to score samples, I got hooked. I wax poetic about the brand's Essence-in-Lotion and Absolute Filler because they're the crème de la crème in the skincare industry, but I'm not unaware of the cash it takes to own them.
Here's the thing: La Prairie's products yield favorable, fast results, and they look good while they're at it. That being said, it's not until right this very moment, with this specific formulation, that I've felt as strongly about a product's worth. Enter: La Prairie Skin Caviar Luxe Cream.
Pros
Moisturizes and firms skin
Tones skin
Backed by science
Easy application process
Cons
Price per ounce is expensive
Bottom Line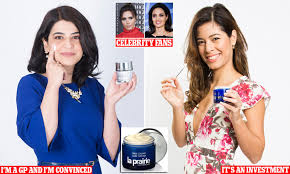 If you're looking to splurge (without looking back), the newest La Prairie offering, La Prairie Skin Caviar Luxe Cream, is the one skincare product to do it on.
About My Skin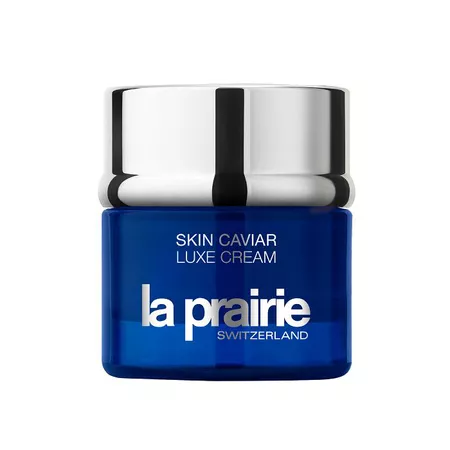 I have experience with La Prairie products, which is why I was so eager to try (and rave about) La Prairie Skin Caviar Luxe Cream. The product is meant to be applied morning and evening, and La Prairie recommends applying after using the Skin Caviar Essence-in-Lotion and serum application.
The Feel
As with any luxury, La Prairie is providing a choice in texture too—a thick, creamy option or one that applies more lightweight and sheer. A sleek spatula is included for application, which helps ensure the freshness of the cream before applying.
Ingredients
Microalgae extract is high in vitamins and antioxidants that lend it various skincare benefits: hydration, brightening, and even reducing the appearance of fine and lines and wrinkles.
After years of research, La Prairie sought out to reinvent its signature Caviar formula with a new incarnation: Skin Caviar Luxe Cream remastered. The luxe packaging, indulgent sensorial experience, and texture are the same. The difference? The skincare brand has included lifting and firming to its remastered formula, using caviar extracts and "caviar mimetics," along with its signature cellular complex, to strengthen and magnify the results. Coined Caviar Premier, the blend of seven active ingredients helps increase elasticity in your skin—including botanical AHAs and vitamins A, C, and E to gently resurface as well as tons of smoothing, soothing moisture from shea butter and sodium hyaluronate (together they increase your skin's water retention to smooth fine lines). Then, the polyglucuronic acid and microalgae extracts come into play to help stimulate your surface skin to increase firmness. As such, this cream helps to actually support your features, offering up a new tautness and suppleness to your skin with continued use. No injections required.
The Results: Firm and glowing skin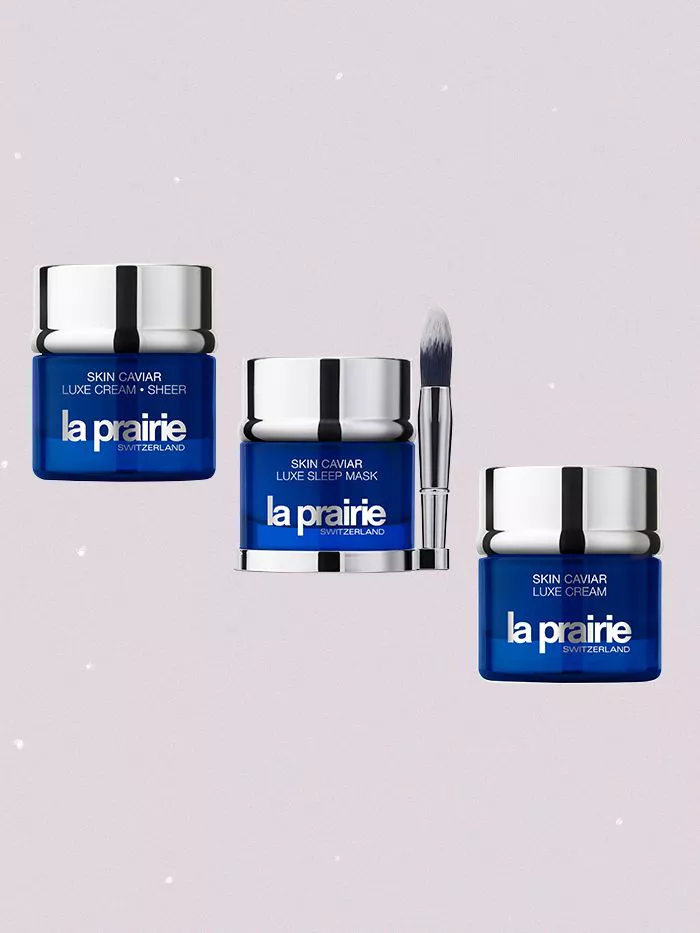 That bliss look above, that was directly after my first application of the cream. You can use it as both a day and a night cream, though I like to do the sheer in the morning and thick come bedtime. The first thing I do each morning is wash with Eve Lom's Cleanser ($80), follow up with SkinCeuticals C E Ferulic ($166) and B5 Gel ($83), and then smooth on this buttery, lovely confection and watch my skin drink it all up. Immediately, you'll notice an otherworldly glow, offering up all the dewy, supple shine you've been missing from your usual moisturizer. Then, over time (for me it was about a week or so), you'll start to watch your skin become more toned, firmed, and lifted.
Immediately, you'll notice an otherworldly glow, offering up all the dewy, supple shine you've been missing from your usual moisturizer.
The Value: A worthwhile splurge
Utilizing caviar science and powerful ingredients that showcase real results, this is a one-of-a-kind luxurious product that you'll be thankful you purchased. At a high price point, it may take some convincing to finally make the purchase, but the results are absolutely stunning. And with ingredients like rich caviar, rare platinum, and opulent gold, the price is somewhat expected. The downside is, if you truly love the product like I do, you'll have to make the purchase more than once.
Similar Products: You have options
SK-II R.N.A.POWER Radical New Age Cream: A lavish skin cream (but priced lower than La Prairie's Skin Caviar Luxe Cream at $235) that will firm skin while reducing the appearance of fine lines and wrinkles.
Dr. Barbara Sturm Face Cream Rich: At $230, this is another luxurious face cream for normal, dry, and combination skin that is packed with skullcap, vitamin E, and Avocadin.
Our Verdict: You won't regret it
It's like a magic trick, only it's very real (and backed by science) with quality ingredients. If you're going back and forth on whether to try this product or or not, let this be your go-ahead to make the purchase. Plus, if you're really looking for exponential results, try its newly reformulated Sleep Mask ($390) as well.
We started Byrdie back in 2013 because, like you, we're pretty obsessed with beauty and style, whether it's testing a new serum for hyperpigmentation, tracking down the best size-inclusive workleisure, or dissecting the real history of cornrows. Our team of award-winning writers and editors have worked for the biggest publishing houses and beauty companies in the business, including Hearst, Condé Nast, and L'Oréal, and are committed to creating an inclusive space that lifts up diverse voices and celebrates the unique beauty found in each of us. Over the years, we've become one of the largest beauty sites on the internet, reaching over nine million readers a month, according to ComScore, with our library of more than 10,000 pieces of content—and it's not all lipstick testing and brow grooming.
At Byrdie, our mission is simple: to celebrate individuality and empower our readers to find confidence, community, and joy through beauty and style. Our hair, our facial features, our bodies: They can reflect culture, sexuality, race, even politics. We believe when it comes to our beauty coverage—from how beauty products are chosen for review to why we write the things we do—the more transparency, the better. That's why we feel it's important to share exactly how we go about doing what we do: from how we create our content to who's behind it and more.
So click around. Stay awhile. We hope to make you feel inspired, joyful, comfortable, and confident.
Editorial Guidelines
Click here for our full editorial guidelines and standards.
Click here to learn more about our Beauty & Wellness Review Board.
Click here for our policies and processes surrounding product recommendations.
Click here for legal information, like our terms of use, privacy policy, and advertiser guidelines.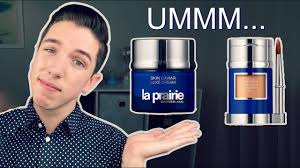 Diversity Pledge
Diversity and inclusivity are at the heart of everything we do. We promise to be upfront and transparent with the actionable steps we're taking to make diversity, inclusivity, and representation our number-one priority. Click here to see our Diversity Pledge in its entirety.
If you have any questions or comments, please reach out to us by emailing [email protected]
The Byrdie Editorial Team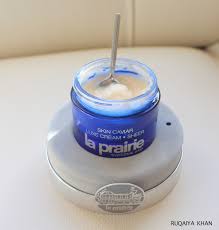 The Byrdie editorial team has one goal—to help you live your most beautiful life. We've spent years meeting with the biggest brand founders, top trend analysts, and countless board-certified physicians to help you sift through the excess and discover the products and advice that actually work. You can always count on us to deliver industry news with depth, de-bunk the latest wellness fads, and keep the beauty dialogue open and engaging.