About Spiritual Gangster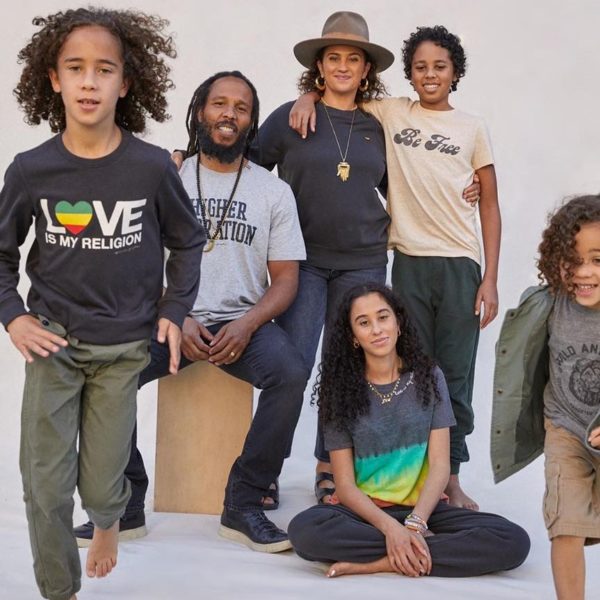 Spiritual Gangster is a spirited, yogi-inspired apparel brand with a heart of gold. Its collection for men and women features uplifting graphics, inspired patterns, and comfy classics.
The brand has been the center of attention pretty much from its inception. It has landed recent features in Pop Sugar, The New York Times, and earlier this year in Billboard for its collaboration with The Grateful Dead.
It actually comes as no surprise that the brand has 777k followers on Instagram, a number that's regarded in the spiritual community to symbolize completeness, perfection, or blessings.
Think of this Spiritual Gangster review as a friendly guide walking you through vital information, giving you insight on the brand and its bestsellers, and filling you in on promotions to help you save a few bucks. We'll cover a bunch of other stuff too, all to help you figure out if its vibe matches yours.
Overview of Spiritual Gangster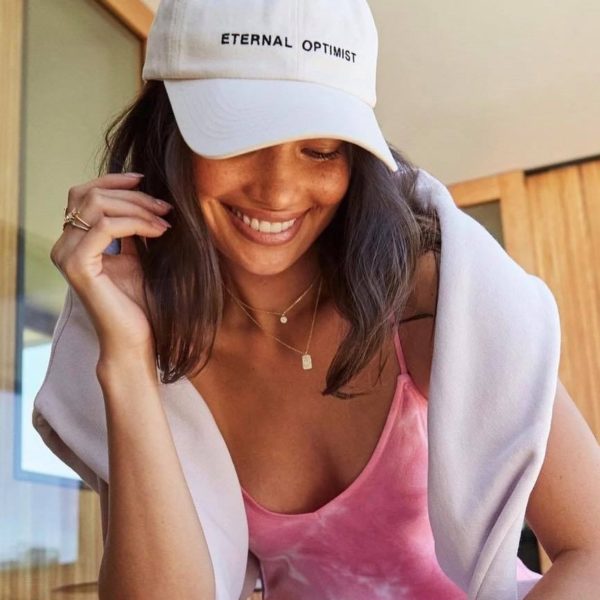 Do you remember when athleisure became a thing? It was probably around the time when women started wearing leggings as pants—something that seemed inappropriate at the time, but now just feels right.
Back in 2011 when Spiritual Gangster was created, workout wear was dull and surprisingly unfriendly. Buttery fabric was nowhere to be seen, nor was flowing, backless tanks, and fun, flattering bras.
Before its creation, its founder, Vanessa Lee owned a yoga studio with her husband and taught classes. What made the pair's studio so alluring was that Lee's classes were taught to hip-hop—the key element that eventually led to the brand's creation.
When Lee taught, she noticed that more and more members started to wear regular clothes instead of traditional sportswear. The world of yoga clothes hadn't quite taken off yet, and Lee saw an opportunity. After a class member called her a "spiritual gangster," she put the phrase on a shirt, eventually made more, and sold them within her studio.
The brand's mission "is to inspire positivity, generosity, kindness, and connectedness," so that everyone, everywhere can be "happy and free"—some pretty powerful words that carry through in its apparel, as well as the charitable practices the brand adopted.
Each item that sells on the brand's website is matched with a meal that is donated to someone in need through its partnership with Feeding America. It's also worked with the Cambodian Children's Fund, Make-A-Wish, and the Phoenix Children's Hospital
Now that you know a little more about the brand and its heart, this Spiritual Gangster review will move on to its pros and cons before heading into its flowing apparel.
Pros
Variety of styles for men and women, such as tanks, tees, sweaters, and more
Gives back to people in need
Spiritual Gangster Sale section
Tons of promotions & ways to save
Ships around the world
Free US shipping options
Free US returns
Cons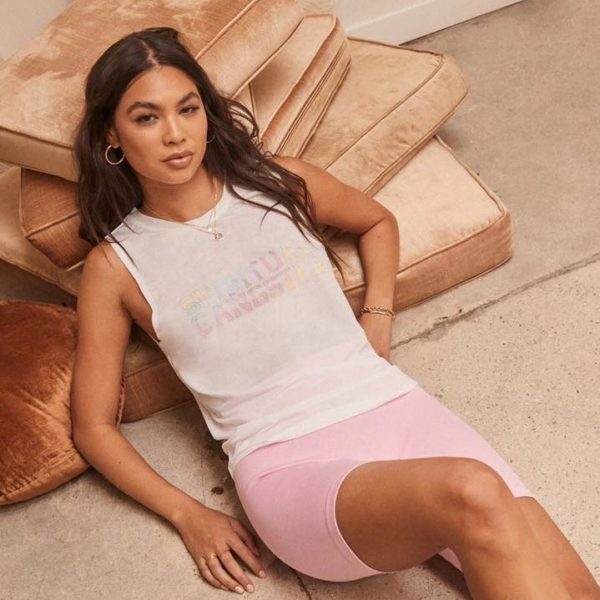 The brand's collection reflects what it desires its customers to be: happy and free. Flowing through its radiant collection is positive colors and phrases, flattering cuts, and supremely comfortable fabrics.
It carries quite a few different styles of tops and bottoms for guys and gals, and in the next section of this Spiritual Gangster review, we'll feature quite a few of them. Whether that's men's performance tees or groovy, rock-worthy leggings, you'll find it all here.
Spiritual Gangster Clothing Review
Ahead, this Spiritual Gangster review will take you on a journey through the brand's best-selling clothing for men and women. Let's kick things off with one of its fierce graphic pieces, the Warrior Crop Tank.
In terms of sizing, most of the company's pieces are offered in XS-XL. But, some products, such as leggings, come in XS/S and M/L.
Spiritual Gangster Warrior Crop Tank Review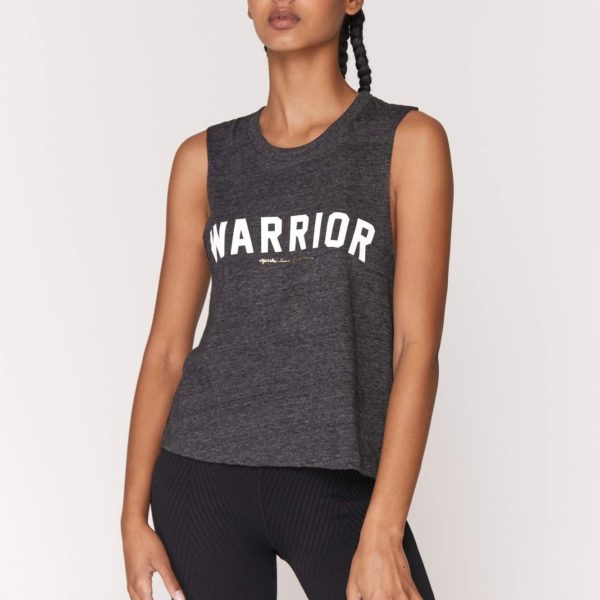 Let the world know you're in it to win it with the Spiritual Gangster Warrior Crop Tank. With a non-restrictive crew neck and loose armholes, you're free to move how you please as you tackle whatever your day or workout throws at you.
This Spiritual Gangster tank top is made from a soft, dark grey jersey fabric with a "WARRIOR" graphic displayed proudly across the front. It would look striking paired with black bicycle shorts, or maybe you'll want to throw in some color for a little attention-grabbing contrast.
Grab the Spiritual Gangster Warrior Crop Tank for $48.
Spiritual Gangster Logo Tee Review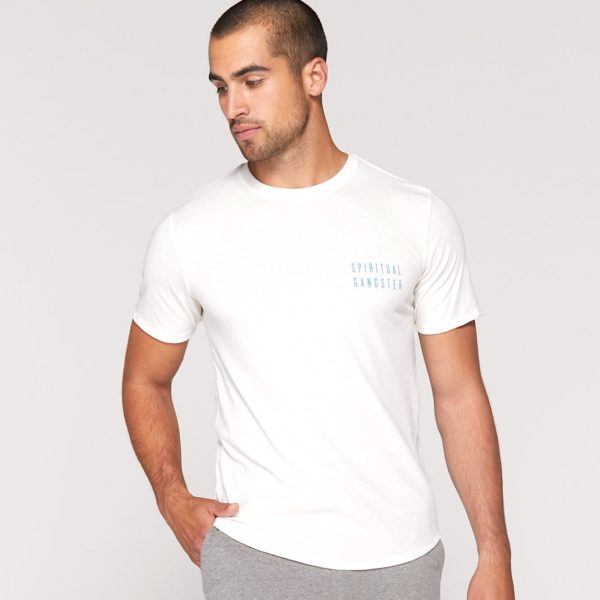 This Spiritual Gangster men's tee has a beachy, airy vibe about it. It's like your basic white tee but elevated with light blue graphics on the front and back. The brand's logo is displayed on the left front chest, while a circular design flows on the back.
This Spiritual Gangster t-shirt is made from something the brand calls "Namaste Dry." This fabric is a cotton-polyester blend jersey material that wicks away moisture to keep you cool, calm, and collected during handstands or hardcore sequences.
Challenge yourself in the Logo Tee for $58.
Spiritual Gangster Grateful Old School Pullover Review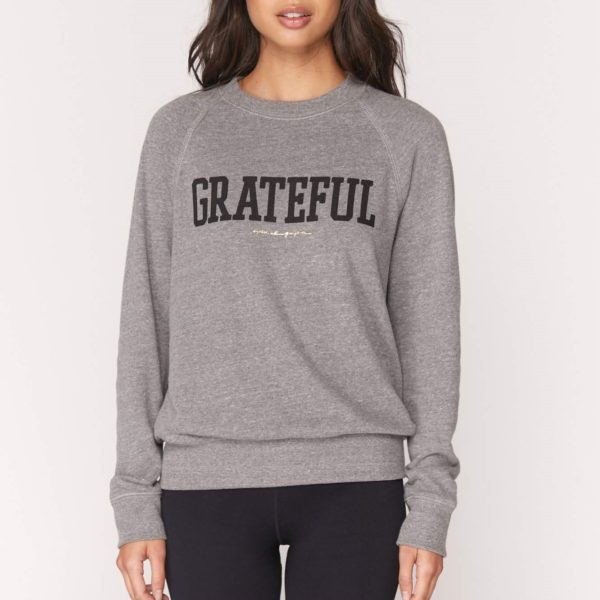 One more reminder to be grateful never hurts, right? The Spiritual Gangster Grateful Old School Pullover helps you express gratitude for all the wonderful things you have in your life, like this cool sweatshirt.
It has a vintage fit with its ribbed crew neck and raglan sleeves. But, its slim-fit, hip-hitting nature is more modern and would look awesome tucked under a black faux-leather jacket.
Give the Universe a shoutout in the Grateful Old School Pullover for $88.
Spiritual Gangster Amor Crop Tank Review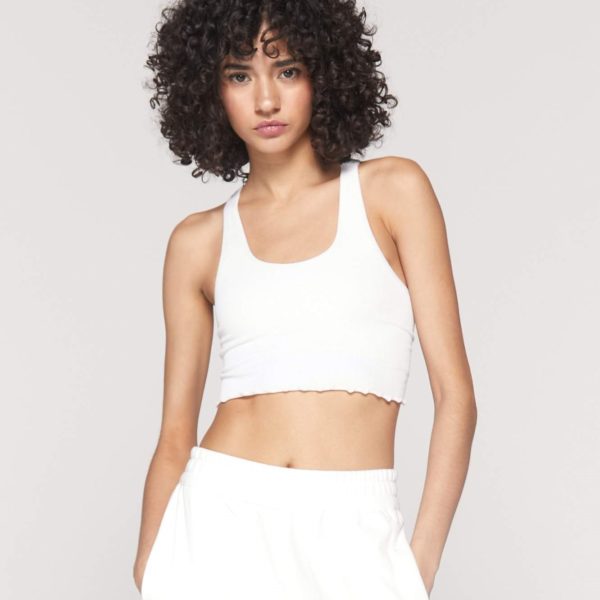 Paired with high-waisted leggings or jeans, crop tops are summer's perfect companion. But, throw on a flowy sweater and you have yourself a fantastic fall favorite.
Offered in 15 colors, the Amor Crop Tank features pleasant prints. The Spiritual Gangster shirt has got a body-hugging fit except for the hem that's just a teeny, tiny bit looser, and has a wavy, lettuce trim that's so trendy right now.
Whether you choose classic white or one of the whimsical tie-dye patterns, get the Amor Crop Tank for $68.
Spiritual Gangster Stay Rad Skye Hoodie Review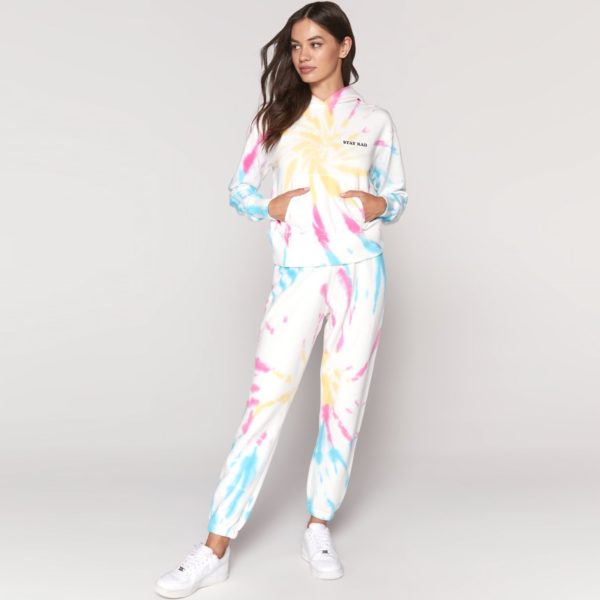 Hoodies are everywhere, but a good one is hard to come by. You know, the one that actually compliments your body instead of making you look like a blob (as if you could!), isn't too hot or constricting, and all the while is super cute. Well, you may have just found it.
The Spiritual Gangster Stay Rad Skye Hoodie is made from small loop French Terry meaning it's soft and light. The fabric has been shrunken, giving it a close, form-flattering fit that takes you from lounging to breakfast with your besties at your favorite diner.
A large kangaroo pouch helps you stay organized, so you can pile in your keys and wallet while you're on the go. Meanwhile, the tie-dye print and "stay rad" graphic helps you give everyone a friendly reminder.
Because it's part of the Endless Summer Sale, you might want to pick up this pretty Spiritual Gangster hoodie before it's gone, for $62 (normally $128) plus an extra 30% off at checkout. Deals on deals.
Spiritual Gangster Lodo Men's Tee Review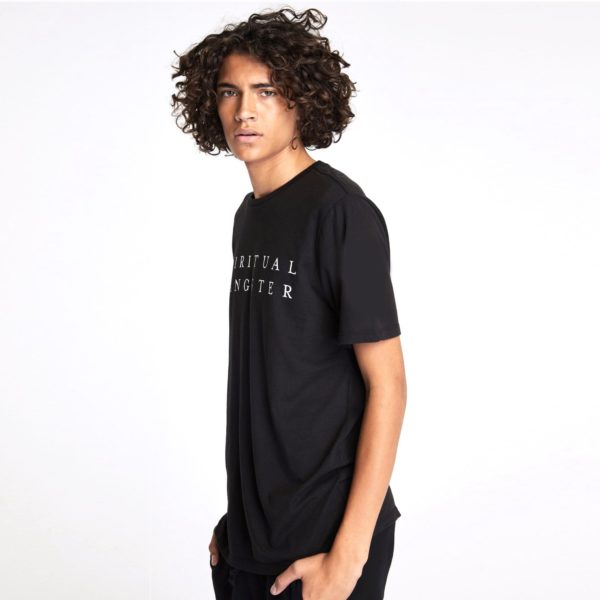 The material of a shirt really makes a difference. It's what makes it the shirt you reach for every day instead of the one shoved at the back of your drawer.
The Spiritual Gangster Logo Men's Tee looks like a plain black tee with white lettering, but it's really so much more. It's made from a buttery soft cotton jersey material with a loose fit that hangs but doesn't look baggy.
Made in LA, add this Spiritual Gangster Tee to your favorites drawer for $39 and get an extra 30% off at checkout. It's usually $48.
Want something a little more breezy? Try looking for a Spiritual Gangster muscle tank.
Spiritual Gangster Warrior Classic Crew Sweatshirt Review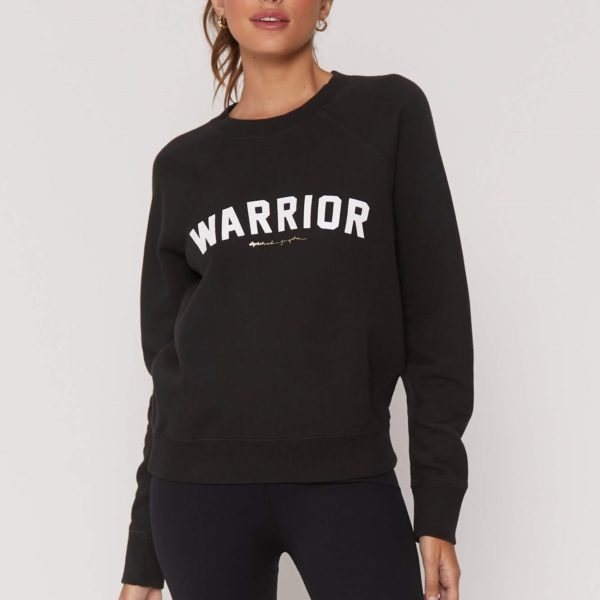 If you love the Warrior Crop Tank for the summer, then the Spiritual Gangster Warrior Classic Crew Sweatshirt is a no-brainer for the winter. All black with white lettering, this crewneck sweatshirt streamlines to your natural shape and shows off cool detailing like a cuffed neck and hem.
Made from 100% cotton, this Spiritual Gangster sweatshirt is $88.
Spiritual Gangster Grateful Dead x SG Seamless Leggings Review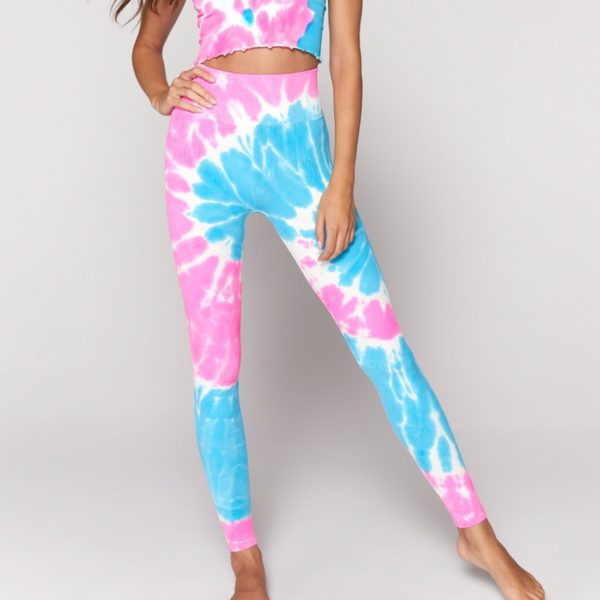 Another stunner in the Endless Summer Sale, the Spiritual Gangster Grateful Dead x SG Seamless Leggings feature a spacey, pink and blue tie-dye pattern that's signature for the California-based rock band.
With Spiritual Gangster's ribbed seamless fabric, these soft, nylon leggings are a burst of light and a celebration of eclectic style. Wear these puppies for low-impact activities like yoga or walking.
Pay an ode to the classics in these killer leggings for $70 (was $130) and then take an extra 30% off.
If you're looking for something a little less form-fitting, try some Spiritual Gangster sweatpants.
Spiritual Gangster Namaste Pom Beanie Review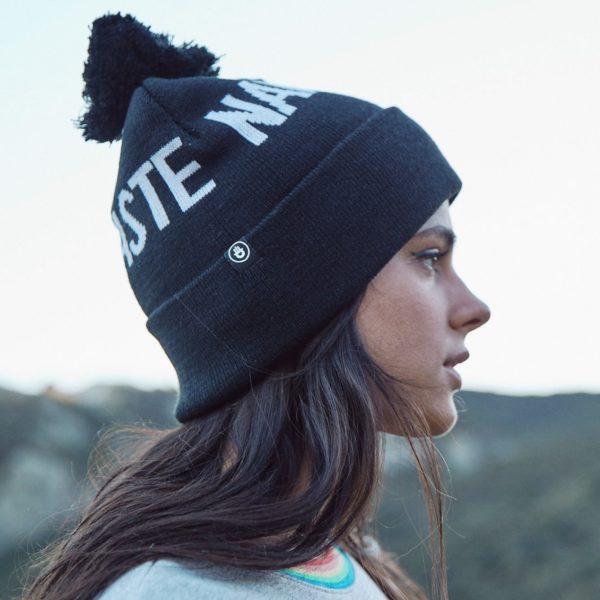 In the winter, yogis take their practice inside, but they still may want to rep it outside. The Spiritual Gangster Namaste Pom Beanie lets you show off your peaceful nature while keeping your head nice and snuggly.
Made from ultra-soft acrylic, this black Spiritual Gangster beanie goes both ways for men and women. Get it for $24 plus an additional 30% off—it's normally $35.
Is Spiritual Gangster Ethical?
From afar, Spiritual Gangster looks to be an ethical company, but we couldn't find any information about its labor practices. While its clothing is not guaranteed to be ethically made, the brand does put a heavy emphasis on the way it gives back to people in need.
For every item that the brand sells, it donates one meal to someone who needs it. So far, Spiritual Gangster has donated over 11 million meals.
Is Spiritual Gangster Sustainable?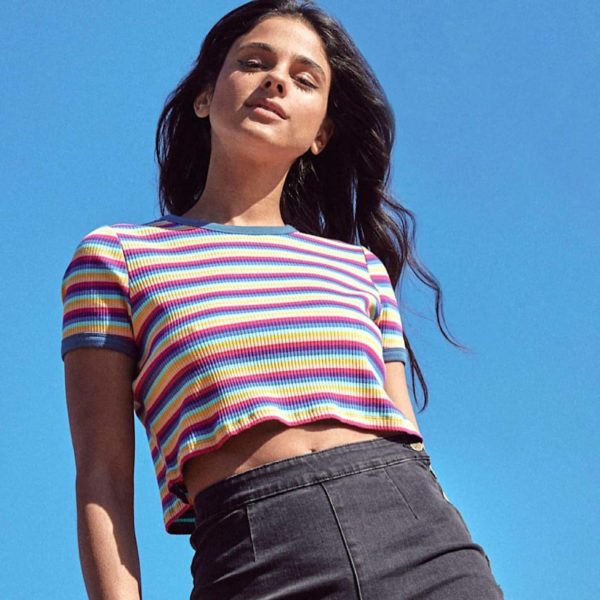 Google this phrase and the search engine will tell you the brand is sustainable, and yet, Spiritual Gangster doesn't mention if it is or not on its website. After some digging, we didn't find that the brand states exactly how it's sustainable, but with that in mind, it doesn't claim to be either.
Who Is Spiritual Gangster For?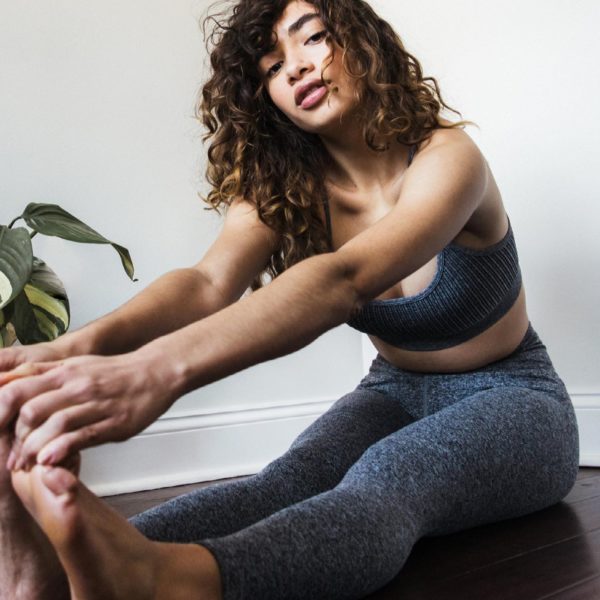 Spiritual Gangster is an active apparel line inspired by yogis, athletes, musicians, and artists. It certainly appears that it's targeted towards those folks as well, and has been said to be Coachella-approved for its spirited designs and graphics.
With a flattering, comfortable fit, the brand's clothing has a younger feel to it but there's no reason it can't be worn by free spirits in their 70s and 80s!
We should also note here that there is no Spiritual Gangster kids section, so this line is specifically for adults.
Comparison: Spiritual Gangster vs. Lululemon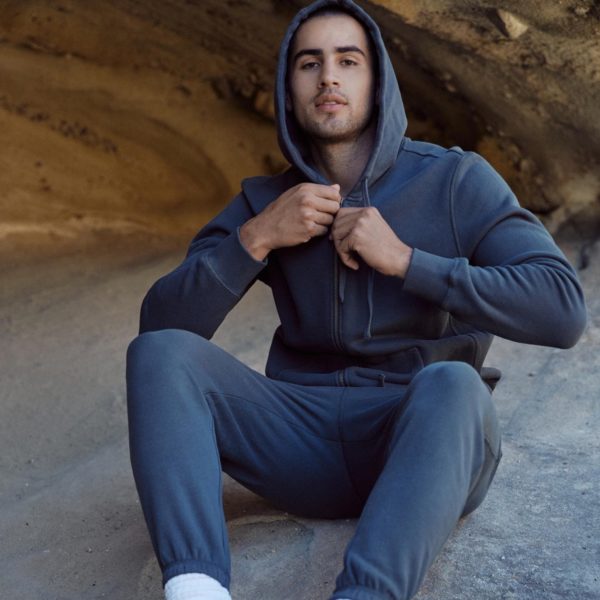 Throughout this Spiritual Gangster review, we couldn't help but draw a comparison between our featured brand and Lululemon.
If you're new to the Vancouver-based yoga apparel company, just know that it's loved for its buttery fabric, functional performance gear, and flowy, chic styles that many live in regardless of whether they work out or not.
Lululemon takes inspiration from yoga, but also has a huge selection of gear for running and general everyday activities. Like our featured brand, you'll find men's and women's apparel, along with a variety of styles from flowy and loose to tight and form-fitting.
What sets Spiritual Gangster apart is its graphics, adding funky flare to its shirts and sweaters, along with brighter, funnier patterns. Lululemon has some nice colors too, but in terms of patterns, it tends to stick to the basics.
As for price, we'd say our featured brand is on par, but Lululemon might be just a tad pricier. Let's take a look at two similar products, one from each brand, to see how they compare.
Spiritual Gangster Icon High Waist Leggings:
7 colors
Sizes: XS/S or M/L
Fabric: Nylon, spandex
$100
Lululemon Align High Rise Leggings:
19 colors & patterns
Sizes: 0-20
Inseam: 3 options
Fabric: Nulu (nylon, Lycra)
$100-$120
It's no secret that Lululemon has a wider selection—it's a much bigger brand! It's come very far in its sizing journey, once offering sizes only up to 12. We hope that as Spiritual Gangster grows, it too will expand its sizing and inventory list.
Spiritual Gangster Reviews: What Do Customers Think?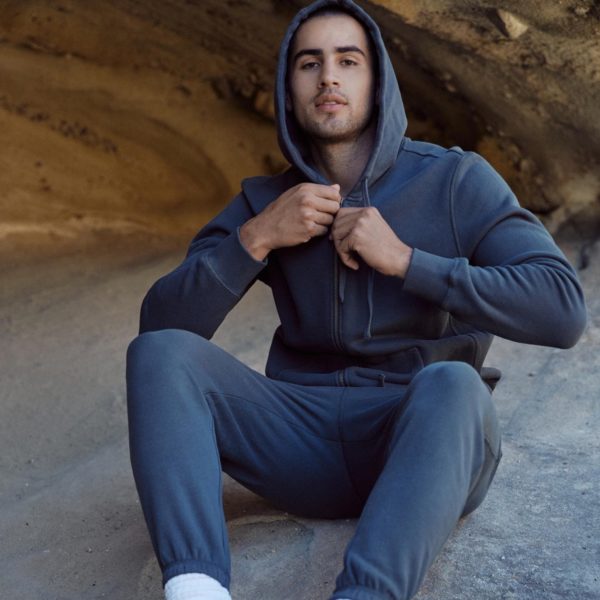 The fabrics, cuts, and colors the brand uses are uber-appealing, but looking is one thing while wearing is an entirely different experience altogether. Since this is a Spiritual Gangster review, hearing from customers only makes sense, which is why we'll consult quite a few in this section.
Starting with the brand's website, below you'll see a little list full of ratings for some of the company's bestsellers. It's there to give you a general feel for how its apparel is enjoyed by customers, but it's only a tiny peek into what the brand has to offer.
Namaste Pom Beanie: an average of 5/5 stars from 19 reviews
Warrior Classic Crew Sweatshirt: an average of 5/5 stars from 8 reviews
Amore Crop Tank White: an average of 5/5 stars from 12 reviews
Warrior Crop Tank: an average of 5/5 stars from 7 reviews
Icon High Waist Legging: an average of 5/5 stars from 2 reviews
We chose to take a closer look at the Amore Crop Tank in White to see what customers had to say about its quality and fit. Buyers write of soft and stretchy fabric and a great fit.
One Spiritual Gangster reviewer remarked on how it was "so soft and flattering." Others say it's a great workout top which is beneficial for us to read because it means it holds up well to sweat and allows for movement.
Craving more information, we headed to Schmiggy.com for a Spiritual Gangster review of the High Vibe Rainbow Stripe Leggings.
The reviewer gave the leggings an overall score of 7.2/10 and the following breakdown:
Quality: 8/10
Performance; 7.5/10
Sizing: 6/10
Support: 6.5/10
Comfortability: 8/10
Of the fabric, the review told of a "flattering, compressive fit" and one more pro that this Spiritual Gangster review just had to include, their opacity. No one likes see-through leggings, so happily, the reviewer reported these ones are "100% opaque."
We were surprised that this well-known brand doesn't have many online reviews. Its Trustpilot page has just 4, it doesn't have a BBB account, and one-off items only show between 2-8 comments per piece.
We'll assume the phrase, "no news is good news" applies here, but before we head on to the next section, we'll give you just one more source.
This comment is from Reddit and we found it to be super helpful in terms of quality. It reads, "I love their sweatshirts – seem to hold up really well for an active lifestyle." If you're active, then you know quality matters. Not any shirt will translate well, nor can it hold up to constant washing.
Though we were unable to find a ton of feedback, what we did find was beneficial in helping us see the quality and fit of the brand's apparel. What did we learn? When in doubt, size up, and get excited about dreamy, durable fabrics.
Is Spiritual Gangster Worth It?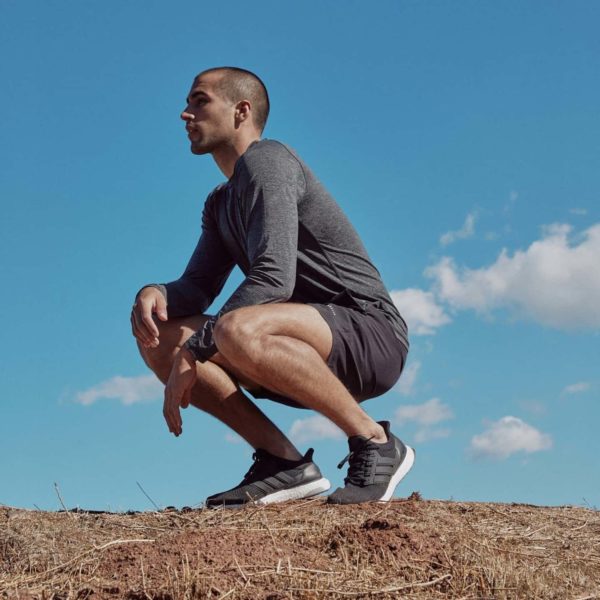 Spiritual Gangster clothing is a brand with a big heart and we're digging its fabric, fit, and the way it gives back to communities in need. Its prices are pretty good and it has killer sales.
In our search for feedback, no serious or common issues popped up, there was seldom an unhappy customer, and when there was, a customer service rep offered to make things right.
With all things considered, we think the brand's apparel is worth it, but just remember to keep sizing in mind. If you're unsure, check out the size charts included in the FAQ section of this Spiritual Gangster review.
Spiritual Gangster Promotions & Discounts
By now, you already know that the brand has a rad sale going on, but it also has a few other spectacular deals kicking around on its site.
Throughout this Spiritual Gangster review we kept a lookout for any that popped up, here's what we discovered:
Get 15% off when you sign up to the mailing list, plus more info on any future Spiritual Gangster coupon code offered
Sale section with up to 75% off
Endless Summer Sale offering an extra 30% off at checkout + 3x the points for Good Karma Club members
Good Karma Club: shop to earn, then redeem
Get 100 points just for signing up (that's a $10 coupon!)
Where to Buy Spiritual Gangster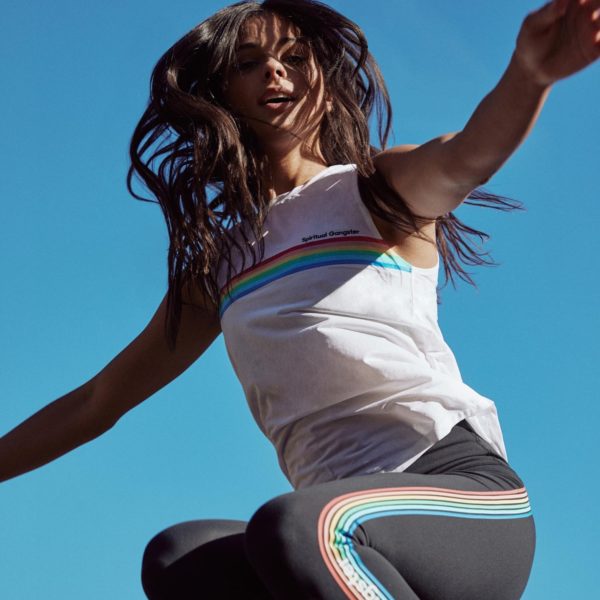 We always say the best place to buy a brand is directly from its website… which is exactly what we'll say to you again, right now. It only makes sense when a brand (like this one) has a ton of deals and a loyalty program, so head to SpiritualGangster.com if you're interested in what you've seen so far.
If you're a rebel by nature and don't want to take the word of the wise, then don't fear, we've included a few other places below where you'll be able to shop for its apparel.
We'll also admit that one of the perks of shopping outside the brand's website is that you'll be able to find discontinued items, like the Spiritual Gangster Maya Kimono that's now only on Amazon. Other options include Shopbop, Nordstrom, YogaOutlet, Carbon38, and Neiman Marcus.
FAQ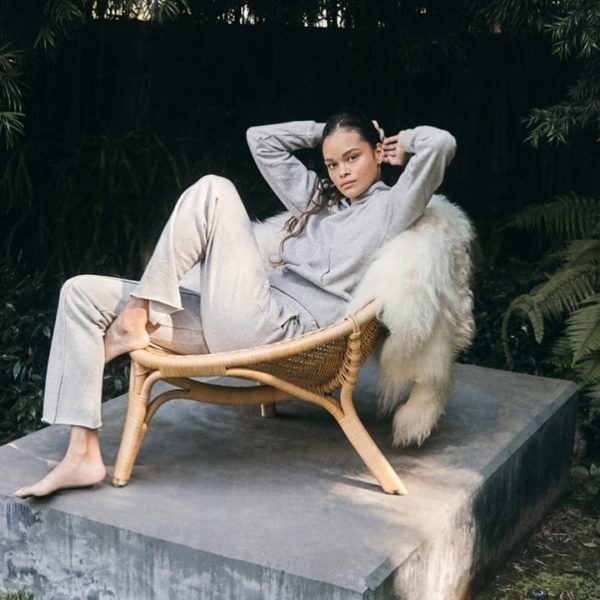 Who owns Spiritual Gangster?
Vanessa Lee and Ian Lopatin own Spiritual Gangster.
Where is Spiritual Gangster based?
The brand is headquartered in Irvine, California.
Where is Spiritual Gangster made?
Spiritual Gangster's apparel is made in the USA and overseas, though it doesn't specify where.
Certain items that are made locally will state so on their product pages. We came across a few in this Spiritual Gangster review that said they were made in LA.
Does Spiritual Gangster run small?
Quite a few women have found that the brand's leggings run small. Certain ones say that the tops are fine, as well as the sports bras, it's just the women's leggings that pose a fit issue.
If you'd like to read up more about the brand's sizing, take a peek at the size chart.
What is Spiritual Gangster's Shipping Policy?
It looks like Spiritual Gangster ships all over the world. If you don't automatically land on your country-specific version of the site, at the bottom of the webpage you can scroll through the country list until you find yours.
The company won't show you extract shipping quotes and options to your location until checkout, but for continental US-based customers, we have a few details for you:
Standard Shipping is free for orders over $50
Express 2-Day Shipping is free for orders over $150
Standard shipping times are about 7-10 business days. Processing times are 2-4 business days.
What is Spiritual Gangster's Return Policy?
The brand has two different return methods, one for domestic orders, and the other for international. We've listed both below:
Domestic
You have 21 days to return your order
It must be in its original condition with the tags attached
Head to the Returns Portal and enter your order number and shipping zip code
International
You also have 21 days to start your return
Be sure your item is in original condition with the tags attached
Email [email protected] with your order number, name, and reason for return
You'll receive an RMA number
You'll be responsible for shipping the item back, but make sure you include the RMA number with your package