T-Mobile Review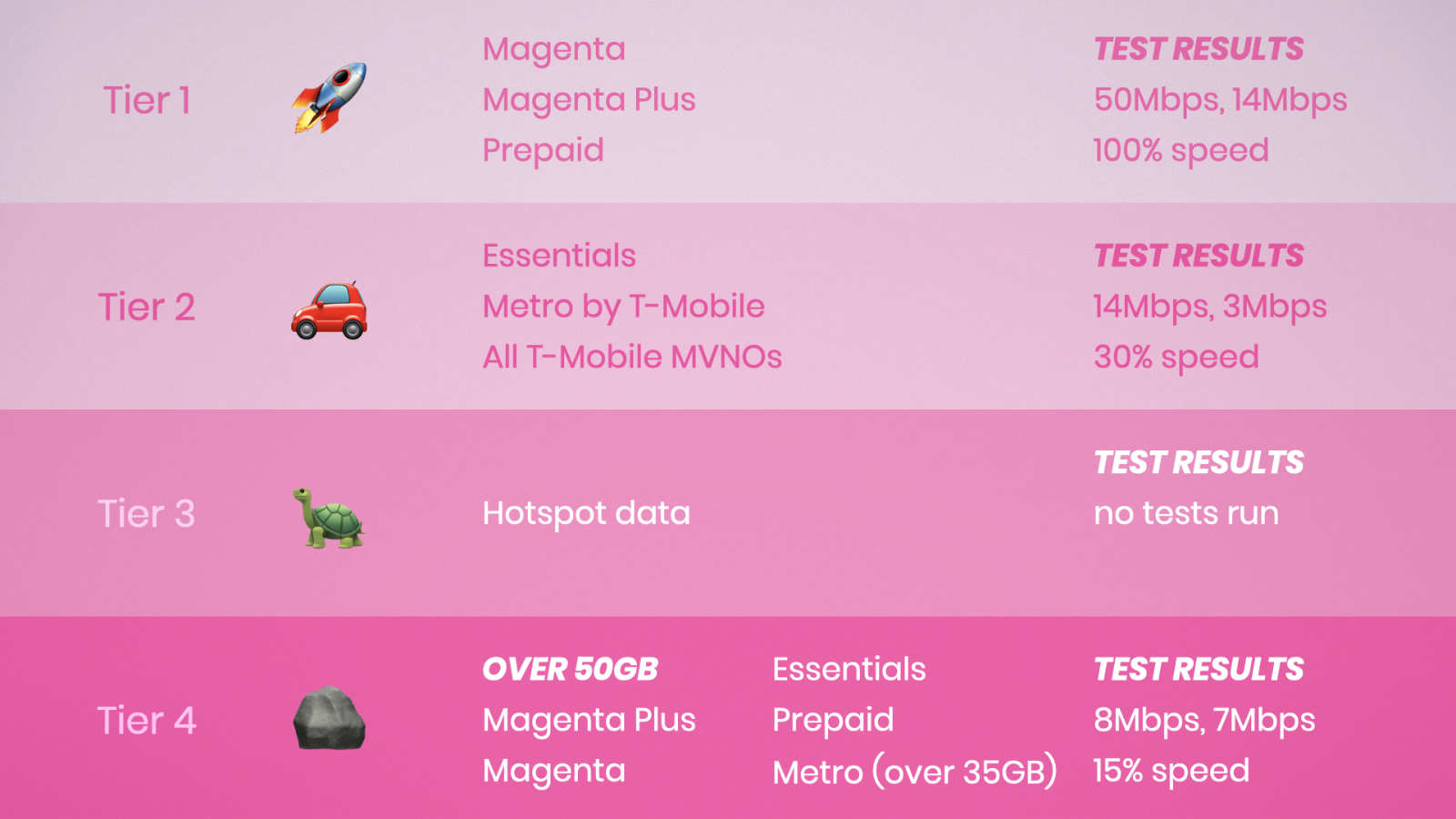 In this T-Mobile review, I'll explain the differences between T-Mobile's plans, compare them with the plans from Verizon and AT&T, talk about my experience using the T-Mobile network, show you the mobile app and online account dashboard, and ultimately answer the question: "should sign up for T-Mobile in 2021?"
Hi, I'm Stetson, and I review cell phone plans.
I designed and built BestPhonePlans.net to help people find and compare plans, and my goal is to help you reduce your cell phone bill by finding an affordable plan that meets your needs.
For this T-Mobile review, I signed up for both T-Mobile Essentials and T-Mobile Magenta Plus to see what T-Mobile's entry-level and most premium plans had to offer.
Let's jump into it.
T-Mobile's Plans Compared
T-Mobile offers three plans to choose from: Essentials, Magenta, and Magenta Plus.
T-Mobile Essentials
T-Mobile Essentials is the cheapest plan, starting at $60 per month. It includes unlimited data, but the data is
deprioritized. This means that anytime the T-Mobile network is busy, Essentials customers will have slower speeds than Magenta and Magenta Plus customers.
How much slower, and will you notice a difference? I'll answer that in a minute.
The Essentials plan also includes unlimited hotspot data at 600Kbps, 480p video streaming, and data roaming in Canada and Mexico at 128Kbps.
Unfortunately, there is no international data roaming, no GoGo in-flight WiFi or texting, no Netflix for multi-line accounts, and taxes and fees are extra.
T-Mobile Magenta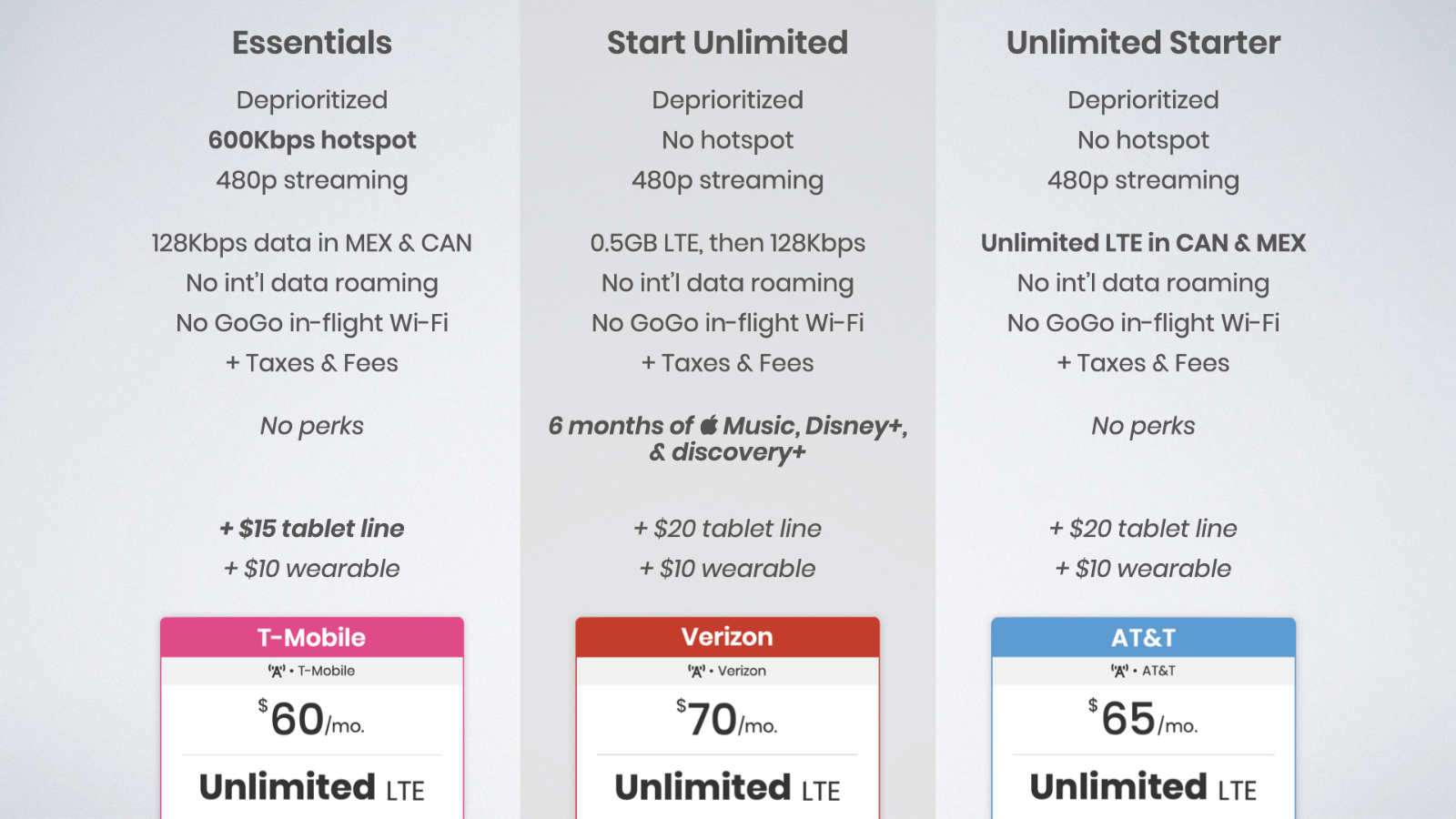 It includes 50GB of priority data, 3GB of high-speed hotspot data before unlimited hotspot data at 600Kbps, and 480p video streaming.
You also now get the 1 screen standard definition Netflix Basic plan included for multi-line accounts, 5GB of high-speed roaming data in Mexico and Canada, international data roaming at 128Kbps, and one hour of in-flight Wi-Fi and unlimited texting on Go-Go enabled flights.
And all this with taxes and fees included in the $70/month price.
T-Mobile Magenta Plus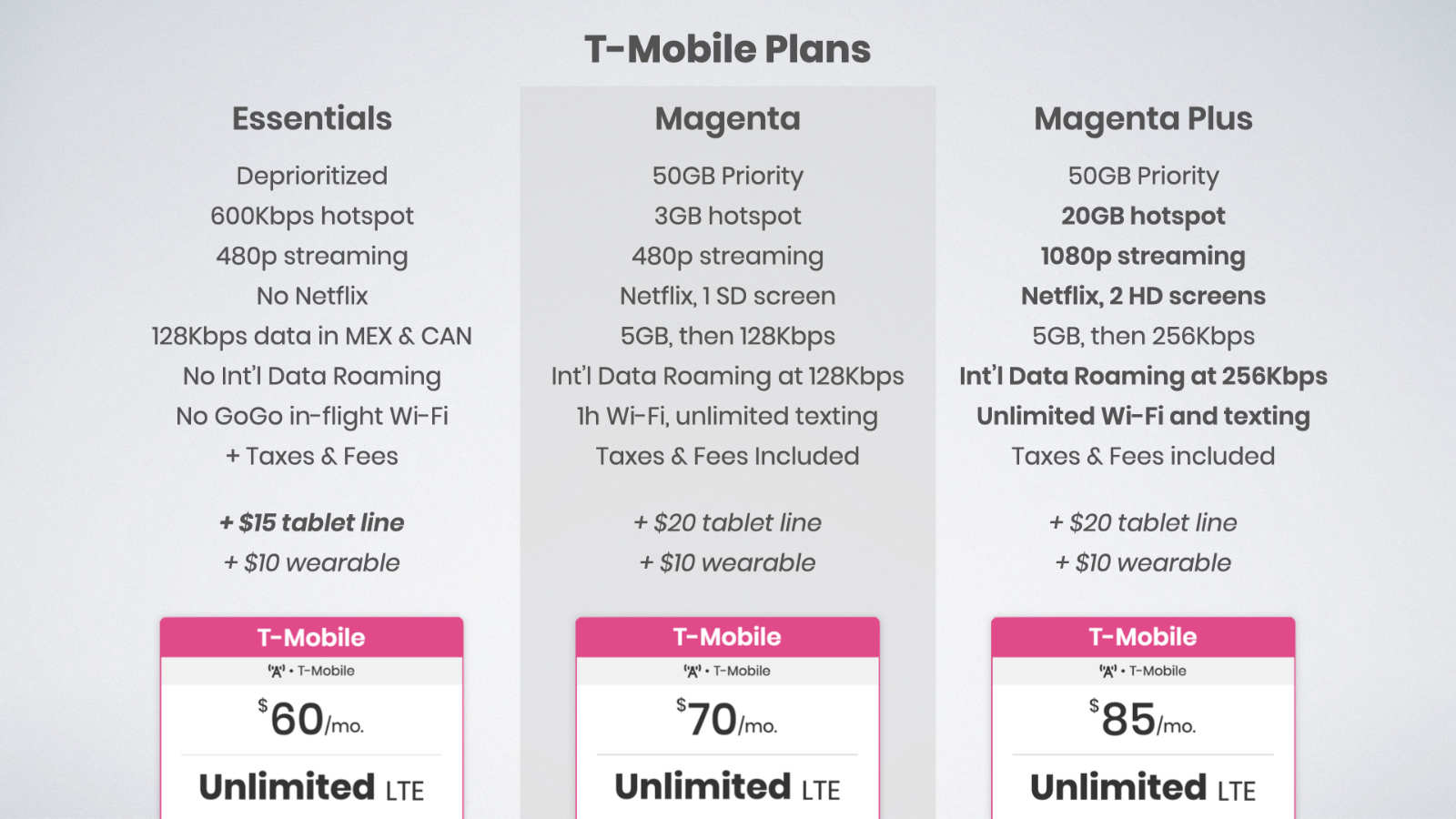 Magenta Plus is the most premium plan T-Mobile offers.
It includes the same 50GB of priority data as T-Mobile Magenta, but it increases the hotspot data to 20GB, improves streaming quality to 1080p, bumps up the Netflix plan Netflix Standard (which is 2 screens at HD quality), doubles the international data speeds to 256Kbps, and gives you unlimited Wi-Fi and texting on GoGo enabled flights.
And Magenta Plus similarly includes all taxes and fees in the $85/month price.
Magenta vs Magenta Plus: What's the difference?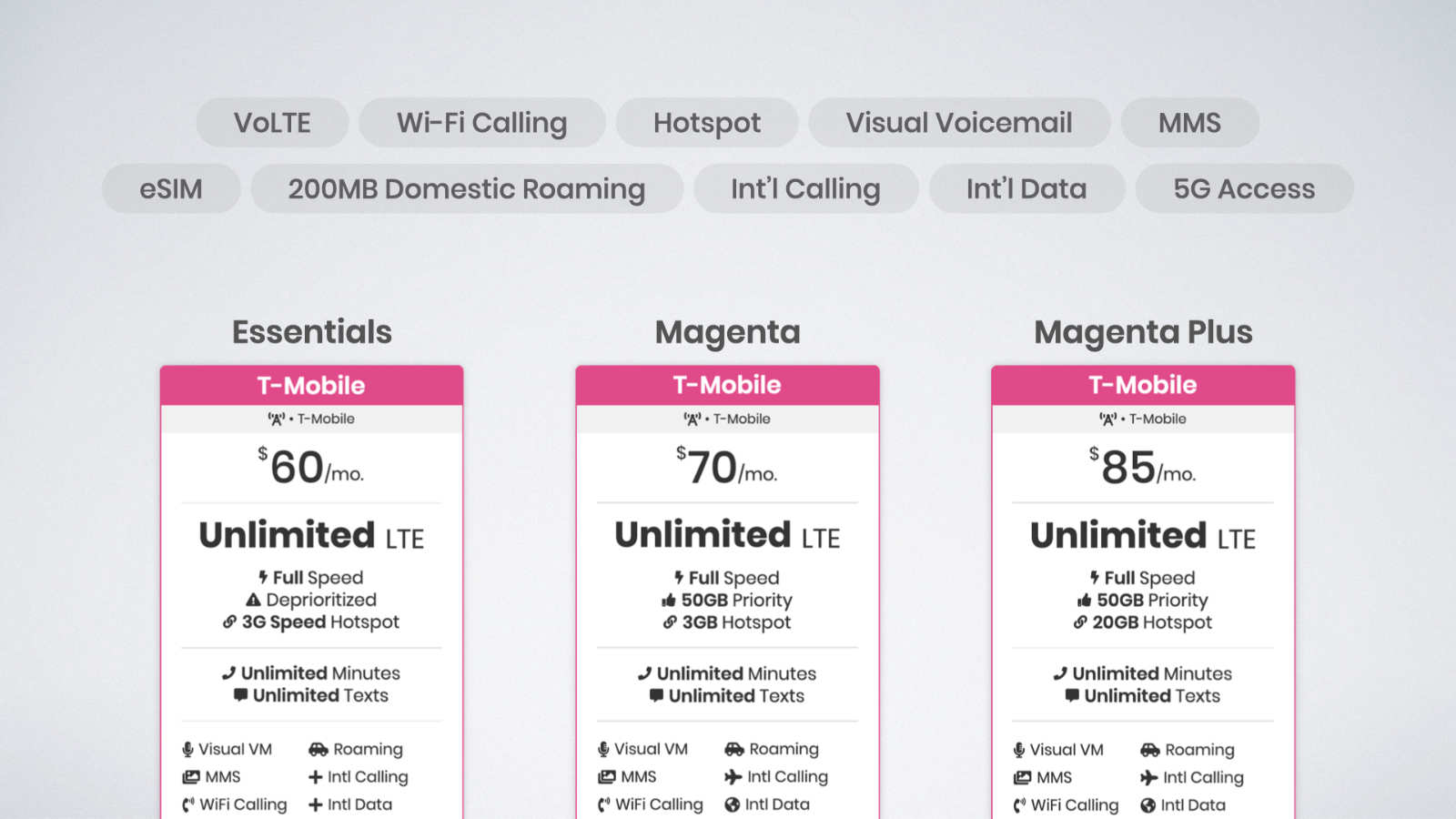 It turns out Magenta Plus is basically the same as the Magenta plan, but with the PlusUP add-on already applied.
The PlusUP add-on offers the exact same features as Magenta Plus, including the extra hotspot data, HD streaming, and international roaming speeds.
The benefit of going with Magenta Plus is that the PlusUP add-on is bundled with your service, making the PlusUP add-on eligible for multi-line discounts.
For example, four lines of Magenta with the PlusUP add-on would total $50 per line. With Magenta Plus, you'd pay just $43 per line and save $336 per year.
The other benefit to Magenta Plus is you get the Netflix Standard plan with 2 HD screens, which is a separate $4 add-on for Magenta customers.
For single-line users, I suggest you get the cheaper Magenta plan and purchase the PlusUP add-on only when you need it.
For multi-line plans, it comes down to how much you'd use the extra hotspot data and the 2x international data roaming speeds.
Keep in mind that all lines on a T-Mobile account need to be on the same plan––there's no mixing and matching like there is with Verizon and AT&T––so the choice of going with Magenta Plus over Magenta ends up being a $384 per year difference for four lines ($1,680 for four lines on Magenta vs $2,064 for four lines on Magenta Plus).
Adding Tablet and Smartwatch Lines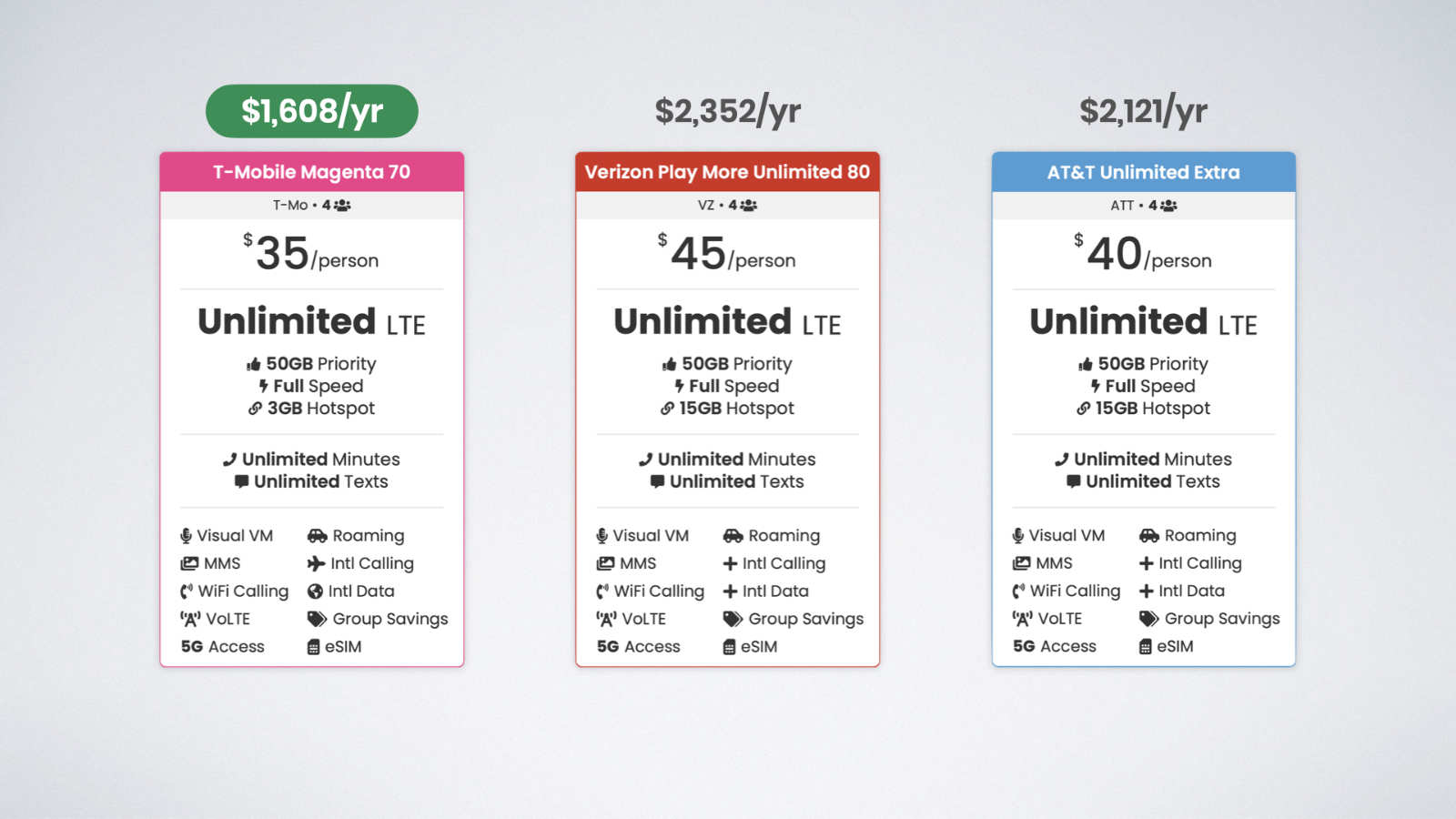 The final difference between the three T-Mobile plans is the cost of adding a tablet line to your plan.
It's $15 to add a tablet line on Essentials and $20 on Magenta and Magenta Plus.
Adding a wearable device, such as an Apple Watch, Galaxy Watch, or another smartwatch, is $10 for all plans.
T-Mobile Data Speeds & Priority
One of the major differences between T-Mobile's plans is the amount of priority data included with the plans. Essentials is deprioritized, while Magenta and Magenta Plus have 50GB of priority data.
What does having priority data mean, and will you notice a difference?
Having priority data just means that anytime the network is busy, or there are a lot of people using it at the same time, your speeds will be slightly faster than everyone else's. And being deprioritized just means that anytime the network is busy your speeds will be slightly slower than everyone else's.
How much of a difference does having priority data make?
To find out I did the ultimate T-Mobile speed test.
You can watch the full video to see the complete breakdown, but here's the summary.
I observed that T-Mobile's network basically had four tiers of network priority: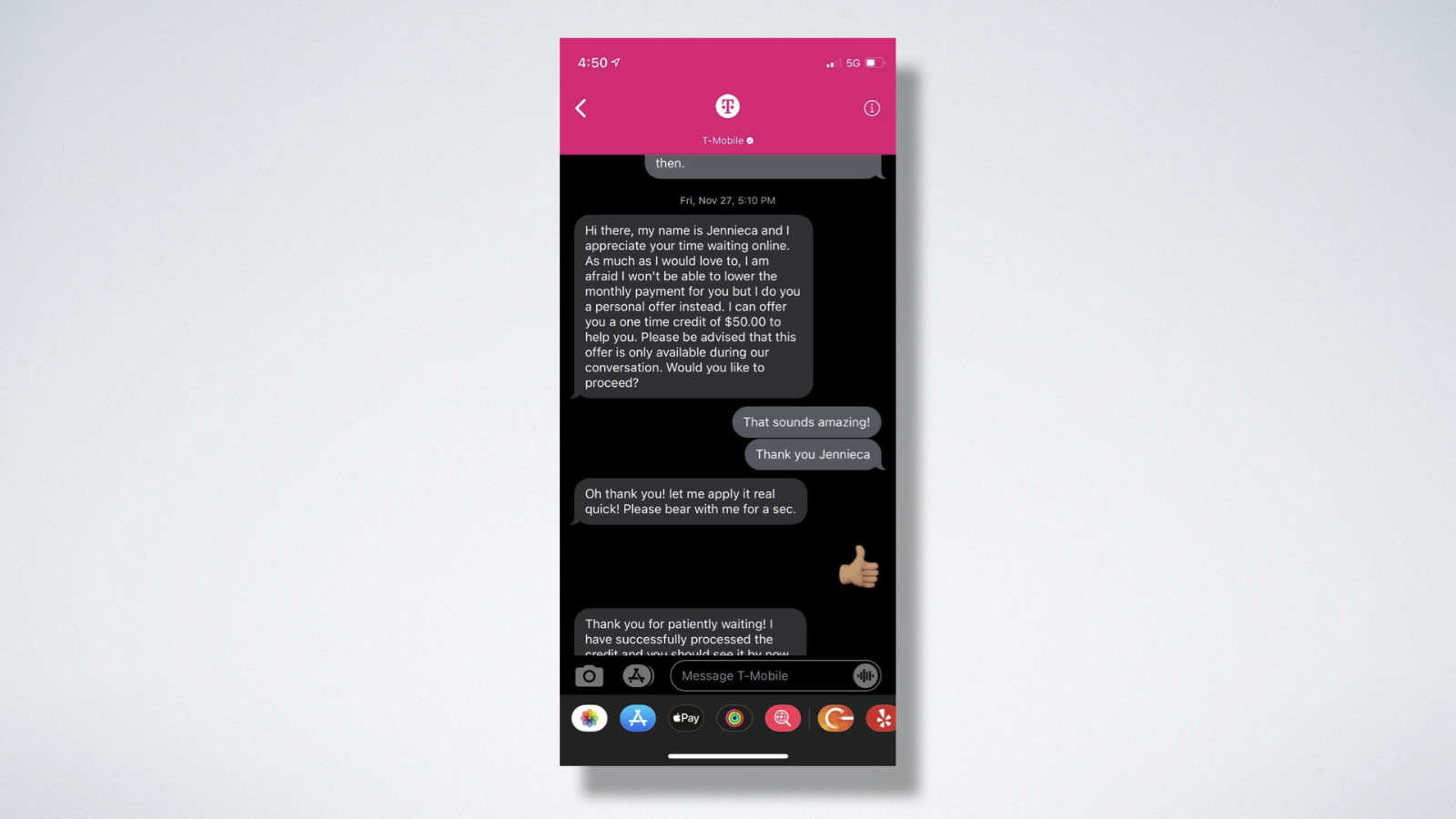 Tier 1: The 50GB of priority data included with the Magenta and Magenta Plus plans, as well as T-Mobile Prepaid plans. This tier gets the fastest speeds when the network is busy.
Tier 2: Deprioritized data. This includes T-Mobile Essentials, Metro by T-Mobile, and all T-Mobile MVNOs, like Mint Mobile, Ultra Mobile, and US Mobile. My tests showed Tier 2 was about 70% slower than Tier 1 when the network was busy, or operating at about 30% speed.
Tier 3: All hotspot data. (I didn't test this speed in comparison to the other tiers).
Tier 4: All heavy data users. You're deprioritized down to Tier 4 when you use over 50GB on T-Mobile Magenta Plus, Magenta, Essentials, and Prepaid plans, and when you use over 35GB on Metro by T-Mobile. This tier has the slowest data speeds when the network is busy. My testing showed me that speeds were about 85% slower than tier 1, or operating at about 15% speed.
As a disclaimer, T-Mobile's actual network management and priority levels may be different. I'm just sharing what I observed from my test results.
With all of that said, how likely are you to notice the difference between these priority levels?
Honestly, not very.
Despite the pretty big drop from 50Mbps download in Tier 1 to 15Mbps download in Tier 2, these speeds are only when the network is busy.
All priority levels get full speed data when the network is not busy.
And it turns out, the network free from congestion most of the time.
T-Mobile's network has enough capacity in most markets to handle the number of connected devices.
You're not likely to be deprioritized, and even when you are, you'll still probably get speeds plenty fast enough for what you need.
Mint Mobile is my personal provider, and they are deprioritized on the T-Mobile network. I've been using them for the past two years, and I can honestly say I've never noticed a difference in speed or performance.
I have lived predominantly in more suburban markets though, including Acton Massachusetts, Ithaca, NY, and now in Longmont, CO, so your experience may vary if you happen to live in a more congested city.
Still, I'm betting you won't notice a difference, either.
At the very least, it's worth trying one of the more affordable plans that are deprioritized before paying a premium for priority data access.
How T-Mobile's plans compare with the plans from Verizon and AT&T
Next, let's talk about how T-Mobile's plans compare to the options from Verizon and AT&T.
Let's start with the entry-level plans.
Entry-Level Plans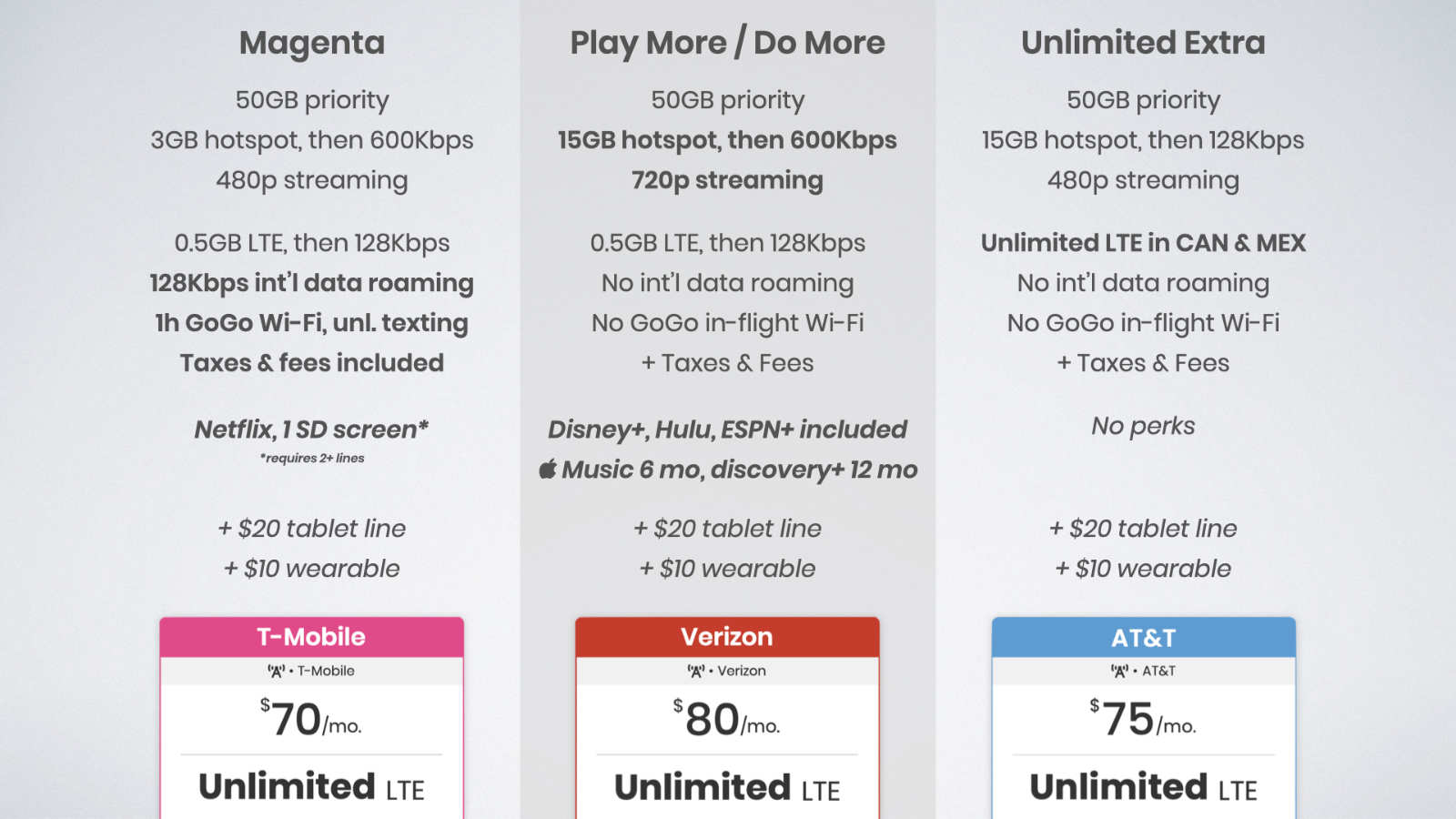 These plans are actually quite similar between the carriers. Prices range from $60 to $70 per month, including the auto-pay discounts, and T-Mobile happens to be the cheapest.
Taking a look at the full breakdown here, and you can see three main differences:
First, T-Mobile includes unlimited hotspot data at 600Kbps. Verizon and AT&T don't include any hotspot data with their entry-level plans.
Second: AT&T includes roaming in Canada and Mexico with unlimited data at LTE speeds on when on partner networks. Verizon and T-Mobile include just 0.5GB of LTE data per day before unlimited data at 128Kbps.
Third: The perks. Verizon is the only carrier to offer perks here. You get a 6-month free trial of Apple Music, Disney+, and Discovery+.
T-Mobile's entry-level Essentials plan is a great value in comparison to Verizon and AT&T because it's the cheapest plan, and it's the only plan to include hotspot data.
T-Mobile is also a great option for multi-line users, with their 4-line plan coming in at $30 per line compared to $35 per line on Verizon or AT&T.
But the truth is I don't recommend any of the entry-level options on any of the carriers.
You are typically getting the same experience as what the prepaid plans have to offer (with the deprioritized data), and you are paying a higher price for it.
Why would you want to do that?
If you're considering an entry-level plan, I suggest you consider the prepaid options, or what is available from the T-Mobile MVNOs.
Mid-Tier Plans
The mid-tier plans bump things up in price, but T-Mobile's plan remains the cheapest. It's just $70 per month for T-Mobile Magenta compared to $75 per month for a plan from AT&T and $80 per month for a plan from Verizon.
Again, all auto-pay discounts are included in the prices.
The full breakdown reveals there are 6 key differences between these plans:
First: Verizon and AT&T's plans include 15GB of high-speed hotspot data, compared to just 3GB on T-Mobile.
Second: Verizon enables up to 720p video streaming here compared to 480p streaming on T-Mobile and AT&T.
Third: AT&T continues to offer the best option for roaming in Mexico and Canada with unlimited high-speed data.
Fourth: T-Mobile adds in unlimited international data roaming with speeds up to 128Kbps. The speeds are slow, but it's much better than having to pay $10/day or $70/month for an international add-on from Verizon or AT&T.
Fifth: T-Mobile includes all taxes and fees with their plan. It's a small thing, but it saves T-Mobile customers around an extra $70 per year. That's basically an extra free month of cell service.
Sixth: The perks. Verizon includes Disney+, Hulu, ESPN+, along with 6 months of Apple Music and 12 months of discovery+. T-Mobile offers 1 Standard definition screen of Netflix, but only with two or more lines. Still, considering the $10 price difference between the plans, and the extra taxes and fees Verizon will charge you, you could basically get T-Mobile Magenta and the $13 Disney+, Hulu, ESPN+ bundle separately and end up paying about the same. AT&T doesn't include any perks with their plan.
I'm disappointed T-Mobile only includes 3GB of high-speed hotspot data here, especially compared with the 15GB you get with Verizon and AT&T.
After the 3GB, you get unlimited hotspot data at 600Kbps.
600Kbps is fast enough to stream 240p video, stream music, use email, Twitter, and Reddit, and even Google Maps.
However, content does load slower, and I got constant buffering when doing some things like watching Instagram stories.
If you do lighter tasks like writing in Google Docs or email, the 600Kbps hotspot speeds will work fine, but I personally would prefer the 15GB of high-speed hotspot data that you get with the other plans.
That said, T-Mobile's plan is still the most affordable here, especially with all taxes and fees included. Including taxes and fees saves you an estimated $80-$100 per year.
The Magenta plan gets even better for families, too. The price drops to just $35 per line, compared to $40 from AT&T and $45 on Verizon.
After 1 year, T-Mobile saves you an estimated $500 to $700 for a family with four lines.
Despite the lower amount of hotspot data, T-Mobile's Magenta plan is clearly an excellent value proposition, and it's easily the plan I would recommend to most people from T-Mobile's postpaid offerings.
Top-Tier Plans
And now the top-tier plans. These are the best plans each carrier has to offer, and they are the most expensive. T-Mobile and AT&T's plans are $85 per month, while Verizon's plan is $90 per month with the auto-pay discounts applied.
The full breakdown of these plans reveals there are 7 key differences.
First, AT&T includes the most priority data, increasing the allotment to 100GB compared to 50GB on T-Mobile and Verizon.
Second, Verizon and AT&T include 30GB of high-speed hotspot data, while T-Mobile only includes 20GB.
Third: AT&T ups the ante and provides full, 4K video streaming quality. T-Mobile streams video at up to 1080p, while Verizon limits video to just 720p.
Fourth: AT&T continues to offer the best solution for international data roaming in Canada and Mexico with unlimited high-speed data.
Fifth: T-Mobile continues to offer the best international roaming solution with unlimited data now at 256Kbps. You also now get unlimited in-flight Wi-Fi and texting on GoGo enabled flights.
Sixth: T-Mobile continues to include taxes and fees.
Seventh: The perks. Verizon includes Disney+, Hulu, ESPN+, and Apple Music, as well as a 12-month trial of the new discovery+ streaming service. AT&T includes HBO Max, which pairs nicely with their 4K streaming. T-Mobile offers Netflix Standard, which includes 2 screens at HD quality, but only with 2 or more lines. Single-line users are out of luck.
Eighth: Tablet and wearable pricing. Verizon offers a 50% discount on tablet and wearable plans with their Get More Unlimited plan, making the cost just $10 per tablet line and $5 per wearable.
T-Mobile's Magenta Plus plan is easily the best plan for use internationally, but domestically they aren't really the best at anything.
AT&T offers more priority data and better video streaming quality, while Verizon offers a better hotspot solution.
Still, T-Mobile is a good middle-ground plan, and the included taxes and fees still save single-line users roughly $60-$80 per year.
T-Mobile's plan also continues to shine from a multi-line perspective. The price drops to just $43 per line, compared to $50 and $55 on Verizon and AT&T, saving you an astonishing $500 to $750 per year.
The savings you get with T-Mobile are easily enough to cover the cost of your favorite subscription services and more.
Heck, with those savings you could even buy a new phone every year!
The bottom line is this: I think T-Mobile is offering some of the best deals in wireless when it comes to postpaid plans.
If you live in an area with good T-Mobile coverage, I think their value easily trumps the offerings from Verizon and AT&T and can deliver a great experience at an affordable price.
But T-Mobile is only worth it if you get good coverage in your area.
So, how is T-Mobile coverage? What is the experience like using their network in terms of data speeds, performance, and customer support?
T-Mobile Experience: Coverage, Features, Customer Support
T-Mobile Coverage
I've been signed up for T-Mobile's Essentials and Magenta Plus plans for about the past four months now.
BUT, I've actually been using the T-Mobile network for about 8 of the past 10 years under different plans and carriers.
And I've seen the T-Mobile network improve a lot.
When my parents first signed me up for T-Mobile back in 2010, the network wasn't great.
It was better than Sprint's, but it wasn't nearly as good as Verizon or AT&T's.
Since then, T-Mobile has taken huge strides in improving their network coverage and performance.
They rolled out Band 12 and Band 71, which T-Mobile calls "Extended Range LTE".
These bands use low frequencies, 700MHz and 600MHz respectively, which allows them to travel farther distances and provide better reception indoors.
And these bands did wonders to improve T-Mobile's network coverage.
I distinctly remember upgrading to an iPhone 6s with band 12 support way back in 2016, and suddenly I had service in way more areas than before.
Band n41 is another band T-Mobile has been rolling out recently.
They acquired n41 from the Sprint-T-Mobile merger, and they've been using it as one of their primary bands in their mid-band 5G network.
n41 is being used exclusively to boost download speeds right now, and I've hit over 300Mbps while connected to it. It's tremendous.
In terms of third party reports, Tutalla's 2020 State of Network Experience report shows that T-Mobile tied with Verizon for providing excellent consistent quality, was the winner in upload throughput, and tied with AT&T for latency.
And Ookla's 2019 speed test report has T-Mobile coming in second for fastest download speeds and for time spent on 4G.
If you compare T-Mobile's coverage map to Verizon and AT&T, even on T-Mobile's own website, their network still doesn't blanket the whole United States quite like Verizon and AT&T do.
But T-Mobile has been making tremendous improvements to their network, and they do an excellent job covering the major markets.
Is T-Mobile's network the best?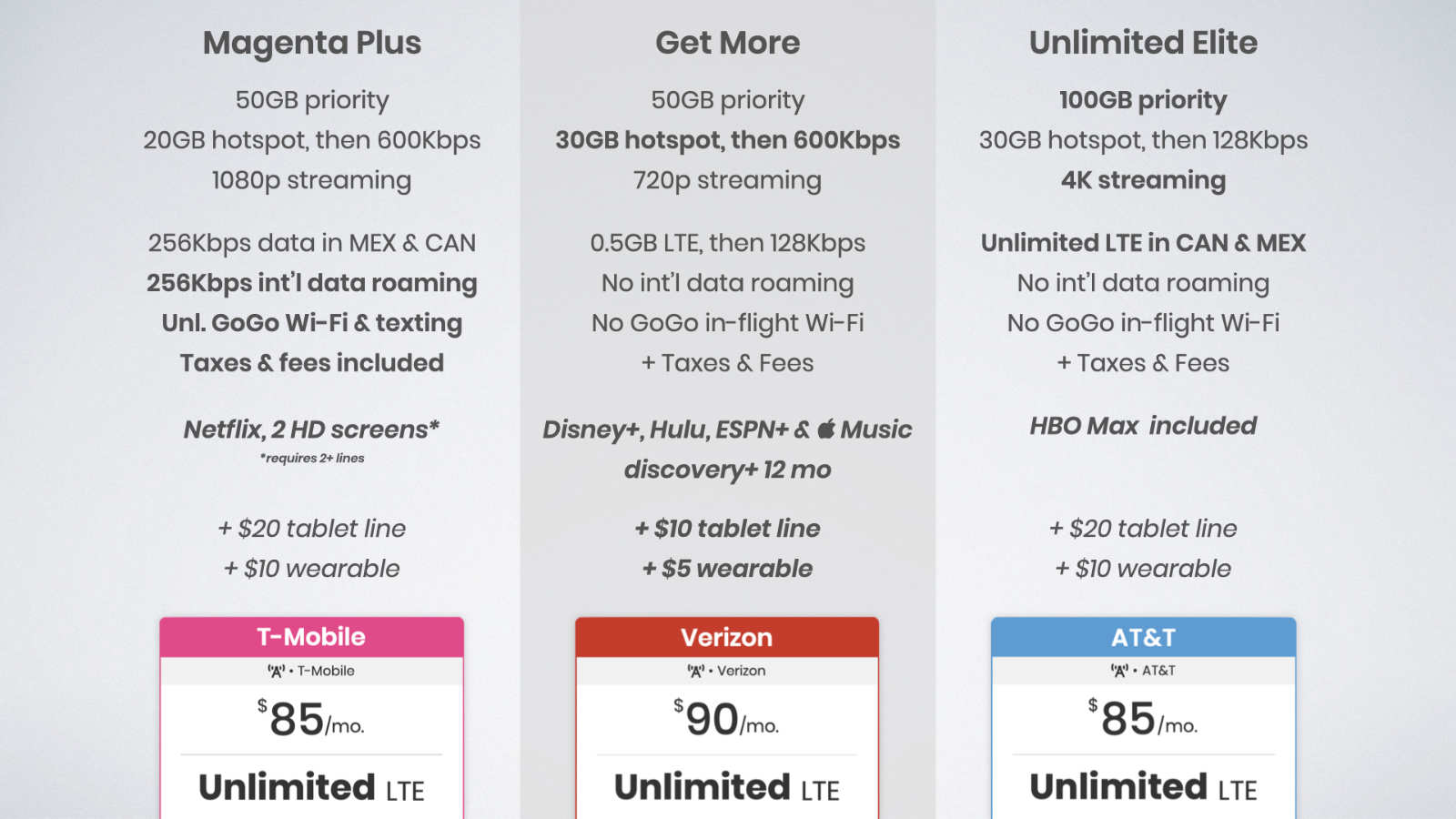 No, definitely not.
But has it gotten significantly better over the past few years?
Yes, absolutely.
If you haven't tried the T-Mobile network recently, I suggest you reconsider them.
They've made great progress, and they have the spectrum from Sprint to build out a potentially AWESOME mid-band 5G network.
T-Mobile Features
Another aspect of cell service is what features the plan supports.
Considering T-Mobile is a major network operator, all the features you'd expect are here: VoLTE, Wi-Fi calling, mobile hotspot, visual voicemail, eSIM, 200MB domestic roaming data, international calling and texting, and even international data roaming.
T-Mobile also includes 5G access with all of their plans for no extra charge, including support for it's low-band, mid-band, and mmWave 5G networks.
One thing to note is that while visual voicemail works with the native phone app on iPhone, on some Android phones you'll want to use the dedicated T-Mobile voicemail app to enable a visual voicemail experience.
T-Mobile Customer Support
Now let's talk about T-Mobile's customer service and support.
I've been using T-Mobile service for the past four months at this point, and I think T-Mobile has some of the leading service and support in the industry, but it's also not perfect.
T-Mobile support is typically friendly, personable, quick to respond, and helpful. I've pretty reliably had positive experiences interacting with T-Mobile reps, both in-store and online.
In-store I migrated my Sprint account to a T-Mobile account, changed plans from Magenta to Essentials, and activated a new line of prepaid service.
Every interaction I had the reps were friendly and knowledgeable, and I was in and out of the store in just a few minutes.
I also chatted with reps online, including on T-Mobile's website, Twitter, and via iMessage Business chat on iPhone, and each time the reps were super friendly and quick to answer my questions.
In another example, my friend messaged T-Mobile support and asked if there was anything they could do to help reduce his bill.
While the rep wasn't able to lower the monthly total, she was able to offer a one-time credit of $50, which was pretty amazing.
The T-Mobile subreddit is also filled with super nice representatives making sure their fellow T-Mobile Redditors are getting the best deals possible on their service.
T-Mobile employees post deals a day or two in advance, and they help people determine if their accounts are eligible.
It's awesome.
Unfortunately, not every T-Mobile support experience will be great though.
Wait times may vary depending on time of day and chat volume, and some reps may be more knowledgeable than others based on their training and experience at the company.
In one example, I was chatting with a T-Mobile rep over iMessage business chat and asking what the cost was for T-Mobile's tablet plans.
I was told there was a $10 for 10GB option, but this was actually a HOTSPOT add-on.
I also asked what the pricing difference would be between the 10GB, 20GB, and 30GB Magenta Tablet Plus plans.
The rep was super nice, but the response lacked a true answer to my question, along with any punctuation whatsoever, and to me it sounded like the pricing was the same and I just chose the plan I wanted.
It was only when I was talking with T-Mobile support on Twitter that I was able to confirm the pricing for T-Mobile's tablet plans and learn that there actually was a price difference between the 10, 20, and 30GB options.
There are also a fair share of poor customer service stories for all carriers that you can find online, T-Mobile included.
That said, I still feel T-Mobile is offering leading customer service and support in the industry, and for the best experience I suggest you reach out on Twitter.
T-Mobile refers to these support reps as T-Force, and I believe they consistently provide the best experience.
Either way, internet high-five to all T-Mobile support reps out there because I think you are doing an outstanding job, and I've really appreciated my time talking with all of you.
T-Mobile Account Management
Finally, T-Mobile offers easy account management through their online website or mobile application, where you can view and pay your bill, manage plan add-ons, view your data usage, and more.
Should You Sign Up for T-Mobile in 2021?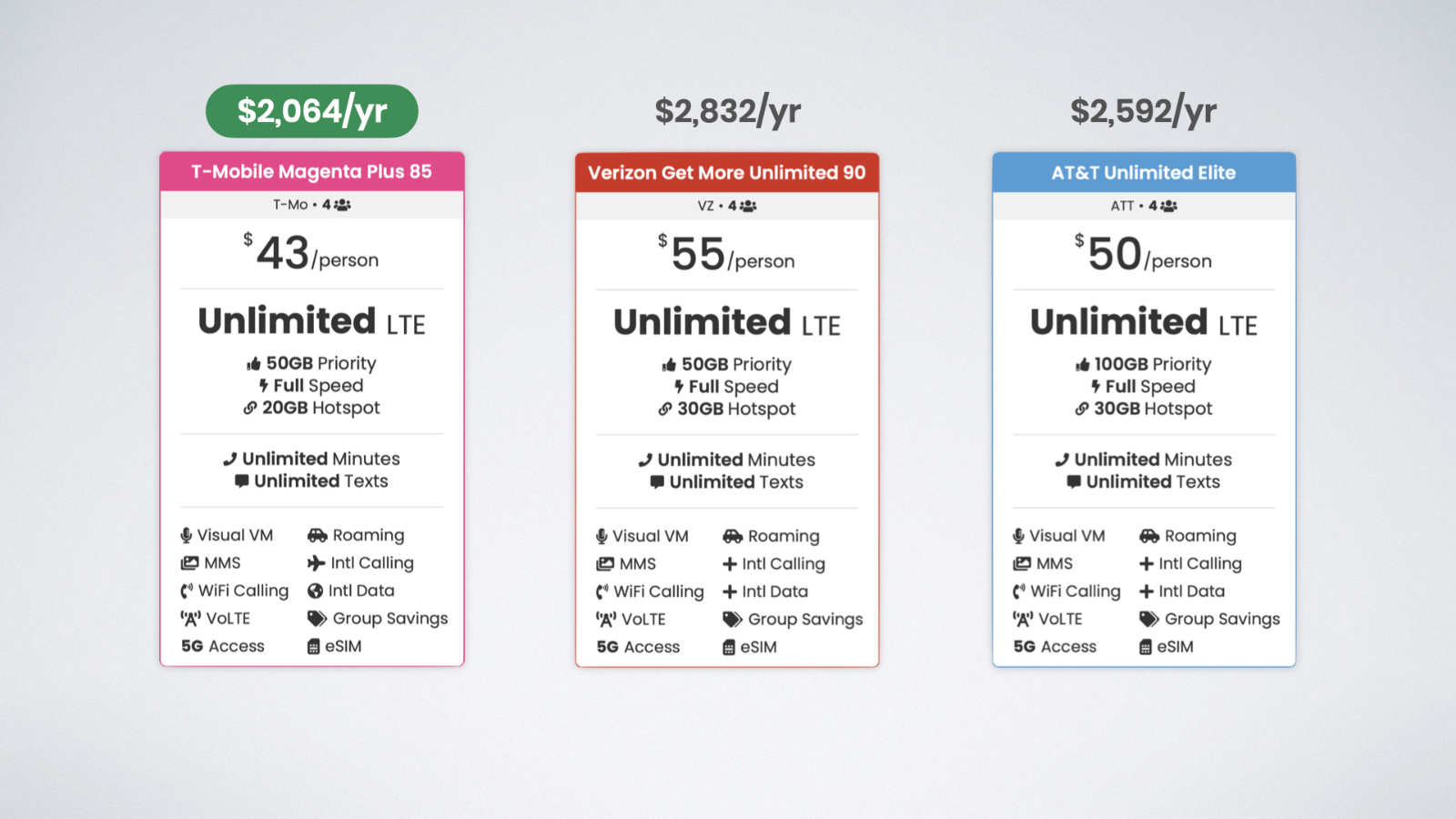 T-Mobile's plans are an excellent value, especially compared to Verizon and AT&T, and especially for families.
T-Mobile offers a great selection of features at an affordable price, and their network improvements make them more competitive than ever before.
HOWEVER,
There are other carriers that also use the T-Mobile network for coverage, and they can deliver an even better value.
Mint Mobile offers 35GB of data for as low as $30 per month with their annual plan, US Mobile offers 30GB for $30/month with their monthly plan, and Metro's premium unlimited plan comes out to just $30 per line for 4 lines, all taxes and fees included.
Metro even includes 15GB of dedicated high-speed hotspot data compared to just 3GB on Magenta.
These plans are significantly more affordable than what T-Mobile is offering, and they can save you upwards of $600 per year.
Considering Cisco's 2020 Internet Report shows that 82% of consumers use less than 20GB of data per month on average, these plans will be a great option for a lot of people.
If for some reason you feel you do want priority data though, then T-Mobile Prepaid is actually a better value than T-Mobile Magenta.
My tests showed these plans had the same speeds and priority levels, and T-Mobile Prepaid is $60/mo with 10GB of high-speed hotspot data compared to just 3GB on Magenta.
So if you're a single-line user, I don't think T-Mobile postpaid is worth it.
I feel that either T-Mobile Prepaid, or the affordable plans from Mint Mobile, US Mobile, and others deliver a better value.
And for families, I think T-Mobile may be worth it for some, but I also think it's hard to ignore the value you get with Metro by T-Mobile, or by getting multiple lines a cheap plan like Mint Mobile's 8GB plan for $20/month.