If you're like me—a fair-skinned, redhead who loves to spend time outdoors—then you're all too aware of how easily your skin can burn. You know how it goes: You could walk outside to take your pup on a walk around the block only to come back and notice an obvious ping glow spreading across your cheeks and arms. Hell, you could sit at your desk in front of a large window only to get up to go to the bathroom and notice that somehow, someway, your face looks flushed without so much as stepping outside. Such is the reality of UV rays—they'll get you when you least suspect them to.
Because of that, finding a sunscreen that not only protects your skin but feels comfortable in the process is so paramount. And, it's because of that very notion that cult-favorite suncare brand Supergoop! came to life. What started with an everyday sunscreen that consumers (and dermatologists) quickly grew akin to expanded into an entire collection of skincare products made with sun protection at their very core.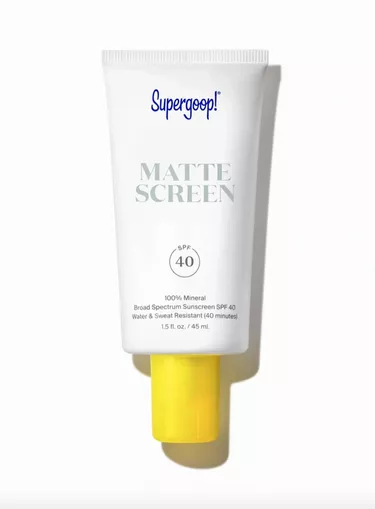 "I was inspired to create Supergoop! to change the way the world thinks about sunscreen after a close friend was diagnosed with skin cancer," Supergoop! Founder Holly Thaggard says. "I learned that skin cancer is the most common type of cancer in the U.S. and that it's also primarily preventable with the use of daily SPF. But through my research, I discovered the number one reason why people don't wear SPF is that it doesn't feel good on the skin."
And so, she set out to address that by developing a clean, high-quality sunscreen product that folks would be glad to wear every day. That's how the brand's Everyday SPF 50 was born. But that was back in 2007, and a lot has changed since then. Namely, Supergoop! Offers a whole lot more than your basic clean sunscreen.
"At Supergoop!, our goal is to make SPF feel so good that you look forward to applying it every single day," Thaggard says. "We know there is no one-size-fits-all SPF, so we offer over 40 options in both clean chemical and 100% mineral formats to make wearing sunscreen easier than ever. Our suite of products redefines how, when, and where SPF is used, including a setting mist and powder for SPF reapplication over makeup, invisible, weightless primers, the first-ever sunscreen-infused eyeshadow, and even a Vitamin C + SPF serum."
The point is, when it comes to suncare, Thaggard is constantly dreaming up new ways to fit sun protection into beauty formulas where you may not necessarily expect it. And, when creating said formulas, she's doing so with everyone, regardless of your skin type or tone, age, gender, or lifestyle in mind.
"We know that in order to change the way the world thinks about sunscreen, we have to offer options for everyone, everywhere," she says. "We're all about making SPF more accessible by introducing innovative, never-before-seen formats and feel-good formulas that make it easy to incorporate SPF into your daily routine, no matter what your day has in store."
And with that, we urge you to read on for our favorite Supergoop! products and links to our full reviews.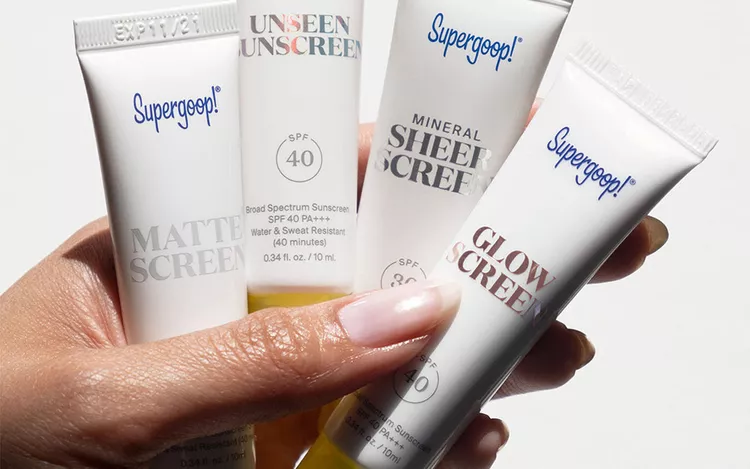 Supergoop! Unseen Sunscreen SPF 40
When you think of typical sunscreen, images of sticky, hard-to-rub-in formulas may come to mind. Well, folks, this product is anything but not that. Designed to mimic a velvety primer, this sunscreen just begs to be layered onto skin before your makeup application. It sinks into skin, soothes redness with frankincense, boosts moisture with meadowfoam seed oil, and essentially helps skin look one step closer to poreless—all while keeping it protected from the sun's damaging UV rays. It is, how do we say, a dream.
Did you know that our hands are one of the first places to show signs of aging? That's because, while most of us remember to apply SPF to our face, much fewer of us think to do the same on the backs of our hands. And, while you might not think that'd matter all that much, if you drive, ride a bike, walk around outside a lot, or sit at your desk all day typing in front of a large window, your hands are getting some pretty gnarly sun exposure. Thankfully, Supergoop! has us covered with their Handscreen. I personally keep a 6.7-ounce bottle of this in my car so that I always remember to put it on. Much like Unseen Sunscreen, this formula sinks into skin for a velvety finish that feels more like a luxe hand cream than your typical sunscreen. It smells refreshing, too.
Supergoop! Glowscreen Body SPF 40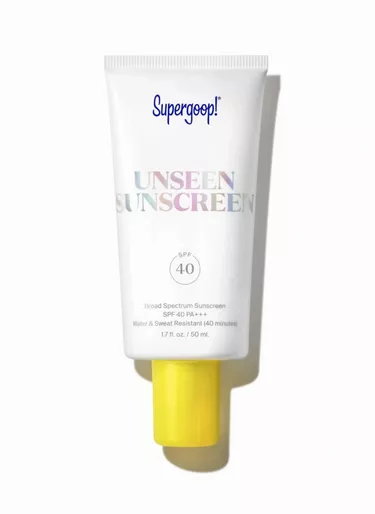 I cannot stress this enough: This body sunscreen is my new favorite body sunscreen of all time. It's one of Supergoop!'s newer products, having just launched in April 2021. That said, since its launch, it's been met with stellar reviews for its glowy (but never sticky) formula. It's made with white stargrass (which brightens skin and protects against oxidative stress) and coconut alkanes (which keep skin looking plump and hydrated). As soon as I slathered it on, I knew it'd be my summer 2021 staple. It makes you shimmer and glow without, say, covering yourself in one of those trendy glitter oils—which is ultimately to say, I'm obsessed.
Supergoop! Glowscreen SPF 40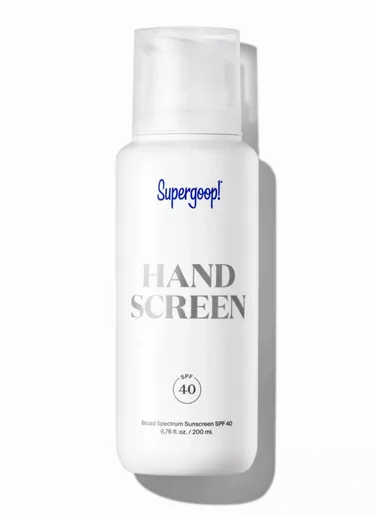 Before Glowscreen Body became a thing, the OG Glowscreen reigned supreme. So much so, in fact, that it's directly responsible for the launch of its allover counterpart. Like the body version, Glowscreen is designed to hydrate and protect skin while imparting a healthy, semi sunkissed glow. That's not to say that it's tinted like a fake tanner but that it makes you look well-lit from every angle. While this formula does sink into skin, it doesn't as much as Unscreen Sunscreen, so I like to keep it for days when I plan to go without allover CC cream or foundation. That way, the glow can serve as my base, and with a touch of blush, brows, and lip, I'm ready to take on the day.
Here we have the product that (essentially) started it all: The Everyday Lotion. It can be worn on the face and body, and depending on how you choose to use it; you'll be glad to know that it's sold in four sizes. The brand recommends applying the silky sunscreen 15 minutes before exposure and reapplying every two hours for best results.
Supergoop! Daily Dose Vitamin C + SPF 40 Serum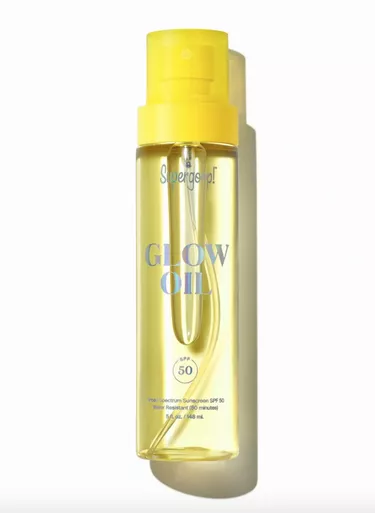 By now, you may know that sunscreen is always suggested, but especially after applying ingredients like vitamin C, which can make your skin more sensitive to the sun's UV rays. What you may not have known, however, is that thanks to Supergoop! you can apply your SPF and your vitamin C at the same time. This fast-absorbing serum has all the brightening power of a classic vitamin C with all the protective power of your favorite sunscreen. It's best applied as the last step of your skincare routine or just before a final layer of, say, Unseen Sunscreen or Glowscreen.
Supergoop! Superscreen Daily Moisturizer SPF 40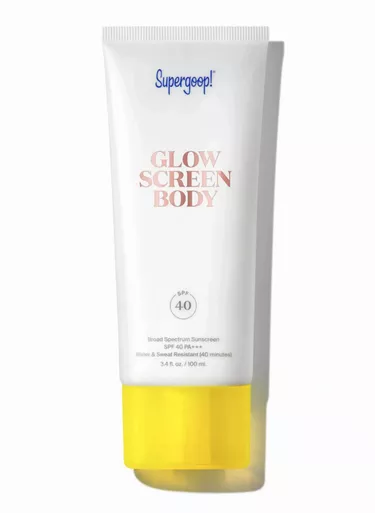 Typically when a skincare product is said to be infused with sunscreen, it's never actually enough to offer your skin the full SPF printed on the label. That's not the case with Supergoop! products, however, because at their core, all of the brand's products are sunscreen with added skincare benefits thrown into the mix. With that in mind, the brand's Daily Moisturizer feels like weightless hydration but offers full-coverage protection. When using it, I like to apply it after my serum but before my final layer of sunscreen. See, that's the thing about Supergoop! it ensures that you're applying one layer of SPF at the very least, but if you use multiple products from the brand, you're giving your skin more than enough coverage before heading out into the sun.
Supergoop! Glow Oil SPF 50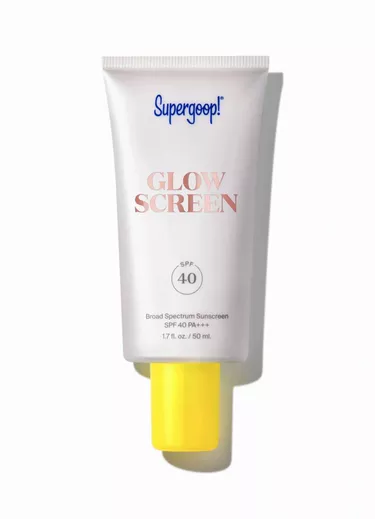 While most dermatologists will tell you that using tanning oils is a relic of the past, that doesn't apply to Supergoop!'s Glow Oil, which, first and foremost, is a sunscreen. The ultra-hydrating body oil will give you the glow you crave without making your skin susceptible to sun damage in the process. And, since it's loaded with coconut oil, sunflower seed oil, and shea butter, you can expect your skin to look hydrated to the high heavens. Just make sure to regularly reapply it—every two hours or every 80 minutes if you're taking a dip in the lake/ocean/pool/lovely body of water.
Supergoop! Mattescreen SPF 40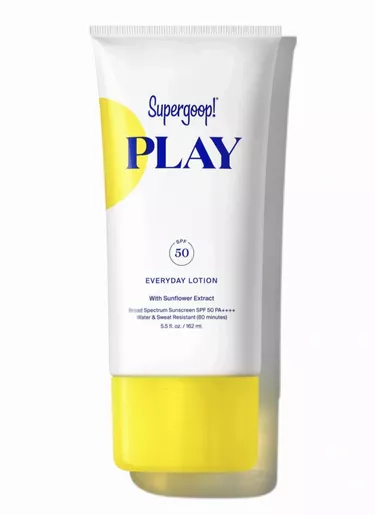 Now, if you have oily skin or if you don't like the idea of glow-inducing sunscreen, you'll be glad to know that Supergoop! also offers this matte formula. A mineral SPF, Mattescreen works to protect skin from the sun's damaging UV rays while blocking it from an oily T-zone midday, too.
Supergoop! Glowstick SPF 50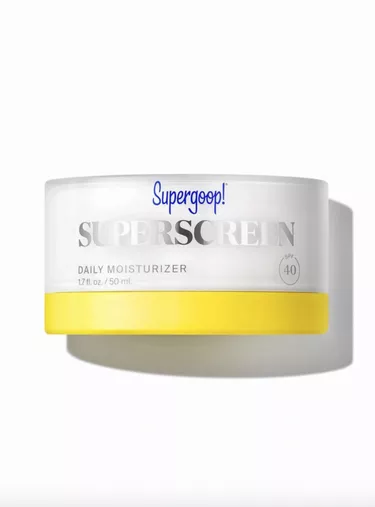 On the other end of the spectrum, if your goal is to glow to the high heavens—even more so than Glowscreen permits—then it's time to reach for Supergoop!'s Glowstick. The travel-friendly stick is designed to pump up the glow without creating a mess in the process. Just don't use it the way TikTok might insinuate—you, know, to highlight your skin in certain areas while letting the rest of your face, neck, and shoulders tan in an attempt of achieving a no-makeup contour—that will leave you with sun damage and an uneven skin tone.