Ever since I first heard about Petunia Pickle Bottom, I've wanted to purchase one of their adorable diaper bags that put a cute spin on the essential baby carryall. Their designs are fun, simple, sleek and decidedly not "baby," while still being practical and completely functional. I knew I could purchase one of these bags for myself, but considering I'm a childless Millennial, I felt like I'd be judged for not using the product the way it was intended. Well those days are over and I have my first Petunia Pickle Bottom backpack…and as anticipated, I love it!
In July, Petunia Pickle Bottom (PPB) introduced the latest Disney Baby collaboration to their line: Playful Pooh, an adorable grey and white pattern featuring Winnie the Pooh, Piglet, Tigger, Eeyore and some buzzing honeybees. The collection includes six items—three backpacks, a bottle/snack cooler, PPB's Inter-Mix Cube system, and a Criss-Cross Sling. As you can see this collection is a super cute way to celebrate the Hundred Acre Wood and its most popular residents.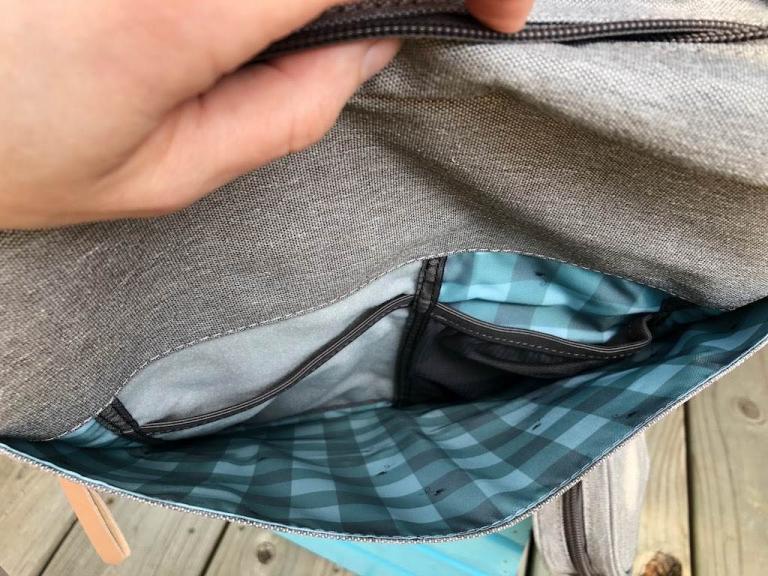 Petunia Pickle Bottom shared the news of the launch with Laughing Place and offered us a sample. Seeing this as the perfect chance to review the brand, I requested the Meta Backpack. It's a little smaller than a traditional backpack, but larger than a child's backpack. It retails for $169.
Since I don't need a diaper bag, I decided this would be my work/travel bag, and the Meta Backpack is the perfect size for travel. It's spacious and has plenty of pockets including two lined pockets that are great for holding phones. The bag also comes with a Hunny pouch that clips to the front, a wipes container, and a changing mat. For this review, I'll divide the backpack into four sections: The Interior, The Front, and The Side and The Back.
The Interior
The Meta Backpack features a dual zipper interior opening that zips a few inches past the center on the right side and all the way down the left side providing plenty of access. At the back of the bag is a pocket that comfortably holds a 13" MacBook Pro with room to spare.
Across from the back pocket are two smaller pockets that snugly hold the wipes container and changing pad. I've been using the wipes container to store a pair of corded headphones, my computer cleaning cloth, two pens, and a flash drive.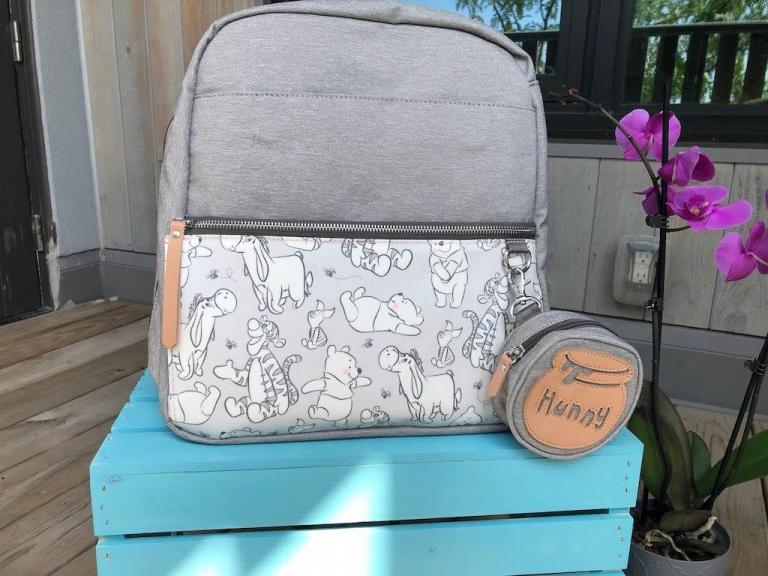 As for the changing pad, I've yet to use it, but believe it would make a great placemat for an airplane, train or any table surface you might want to cover before setting down your food or even computer.
The bottom of the bag is wide and I'm able to fit my computer cord, a zip around or clutch wallet, a camera with a vlogger kit attached, a light jacket, and at least two Ear Headbands. Not to mention, a variety of loose items like aspirin, lip balm, fruit snacks, and granola bars.
The Front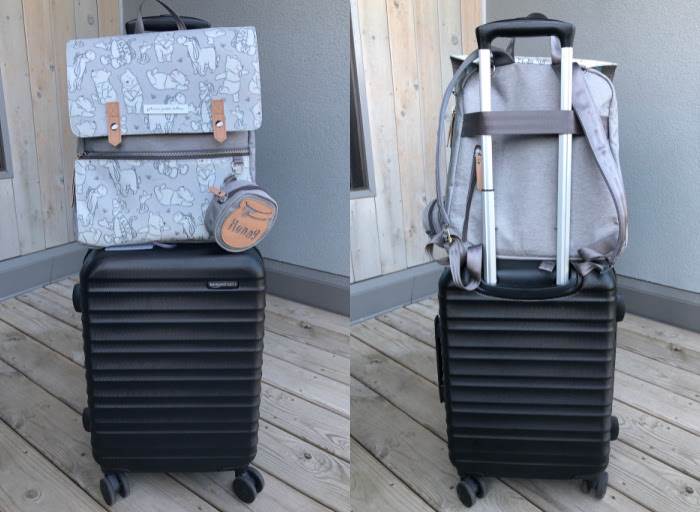 The front of the bag features a flap with a magnetic closure to cover the zipped interior and an additional flat pouch with two pockets. I used the lined pocket to store my phone for easy access, and the second pocket for a power bank and an LED flashlight. As for the space in front of the pockets I had my collapsible straw and papers I'd needed handy.
Directly below the front pouch is a zip pocket that runs the width of the bag. That said, it's not deep at all, but I found it useful for safety pins, band-aids, napkins and other flat items. This is also where the aforementioned Hunny pouch attaches.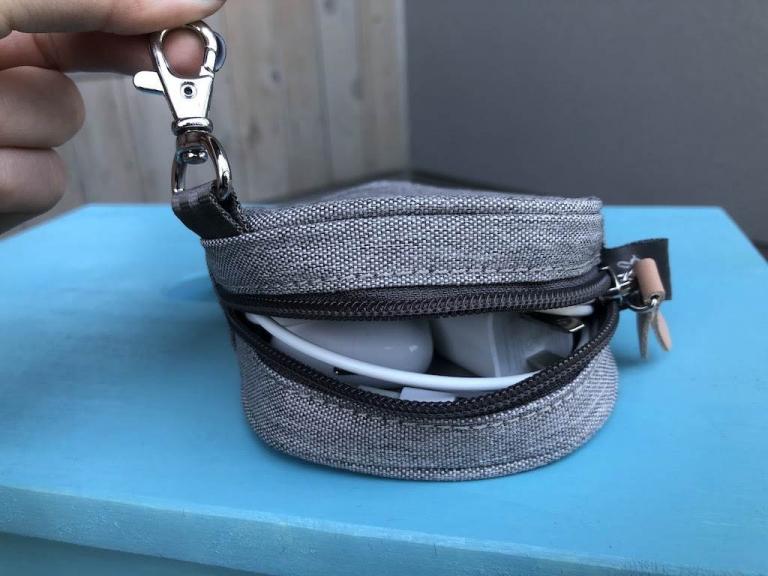 While recommended for pacifiers or snacks, I used the Hunny pouch for my iPhone and Apple Watch cords, one USB power block, and Airpods. Since these items are valuable, I don't usually leave the pouch attached to the front, but rather put it inside the bag.
The Side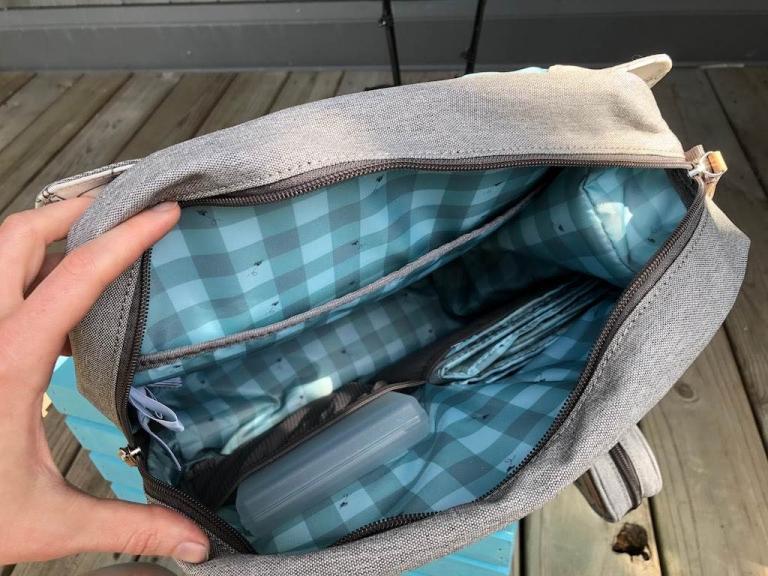 On the right side of the bag, just below the zipper is an insulated pouch that holds a baby bottle or standard 16oz water bottle. I love this space and the ease in which I could reach back and unzip the section to get to my water without having to remove the bag. When I didn't have a bottle with me, I used the pouch to hold flatware, snacks, and even my phone cord.
The Back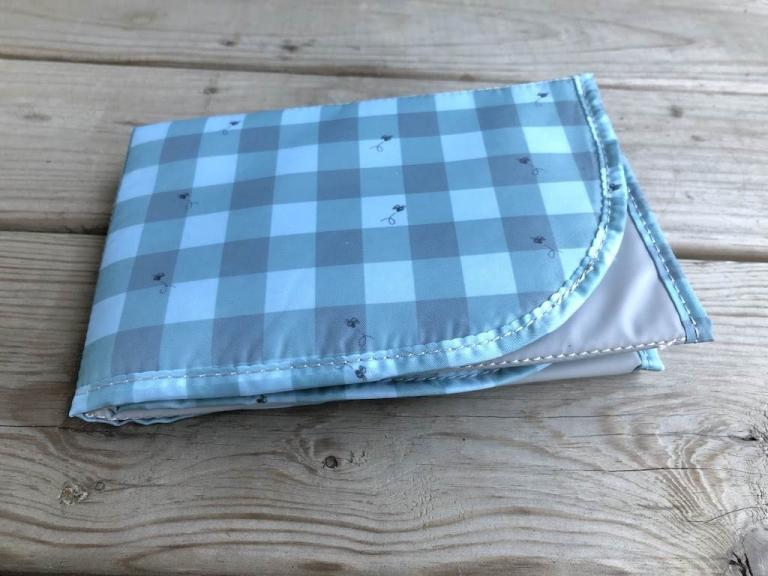 As for the back of this lovely bag, there are two carrying straps, a top handle and a horizontal strap that's attached to both sides. They all look like seatbelt material and they're sturdy and comfortable. The backpack straps are not wide, but they're padded and never dug into my shoulders no matter how much I was carrying. The horizontal strap is not adjustable nor is it bulky. It's designed to attach to strollers, but I used it to slip on my rolling suitcase for ease of movement and to give my back and shoulders a break
Below the strap is one final zip pocket that's recommended for passports or phones. I haven't used it, but I love that it's there and that it's lined.
I first took my Meta Backpack for it's first spin at Walt Disney World and received several compliments from my friends as well as strangers. Of the attractions I took it on, I was able to easily store or hold the bag, except at Soarin'. I finally managed to squeeze it under the seat, but I probably should have just left it on the floor.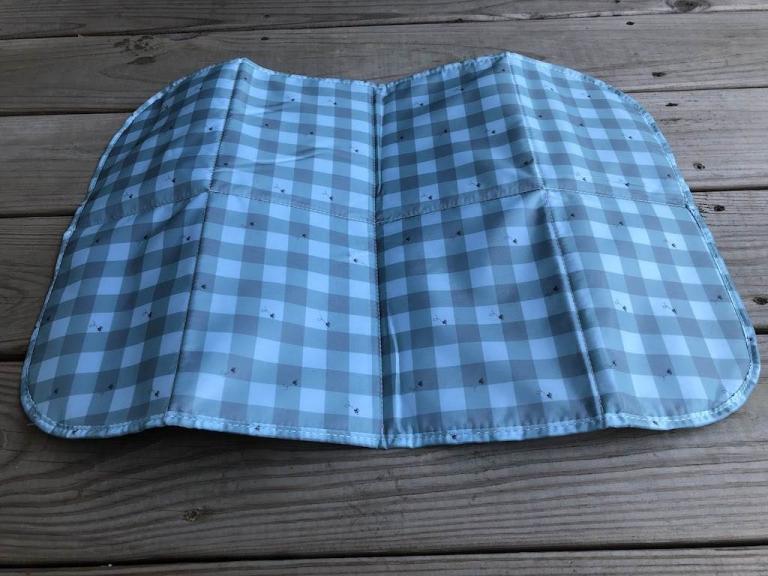 As expected, with a Disney collaboration and at this price point, Petunia Pickle Bottom features quality craftsmanship. The zippers all work perfectly and are smooth to operate. The magnetic closure on the front feels secure, but is not difficult to open. The Meta Backpack was designed with parents and children in mind and while not machine washable, its surfaces are easy to wipe down and keep clean no matter what life throws at it! Plus, Petunia Pickle Bottom items are fashioned to mix and match so you can create the perfect look for your personal parenting (or traveling) style.
I'm so grateful to have a chance to review Petunia Pickle Bottom and I would recommend this and their other products. If children are in my future, I'll definitely be buying other items such as the sling bag, pacifier holders, cooler containers, and stroller clips. So, whether or not you have kids, if you've been eyeing the PPB bags for your adventures, the Meta Backpack is a practical and stylish bag that's up for the challenge, and the addition of Disney characters makes it magic.