About Mack Weldon Review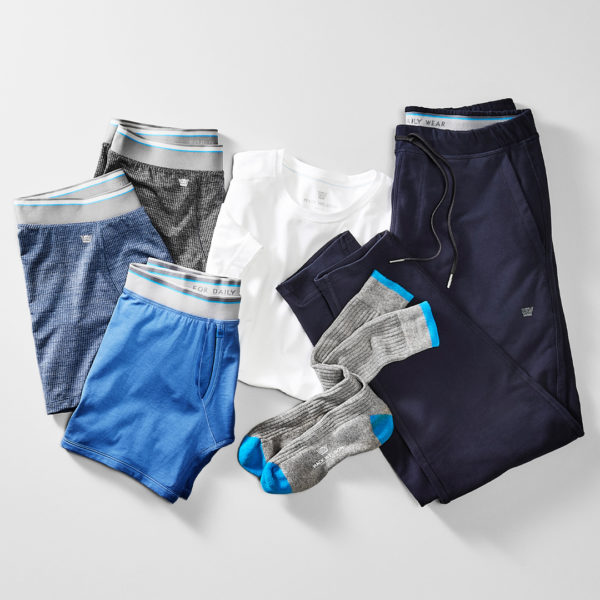 It's no secret that we think a polo is a great summer option. It's the perfect top for the warmer months. It is neither too dressy, nor too casual. It can look just as at home paired with shorts and sneakers as it can under a blazer or even a suit.
Still, not all polos are created equal. Some have different fits, styles — like pockets, thicker or spread collars, and so on — and, perhaps most importantly, different fabrics. Especially in this new modern age of tech-wear fabrics, many polos are being made by various companies with all sorts of special, unique, and cool features to help make them more comfortable for the heat. We already took a look at the new J Crew Factory performance polo (we didn't love it), but now it's time for another top contender, the Mack Weldon Vesper Polo ($68).
Overview of Mack Weldon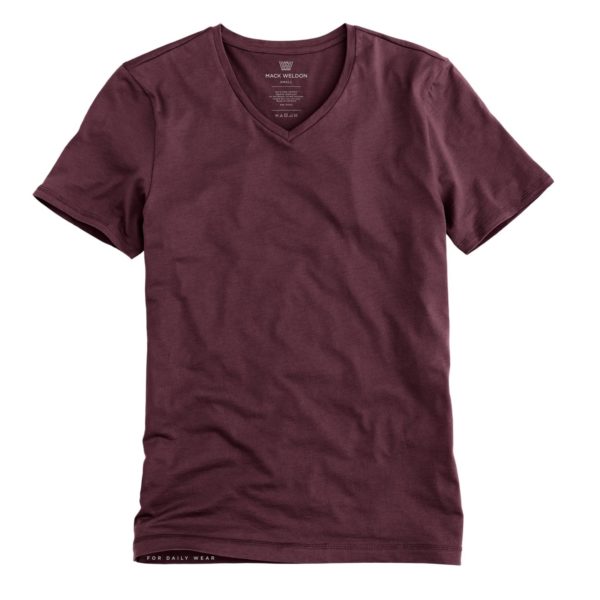 Mack Weldon is a relatively new menswear brand, focusing on essentials like undershirts, underwear, socks, tees, and now polos as well. They specialize, though, in unique and performance fabrics. They make all sorts of great mesh fabrics, with moisture wicking capabilities, tons of stretch, and so on. This has done real well for them in the undergarment space, and now they are bringing it to polos.
Considering just how hot it can get during the summer months, especially depending on where you live, having a polo that feels weightless, is super breathable, and moisture wicking could be the difference between life and death (almost). Some of these performance polos put good ol' pique cotton to shame. Let's take a look at Mack Weldon's offering.
Packaging & Experience
Mack Weldon's website takes a minute or two just to figure out how they have everything broken down, but once you do, it's actually very well organized, and very easy to use. It's well designed, and a pleasure to look at. Shipping is fast — only took a couple of days. Packaging is nice also, as your items arrive in sized grey shipping bags that look and feel a whole lot nicer and more premium than how big box retailers ship their stuff. Shipping both ways is free, but there is no return label in the box. You have to go online to print one out. A-
Style & Design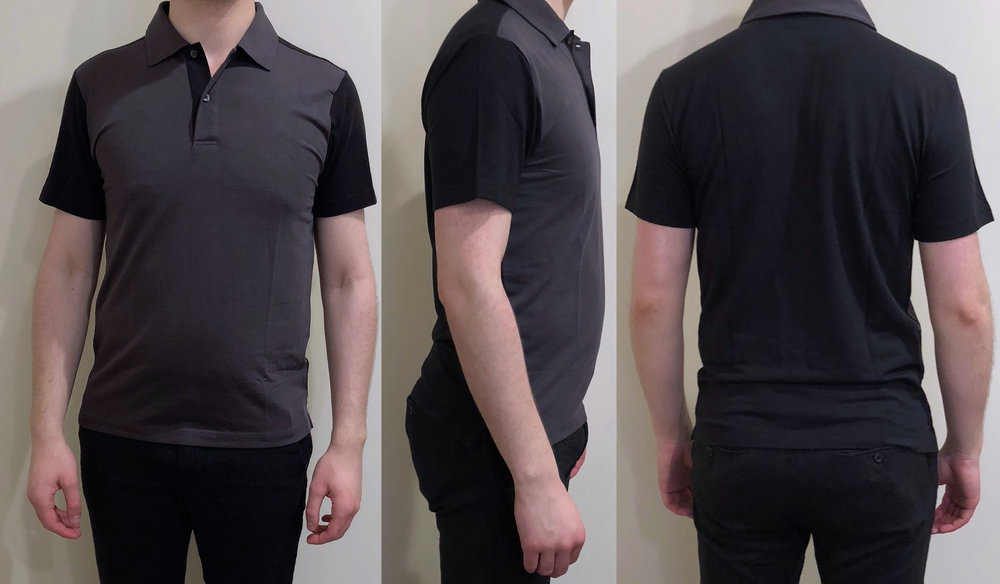 As of right now, Mack Weldon does not have too many polo offerings. They have three different fabrics types, each with a different fit, and each with a different set of two or three fabric patterns. So, not super impressive from this perspective, but also more than understandable when you're talking about a company's first voyage into a new area of products. One thing to note, though, is that just like with most of their products, not all fits or patterns are available in all styles. This has always bugged me about their products. (Why can't I get a trunk in all of their fabrics, for instance?) But this is just how it is.
As far as the Vesper polo in particular is concerned, it promises to be the most performance, tech-wear of their three options. It is a mesh fabric, and is available in a few solid colors with a chest pocket, as well as some two-tone options without a chest pocket. We love our chest pockets on polos, but we couldn't pass up the cool, and more unique two-tone offering, so we went with a black and grey fabric for this review. The color is spot on, as the grey is neither too light nor too dark, and the same goes for the black.
The fabric itself, though, is super, super casual. It's a true mesh, and, up close, would likely be see-through to some extent. So, leave this polo for the super hot days when it would be more excusable, or at the very least do not wear this with a suit jacket.
It's just not dressy at all. Perfect for the golf course, or for a day at the park; much less perfect for the office. This was, in all honesty, a bit of a disappointment. We wished that the mesh would not have been as noticeable, but it is, instead, quite noticeable. The collar is also, in our opinion, a little bit too big for the look of this polo, and sits a bit floppy because of it. While you cannot really fault a mesh polo for being what it claims to be, we do still think this could have been executed a bit better. B+
Quality & Construction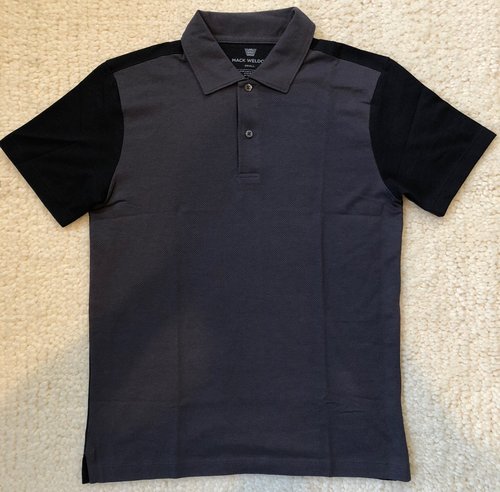 Mack Weldon always delivers solid quality in their products. They sure as hell charge for it, but you do get what you pay for, for the most part. There are no complaints here, when it comes down to it. The fabric breakdown is 47.5% Combed Cotton, 47.5% Modal, 5% Polyester. It feels and moves incredibly well. It feels like you are wearing next to
nothing. It's silky smooth, and a breeze, quite literally, to wear. Again, on the golf course, this thing would be a God-send. Mack Weldon knows their tech fabrics, and this polo is no exception. Again, we wished it looked a bit better, but as far as the feel is concerned, they did a bang-up job. It breathes super well, is indeed very moisture wicking, and
overall is very comfortable to wear. The whole built is good too, with solid-feeling buttons, and clean stitching throughout. The fabric, I suppose by its nature, does feel very, very thin though, and so the almost-weightlessness of this polo might come across as a bit cheap-feeling to some. We think that is the nature of the beast though. If you want a super lightweight polo, well, then, it's going to feel super lightweight. Either way, we can see getting a solid amount of wear out of this. At almost $70, though, we don't think it delivers $70 worth of quality. It's good, but that good? That's hard to argue. The price is super expensive, the quality is there, but is this really double the quality of a Banana Republic polo? Hard to suggest that. Still, though, if you want a fabric like this, there is nowhere else that really offers anything truly close. A
The Fit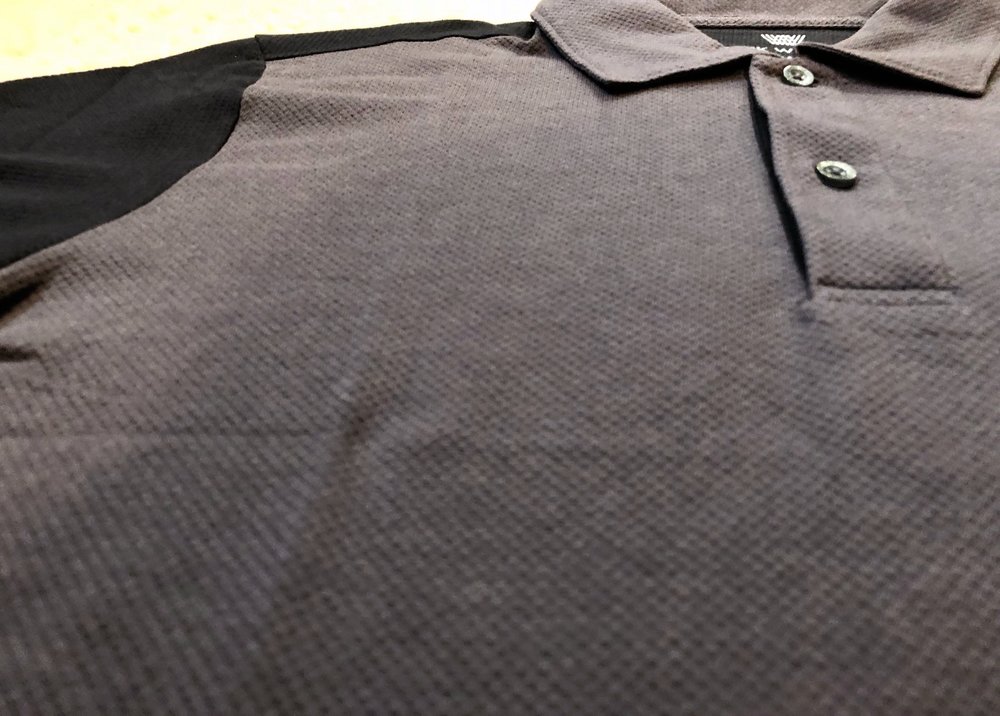 This is considered to be their Slim Fit. I went with my usual size Small. I found it to be a touch short, as well as too wide in the armholes for slimmer and taller guys like me. Shorter guys with a bit more meat on their bones will find this polo alright in respect to its length and armholes, but will run into some odd problems with the chest and waist measurements.
It is a mystery to me who this polo was cut for. The chest is only a hair wider than the waist. Who has body measurements like that? While this polo fits me, a tall, slender guy (presumably their target audience with a Slim Fit polo) perfectly in the waist, it is too tight in the chest and cuts uncomfortably into my armpits.
Surely, going with one of their more classically fit polos would realist in armholes that are much, much too big and a waist too wide as well. Once again, we gotta say, despite this being labeled a Slim Fit, it's not truly a great slim fit, with off chest and waist measurements. Tall, skinny guys won't fit into this well. See the full chart below for more details and a better idea. B-
Value & Conclusion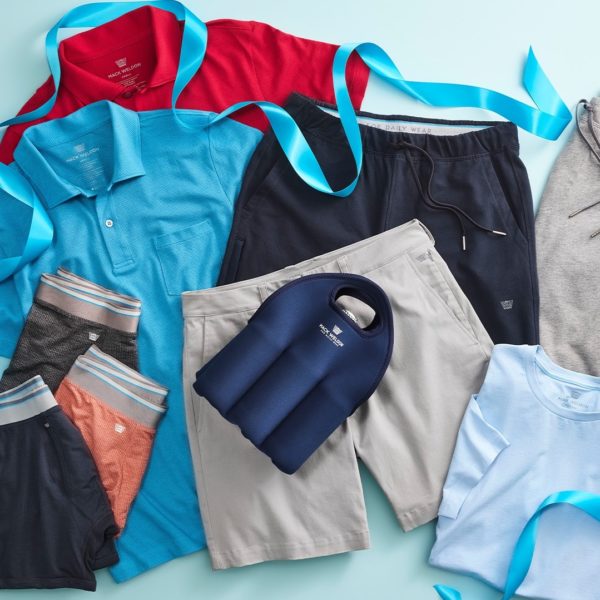 Mack Weldon Vesper Polo — $68: This is not cheap for a polo. There's not two ways about that. If a true performance fabric justifies that price to you, then go for it. It's well made and, assuming that it fits you, you'll get what you pay for and will be happy with a polo made in a fabric you cannot readily find elsewhere. If you won't fit into it so well, and just don't see a better performance fabric than what you can find elsewhere as being worth about double the price, then we say you should pass on this. Still, with free shipping and pretty easy returns, it's worth giving it a shot if you think it might be right for you. Final Grade: B+
Are they comfortable?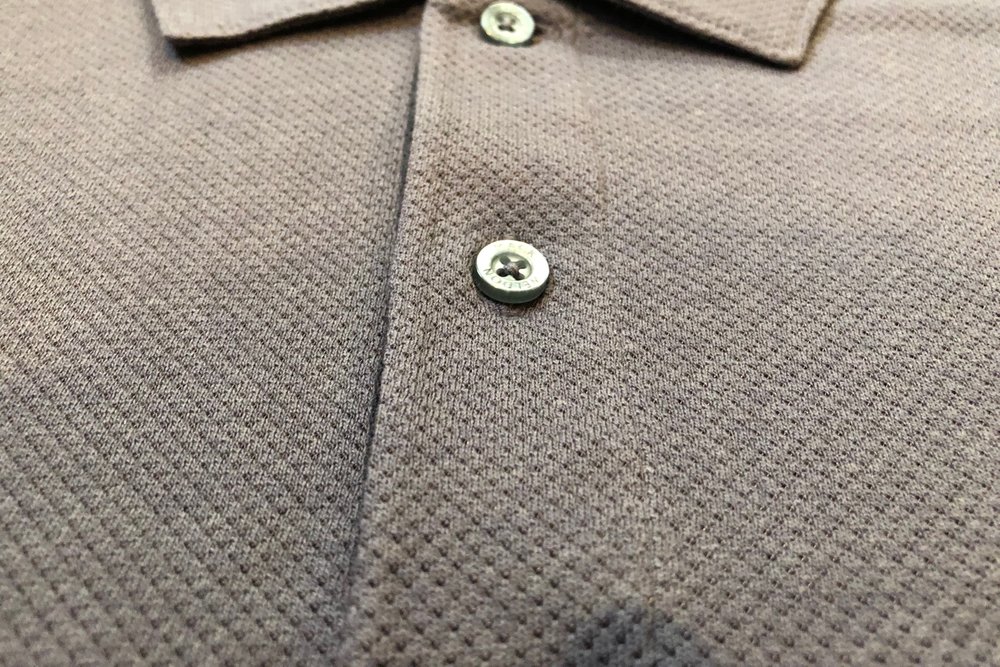 It feels great wearing these Mack Weldon boxer briefs. The heavy spandex (elastane) content allows them to cling closely to your body, but the fabric is stretchy so you never feel restricted. The snugness leaves you feeling well supported.
This AIRKNITx HD version also has special breathing zones that appear to be thinner and slightly more jersey-like than the rest of the fabric. Some reviewers complained about the seam (seen below the waistband in the picture). But keep in mind that the seam is knitted smoothly and not guaranteed to bother you.
Another important note, the fabric is not ultra soft like you might expect with a modal or micromodal blend. However, because it is made from synthetic polyamide, it is great at wicking moisture. And the weave is sewn with holes similar to jersey boxer briefs, which allows for an excellent amount of airflow. Overall these are an incredibly comfortable pair of Mack Weldon underwear.
Are they good for sports and sweaty activities?
This is exactly what Mack Weldon had in mind when they designed this breathable microfiber. The combination of breathable jersey-like mesh with moisture-wicking polyamide fabric make these great for high levels of activity. The supportive elastic keeps everything in place as you move, but it doesn't go so far as restricting your movement.
How's the package support?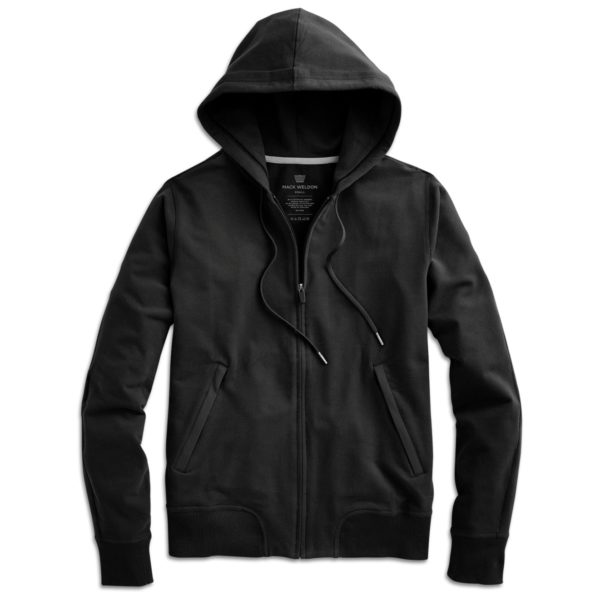 The contoured design of the pouch and the stretchy fabric make these boxer briefs very supportive. It's the kind of support you get with Tommy John Second Skin boxer briefs, if you've ever tried that brand and are considering a switch. But the support may not match up to your standards if you're used to wearing dual pouch underwear or the kind with a lined ball pocket.
Does it have tags?
There aren't any tags on these Mack Weldon briefs. They actually printed all the product information on the backside of the right leg, which is oddly prominent placement. But it's not really that noticeable, at least you won't notice it.
How do you clean them?
The care instructions say to machine wash cold with like colors and tumble dry on low. Keep in mind that these are quick drying boxer briefs, so there's no good reason to ignore the manufacturer's instructions and scorch them with high dryer settings. We did notice a mild amount of wrinkling in the fabric, so you might want to be sure to pull them quickly once the dry cycle ends if that sort of thing bothers you.
Our Conclusion

So that pretty much wraps up this Mack Weldon review. Final thoughts: the AIRKNITx HD 8″ Boxer Brief is a great choice for anyone looking for underwear that keeps you dry, fresh, and well supported.
Mack Weldon put a lot of attention into their designs. First the AIRKNITx fabric design, which has been woven for incredible breathability. Second the actual garment design, which applies supple pressure at key points to support your package. Third the simplistic colors and design choices give you an air of sophistication and class.
AIRKNITx fabric is available for many types of basics and underwear styles. You've got choices of briefs, boxer briefs, long boxer briefs, or trunks. You've also got options for AIRKNITx socks or performance tights if you'd like to replace even more of your wardrobe.
This Mack Weldon underwear line is designed to keep you dry and fresh throughout your day, regardless of what level of activity you get up to. It's made by a company focused solely on providing men with quality basics. If you want a moisture-wicking, package supporting, lightweight boxer brief that doesn't ride up then the Mack Weldon AIRKNITx HD 8″ Boxer Brief is likely a good choice for you.