With its vertical hydroponic Farmstand, Lettuce Grow enables you to grow fresh vegetables, herbs, and even certain fruits at home. By planting pre-sprouted non-GMO seedlings and watching them grow either indoors or outdoors, you may decrease food waste, water use, and carbon emissions while increasing nutrition and convenience. Visit the company's Instagram profile to find rows of stunning images of beautiful green scenery; it's easy to see why it has a sizable 252k following. Additionally, Lettuce Grow has been featured in a number of periodicals, including Mashable, Cosmopolitan, CNN, and Fast Company. The brand's delectable outcomes are just one of the many factors contributing to its success. The Lettuce Grow system was created for house owners who appreciate gardening and are interested in growing their own greens but have limited indoor and outdoor space. The business is dedicated to popularising urban farming. Lettuce Grow uses its incredible goods to make homegrown food more accessible to those who would not otherwise be able to grow their own food at home, thanks to vertical farming techniques and NASA-inspired inventions. Lettuce Grow is one of many commercially available indoor personal gardens. Start with our guide if you want to learn more about the top hydroponic systems.
OVERVIEW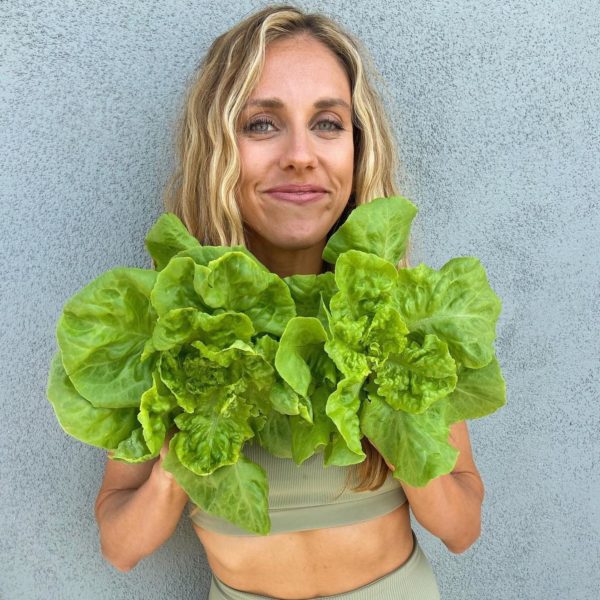 You can grow fresh fruits, veggies, and leafy greens at home with Lettuce Grow, a useful and attractive hydroponics tower. The Lettuce Grow works effectively both indoors and outdoors when the Glow Lights are used. With the help of the innovative hydroponic Farmstand Lettuce Grow, home gardeners can harvest leafy greens and other fresh produce while remaining in the comfort of their own homes. Let's take a look at some of the advantages of growing your own fruits, veggies, and greens before deciding if this Farmstand is the correct choice for you. Actress Zooey Deschanel and the star of the show New Girl founded Lettuce Grow, a hydroponic gardening system. Jacob Pechenik, a co-founder of her business, is a producer on Zooey's "Your Food's Roots" Facebook Watch series. A manufacturer of hydroponic systems, Lettuce Grow is best known for its distinctive Farmstand vertical system. They want to make it easier and more sustainable for everyone to cultivate their own food. The Farmstand just occupies 4 square feet and is self-watering, soil-free, and self-fertilizing. In essence, you can grow a bountiful garden regardless of how lazy you are or how little space you have. With the use of their system, gardeners can grow plants both inside and outside under the proper conditions. Herbs and lettuce are speedier with this. Manu people harvest the lettuce after five weeks. There will be different vegetables. Additionally, because you only supplement every few weeks when you have a smaller stand, it is tougher to observe a difference in your overall food spending. You can get advice on when to harvest and when your plants are ready from the app. Although not usually the most precise, it's excellent for direction. It has taken a while for the plants to start producing.
PROCEDURE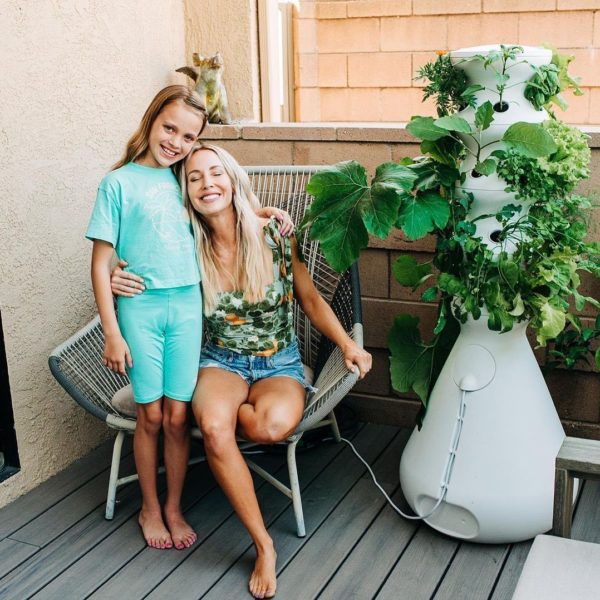 Setting Up The Lettuce Grow
Lettuce Grow required a few steps to assemble, and since the packaging didn't include paper instructions, You might have to rely on their YouTube channel and mobile app instead. As mentioned in other Lettuce Grow reviews, the setup was simple and undoubtedly possible by one person. After about an hour, some hard work, and a few irritating errors, you will manage to get everything up.
The Lettuce Grow consists mainly of a number of water-filled plastic pods, each of which has six circular locations for seedling pods. Installing a pump that propels water upward through a network of pipes and a cover that helps the water spread evenly throughout the entire seedling pods.
Each seedling pod produces one of your plants, which you then place on the Farmstand according to parameters like how much sunlight they prefer. The app provides recommendations for nutrients and watering once you've noted whatever plants you're currently cultivating on it.
Fertilising and watering your plant
The app offers advice on how frequently to water your plants, how long to let them soak in water, and how much fertilizer to apply once per week after you've noted which plants you're growing with your Lettuce Grow.
You may programme the timer on the Lettuce Grow pump to water lettuce automatically for 15 minutes twice a day, 30 minutes once daily, etc. Along with the fertilizer, the Farmstand also includes a pH testing tool that you'll use once a week to check the pH of the water.
Additionally, they offer a substance called "pH Down" that may be added to water to reduce pH levels if they are too high. Although it does seem like a lot of labor.
Lettuce Grow Seedlings
Along with its Farmstand, Lettuce Grow also sells seedlings, and each seedling packet has information on what each seedling is as well as, if any, its growth preferences. There are many different varieties of kale and lettuce, herbs like parsley, cilantro, and chives, tomatoes, strawberries, cauliflower, chard, and more available for selection from their extensive seedling collection.
Many people chose their usual opening package of plants, as suggested by previous Lettuce Grow reviews. Some of them fared well , while some did not, but overall many people were able to harvest an astonishing amount of food from the little seedling kids.
WHAT IS HYDROPONIC GARDENING?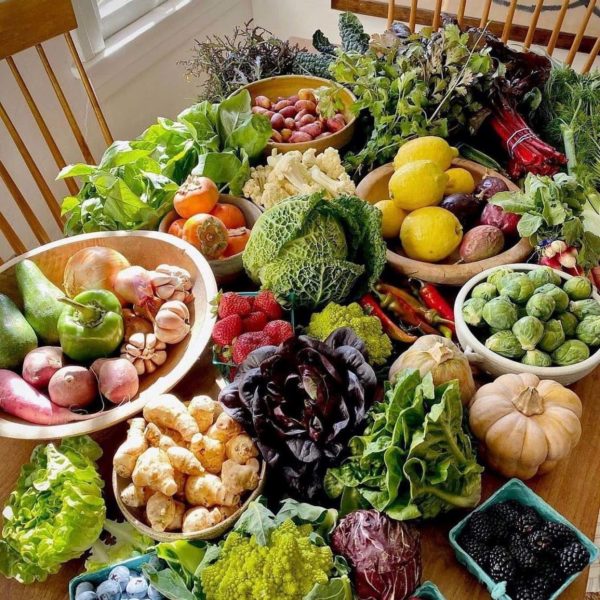 The Farmstand is one of the hydroponic systems that home gardeners are increasingly purchasing, especially after the COVID pandemic drove many of us to stay at home and pursue new interests. On a commercial level, proponents see large-scale vertical hydroponics as the way of the future for agriculture.
They offer an alternative to conventional farming because hydroponics requires less water and land and allows plants to grow all year long indoors and in unanticipated places. Proponents claim that despite their little impact thus far, they are also a means of addressing issues like food security and climate change.
In hydroponic gardening, very little soil is used; instead, plants rely on a reservoir of water that has been enriched with nutrients, like the water in the Farmstand's base. To promote root and leaf growth, hydroponic plants slurp up water laced with fertilizer scoops.
They emulate everyone who neglected to trim their hair during the pandemic by sprouting lengthy roots instead of roots that expand outward into the soil in search of sustenance . Plants can grow more quickly because of the energy they conserve by letting their roots hang loose.
To be fair, lettuce indoors was grown from seedlings supplied by Lettuce Grow, whereas lettuce outside was grown from seeds. You have a three-week head start with seedlings. Due to growing lights, the indoor lettuce also didn't have to deal with the shorter winter days. However, I was really pleased with the Farmstand's initial harvest.
Farmstands
The Farmstand, a hydroponic system that comes in several sizes and only requires 5 minutes of maintenance every week, is Lettuce Grow's flagship new product. It's perfect for novice home gardeners with little free time because it self-waters and self-fertilizes.
Farm Stands were created using the hydroponics technique, which allows plants to grow without soil in water. Fertilizers and water that are subsequently cycled through a vase-shaped stand supply plant nutrition. You can still have indoor gardens even if you don't get much direct sunlight where you reside.
Grow lights are available from Lettuce Grow in the form of glow rings, indoor lighting systems that are perfectly suited for your farmstand.
HOW ARE FARMSTANDS OPERATED?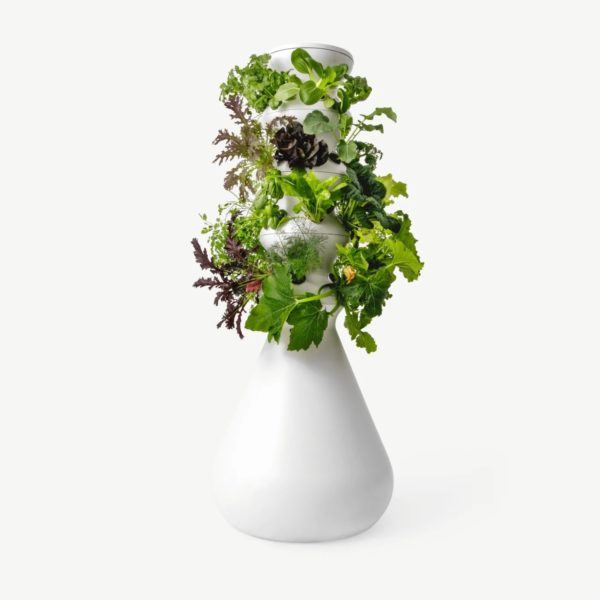 Your plants grow around a base called a farmstand that resembles a vase. Each farmstand has a diameter of 1 foot, 10 inches. Depending on how many glow rings are affixed to it, the height varies. The height of a farmstand can vary from 3 feet 9 inches to 6 feet 2 inches. Each farmstand may hold between 12 and 36 plants. In essence, it is a vertical garden where you may grow a wider variety of plants the higher up it is.
When compared to a standard light bulb, the Farmstand's base serves as a water storage and a water pump for your plants. You can easily put water and plant food in a section on it. This container is where you measure and test the pH of the water.
The Lettuce Grow Farm Stand requires 98% less water than traditional gardening and is constructed of plastic that is destined for the ocean.
With the following set-ups, you can cultivate a variety of plants with this hydroponic garden system:
12-plant Farmstand: three to six veggies, three to six herbs, and up to six leafy greens
18-plant Farmstand items include up to 12 leafy greens, 3-6 veggies, and 3-6 herbs.
24-plant Farmstand: 12 leafy greens, 6 vegetables, and 6 herbs
30-plant Six veggies, six herbs, and eighteen leafy
36-plant Farmstand: up to 24 leafy greens, 6 to 8 vegetables, and 6 to 8 herbs.
HOW TO INSTALL A FARMSTAND
For your hydroponic garden, you should have at least 4 square feet of level floor space. You should also make plans to have an electrical outlet close by because a Lettuce Grow Farmstand needs to be constantly connected to an electricity source.
Farm stands require very little assembly. For your hydroponic growing system, you simply need to purchase the base, tiered planters, water pumps, and grow lights (if you're using them) in order to begin growing fresh greens. There is a thorough instruction manual included, so don't worry.
SEEDLING TO ADD YOUR FARMSTAND
Seedling installation is quite simple. Simply take the seedlings out of the plastic containers, pull the Farmstand's removable baskets off, and place them inside. Verify if the basket's bottom is being pressed on by the plant's roots. Return the basket to the unit at this stage. Tomatoes and other plants that bear fruit should be placed at the bottom of your unit, while greens and herbs should be placed near the top.
What Can You Grow With It?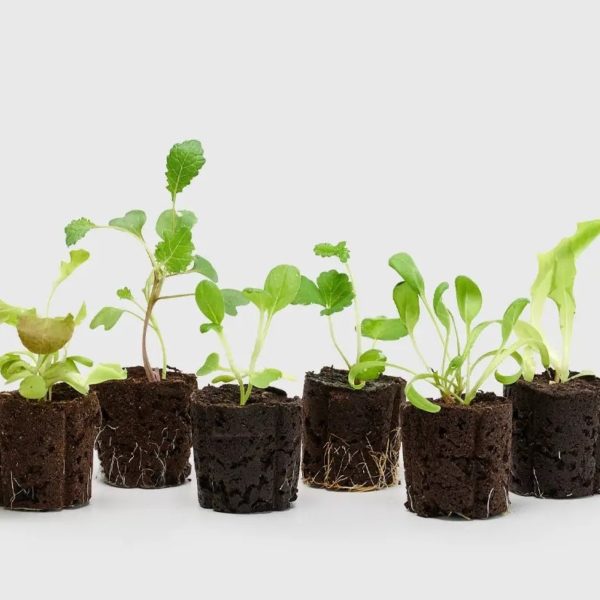 The Lettuce Plant website provides information and guides, as well as an online quiz, to help you pick what to grow. Broccoli, green beans, romaine lettuce, different types of lettuce, herbs, sweet peas, and other leafy greens are some of the common possibilities for your vegetable garden.
You can choose from more than 200 varieties of lettuce at Lettuce Grow. To make maintenance easier, they send pre-sprouted plants grown from their own non-GMO seeds.
Once your Farmstand and its new seedlings are established, all that is left to do is occasionally check the pH level, mix in the plant fertilizers that came with your smart garden, and check the water level in the water tank. The item comes with a pH test kit for use at home.
10 REASONS TO BUY LETTUCE GROW
1. Pick Your Own Fresh Produce
The opportunity to harvest fresh greens, herbs, and other vegetables directly in your home is one of the Lettuce Grow Farmstand's finest advantages. Never worry about running out of greens for a salad or a little cilantro for taco night.
They are as fresh as you can get because they are cultivated within your home. You won't have to be concerned about your herbs or greens wilting in the refrigerator before you can consume them. You can harvest from the Lettuce Grow as necessary.
2. There's More Than Lettuce
The Lettuce Grow Farmstand produces much more than simply lettuce, despite its name. Additionally, you may grow items like small cucumbers, green beans, and cherry tomatoes. You can also grow flowers like marigold, snapdragon, and dianthus if vegetables aren't your thing. On the brand's website, you can select the precise combination of vegetables, greens, herbs, and flowers that you desire. If not, you may count on them to create a unique blend based on your requirements.
3. Locate Either Indoors or Outside.
There isn't any room inside. No issue! You can use the Lettuce Grow inside or outside in the sun. It can be altered to suit your needs. The Lettuce Grow can be placed outside or even in a corner of your own house because of its low-profile tower shape. Additionally, you have complete control over the lettuce grow's height. If you do decide to use a Lettuce Grow indoors, you can use their grow lights to give your plants extra light. If you live somewhere where there isn't at least six hours of daylight each day or if it's in a dim area of a building, this is a great option.
4. Simple to Keep Up
There isn't much maintenance required once the Lettuce Grow Farmstand is up and running. There are no weeds to pluck like there are in conventional farming. If you keep your unit indoors, bugs shouldn't be a big problem either. All the system requires from you is a weekly top-off of the water reservoir. You might also need to add a small amount of nutrition solution to the water every few weeks. Monitoring the pH of the water will allow you to keep an eye on the nutrient content. I'm done now! Overall, using the Lettuce Grow is far more time-efficient than conventional gardening.
5. A Family-Friendly Activity
The Lettuce Grow is so simple to look after and maintain that everyone in the house from adults to kids can take pleasure in it. Kids may develop a greater understanding of where their food comes from if they get to watch plants grow from a seedling into something they can eat. Imagine the thrill of allowing them to also harvest their own vegetables!
6. Nature's Beauty
The Lettuce Grow is not only useful, but it also has a pleasant appearance. Any home or yard will look remarkable with the simple bubble pattern. This tower farm's attractiveness will only increase as it fills with the sight of lush, new vegetation. Overall, it is a wonderful complement to your home's interior design.
7. Smooth Flow of Water
The Lettuce Grow farmstand offers the calming sounds of running water in addition to its beauty. The Lettuce Grow uses hydroponic plant growth, which involves pushing a water solution across the roots of the plants in what sounds like a soothing stream. The sound of the trickling water will initially be a little louder than usual as you get going. The roots gradually muffle the sound.
8. Beneficial to the Environment
How did the produce get to the grocery store where you buy it? It was often grown on a farm, loaded into a truck, and delivered to the supermarket. The farm can be ten states or just ten minutes away. While this is going on, your Lettuce Grow Farmstand is located right outside your door, giving your family the exact same fruits, veggies, and leafy greens without any additional air pollution from trucks.
9. Minimal Water Use
If you reside in a drought-prone area, gardening will undoubtedly be challenging in the middle of the summer when everyone is attempting to conserve water. As a hydroponic plant planter, Lettuce Grow continuously pumps the same water through the Farmstand. You will eventually lose some water to evaporation or to plants consuming it. However, Lettuce Grow may generally use up to 95% less water than conventional gardening. You won't lose water to the surrounding ground because the water is recycled as well.
10. Constructed To Promote A Healthier Lifestyle
We all understand that we should eat more vegetables. However, you might not know what you want when you go to the grocery store, and everything you bring home might wilt before you can use it. Having lettuce grow at home promotes better eating practices. Imagine you're preparing dinner and you're a little peckish. Go get some tasty fresh produce, such some peppers or cucumbers.
Do you need a little crunch when creating a sandwich? Grab a tiny cucumber or some romaine lettuce from the Farmstand at that point. Maintaining a garden at home will guarantee that you always have access to safe, wholesome, and nutritious greens anytime you need or desire them.
PREPARE YOUR OWN FOOD WITH LETTUCE GROW FARMSTAND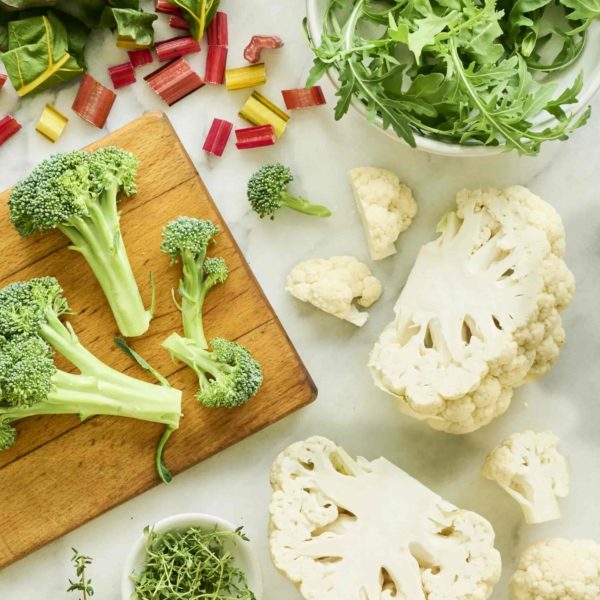 Lettuce Grow is a hydroponic growing system that uses towers. A water reservoir and a pump are located at the bottom, where it all begins. From there, there are tiers that resemble bubbles, where your produce is grown. Each level contains a number of holes where your plants can grow while being supplied water and nutrients. When everything is put together and working properly, water is pumped up to the top of the stand's interior where it trickles over the roots and back down to the reservoir.
The best part about Lettuce Grow is that you have complete control over your tower's size and placement. 12 pods can fit in a small stand, whereas 36 pods can grow at once in a large stand. Due to this, it is ideal for a family or even a single person. You can decide where to put your farmstand as well. It can be kept inside or set up outside in the sunlight like traditional farming.
If you intend to keep your stand indoors, the optional Glow Rings (which function as grow lights) attach to it to ensure that your plants receive all the light they require. Because you just need to top off the reservoir once a week, maintenance is simple. Every few weeks, you'll also need to replenish the nutrient supply.
For individuals who are just starting out or who don't have a lot of space, a farmstand is the ideal solution. Even seedlings that have already sprouted and are prepared to be put inside the stand can be ordered directly from the website. They provide a wide range of choices, including greens, herbs, veggies, and flowers. even provide flowers!
Their company's goal is to make food production more simple and sustainable. More than half of the food in contemporary supply networks is lost before it is sold. The devices aid in reducing waste and the amount of emissions produced by moving food from the farm to the grocery store.
For every ten units bought, they donate one in support of their goal to make food production more environmentally friendly.
WHERE TO PLACE THE LETTUCE GROW FARMSTAND?
Both indoor and outdoor use of theFarmstand are acceptable. The greatest location for outdoor use is where there is a lot of sunlight. The Farmstand must be close to an electrical outlet because the water pump also requires power.Additionally, it is ideal to put them in a location that won't likely see wind or frost. Such weather would be detrimental to plant growth.To provide the plants with the necessary light for indoor use, you will need to buy an additional glow ring or other grow light system. Another factor to take into account is power; for indoor grows, you'll need it for the lights and the pumps.Bedrooms won't create the best growth environments due to the brightness of the lights and the noise of the pump (albeit it's not particularly noisy), but aside from that, its modest footprint means it will fit in most small areas.The demand for a drip tray or drip mat is another factor to take into account when growing indoors. Although they are made to have minimal water overspill, this can occasionally happen due to plant root systems.
Pre-Sprouted Plants and Seedlings of Lettuce
The majority of seedlings can be cultivated year-round inside. There are well over 200 different kinds of seedlings available.The Farmstand is fantastic if you enjoy growing a variety of lettuce and other plants because you can grow practically any plant together in one container. There is no requirement to divide Farm Stands by vegetable, herb, etc. type. The main benefit of seedlings is that difficult seed germination has already taken place in Lettuce Grow greenhouses. Since they've already done the bulk of the job for you, they arrive pre-sprouted. The water reservoir must be filled and nutrients must be added; nothing else is needed.The seedlings are about 3 to 4 weeks old and are carefully chosen so that they will be in top condition when they arrive. This frequently means that you can start harvesting your plants three weeks after getting them.
FEATURES of FARMSTAND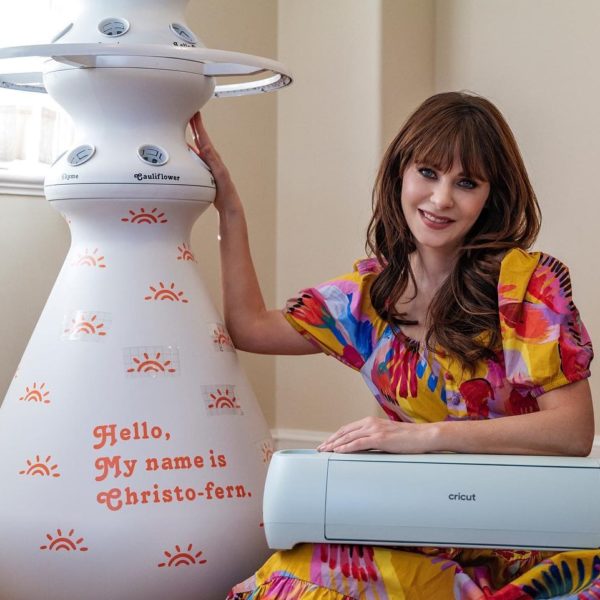 Farmstand design
Growing Lettuce The farmstand has a bulbous base that serves as a water reservoir and is vertical in shape. Rows of curving grow bases, each with six holes for the pre-seeded, pre-sprouted plant pods, are arranged above the base. To ensure that you are not restricted to a single size when you first buy, these rows can also be purchased separately as extension kits. Buying an extension kit row is all that is needed to get from 12 to 18 plants. The entire device can be used indoors or outdoors using sunlight and optional glow rings. These LED indoor grow lights will give you healthier food options and the light needed to cultivate fresh vegetables.
Automatic watering
Every 15 to 30 minutes, the solution is delivered to the plants via the water and fertilizer pump. You can set the timer to any time you like within this range to customize the hydroponic watering schedule. You will only need to top off the nutrients once a week once the plants are established and the reservoir has been filled with the water and nutrient mixture. In order to maintain the health of the water and plants, it's also advised that you check the pH level of the water at least once a week and make any necessary adjustments. The nutrient-rich water is sent to a diffuser at the top of the Farmstand by a water pump at the bottom of the apparatus. The water and nutrient mixture is then sprayed downward onto the roots of the plants. It can have a pleasant, indoor water fountain-like sound and isn't overly loud. Given how frequently water is recycled, this efficiency also applies to water use. The plants only consume the water they actually require, and any extra water is stored in the system to be used at a later time. In essence, it has a careful water management system of its own, which allows it to use 95% less water than conventional gardening techniques.
Required Maintenance
The Lettuce Grow Farmstand was created from the ground up to require less upkeep and care while yet producing excellent harvests of fresh food. The weekly time needed for maintenance and care is typically approximately five minutes. You only need to add water and nutrients, change the pH of the water, harvest any plants that are mature, and occasionally plant fresh seedlings. The excellent growing manual on Lettuce Grow will answer a lot of your questions. This is a big improvement over traditional gardening techniques, especially for those who might have felt they lacked the time to raise their own fresh meals.
Need for Dependability and Experience
No of their level of experience, anyone can grow fresh vegetables using Lettuce Grow systems. Place the seedlings in a Farmstand slot when they are delivered, set the timer, and the plants will start to grow. Actually, it couldn't be any easier. Regardless of your level of green thumb, the growth success rate is incredibly high because the delivered plants are pre-sprouted seedlings. Lettuce Grow offers a 90-day refund policy to consumers who are dissatisfied with their Lettuce Grow Farmstand for any reason. That's quite kind of them, and it demonstrates their concern for customer satisfaction and want to give people healthier options. They are giving people 12 weeks to test the growth of lettuce and other plants, despite the fact that some plants can grow in as little as 3 weeks.
Size of Farmstand and Required Space
The Farmstand is a vertical garden with a 3 square foot size that is supposed to be scalable. Depending on the number and kind of plants you choose to cultivate, your garden will vary in size simply by height.The largest size, at 6′ 1″, can grow 36 plants, while the shortest size, at 3′ 8″, can only grow 12 plants. The intermediate sizes can simultaneously grow 18, 24, and 30 plants.The height of the unit depends on how many plants you desire to grow; I have provided all the details below. The farmstand can fit in a 3′ x 3′ level space.
Farmstand with 12 Plants: 3'8″ Height x 1'10" Dia.
18 Farmstand for plants: 4′ 3″ x 1′ 10″
Farmstand for 24 Plants: 4'10" x 1'10" Farmstand for plants: 5'5″ x 1'10"
Farmstand for 36 plants, 6'1″ x 1'10"
The base and water reservoir of the system are always the same size, no matter what size you choose. The reservoir has a maximum water capacity of 20.5 gallons.
For those looking to effectively utilize their existing floor area to grow more vegetables, the Farm Stands are a fantastic solution.
What Materials Make Up the Lettuce Grow Farmstand?
Focusing on the components made up of the Farmstand. Environmental factors have been taken into account from the beginning of production.
The containers are made from recycled plastic, such as milk bottles and ocean-bound plastic. You can eat directly from the Farmstand if you wish to because the plastics produced are FDA food-grade and BPA-free.
HOW DOES IT WORKS?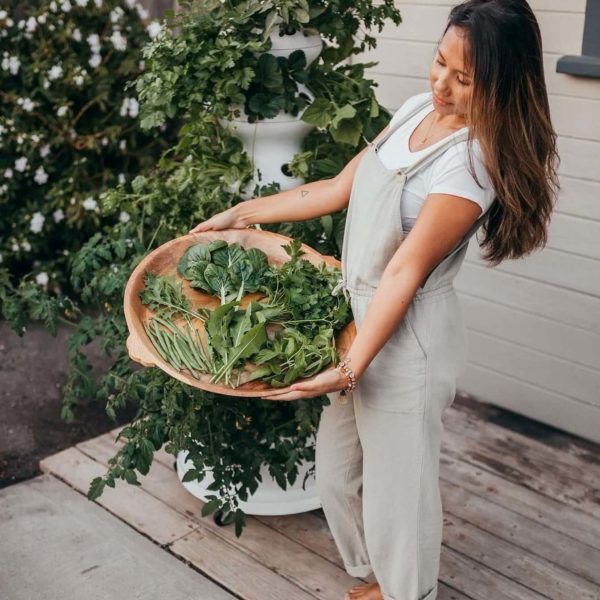 Water, sunlight, airflow, and nutrients are all essential for a plant's growth. Plants in a conventional garden look for nutrients in the soil. Instead of the plants absorbing nutrients from the earth, hydroponics delivers the same nutrients directly to the roots of the plants. Additionally, grow lights replicate the sun's rays for plants growing indoors.
This conserves a large amount of water and space.The Farmstand utilizes less water per plant than a typical garden, which needs about 20 gallons per plant.You'll also need to pay $2.50 each seedling on their website in order to start your garden. There are 200+ different kinds of seedlings available from them, giving you a wide selection.
However, many people also raise their own seedlings. You gain a head start and can harvest your garden around three weeks sooner if you purchase their seedlings. It will take longer if you start from seed. Having said that, buying their seeds is more expensive. Depending on where you buy, a large bag of seeds normally costs between $1 and $3, while their pre-started plants cost $2.50 each.
You cannot use real soil if you choose to raise your own seedlings. A hydroponic-friendly medium is required since conventional soil will fall into the system and clog it. Many people have expressed satisfaction with the results of growing seedlings in Rockwool or Root Riot plug plugs and then bringing them to the Farmstand.
RETURN PROCEDURE
What happens if your Farmstand turns out not to be the ideal setup for you? Since you are investing hundreds of dollars in this system, it would be awful to be in bad luck. Fortunately, Lettuce Grow is aware of this. Despite the fact that you must use their prepaid shipping label and pay a $50 return shipping fee, they do offer a substantial 90-day return policy. Additionally, they warn that using a box other than the one your Farmstand originally arrived in may result in additional shipping charges, so be sure to keep the box!
Additionally, they say the following regarding the return requirement: Lettuce Grow retains the right to refuse a refund or to impose additional restocking fees if any part is missing, returned in damaged condition, or otherwise exhibits indications of abuse. Simply get in touch with them by phone or email to begin a return.
CAN YOU USE YOUR OWN SEEDS IN LETTUCE GROW?
You can, indeed! You can use any seeds you like after you have the growth cups (which you can get separately from Lettuce Grow). This would require a little more gardening expertise, but it's still not too difficult.
Your seedlings will probably need to be started elsewhere first, like in a tray that is covered. They could be started directly in the growth cups for subsequent convenient transport or in a medium resembling a pod. Finding peat moss pods utilized by Lettuce Grow for their seedlings is one approach. A rock wool medium or Jiffy pods are more options.
Your seedlings should be prepared to go into the stand once they are a few inches tall and have a few genuine leaves.
The brand seedlings are a little more practical because they can be planted directly into the tower and should begin to bear fruit in as little as 30 days. While it might take a bit longer to grow a plant from your own seeds, it will undoubtedly be less expensive.
So, if you want to take on a new challenge or develop something special, you can attempt starting from seed.
Benefits of Lettuce Growing
Never before has starting your own farm project been so simple. You can still have a 24-plant setup even if you don't have a green thumb (or even more). Here are a few additional factors to think about:
Aesthetic Value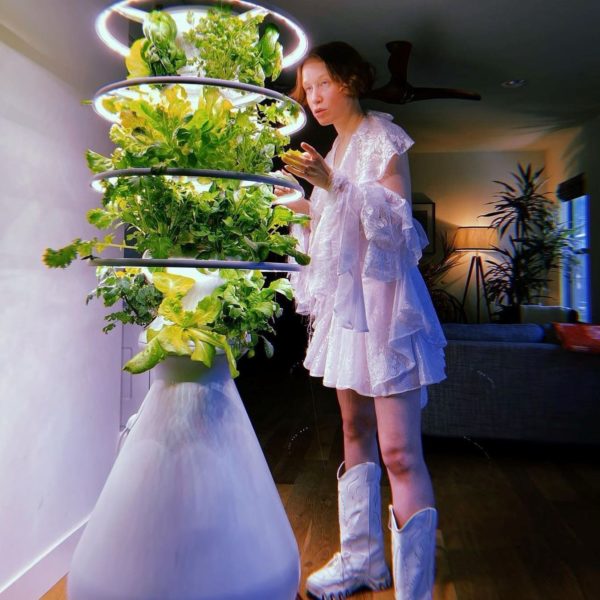 Well, you'll eventually have to consume them, but in the meantime, you can take pleasure in your plants' revitalizing beauty. You may improve your happiness, creativity, and productivity by bringing plants indoors. Some individuals think that the sheer presence of green objects can refresh fatigued eyes.
The Farmstand base is also elegant in its simplicity and minimalism. You can also add some edible flowers to your Farmstand selection if you enjoy having plants around for their visual charm.
Health Advantages
You can be confident that the food you're feeding your family and yourself is secure and devoid of dangerous toxins due to Lettuce Grow growing its seedlings from non-GMO seeds. They grow them without the use of any pesticides. The ocean-bound, BPA-free, FDA food-grade plastic used for the Farmstand base was retrieved from coastal communities.
All Year Long Crops
No matter where you are in the world, you can always have salad greens from your tower garden. Early spring, scorching summers, and cool-season crops are not a concern. No matter where you are in the United States, Farmstand plants are functional all year long as long as you follow the maintenance recommendations and keep your plants indoors. Farmstands don't depend on the time of year or any other factors other those listed by Lettuce Grow. You only need a little amount of room, an electrical outlet, and five minutes each week.
Demands Little Work
Testing the pH levels, adding plant fertilizers to the water, and making sure the minimum water level is maintained are the only care requirements for these hydroponic plants. For 36 distinct crops in as little as 3 weeks, that's not a bad value. Hydroponic plants are also renowned for having an abundance of flavor. For someone who may or may not have a green thumb, isn't it a significant win? Generally speaking, you shouldn't work on your Lettuce Grow Farmstand for longer than 5 to 10 minutes per week.
Outstanding Product Support
For customer service and assistance beyond the sale, Lettuce Grow has a toll-free number (1-512-234-4001), email address ([email protected]), and a companion app. For aspiring gardeners, their website alone is filled with plenty of helpful information. The smartphone app is incredibly helpful and explains what a "smart garden" is to you:
If you already own a Farmstand, ordering new seedlings using their app is simple.
To find out what kind of plant you have, you can also take a picture of it and upload it to the app.
You'll receive notifications from the Lettuce Grow app when it's time to order fresh seedlings.
The app offers a wealth of useful details on the plants you're cultivating, including their flavor, their developmental stages, and even recipes.
Additional Member Benefits
You may access My Farm by creating an account on their website, where you can view seedling delivery updates and planting advice. There is a Lettuce Grow Facebook group and a YouTube channel providing advice on harvesting, pruning, and other topics for people who use social media frequently.
Sustains the environment
With Lettuce Grow, you can grow your own food while using less water, reducing your carbon footprint, and utilizing recycled ocean-bound plastic from areas without recycling programmes. The seedlings arrive in packaging that is recyclable and environmentally friendly.Lettuce Grow's homegrown plants result in a 95% reduction in carbon dioxide emissions, water use, and waste when compared to vegetables from grocery shops. Growing your own food also results in less food waste, which is a plus. You consume little more than what you require for each meal. The Lettuce Grow System's drawbacks
No product is ever perfect, even if Lettuce Grow Farm Stands are among the best hydroponic systems in their market. Consider some of the benefits and disadvantages of a Farmstand before making a purchase.
DISADVANTAGES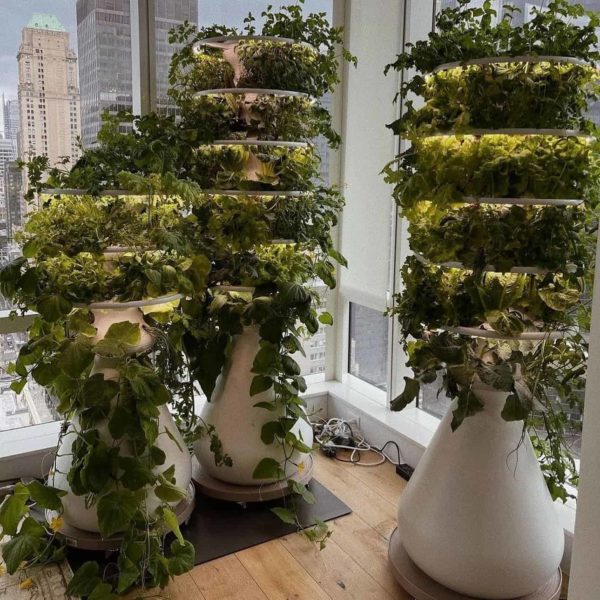 Consider the following drawbacks when evaluating this product:
Expensive
The Farmstand is pricey, particularly if you have to buy glow rings. You will need to spend a few hundred dollars on the cheapest base. In order to maintain your Farmstand, you will also need to continue spending money on seedlings from them in addition to the cost of the first purchase. However, if you can afford the initial cost and occasionally restocking seedlings, it is a great product that seems to live up to its promise of producing nutritious produced food with little work.
Installments every month
They are associated with the pricey financial loan service Affirm. This allows you the opportunity to pay in equal monthly installments over a period of up to 12 months without incurring any additional expenses.
Sensitivity to light and noise
The noise of the water pump may be overly distracting depending on how sensitive you are to sound. If you value complete quiet, take into account the fact that the water pump must run continuously. Additionally, the glow rings need to be on at all times. You should consider how keeping these lights on constantly can effect you because some people may find the lights to be overly bright for confined spaces.
No Simple Identification System
If Lettuce Grow had included a labeling system for the names of the plants you are growing, that would have been nice too. There is the Lettuce Grow app, of course, but it's also more practical and convenient to be able to look at your plant and know exactly what plant it is. Simply said, reading labels is faster and more useful. AeroGarden and Gardyn both perform this slightly better.
FAQ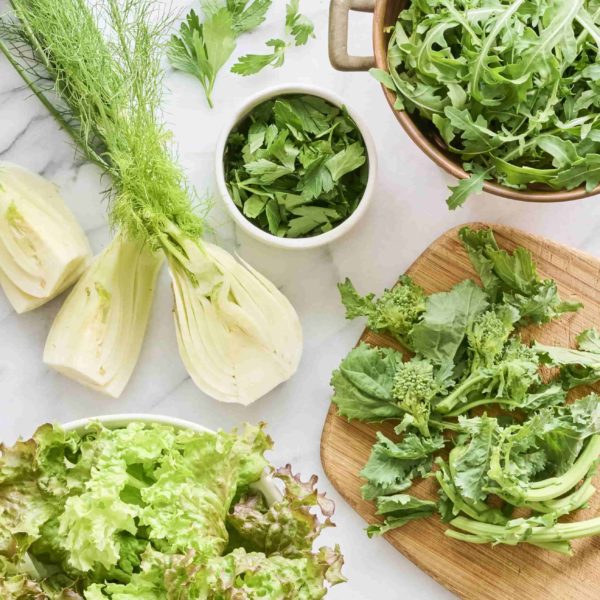 Is Growing Lettuce Worth It?
Investing in the Lettuce Grow Farmstand is beneficial. It is easy to maintain, has a tiny environmental impact on your yard or house, and consistently produces fresh greens. The Grow Rings offer optimal illumination, and the Farmstand offers a regulated atmosphere where the plants have plenty of water and nutrients. As an added bonus, Lettuce Grow uses a lot less water than conventional gardening, so if you already plant, you'll be saving money on your water bill. Finally, growing your own food at home helps to protect the environment by avoiding the greenhouse gas emissions associated with transporting produce from a farm to the grocery store and home.
Do I Need a Subscription to Lettuce Grow?
To make your growing experience even simpler, Lettuce Grow offers a membership service that is optional. You will receive a selection of seedlings and nutrients each month as part of the membership. A monthly fee will be charged repeatedly for this subscription. You may still buy all the products you require from their website at the standard price even if you decide not to sign up for their membership programme. This includes nutrients, Lettuce Grow components, and any seedlings you might want to purchase. You could start with your own seedlings and use your own nutrition mix, even though the company does not advise it. However, because managing the nutrient requirements of plants would require some research and expertise, this approach is not suitable for novice growers.
How much electricity is needed for lettuce to grow?
The Lettuce Grow Farmstand uses electricity wisely. It will only add 15–19 cents to your daily electric bill when used as advised (between 14 and 17 hours per day). Depending on your provider's rates and whether you use grow lights, this amount may change slightly.
How Much Time Does Lettuce Need to Grow?
Though the precise rate of growth is greatly influenced by the variety being produced, lettuce is a plant that grows fairly quickly. In as little as 30 days, lettuces (including romaine and kale) can reach their full size. However, you don't have to wait until the leaves are fully grown before harvesting your first crop when you cultivate your own food at home. The leafy greens can be harvested whenever they reach the desired size. Beans and bell peppers are two examples of vegetables that could take longer to mature. The maturation of peppers might take up to 8 weeks. Similar to this, different veggies will develop at different periods.
Is using Lettuce Grow simple?
Overall, using it is pretty easy. It was easy to assemble, practically maintenance-free, and hasn't malfunctioned or broken in years. The software worked just well, but I wish there had been some sort of manual in the box with the machine itself. You can absolutely operate this machine successfully even if you are a novice gardener.
How does Lettuce Grow choose its seeds?
Seeds for Lettuce Grow are purchased from Johnny's Seeds. They are occasionally organic and always non-GMO. Before shipping them to you, the company takes those seeds and sprouts them in their greenhouses for 2-4 weeks, allowing them to do their thing.
What is the shipping policy for Lettuce Grow?
With the exception of US territories and APO locations, Lettuce Grow is currently only offered in the US. You'll get a confirmation email when your item ships, along with a tracking link you can use to keep tabs on your package. You may anticipate your order to arrive in 3-5 business days and shipping is free. Your package will be delivered to your door and left there; you do not need to be home to sign for it.
CONCLUSION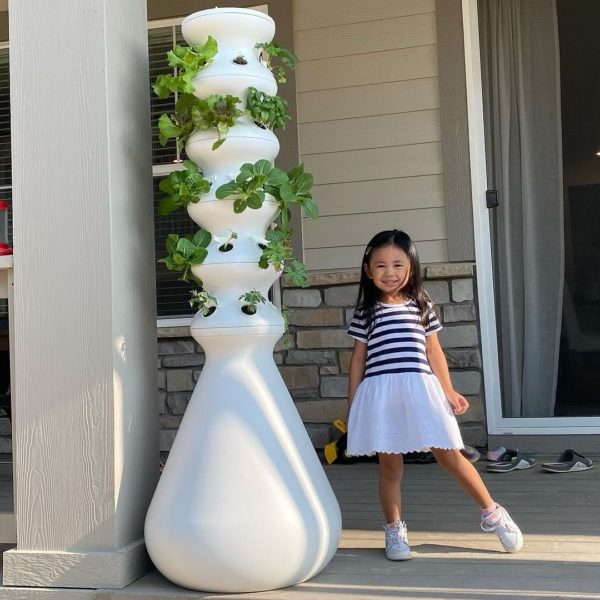 Farm Stands are a terrific option to attempt growing your own food if you can afford it, especially if it's your first time. Hydroponics is an intriguing and enjoyable experience thanks to its simplicity of use and the excellent customer service it offers.You can enjoy this fantastic product and big investment with your family. This is a wonderful way to introduce kids to the ideas of sustainability, organic food, and food-to-table if you have any.
Furthermore, it's simple to feel rewarded for your simple efforts because after a short while, you may start eating fresh lettuce, peppers, strawberries, and whatever else you like. Overall, this is a amazing and environmentally responsible product that consistently yields a much larger crop than is possible using conventional techniques. There are numerous plants available to satisfy every taste because of the wide range of crops you can cultivate. It's simple to grow enough plants for a family, but visiting the Farmstand can also be enjoyable.