About Kendra Scott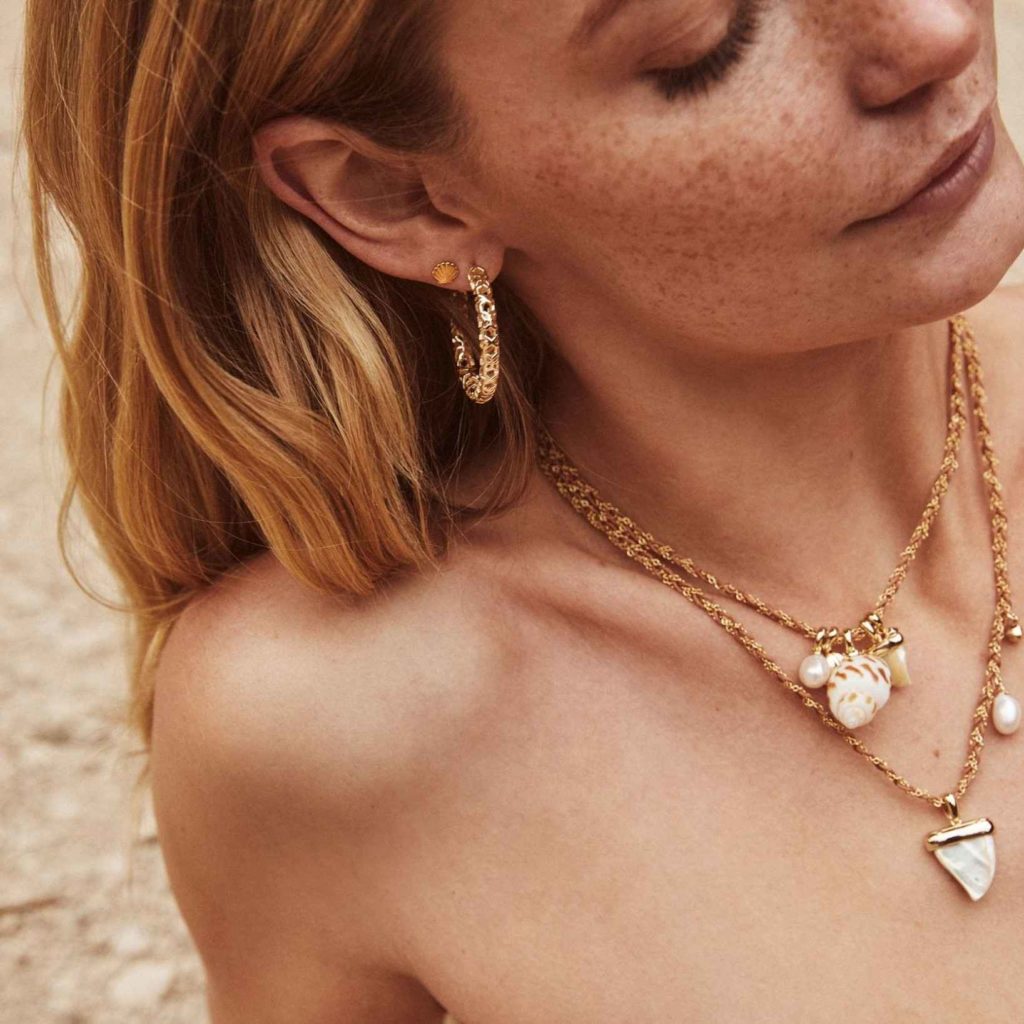 There's nothing more beautiful than a one-of-a-kind piece. Kendra Scott handcrafts its own jewelry collection, adding a sentimental touch. From bracelets to earrings, this accessory boutique offers a variety of styles ranging from bohemian to modern minimalism.
Kendra Scott also supports many philanthropic causes, such as Active Minds and Habitat for Humanity. If you're in the mood for some sparkle, perhaps this brand can offer you some solid statement pieces.
Keep reading, as this Kendra Scott jewelry review takes an in-depth look at the company, its products, customer ratings, promotions, and more, to help you decide if they're worth adding to your collection.
Overview of Kendra Scott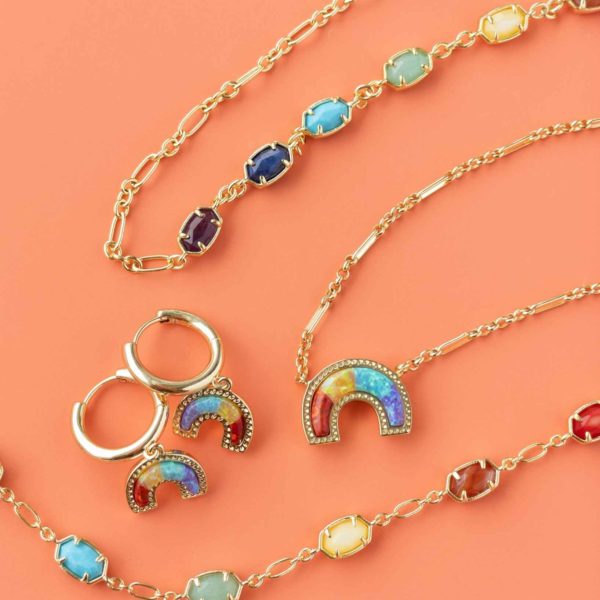 It's the classic 'diamond in the rough' kind of story. During the early 2000s, Kendra Scott was left with less than $1,000 in her bank account. Pregnant and confined to days of bed rest, Scott found comfort in creating homemade jewelry for her fellow friends.
With a determination to succeed, her hobby started off as a humble side-gig, as she sold her pieces at a few local boutiques around the area. And then, all that hard work finally paid off.
The jewelry label Kendra Scott went on to become an accessory powerhouse. Now valued at over 1 billion dollars, this Texan company is looking to bring back its good fortune to several philanthropic organizations. This includes establishing their own nonprofit called Kendra Gives Back.
Kendra Scott is about meaning rather than materialism. An inspiring quote by the founder reads, "I am a mom to three boys, and started this company when my first son was just three months old. Family always comes first here, and it always will."
Before we get into this Kendra Scott jewelry review, let's go over some initial pros and cons:
Pros
A variety of jewelry pieces to choose from
Offers customization options
Kendra Scott donates 20% of their proceeds to various good causes
Personal shopping session helps customers book online
Provides Affirm as an alternative payment plan
Positive buyer reviews
Cons
Pricier than other retailers
Engraved and custom pieces are considered final sale and non-refundable
I'm calling it now. Expect another rendition of Ocean's 8 starring Anne Hathaway and Sandra Bullock in a theatre near you. Offered in various cuts and styles, Kendra Scott's online jewelry boutique may steal a few suggestive glances from your favorite celebrity thieves!
There's something for everyone, as their designs range from minimalism, modern, bohemian, and even Y2K. Their inventory includes a treasure trove of necklaces, bracelets, earrings, rings, charms, and more.
Don't worry; they have a separate collection for men as well. Feeling in over your head about what to get? This Kendra Scott jewelry review will highlight some best-selling designs that may be worth a second look.
Kendra Scott Necklaces Review
From Rose's heart of the ocean to Holly Golightly's pearl and diamond ensemble, necklaces are usually considered the 'classic' option when it comes to accessorizing.
If you're looking to add a personal touch to your wardrobe, this Kendra Scott jewelry review will look at two of their most popular designs within this category.
Kendra Scott Elisa Pendant Necklace Review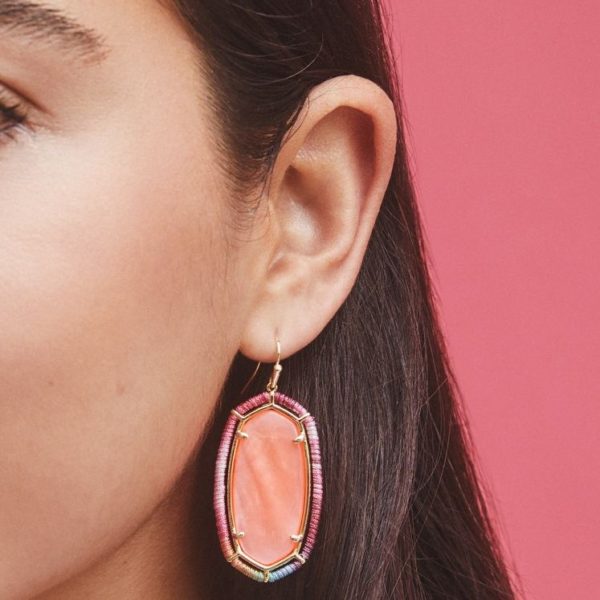 Perfect for those who are obsessed with the Hamilton musical, the Elisa Pendant Necklace helps you "be part of the narrative." Featuring a dainty oval stone as its centerpiece, this gorgeous set comes with a metallic gold chain.
This Kendra Scott necklace is available in various different colors, including emerald cat's eye, platinum drusy, dichroic glass, and more. It's offered in two different sizes.
For a minimalist piece that offers class and elegance throughout its design, opt for the Elisa Pendant Necklace. Depending on the stone and length of chain you choose, this accessory will vary in cost.
To give readers a taste of what they provide, we'll give a shortlist of options down below:
Emerald cat's eye in 15" to 17": $50
Platinum drusy in 15" to 17": $68 
Berry illusion in 15" to 17": $45 
Kendra Scott Addison Choker Necklace Review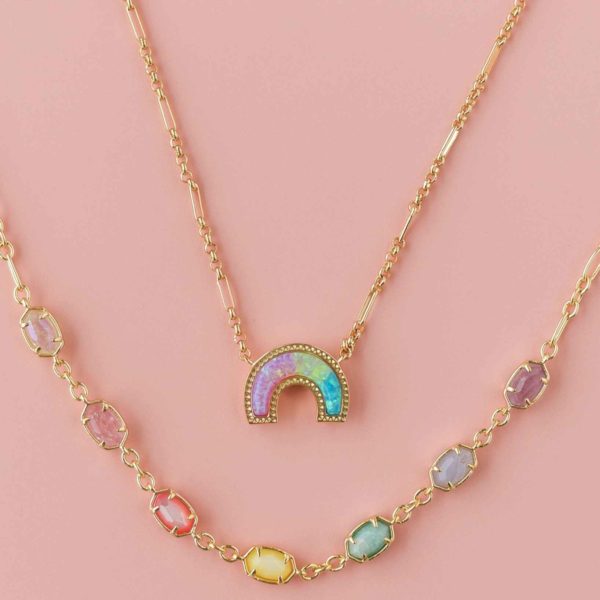 If you're not a fan of big statement pieces, the Addison Choker Necklace provides a bit of glitz and glam throughout its minute charms. Set with petite arrowheads on a delicate gold chain, this beauty can help bring some sparkle to your overall outfit.
Since it's designed to lie a bit higher on your neck, this accessory makes for a great layering piece for other trinkets. To pair with this design, we suggest adding some dainty Kendra Scott earrings to help bring the whole look together.
Offered in colors silver, gold, and rose-pink, the Addison Choker Necklace rings up to a total of $48.
Kendra Scott Earrings Review
Earrings are great for bringing out the color of your eyes. On top of that, they do an excellent job of framing the face. Available in different hues, shapes, and designs, this Kendra Scott jewelry review will spotlight a couple of their customer favorites down below.
Kendra Scott Elle Gold Drop Earrings Review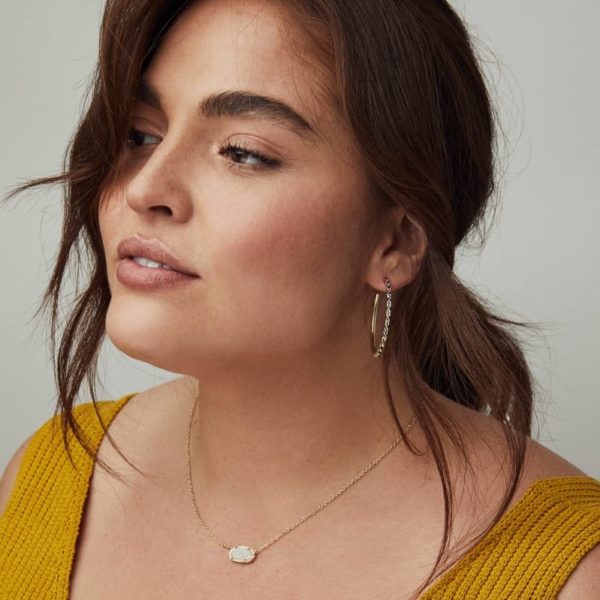 As if crafted by Poseidon himself, the Elle Gold Drop Earrings embody a mermaid-like vibe through its pearlescent shimmer and metallic frame. Offered in a sunshine hue, this Atlantic-inspired beauty manages to combine mystery and elegance together.
It's designed to hang like a classic chandelier hoop, which is ideal for showing off your decolletage. If you're not a fan of white pearl, this accessory also comes in 12 different colors.
For those in the mood for some more sparkle, we suggest matching this set with the Savannah Cuff Kendra Scott bracelet. Perfect for lakeshore restaurant dates or long walks on the beach, the Elle Gold Drop Earrings cost a cool $65.
Kendra Scott Avi Hoop Earrings Review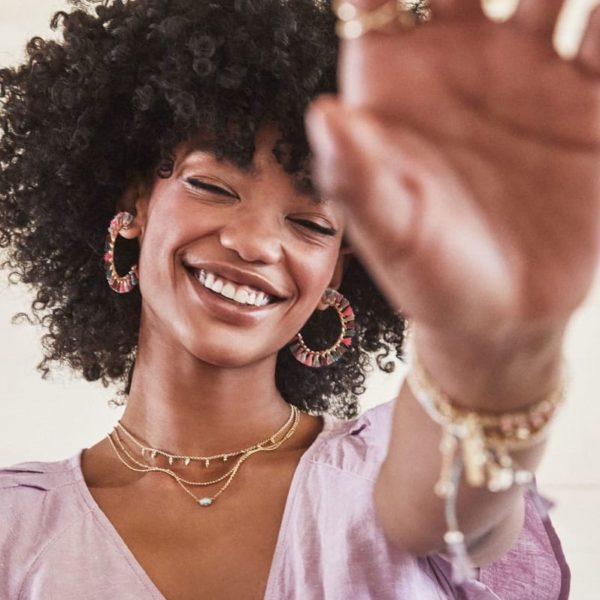 The Avi Hoop Earrings are far from boring. Dipped in an electrical water bath, this special set comes out incredibly lightweight compared to the traditionally heavier alternative. It's pressed with a sharp edge and shaped with an asymmetrical bend, which offers a bit of character when hooked on.
These Kendra Scott hoop earrings are best worn alone, as they act as a major statement piece. Available in colors gold, silver, and pink, add the Scott Avi Hoop Earrings as part of your jewelry collection for $98.
Kendra Scott Pepper Hoop Earrings Review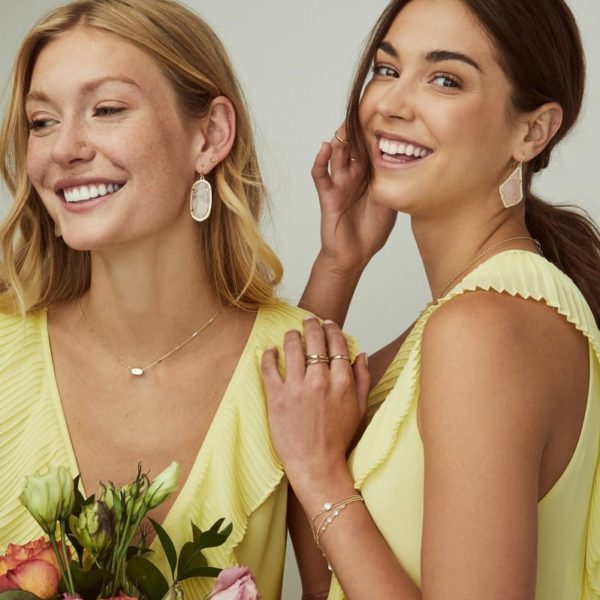 The Pepper Hoop Earrings are considered the most versatile piece of jewelry in the Kendra Scott collection. Offered in a skinny silhouette and lightweight design, these dangling bangles can last through hours of use.
They're especially excellent for showing off your neck and collarbone area. And with that in mind, can I interest you in an off-shoulder top or a slimming turtleneck as a complementary ensemble?
This type of jewelry is best worn with a high ponytail and some glammed-up makeup. For a piece that'll stay forever in your trinket box, get the Pepper Hoop Earrings in either gold, silver, or rose for $70.
Kendra Scott Rings Review
Take it from Ariana Grande herself: 'wearing a ring, but ain't gon' be no "Mrs."' If you'd rather spoil your friends with your riches, this online jewelry store offers dozens of fashionable bands for customers to choose from.
Need a few ideas? This Kendra Scott jewelry review will go over two of their hottest picks within this category.
Kendra Scott Elyse Ring Review 
A few years back, my aunt told me to treat myself to a nice gift after receiving my first paycheck from a 'real job'. In her instance, she scored herself a beautiful diamond ring as a symbol of accomplishment. If you follow the same mindset, the Elyse Ring acts as the perfect present for yourself.
Oval and double-banded in design, this beauty features a shining gemstone as its centerpiece. It's up to you whether to choose from iridescent drusy, platinum drusy, iridescent abalone, or coral illusion.
If you're one to stack bands on top of another, we suggest pairing the Elyse Ring with the Angie Yellow Gold band—as featured in the Kendra Scott rings collection.
The price of the Elyse Ring ultimately depends on the cut of gemstone. This Kendra Scott jewelry review will include all 4 of their available options:
Iridescent abalone: $60 
Iridescent drusy: $70 
Platinum drusy: $70
Coral illusion: $60 
Kendra Scott Fallyn Band Ring Review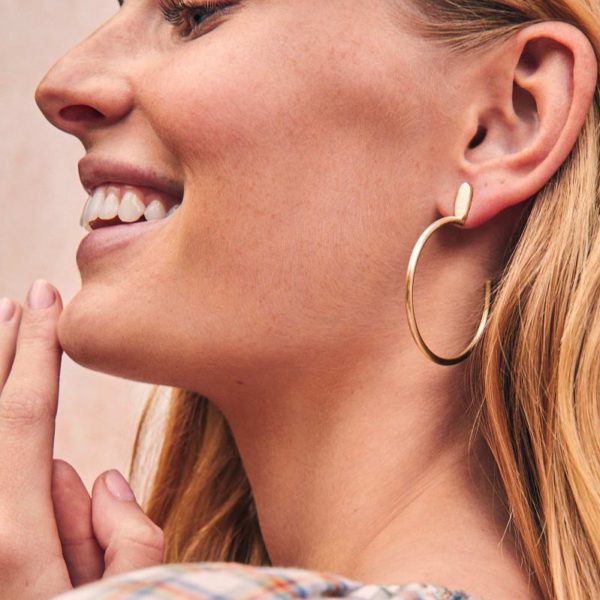 The Fallyn Band Ring embodies a slight fairy-like charm due to its interlocking, oval-shaped knots. Designed to balance "intricacy with minimalism", this beauty will add an elegant and whimsical touch to your final ensemble.
We imagine that this band would make an appearance in several fantasy flicks. I'm looking at you, Legolas, and Tauriel from The Hobbit.
Available in metals silver, gold, and rose-gold, the Fallyn Band Ring will certainly put an enchanting twist to your jewelry collection for $58.
What Is Kendra Scott Jewelry Made Of?
 
Kendra Scott utilizes dozens of different materials for its jewelry collection. Depending on the piece in question, metals such as gold, silver, rose-gold, and rhodium are commonly used for chains and bands.
They also use several cuts of gemstones, including diamonds, pearls, emeralds, and more. We suggest taking a glance at the product description of your chosen trinket for additional specifics.
What Length Are Kendra Scott Necklaces?
 
Are you a fan of chokers, or do you prefer the traditional dangling piece? Depending on the design in question, chain sizes will ultimately vary.
For instance, the Kendra Scott Elisa Necklace only comes in 15" to 17" while the Jack Short model is offered at a mere 16".
If you're looking for a more customized fit, we suggest adding the hook necklace extender featured on the Kendra Scott website. This added accessory allows for 4 more inches of space.
Does Kendra Scott Replace Tarnished Jewelry? 
According to their website, their jewelry is coated with an anti-tarnish solution. That being said, it's normal that a certain necklace or ring will wear out in time.
Kendra Scott will only cover for repairs if the design in question is found defective in terms of function or workmanship. It's worth noting that this policy only covers one year.
Who Is Kendra Scott For? 
Sorry, Marilyn Munroe—diamonds aren't just a girl's best friend. If you have an eye for sparkle, Kendra Scott jewelry is open for all demographics and age groups.
While they do have a category dedicated to men, it shouldn't stop customers from buying certain pieces outside of their designated section. Guys can rock a solid pair of hoops as well.
When it comes to price, Kendra Scott falls in the middle of Claire's and Tiffany's. They aren't overly expensive, nor are they extremely cheap. Their pieces come at a reasonable cost given the quality, which lends itself friendly to those on a certain budget.
Comparison: Kendra Scott vs. Pamela Love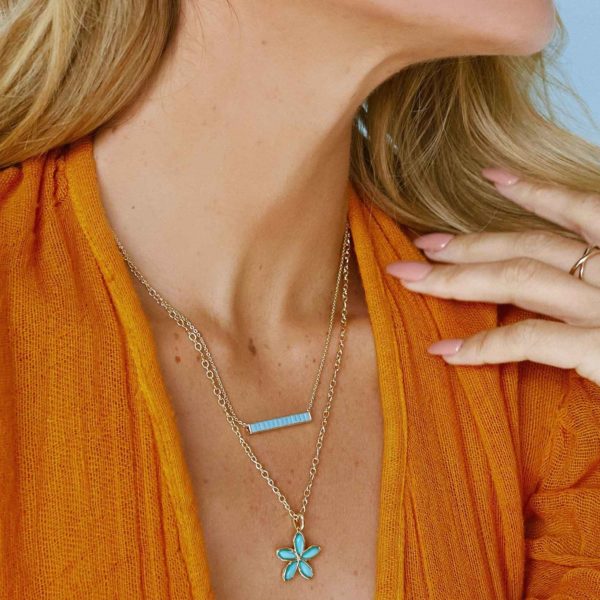 Kendra Scott is one of thousands of jewelry boutiques out on the market. And with that, hundreds of rival brands are trying to steal the spotlight in terms of glitz and glam. Who will go out on top?
Within this section, we've decided to compare this accessory label with another competitor, Pamela Love, to see which company deserves the shining crown. We've compiled a list of similarities and differences to help readers make that final decision:
Kendra Scott:
Offers thousands of jewelry pieces on their website
Reasonable prices
Provides customization options and engraving services for their pieces
Presents useful programs such as the Kendra Scott class rings option and the virtual personal shopping plan
Involved in several philanthropic efforts
Pamela Love:
Curated selection of minimalist jewelry
Pricier than other retailers
Offers customization options upon request
Customers can opt to get pierced at home by booking an appointment online
Transparent in terms of ethical labor and sustainability
Kendra Scott Reviews: What Do Customers Think?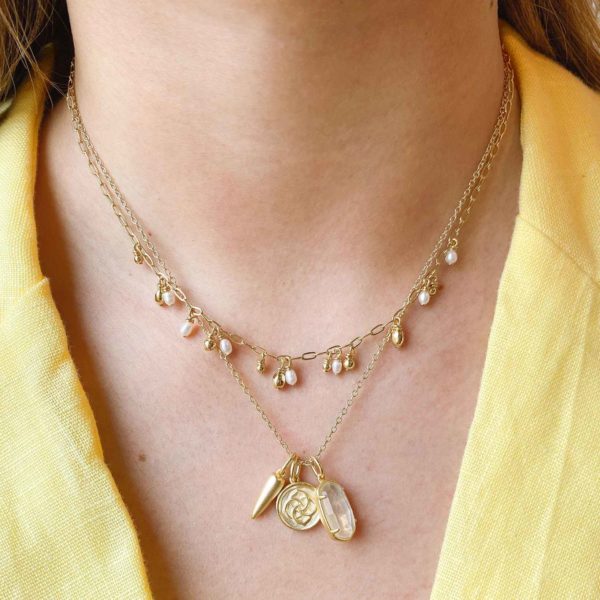 Don't let the sparkle mesmerize you. We still have to see how Kendra Scott fares in terms of customer reviews. From what we've gathered so far, their collection is no 'fool's gold'.
Their company website holds thousands of encouraging testimonials for their top-selling designs. This includes pieces such as:
Jae Star Gold Pendant Necklace: 236 reviews with a 4.6/5 star rating
Elisa Gold Pendant Necklace in Ivory Pearl: 3,720 reviews with a 4.5/5 star rating
Elle Gold Drop Earrings: 888 reviews with a 4.7/5 star rating
Their comments section ring praises of high craftsmanship, beauty, and quality given the price. According to some reviewers online, their jewelry proved to be excellent gift ideas for birthdays, anniversaries, and other special occasions.
"I love all things Elle. They are simple and elegant. They are super lightweight and you can pair them with every outfit. Baseball games to formal events, Elles got you covered!! I've actually started collecting Elles because I love the look and comfort of these earrings so much," one reviewer wrote for the Elle Gold Drop Earrings.
The rave reviews for Kendra Scott continues on other websites such as Influenster, Zappos, and Amazon. Here are some rankings:
Amazon for the Elisa Pendant Necklace: 2,236 reviews with a 4.7/5 star rating
Influenster: 181 reviews with a 4.3/5 star rating
Zappos for the Elisa Pendant Necklace: 3,593 reviews with a 4.6/5 star rating
A majority of customers found their jewelry selection to be of exquisite quality. Based on reviews posted on Amazon and Influenster, Kendra Scott seemed to be the perfect fit in terms of versatility, functionality, and affordability.
We've uncovered multiple trendsetters who spoke highly of their necklaces and earrings, as they proved stylish and flexible with any outfit.
"Comfortable, light weight, and super cute. Neutral so can be worn with any outfit unless you're wanting to add color to an outfit. I get compliments each time I wear them, and people seem to want to go out and buy their own pair," one Influenster reviewer wrote for the Fallyn Chain Link Hoop Earrings.
Independent blogs, such as Sweety High, also left a favorable critique of Kendra Scott Jewelry. Coupled with their extensive collection of trinkets, this online boutique seems to be in the sweet spot in terms of price—as customers can find both affordable pieces and more expensive options on their website. This is especially towards their 2020 Winter Collection.
"Jewelry should be fun—and that's exactly what Kendra Scott's winter collection provides…Kendra Scott may make you go from a jewelry novice to someone who loves being bathed in bling," reads the Kendra Scott jewelry review by Sweety High.
Despite the hype, this Kendra Scott jewelry review uncovered a few less-than-glowing testimonials online. Some Amazon and Influenster users weren't happy with the quality of their pieces, as they managed to tarnish rather quickly. On their Better Business Bureau page, some buyers reported issues with their delivery service and customer service team.
"I am extremely upset that one of the stud earrings broke. I reached out to customer service and was dissatisfied with the lack of (help) from the Kendra Scott representative," one customer wrote on BBB.
All things considered, this Kendra Scott jewelry review is inclined to give this online boutique a good rating. This is partially due to their broad selection of designs and the price paired with their quality.
Is Kendra Scott Worth It?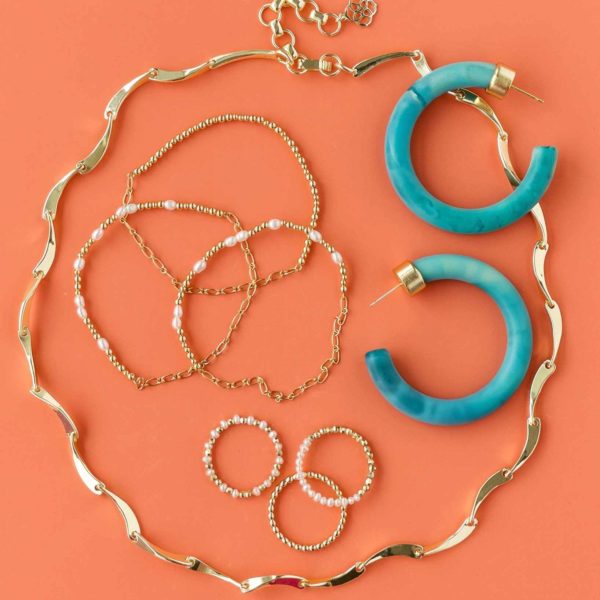 More often than not, jewelry shopping is a nightmare. You don't want to opt for the cheapest brand due to its low wear-time. On the other hand, more expensive labels such as Tiffany's or Cartier seem way out of budget for the middle-class wallet.
With all this in mind, Kendra Scott acts as a sound compromise due to its quality and price. There are thousands of designs to choose from, so you're bound to find something that falls within your aesthetic and spending amount.
We also need to credit the brand's helpful array of services, including its virtual personal shopping program and customization options. It also doesn't hurt that the brand is involved in dozens of good causes, which provides a 'feel good' attitude when shopping at their website.
For a boutique that neither breaks the bank or your style, this Kendra Scott jewelry review encourages you to give them a try.
Kendra Scott Promotions & Discounts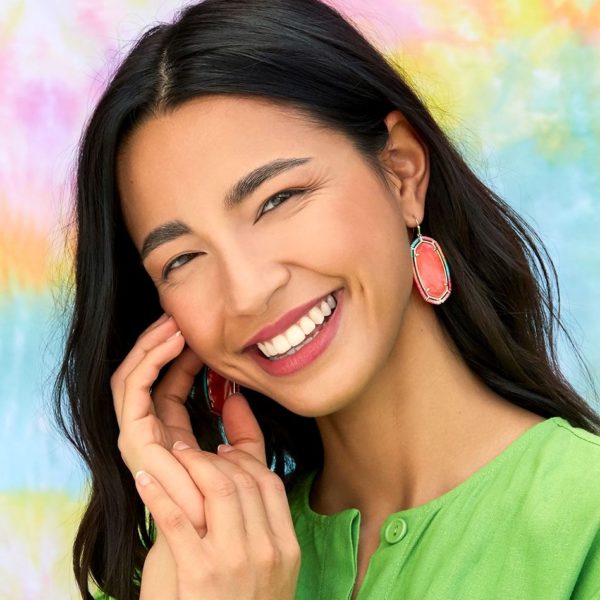 We've found a few ways to help you save some money while jewelry shopping. For instance, customers can find select pieces for a discounted price at the Kendra Scott sale outlet.
In terms of their refer-a-friend program, buyers can receive a $20 bonus for every successful referral. The company also has a rewards program, where members can accumulate points to gain access to exclusive deals and perks.
Additionally, if you sign up for their newsletter, you automatically get 15% off your next purchase. Lastly, they offer a birthday discount worth up to 50% off.
At this time, we were unable to find a Kendra Scott coupon for readers to use on their website.
Where to Buy Kendra Scott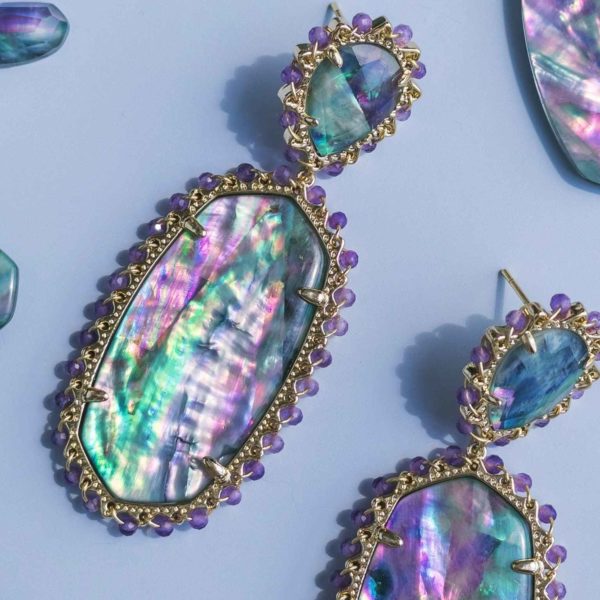 Looking to buy a few Kendra Scott keychains for yourself? Head over to kendrascott.com to peruse through their selection. Aside from visiting their in-store boutiques, customers can also find them at select retailers such as:
Amazon
Nordstrom
Neiman Marcus
Bloomingdale's
Macy's
FAQ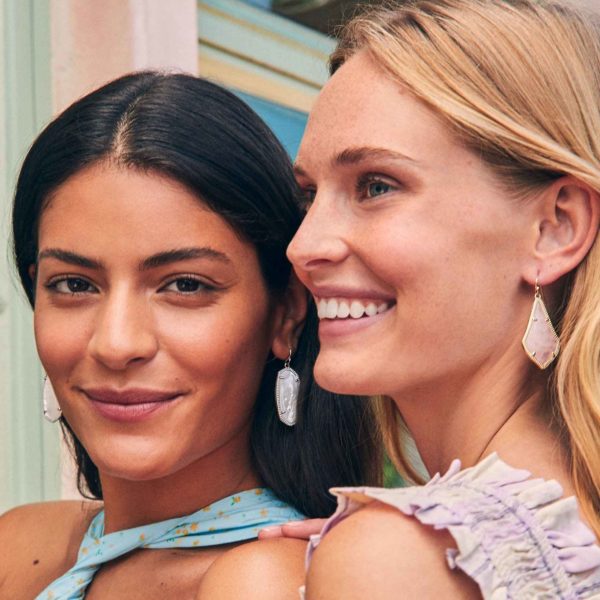 Where is Kendra Scott jewelry Made? 
According to their website, Kendra Scott jewelry is designed in their Austin, Texas studio. We were unable to find out where their pieces are manufactured.
What is Kendra Scott's Shipping Policy?
Good news! Kendra Scott offers international shipping for select countries. When it comes to domestic orders, it usually takes 3 to 5 business days for packages to arrive.
The brand also provides other options such as two-day and next-day delivery. To monitor the status of your purchase, customers can click on the tracking link given on their website.
What is Kendra Scott's Return Policy?
Kendra Scott offers a 30-day window for customers to return their orders. It's worth noting that engraved items and custom pieces are considered final sale and ineligible for refunds.
Fortunately, the brand covers shipping costs within its policy. To initiate this process, buyers can contact the company for further instructions.