I recently came across some old childhood videos of myself wearing a lovely pink check/tartan pleated skirt. A lengthy search tells me these are now very rare, so rare that the only somewhat similar skirt I could find was on I Saw It First.
I don't usually shop in high-street stores, chain stores or any other fast fashion or big brands in the UK. These types of shops never usually have any clothing that fits my character or fashion style and seem to exclusively only cater to the 'typical partying teenager' types. I can't even tell if some of these are meant to be worn on the top or the bottom. My Mum tells me not to be so judgemental. But do people seriously leave the house in some of this stuff?!
Anyway there are, of course, some rare exceptions to be found in these kinds of shops sometimes – such as the items I'm looking at today! So let's take a look at how ISAWITFIRST fared!
DELIVERY & PRICING: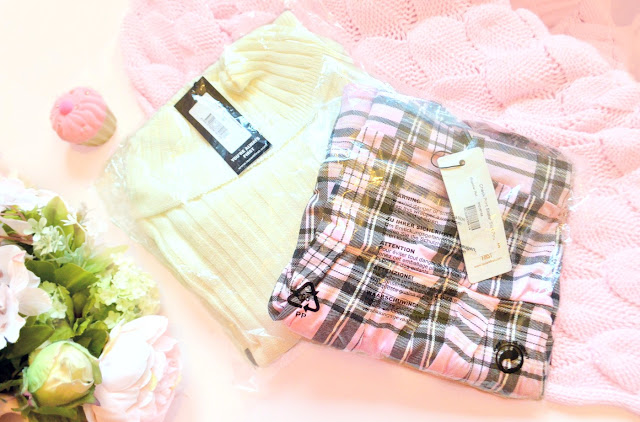 For this order I got the Pink Check Print Skater Skirt and the Cream Roll Neck Rib Knit Jumper. There was a 'free' shipping deal going on, 50% off sale going on and an extra 25% off discount code also used, making the skirt £7.51 instead of apparently '£20', and the jumper £9.38 instead of apparently '£25'.
I placed the order on 3/05, it dispatched on 5/05 and arrived to me on 6/05. The firm uses Hermes as their courier, but thankfully it arrived just fine.
I'd also wanted to get the Stone Bow Front Knitted Jumper and Baby Pink Roll Neck Jumper which I missed off my original order since they were immune to every discount code I tried. When checking back later to see if any codes worked on these items yet, I discovered the original items I'd purchased were now on a better sale at just £7 each…I planned to return the original order and re-buy them at the better price, but they only accept returns with Royal Mail which involves going out to a post office and by the time I could do that, the items had sold out or gone off sale again already. If they're going to send their parcels with Hermes, at least accept them returned that way too. (Returns are covered at the bottom, and spoiler alert: it didn't go well).
CHECK PRINT SKATER SKIRT: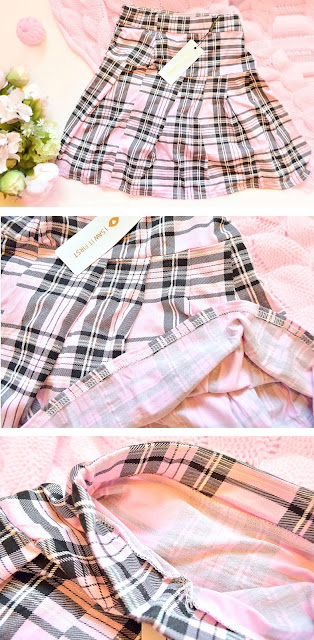 I got a size UK 14 in this as it was the smallest size left in stock, I'd planned to just alter it as my bottom half is only a size 8, but it actually turns out the sizing here runs very very small and I could have actually got away with the size 14 with no adjustments.
As for the quality – it's bad. Very very very bad. Think the worst quality item you ever received from Wish or AliExpress and quadruple it. I know it's called 'Check Print' but it really is just checks printed over the top of the fabric, you can feel the hard print ontop which feels like it will peel off and get destroyed in the wash. I just know once I pull this out of the washing machine it'd be a plain pink or even white skirt.
The elastic waistband will quickly twist over inside and stretch right out in no time. I'd have to add some stitches to the waistband to try and avoid twisting. The material is extremely thin and cheap, will rip easily and is not soft. And finally, just to top it all off – it has a strong unpleasant 'cheap' scent to it.
Honestly, my bad photos are doing this way too much justice here. And that's rare.
Price I'd recommend paying for this item: £3 absolute maximum (and that's being generous, more like £0.50-£1.50, it's really that bad).
CREAM ROLL NECK RIB KNIT CROPPED JUMPER: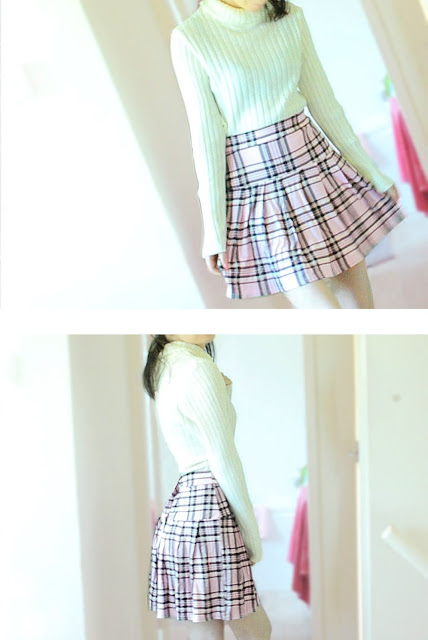 My top half measures in at size UK 0-2, which doesn't exist and never will (yay for being pear shaped) but I got this jumper in a size UK 12 because it seemed to fit tightly and I don't like tight fitting clothes, I like big baggy oversized jumpers that I can hide away in.
Unfortunately, the 12 still isn't the fit I'm looking for. It's STILL too tight and 'fitted' for me and definitely way too short for me, it didn't say anywhere in the listing that this was a crop jumper so I'm not at all happy to discover this fact.
For the quality – it's still bad, but not quite as bad as the skirt at least. The material is thin, hard and scratchy. I tried this on for one second and couldn't wait to get it back off again. Seriously uncomfortable. Think that itchy, grouchy green jumper your grandma knit for you as a child, or was that just me?
But on the plus side it's actually wooly knitted! Usually 'rib knit' items are not actually knitted at all. Though maybe it'd have been comfier if it wasn't.
I'm just going to return this and get my £9.38 back. It's too uncomfortable for me to ever be able to wear and I doubt anyone on eBay wants to take it off my hands either.
Price I'd recommend paying: £4 maximum if being generous, but more like £1-3. Take a look at my review on the Boutique 32 Rib Knit Roll Neck Top for a better alternative at almost the same price.
RETURNS & REFUNDS:
Due to the virus the brand are currently giving customers 60 days to return, which is good. I obviously returned both of the items I'd ordered from here. I'm not much of a returner, but this was definitely the first time ever having to mark the return reason code as 'inferior quality'.
I returned the items using the included prepaid Royal Mail Tracked 48 label on 28/05. The tracking showed the return had been delivered on 2/06. The website states the maximum amount of days a refund will take after returning products is 21 days, so I waited for this time – nothing. I then emailed the customer service – nothing. So I opened up a PayPal claim and forced my own refund in the end.
You can't say I didn't give them a good chance to end this review on a positive. Honestly, just don't even bother waiting if you return something from here, as soon as the tracking shows delivered, just do a chargeback because they apparently aren't going to ever refund you of their own accord judging by my experience here and the hundreds of angry comments always all over their social media.
SUMMARY & CONCLUSION: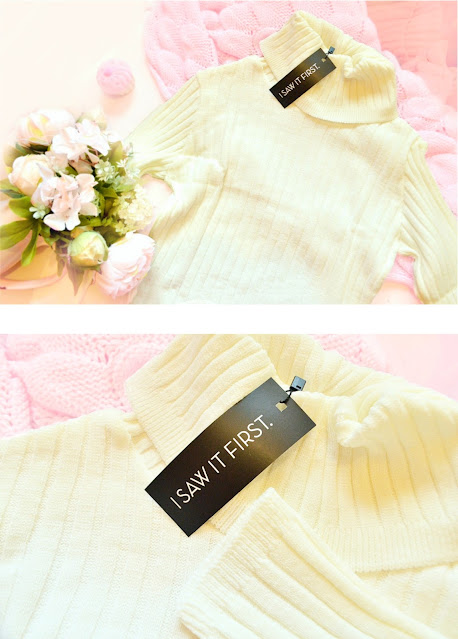 This is definitely one of those shops that upmarks their prices instead of having actual sales, because no way would that skirt have ever have been £20. They'd have been getting some seriously unhappy customers if anyone had the misfortune to purchase it at that price. Ever wondered why they don't have a reviews section for each product like every other clothing shop?
Overall, my experience here was terrible, and I absolutely wouldn't recommend shopping here when you can get better quality for cheaper on AliExpress. Or if you need something in a rush, just get your young child to glue some scraps of itchy fabric together and you'll have a better quality garment than you'd get from here.
I really have no idea why someone would shop here by choice. Anyway, the jumper designs were nice and semi cheapish, even if abysmal quality. The delivery was good. The size range is pretty decent, could definitely be worse. Their bigger sizes could use some expanding, but at least they actually start at a UK 4 and not a 10 or 12 like some shops, I admire them for that so they do deserve some good light for their smaller size range. That's about all I can possibly think of for positives.
Thanks for reading! I have no discount code to share here today, but can check out my full page of discounts here and find a better place to shop at while you're at at. Read more on the Fashion topic here!