Whether it's the latest iPhone X, Christmas presents or some new clothes; we all love the adrenaline rush of shopping online. There's just something about being able to get your favourite products at cheaper prices than the high street, with the added convenience of not having to leave the house.
The E-commerce industry in Australia is booming, in 2017 we're expecting as a nation to spend over 10Bn shopping for our favourite products online. Amazon is planning to launch in Australia sometime in 2018, and Australia Post has released stats saying that online shipments have increased from 11% to 15% of their total volume in the last 12 months alone.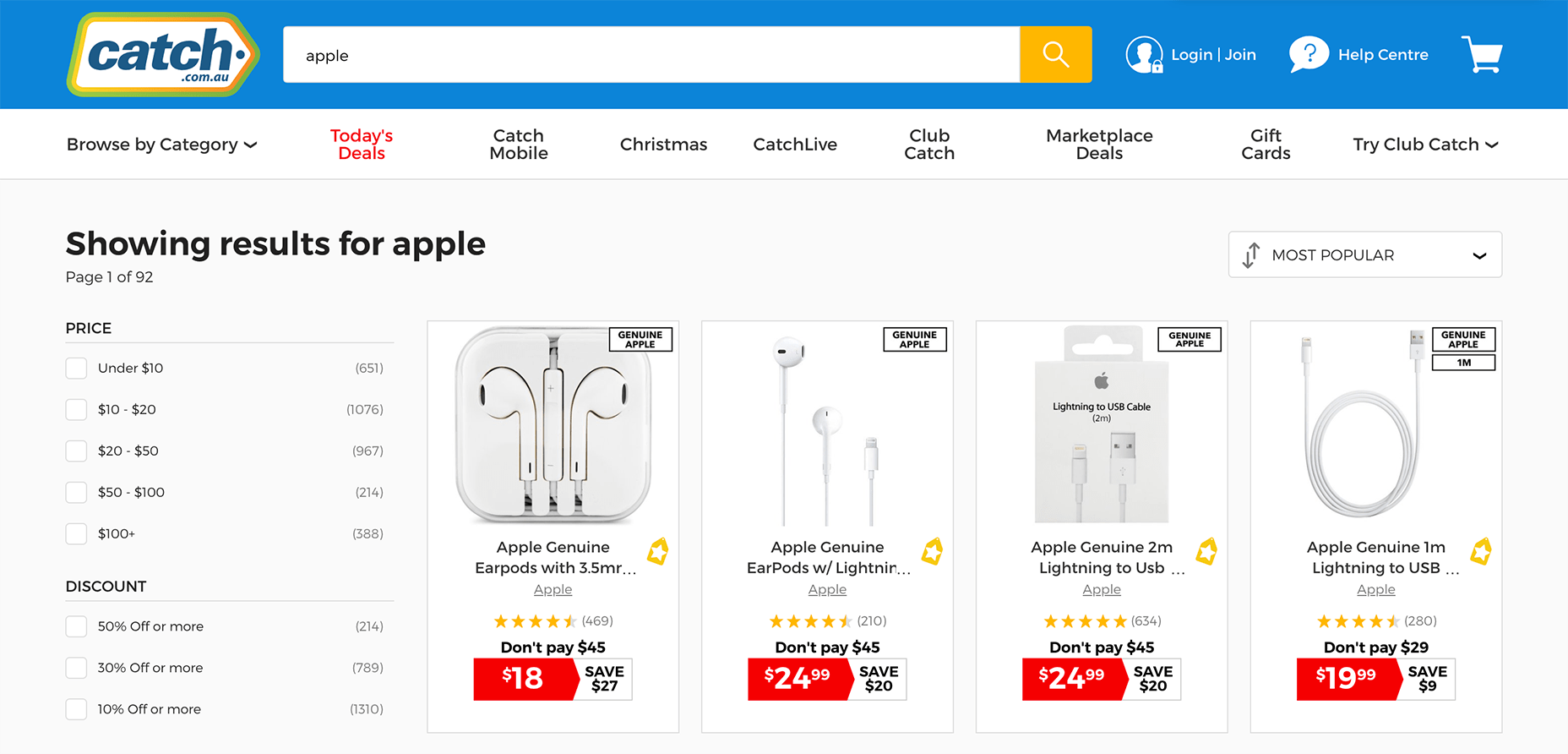 With total online sales in the billions, our love for online shopping has propelled Australia's E-commerce market into a global playing field.
This graph below shows that Australia's online E-commerce sales are expected to increase by 56% over the next 5 years.
In Australia, the E-commerce space is still very young. We have a landscape that was once dominated by incumbent brick and mortar stores like Myer, David Jones & JB Hi-Fi.
But these stores failed to transition online fast enough and provide an E-commerce experience that we're used to elsewhere in the world.
Due to this E-commerce disconnect, you will find that many Australians look overseas to find a bargain. We're prolific users of eBay and Amazon due to their cheap prices and often free shipping.
But there has been one local merchant that has weathered the E-commerce storm and come out ahead of many of the others that are struggling in the space.
In this post, we'll be looking at the Catch Group (formerly Catch of the Day) – a $300m+ local behemoth that has found their footing nicely in the Australian marketplace by providing customers exactly what they want.
In this post, we'll be breaking down some of the key growth strategies that Catch are using to grow their business.
So, whether you're in the initial stages of starting an E-commerce store or already trying to take yours to the next level, read on and hopefully you'll be able to apply some of the tactics we're about to jump into.
Introduction to Catch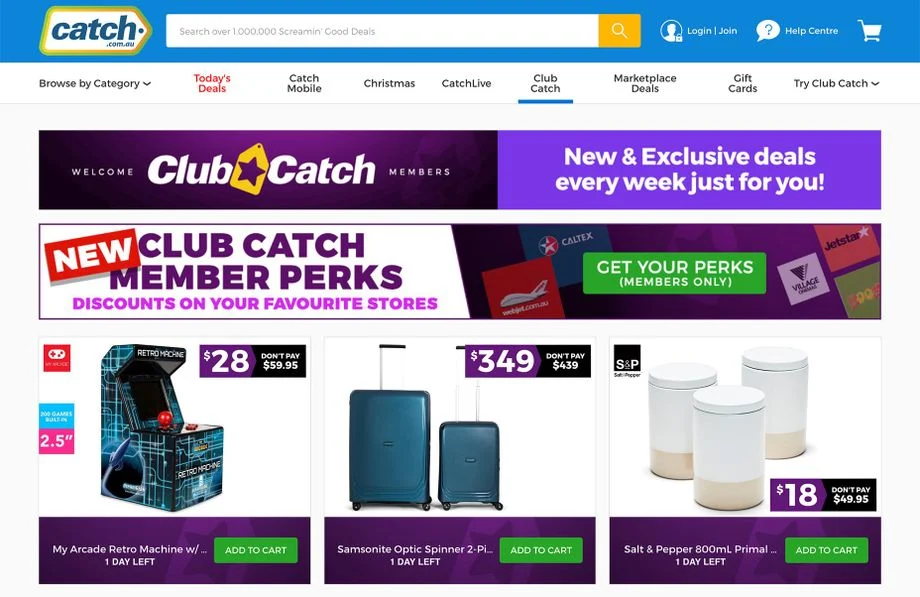 Catch of the Day was started by Gabby and Hezi Leibovich in 2006 as one of Australia's first "daily deal" websites.
The idea was simple, they would get a large amount of stock of a particular item then put it up on the Catch of the Day website at an incredible price in limited amounts. The model itself was inspired by a number of similar sites in the US such as Woot.
This combination of price and scarcity was an instant hit with Australian shoppers which propelled the site to popularity.
This model has proven successful for the Lebovitch brothers, they won numerous business awards, grew sales to $250m and have one of the highest trafficked websites in Australia.
But it hasn't always been sunshine and roses for Catch of the Day, they have had a number of issues to deal with along the way.
In 2014 they suffered a data breach which spanned historically 3 years.
In 2012 Catch of the Day acquired Vinomofo only to sell it back to the founders 3 years later (at a much lower price than it was purchased for).
In 2015 Eat Now merged with Menulog (a business which Catch is a large shareholder in)
They have been involved in a number of Trademark disputes including registering Groupon as a trademark before Groupon entered Australia, then getting into a dispute with Target over the Tar-Jay parody Trademark.
They survived the consolidation of daily deals websites in Australia through smart acquisitions (more on this later).
In June 2017 Catch of the Day rebranded to Catch and pivoted their model slightly towards a marketplace selling brands and various other product categories. One of the main reasons for the change was to be more competitive and prepare for Amazon's launch in Australia, it was also to combat the eventual burn-out and downtick of the daily deal industry caused by Groupon and other sites.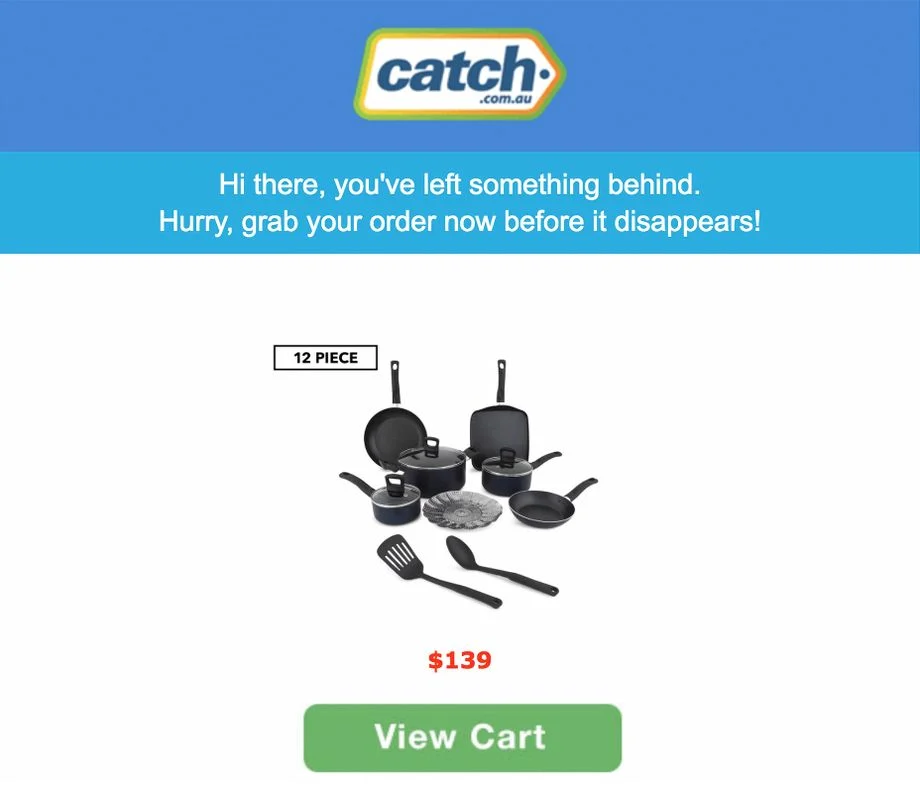 In order to achieve this rebrand The Catch Group had to make some strategic acquisitions and investments to broaden their footprint:
Scoopon: Was launched by Catch in 2010 to go head to head with Groupon.
MumGo: Catch acquired MumGo in 2013 to increase their presence in the female fashion sector
GroceryRun: Was launched by Catch in 2011 as a way for Australians to buy groceries online
Bon Voyage: Was launched in 2017 in partnership with Jennifer Hawkins to appeal to the Travel Experience market
Pumpkin Patch: Catch bought the remaining IP of collapsed NZ fashion brand for ~$2m AUD (And now feature them heavily)
Brands Exclusive and TheHome: Catch acquired Brands Exclusive and TheHome in exchange for Bon Voyage and Scoopon Travel as a result of an asset swap with Lux Group to strengthen their market leader position.
The rebrand has now seen Catch become a marketplace that spans a wide range of consumer interests. The beauty is that everything is now consolidated into a single experience across all the brands too (more on this later).
So let's dive in and look at some of the strategies The Catch Group are using to grow their sales:
Organic Search
A solid SEO strategy is a must for any E-commerce website. You need to lay the SEO foundations for your product and category pages right from the start.
Rebranding can also be a scary exercise, when you move from one domain to another it can often be a worry that you lose your organic rankings.
However Catch handled this perfectly by properly 301 redirecting all pages to their appropriate page on the new domain:
And as a result you can see that they maintained their Organic exposed to roughly the same number of keywords:
Before Migration
Before the migration they were ranking across ~100k total keywords in Australia:
After Migration to Catch.com.au
After the migration, they jumped 20% in total keywords, then levelled off again around the 100k mark in September.
Catch has a typical structure that helps with SEO: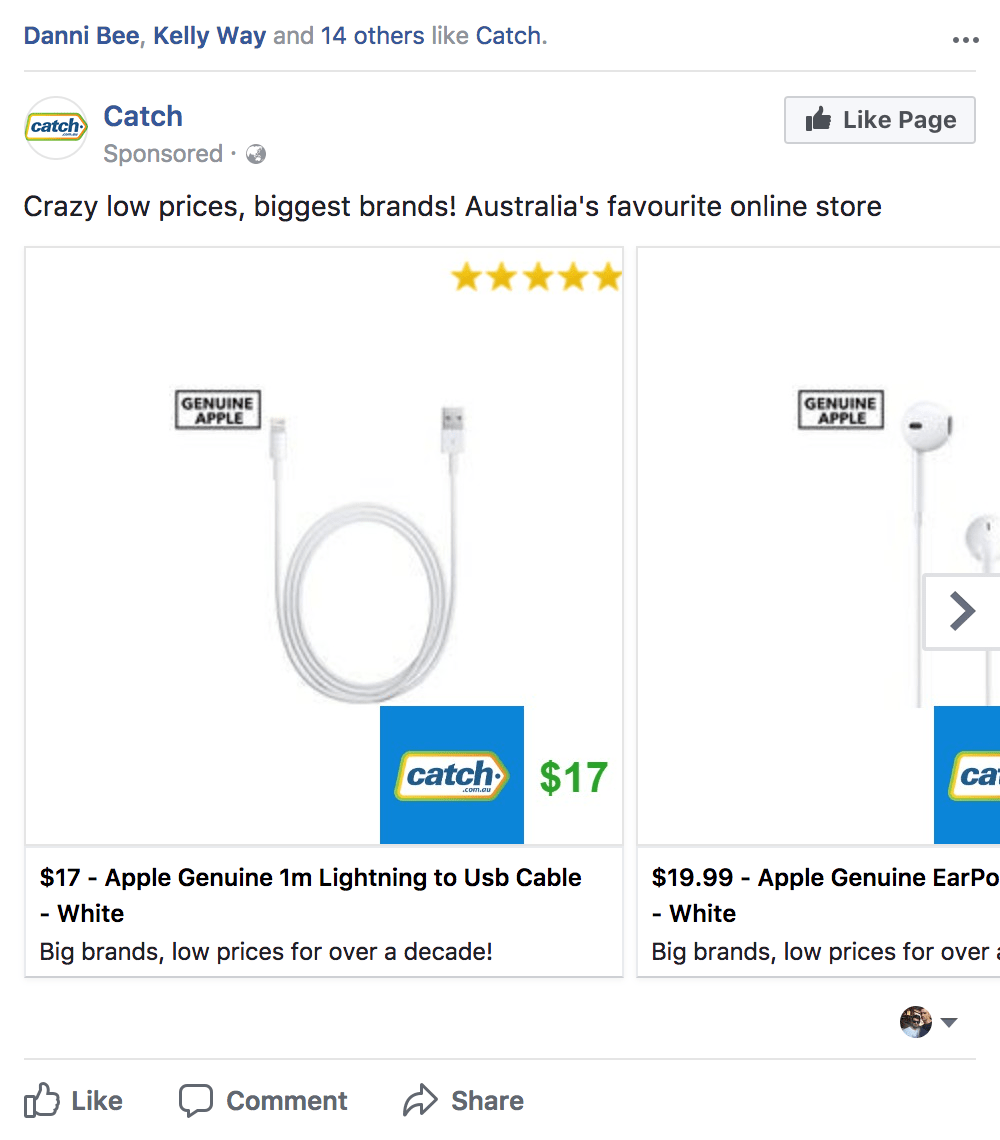 Brand pages are often the most lucrative pages on an E-commerce site from an ROI perspective. Imagine that you have a consumer, that already has an affinity to a specific brand searching for the best price. Quite often these users are already in the transactional phase of the shopping cycle.
Compare this with a generic keyword like clothing, the user is in the research phase of the shopping cycle (and these keywords are often hyper-competitive).
Event Pages
The Event pages on Catch are for more transient content (sales or daily deals) that might not be a permanent fixture or always in stock.
They make up a large portion of the Catch website, being prominently featured on the homepage and also inside top level categories.
However, many of these pages still rank extremely well in the search engines for specific keywords.
Or seasonal pages that aggregate products for specific times of the year (Easter, Christmas or Fathers Day etc)
Product Pages
Products can live inside Categories or Events, each with their own product page URL (which I feel could lead to some duplicate content issues).
Catch does appear to get consistently outranked on many of these pages by Amazon, eBay and some of the other shopping aggregators who perhaps have more permanent pages for these products.
Abandoned Cart Emails

If you've ever run an E-Commerce business then you know that every customer that leaves your site without purchasing is a lost opportunity.
We've already seen earlier that Catch attempts to recover this revenue by using Retargeting ads to encourage you to complete the purchase. The next step up from this is to use cart recovery emails to send the users a reminder directly to their inbox.
This strategy is vastly superior to retargeting ads since you can reliably make your way into every user's inbox (without waiting for them to see an ad). Naturally, you need the user's email first for this strategy.
As a result, it is important to optimise your checkout process to be quick, secure and easy to use, with all information displayed clearly.
Here are some tips to achieve this on your own E-Commerce site:
Clear away clutter: Make sure that your cart summary just shows the information that is significant to the customer, e.g. total cost and shipping charges. Remove anything else that may distract them (i.e. navigation) from going to the payment stage or leaving the page.
Provide customer security: Giving customers a sense of security in the checkout process builds trust. You could implement a live customer support widget, like what Catch has done, show that the site has a security verification or has an SSL certificate.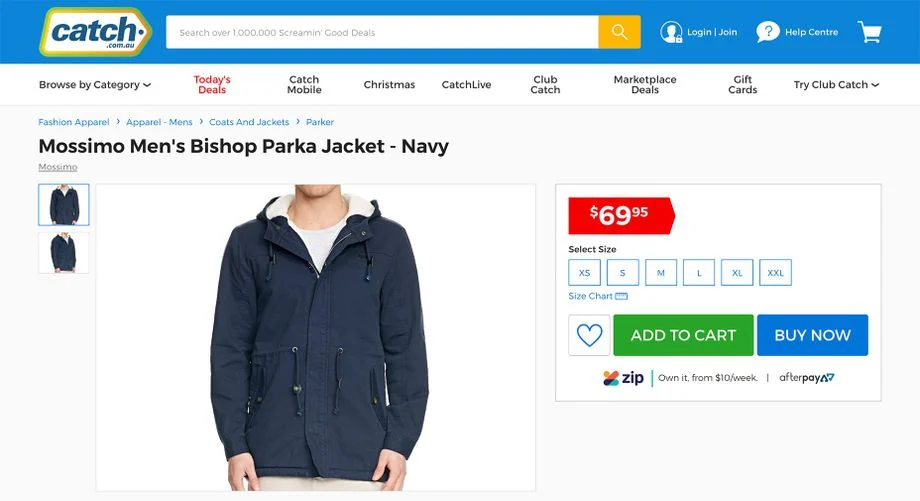 Optimise and test your call to actions (CTA): Adding colours to your call to actions, make your page visually appealing, attracts the viewer's attention and also makes it easier for customers to know where to click. Choose colours that are in line with your brand image and continually do testing.
Keep customers on the checkout page: Don't divert them away from the page once customers are in the checkout phase. But If you want to upsell or recommend suggested products, you could follow Catch and add it as a modal.
Social Media
Catch operates across a number of social channels such as Facebook and Instagram. Their most active and effective channel is Facebook with over 530,000 followers.
However they don't seem to be that active on these channels, perhaps that's because they don't drive enough ROI or value?
Facebook
Catch uses Facebook mainly for posting the latest sales, shopping events and daily deals.
They also use humour, emojis and images of products they want to showcase. They portray themselves as being fun and spontaneous through the copy on their posts.
They also occasionally share content from other popular Facebook pages, such as Unilad, that's related to their sale to boost engagement.
Catch also uses Facebook to boost engagement through live streaming, running competitions and showing videos of staff demonstrating products that are on sale.
Facebook has helped Catch increase sales of its daily deals and products. The sharing mechanism allows their offers to spread throughout friends timelines – which in turn drives more awareness and sales.
In 2013 Catch mentioned that they were getting over 700+ orders a day through Facebook. However it's unclear if they are still driving this much engagement or not.
Even though they have 580k followers, many of their posts are getting less than 25 users engaging with them. So it seems that Catch really suffers from Organic Reach problems (much like the rest of us).
Video, on the other hand, does seem to drive a lot more views and engagement. This one below had over 300k+ views.
Twitter
Out of Catch's social media profiles, Twitter has the lowest number of followers. While they have a high following of 27k+ followers on Catch's Twitter page, there is little to no engagement on posts.
Content and copy on are identical to posts on Facebook. Additionally, Twitter isn't very active, with the most recent post from September 22.